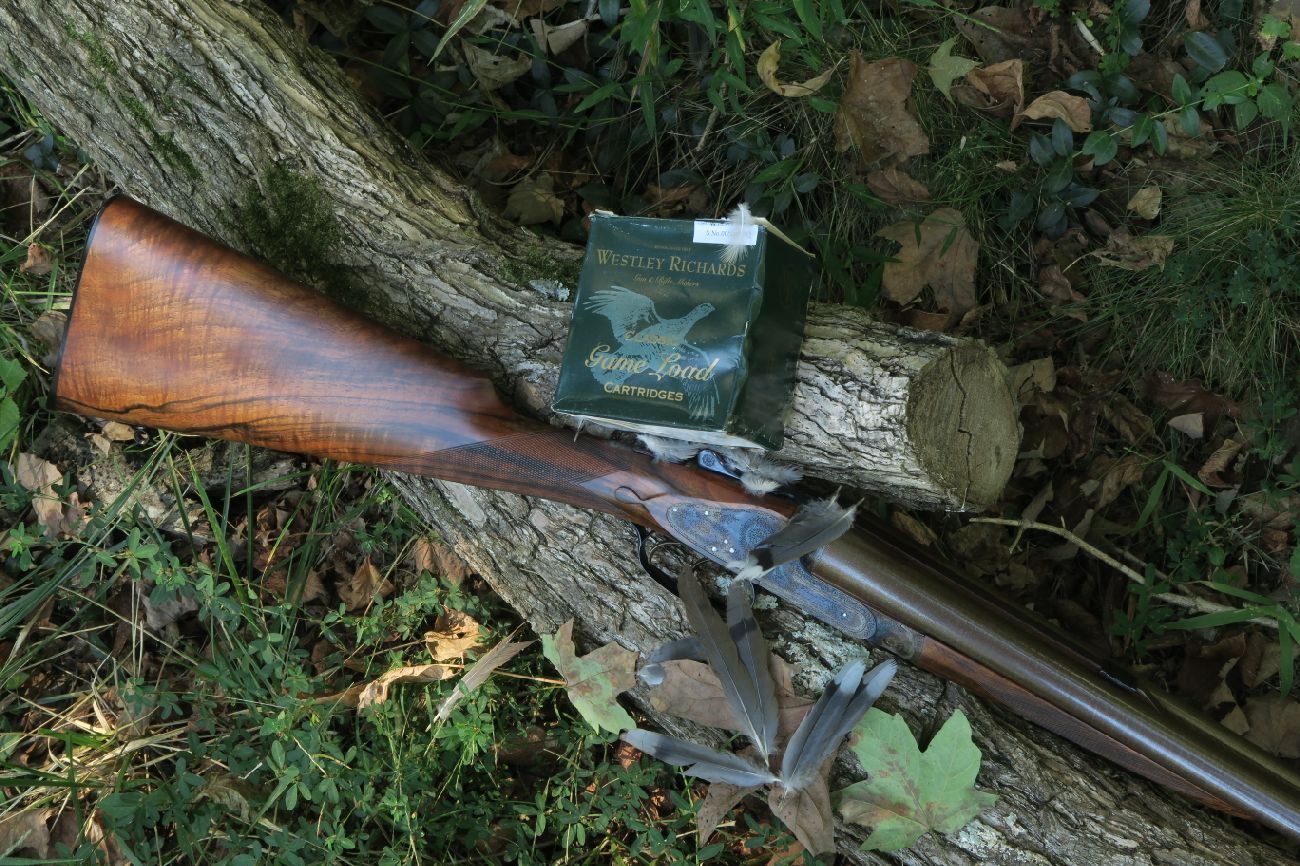 One day I was pulled onto the rocks by the siren's song by a piece so rare and wonderful that I could not resist. It had the look of "Out of India" with a very bad restock, forend used completely up and an attempt at a new hinge pin. But otherwise it was untouched; high mileage yes, but unmolested by "gunsmiths". And what it was, at least in my mind, justifies my folly. It was an early Patent Royal Best Quality Holland & Holland. It was 16 gauge, it had Damascus barrels and it was a Paradox!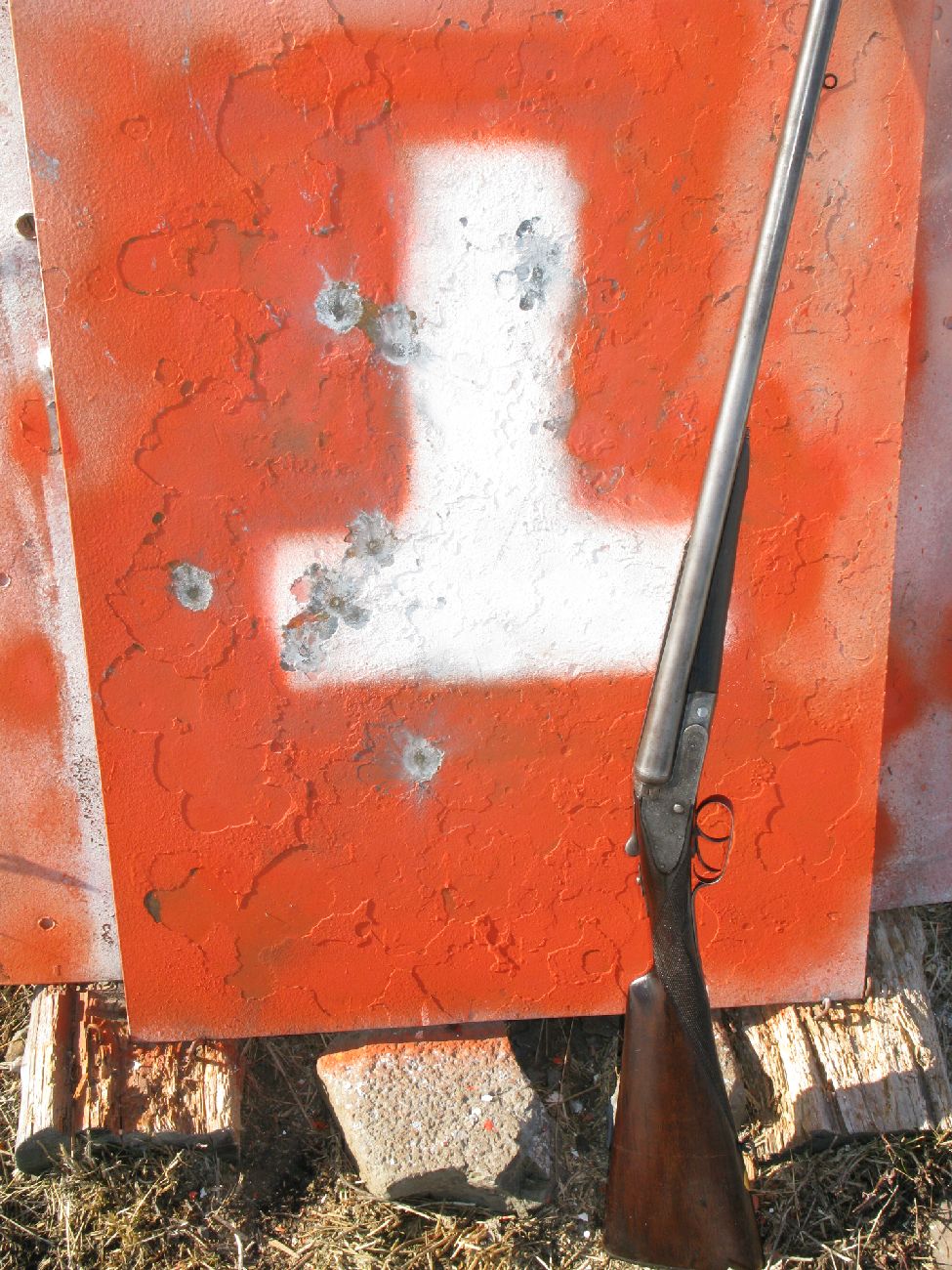 The bores had some frost, but were untouched and the first question before any madness began was, "would it still shoot." It answered well, with both black powder and nitro loads with bullets from an original mould. So, her soul was alive and well. Now was the time for grand decisions; first, who to do the work and then what to do.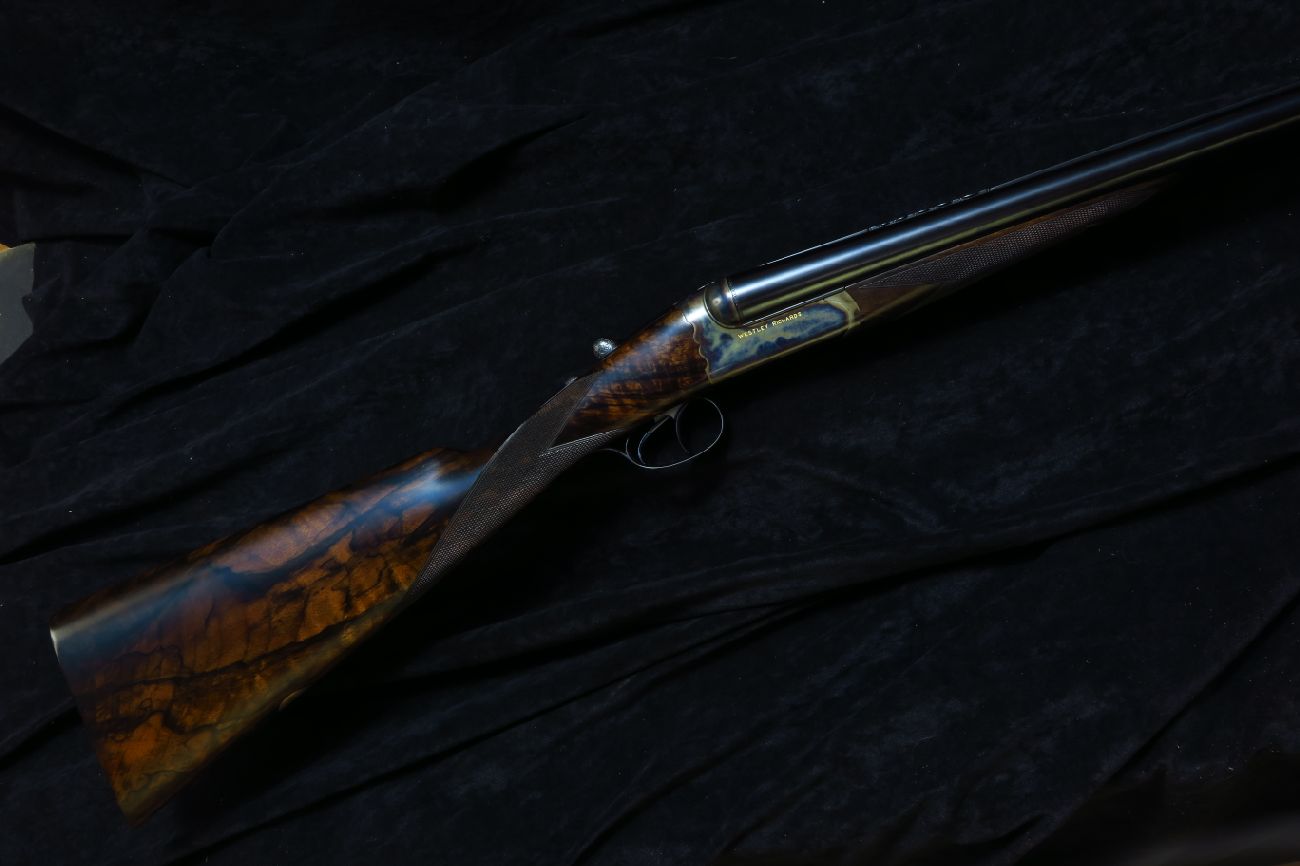 My whole thought process was aided and assuaged by another gun. This was a best quality, gold-name, Super Magnum Explora with detachable locks that I paid her makers extravagantly for more than a decade earlier. It was a very complete restoration (on an obviously unmolested gun): magnificent stock, beautiful case colours, rust and charcoal blue, done by Westley Richards. It was and is one of the most handsome firearms I have ever seen, simply magnificent elegance as it left the workshop nearly 100 years earlier. I knew what could be done and who could do it. Further I have a long association with Westley Richards and know from the owner down to many of the lads in the workshop they understand old things and their history. The Holland went into a crate and left for England.
I waited for their assessment and even to know if they would agree to take on the challenge and to my delight the answer was "yes". Some of the work was obvious: A new stock with a perfect piece of "old" wood with stump figure as used in the originals, straighten the bent guard bow, make a new hinge pin and other various pins and screws, and put it all mechanically perfect. That was easy, but then the question from Simon Clode, "where should we quit?" The barrels obviously needed to be struck and browned, but other than some small places the engraving was still sharp and untouched. Ultimately after much discussion we decided, "Not to stop". My final instructions were to, "Make it new again, just like the day it left the showroom in the late 1800s". I added a few grand complications: the furniture must have real charcoal blue, the barrel brown must be perfect with high pattern definition and the chequering must be "flat top". Now it was time to wait, and wait. There was only one sensible time requirement . . . there was no time requirement. "I want your best workmen, in their happiest mood, under no pressure." Years passed.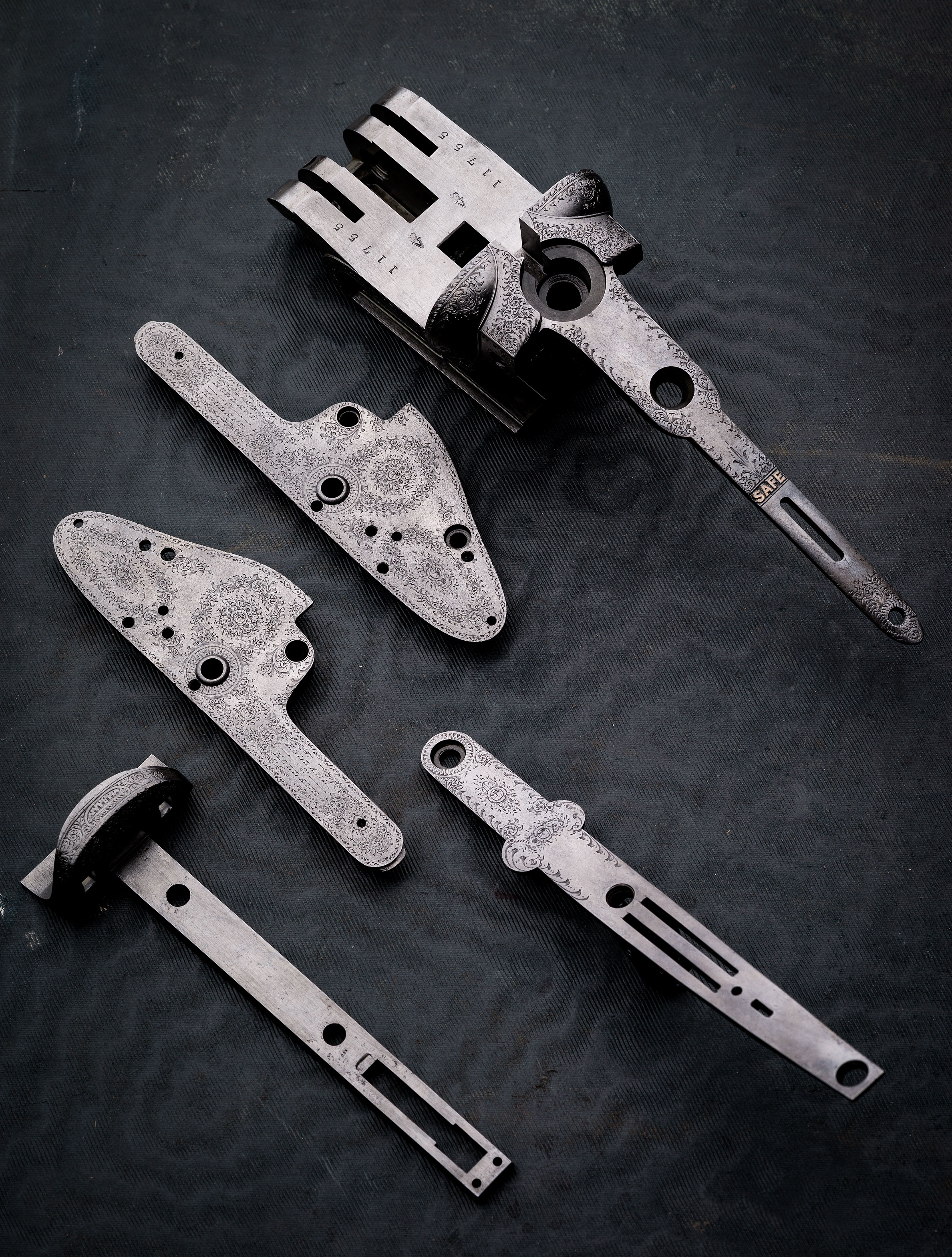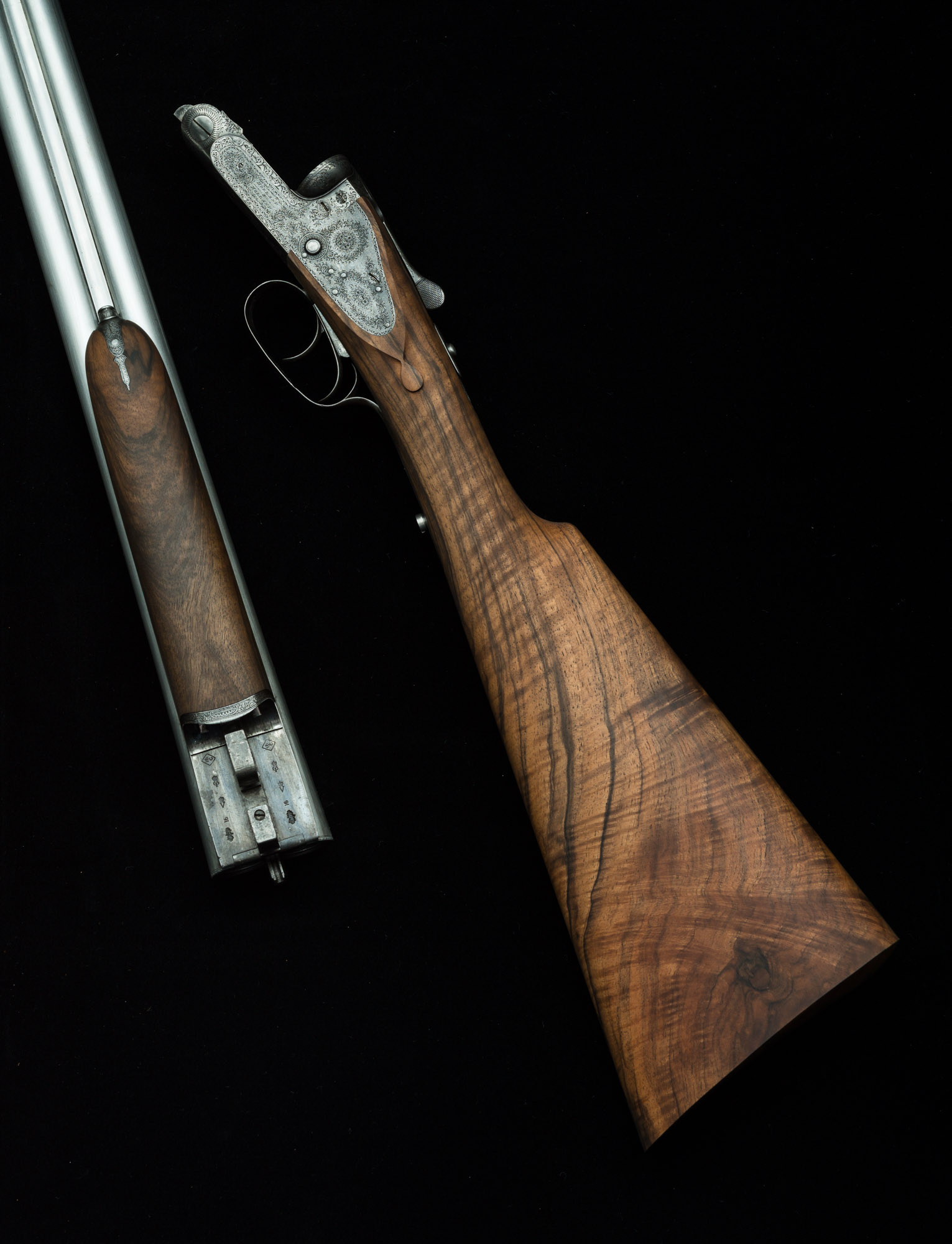 Then the note came that said, "We are close", and some tantalizing photos of the progress. At every step there was wonder in the images; the lines at first and then the details. Finally one day that brown UPS truck with a red-label overnight extra signature giant box. I can only say I was shocked, stunned and thrilled. There she was, new and magnificent in every detail. The perfect inletting and lines, the impossible flat-top chequering and a horn butt plate that had grown with the tree. The furniture black looked an inch thick and the barrel brown not only perfectly coloured, but with every detail of the Damascus pattern vivid. Colour hardening as it would have been back then and the internal lock pins left properly white, while the main pins were colour hardened. The action and barrels were tight, but not that grudging tight as found on so many new guns. Ms. Holland's action had been made "free", one of the last and lost arts in fine gunmaking. After hardening the various bearings are burnished, made to move and fit perfectly.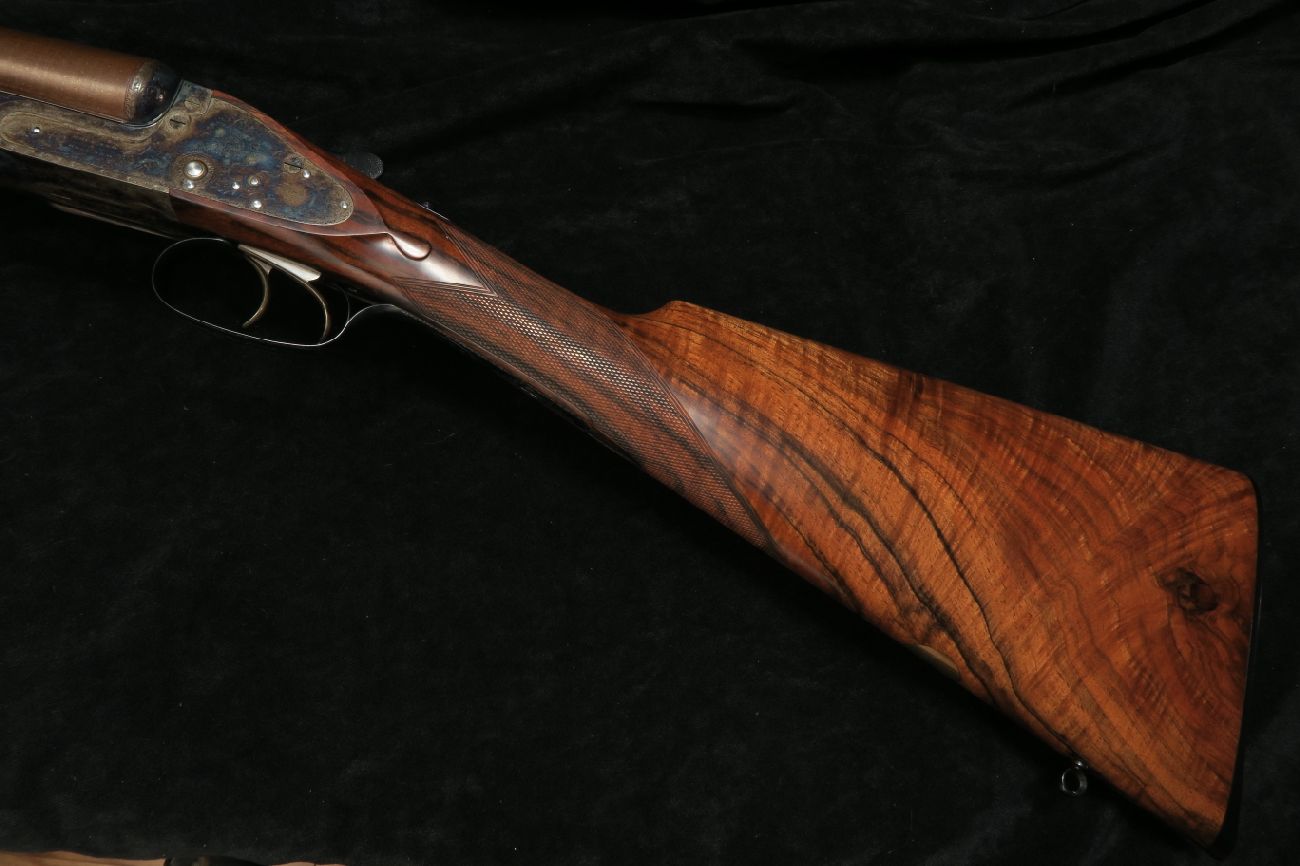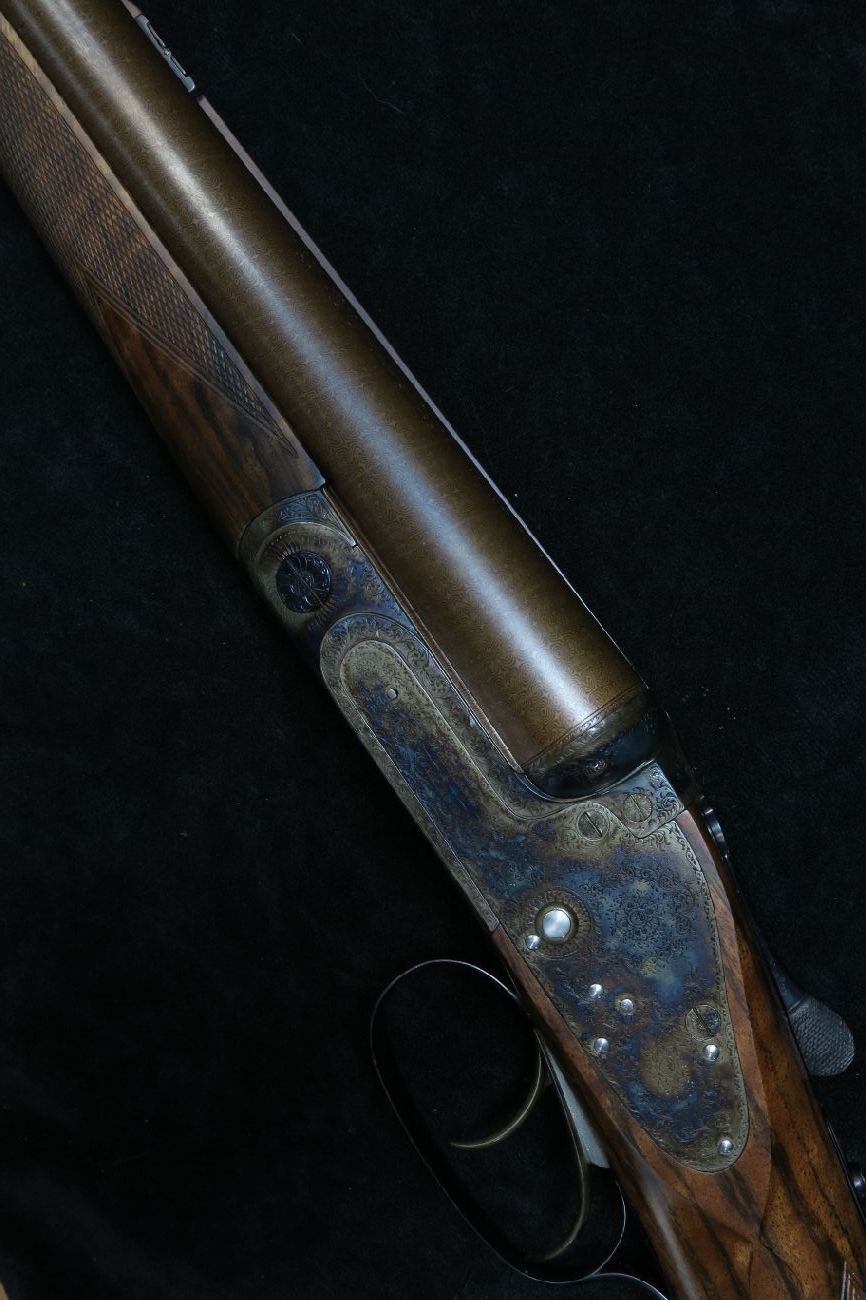 She came coincidentally on the first day of dove season. The first shot folded a bird at about 25 yards; the third round killed a pair, both of them stone dead crossing at 40 yards. They even added the magic! I confess it has allowed some birds to escape without a shot; I was busy staring at the gun while they slipped by.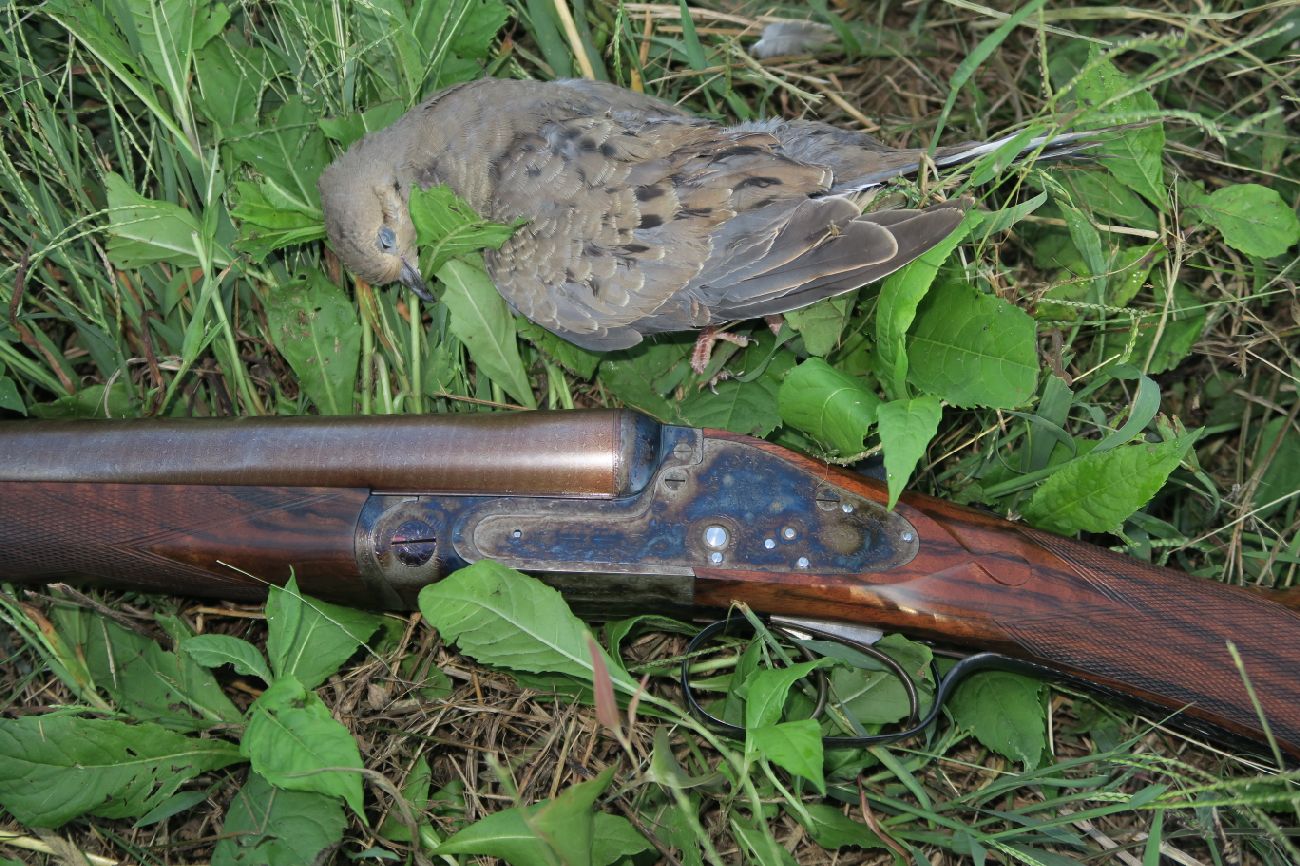 Lastly, I want to personally thank each and every gunmaker who touched it, amongst whom I know Ken Halbert and Sam Banner action work, Romain Lepinois stocking, the 2 Chris's, Eggington and Bridge finishing and all the others who played some part. Finally Simon Clode for guarding a company so it remembers that it has been making greatness for more than 200 years. The end result testifies to the fact that there was effort above and beyond; for I know a perfect restoration is much more difficult than finishing a new gun.