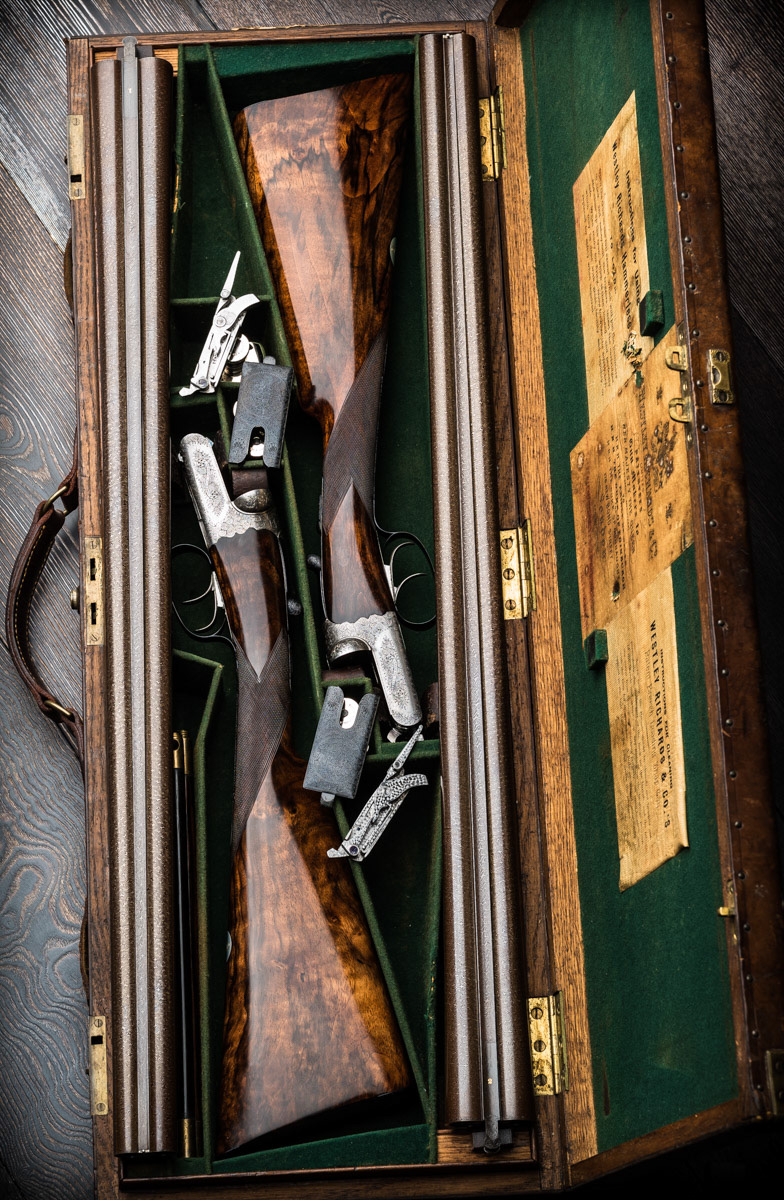 While I have a great appreciation for side lock guns, the simplicity in design of the Anson & Deeley action is my personal favorite and the Westley Richards hand detachable design takes it to a pinnacle of the concept and achievement. I have had a desired configuration in mind which has been the proverbial "needle in the haystack" for me. I wanted: pre-war, hand detachable, 30 inch barrels, straight hand, and preferably cased, and as un-molested as possible. In October of 2015 I took notice of a really nice clean Westley Richards, Heronshaw model on the used gun site. The barrels were 28 inches and the gun was in a nice condition and priced very fairly. After going back and forth to the site over a couple of days and taking several looks I decided, "I'll take it". Honestly knowing this is not the configuration I wanted. Yet I then sent off an email and get a prompt reply from Simon that it is being held for a fellow who is away on holiday and that the gun is sold. At this point I am beginning to think that I am not going to find what I want even if I will compromise on model and configuration. Of course the gun I want is available on order, and I am patient and have no problem with the wait, but I cannot make the financial side work. I would just have to sell too many of my other guns to make that happen. In my back and forth communication with Simon I had expressed what I ultimately wanted and he encouraged me to, "Probably better to wait for a droplock. I may have one (or 2) in a minute!" So then a proper used gun remained my opportunity. I would come to realize that this is the first installment of good advice that I would receive and I came to a few conclusions right then, that:
I would rely more on Simon and Westley Richards as the knowledge and ability to correct any issues with the guns lies there, while continuing to look elsewhere. I could purchase a gun in another place and should it be in unacceptable condition or have problems I would need to contract out any work on my own taking additional risk. Just the shipping here and there, back and forth, especially overseas adds up significantly. I wanted to avoid this additional expense.
I would need to have a range of configuration requirements in mind and be quick to know what compromises I would be willing to make quickly. I really had to know what I wanted.
I needed to have an idea concerning grade and condition that is a minimum that I would accept.
I would need to have the budget amount nailed down to allow me to commit to a deal quickly.
So, some 6 months later, getting to the office early as usual and running through the suspect sites including, The Explora, and Westley Richards, I see the blot post, "Damascus Game Guns Sir"? The picture caught my attention immediately. In it I see not one but two droplocks, in a three lock, three label case. The pictures alone told me a story of pre-war guns that interest me. In Simon's description I learn that they were made in 1907 that the barrel length was 30 inches and that barrel integrity and original chambers were there. He then proceeded to outline the detailed elements of the restoration for both of these particular guns. At this point there is not much for me to think about, only to get a few more details as soon as possible.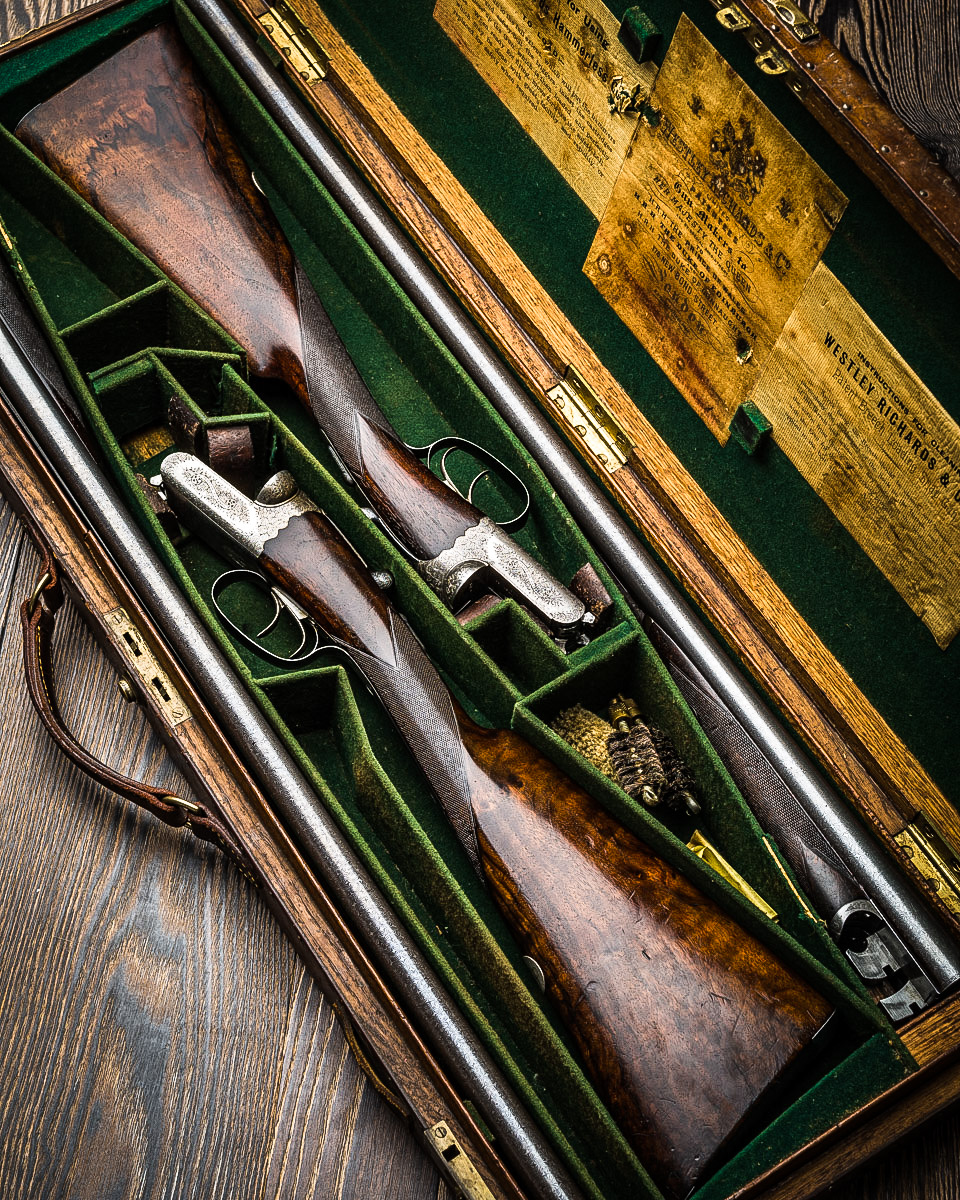 The difference is that this time I was prepared along the lines of the criteria I previously mentioned and I believed that I might have found my "needle(s) in the haystack". I immediately sent an email with a few basic questions and received a prompt reply. The guns were available and the terms were given to me with a note to "be quick"! I countered the terms, lost the battle, and was promised satisfaction with the guns with a more or less, "trust me, you will not be sorry" statement from Simon. At this point I committed to the deal, he agreed and a really pleasant experience began, which in all honesty only enhanced the whole affair. I took a look back through the emails and this was approximately a four hour process from start to finish. Simon did let me know via email the following morning that I had in fact been quick, made a good decision and that his inbox was full of those who wanted these guns. I was next contacted by Ricky Bond, Gunroom Manager and he entertained a few questions, supplying prompt answers as to choke, etc. Ricky asked me what modifications that I wanted to make, did I want to vacate the stock ovals and add my initials? I knew that I wanted to keep it all, guns and case, in a sense together as it came. So the ovals were left as they were though they were made better as to fit and finish through the process. My follow on to that was that we should just complete the work that Simon has outlined. Throughout this four month restoration process Ricky kept me appraised of various activities; barrels back from proof house, barrels at browner, stock being refinished, checkering completed, etc. This level of communication makes the wait easier. Then, as it seems as I get older, the time just went away somewhere and Ricky gives me notice that we are, "about two more weeks or so out", followed a few days later with "your guns have been shipped".
Then last Friday as I am wrapping up a busy week. I received an email that my package has been delivered to my dealer. This was a very long day at work! My first impression was the care taken in crating and packaging. I am not really sure that I had a picture in my mind of what the package would look like or had even thought about it but I was nonetheless impressed. The whole thing was in a very well-done wood crate clearly made to fit its contents. The original leather case was on top inside the crate wrapped in bubble wrap and blocked to the center with foam blocks. The original leather case had been fitted with very nice replacement leather case straps that were missing in the original pictures. This was the first of a few more surprises. Upon opening the leather case, there were no guns, only small items wrapped in tissue. After removing the leather case I find in the bottom of the crate a nice hard aluminum and plastic foam lined case also blocked into place. In this one, the guns, carefully wrapped first in oil paper, followed by tissue, and then bubble wrap. This was a better package opening experience than any Christmas Morning! The best though, was yet to come. The original case had been, in Simon's words, "made right". A great surprise and added bonus was that the original case had been very nicely re-accessorized with basic Westley Richards branded items and those all wrapped as little gifts in tissue. I do not know that I could have unwrapped the guns any more slowly. One I was being careful and two I didn't want this process to be over so fast. This was fun!
After looking over each piece of the guns I could now see what Simon saw in the beginning that these guns were great candidates for, "a light restoration and refurbishment" as he had put it. As we say in the South, there were just no "hickeys" on these guns. Only honest, even wear and in their original configuration and clearly had been very well cared for.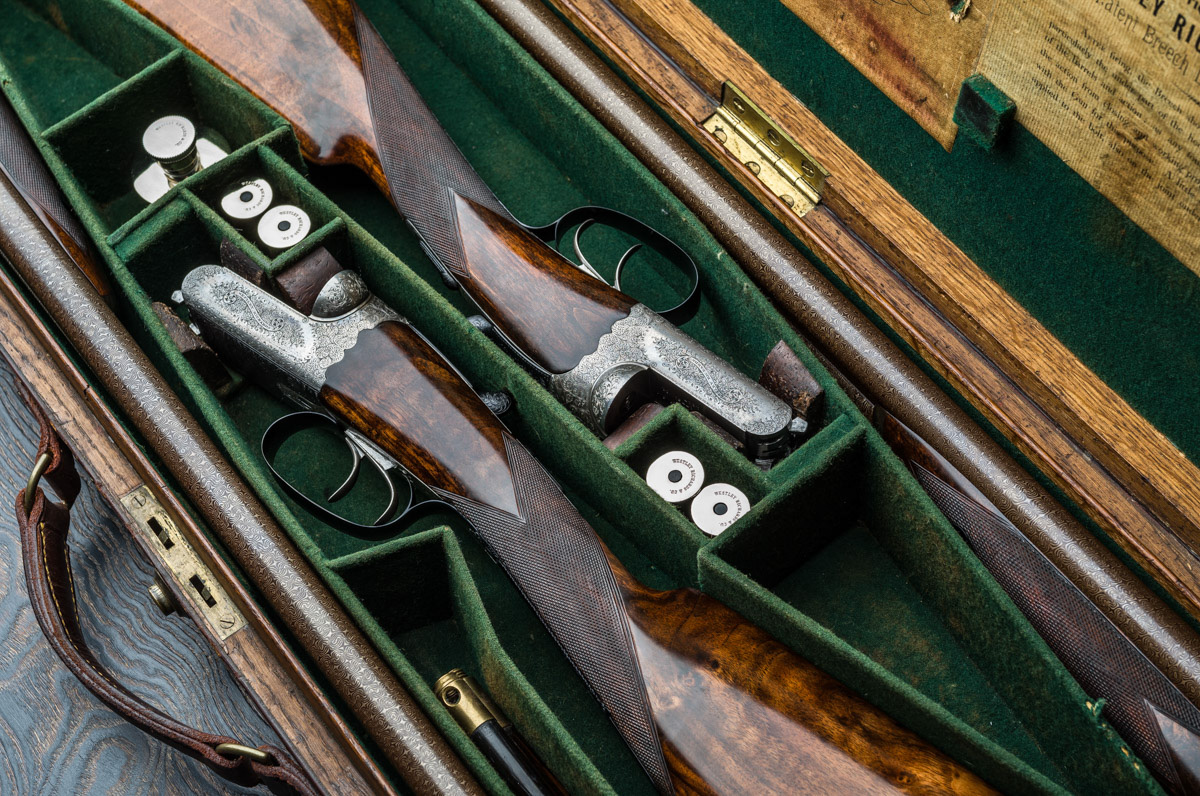 To say that the work undertaken and the results exceeded my expectations is maybe the understatement of my life. Every facet of these guns are now in fabulous condition. The wood is even better than the excellent photographs reveal, remaining just proud as is desired even after refinishing. I had expected the heel and toe plates to not fit perfectly but they do. All screws are North and South. The barrel striking and browning is of such quality that it is hard to describe and is just superb along with the re-blacking of the furniture. The checkering is in great shape and the stock finish all that could be desired. I believe that these are either a three or four iron pattern Damascus pattern and they are beautiful with mirror bores. They were reproofed at 1 1/8 oz. and that is suitable for any use that they will see. I shot them for pattern with Hull brand plastic case 15/16 oz. #7's and Hull brand paper case 1 oz. #6's. The barrels pattern beautifully consistent left to left and right to right as the bore and choke dimensions are virtually identical in both guns. Incidentally the guns are consecutively serial numbered along with the barrels, top lever, and forend iron being numbered #1 & #2 in gold. The cast-off in both stocks is at about 3/16 inch which is perfect, with good length, they fit very well. They will be off to West Texas to Dove hunt in the next two weeks followed by a trip to South Dakota for Huns, Sharp-tails, and Pheasant in late October then winter Quail hunting in West Texas and Western Oklahoma. I look forward to using them throughout the coming months.
Finally, I have not one but two Westley Richard's hand detachable guns. A true pair, so engraved, consecutively serial numbered, cased, scroll back action with beautiful wood and barrels along with many more fine attributes. Not only pre-war but pre-many wars. The other thing that I have not mentioned is that these guns lived their life in the immediate vicinity of my family's ancestral home. That did draw me to these guns in some odd way.
In this journey my contribution was listening and taking Simon Clode at his word and advice along with exercising patience which is a quality I am thankful to possess. The major contribution was made somewhere around the year 1907 when these guns were specified and built by outstanding turn of the century Gunmakers. I can imagine that they went home at the end of the day deeply satisfied at the results of their labor of love. The latest contribution in this year of 2016, 109 years later, has been made by the team existing at Westley Richards today, to include all of them, each playing an equally important role and function. I feel that they should go home at the end of the day equally as satisfied and proud of their effort just as those that did in 1907. They are building on and enhancing a truly historic legacy and one that is very uncommon today. The entire team has done what their mission states if I may take a little liberty, "They have restored and refurbished a Unique pair of Especially Good Shotguns". I do not know of any better way to praise the whole team than to say that, "I strongly recommend them without any hesitation".
Am I a sycophant for Westley Richards? No. There are many great Gunmakers and guns. Am I a fan, supporter, advocate, and customer? Yes. And unapologetically so!
Am I happy with this whole process, from the discovery of the guns, through the whole of the process until today? Why yes, furthermore ecstatic. I found my needle in the haystack!