The rifle, cased in its wooden box, with Westley Richards Trade label, bullet mold, powder flask and some patches, bullets and tow, is not a toy.
Although it is a mere sixteen-and-a-half inches from butt to muzzle, it if fully rifled, has been proof tested in Birmingham and bears the marks to prove it.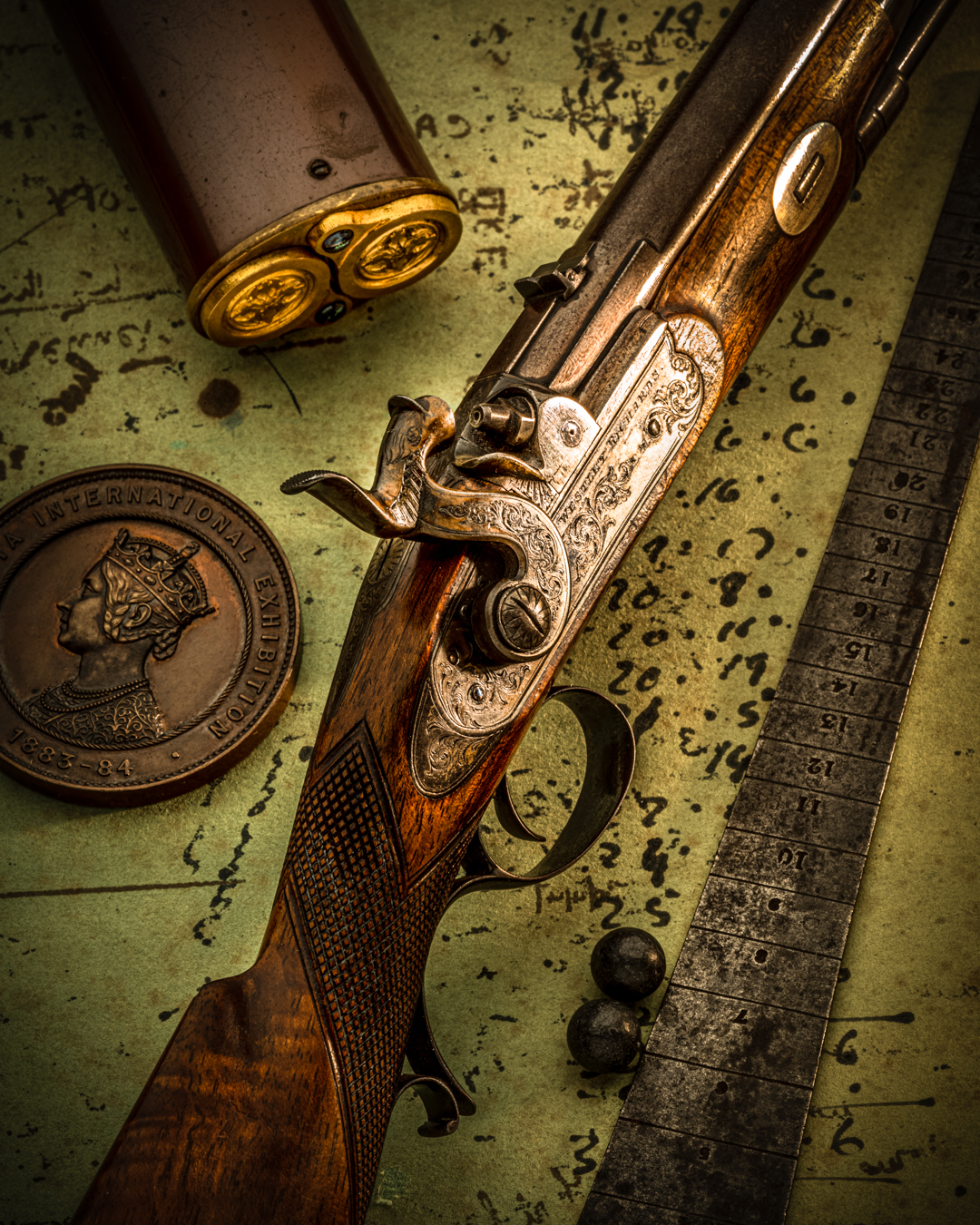 It was supposedly made for a man born in Connecticut in the United States, who became a celebrated performer at home, then quickly turned into a worldwide superstar while still a child, as part of P.T. Barnum's 'American Museum'.
This man was a talented singer, actor and comedian and his name was Charles Sherwood Stratton, though to the world he was known as General Tom Thumb. He stood just three feet, four inches high in adulthood.
Stratton was born to parents of normal stature and weighed over nine pounds at birth. However, he stopped growing at six months old and thereafter grew only very slightly until the age of twenty-one.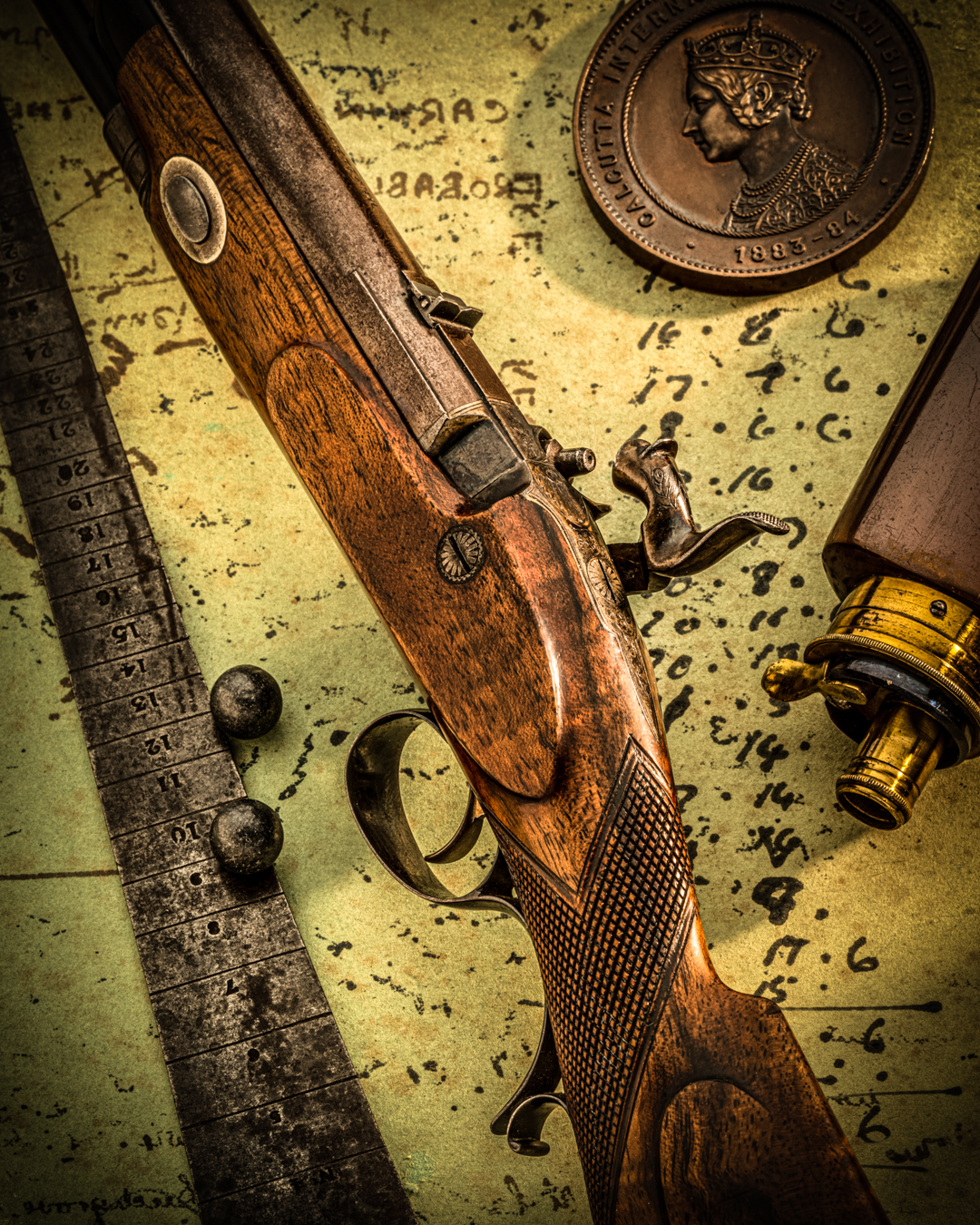 Barnum entered Stratton's life in 1842, when he was just four years old and taught him to sing, dance and do celebrity impressions. Soon he was performing in New York, as 'General Tom Thumb', drawing large crowds and earning $50 a week, when a local labourer could expect no more than a dollar for a ten-hour day!
In 1844 he made his first trip to England, with Barnum, and gave a very well received command performance for the recently widowed Queen Victoria. Barnum had a mini carriage made for Stratton to travel around London and he went on to tour other European cities.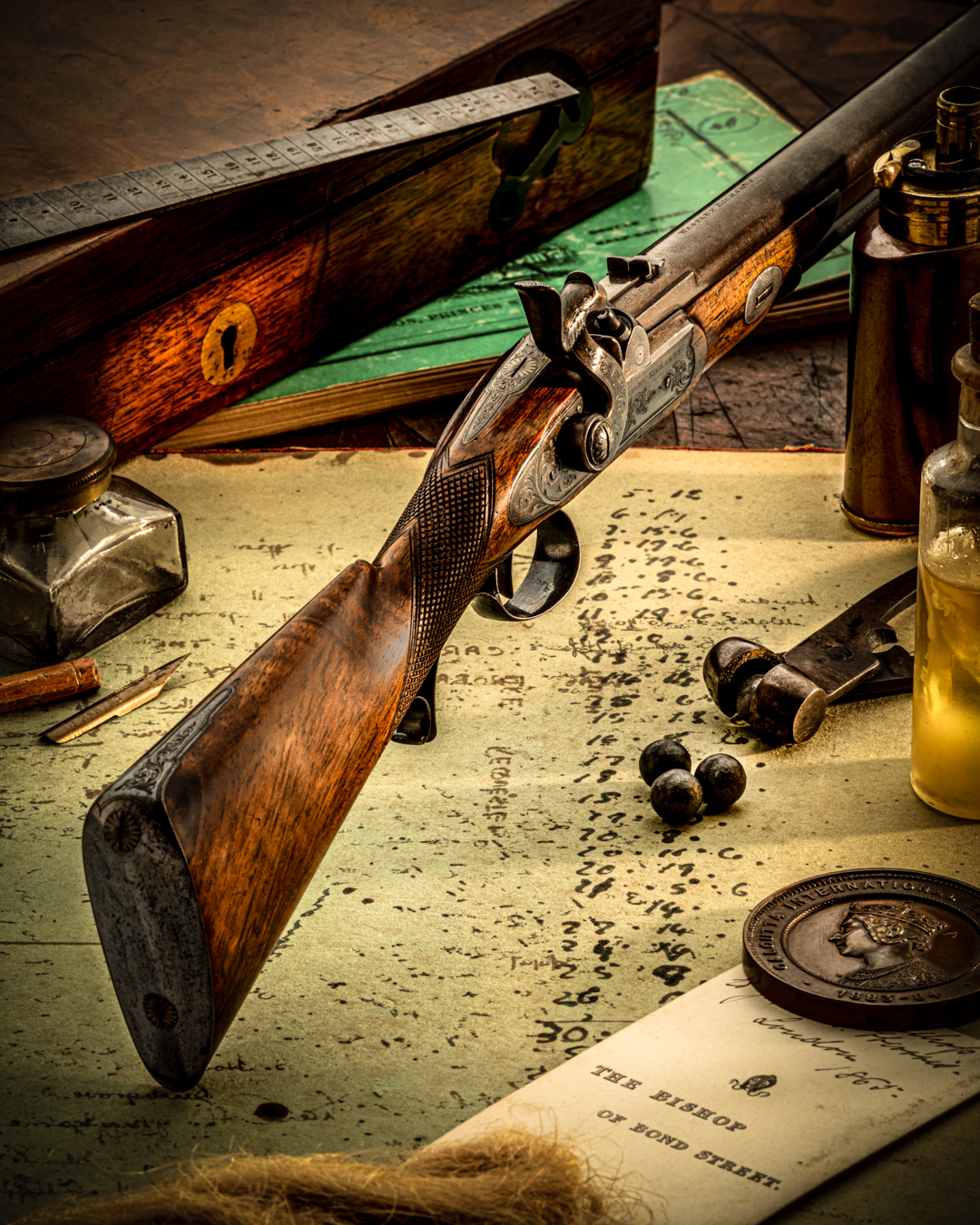 In the 1860s Stratton performed for, and met, President Lincoln and then toured the world for three years. His success made him very wealthy and he eventually owned a large, luxurious house in New York, which he shared with his (equally small) wife Lavinia.
The Strattons retired in the 1880s, to a mansion in Massachusetts, where Charles died unexpectedly of a stroke at the age of forty-five. Twenty Thousand people turned out for his funeral and a large marble monument still marks his grave. 'Tom Thumb' was a genuine international superstar, with the lifestyle and income that accompanied that fame.
This beautiful, tiny, 64-bore rifle is attributed to him through oral tradition but can the link be verified?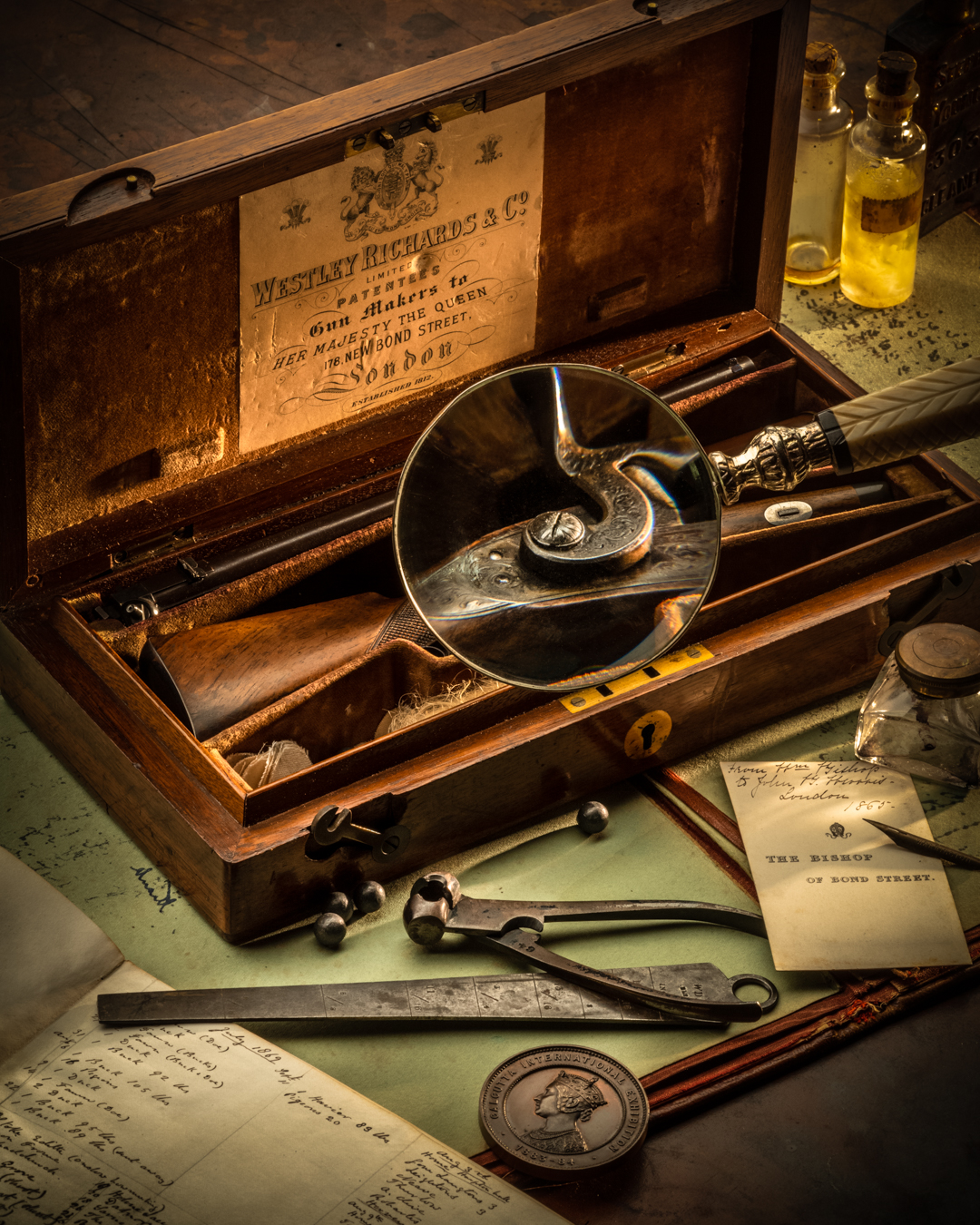 We know Charles Stratton visited England in 1844 and that he was born in 1838, so he would have been just six years old on that first trip. He was only 25 inches tall and 15 pounds in weight until his teenage years.
It seems unlikely that Westley Richards would have made a rifle for a six year old. He toured Europe again in 1862, when he was twenty-four, by which time he had reached his full-grown height of two feet, eleven inches. However, the rifle appears to be typical of Westley Richards output of around 1850.
By 1862 most sportsmen were ordering breech-loaders and a percussion muzzle loader would have been considered rather old-fashioned, even by traditionalists, never mind to a young man in his prime.
Perhaps stock fit can help us determine the practicalities of the rifle if it were indeed made for a man of short stature.
As Charles was two feet eleven inches tall as an adult, what stock length would have been usable for him? The fact that he was a midget, rather than a dwarf, helps with this calculation, as midgets have bodies and legs that are in proportion, just smaller.
If we consider that an averagely built six-foot man can shoot comfortably with a rifle stock length of about 14" -14 ½", we should be able to halve that to see what a three foot tall man might use; which gives us a measurement of around 7" However, the length of pull on the actual rifle is only 5".
The barrel length, of 9 ½", doubled would only be 18", compared to the 28" barrel a standard rifle of the day might be expected to have. So, it appears that the rifle would have been unusually small even for a man of Charles Stratton's adult stature.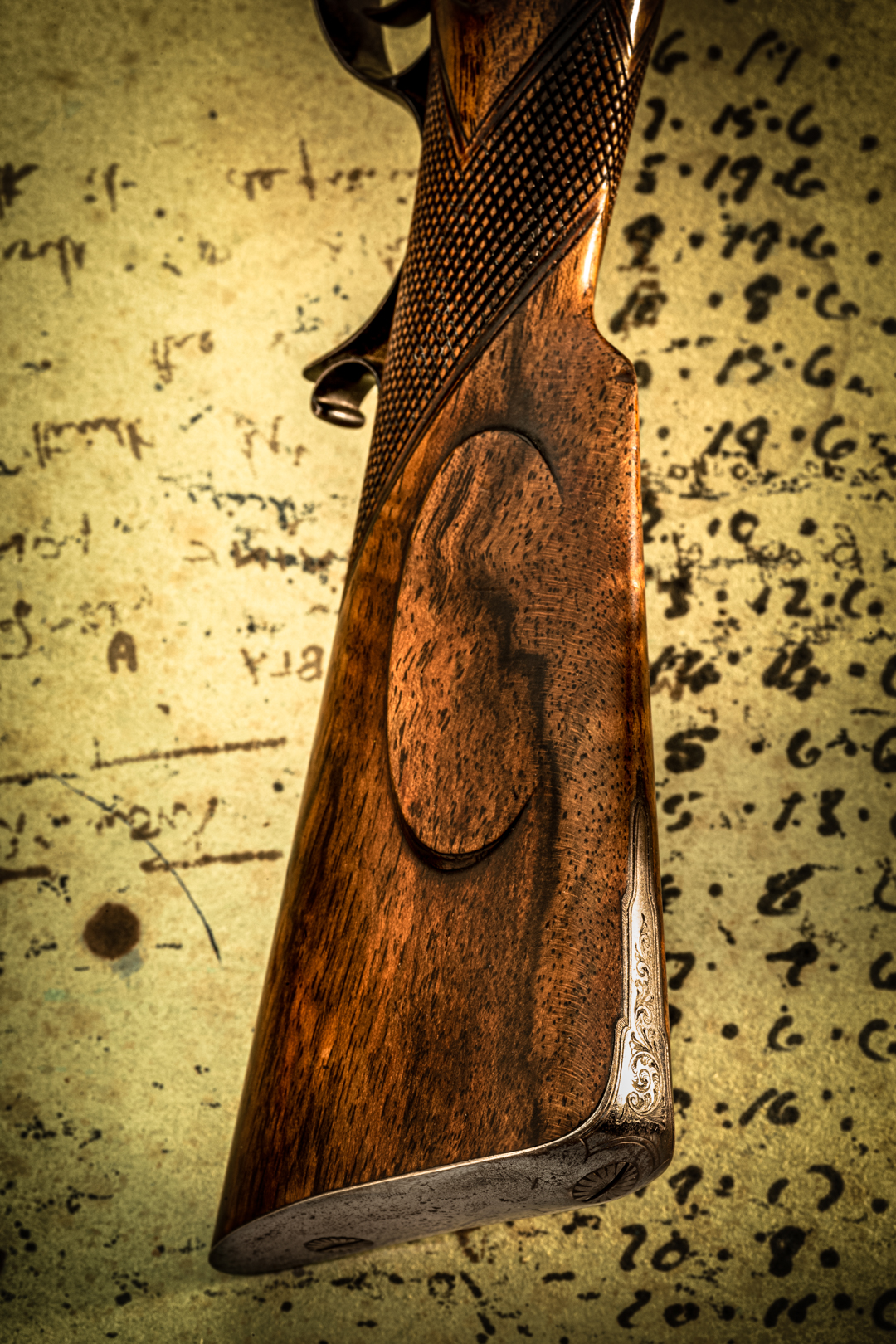 When Stratton first visited England, in 1844, he was only six years old and twenty-five inches tall. The stock length for an averagely built boy of that height would be a third of that of a six foot man; which gives us an expected length of pull of 4 1/5", which is closer to the actual length of 5" but who would have ordered  rifle for a six year old?
These exercises make it more plausible that the rifle was built for the young 1844 Charles Stratton than the adult (1862) version of him. Stratton reportedly did not grow larger than 25 " until his teenage years, so given the appearance of the rifle as dating from 1850, when Charles was twelve, the added half inch length on the stock might make sense.
So, there is a case for suggesting that, if the gun is 1850, it could well have been of the right proportions required to suit Charles Stratton at that time.
We just need to try and find some link to Charles, England and Westley Richards that coincides with that date. It would be so much more helpful if the rifle had a serial number!
Perusal of the order books shows that mid 1840s to early 1850s rifle orders were dominated by 14 and 16 bore rifles, with the odd 75-bore or 80-bore 'pea rifle' making an appearance.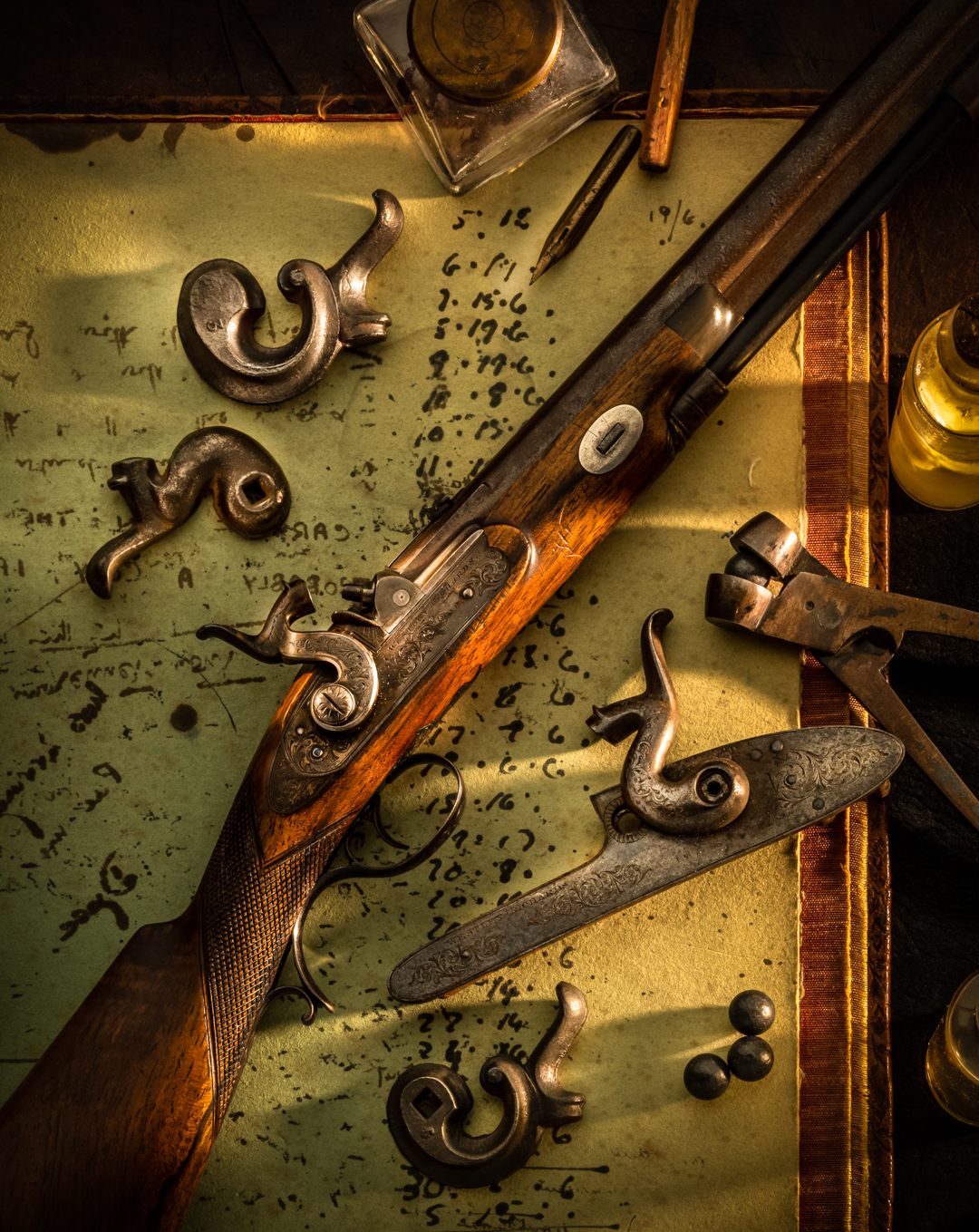 We cannot, at present, verify the traditionally-held provenance of the little rifle but we will continue to search for evidence.
What we must acknowledge is that it is a beautiful quality, fully functional percussion rifle. It has a proper bullet mold and a quantity of previously-made balls, and patches, and a powder flask with compartment for balls as well.
The bar action sidelock with hammer is perfectly fitted to the walnut stock, as are all the other metal fittings. The ebony finial is still in perfect condition and the guard retains all its original hot blue.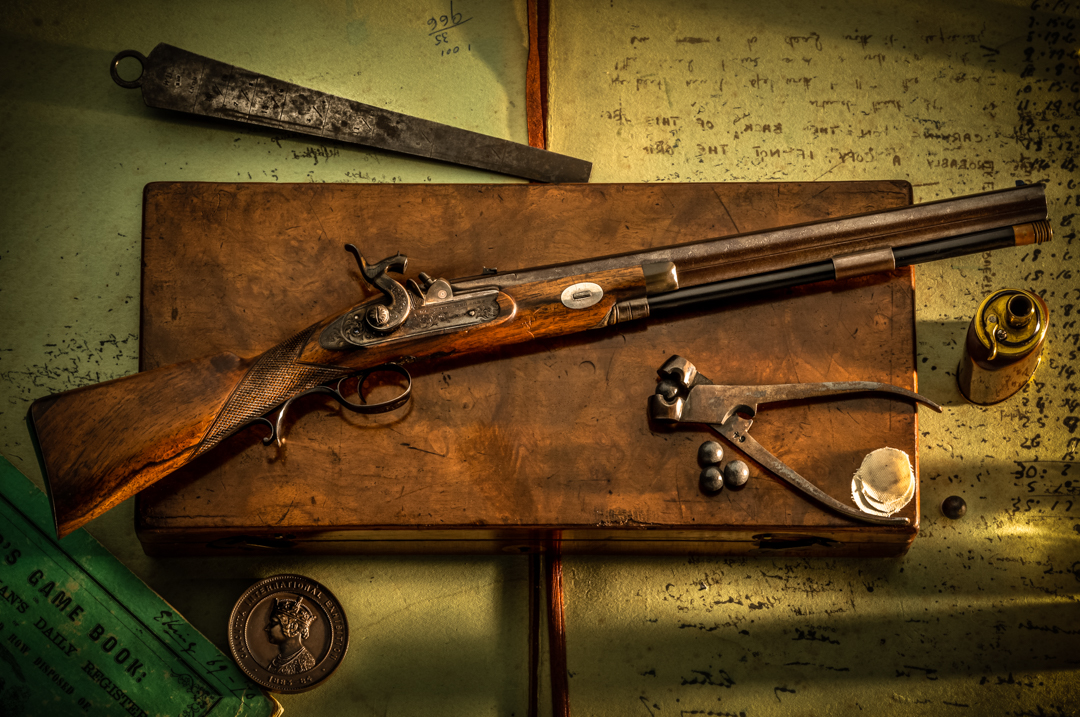 The locks and furniture are neatly engraved with medium scroll and the flat top chequer to the hand is unworn. The production values of the little rifle are equal to those of any best, full-size equivalent. The dis-assembled rifle and its accessories are housed within a box of what appears to be burr elm, lined with brown velvet, with a Westley Richards paper label in the lid, for the Bond Street shop.
Whether we can prove a link to Charles Stratton or not remains to be seen. The gun was always known at Westley Richards as the 'Tom Thumb' gun but the term 'Tom Thumb' entered the vernacular, as a euphemism for any miniature object, at least as early as 1621 because of its origins in a traditional fairy tale, first published in that year.
So, genuine it is. Owned by Charles Stratton it may have been. Whatever the truth, it remains a beautiful and immaculately preserved example of Westley Richards rifle making, in miniature, from around 1850.
NOTES
The 'Tom Thumb' rife is currently on loan to Westley Richards from our friends at John Rigby & Co.