Hallmarks of best quality, Italian made guns are beautifully scaled frames, super fine checkering, and flawless fit and finish. Above all, phenomenal engraving is what puts Italian made guns and rifles in their own league. The guns here at the U.S. Agency are no exception and all feature stunning embellishment.
Two expertly shaped and scaled 28 bore guns from Abbiatico and Salvinelli. Made for American businessman, Joe Bojalad, owner of TriEnergy Oil and Gas company of Pennsylvania and avid gun collector and important client to the fine gun trade. He was referred to A&S in the 1970's and became a lifelong friend and client and he reportedly requested the two men make his guns under the name "Abbiactico y Salvinelli" (and not FAMARS). The guns made by A&S for Mr. Bojalad were made to the very highest standards representing the best A&S produced during the peak of their gunmaking.  
The sidelock ejector is an A&S Model 560 patented hammerless, sidelock ejector with a single trigger. The lock plates, action body, and signed "Inc. G. Ferrante" on the trigger plate. 
The hammer gun is a Castore model and it is self-cocking, drawing the hammers back as the barrels fall and it has a single mechanical trigger. The lock plates, action body, hammers, and furniture are all polished with carving of a fantasy scene of a grotesque face done in the classical style with gold wire inlay and pierced top lever by Master Engraver Giancarlo Pedretti.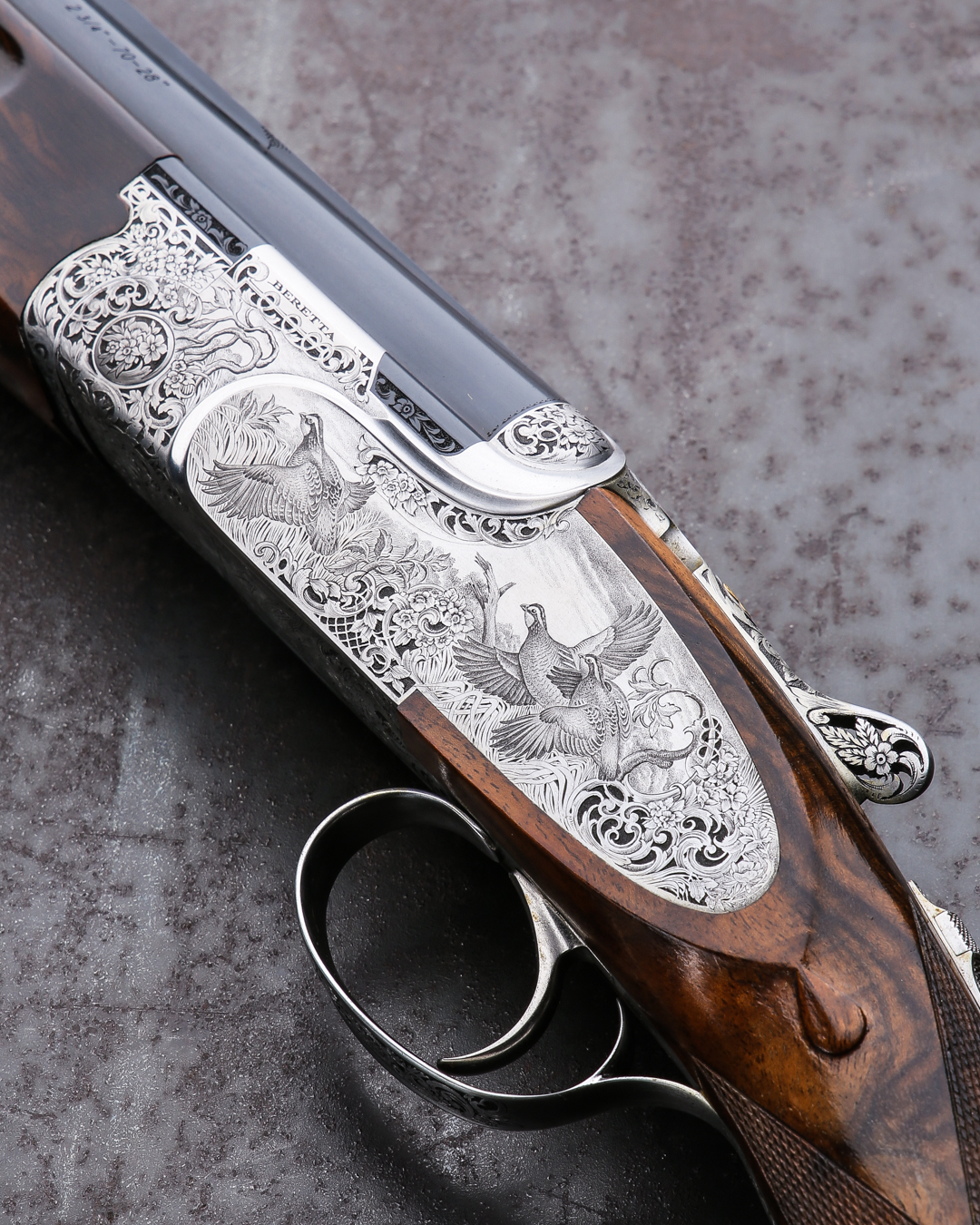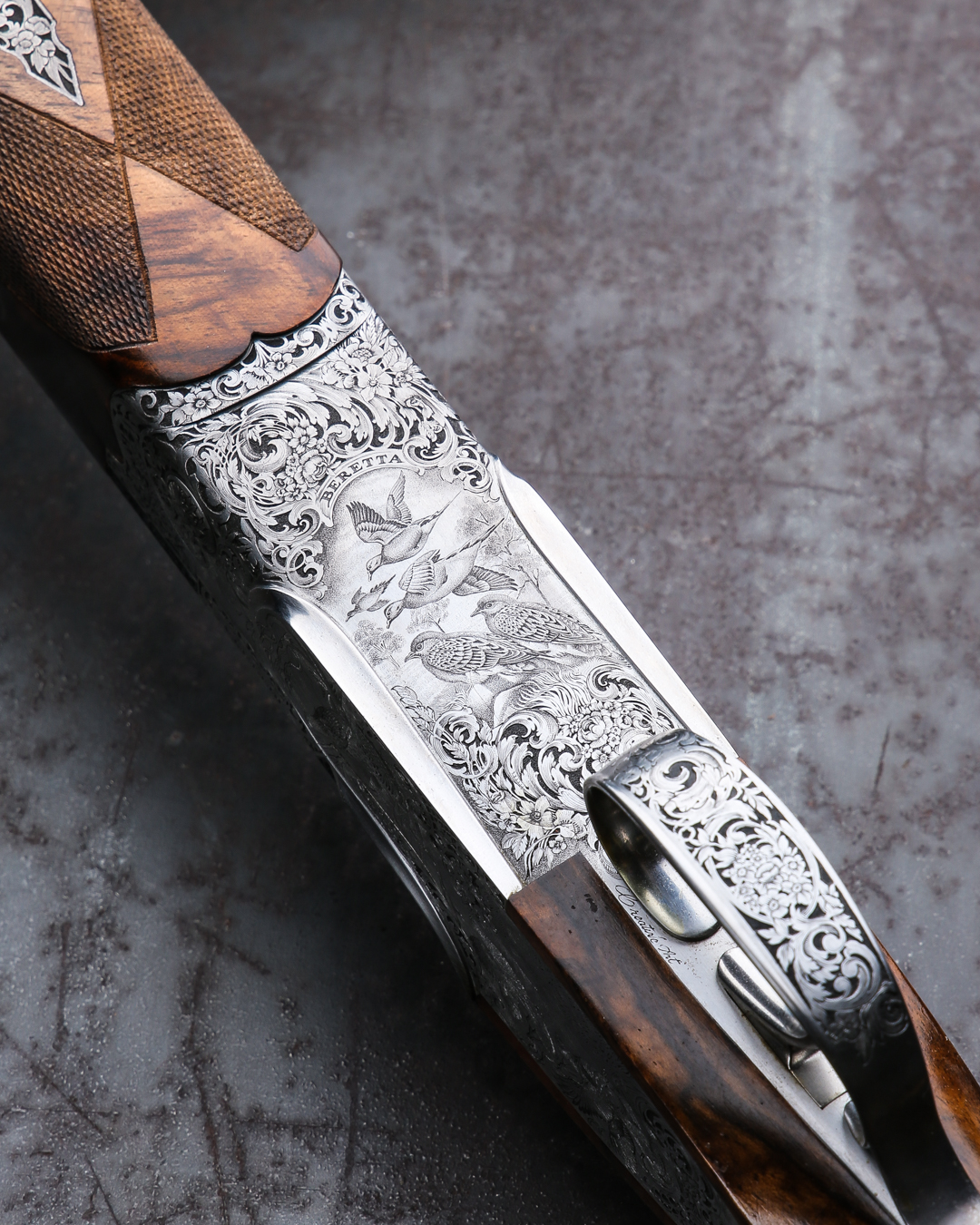 The SO10 is arguably the finest over/under shotgun ever produced by Beretta. This is a scaled 28g receiver, with hand detachable locks that are pinless with hidden detach levers. 
Highly detailed bulino engraved game scenes on the lock plates are signed "Creative Arts". The game scenes feature flushing Bobwhite quail on the left lock plates, a brace of flying grouse on right lockplate, and Mourning dove roosted and flying on the bottom of the receiver. The balance of the steel is covered in an Italian fantasy scroll. 
Carlo Casartelli .470 3 1/4" NE Kenya Sidelock Ejector Double Rifle. A very small maker out of of the town Concesio who specializes in safari style bolt action magazine rifles and double rifles.
A superbly made and engraved double based on an H&H style backaction sidelock ejector with hand detachable locks, bolstered frame, and a strap over comb.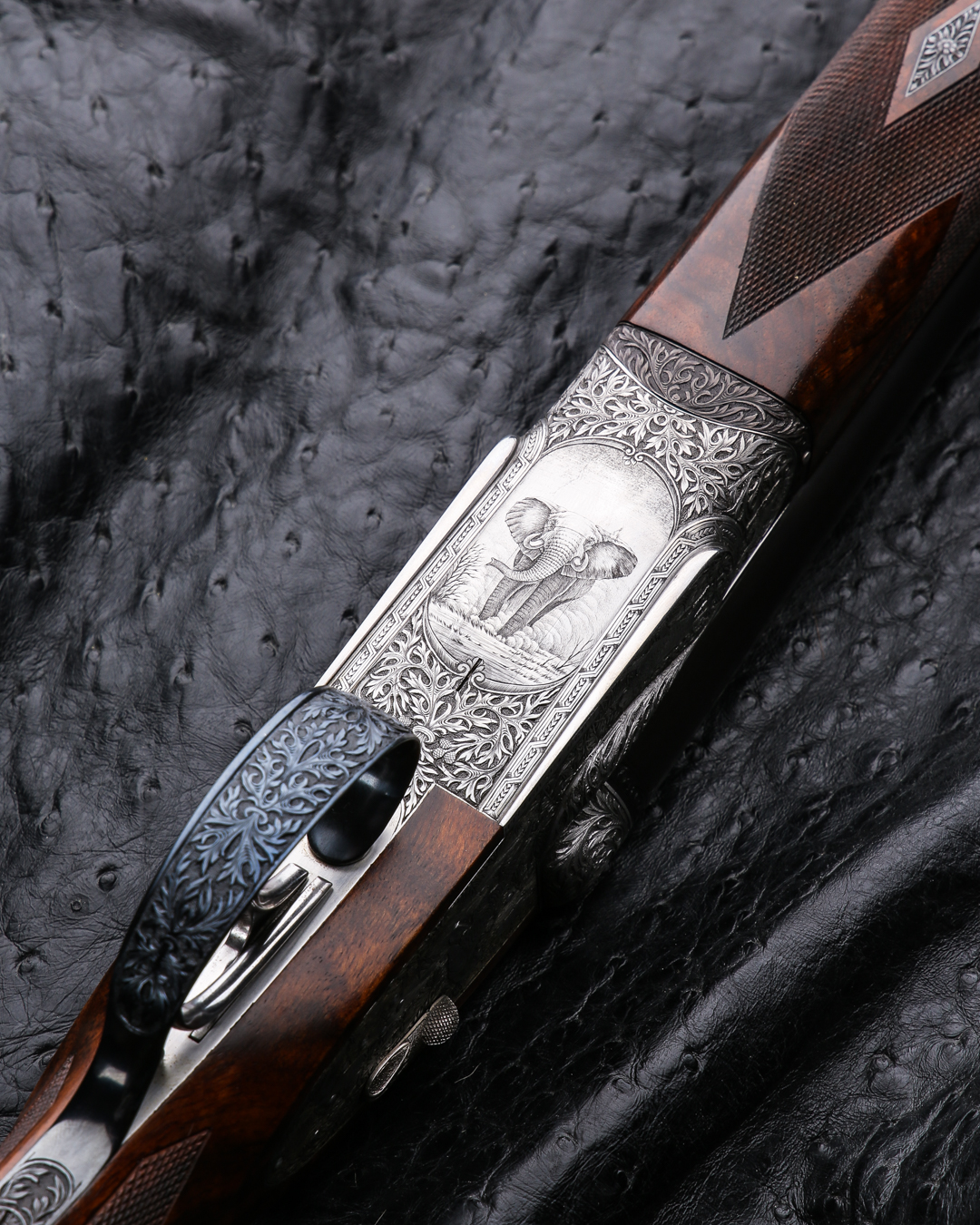 Each lock plate is engraved in an incredibly complex and detailed game scenes of tigers and India gazelles on the left lock plate with a lion and scimitar horned oryx on the right and all are among the leaves of the jungle. The deep relief engraving is in a similar motif to pre-WWI R.B. Rodda double rifles.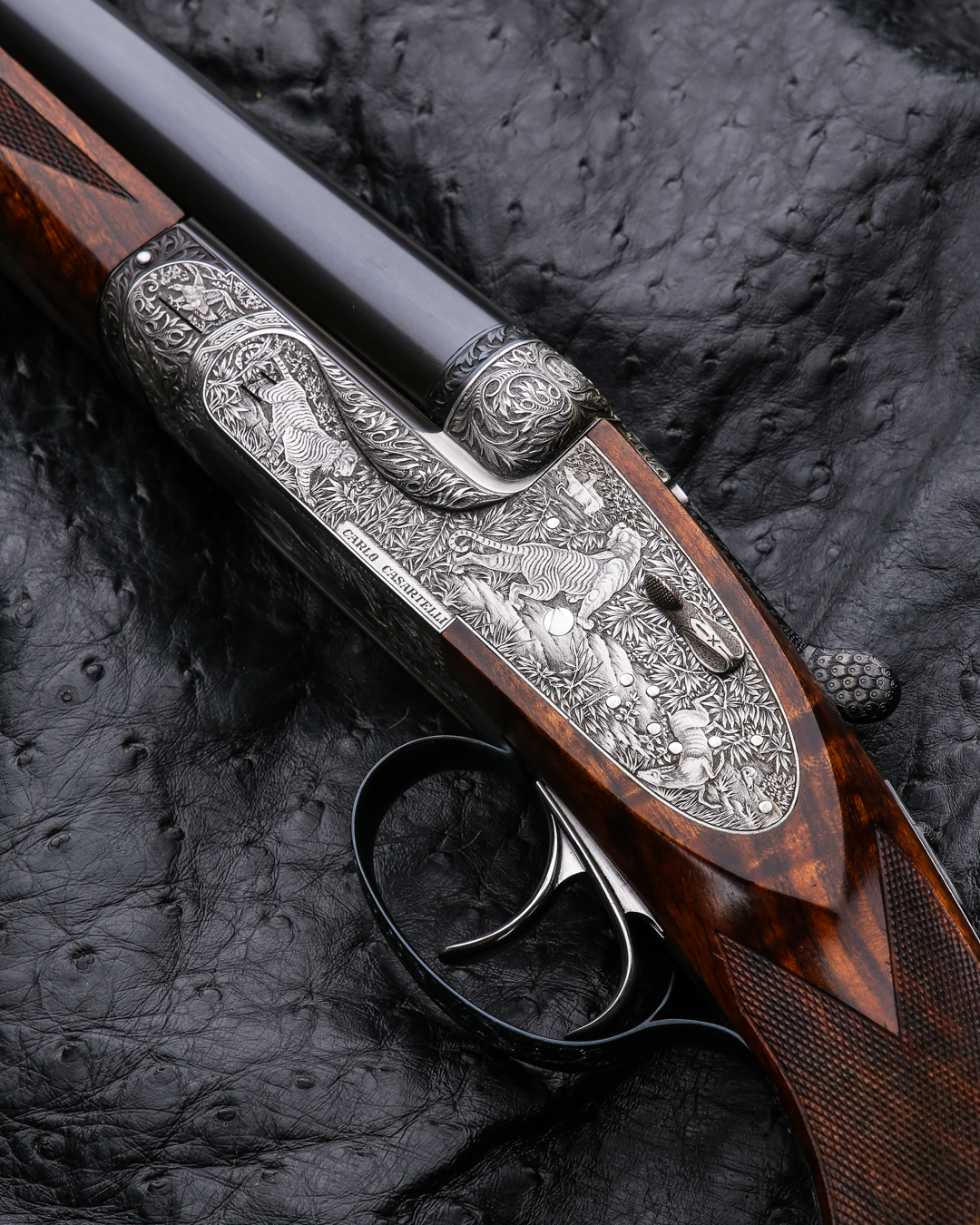 The bottom of the action depicts a bulino engraved charging bull elephant cameo. The fences, action body and furniture are decorated in a deep relief scroll pattern. 
The layout and execution of the engraving is superb but sadly the engraving is not signed but is attributed to Mario Terzi. He was known to engrave other rifles for Casartelli in a very similar style. 
An exceptional example of one of the finest guns produced in the World today. Completed in the early 21st century and based on the Fabbri "Woodward" type o/u action with expertly filed detonation and pinless lock plates, engraved by the Italian Master engraver Mario Terzi and Frederique Lepinois featuring the busts of English Setters and  English Pointers on either lock plate and what are no doubt Yellow Labs on the bottom of the action in bulino engraving among a fantasy vine and trumpet pattern layered on top of a shading done by a very fine, almost microscopic fine scroll, interspersed with various American game birds. This is a remarkable engraving that is complex, expertly executed and very recognizable.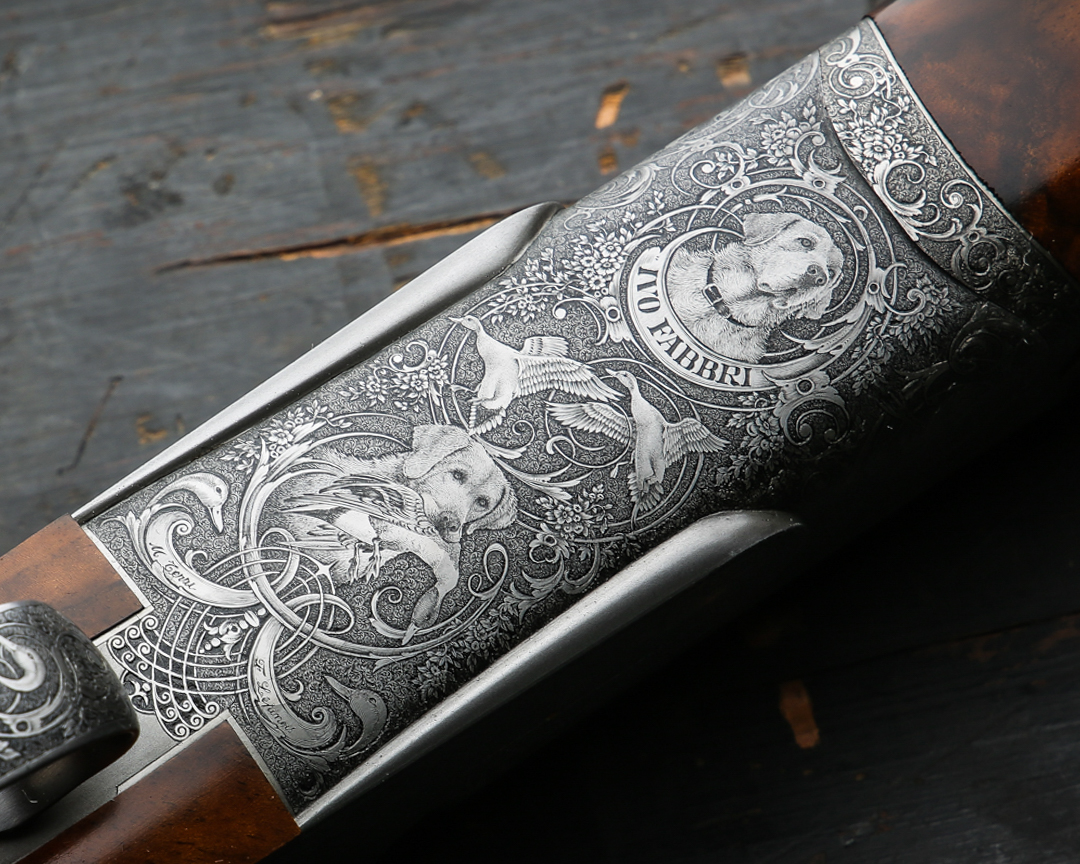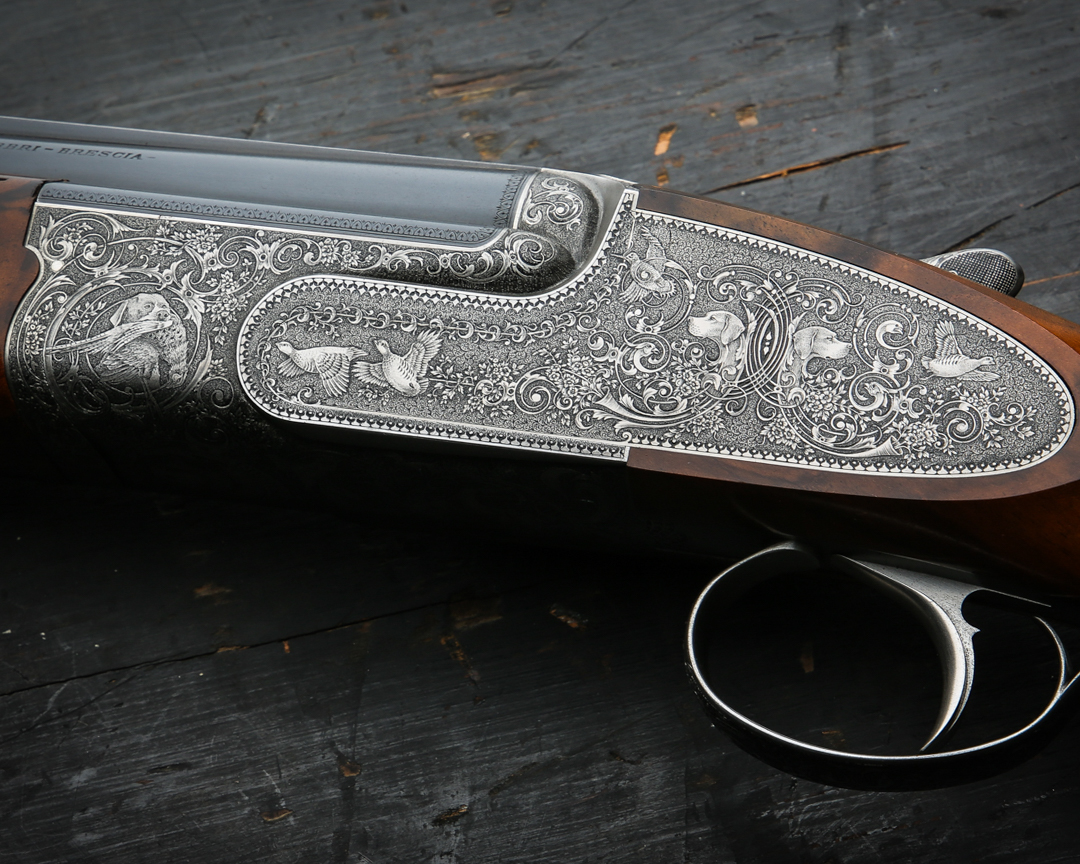 This gun is featured in a full two-page spread in the the book Mario Terzi - Master Engraver by Stephen Lamboy & Elena Michelli-Lamboy.
Established by two brothers, Araldo and Faustino Piotti in 1961. F.lli Piotti produces some of the finest guns in all of Italy. Here are two Model King EELL scaled frame, sidelock ejectors, one in 28g and one in 20g.  
The game scenes on these guns are near photographic and feature bird dogs and American birds and mammals in highly detailed bulino engraved game scenes supported by super fine Rose & Scroll.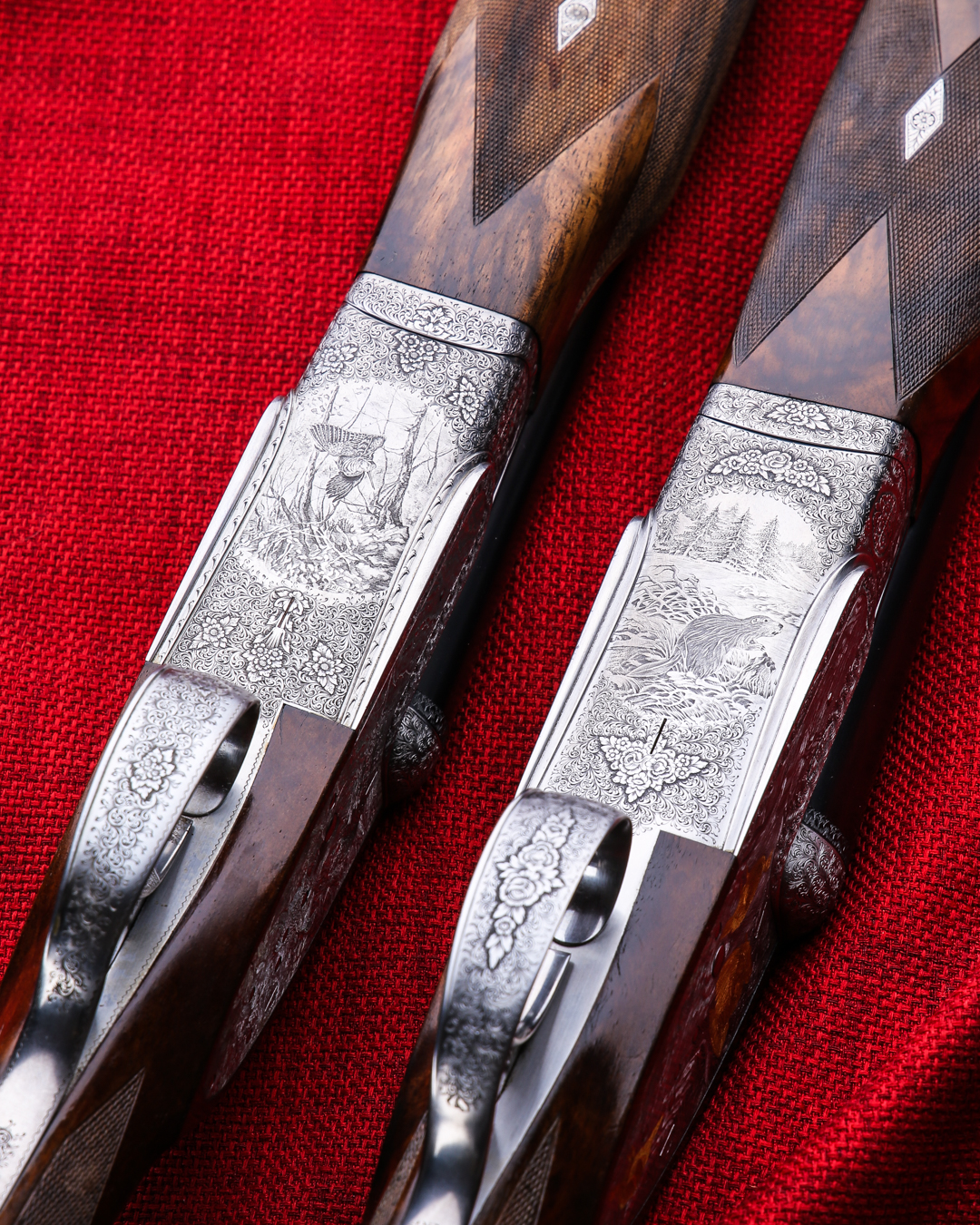 Flushing Hungarian partridge in gold on the right side lock and Wild Turkeys (1 strutting Tom and 2 hens) inlayed in gold in engraved wooded scenes on the lock plates of the 20g and a beaver building a damn is on the bottom. This gun is signed "Inc. VENZI – S"  on the trigger plate.
The 28g shows a brace of English pointers watching a covey of Chucker flush over a very grand mountain valley the right side. A rooster pheasant and a badger fight in a creek bed on the left lock plate. The bottom features a flying woodcock in alder forest. All three game scenes signed: "Balneari".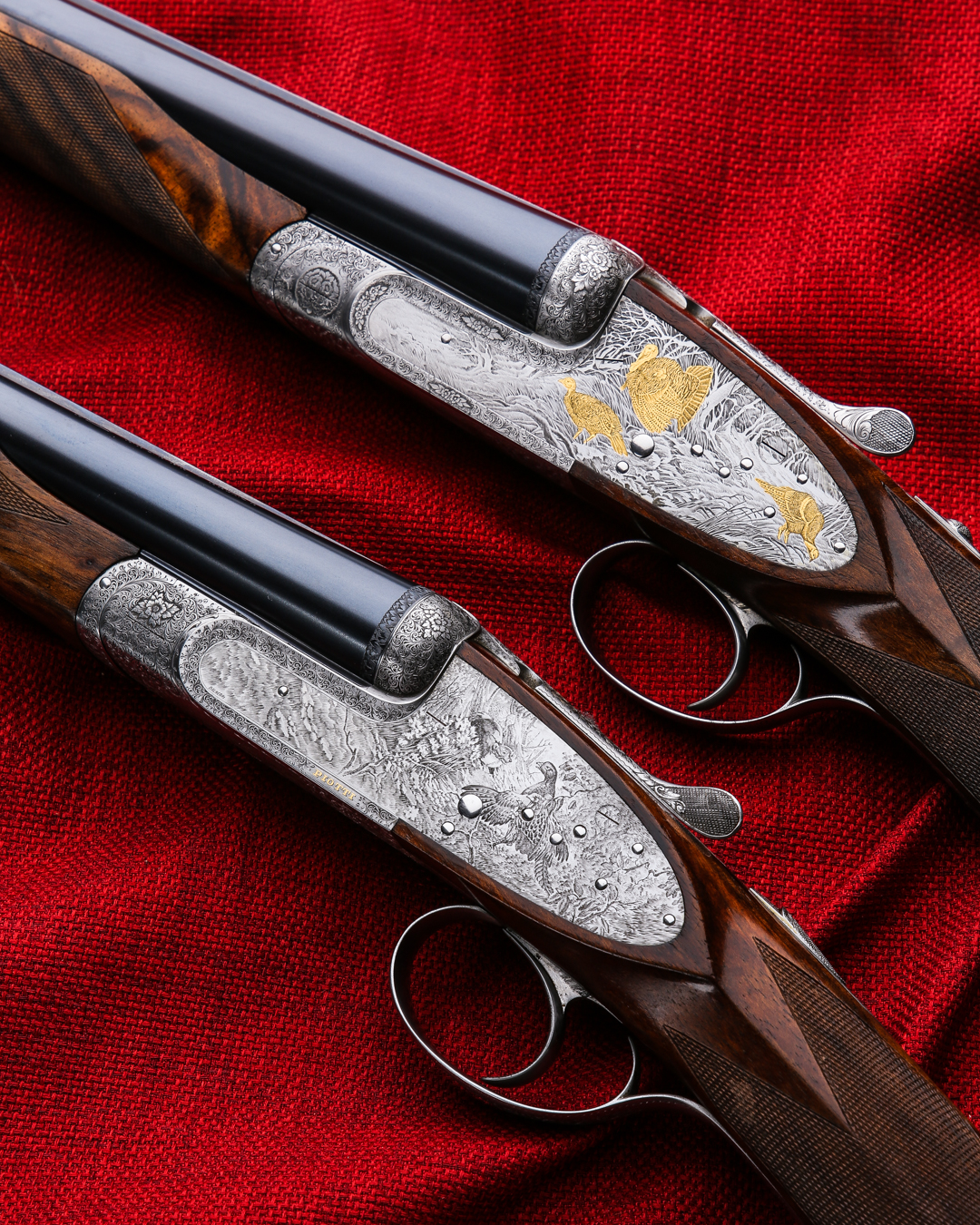 Please contact L.D. for more details about these guns or any of the pre-owned guns and rifles for sale on our website.