James Sutherland may not be well known to the general public today but to hunters of dangerous game in early twentieth century Africa, he was something of a legend.
Sutherland was a Scot, born in Stornoway in 1872. Beginning his African adventures in 1904, in German East Africa, he rose to the rank of Captain in the Nyasaland Field Force during the First World War.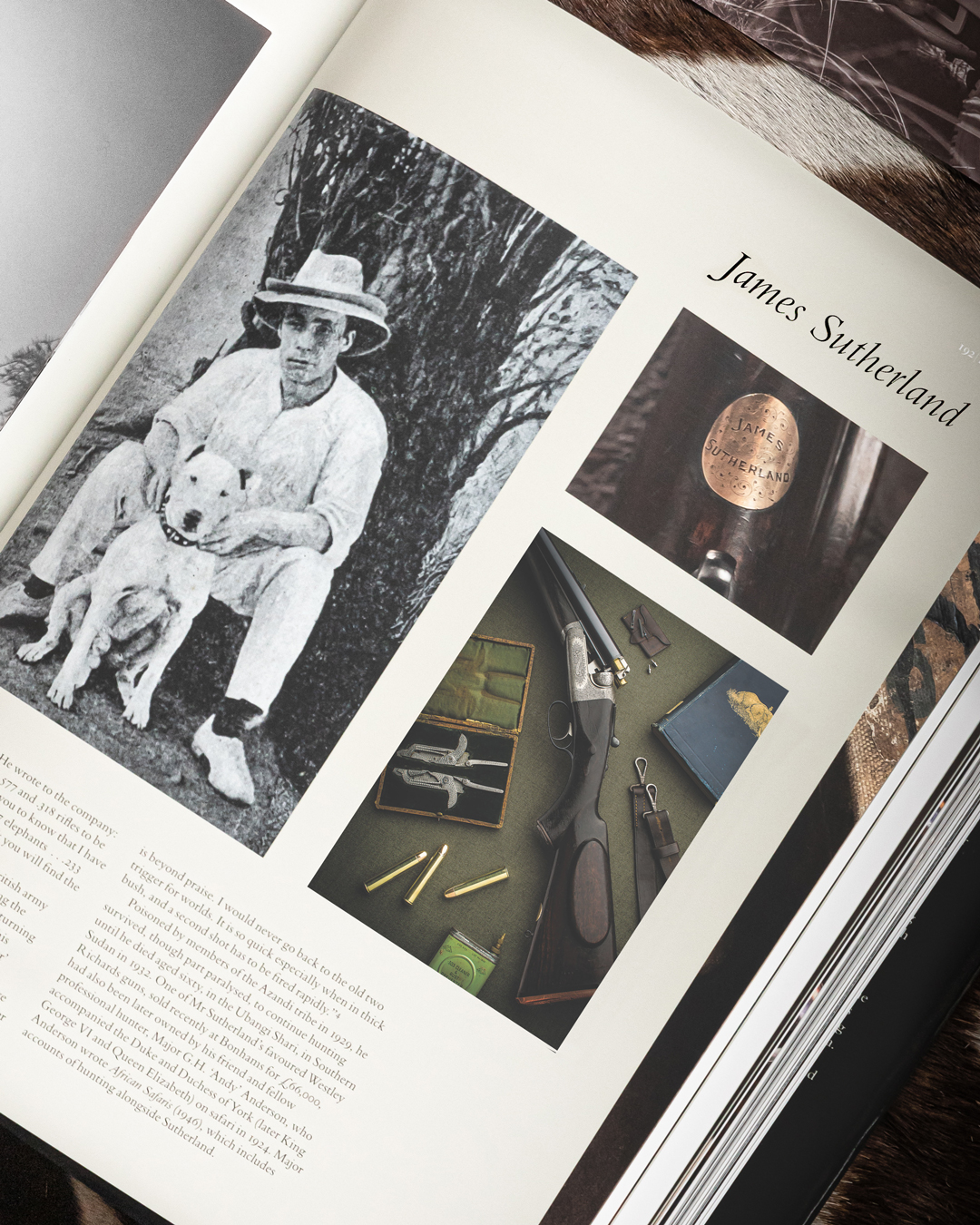 Along the way he was awarded the Legion d'Honneur by the French, the Iron Cross by the Germans and a Mention in Dispatches by the British! He survived the war, despite being shot in the abdomen by a German sniper, and then resumed his hunting career.
It is widely accepted that Sutherland accounted for up to 1,600 elephants to his own rifle before his death, by poisoning, in 1932. His most famous rifle was a Westley Richards double .577 Nitro Express, with our patent single trigger.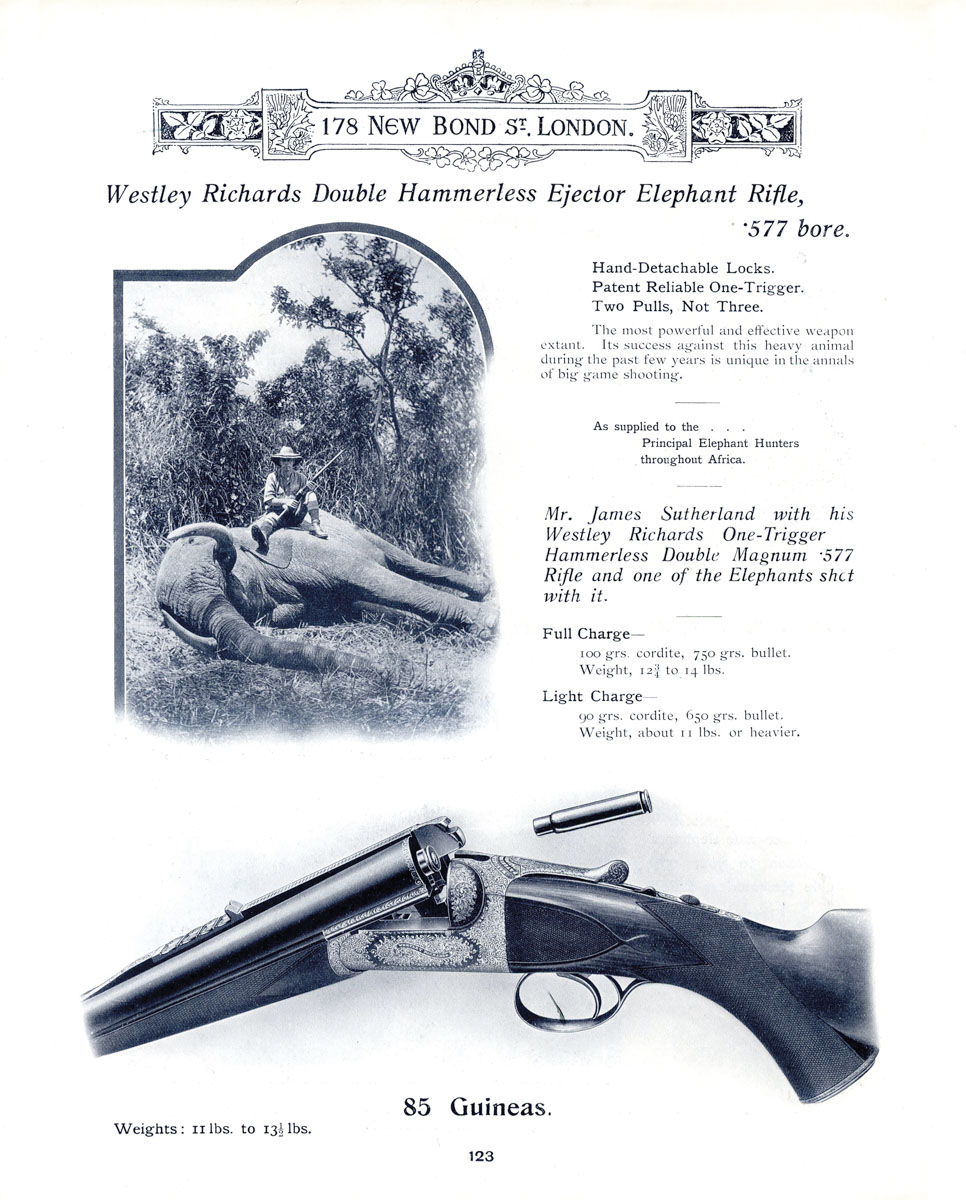 Sutherland's exploits are recounted in his 1912 book The Adventures of an Elephant Hunter, in which he writes about the life of a man in his chosen profession: 'Even should he survive the many dangers attendant on the calling, in the long run, he generally undermines his constitution and lives on a mere wreck of his former self.
Still, while the life lasts, it is one of the most glorious and exhilarating on earth, for again and again the chase resolves itself into an exciting duel ''twixt man and beast,'' and though the chances, even in dense jungle, are in favour of the man, occasions frequently arise when the latter's life trembles in the balance.
The hunter knows absolutely that if his rifle or cunning fails him in the least, he is as good as dead, and it is on this simple understanding that he joyfully sets out.'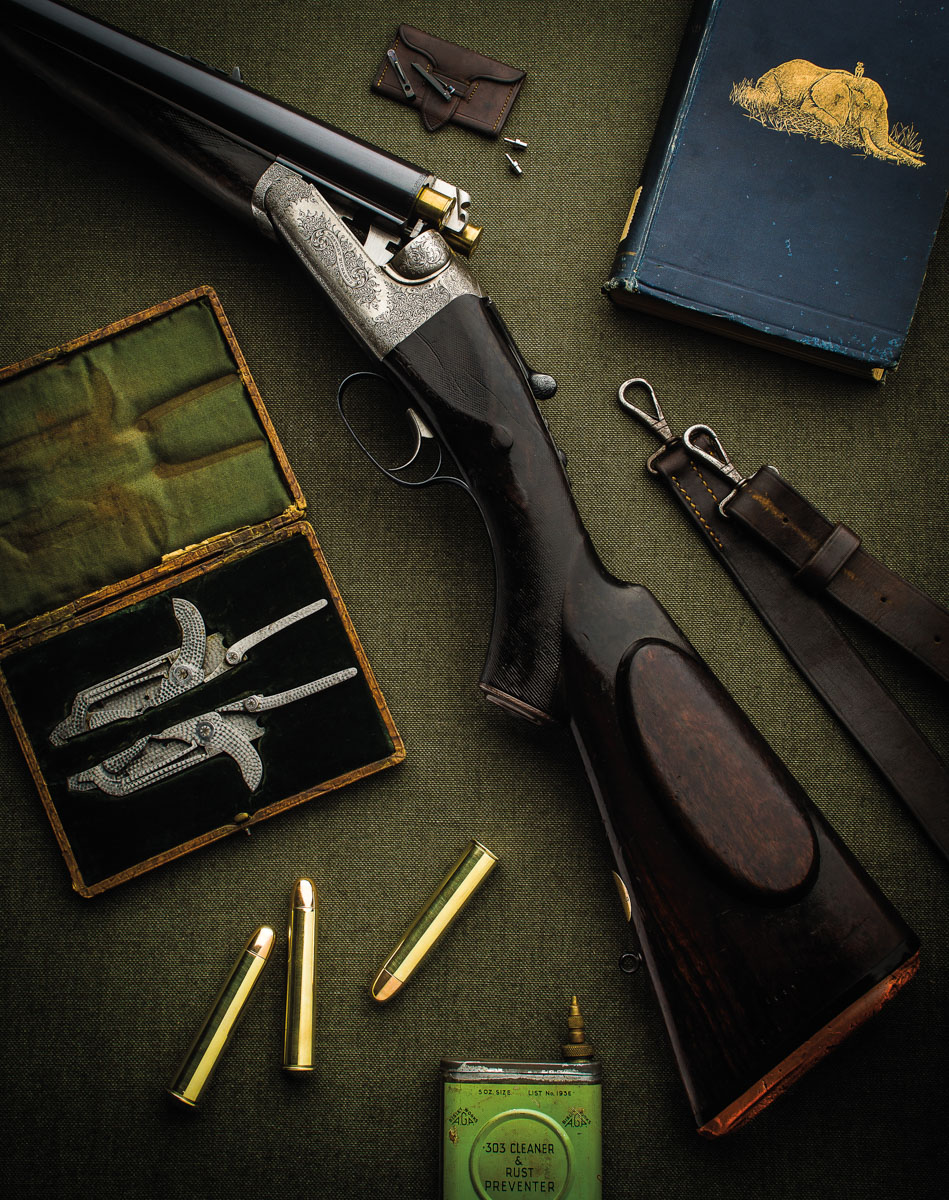 We know our customers will never live the life of a pre-war elephant hunter but we think they appreciate Sutherland's outlook and apply the same spirit to their adventures. That being the case, our premium safari kit bag wears the name Sutherland well.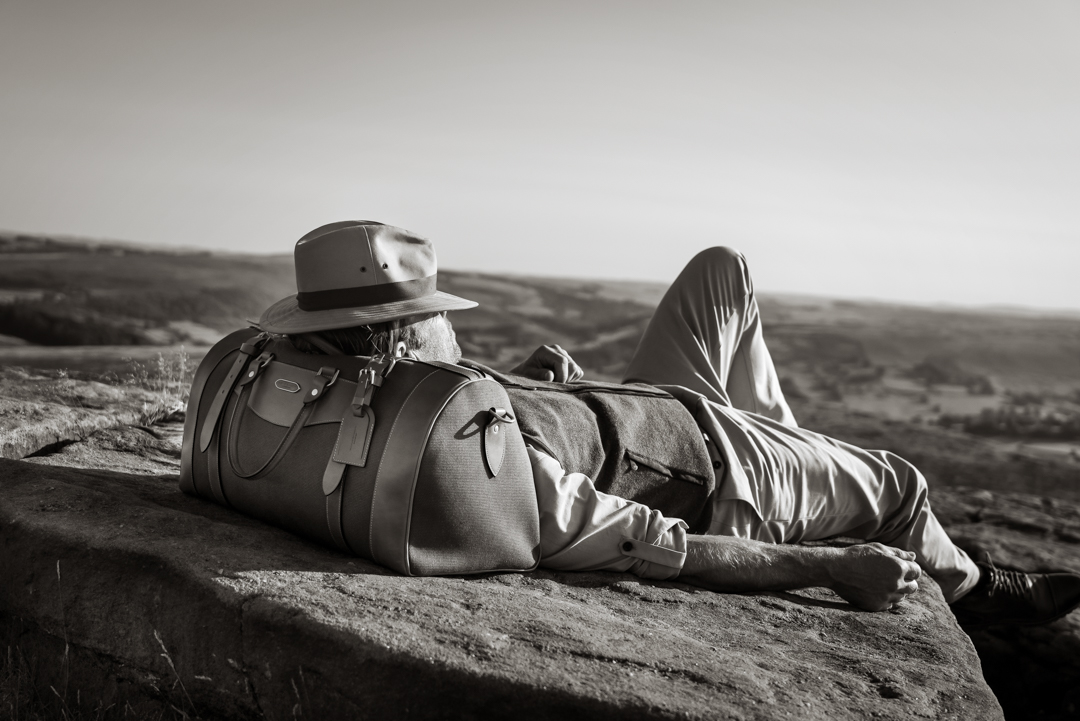 To create this bag and make it worthy of the name, we originally applied a very traditional and robust British saddle leather frame and a canvas body. Canvas and leather were Victorian staples for travellers to far-flung reaches of Empire, where kit had to be rugged and light-weight to facilitate frequent relocation by means of foot, horse, cart and steamer.
Our saddle leather is the best you can buy and our hard-wearing canvas will last a lifetime of misuse.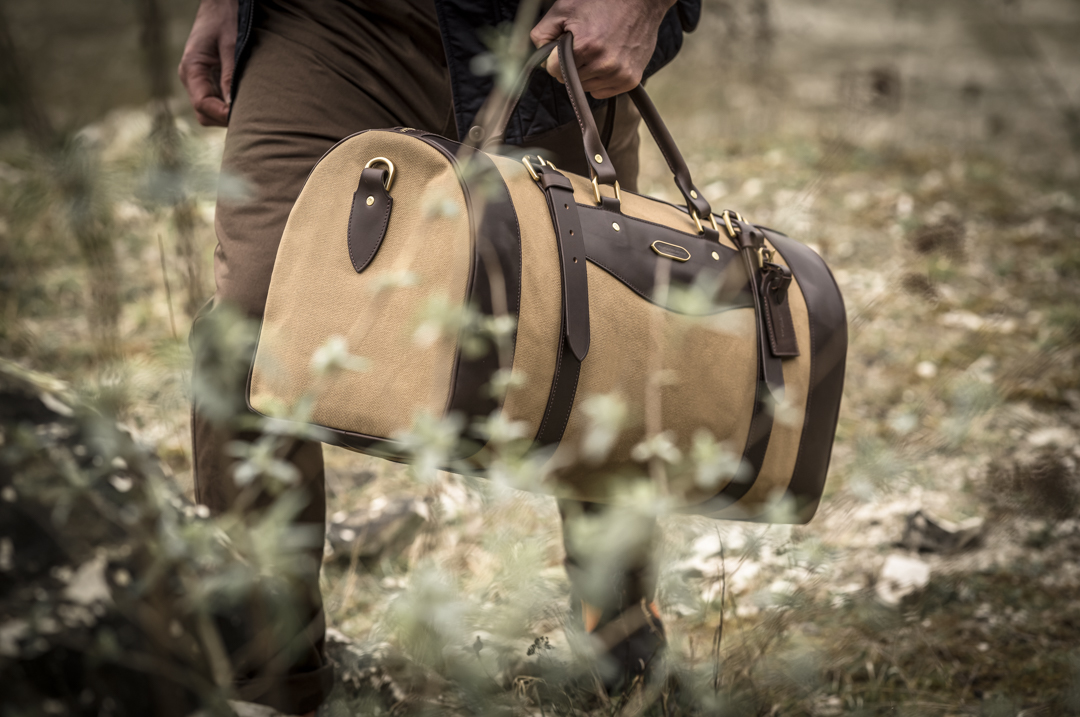 With tough, custom brass hardware, styled with our unique Westley Richards zip-pulls, buckles, D-rings and logo plate, the Sutherland is a quality travel bag that will stand up to life in the foot-well of a Land Cruiser, take a dip in the Rungwa and still look the part in the hotel lobby on your return to civilization.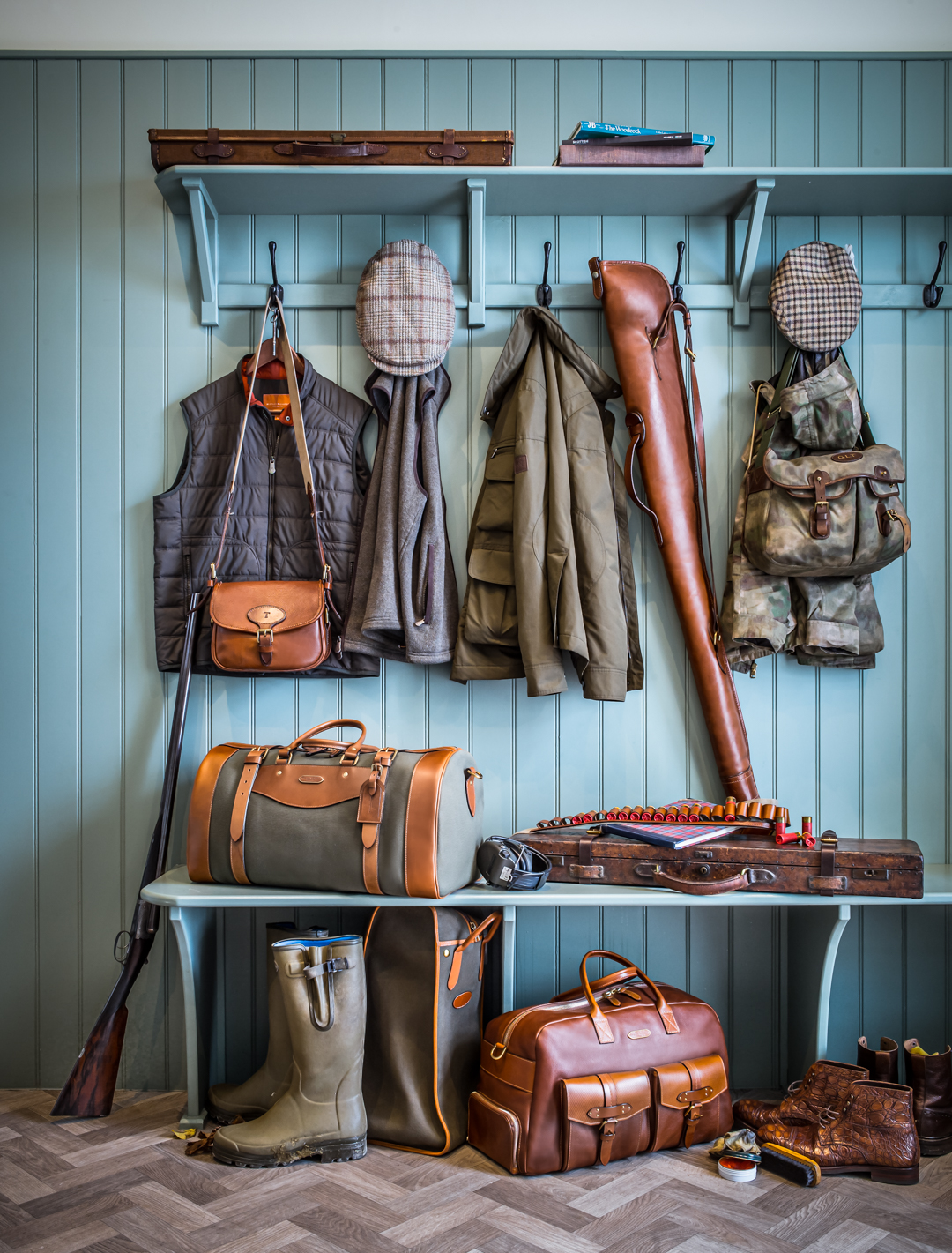 Available now in three sizes for all occasions, in a range of bark-tanned leather and strong British canvas combinations. Shop the Sutherland Collection.