Built with super deluxe functionality in mind, closely adhering to the remit of the most discerning client, we have managed to produce a truly fine pair of guns. Featuring an exhibition but traditional specification while being careful not to be over the top, the patent hand detachable lock, single trigger, scroll back actions, are beautifully engraved with our in house, fine scroll engraving with the gold name in a staggered banner and deluxe carved fences. The cover plates expertly feature grouse in flight on one and partridge in flight on the other. Westley Richards name in gold around the top levers and gold number 1 & 2 in the usual places add just the right amount of bling.
The action and furniture has a stunning full case colour hardened finished as opposed to blacked and a very personalised and never done before addition is the gold butterfly inlaid just behind the safe button. Entirely hidden when the gun is on safe, but as the button slides forwards the butterfly is revealed to 'let the shot fly'. A great and unique idea requested by the client.
The 30" barrels are Teague thin wall choked with a full set of 5 chokes, cased neatly in a WR hand made choke box. The straight hand, exhibition stocks are truly exquisite, fitted with heel and toe plates they are of the very highest quality which is, dare I say, fairly standard for a Westley Richard's gun. The guns are stocked to a very specific set of measurements, with a higher than average comb height which provides plenty of sight down the ribs and encourages more lead on driven birds.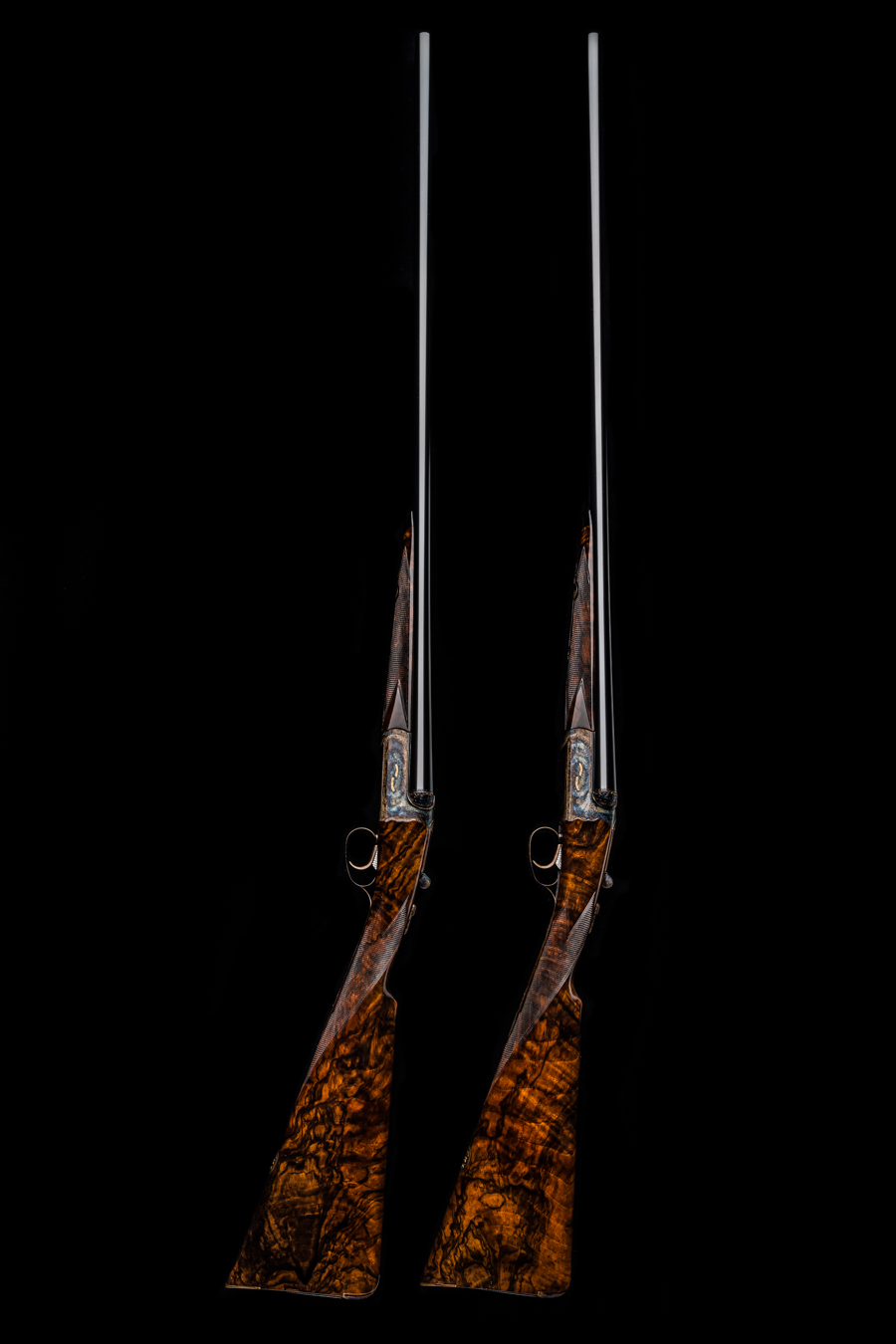 Weighing 6lbs 2oz the guns are a dream to handle and point with casual ease. Equally at home on the grouse moors as they would be on the sundrenched Spanish partridge estates, these 20g guns offer a lively style of shooting with a controlled swing and target acquisition. Our case making department has equaled the skills of the gunmakers in producing a superb best oak and leather case to house the guns with a full complement of tools to complete the package.
The pandemic rolls on, but so does the factory and our guns and rifles are reaching completion regardless. This latest pair of guns have been recently delivered to the client and God willing, they will grace the sporting field this season!