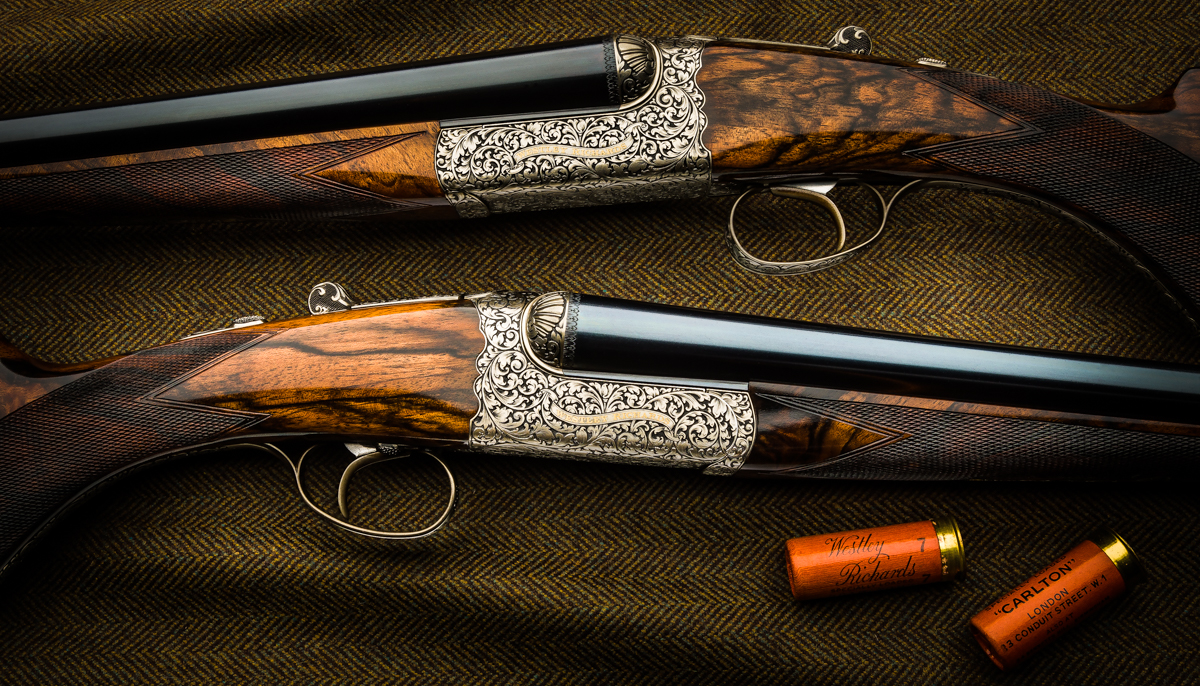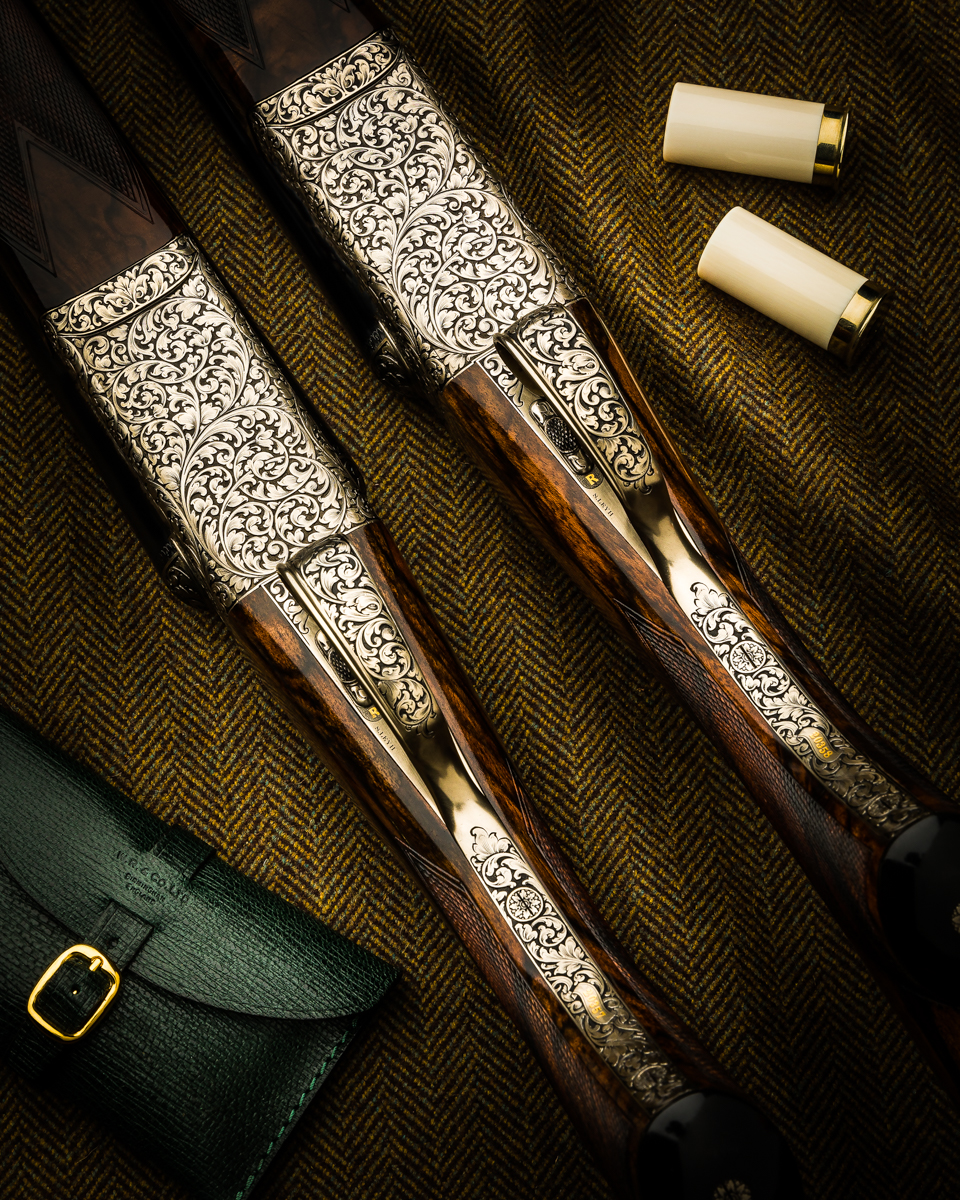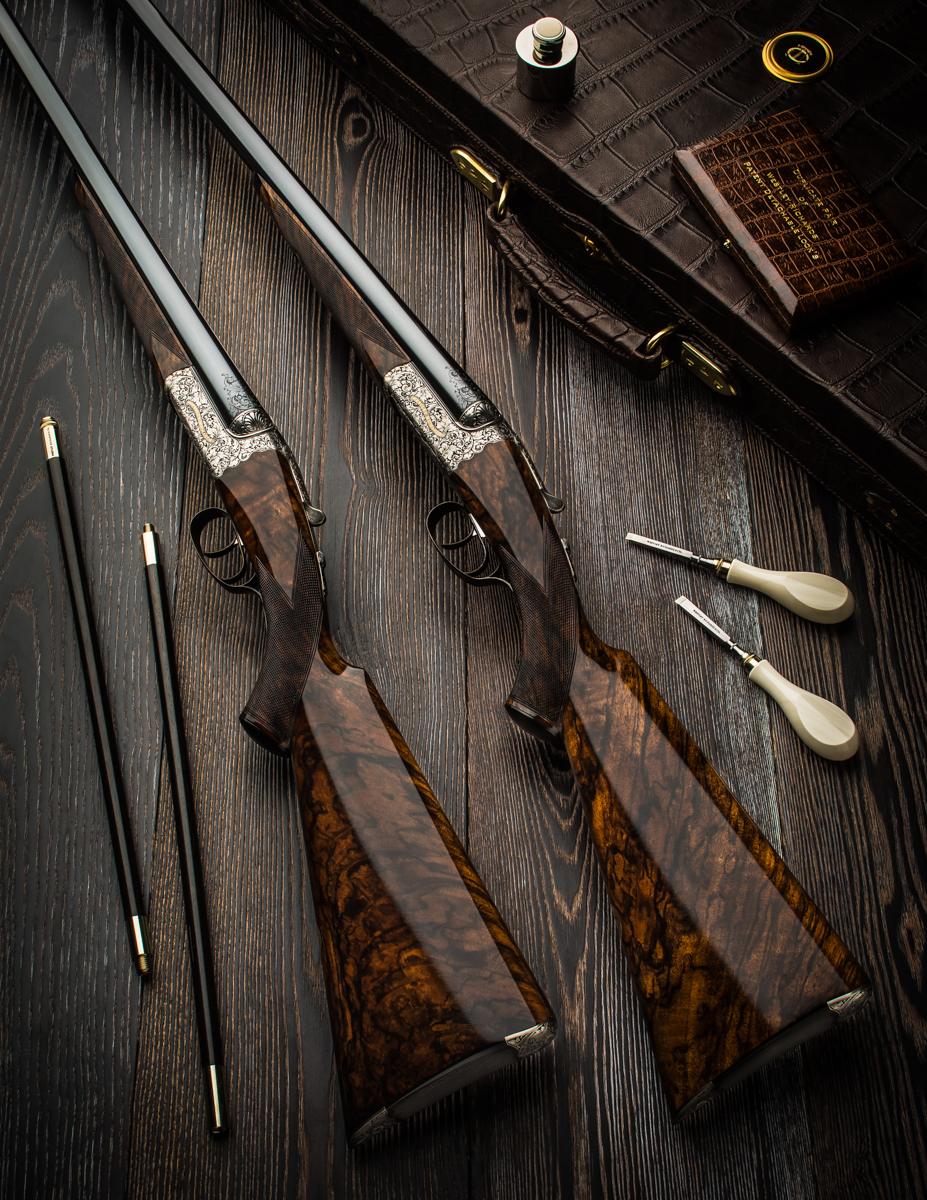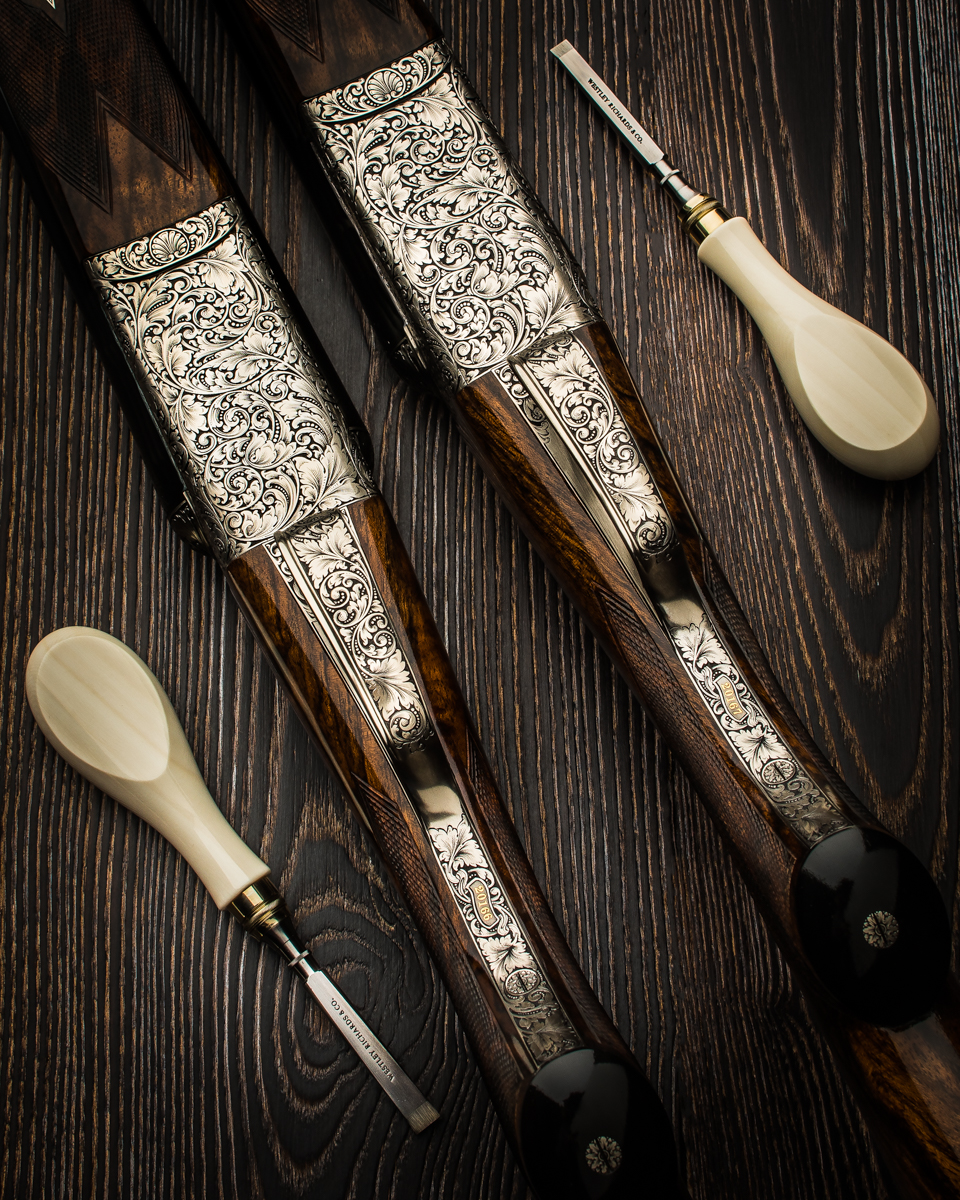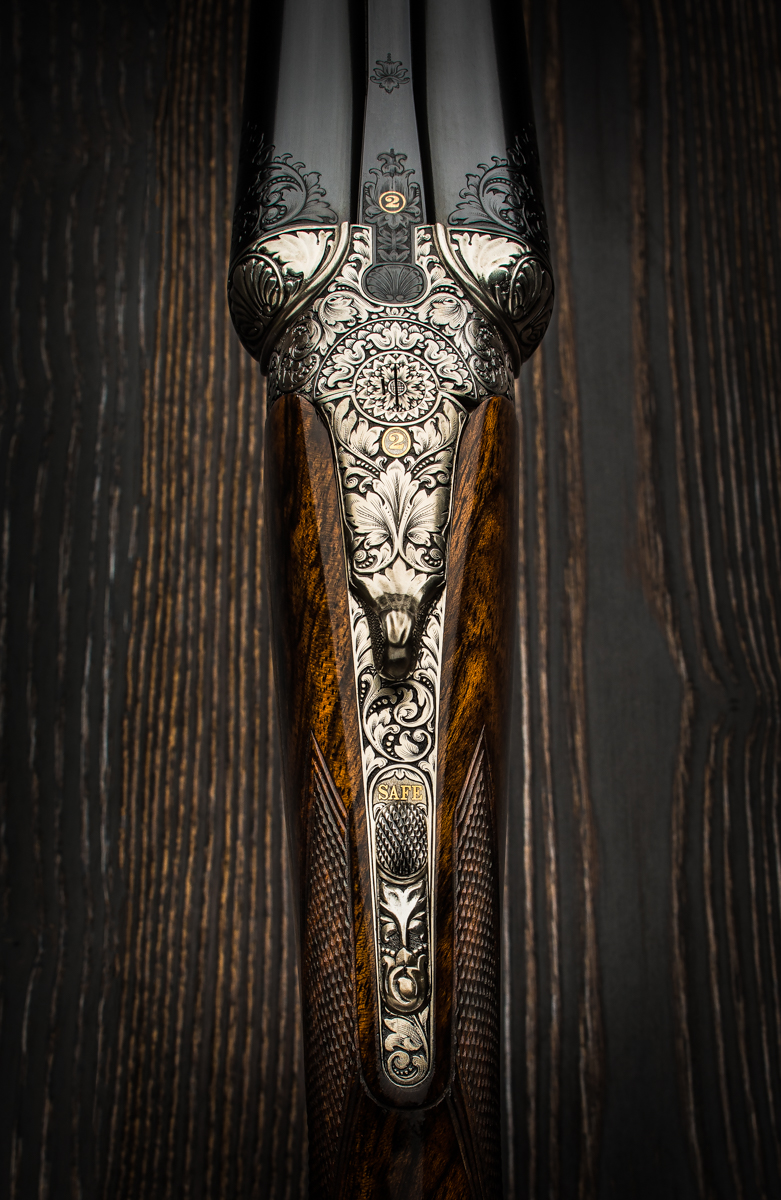 Two pairs of 'Modele de Luxe' 12 bore guns executed by the same engraver that at first appear the same yet on closer scrutiny demonstrate the individuality asked by the owners. The aim (no pun intended!) at Westley Richards, is to always produce something unique for the client, so that no gun or rifle can ever really be considered the same. Thankfully individual engravers have their own idiosyncrasies which distinguish them from one another. Over time and with a lot of handling you begin to recognise the work of particular engravers.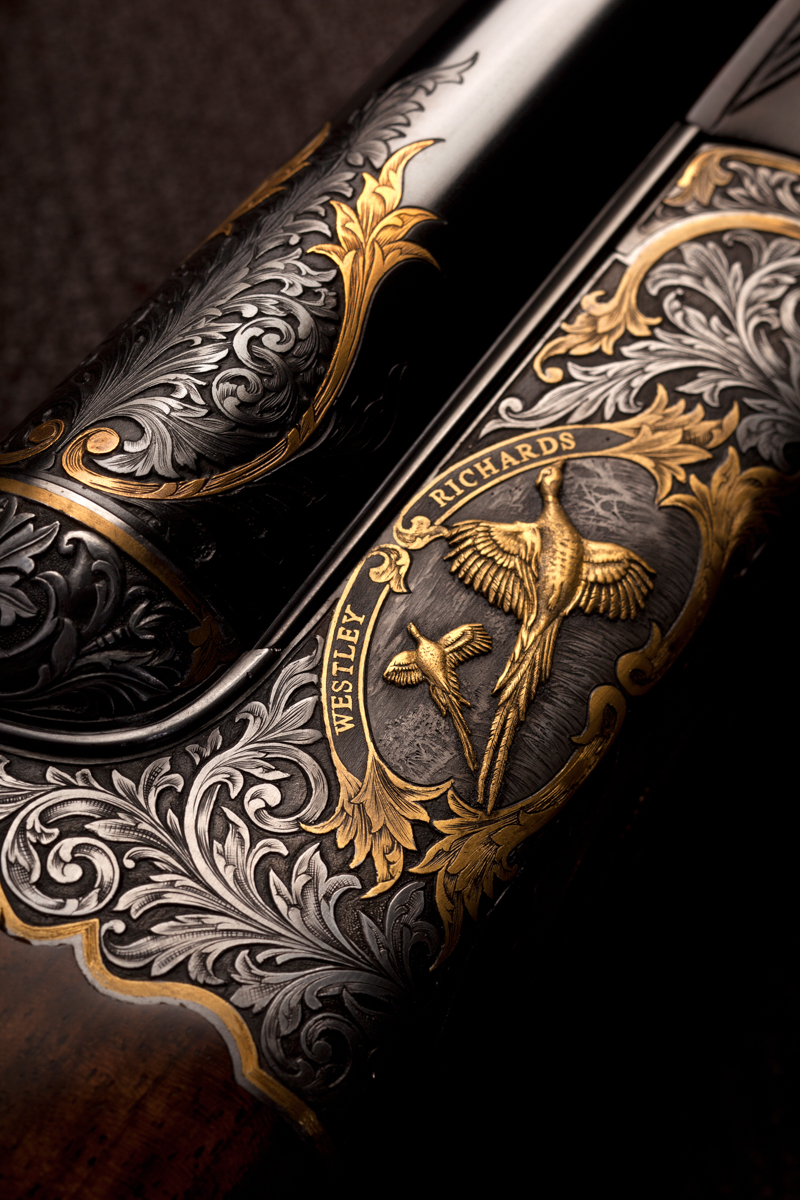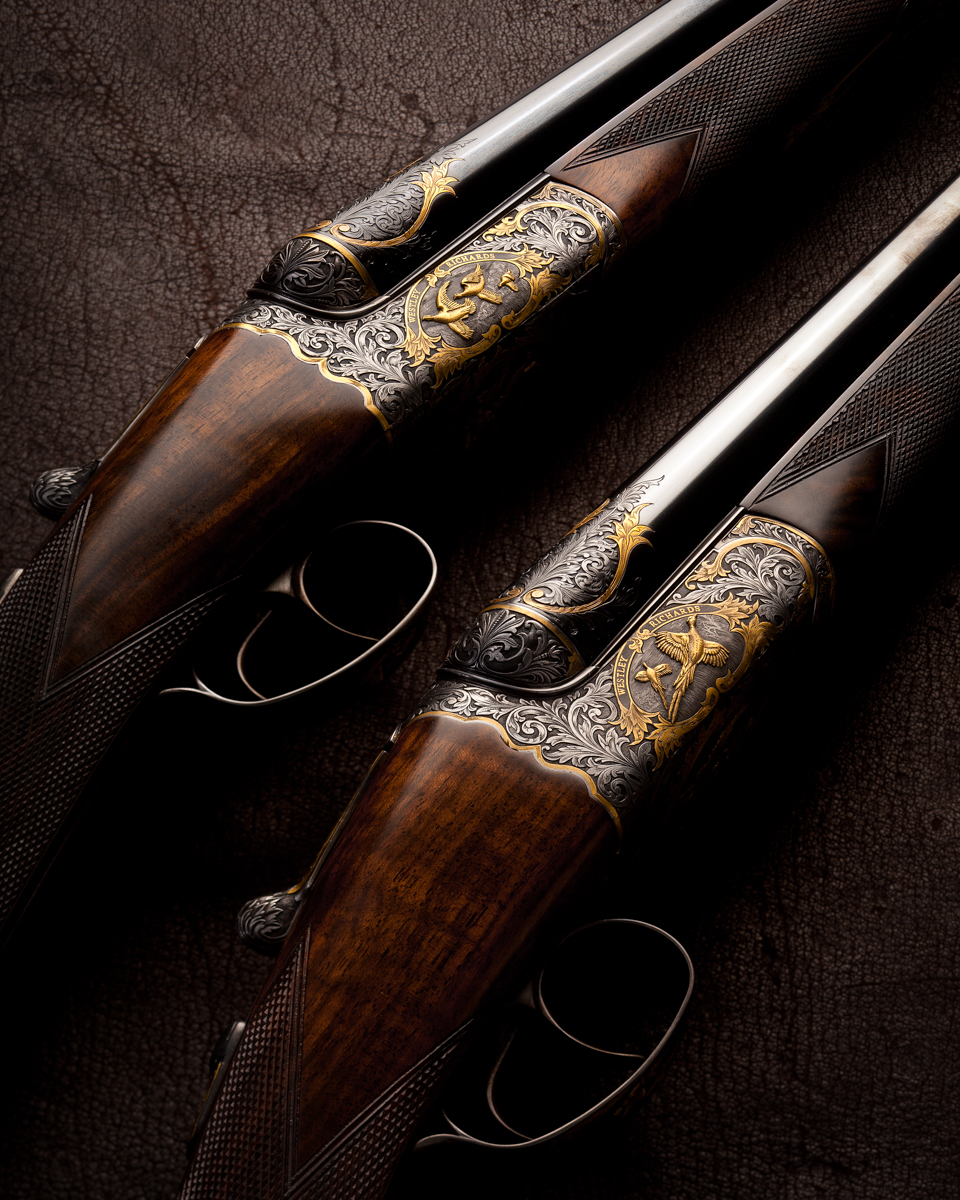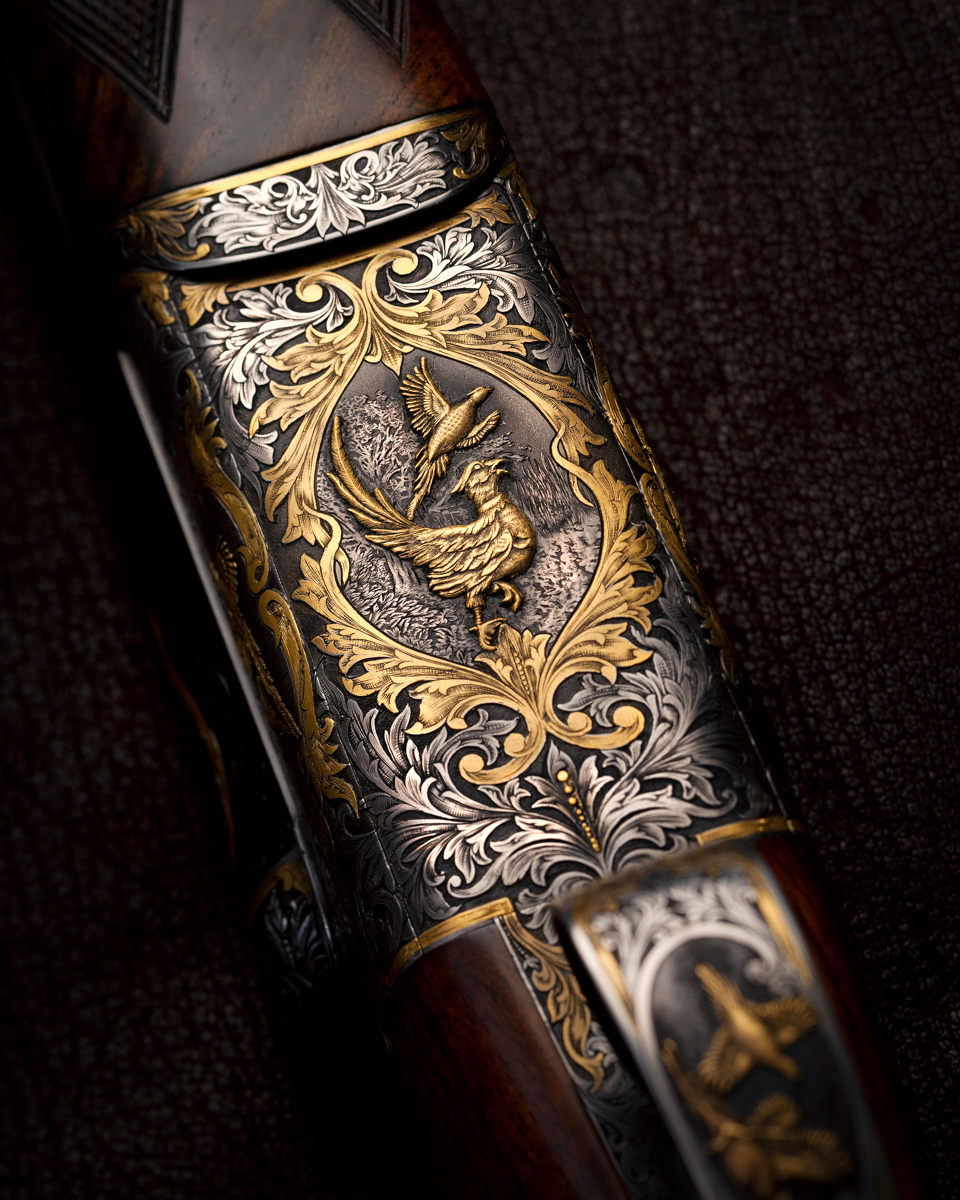 An exceptional pair of 12 bore 'Model de Grande Luxe' shotguns engraved by Rashid Hadi. Rash was without question one of the finest engravers ever to put a cut to steel and his vivid imagination came up with some of our finest designs and creations.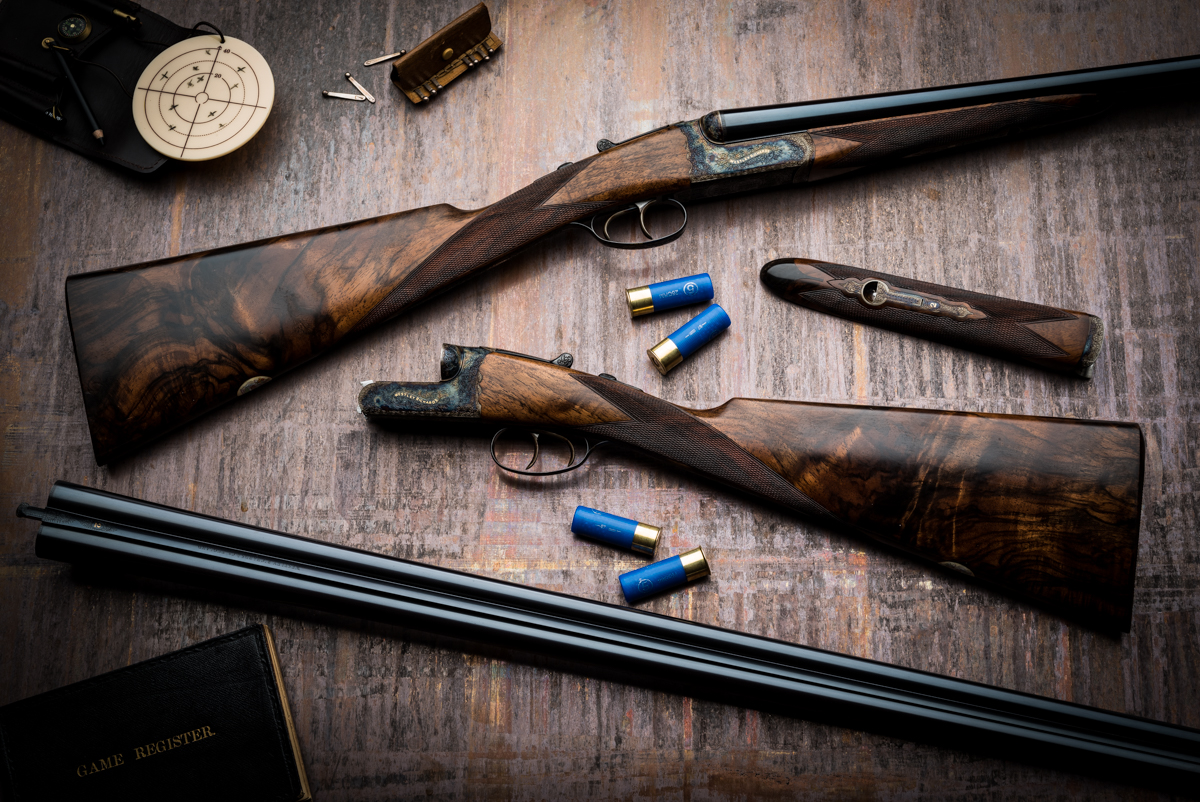 A classic pair of 16 bore shotguns built for traditional game shooting. The 16 bore remains one of the anomalies. We always seem to have one or two in production but it has never had the popularity of either the 12 or 20 bore. Interestingly it is considered one of the perfect bore to pattern guns and in its usual 6lb weight, makes a fantastic driven grouse gun.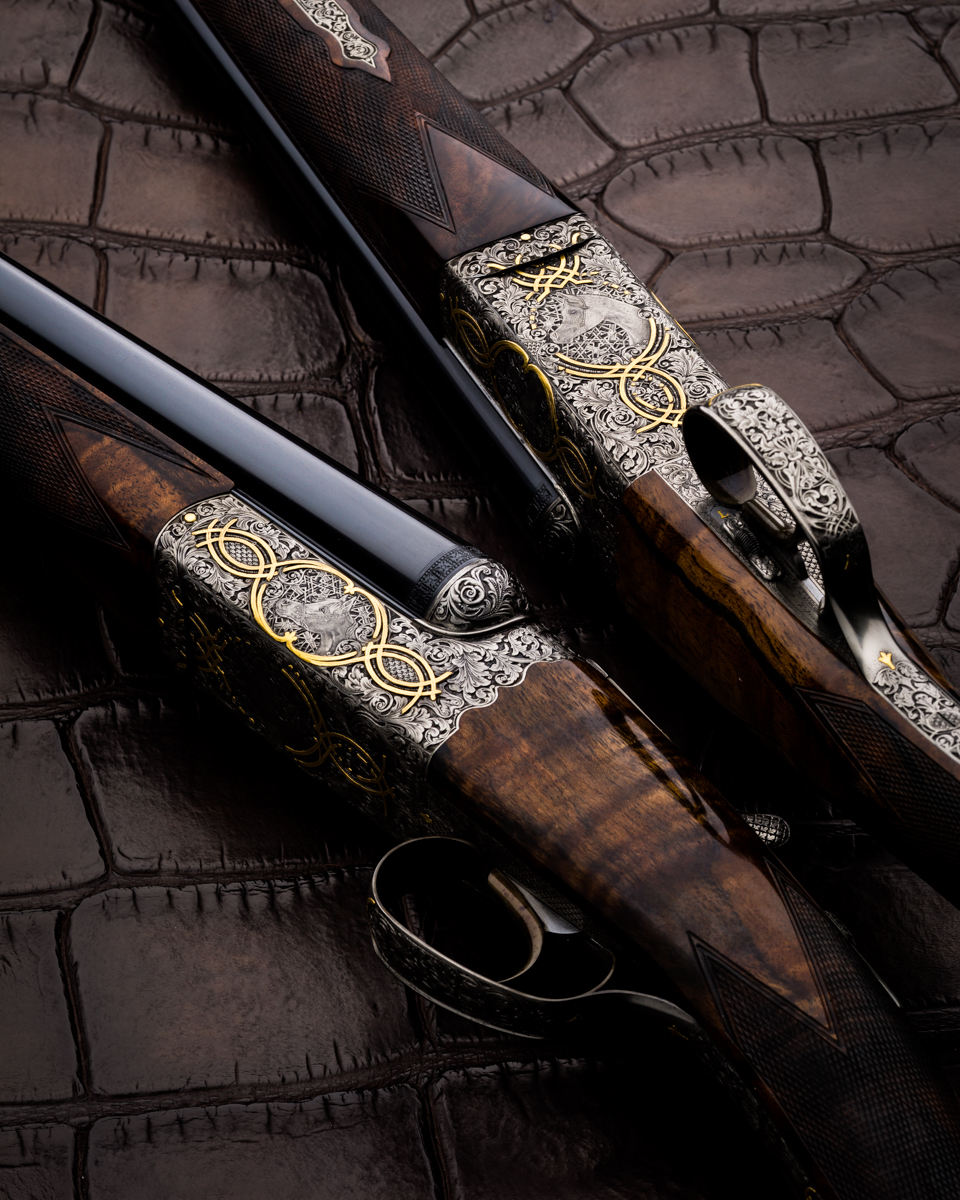 The 'Arab Horse' guns were another interesting design concept, in this instance executed by Frederique Lepinois.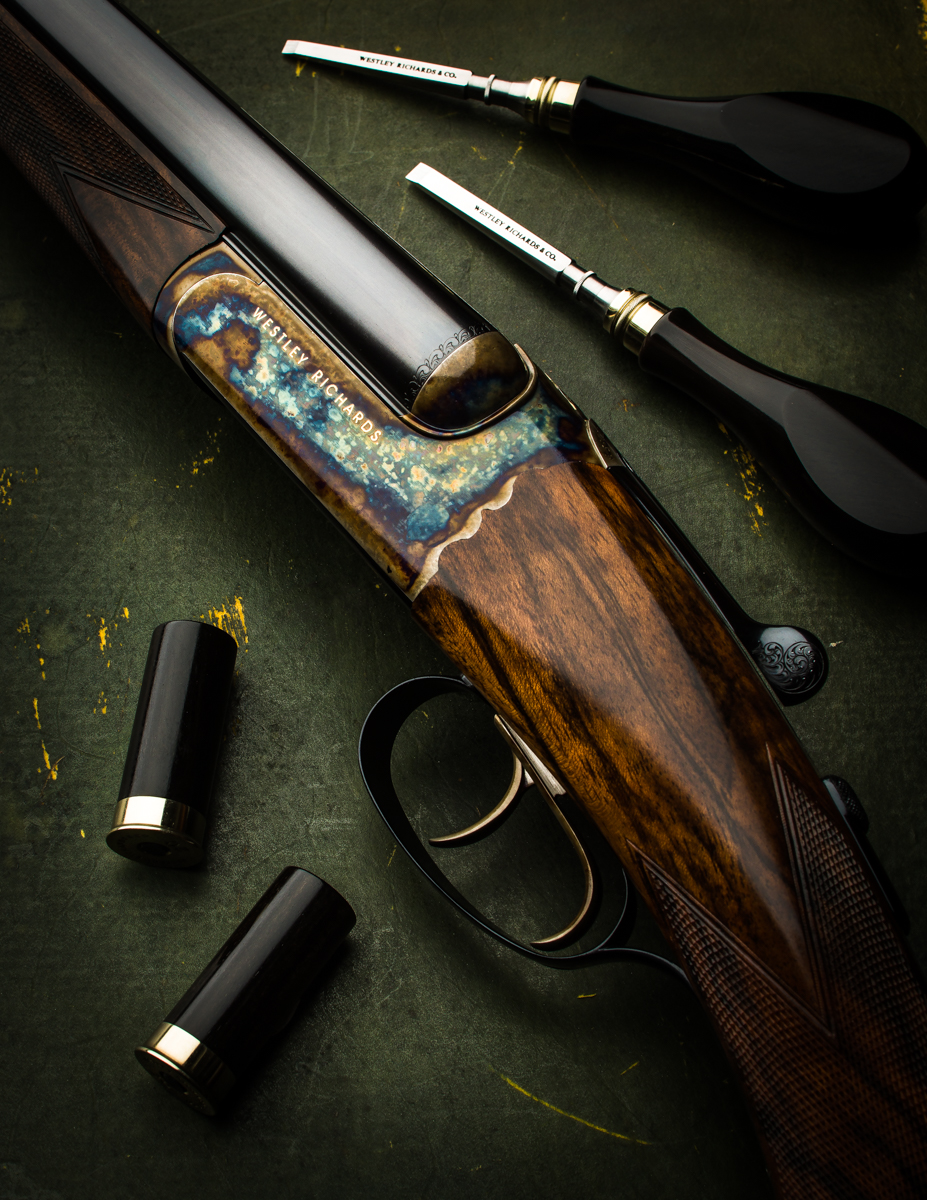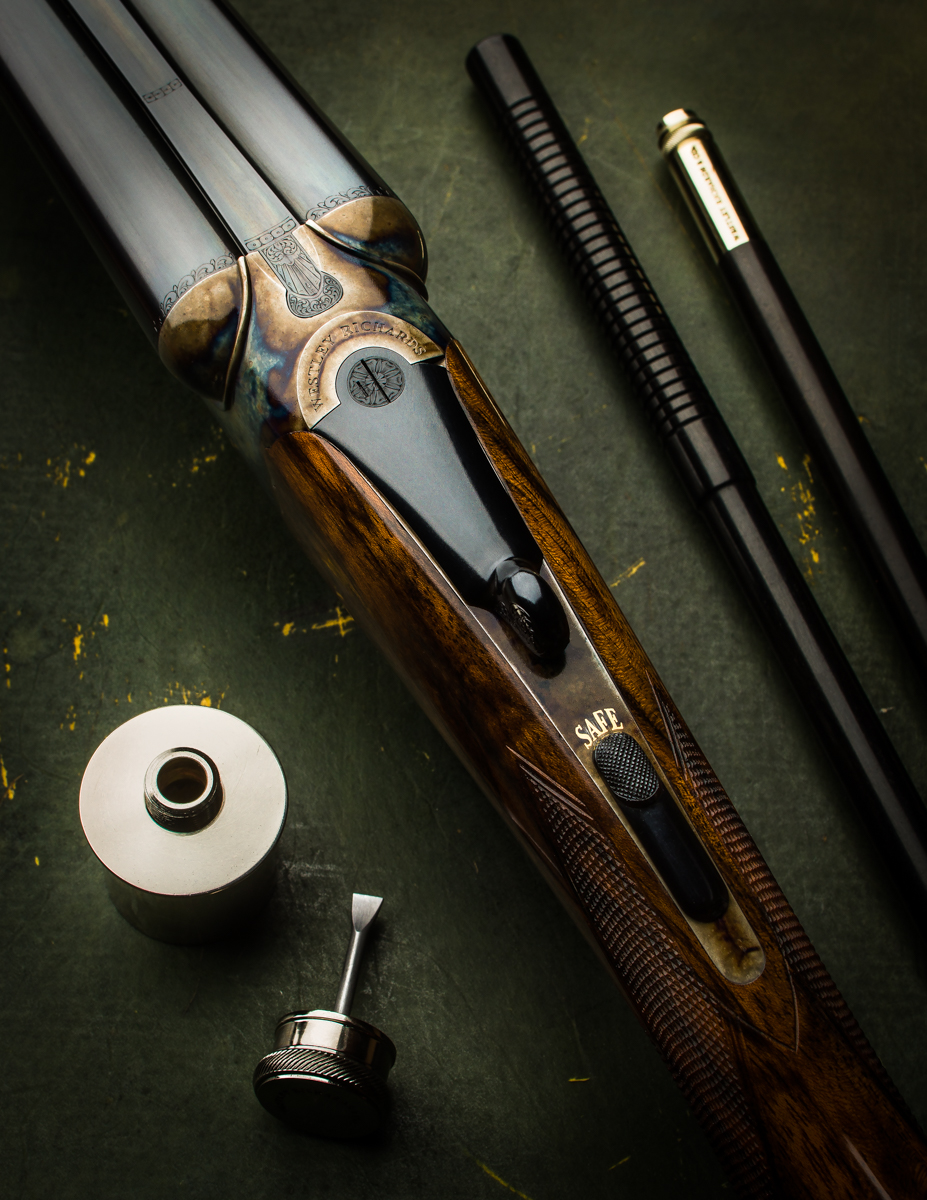 The quintessential 'Gold Name' gun, a model synonymous with Westley Richards since the advent of the hand detachable lock shotgun in 1897. As previously discussed, the 'Gold Name' rendition of a Westley Richards is gunmaking in its purest, perhaps most perfect form. There is nowhere to hide in the simplicity of the execution.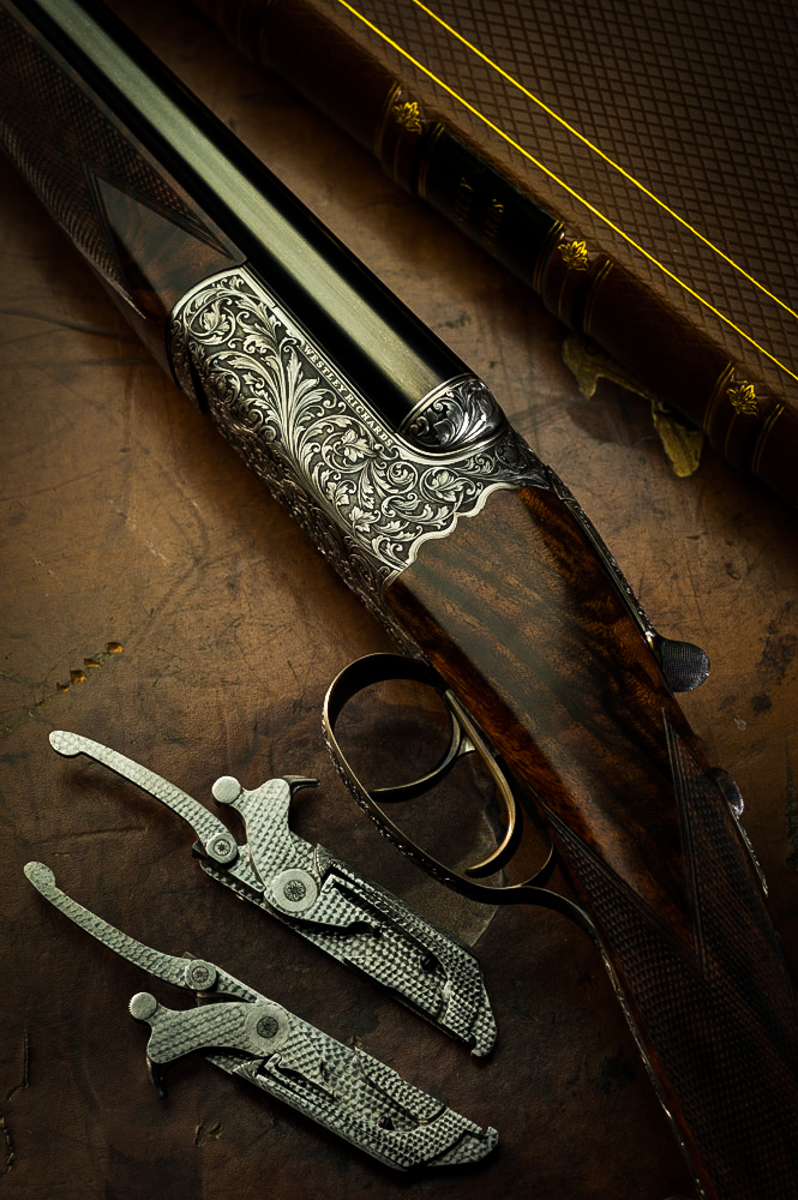 The flow of the elaborate etched scroll on this 20 bore shotgun demonstrates how visually important it is to work with the shape of the gun. The scrolls and leafs roll off from one another filling the space cleverly. This gun was bordered and lettered in platinum a departure from the more usual fine gold.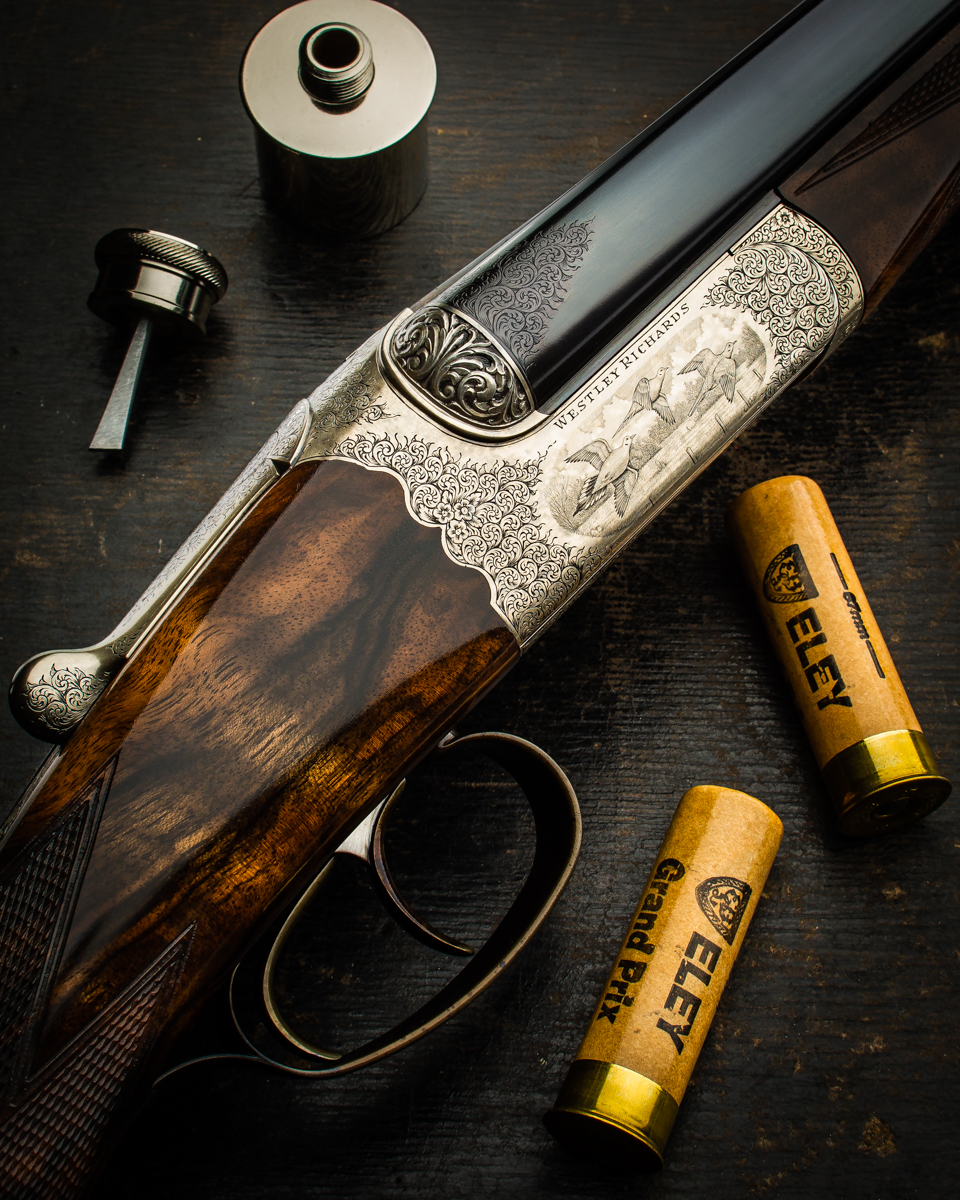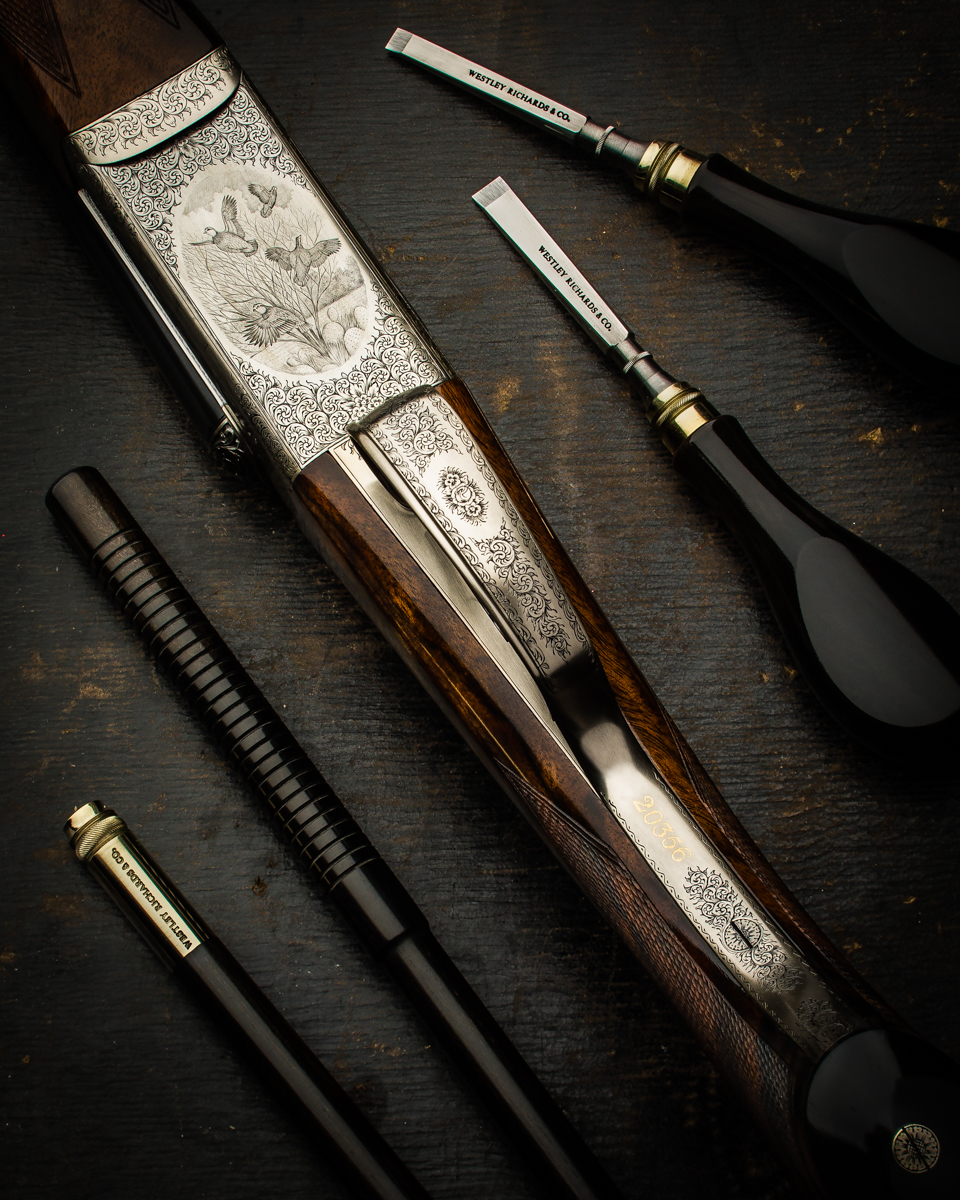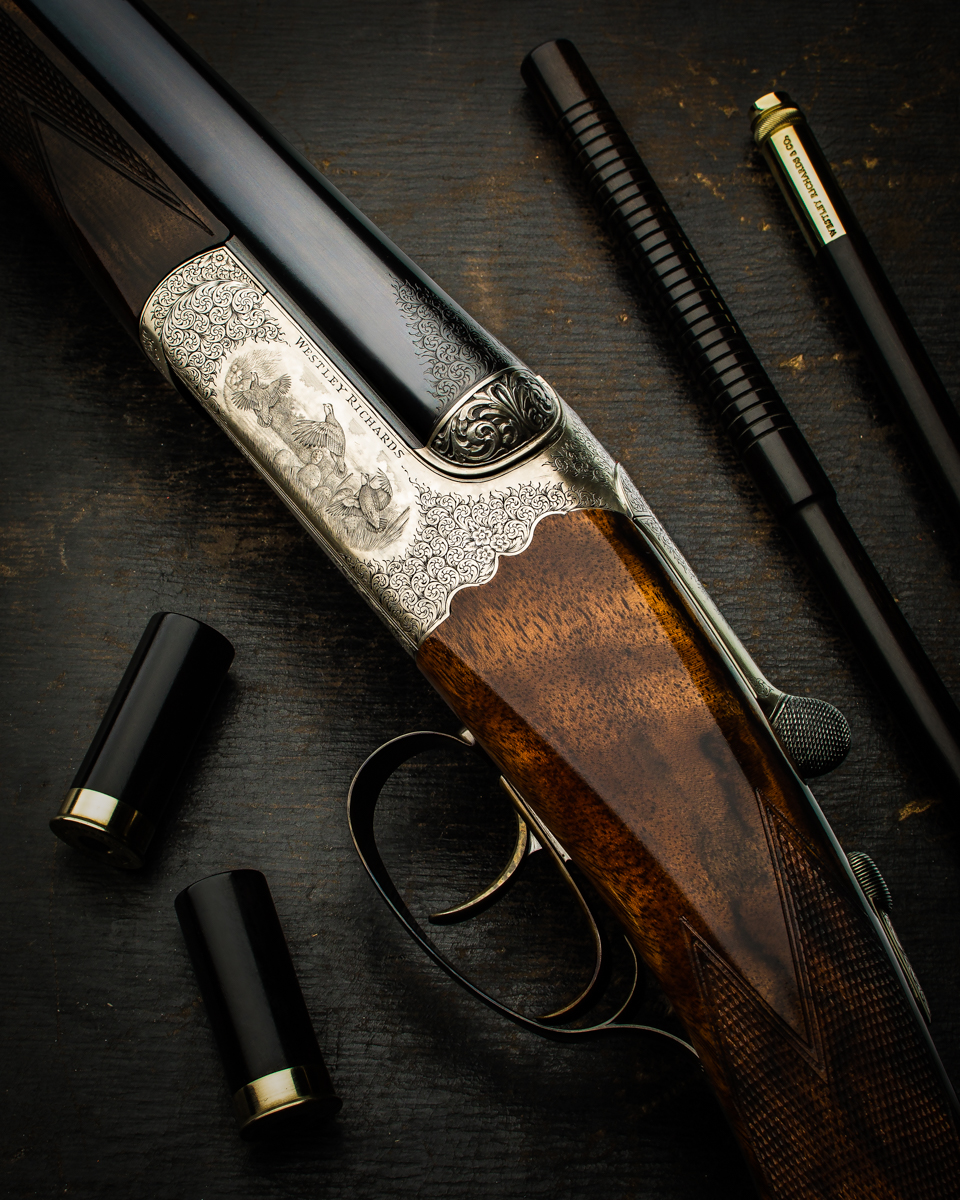 The 'Texan' 20 bore featuring fine rose and scroll engraving and Texan game scenes.This gun has a very nice balance to the engraving that suits a traditional game gun.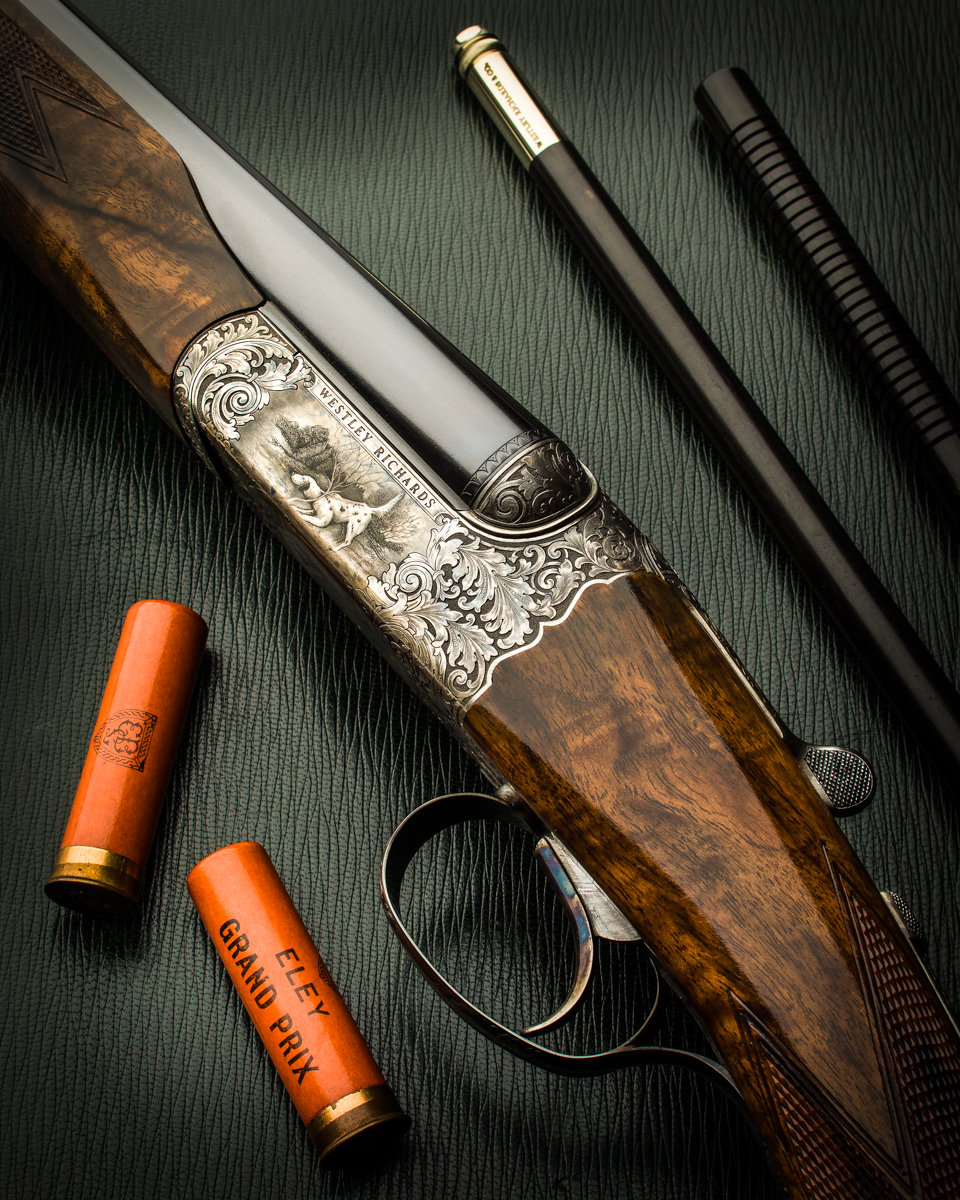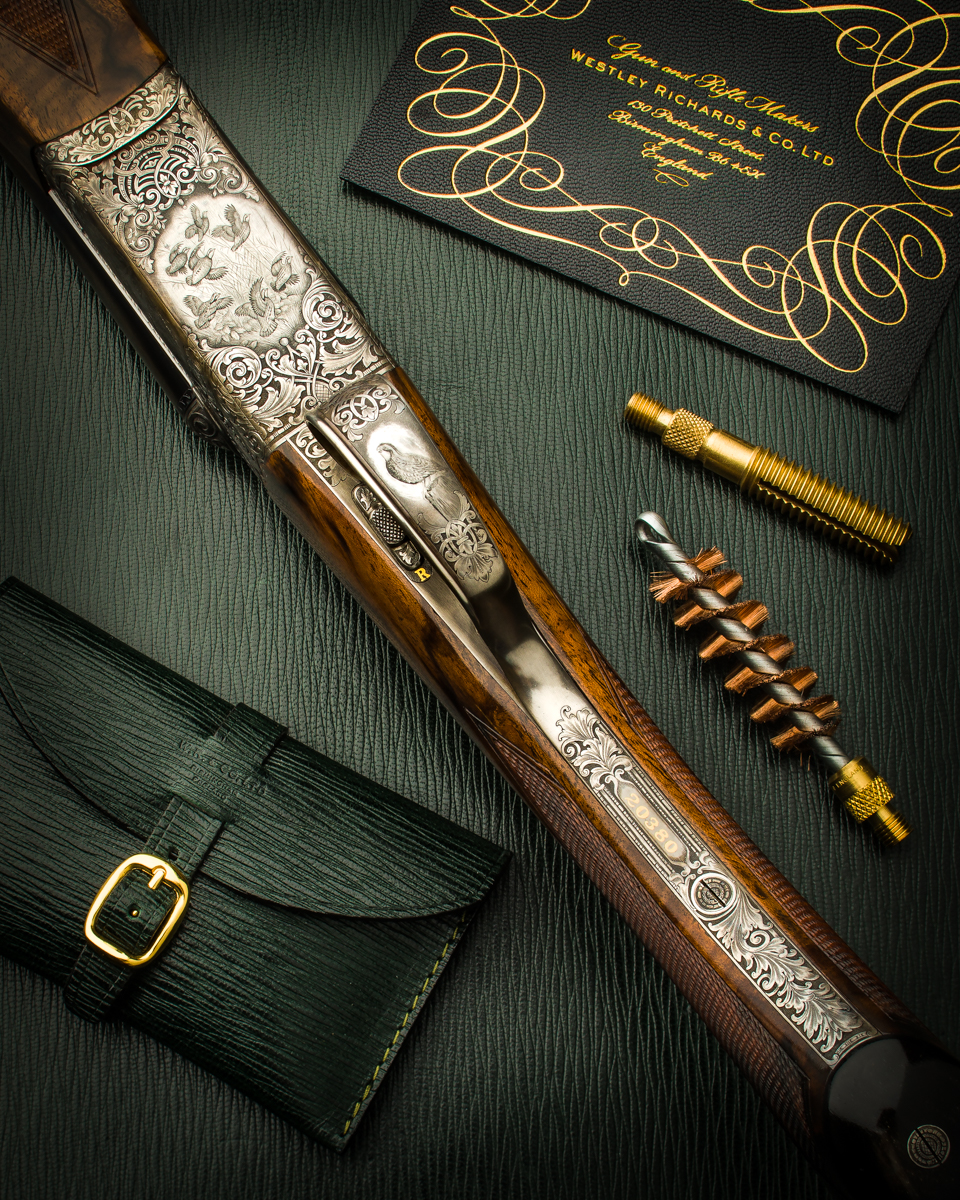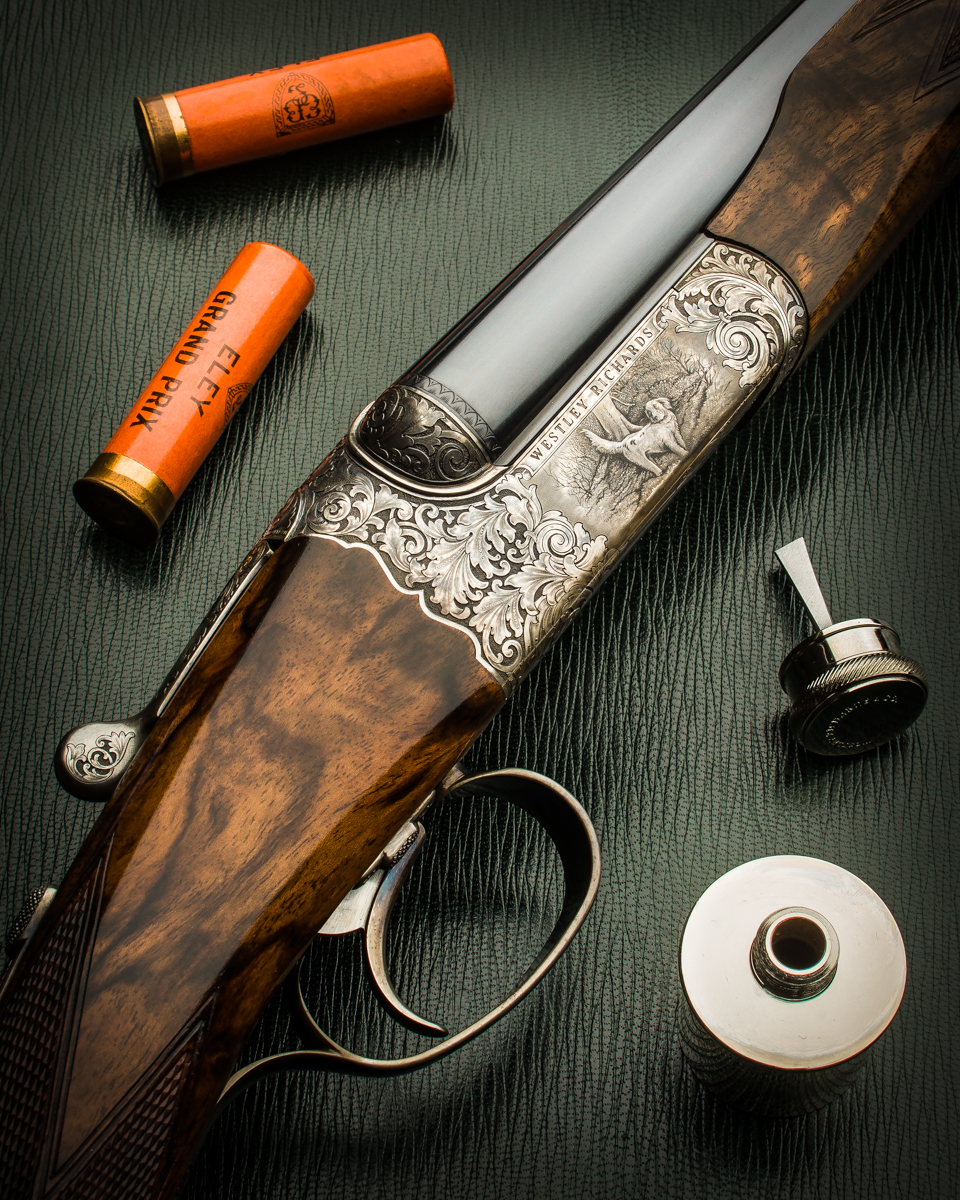 A 28 bore gun that combines elaborate scroll design with fine game scenes.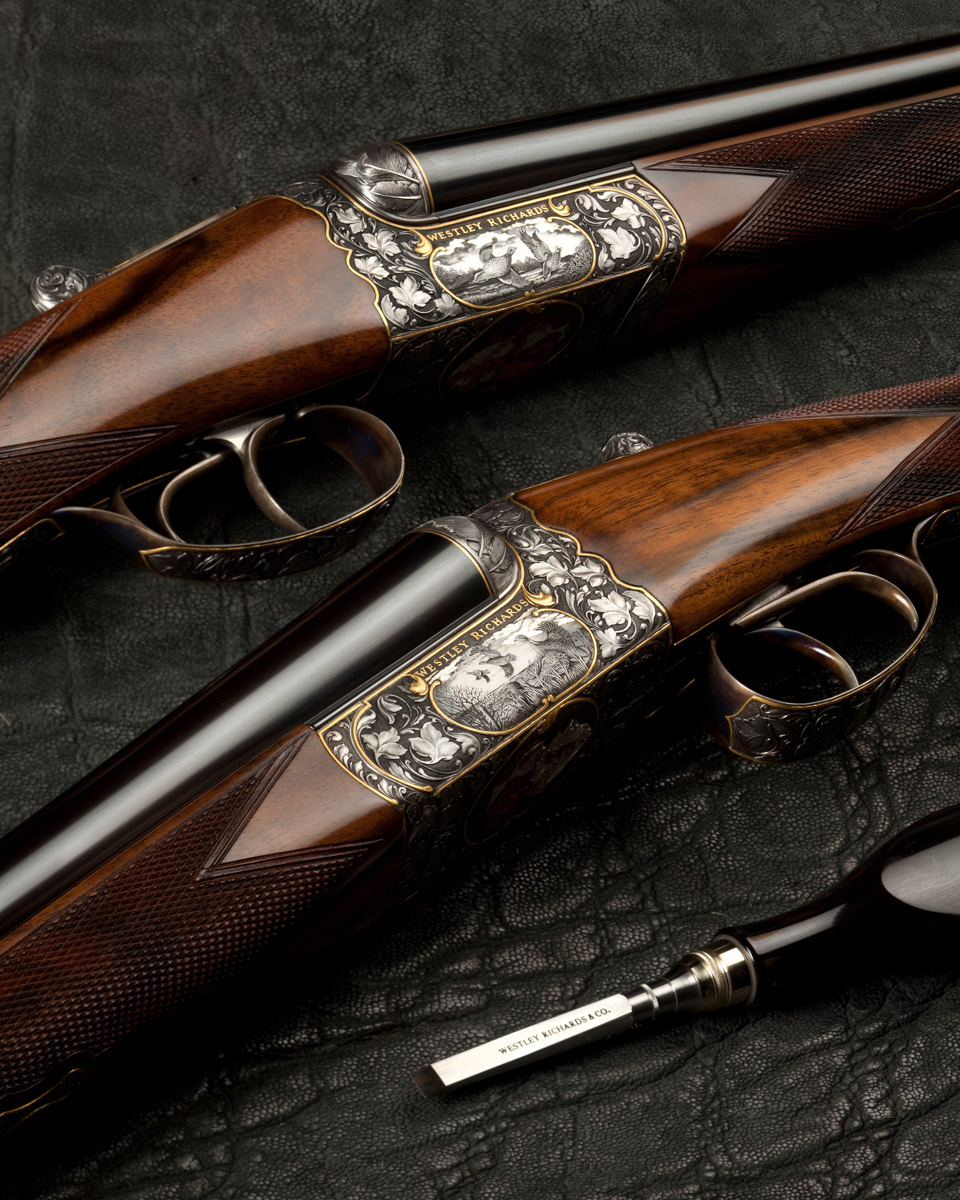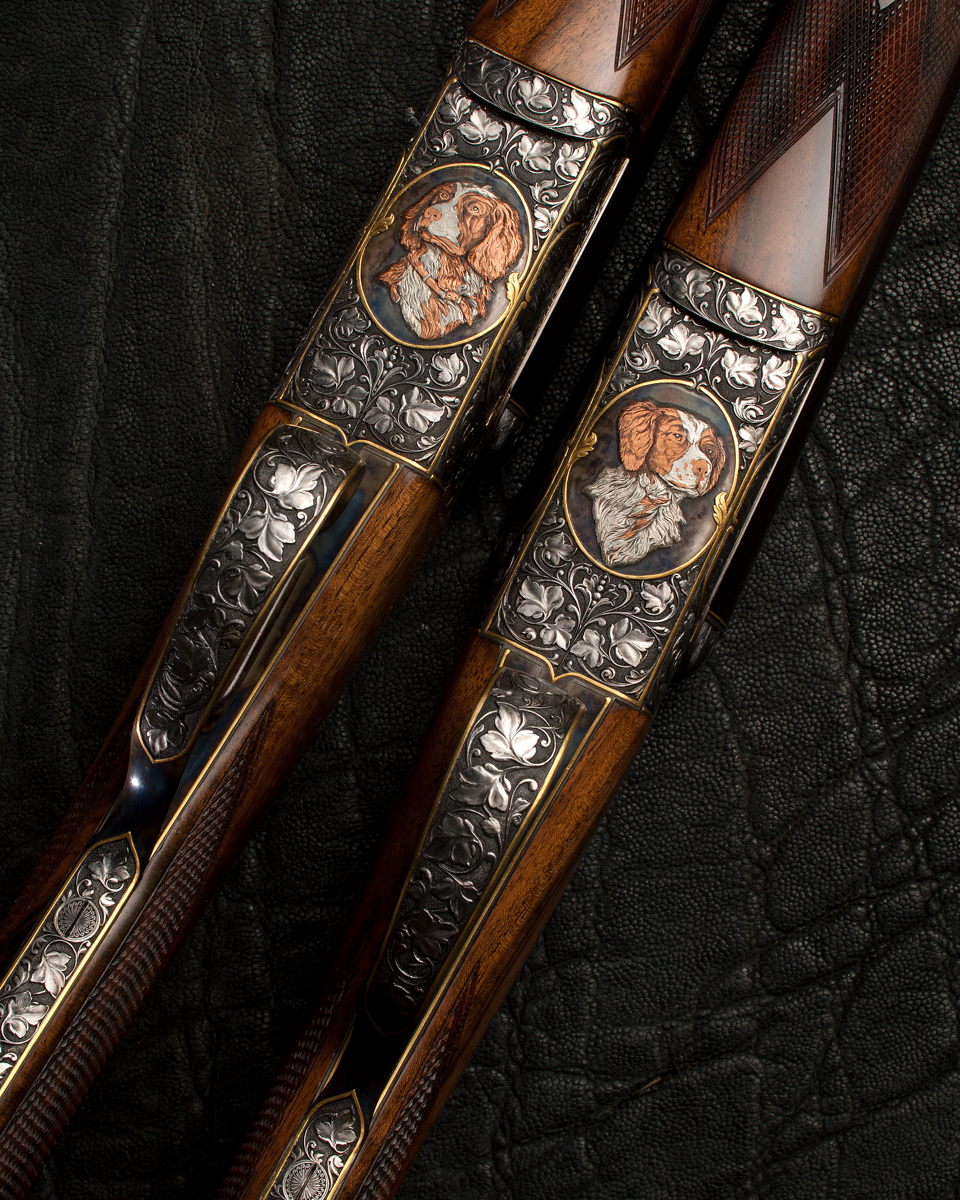 A magnificent pair of 20 bore 'Model de Grande Luxe' shotguns engraved by Vince Crowley. These guns show the influence of Rashid Hadi who was mentor to Vince for many years. The use of varying engraving techniques and materials on one project has become a signature of Vince's 'art gun' executions.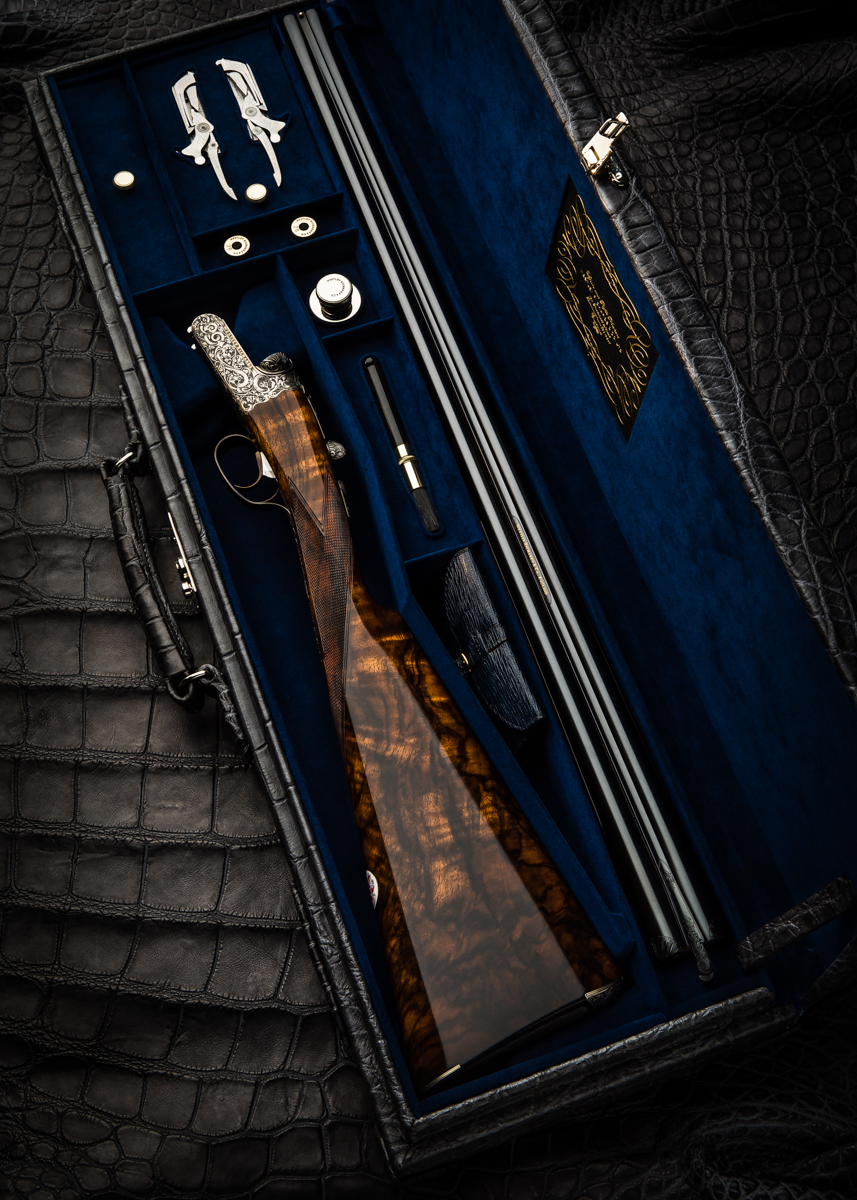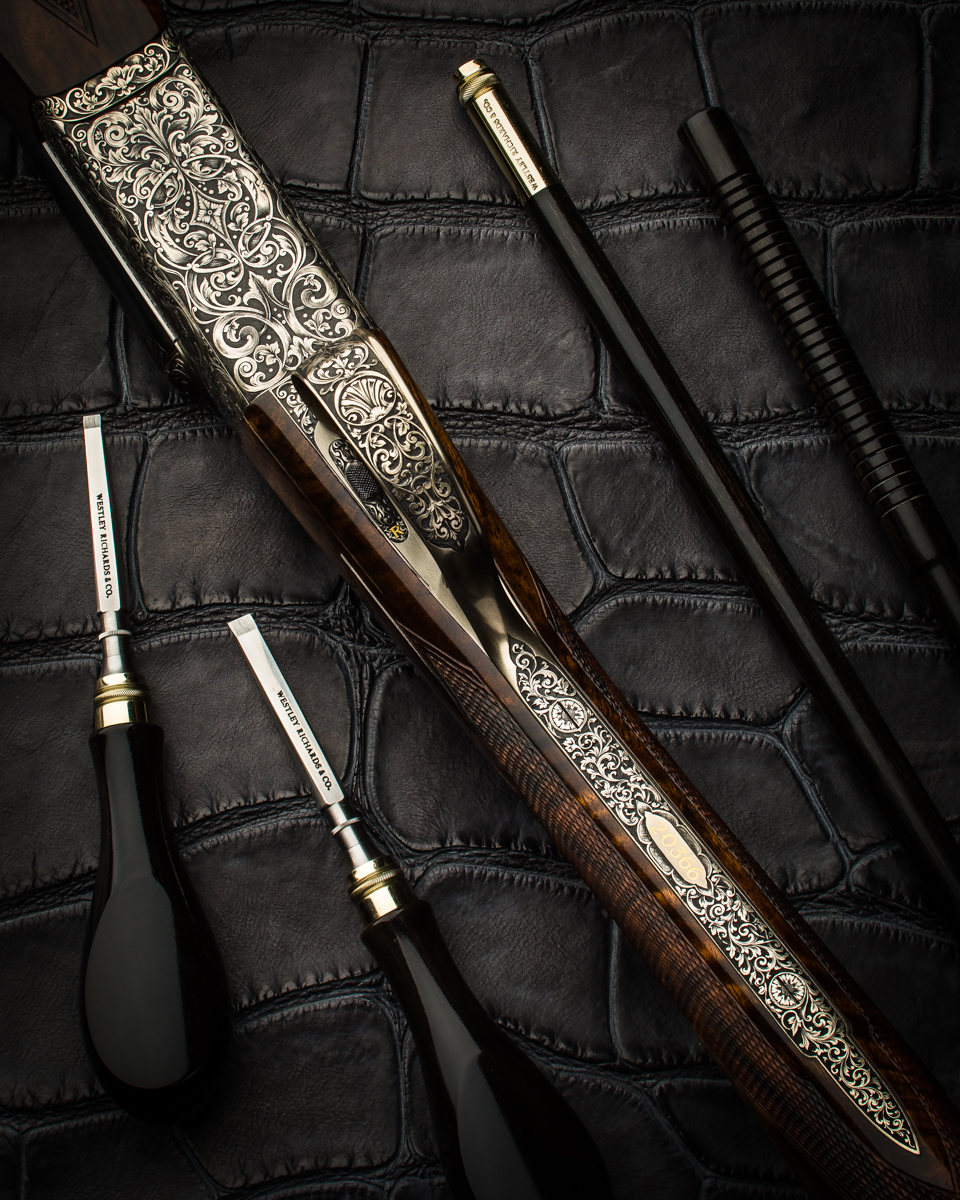 Another highly detailed execution by Vince Crowley in this instance a 28 bore, complete in alligator skin case.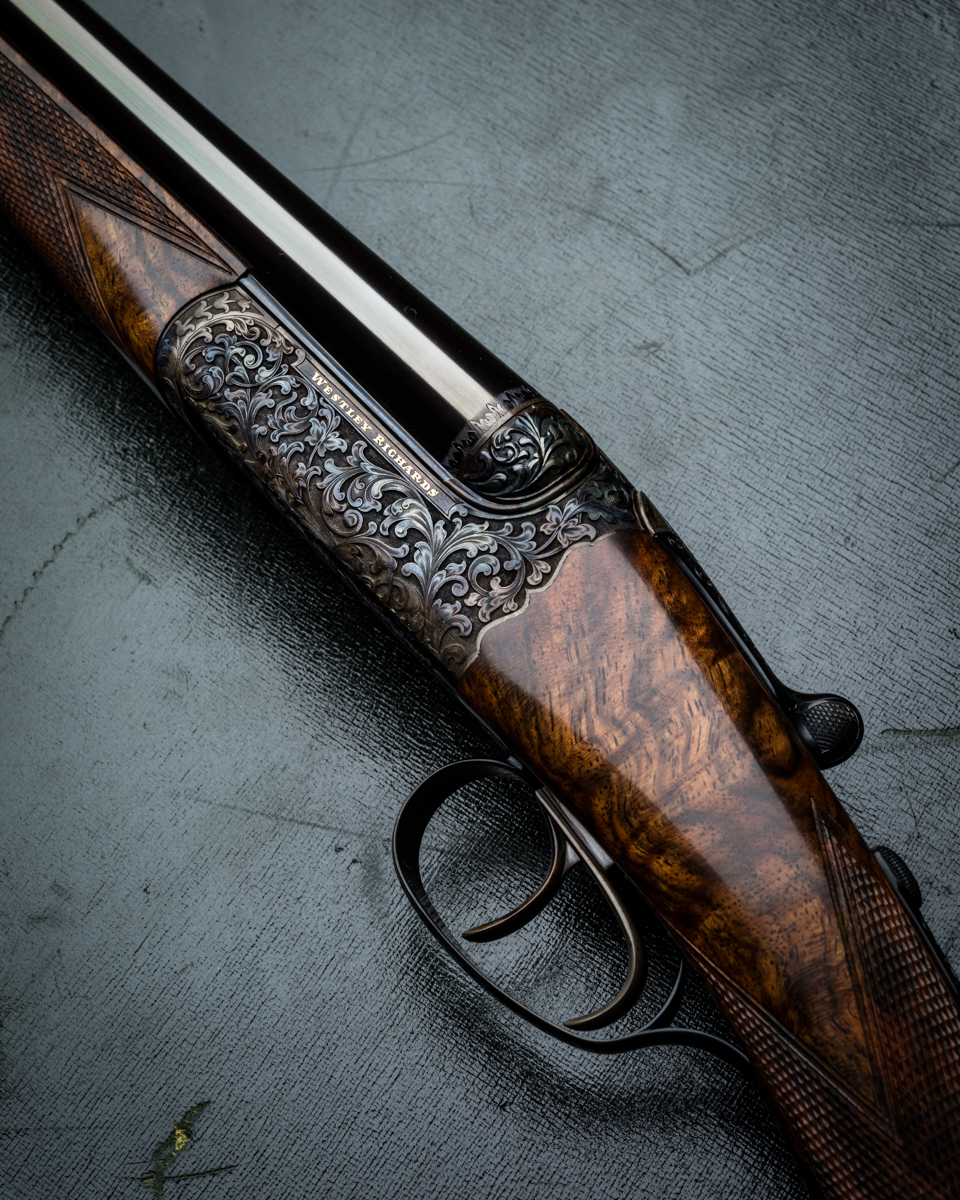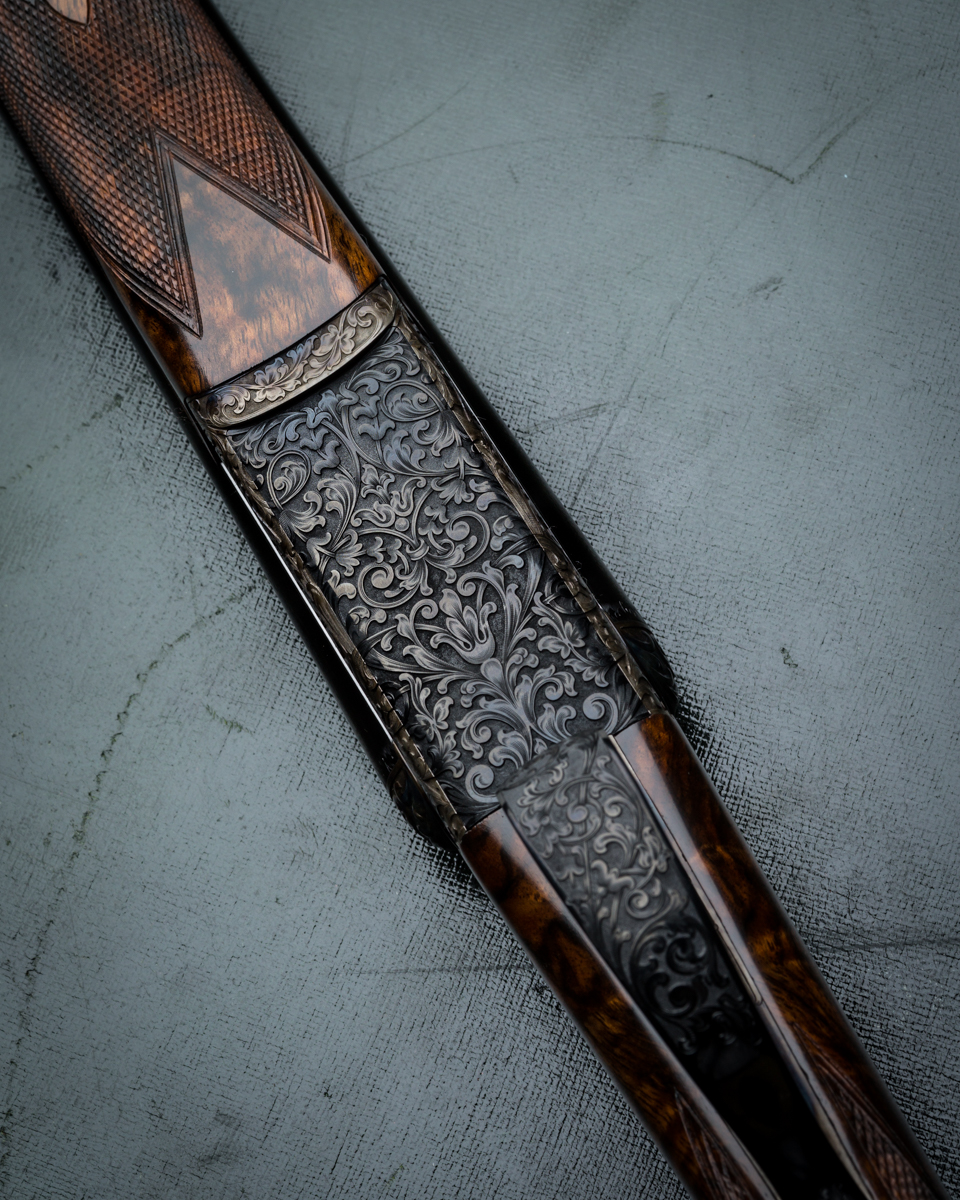 One of a pair of 28 bore shotguns utilising the etched technique of engraving. In this instance the main engraved surface is masked off with a 'resist' made from beeswax, aspheltum and turpentine, and a nitric acid solution is applied to the surface, the unmasked area being etched away. The background is then carefully textured and the main surface area engraved in the traditional manner. The etched background when executed cleanly gives a great contrast.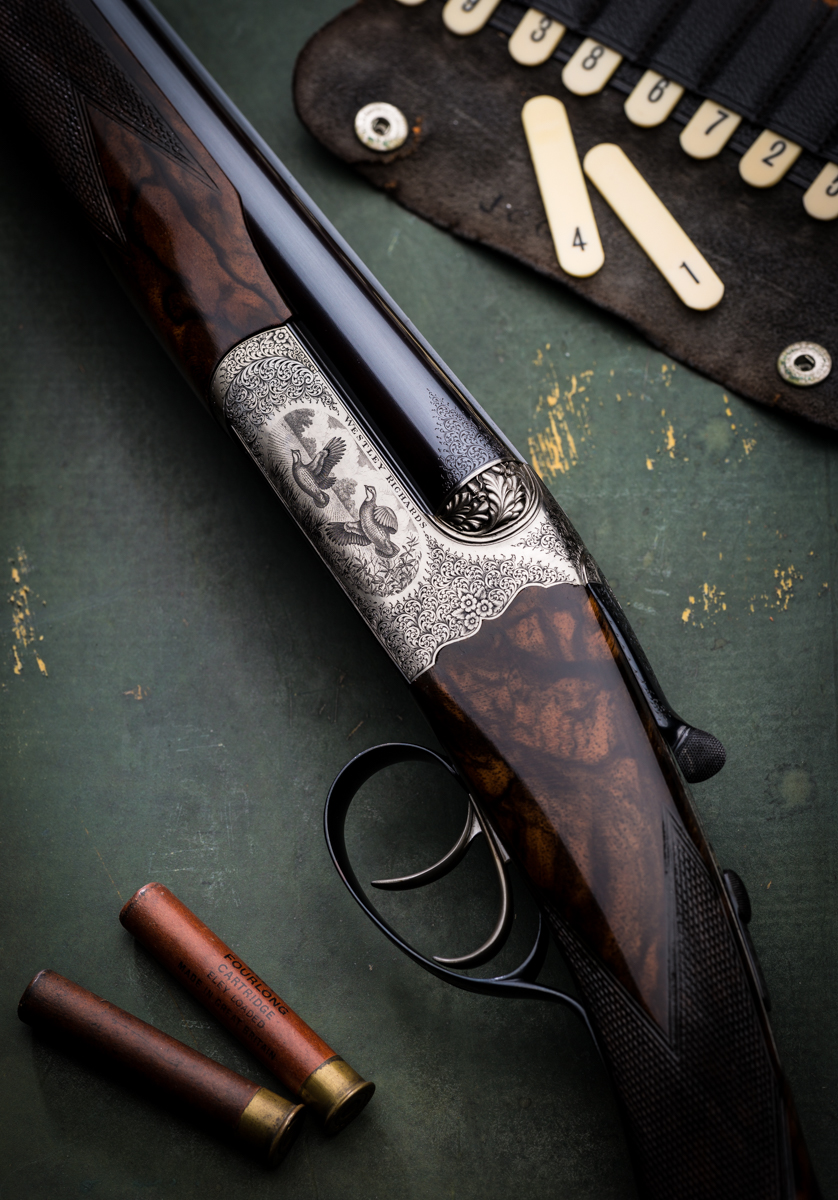 A stunning little .410 engraved with fine rose and scroll, Bobwhite quail and carved leaf fences. One of the original modern production .410's from the 1980's this gun re-launched the droplock design into the collectors market and paved the way for subsequent bores and model introductions.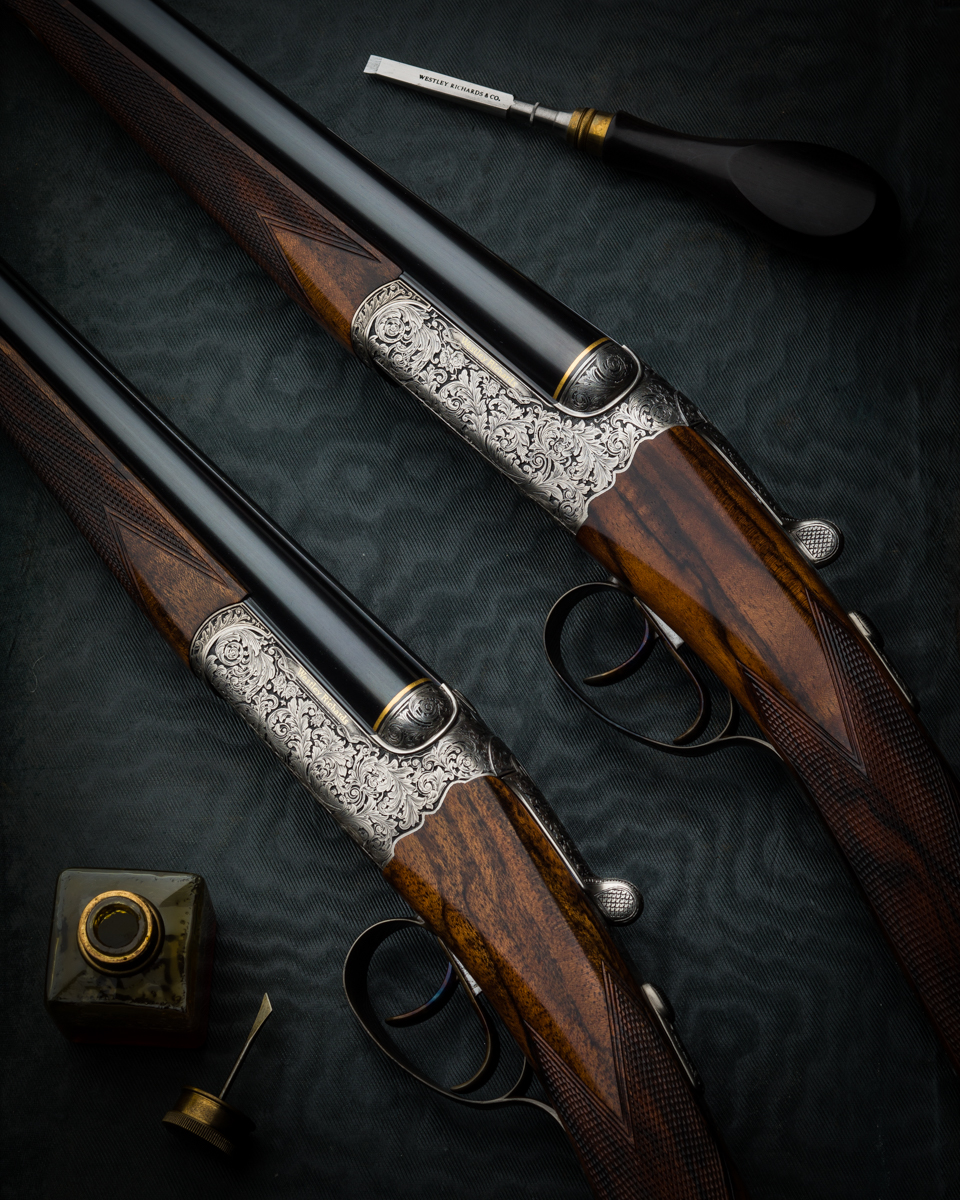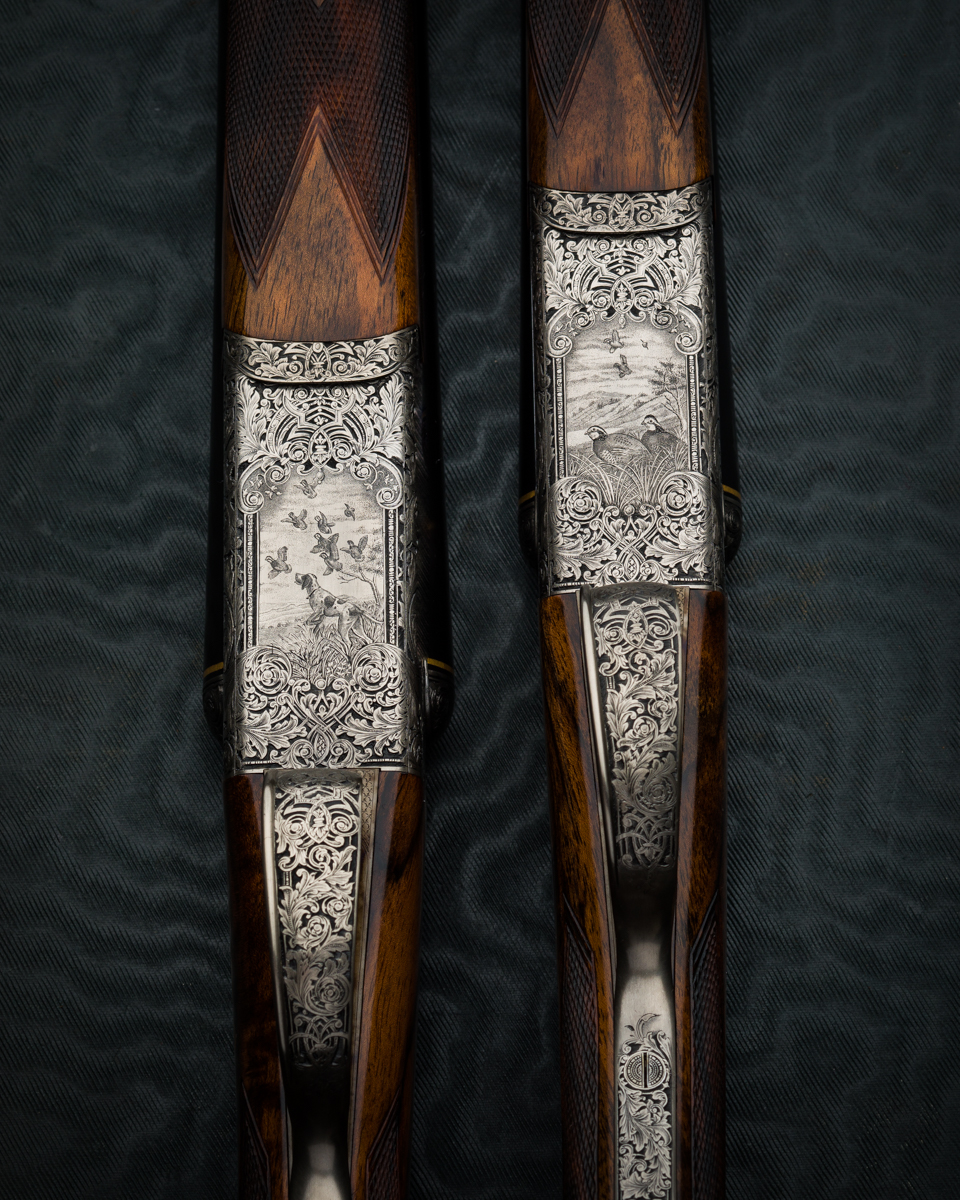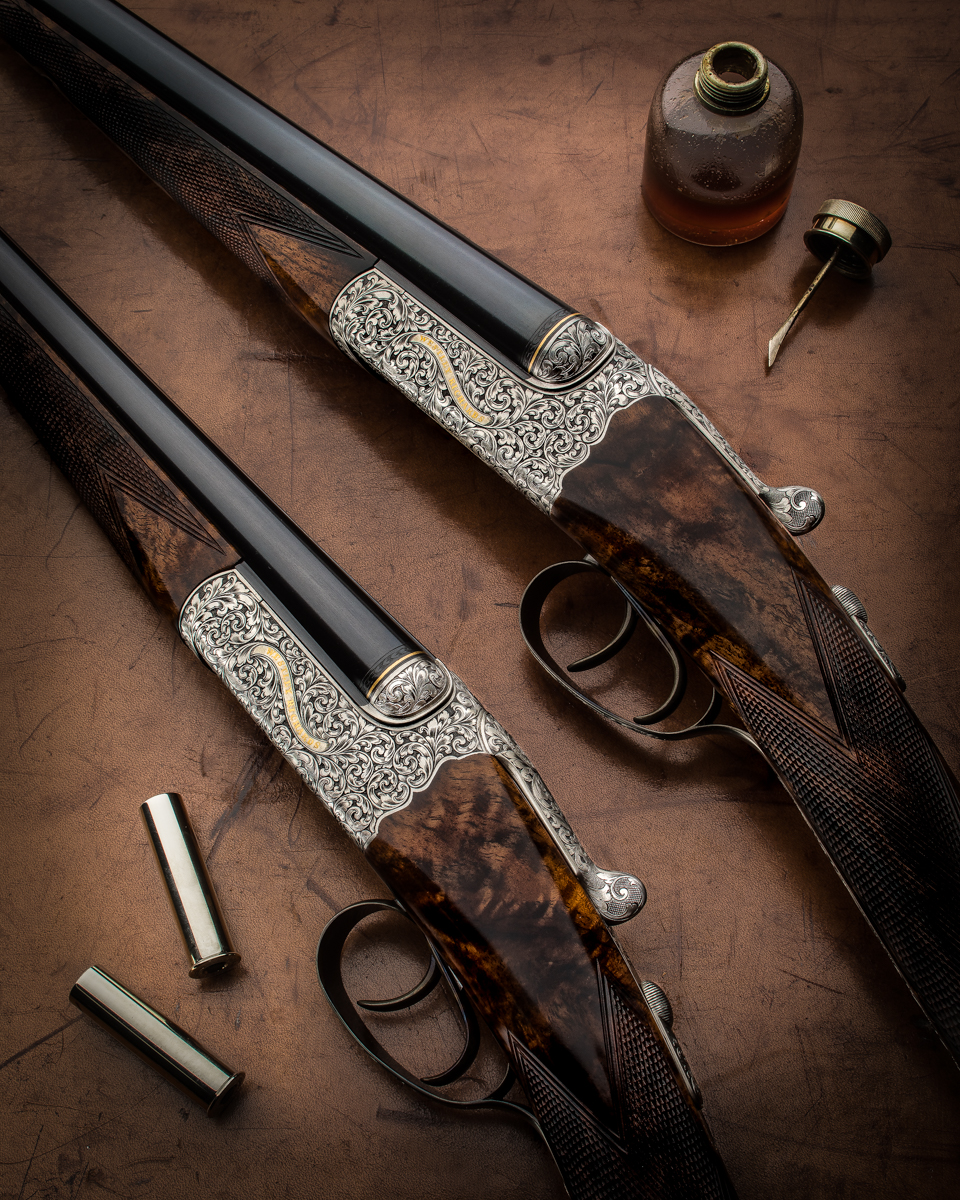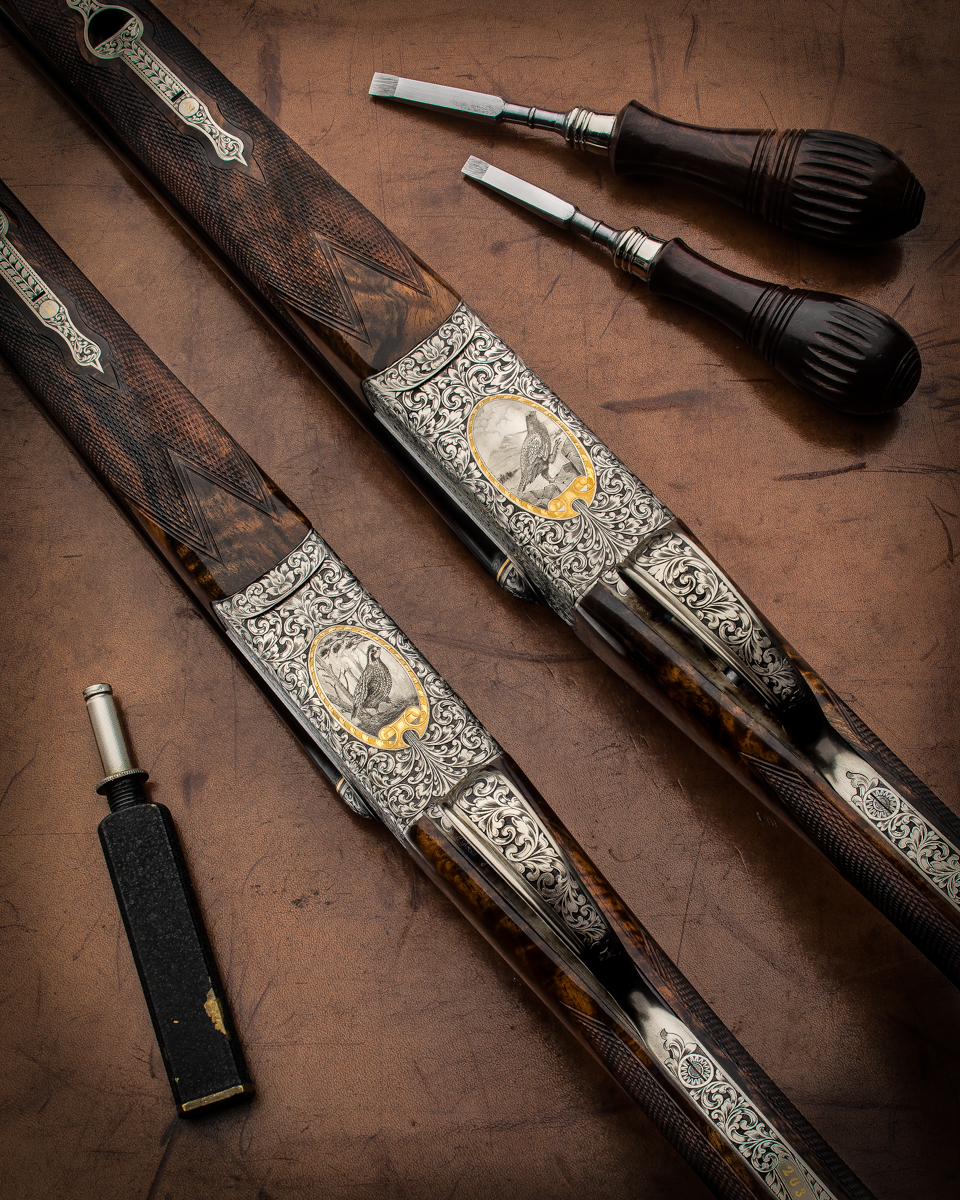 Two pairs of .410/28 bores built for friends. These guns illustrate very clearly how different peoples tastes can be. On the one hand you have a very Italianate design and yet the other shows bold English design.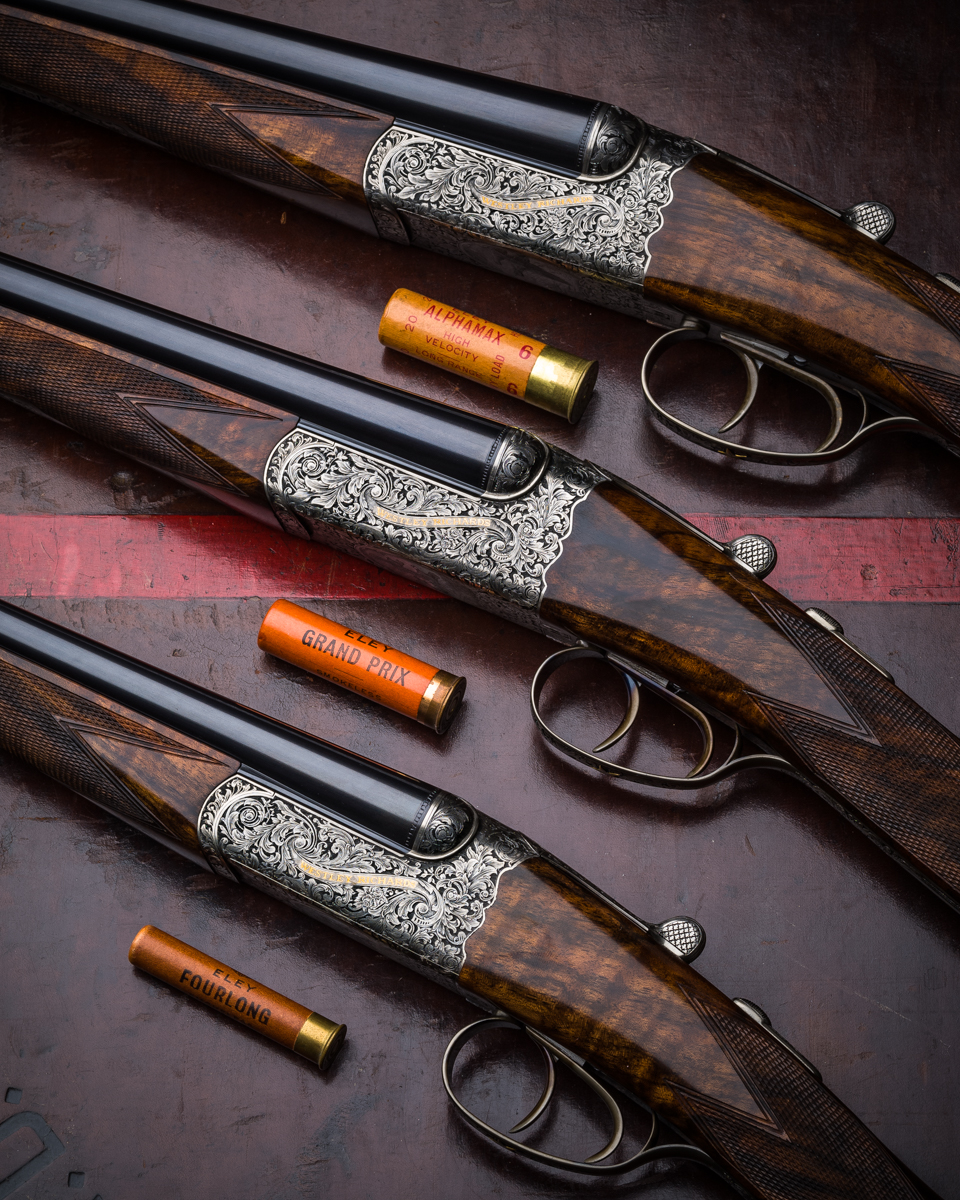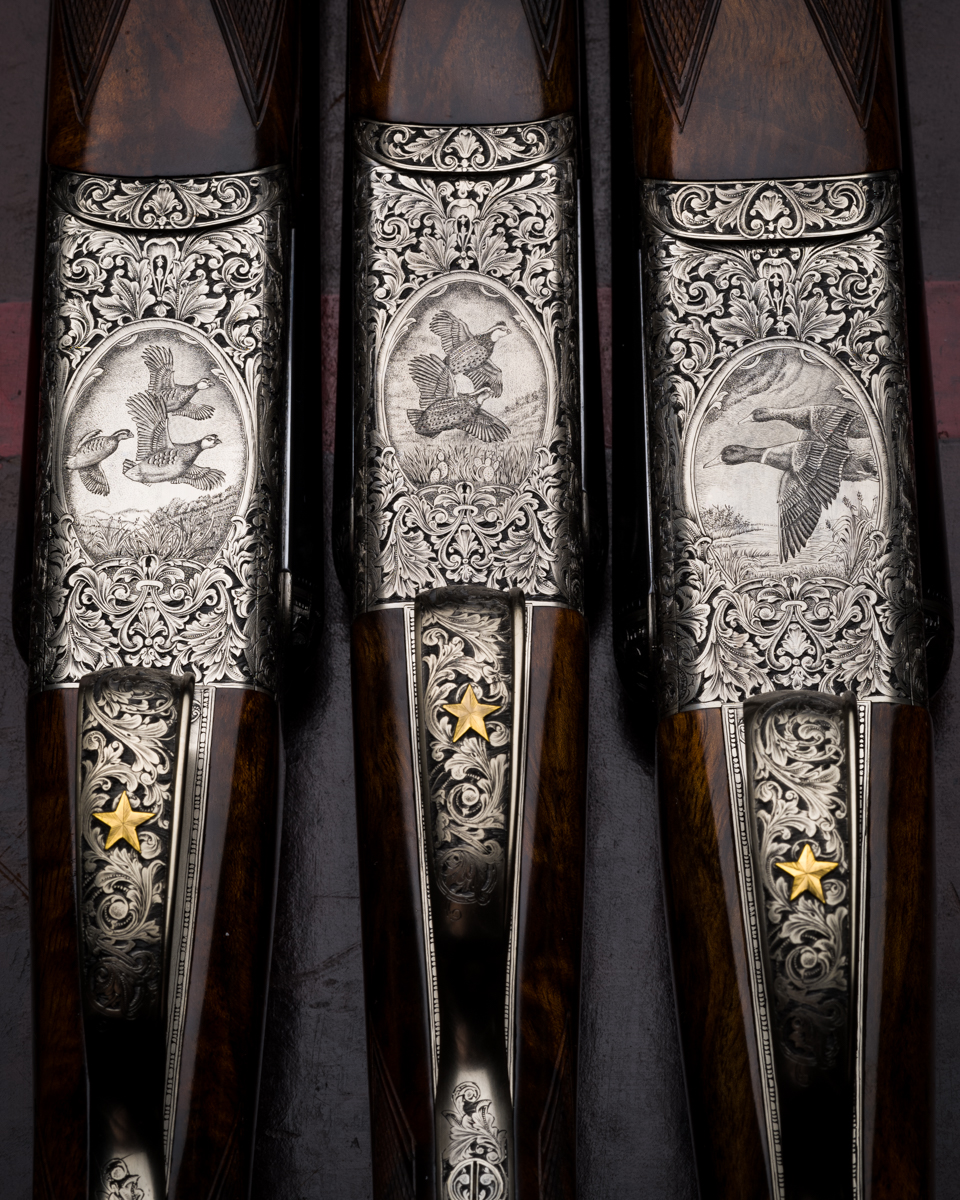 An interesting trio of guns consisting of a .410, 28 and 20 bore. Obviously intended for the USA, the scaled action frames mean that each gun has subtle differences in the final layout and execution. They are often an engravers nightmare!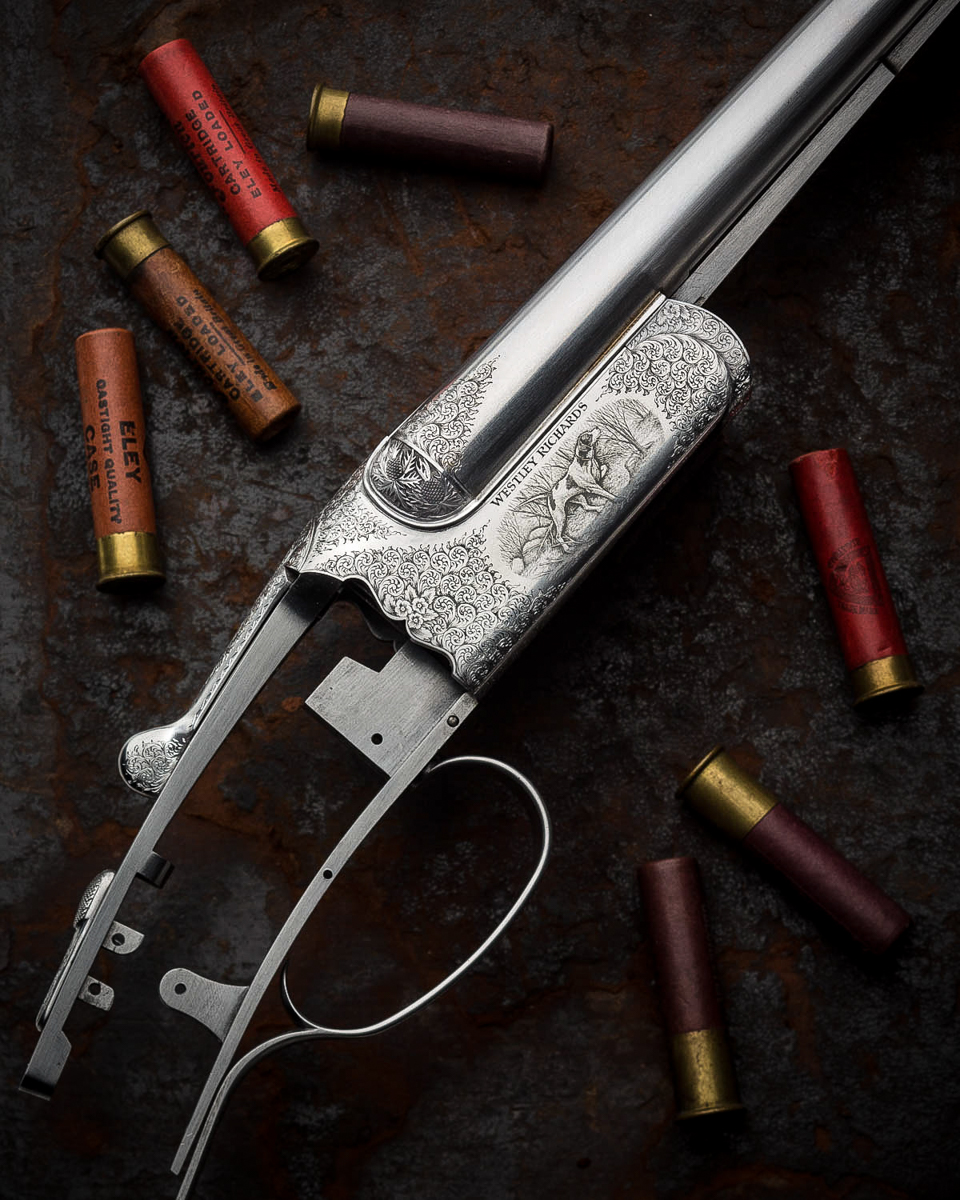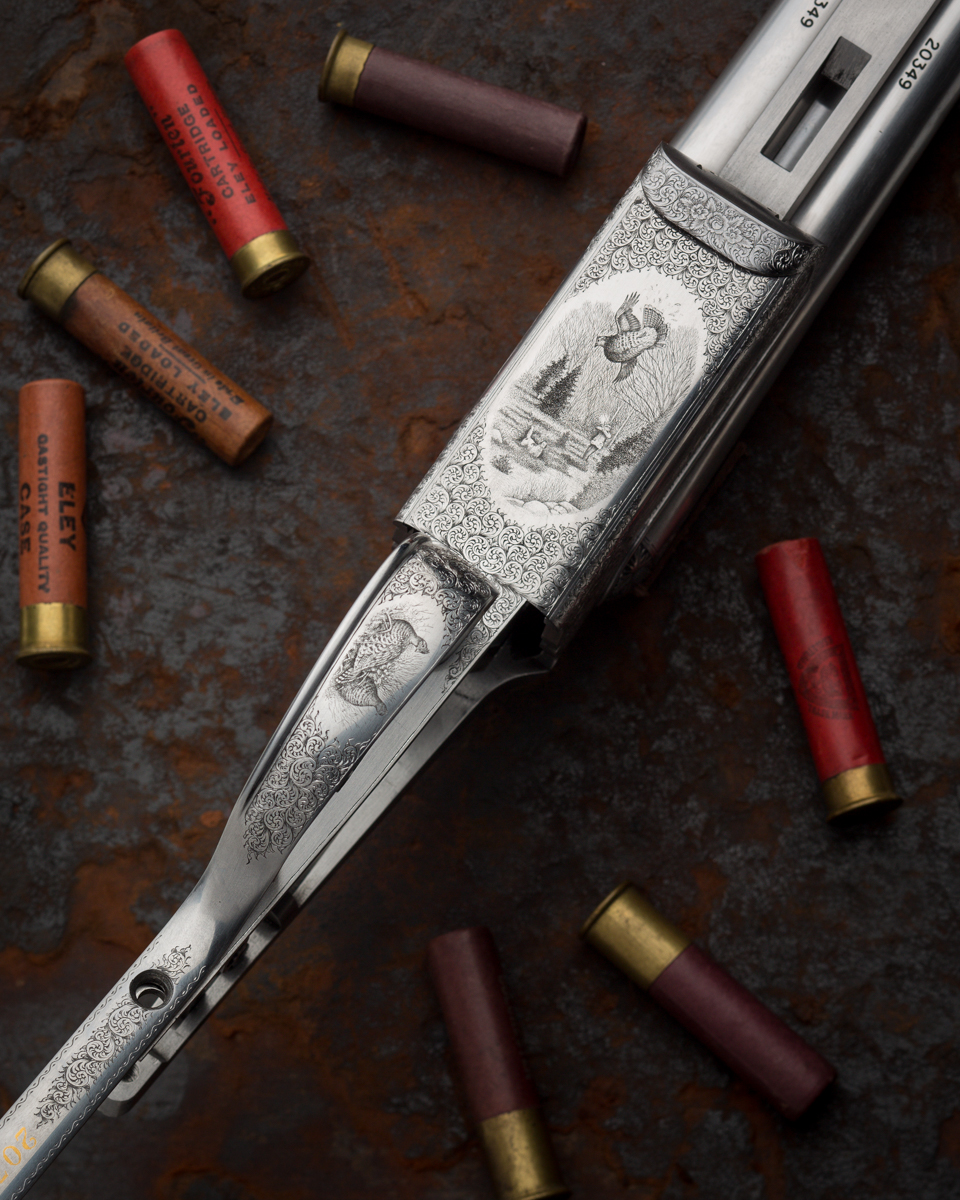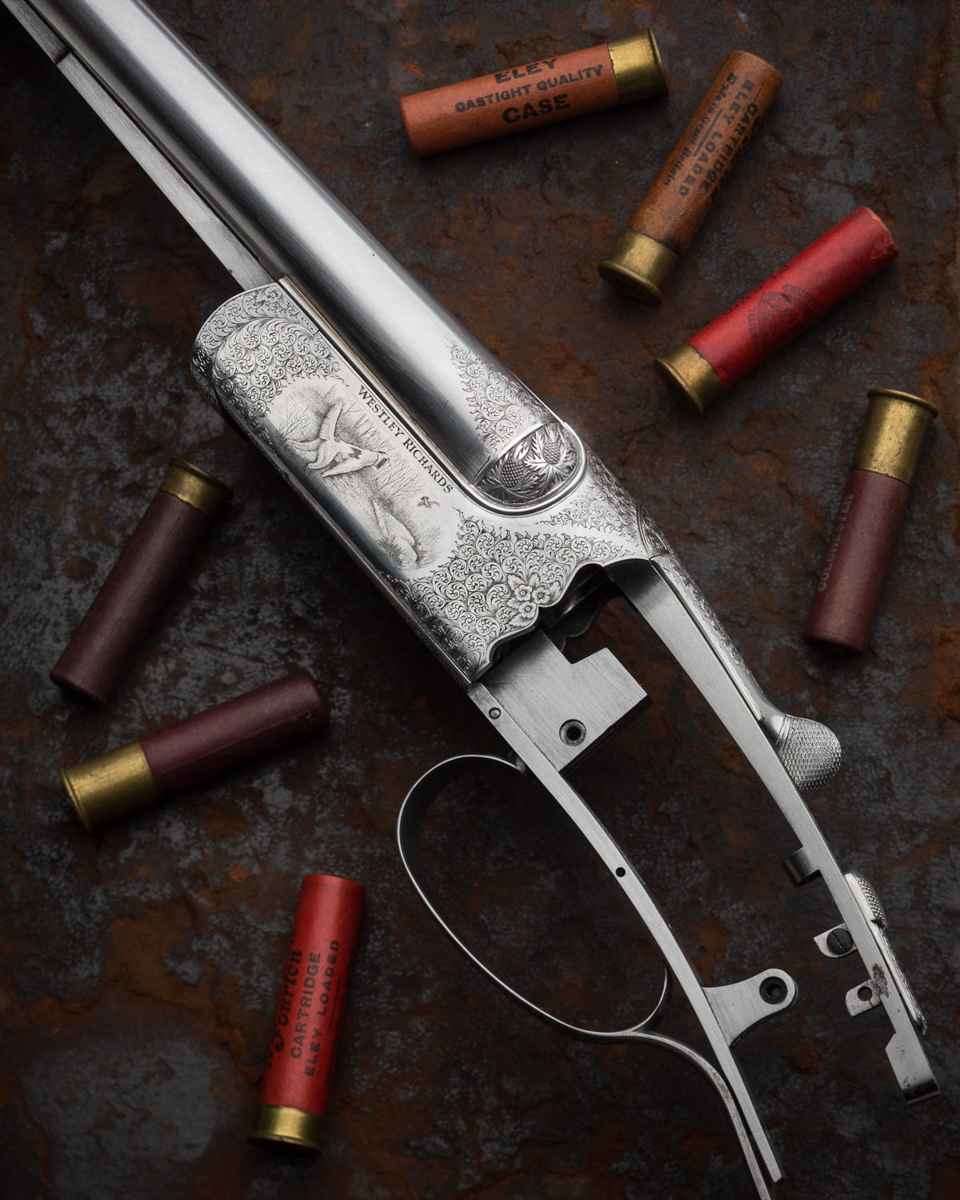 A wonderful little .410 executed by the Tallett family. The whole specifics of this gun were determined by its owner including the game scenes that were reproduced from William Harnden Foster's 'New England Grouse Shooting'.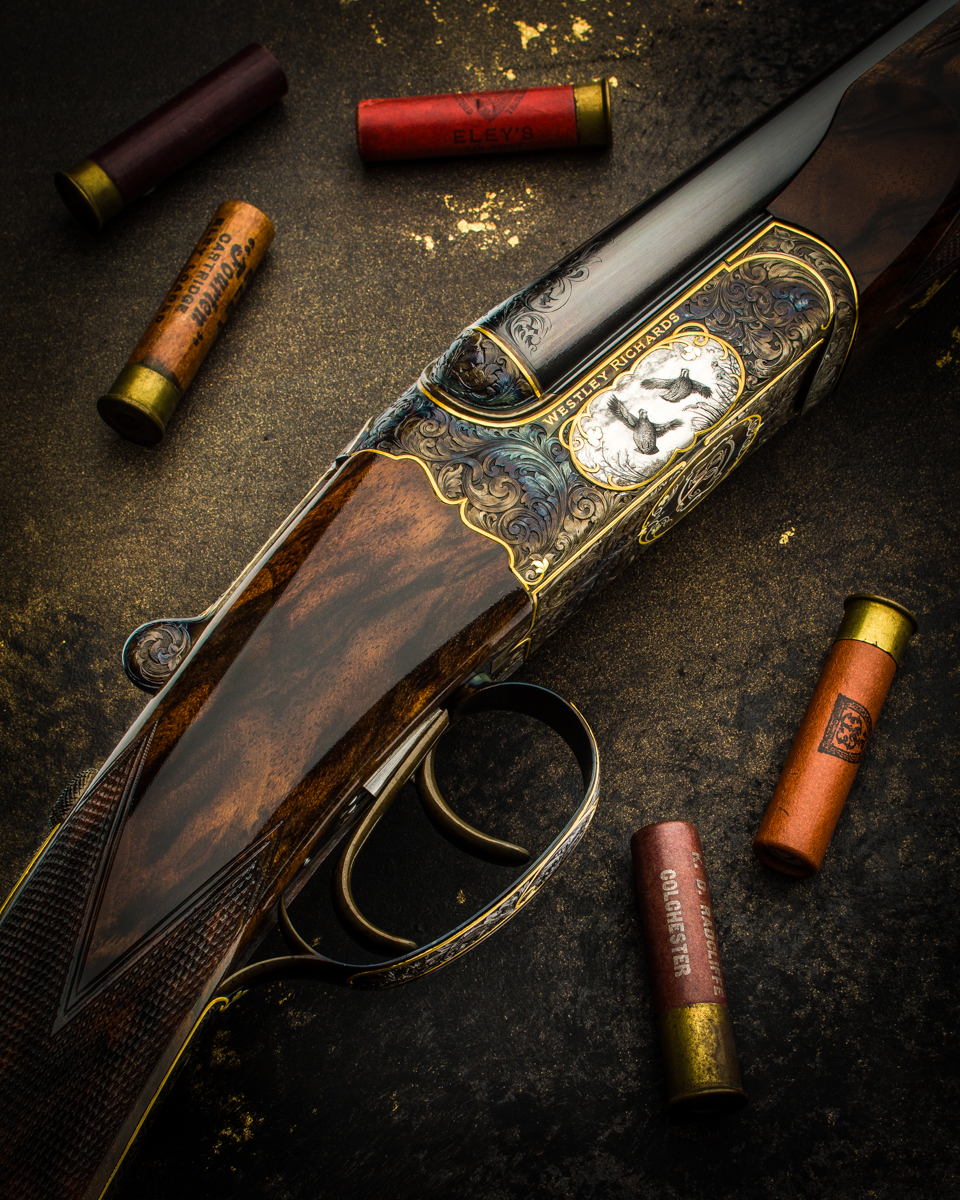 A modern interpretation of the gun seen at the end of this posting. A beautiful little .410 built purposefully for quail shooting, it exemplifies the highest qualities expected of a modern Westley Richards shotgun.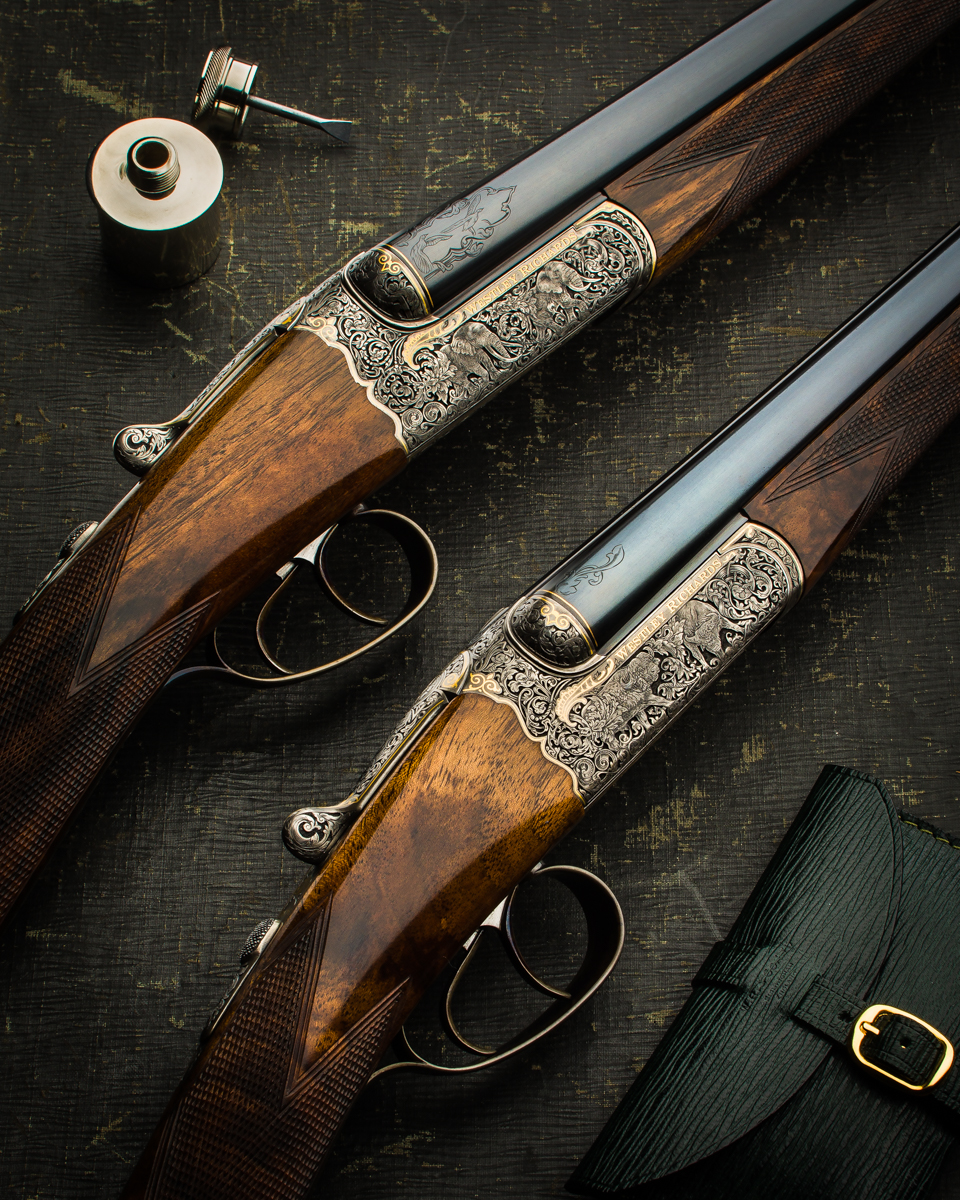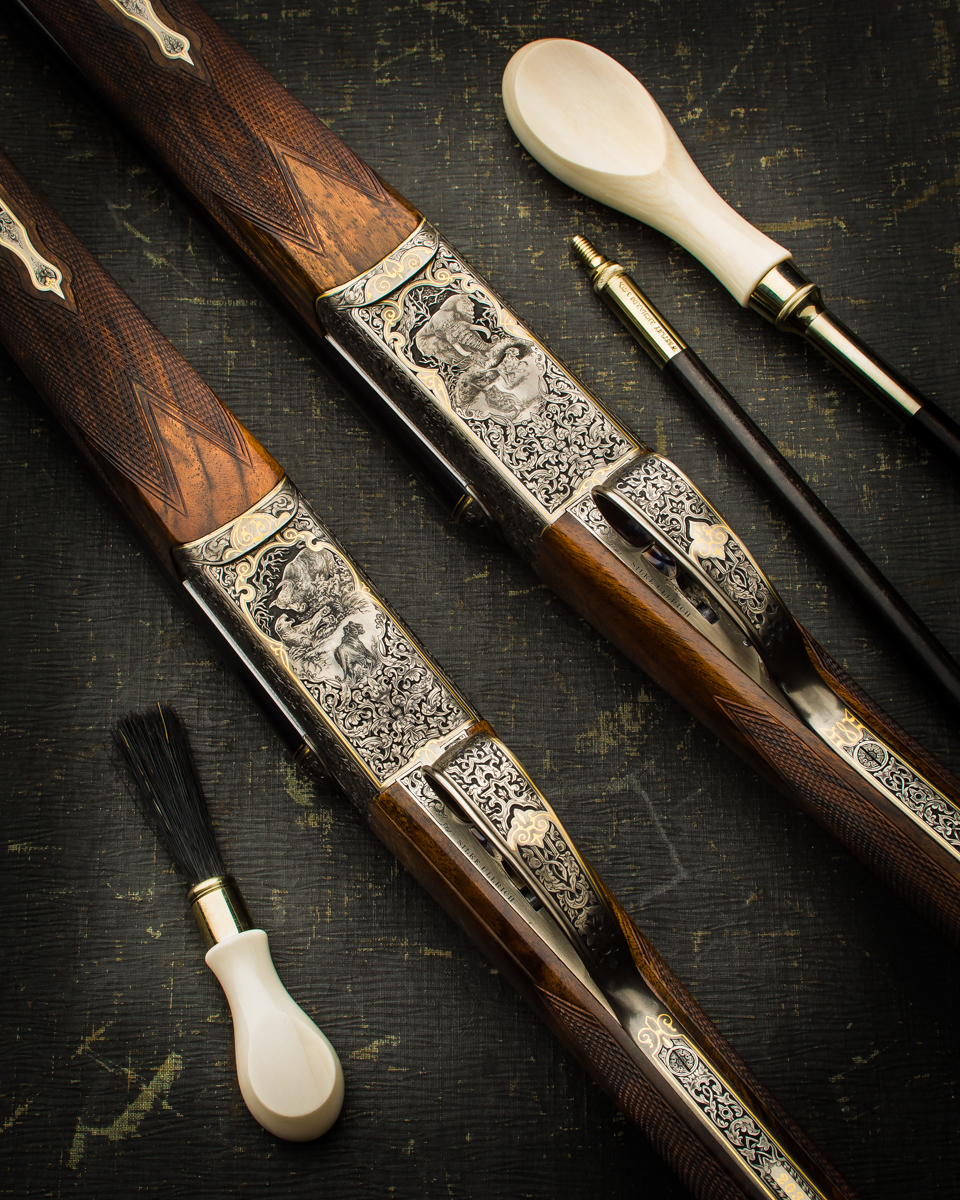 A very unusual set comprising of a .410 and 28 bore shotgun, embellished with scenes of elephant and buffalo! Not your usual choice of scenes for a pair of shotguns, but certainly very interesting! Once again these guns illustrate just how important design is in order to pull off a unique design.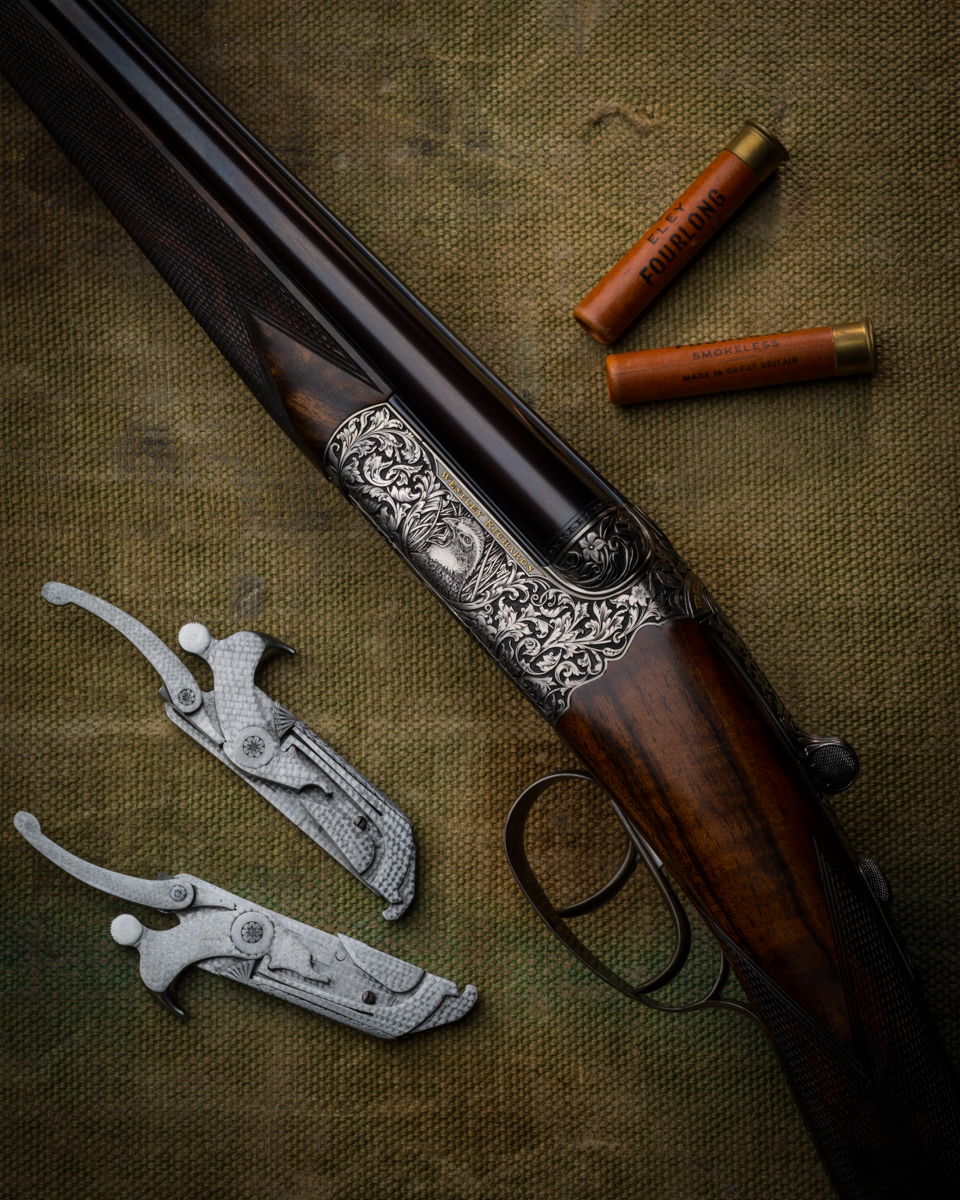 Another .410 quail gun. In this instance the game scenes on the action sides were close ups of the quails head, rather than full bird game scenes. It lends a more unusual look to the gun which works really well.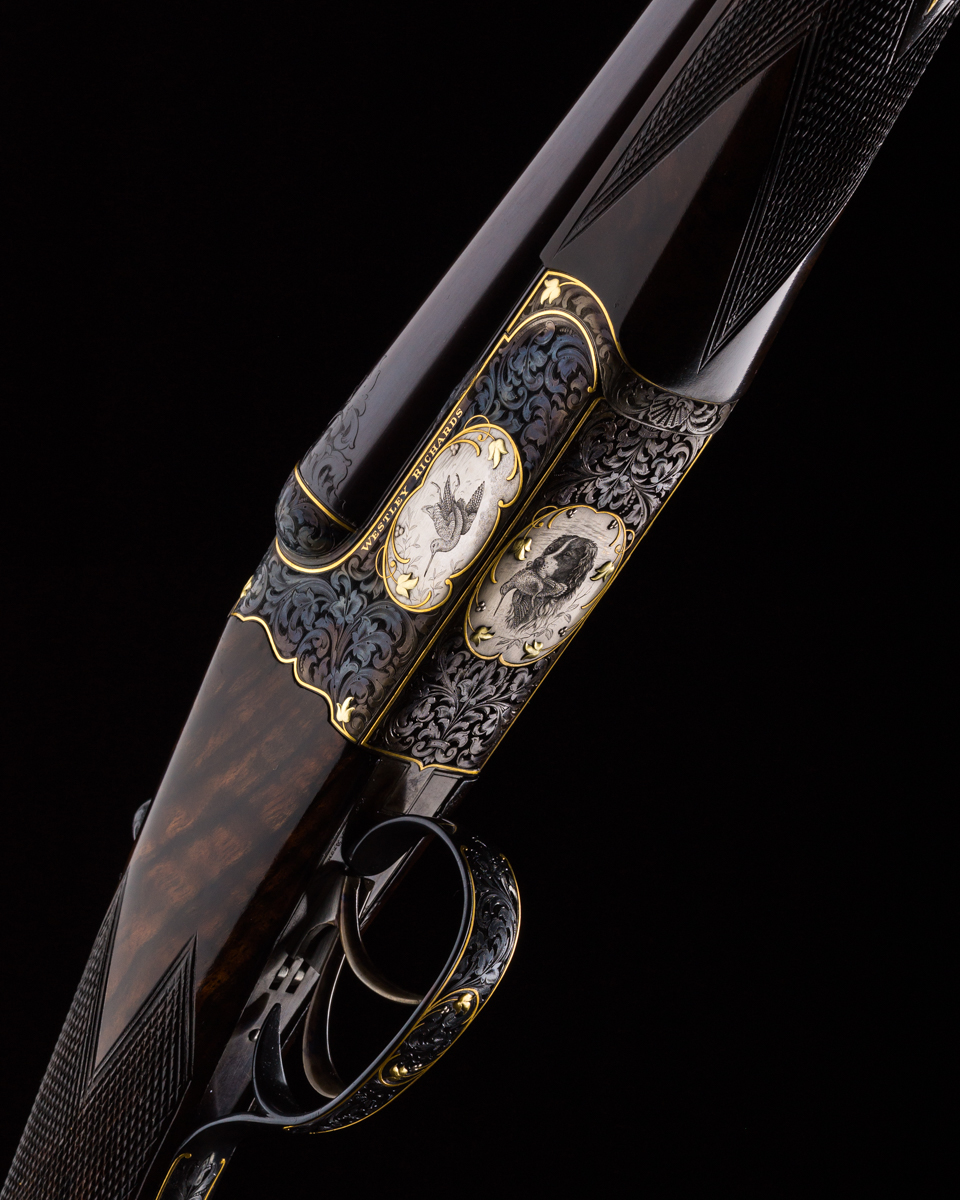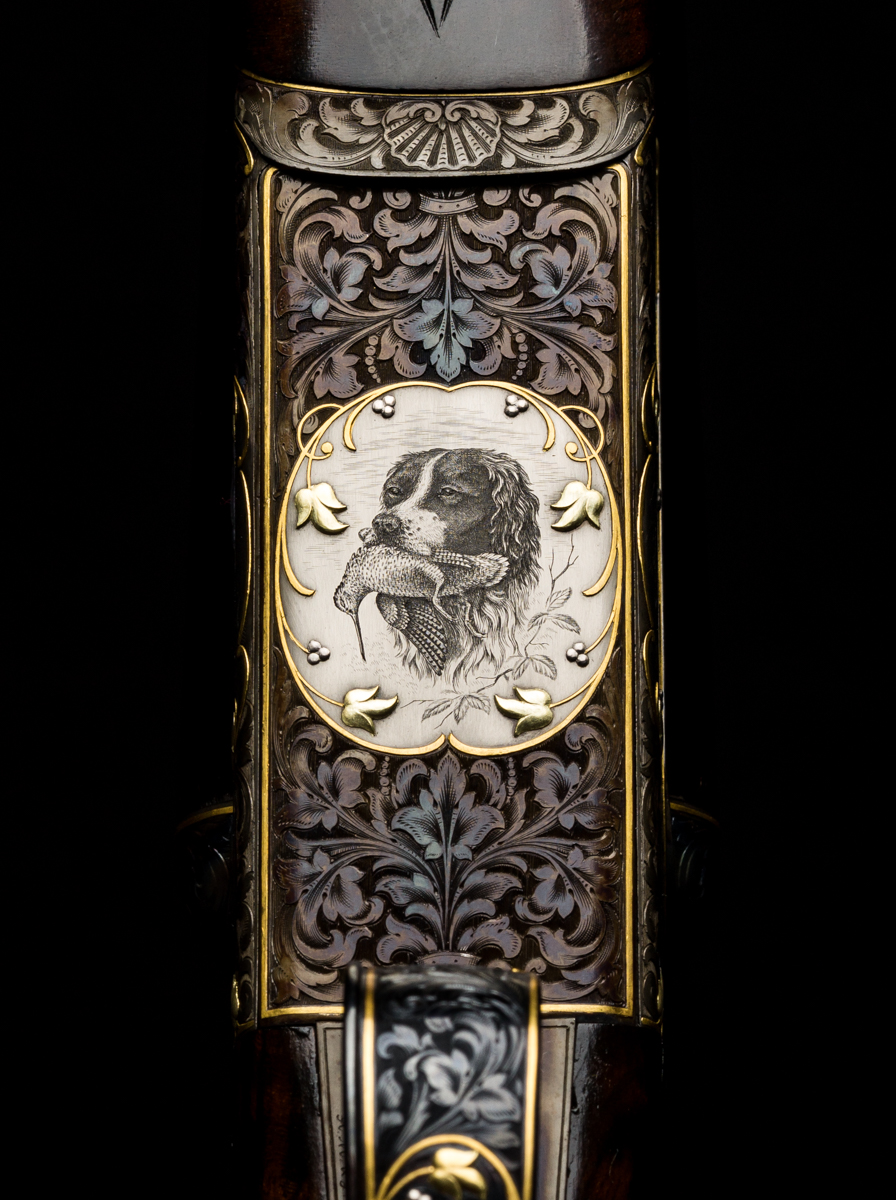 And finally an old masterpiece engraved by the legendary 'Brown Brothers'. In recent decades they set the standard for 'high art' gun engraving producing some of the finest work ever seen. Self taught, they have mastered every technique of gun engraving and embellishment.