'One' denotes the singular nature of this vintage piece: It has one barrel, one lock and there is only one of it in existence, in fact, only one was ever made.
You are looking at it.
These photos depict a 'Super Magnum Explora', single barrel, 12-bore, with hand-detachable lock. Westley Richards aficionados will recognise some other proprietary features scattered around the gun: it has a Deeley & Edge forend fastener, a Westley Richards top-lever and a doll's head.
The eagle eyed will notice that not is all as it would normally appear, however.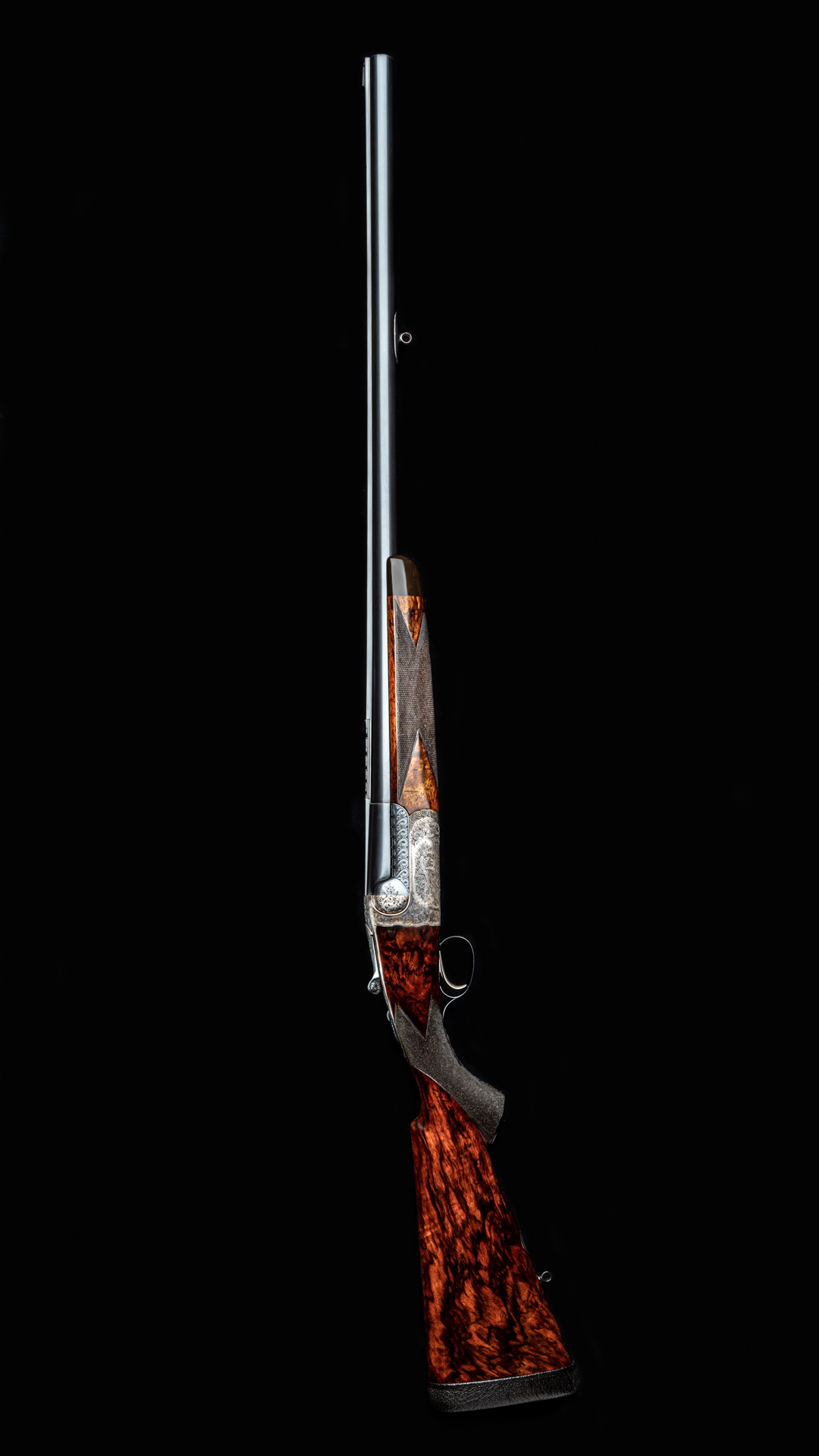 First among the deviations from the norm is the top-lever and bolt arrangement. The top-lever is familiar but the doll's-head, though jointed on the circle, has no bolt to secure it, as would normally be the case. Instead, it borrows from our 'Ovundo' over & under gun, in having twin bolts, spring-loaded and set into the action face.
They correspond with twin projections from either side of the barrel's breech-end. These push the bolts back when the gun is closed, the bolts then spring forward to sit flush with the face, yet hold the extensions securely in place until retracted by the turning of the top-lever. In addition, it has a Purdey under-bolt, operated in the usual way.
What about the name? 'Super Magnum Explora'?
The 'Explora' is the namesake of this journal. It first saw use at Westley Richards in 1905 as the name for our 'shot & ball gun/rifle.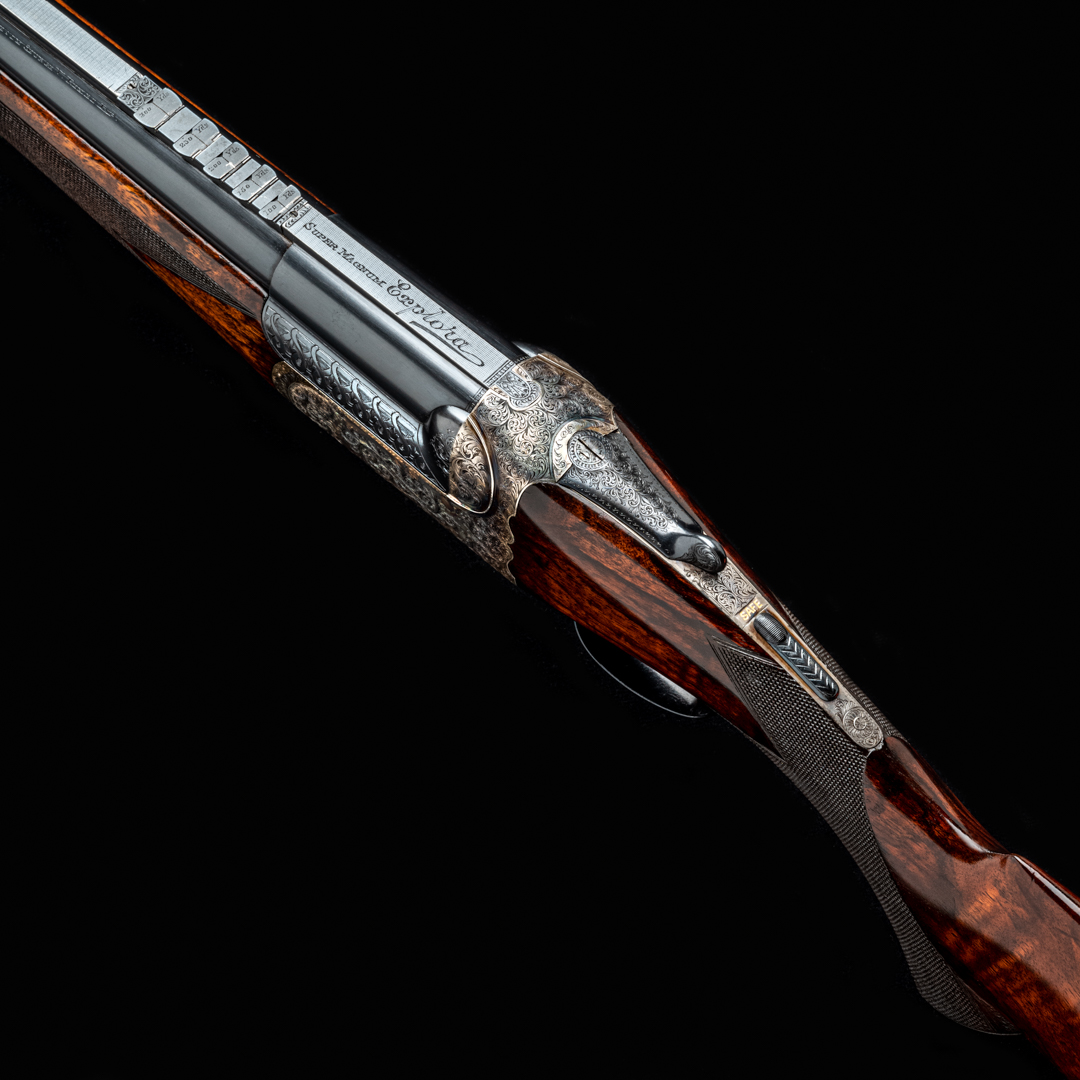 It was devised to tap-into the demand for such things, cemented by G.V. Fosbery's 'Paradox', which had been such a hit for Holland & Holland since its introduction in 1886.
It is a shotgun with a rifled-choke section, imparting spin to a conical bullet yet allowing for shot cartridges to perform without blowing the pattern.
The Explora was developed with a special rifled-choke section and patent 'LT' bullets, designed by Leslie Taylor, advertised as capable of placing 6 shots at 100 yards in a target 3.8" x 2.3" and effective to 300 yards.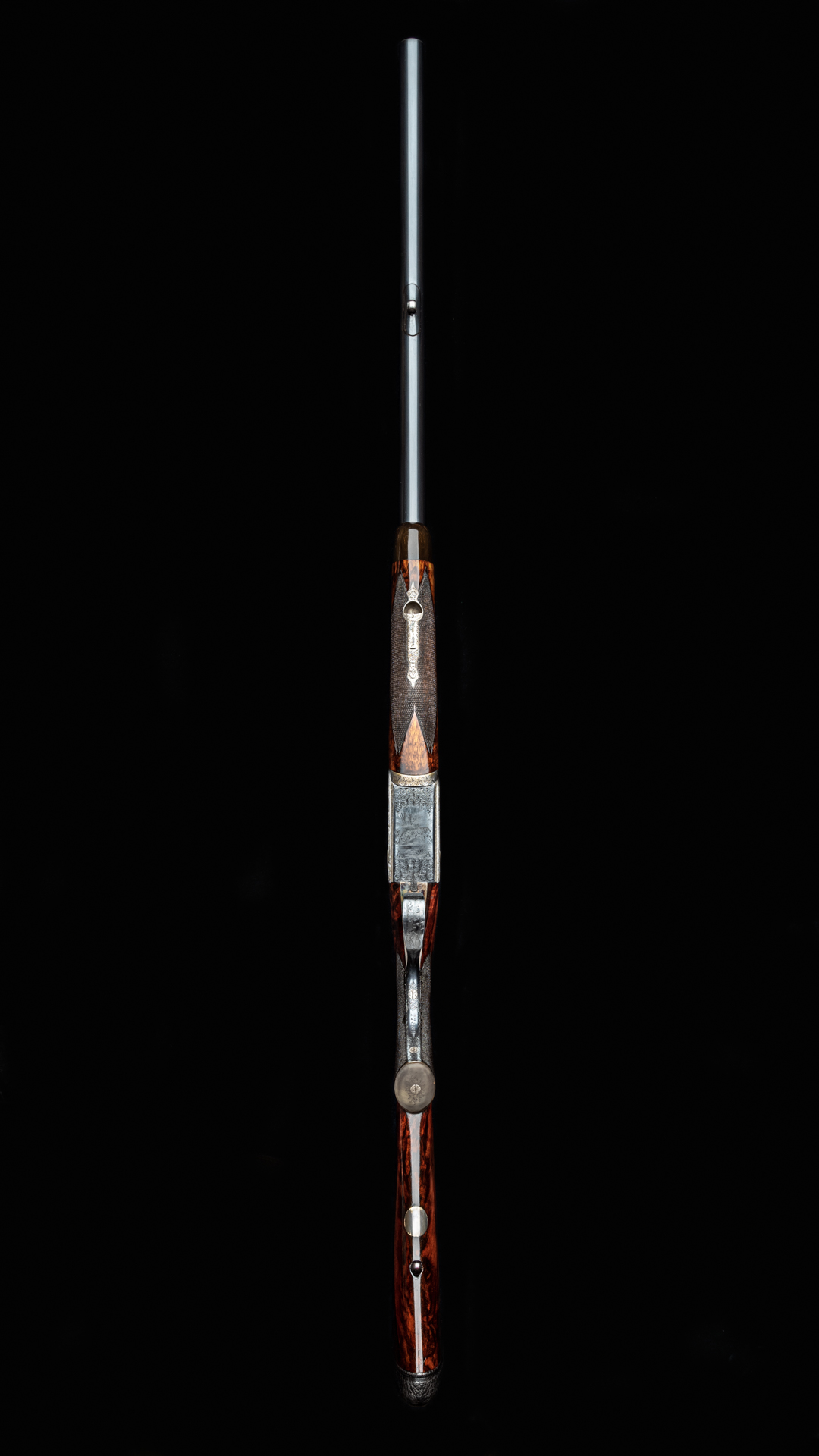 The basic 'Explora' fired this 730 grain, pointed, capped-bullet at 1,250 fps with a muzzle energy of 2,611 ft.lbs from a 2 ½", 12-bore case. Typically, it was built as a double-barrel, fixed lock Anson & Deeley action but detachable locks were also available, as was a hammer gun version.
There is no 'Magnum Explora', development goes straight to the 'Super-Magnum'. 'Super' derives from the Latin, meaning 'above'. 'Magnum' refers to a cartridge firing a bullet with greater velocity than is usual for its size. So, 'Super Magnum' emphasises the greater power of this model over its originator.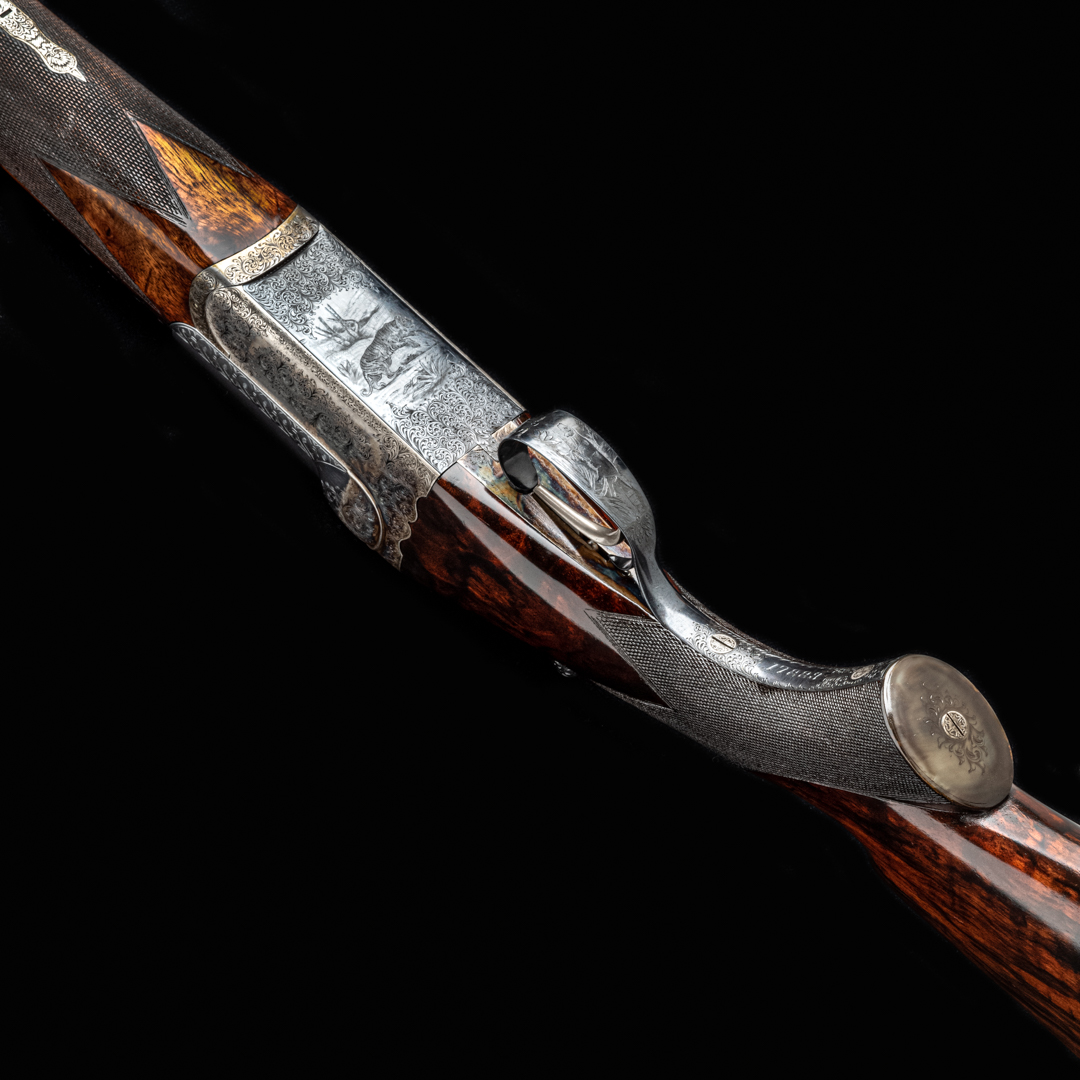 Using 45 grains of Cordite, the same 730-grain, brass-capped bullet is pushed at 1,500 fps with a muzzle energy of 3,643 ft.lbs. The brass case length is lengthened to 2 ¾". Accuracy was expected to achieve five shots at 100 yards into a 3"x 3 ½" target. It became extremely popular in India and was a proven tiger killer.
The second of our numbers, 17,889, refers to the serial number of this single-barrelled 'Super Magnum Explora'. This can be traced in the order book to 1923, for 'Kapadia. Merwanji' and is listed as:
One single-barrel,  'Super Magnum Explorer' 12- gauge, hammerless ejector ball & shot gun.
Willesdan canvas case.
Cleaning rod,
Three-in-one oil
Leather sling
1 long whalebone life protector
1 2nd quality cartridge belt
A quantity of cartridges and bullets were ordered with it.
The cost for the gun was eighty pounds.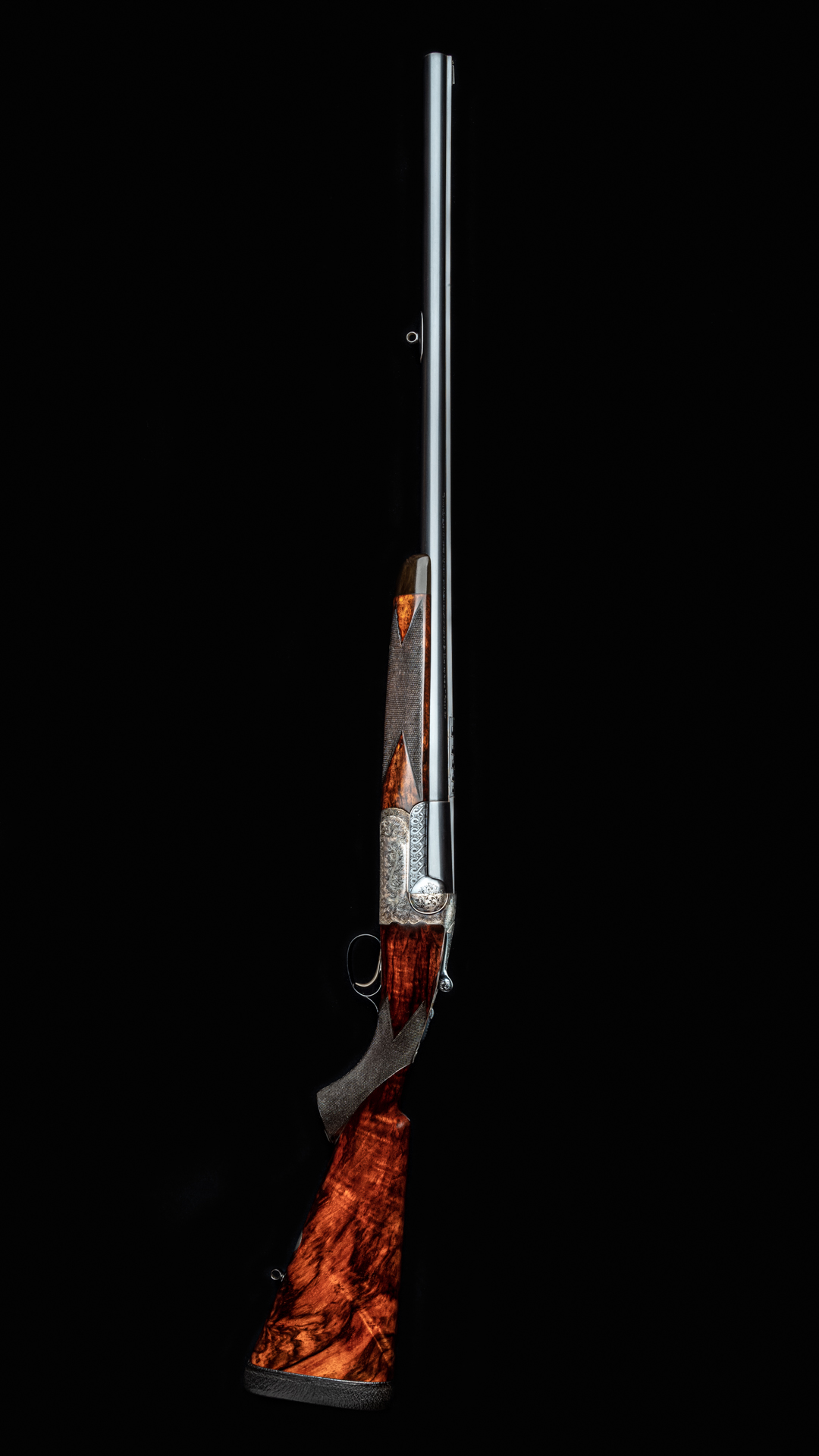 The stance of this piece is all rifle, though it was capable of shooting shot cartridges and those ordered with it include fifty rounds of each: No.8, No.5, No.2 and BB, along with 100 solids, all packed into a tin-lined box to keep them fresh.
However, the leaf sights, pistol-grip stock and overall feel of the Super-Magnum Explorer give the impression of a big, powerful, tiger stopper. Its shot-gunning capabilities would appear secondary. Indeed, Westley Richards catalogues of the day emphasise its powers for slaying big game over its qualities as a duck gun.
The final of our three numbers, 3,311, is stamped on the detachable lock work. This denotes the use number of the Taylor 1897 patent. This Explora is the 3,311th incarnation of the design.
It remains in wonderful condition, with perfect wood-to metal fit despite the years and its original home being India, where many fine sporting rifles suffered due to the climate and turbulent social history. A high percentage of the original case colours remain on the action and the engraving is sharp. Bore remains very good, with clean rifled-choke section.
There is no doubt that this veteran could be confidently taken on a tiger shoot tomorrow, were such adventures still open to us. The original leather-covered rubber pad, if it had one, would long ago have perished; the replacement is of best quality and perfectly fitted.
Unfortunately, tigers (such as the one depicted prowling through a grove, on the floor plate of the action bar) are almost as scarce today as original Super Magnum Explora bullets and cartridges. The photograph below shows both the drawings of the ammunition from a vintage Westley Richards catalogue and rare examples of the 'LT' brass capped bullet and a loaded brass cartridge.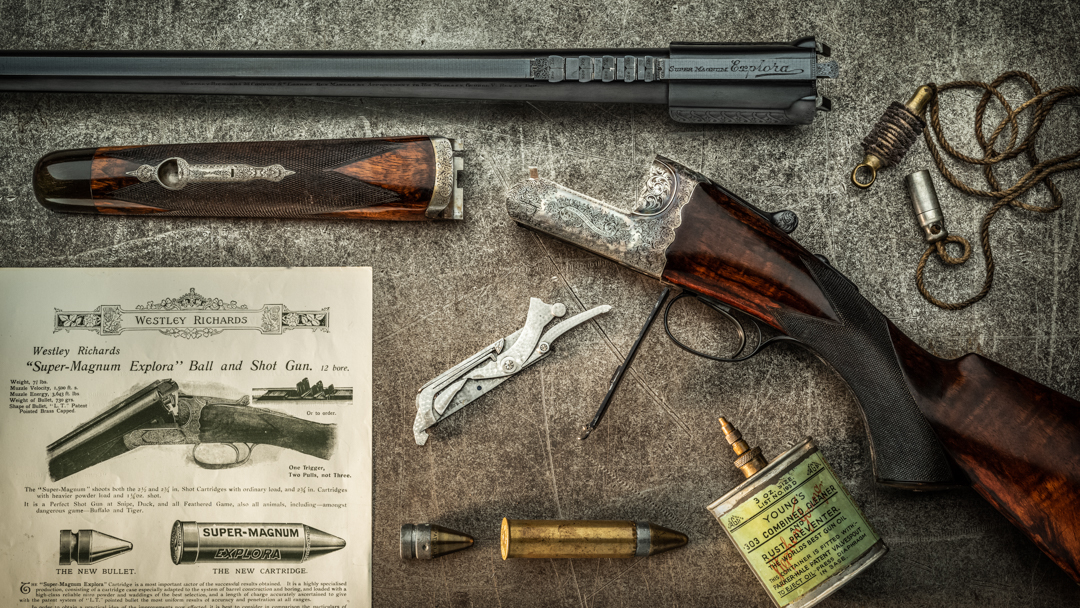 Kapadia and Merwanji are names associated with the textile industry in Bombay and the Great Eastern Spinning & Weaving Company, established in the 1860s.
That this 'Explora' was built sixty years later, casts doubt on the order coming from the first generation of the firm but perhaps it was still in existence and the heirs ordered it.
We shall probably never know. What we can recognise is that it was born into a radically different time. A time when tigers were common, hunting was a passion for the elite on the sub-continent and the British Empire was un-knowingly basking in the sunset of its glory days. Twenty years later, the Japanese took Singapore and the world was on fire.