Communication is not just about sound; it is a lot more subtle than that. The tone, volume and frequency of your communication all convey different messages, whether it's urgency, a sense of authority or even an emotion.
When you really break it down, the best forms of communication, whether for a human or dog, also appeal to a basic animal instinct. A sound that reaches and pulls at the very heart of the animal. A sound that causes the whole body to stop, look up and take note. It is exactly this delicate balance that has, and continues to drive, the team at ACME whistles to invent and develop the world's best dog whistles.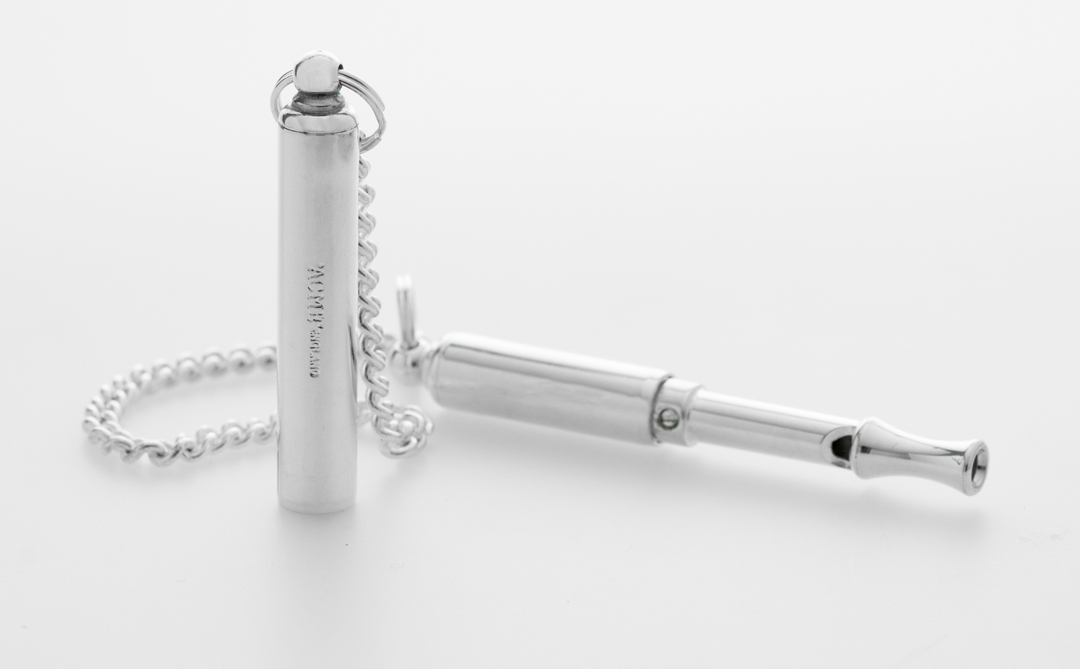 Helping the bobby on the beat
The story of the world's first dog whistle started when two separate events would align 65 years later. The first of these was back in 1870 when Mr Joseph Hudson, who worked as a military ornament maker in Birmingham, started his own business in a small workshop at his home alongside his brother, James. ACME as a company was born. They made a range of products, amongst which were whistles.
They weren't overly successful at first, but their big break came in 1883 when the Metropolitan Police in London advertised for something to replace the cumbersome and not very efficient rattle, then the only means of communication for the 'Bobby on the beat'.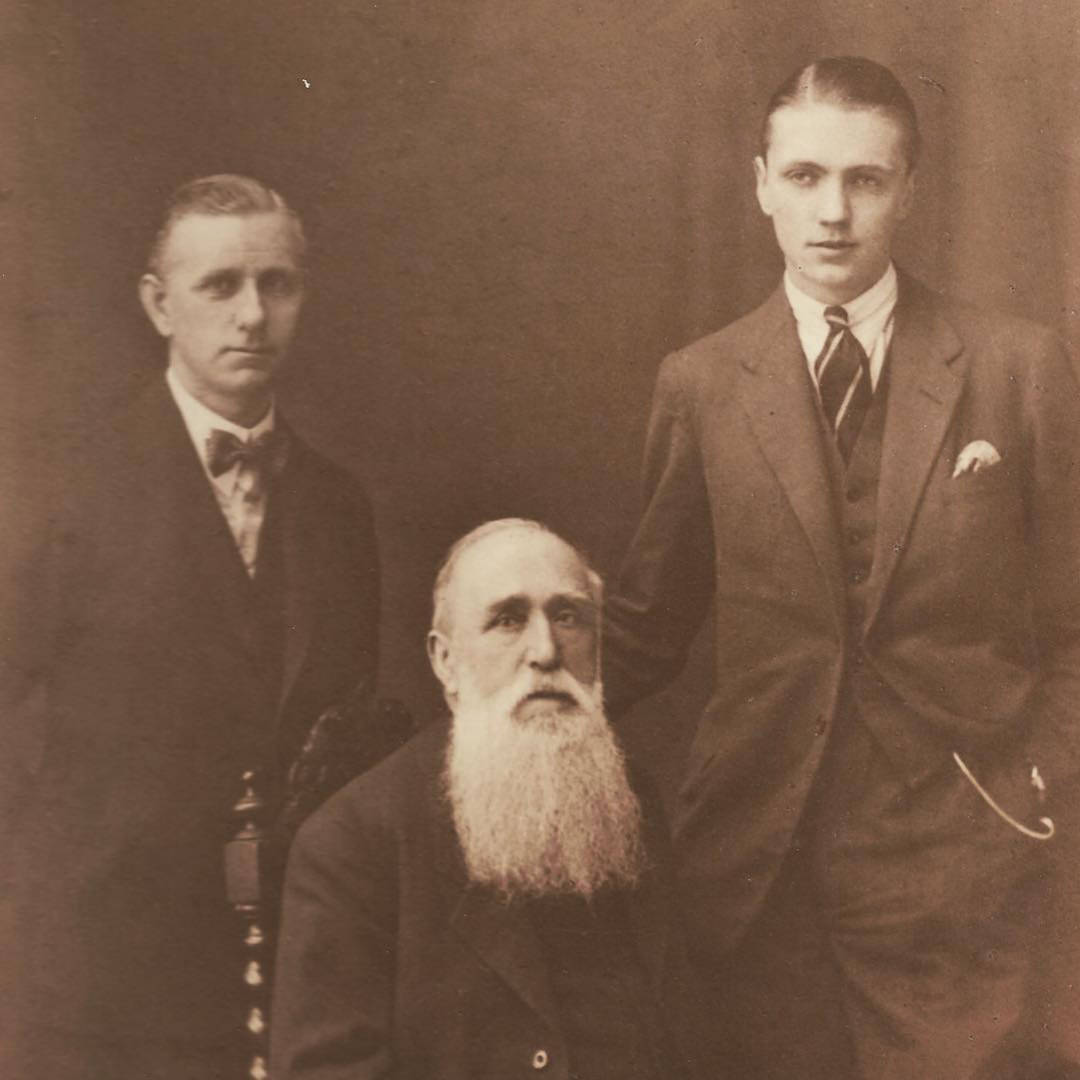 Joseph Hudson wanted a distinctive sound and, after much experimenting, he identified the most audible frequency to the human ear. By trial and error he had discovered the human ear's 'window of perception'.
With this dedication to his cause he won the contract and when production started, typical of the man, he insisted on blowing every single one of the 21,000 whistles ordered. Within one year he'd replaced his tiny workshop with a factory employing 50 people and making hundreds of thousands of whistles.
Annoying the lions
But Joseph Hudson's whistles were, and still are, more than just a loud noise. He understood that a whistle is a communication device. The tone, the volume and the way it is blown to make shorter or longer notes all combine to make it more than the sum of its parts. Each whistle has a built-in quality that enables the blower to develop their own style of whistling, so much so that today's gundog can always recognise its trainer's style. At ACME they call it 'talking with your whistle'.
At about the same time that ACME was furthering whistle technology, a Victorian professional scientist, Sir Francis Galton, was pioneering research into the hearing abilities of different species. Galton built a complicated wood, metal and rubber whistle in a box that created different and measurable frequencies.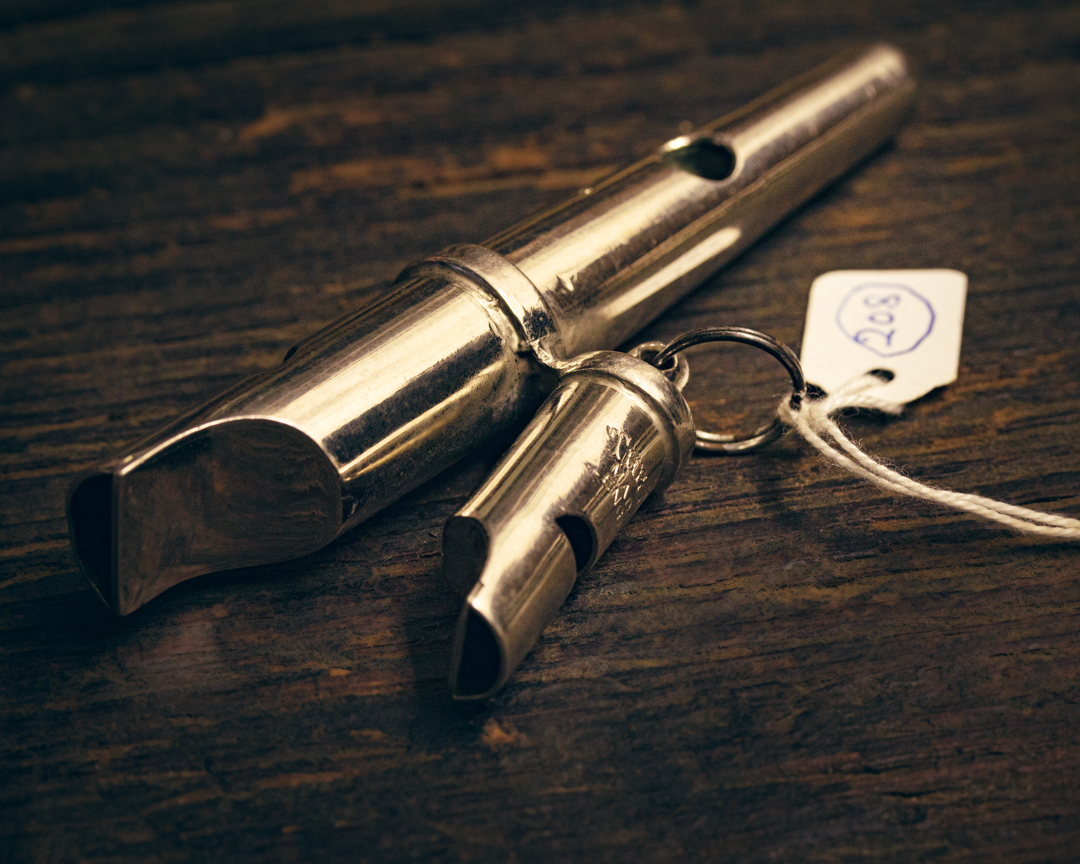 As part of his research, he took his box to London Zoo where getting 'as near as is safe to the ears of the animals' he sounded the whistle and noted if their ears pricked up. The curator of the Galton Collection reported him saying that there was 'little to report, except that it certainly annoyed the lions.'
After surviving the lion enclosure, Galton walked the streets of London to see how different dogs reacted to different sounds, noting their ear twitches and head turning as he sounded his whistle. He observed that bigger dogs heard lower frequencies best, whilst small dogs reacted most to high frequencies. Galton, like Hudson, had discovered a 'window of perception' but this time for the dog.
The silent whistle
Fast forward to 1935, some 65 years later, and the work of the two inventors was to converge on a path to change the way that dog trainers talk to dogs forever. Clifford Hudson, son of Joseph, was now at the head of ACME and he was intent on making the perfect dog whistle. The result was the world's first 'Silent' dog whistle. Small, portable and adjustable it took Galton's findings about animal hearing and Hudson's principles of manufacturing to create the very first whistle entirely dedicated to a dog. It may be quiet to us humans, but with a controllable sound from 5,200 Hertz to 12,800 Hertz even dogs that are hard of hearing can clearly pick out their master's voice.
The modern 'Silent' whistle is made from solid brass, so no rusting, and has internal air directors that are small but vital to creating the right sound even with a gentle blow. There is a piston that enables the sound chamber to lengthen and create lower and higher frequency sound. All parts are precision made with the most up to date machinery, but still in Joseph Hudson's original Victorian workshop.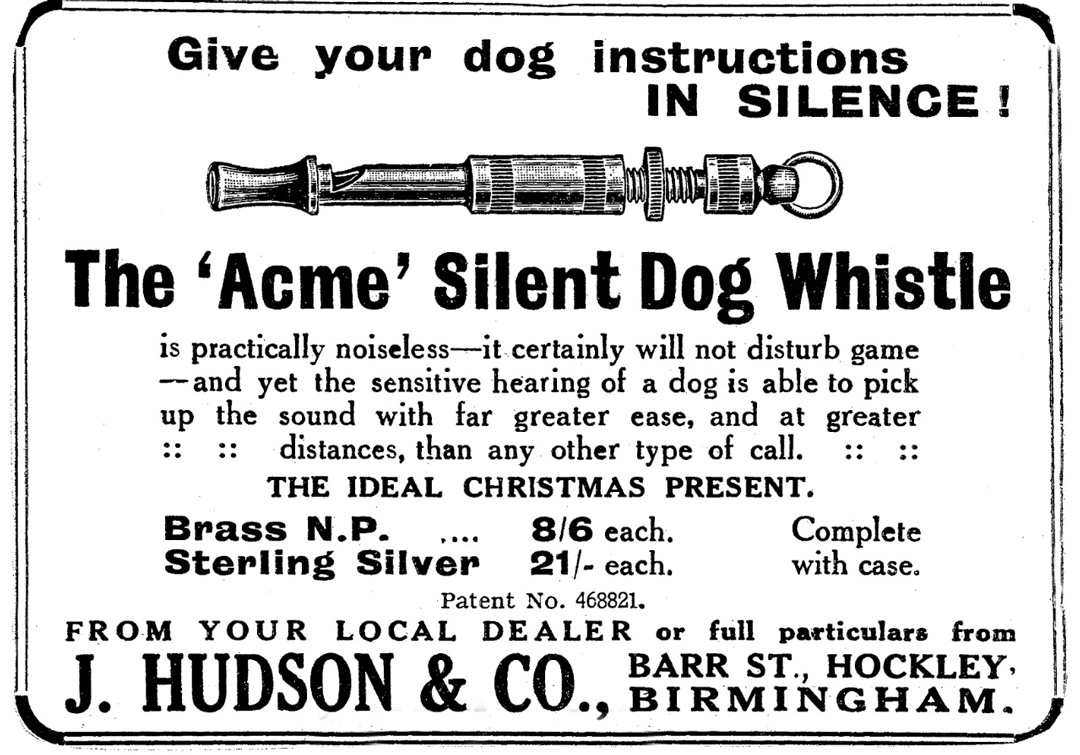 Moving into modern production
However, research was not to stop there. The country's leading professional dog trainers of the day continued to use the whistle and alongside ACME they worked to find and refine the best frequencies for different dogs. Two clear winning sounds emerged, 5700Hz and 6300Hz. This sent designers back to the drawing board to make plans for two new whistles, which would ultimately become the world's most popular dog whistles ever invented.
The ACME 210.5 and 211.5 dog whistles were created with a specific frequency to deliver a consistent sound aimed at larger (211.5), or smaller (210.5) dogs.
When the new dog whistles first hit production in 1964, they were made in small quantities by hand. Turned from a plastic bar with a wooden plug hand carved and pushed in to create the sound chambers. It was a highly skilled job with each piece handcrafted to a precise design.
With modern manufacturing technology now available, and more accurate moulding machines, these plastic ACME whistles are now crafted using a precise injection moulding process. The two halves of the whistle are made separately using finely tuned tooling. The tolerance for each piece is so small, that the tooling to create whistles must be refurbished and replaced on a regular basis.
Next the two halves of the whistle are welded together using sound waves. Yes, sound waves! This is another precise process where the slightest variation in the welding method could cause splashing on the joints resulting in an inconsistent frequency between whistles when they are blown. The slightest dent or scrape will change the sound of that whistle.
Quality control
There is one very important last stage in the process, a stage that was once performed by Joseph Hudson himself. Before any whistle leaves ACME's home in Birmingham, it's tested to ensure it's in perfect working order and that the frequency is spot on. If, even by the slightest margin, it doesn't measure up it will be rejected. These days, this is done using a pressurised air machine and a frequency meter, yet the principle is the same.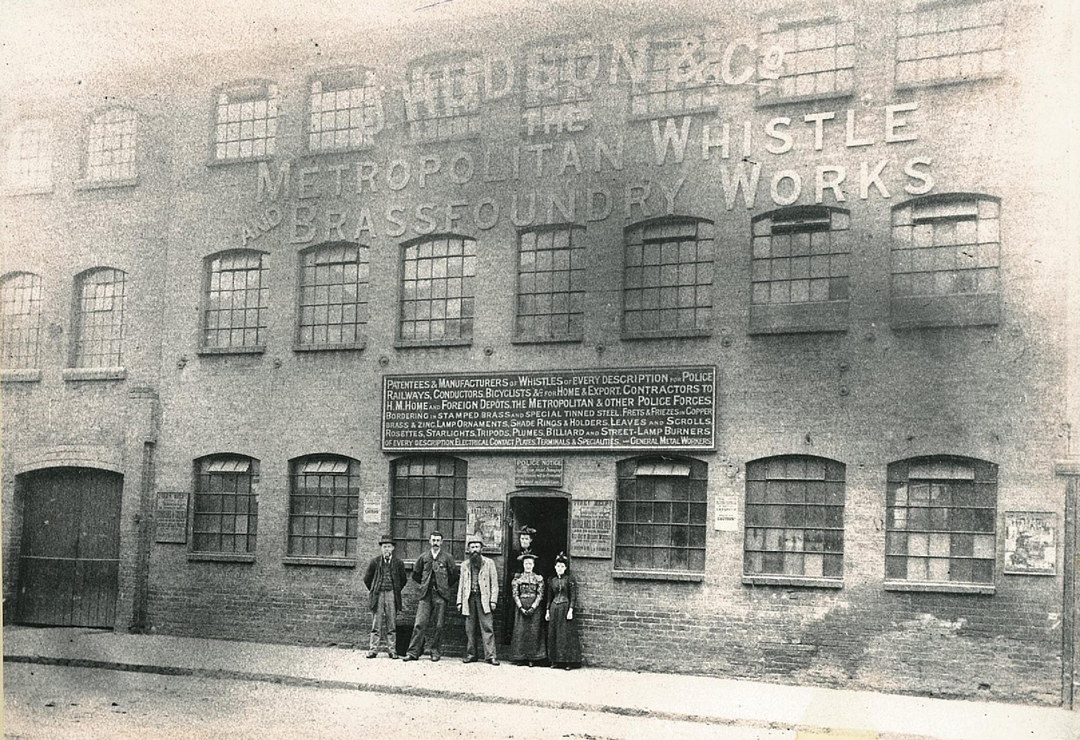 Every new development during the last 85 years has aimed to enhance the authority, trust, and even love between the dog and its owner. "We are taking thousands of years of evolution and giving owners new ways to build a better connection to their animals," says Simon Topman, the CEO of ACME Whistles. "The whistle is able to bridge that gap because it taps into the most fundamental frequencies that a dog operates on and delivers a clear, dependable signal for dogs to follow."
After the 210.5 and 211.5, there were two more significant developments. With continued support from the world's top dog trainers, ACME added the 210, which included a 'trill' fluctuating the frequency between 4750 Hertz and 5250 Hertz.
The ACME 212 was the latest dog whistle created which launched in 1999, and allowed the user to blow very hard creating a clear signal over a long distance that would not distort.
You can't beat traditional craft
The team at ACME continue to work closely with dog trainers around the world to develop wider applications for dog owners, yet the underlying mission of consistency and quality remains. Jason Mayhew, World Champion Gundog trainer, added; "You know whatever 211.5 you pick up, it will be exactly the same. That's just so important for an owner, and more importantly, your dog. They'll detect the slightest difference in sound – so you need that consistency, especially if you're like me, and you switch between whistles!"
But it doesn't stop there. New whistles are being planned to move the range forward and will be launched in the coming months.