They are built on a platform familiar to Westley Richards customers, featuring our own patent hand-detachable lock system, designed in 1897 by Leslie B. Taylor, our patent forend catch, patented by John Deeley and the famous Westley Richards doll's head with bolting top-lever.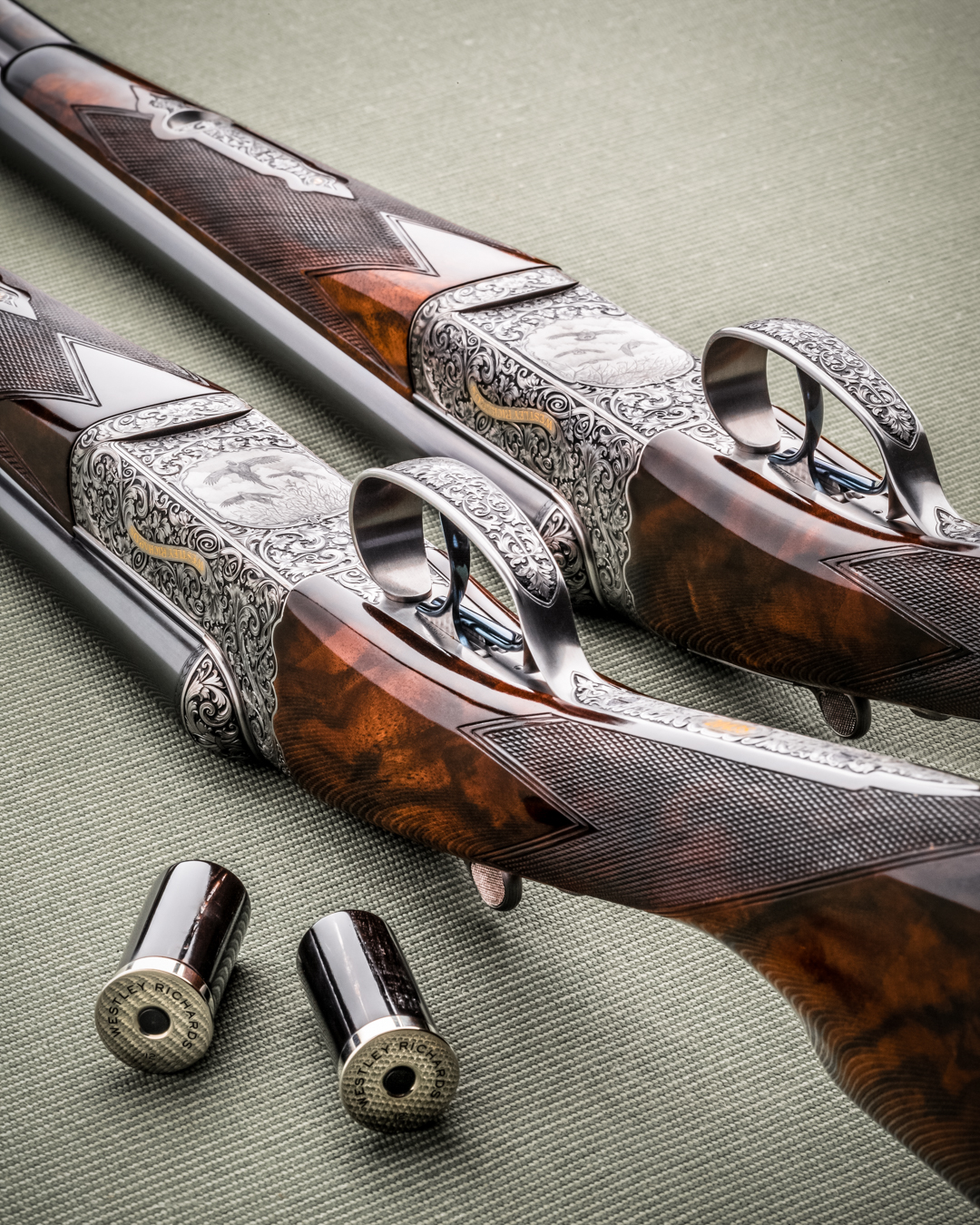 These features stand out as particular to our firm and we are justly proud of them. It is remarkable that designs created so long ago, in the Victorian era, still serve perfectly and sit comfortably at the heart of a thoroughly modern game gun. Very few mechanical devices have proven so enduring.
Quality starts with materials; the finest steels, used in our barrels and for our actions, guarantee durability. Properly seasoned walnut, each blank painstakingly hand selected by our managing director, is equally important, not just for its fabulous character and figure, but for its strength and longevity.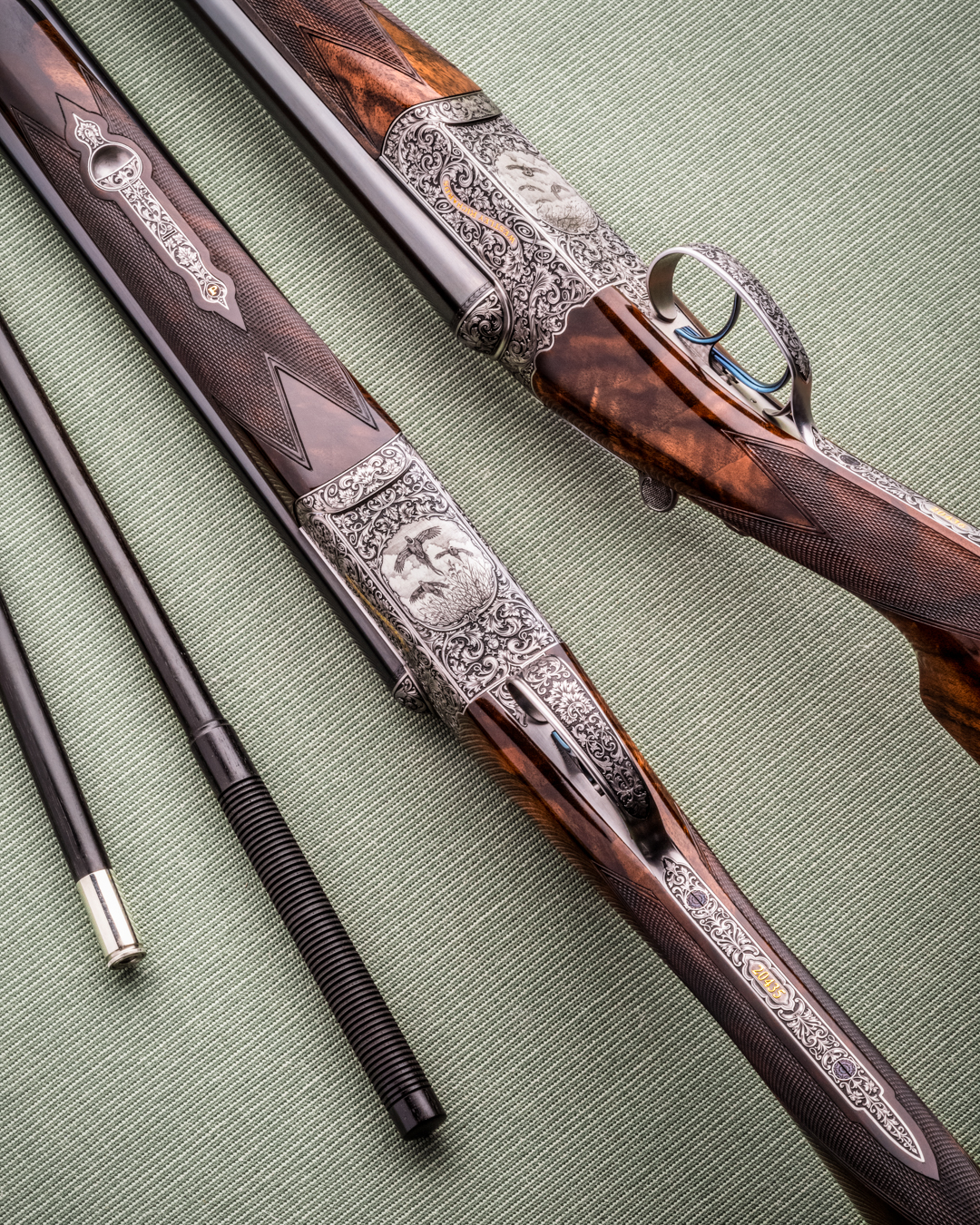 The 'fancy back' action and the splinter forend, chopper-lump barrels, two triggers and elegant, straight-hand stocks have a very familiar look, found routinely in Westley Richards best guns made over the last century and a quarter.
The guns are built to a traditional medium weight of around 6lbs 8oz and the barrels have 70mm chambers and are fitted with Teague multi-chokes.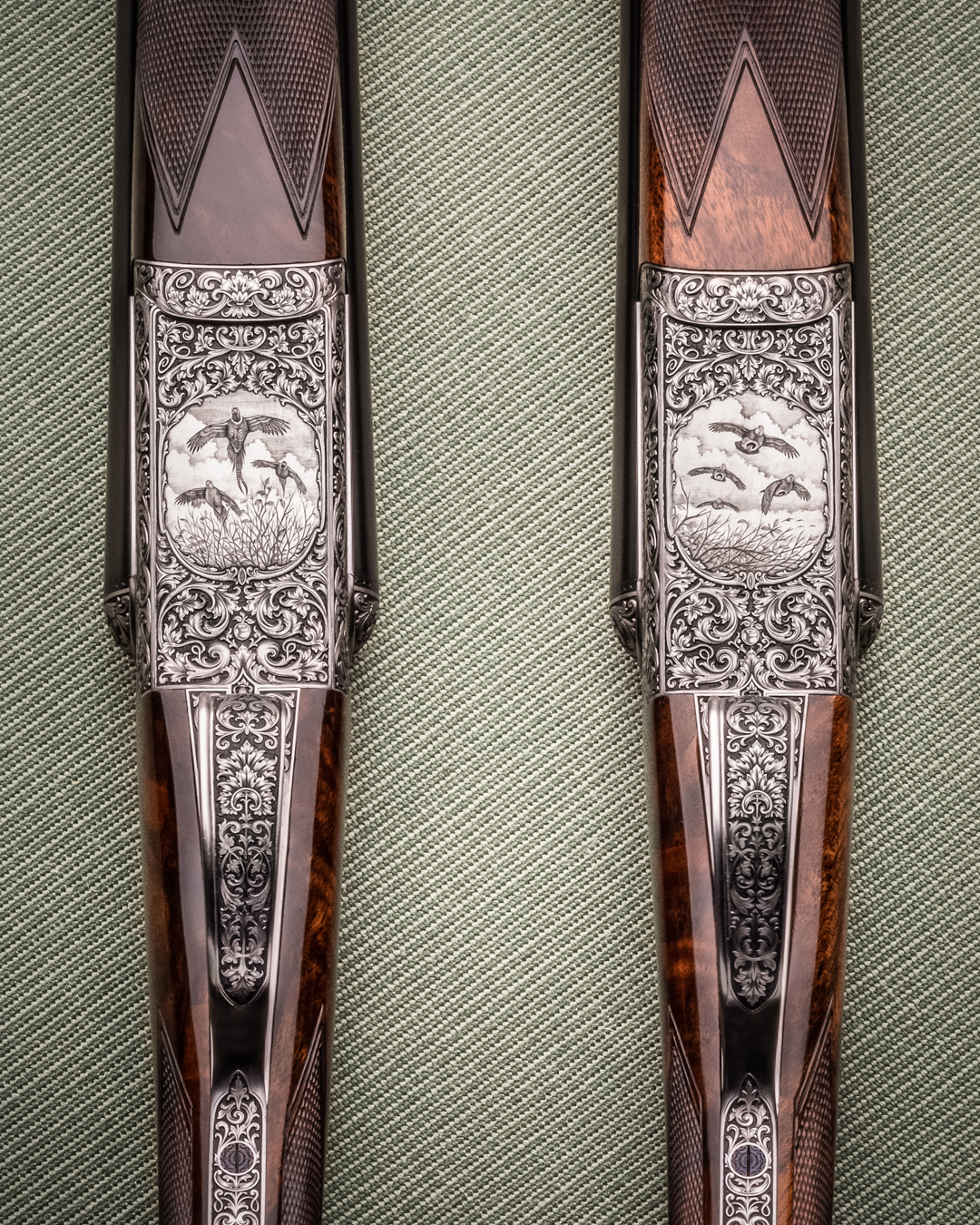 However, these are not engraved with standard fine scroll or even the 'Modele de Luxe' relief carving that some modern customers still specify. Instead it has a beautifully distinctive, perfectly laid-out pattern of shadow-cut, deep, large foliate scrolls. The bottom plates are engraved with birds on the wing; pheasants on one and partridges on the other.
Different birds on each gun, certainly, but there are other distinctions marking this pair as deceptively different. A subtly integrated apple motif is included in the design, as per the customer's instructions.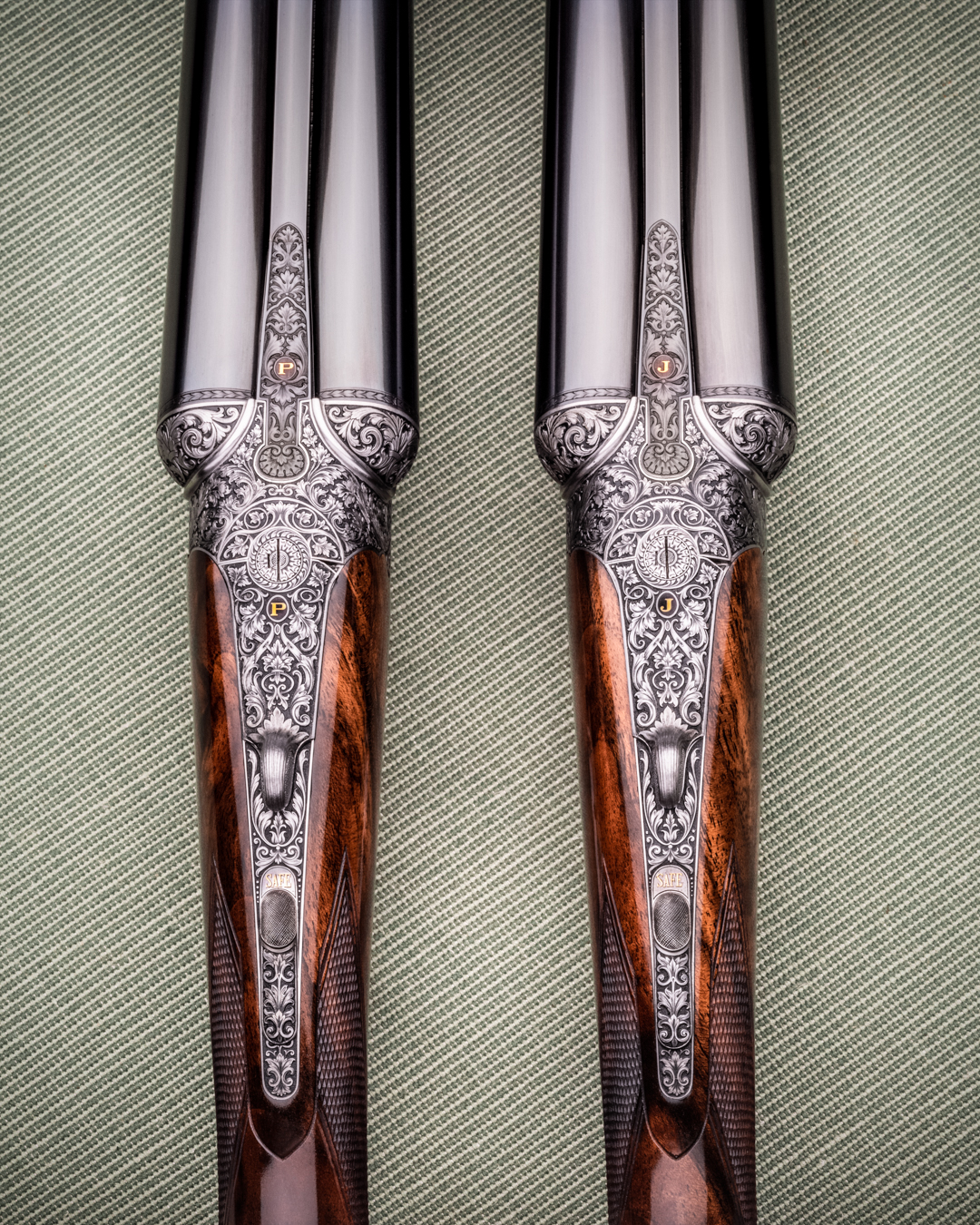 Also, rather than numbering the guns '1' and '2', they each have a distinguishing letter. The letters are applied to the top lever, the rib and the forend fastener. One is 'P', the other 'J', all inlaid in gold. They identify the guns as belonging, respectively, to a father and his son.
In fact, it was the son who commissioned these guns to remember his father who sadly passed away just prior to the guns being ordered. It had always been a lifelong ambition of theirs to order a pair of Westley Richards guns; these are that creation.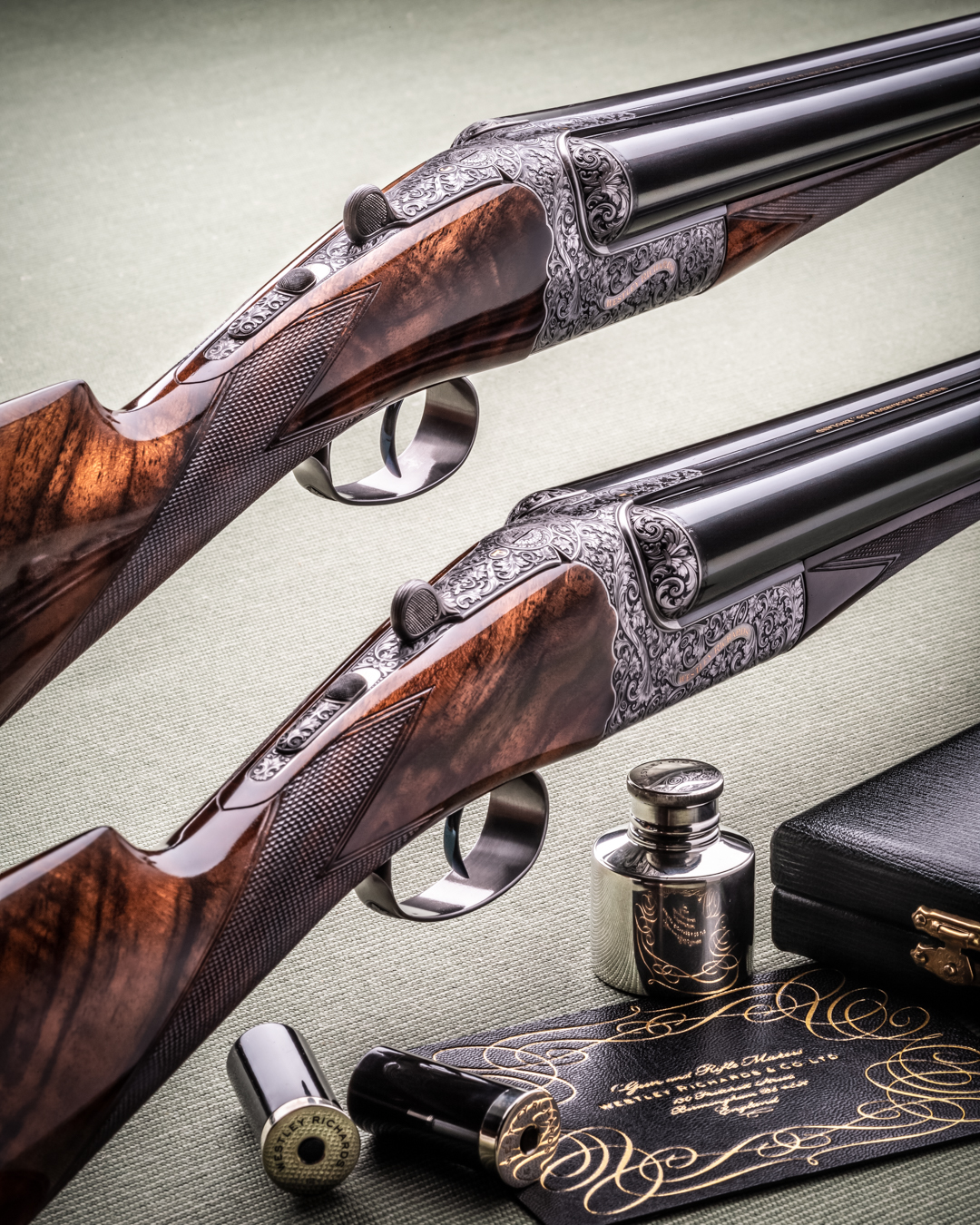 Numbers 20435 and 20436 are the first Westley Richards guns engraved by Sam Faraway. Sam's work is not just artistically refined and perfectly executed but what we call 'neat'. Despite the intricacy of the foliate scrolls and dark background, there are no messy edges, no uneven applications.
Every panel and border is sharply and exquisitely mirrored on either side. The symmetry is astounding, it has the unique distinction of best hand-work but is so perfectly interpreted in the steel that it looks more precise than one would have thought a human hand could apply.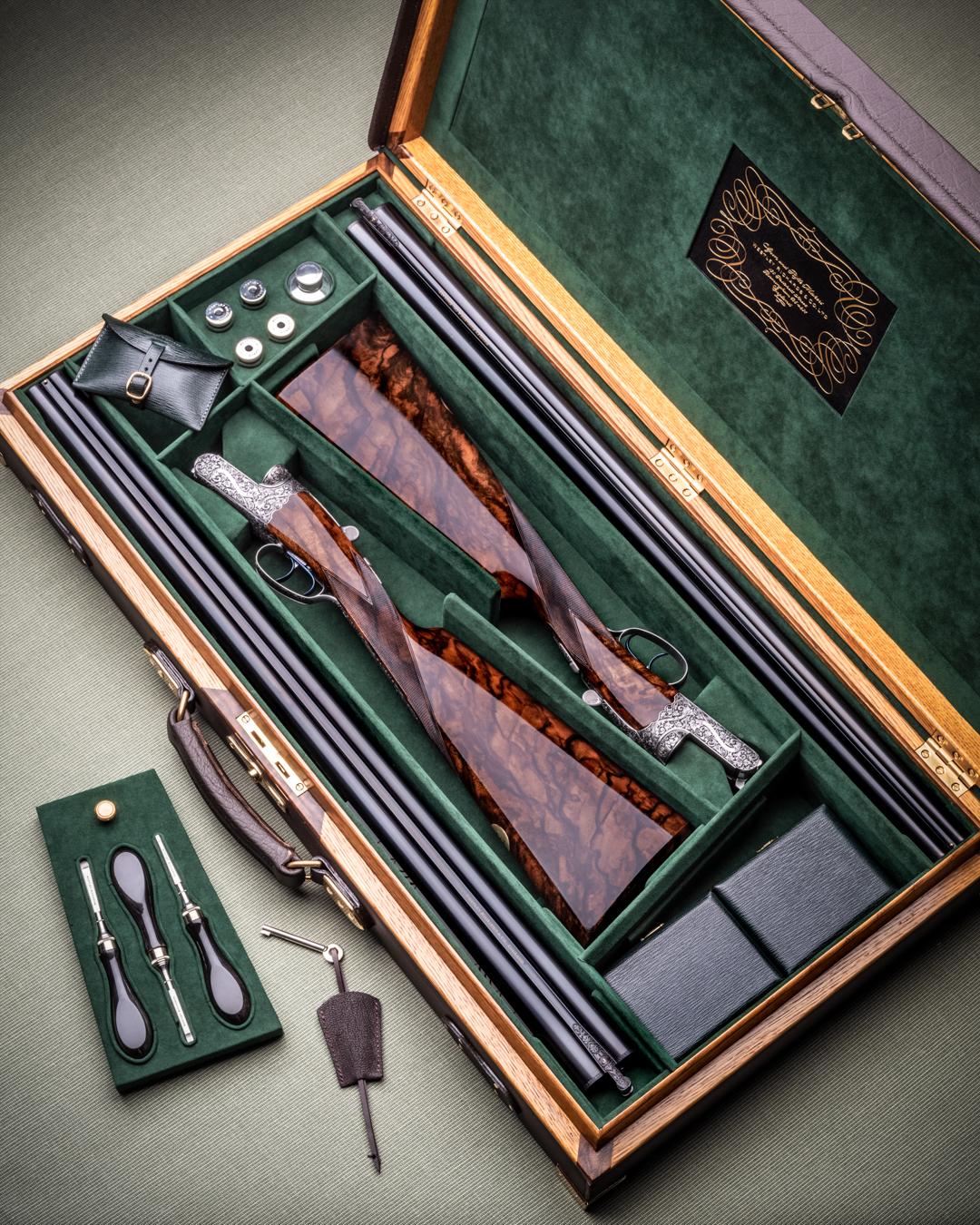 Gold is sparingly applied. The 'Westley Richards & Co. England' lettering on the rib being the most visible, the lettering of 'J' and P' elsewhere is blended into the surrounding design. The family initial 'E' is engraved boldly onto a large gold oval on each stock.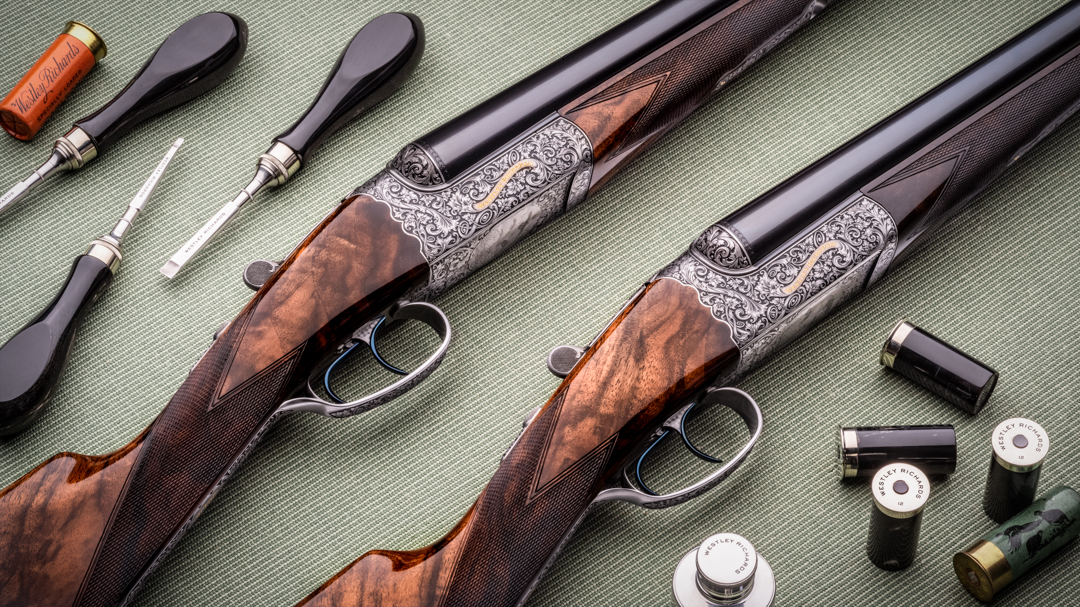 The two triggers are jeweled on their upper limbs and blued on the blades; small details which add to the overall appearance of quality. The stocks are remarkably well paired, which is a harder task to achieve than might be apparent to the casual observer. It is one of those important jobs that people only notice when it isn't done.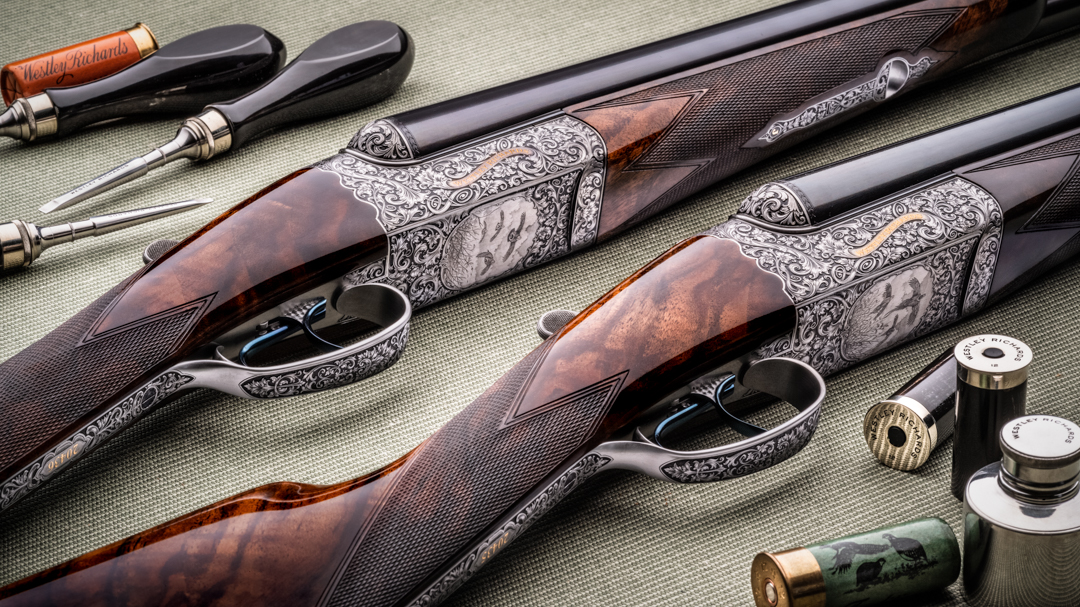 The blanks are shaped and finished perfectly to match, with contrasting red and black tones highlighted by a lighter background. The equally matching forends are fitted with lustrous black buffalo horn finials.
Our hand-applied oil finish is a high-gloss update of the traditional 'slacum' finishes applied to vintage English guns. Many of today's customers prefer this harder, shiny, weather-proof seal, as it retains its new look longer than does a soft oil finish.
We still use traditional 'red oil' to enhance the contrast between the dark streaks of figure and the base notes of the background wood.
The choice of walnut blanks here is close to perfection, with each gun almost mirroring the other for figure and colour.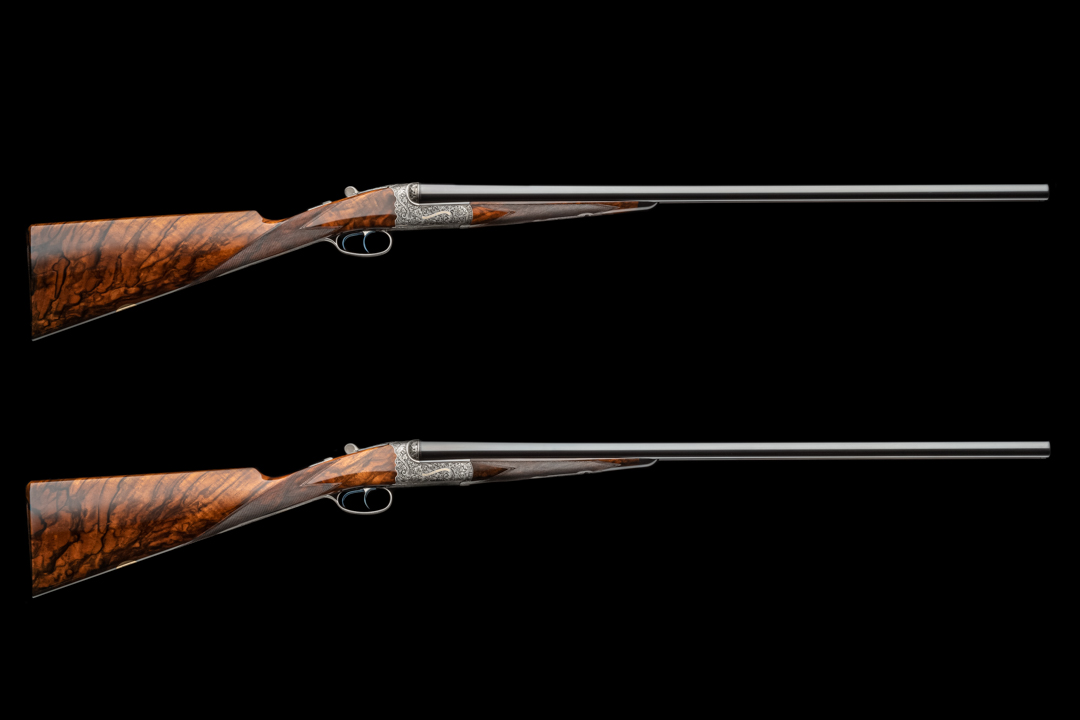 This beautiful and distinctive pair of guns, nicely proportioned for game shooting, with 29" barrels and 15" stocks, display the talents of the Westley Richards gun-making team to the full.
They will be presented in our best oak and leather case with green Alcantara lining, with rods, cleaning jags and snap caps.
They are simply exquisite and, as always with a Westley Richards order, unique. We build around twenty-three double guns and rifles each year and the attention to detail we apply to each one is unrivalled.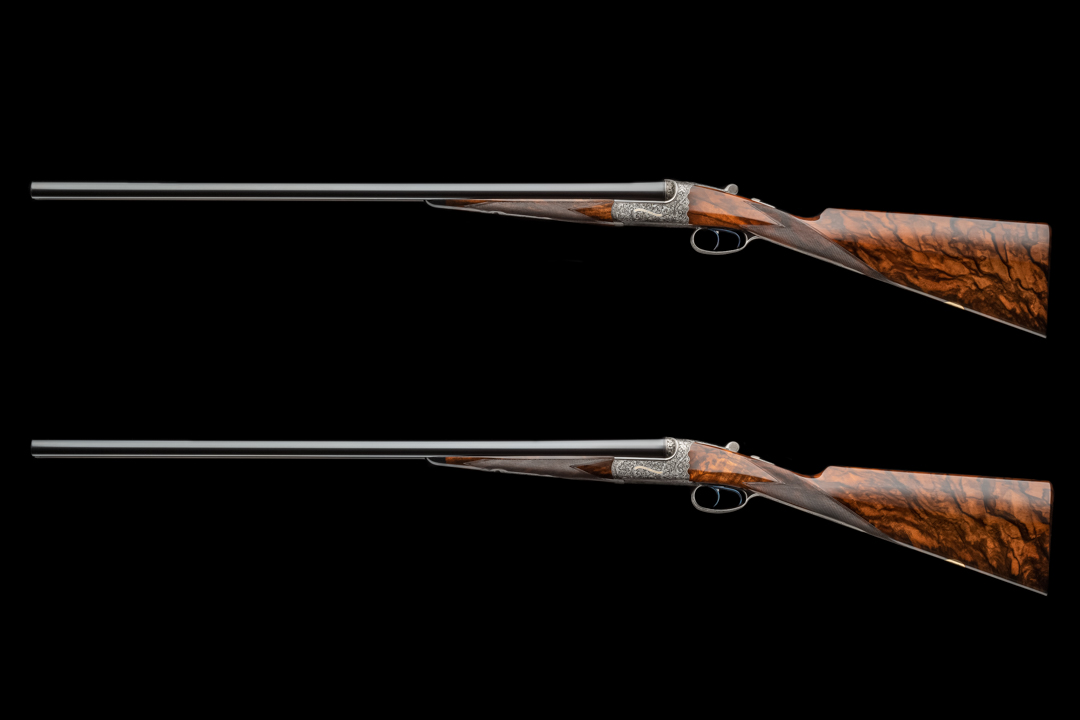 Best guns emerging from the Heart of Birmingham to serve the sportsmen of the world. Now, as it was two hundred years ago.