Looking at the heavier of these two rifles, first impressions are unequivocal. This is a big beast: 4 ¼" across the bar, 24" barrels, 14 ¾" length of pull, 2 3/8" across the fences, barrel walls ¼" thick at the breech end, a grip circumference of 5" and a weight of over 13lbs.
Hemingway would have approved. This is a .577 NE: a rifle built for a 'real man'.
As a stopper it is extraordinary but perhaps not ideal for everything your safari might send your way. For that reason, it is complemented by its smaller sibling, in the very versatile .375 Flanged Magnum.
Big and tough the .577 may be but the uncompromising approach to quality that we insist upon here at Westley Richards is apparent as much on the inside as it is on the exterior. The hand-detachable locks sit in their recess in the action bar. Though out of sight, the walls are jeweled, as is the underside of the cover plate. The central column is colour-case-hardened.
The Taylor-patent detachable locks themselves are jewelled and engraved, with a gold-inlaid 'R' or 'L' denoting the side of the action into which they fit. Incidentally, it is impossible to place the right lock in the left recess, or vice versa.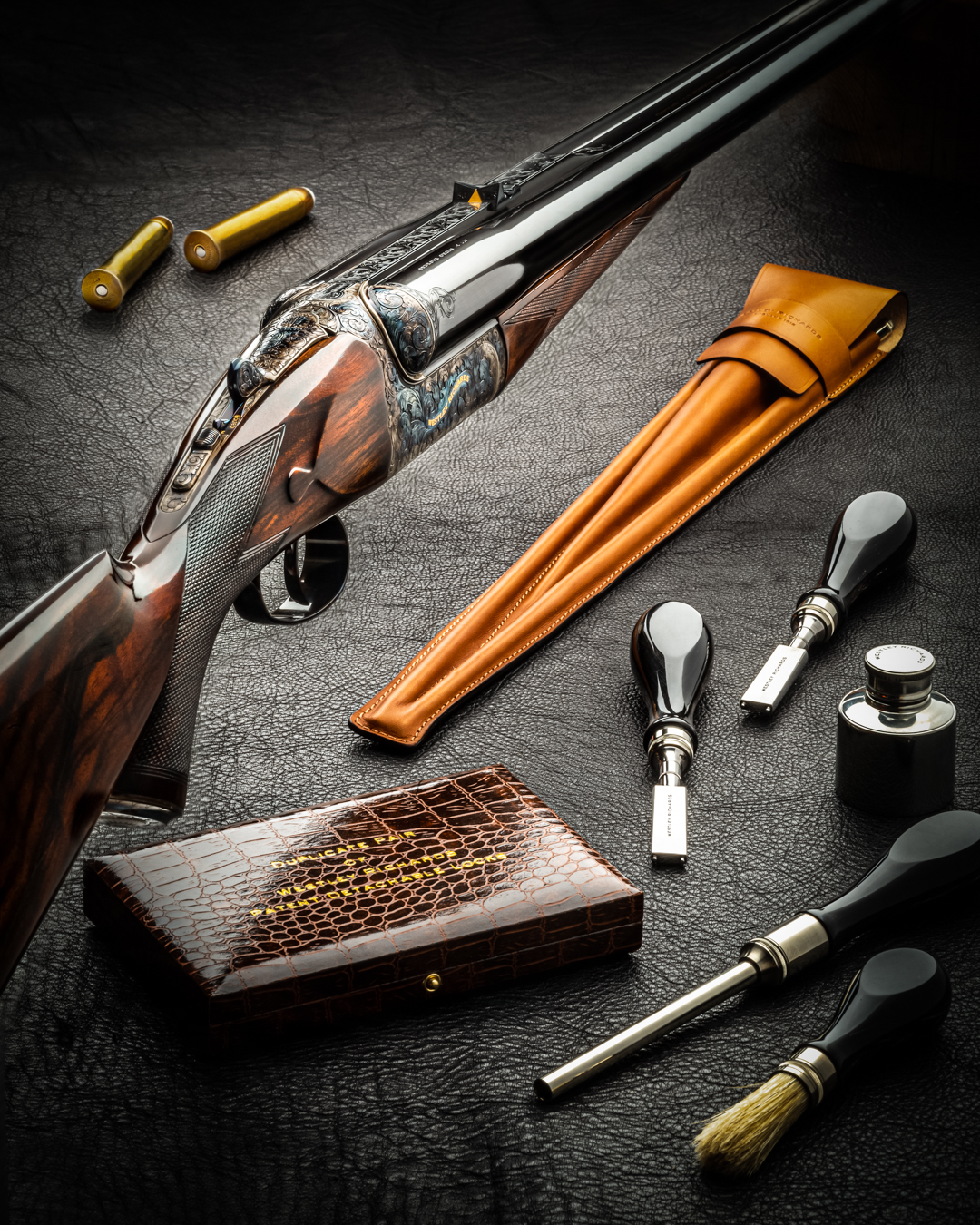 This ingenious arrangement simplified the firing process of hammerless guns in 1897 and has been our best-quality action ever since. The detachable lock plate carries a cocking-dog, a mainspring, a hammer and a sear. The sear spring is integral to the lock plate.
This is all that is required to cock and fire the rifle, it links to the rest of it via the sear arm, which locates above the trigger blades when in-place and the cocking dog, which fits into its recess in the forend iron.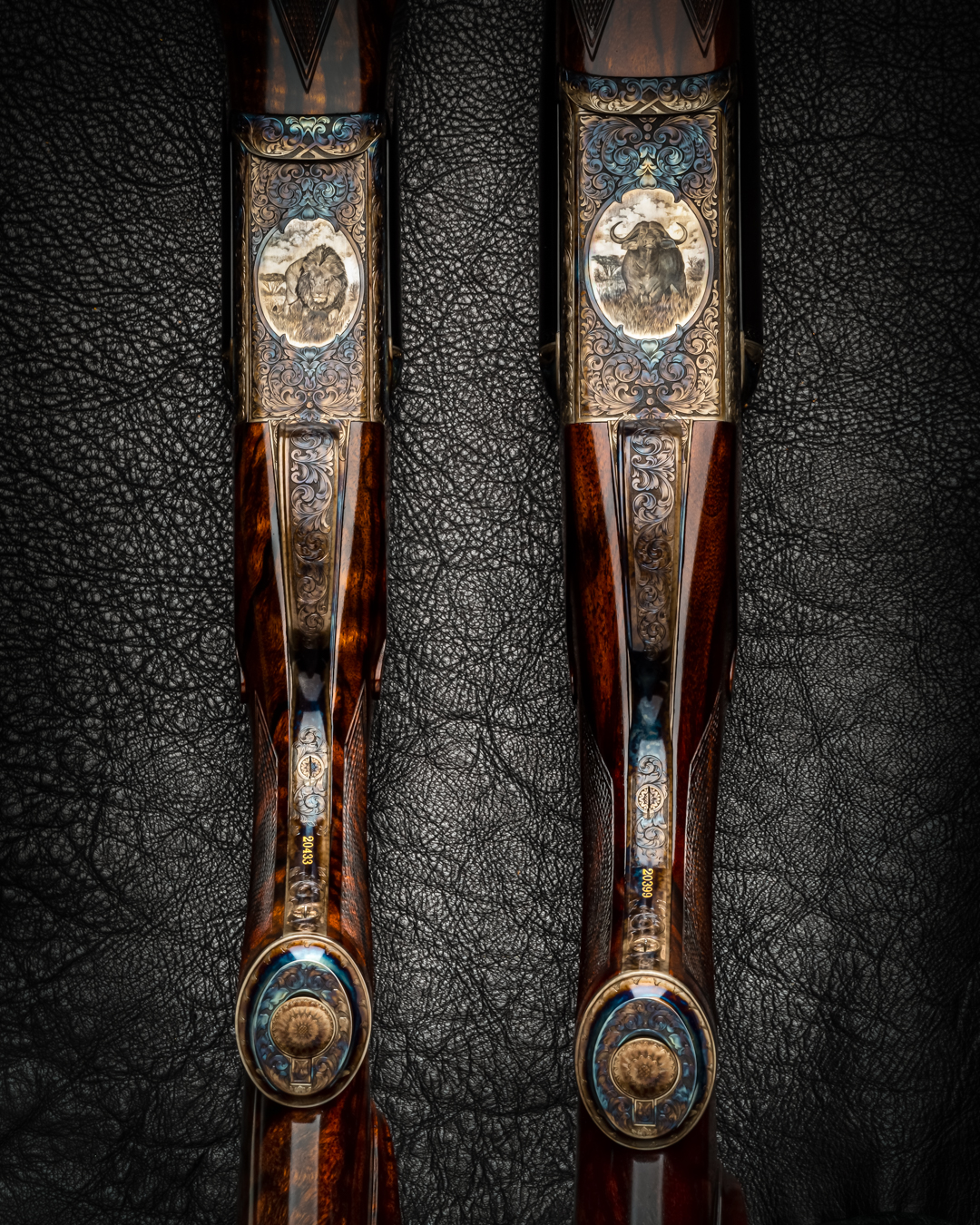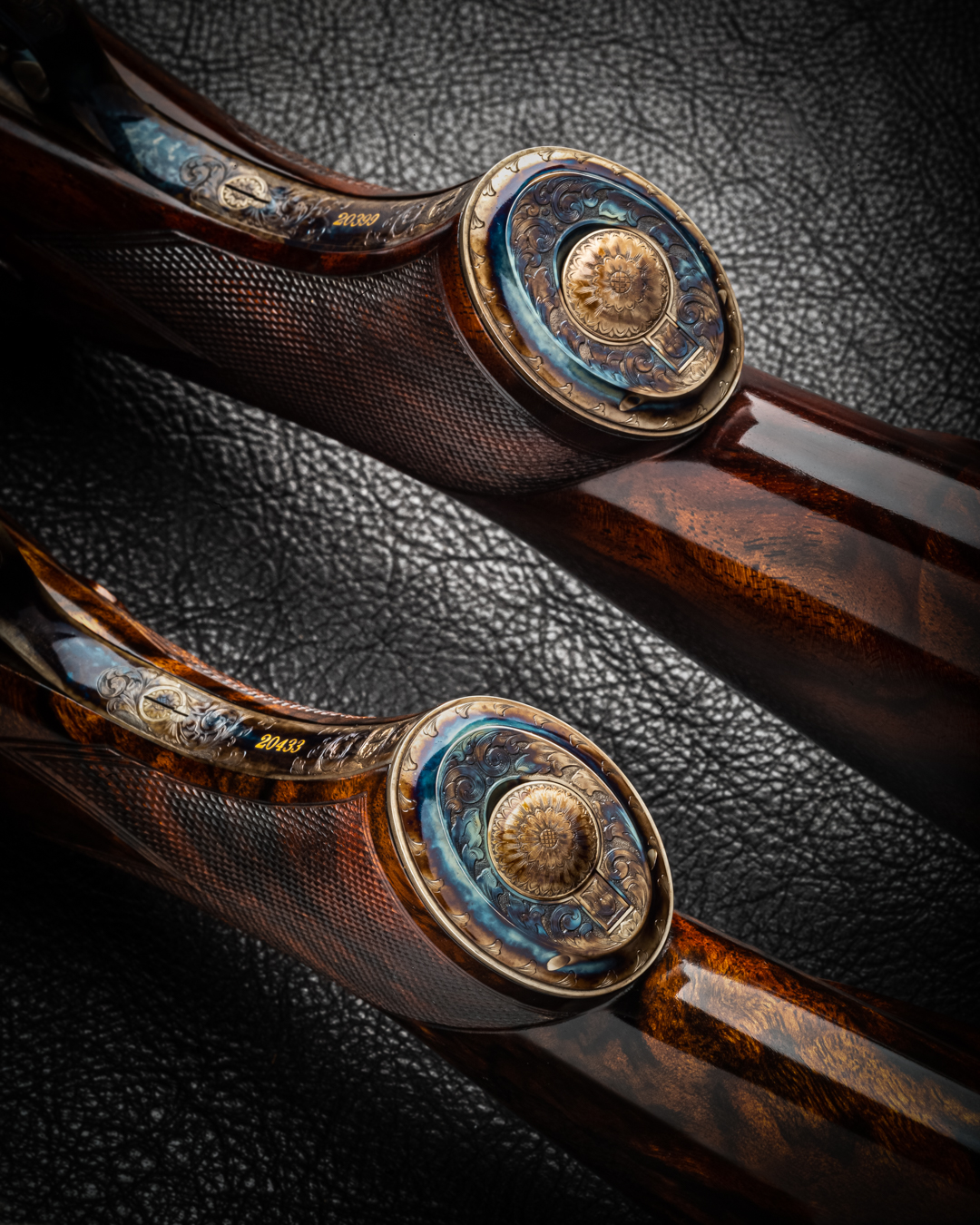 Once assembled, the parts become a whole; each working in symmetry with the other, creating a chain of movement that allows the operator to effortlessly fire, open, re-load, close and fire again as rapidly as humanly possible.
Readers will be familiar with the concept of a pair of guns for bird shooting but may be less well acquainted with rifles made as a pair, like these, but chambered for different cartridges. However, it is actually a very good plan.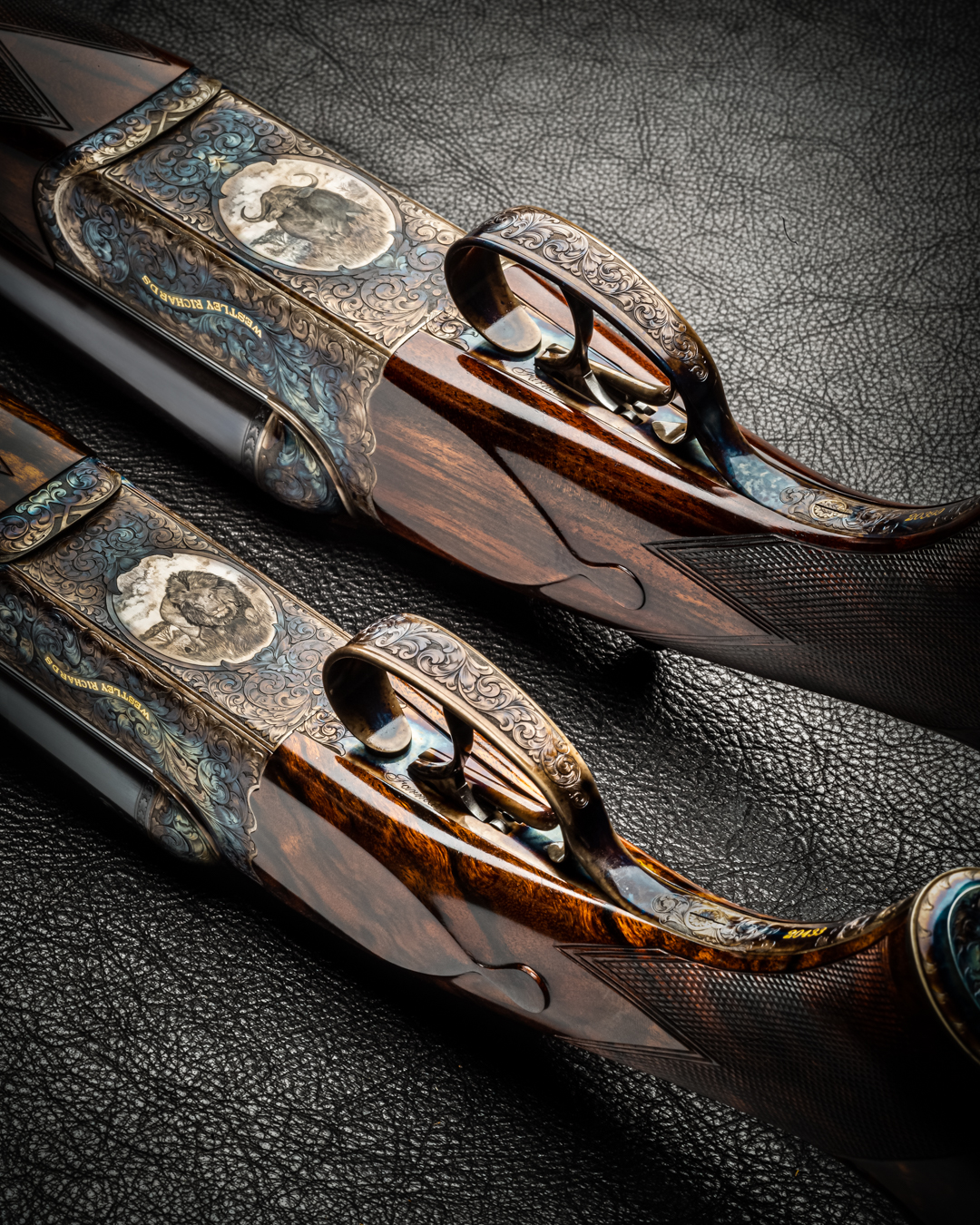 The .577 NE.
This is a rifle for a buffalo hunter but it could equally-well dispatch a full-grown bull elephant if the necessity arose. The chopper-lump barrels are proof tested in Birmingham for the .577 N.E  3"cartridge.
They are secured to the action via a Purdey double under-bolt and a Westley Richards bolted dolls-head rib extension. They are blacked to glossy perfection, highlighted only by a gold-inlaid triangle and a line to aid alignment of the rear leaf sights, set for 50 and 100 yards.
The lettering describes the load: '.577 Nitro Express, Regulated for 750 grain Bullet'. The ramp foresight is covered by our own patent flip-over protector and it is distinguished by a bright-red synthetic bead for enhanced visibility in low light.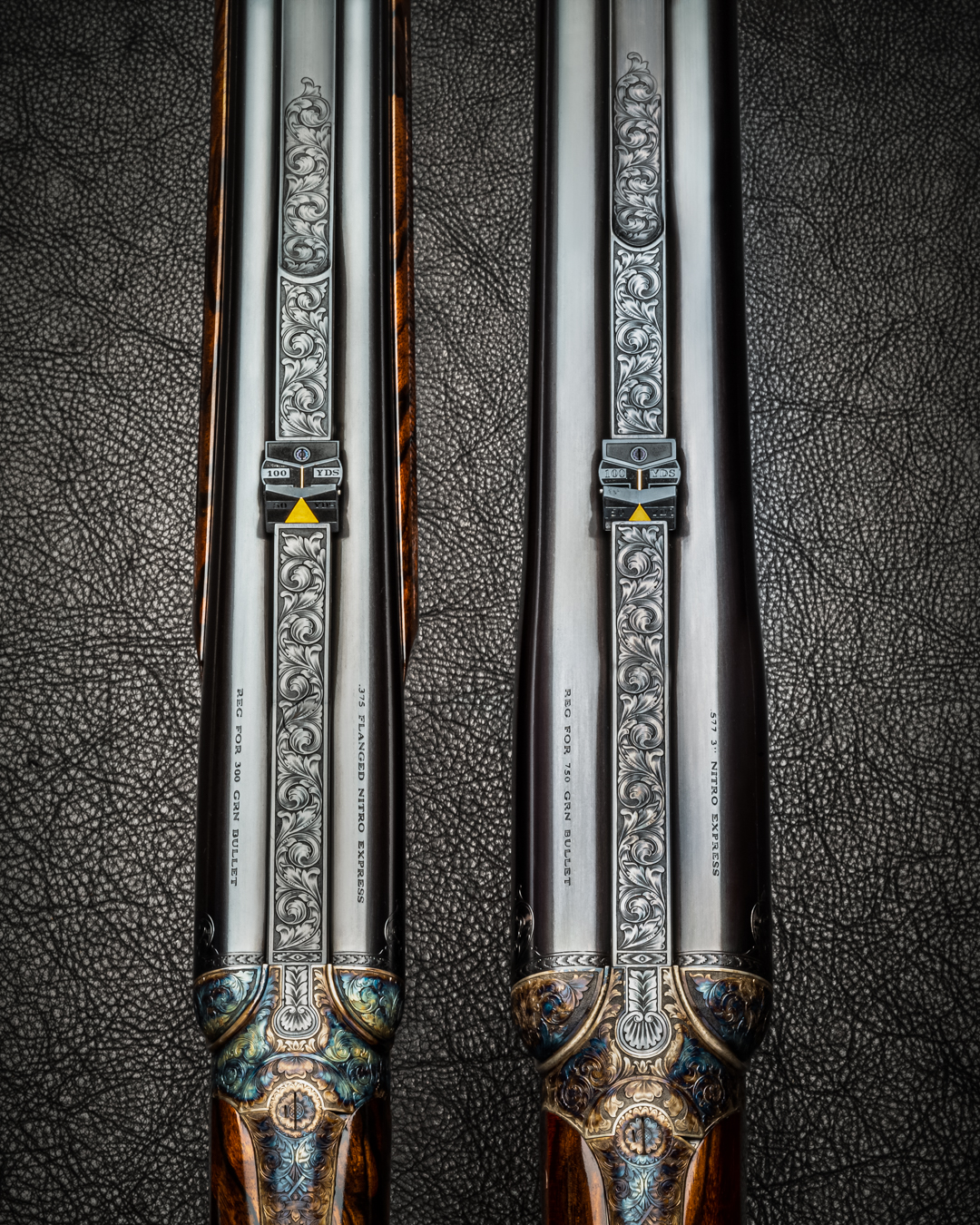 The Deeley & Edge catch, when activated to remove the forend, reveals the Deeley patent ejector-hammers emerging from their box, surrounded by case-coloured steel and oil-finished walnut.
The action is enhanced with bold foliate engraving. A finely observed and executed portrait of a standing Cape buffalo on the bottom plate adds more refinement to an already classy looking rifle. It required two engravers to complete the work.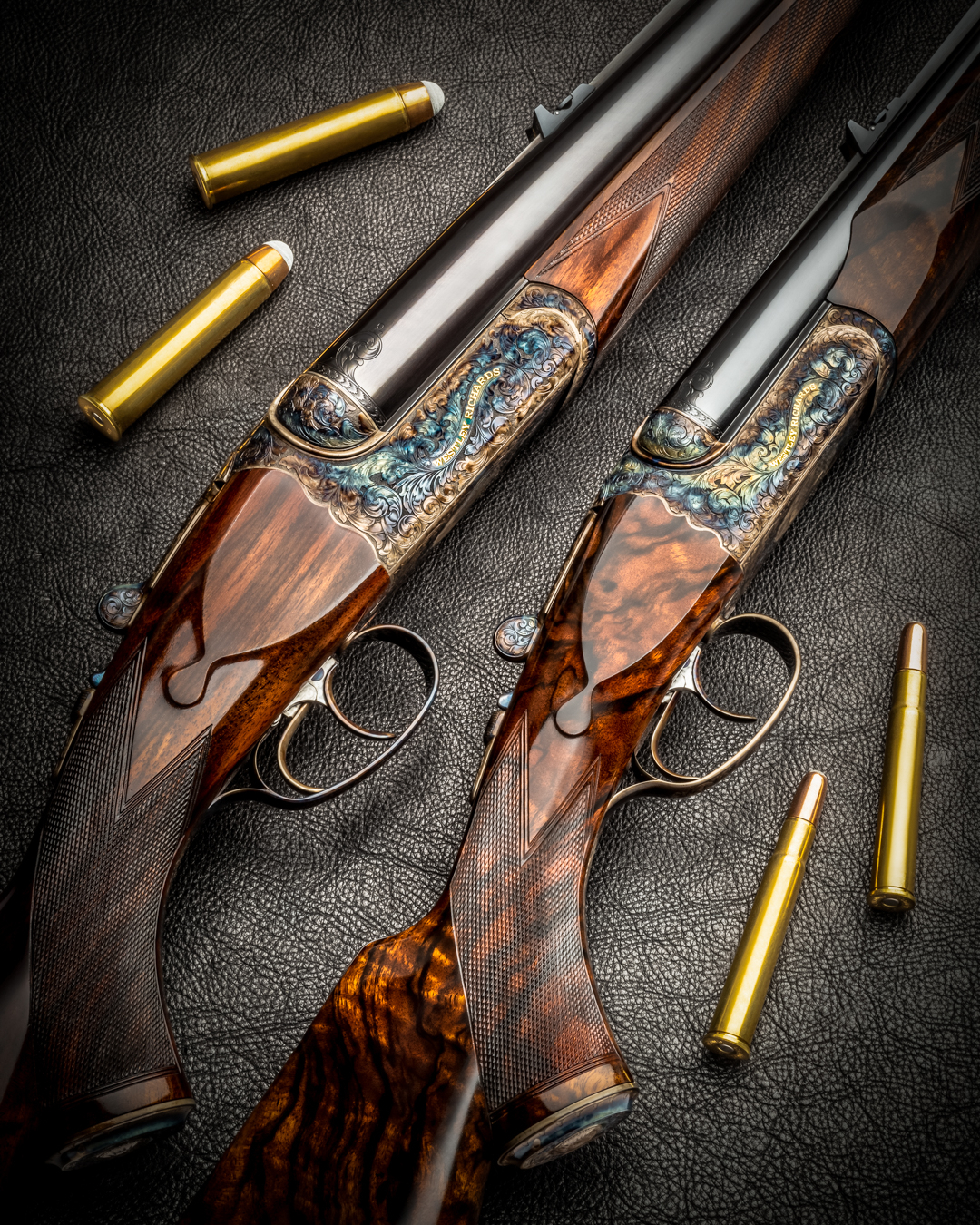 Top-lever, guard, grip-cap and safety slide are case-hardened rather than blued. So are the trigger blades. Only the arm of the safety-locking bolt is blued. This limb locks the safety in the 'on' position.
The only gold on the rifle is the oval, with the owner's initials engraved upon it and the maker's name in a banner on the action and on the top rib.
This is a great example of a Westley Richards classic, best quality, double rifle for dangerous game. There is no more robust, practical or dependable rifle made.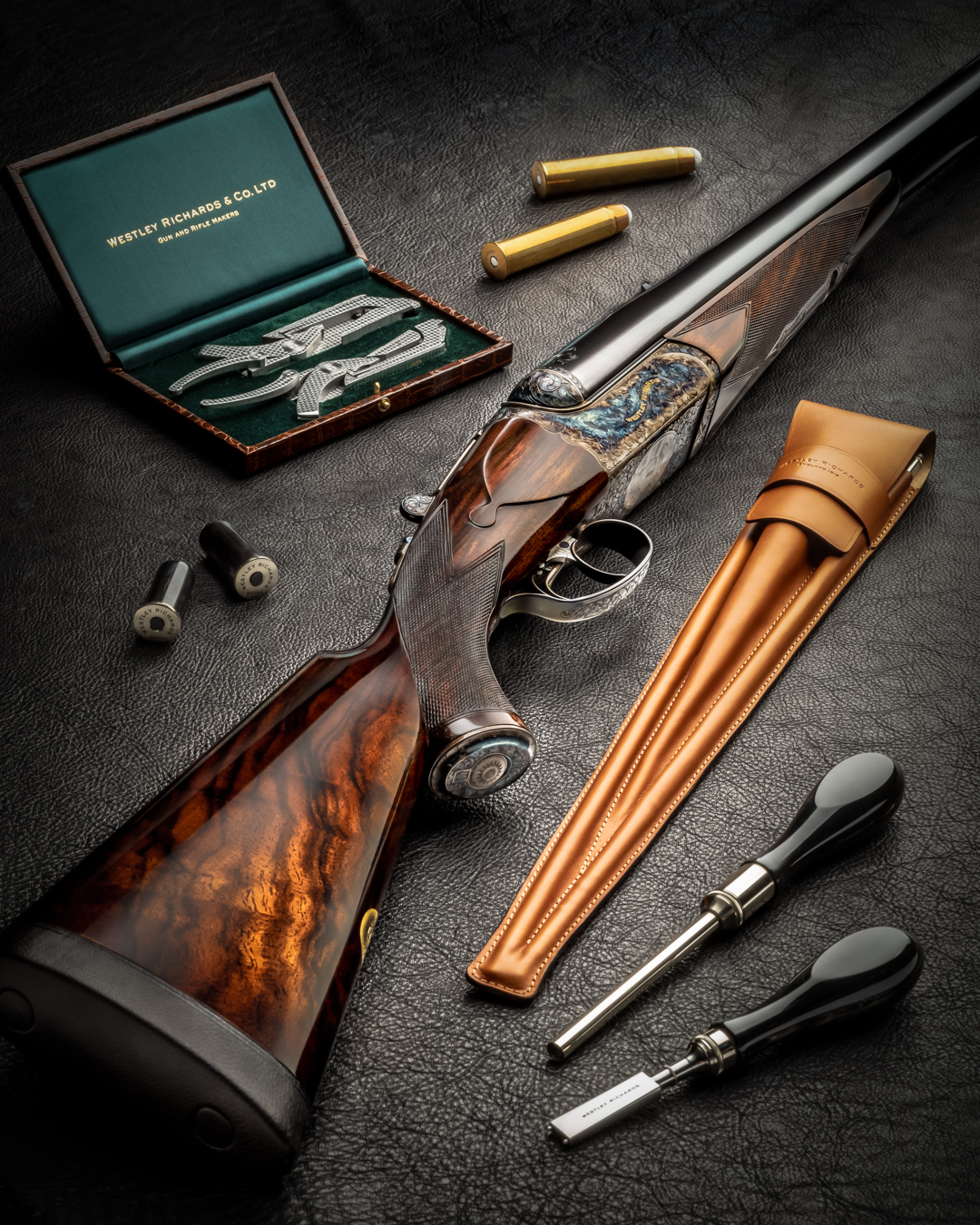 When this level of quality is engaged in its production, nothing could be better suited to the task at hand. No wonder so many professional hunters list a Westley Richards .577 as their ultimate idea of a big-game stopper.
The customer who ordered this rifle, number 20399, certainly understands what is important, yet appreciates the attributes that raise this practical tool to the level of heirloom.
In years to come, people will inspect this and find no compromise to practicality, just perfect execution of every facet, making it the ultimate embodiment of its type.
Why .577? Because it delivers like nothing else. When the game gets a little more exciting than anticipated, the big pipes calm things down. Even at very close range, the stopping power of the 750-grain bullet travelling at 2,050 fps is legendary.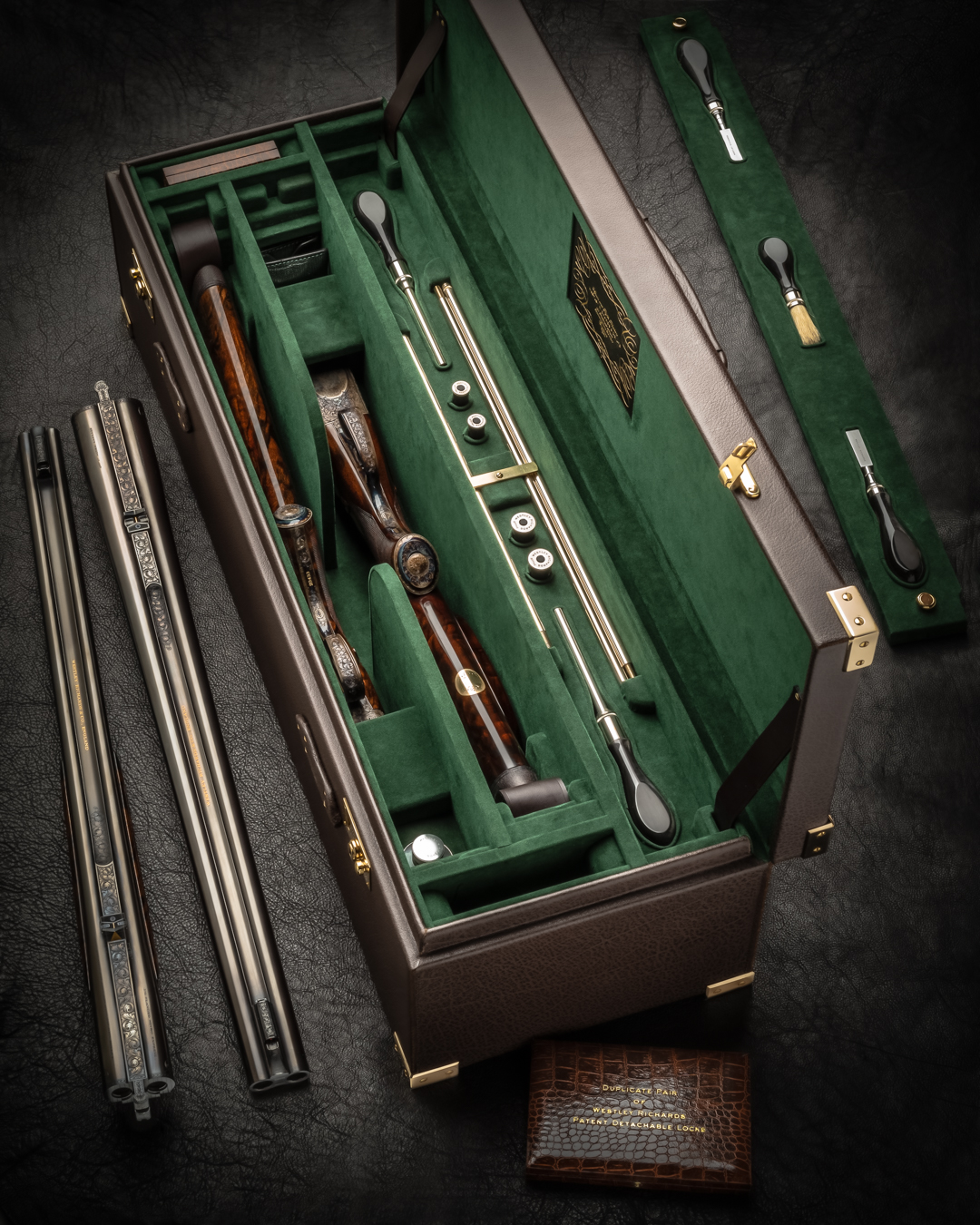 The .577 NE was developed in the late 19th century, when Cordite began to replace black powder and create much more powerful cartridges. It immediately proved its worth as a reliable elephant killer, featuring in many reminiscences of African adventure by men who had shot a thousand elephants or more.
Among them we can number professional hunters John 'Podoro' Taylor, James Sutherland and John Hunter. Even the actor Stewart Granger and the writer Ernest Hemingway used .577 double rifles while hunting in Africa; both made by Westley Richards.
Number 20399 is simply the best example of its type that can be made. We could embellish it further but for a serious hunter, who truly appreciates the value of quality, nothing further would improve it.
No part of this rifle could have been made to a higher standard than it has been. No feature could be more ideally shaped or placed, proportioned or finished. In use, it will prove flawless. At rest it will always look beautiful.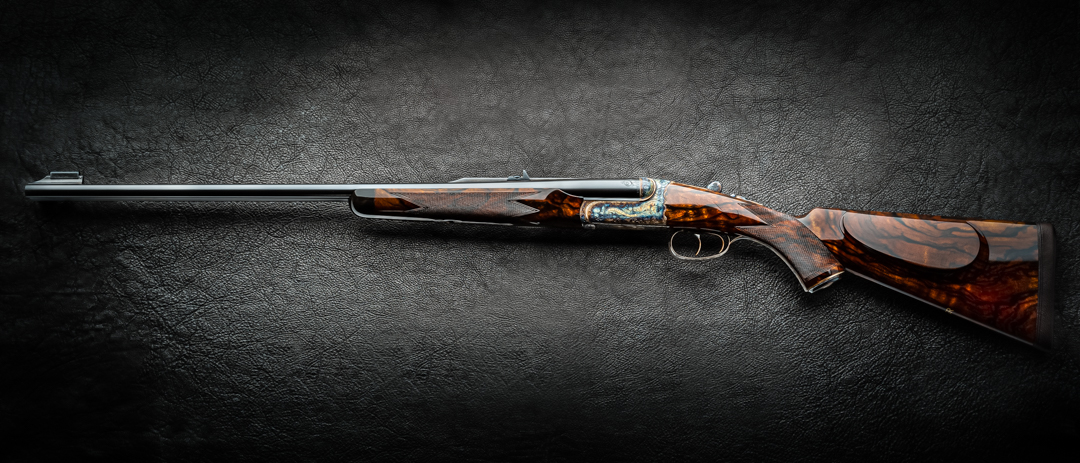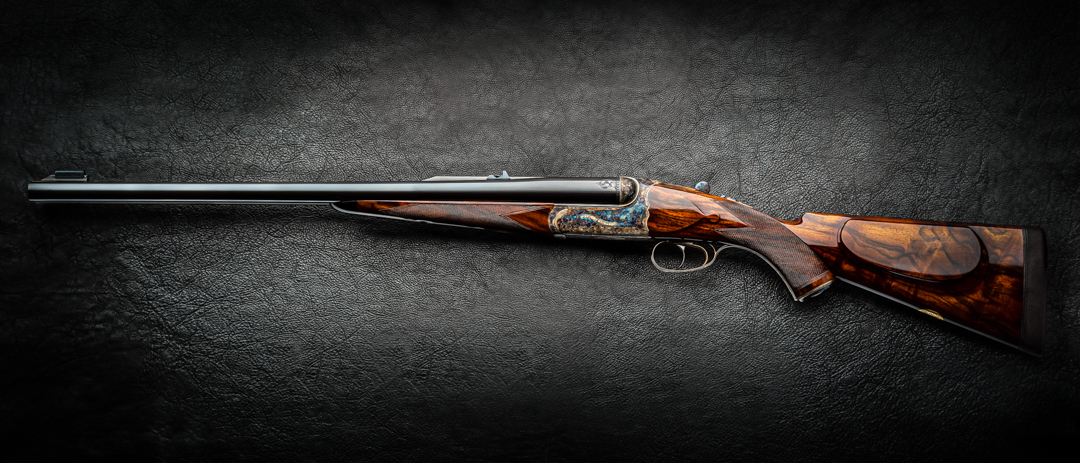 The .375 Flanged.
The .577s little brother, the .375 Flanged Magnum, is still a powerful dangerous game rifle but it is more of an all-rounder than a specialist tool. It provides a lighter, handier option for general use and is as appropriate for red deer or zebra as it is for eland or Cape buffalo. There is actually nothing in Africa that its 300-grain bullet cannot ideal with effectively.
The clearest distinction between the two rifles making up this pair is the animal depicted on the bottom plate. The buffalo on the .577 is replaced with a lion for the .375. They are not made to be a perfect mirror image of one another, as the ideal features of one are not necessarily the same as for the other. However, they are unmistakably related, with more shared features than differences.
The smaller rifle, for example, differs by way of its traditional forend profile, while the .577 has a beaver-tail type. Both stocks are pistol-gripped with complimentary dark walnut, case-hardened grip caps and leather-covered Silver's pads.
Seen side-by side, though differing in some respects, they look as though they belong together. The pairing has been undertaken to denote kinship between the two but they are not twins.
The rifles are cased together in a dark brown leather motor case with extra locks, all the expected accessories and tools.  Armed with these, a full African safari can be undertaken with pride and confidence.
They will also become an heirloom and we hope they give pleasure to generations of hunters to come, as well as to all those who appreciate fine gun making.