However, a rifle is not just a physical object to be admired, it is a precision tool built to do a simple job. That job is to place a swiftly moving projectile exactly where it needs to go to dispatch an animal cleanly, in its natural environment.
If it can't do that, it isn't a very good rifle. Or, it might be; but a good rifle is only as good as the ammunition with which it is pared. The two key ingredients of a successful shot must be perfectly matched to achieve it.
The third ingredient; the competence, and performance on the day, of the shooter, is one for which the rifle-maker cannot take responsibility.
At Westley Richards we appreciate the crucial relationship between good ammunition and great rifles. We always have. Our order books from the heyday of the hunter/explorer before the First World War are full of orders for ammunition; taken with those for rifles and later, to replenish stocks, months or years afterwards.
We have always developed our own cartridges for specialist purposes. The 'L-T' Bullet is perhaps the most famous. Today, we still specify, order and develop ammunition for many of our rifles and supply it with each one delivered. We do so for good reason.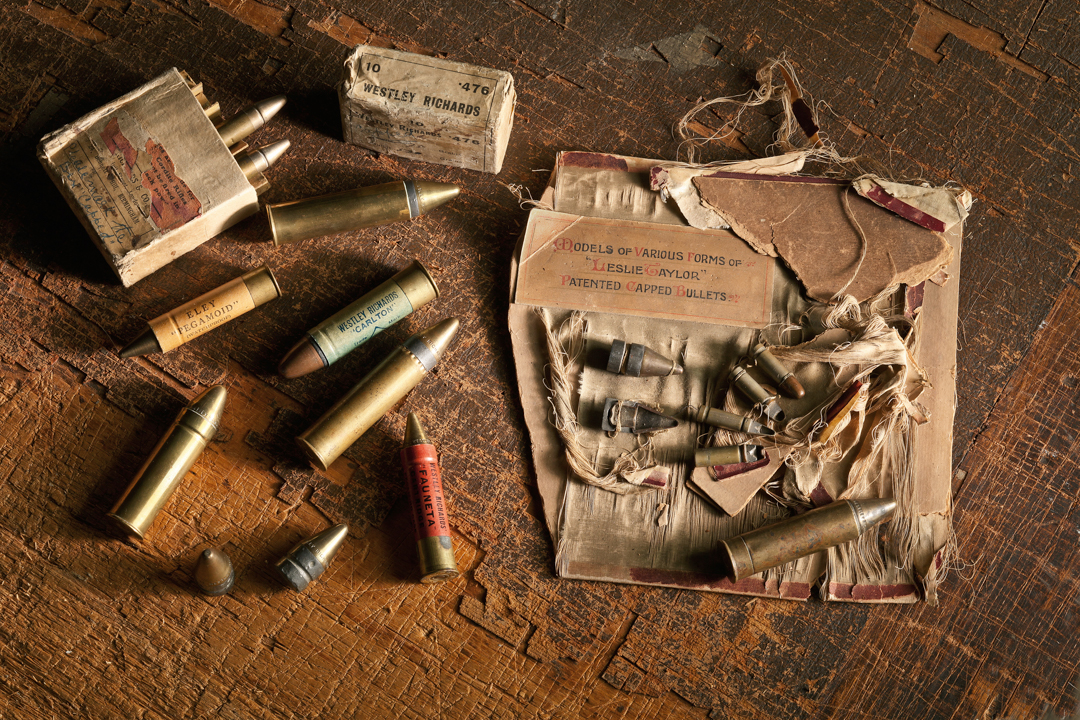 Double rifles are hard to regulate. A small change in the ammunition used can make the difference between excellent and unacceptable accuracy. Unlike a magazine rifle with a single barrel, adjustment to the point-of-aim is complex and time consuming. In addition, each barrel must converge at a specified range to deliver both bullets close to the same point.
When we regulate a double rifle we specify the exact load, batch and performance of the cartridges fired. That way, we know that the combination delivers what the sportsman requires, and can be relied upon.
We then deliver that exact batch of bespoke-loaded ammunition with the rifle. This might be 200 rounds of solid and 100 rounds of soft-nose with a  .577 NE, or  200 rounds of soft-nose and 100 rounds of solid with a .470 NE.
Once delivered, we know that the rifle and the cartridge combination delivers the projectile to the point of aim at the specified distances indicated by the sights. If the sportsman cannot make that happen every time, it is operator error, not mechanical or ballistic malfunction.
To some it may appear that this policy is overly zealous. Those who like to home-load ammunition sometimes tell us they don't need us to do it for them.
However, the assembly of components for many of the cartridges we chamber rifles for is not easy. There is more to loading correctly than achieving a given muzzle velocity. All our ammunition is fully tested at the Birmingham Proof House and certified as safe, effective and reliable.
Another reason we load and deliver ammunition is the demand for proprietary cartridges that are no longer commercially available, such as the .425 Westley Richards or the .318 Accelerated Express. These are iconic in the history of our firm and beloved of collectors. That love inspires some to order brand new rifles in these chamberings. To make them viable, we also load and deliver batch-tested ammunition for every one.
The price of a few hundred rounds of ammunition with a rifle that may cost over a hundred thousand pounds is negligible in the overall build cost but invaluable in terms of the confidence and satisfaction it imparts to the sportsman, who knows he has a lifetime of shooting in his gun vault, with cartridges he knows will deliver when the time comes.
In the heat of the African sun, when the crucial moment comes, or on a wind-swept hillside with that once in a lifetime stag or ram in your sights, any qualms about the extra cost of the investment in the perfect cartridge for your bespoke rifle will have disappeared.
They, and hopefully, you, will be in perfect harmony. Now, take the shot.