However, it was our Managing Director, Leslie Taylor, who took the design to its zenith of strength, beauty, and function with the introduction of the very first hand detachable lock in 1897.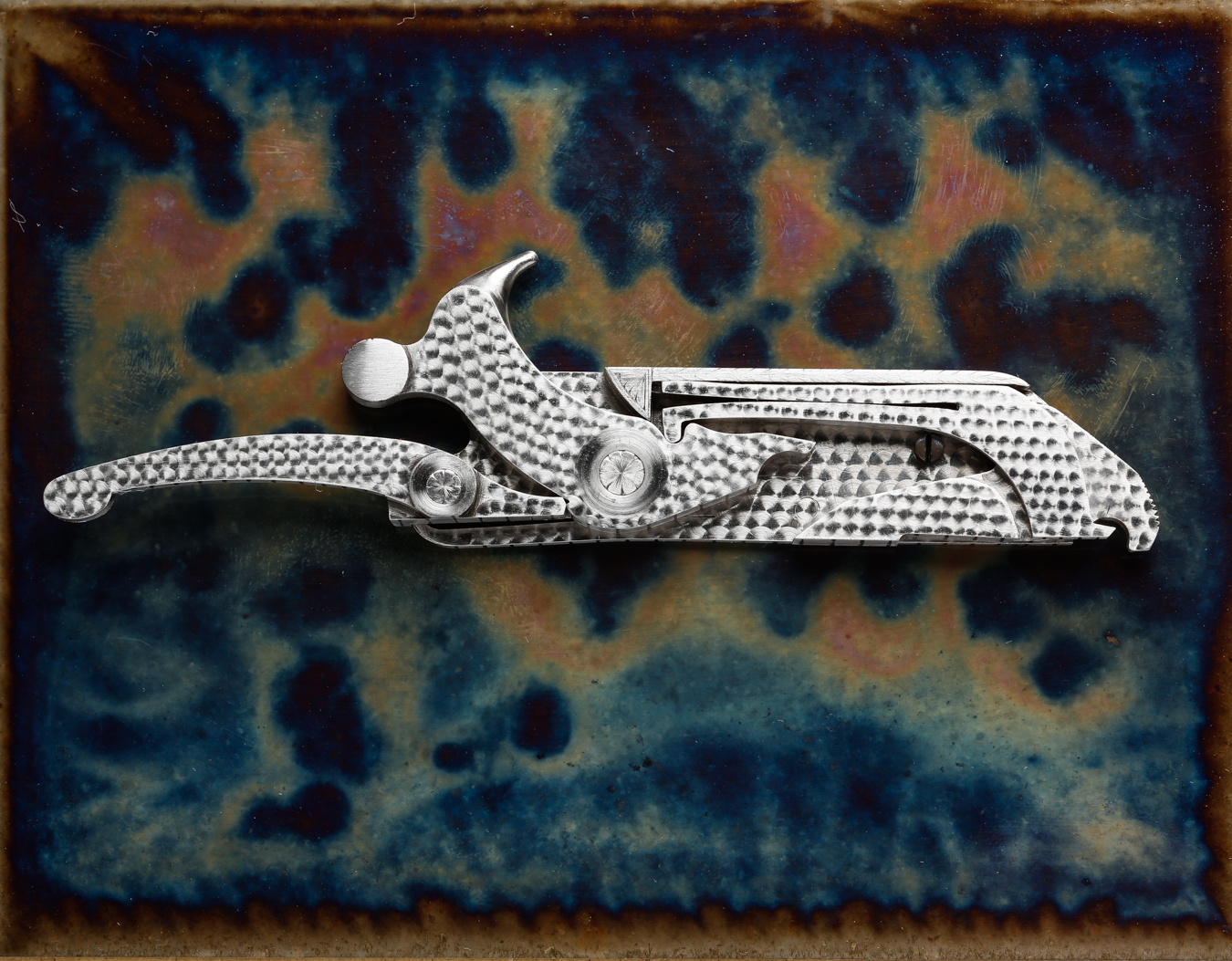 124 years later, Westley Richards & Co. continues to build the hand detachable lock, or "droplock" as it is commonly known, in both our double rifles and shotguns. The lock work, the parts that work in harmony to make the gun fire when the trigger is pulled, are removable from the gun without the need for any tools. The locks are very simple with only four component parts - cocking lifter, hammer, mainspring, and sear - and taking them out couldn't be more straightforward.
Simply cock the gun by opening the barrels then take off the forend. Open the cover plate on the bottom of the action by pressing the catch at the leading edge and lift the hinged plate. Each lock may then be lifted out for inspection, cleaning, or in the unlikely event of a mechanical malfunction, the lock can be replaced with a spare.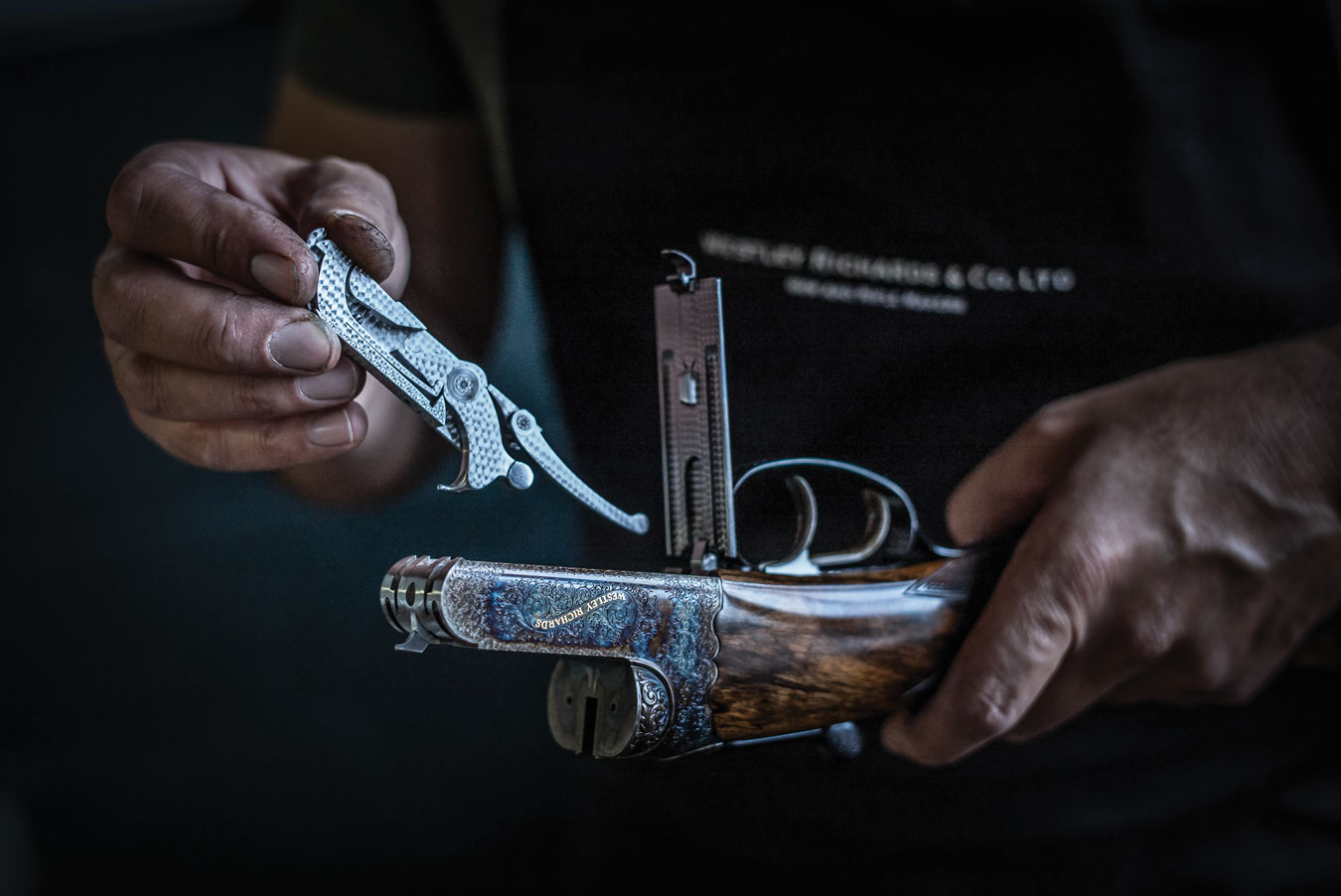 Another testament to the ingenuity of the "droplock" is how well it scales up and down among the different shotgun bore sizes. In fact, the "droplock" is available in everything from the behemoth 4 bore to the diminutive .410 bore, as well as 8g, 10g, 12g, 16g, 20g, and 28g and each one is built on its own dedicated frame, scaled appropriately to its bore size. Whether it is a 10g for wild fowl, a pair of 16g for grouse, or a 28g for quail, Westley's "droplock" shotguns are not only built to be reliable, but they are scaled to retain elegant lines and excellent handling characteristics.
All of Westley Richards' "droplock" shotguns are also fitted with Westley's unmistakable snap lever and Model "C" Doll's Head third fastener.
Finished with traditional bone and charcoal color hardening and blacked furniture, our "droplock" shotgun comes adorned in a modern interpretation of our traditional House engraving used on Best Quality Westley Richards shotguns for over 125 years.
Westley Richards only makes bespoke guns, each one stocked to the customer's measurements in Super Deluxe walnut, which has become a hallmark of modern Westley Richards guns and rifles. Each gun is also barreled and choked to the customer's preferred length and constrictions and the traditional gold stock oval is engraved with the customer's initials.
Over and above the standard features included on our Best Quality guns, there is a host of additional options and upgrades to choose, so each gun is tailor made to fit the individual customer's needs. Such upgrades include our famous "One Trigger", Teague Precision chokes, grip and butt styles, handmade cases produced in house, and of course, engraving.
Throughout Westley Richards & Co.'s illustrious history, the firm has been highly regarded for its ambitious, often avant-garde, exhibition engraving projects. The Modele de Grande Luxe, our highest level of embellishment, has been offered by Westley Richards since the turn of the 20th Century. In this same tradition, Westley Richards & Co. continues to produce highly embellished guns and rifles of a level few gunmakers have ever achieved, especially with such diversity and high standards.
This has become a specialty of Westley Richards & Co. as more and more customers commission exhibition work, believing that a Westley Richards shotgun with hand detachable locks is the most deserving canvas to express their own tastes and preferences in the art of the gun.
With a high degree of skill required to make the droplock, it is one of the most unique guns made in the World and demand for our shotguns is as high today as it has ever been. At the same time, rarely, if ever, do they appear on the second-hand market. With a demand that far outweighs the supply, the only reliable way to get a modern Westley Richards shotgun is to commission one.
We would be delighted to discuss the building of a new droplock shotgun with anyone interested in exploring the possibilities.
To make inquiries about our droplock shotguns or to schedule an appointment to talk further about your own commission, please contact:
Managing Director, Anthony "Trigger" Alborough-Tregear
+44 (121) 333-1904
or
U.S. Manager, Duke 'L.D.' McCaa