'The Explora' was begun as our notice board to customers who could not walk through our doors on a regular basis. It remains so to this day.
Those early articles; be they interesting stories from long-dead hunters discovered in an old diary, news and pictures of just-finished guns and rifles about to be delivered to customers, or archival material examined and explained to educate enthusiastic readers, are still available through our Archive Search.
Since 2013, in addition to the always personal, usually interesting and occasionally controversial input of Simon Clode, guest writers have contributed to the expanding body of material within the 'Explora'. To date, these have included Vic Venters, Silvio Calabi, L.D McCaa, and Diggory Hadoke, not forgetting the regular contributions of our own Ricky Bond, Stephen Humphries and, of course, Trigger.
We invest a great deal of time, money and energy into 'The Explora'. We see it as a window into Westley Richards through which the world can peer, appreciate us and learn about our history, our products, our people and our quest to keep building the best guns, rifles and shooting equipment that can be made.
As time has passed, the number and quality of our contributors has multiplied but perhaps the most striking visual improvement is the original photography we use to illustrate our features. We employ two full-time, in-house photographers to record our people, products and places of work. We make sure every article is supported by first-class original photographs of a style and quality which befits the subject matter.
In this digital age, The Explora' is building a history of the company in real time and archiving articles in order of appearance. Any enthusiast would do well to spend an evening reading back-issues and bathing in the wealth of information contained therein. Meanwhile, we continue to add new articles and photo-shoots weekly.
Technical explanations of our guns and patents will absorb the scholar, sporting stories will excite the armchair hunter in the off-season and the historical examination of models, practices and people should serve to inform the curious.
Furthermore, if anybody wants to see clearly the impressive range of best quality rifles and shotguns produced here in Birmingham, a look through the back issues will uncover a wealth of evidence as to how we have achieved prominence amongst a small elite of best gunmakers.
This post is the one thousandth in the history of 'The Explora'. It is a milestone worth noting and, we think, a small monument to the wisdom that Simon Clode demonstrated when he decided to invest in new websites and this platform for showing the world what Westley Richards has been in the past, and is today.
Discover the top 10 read most posts across the lifetime of the blog: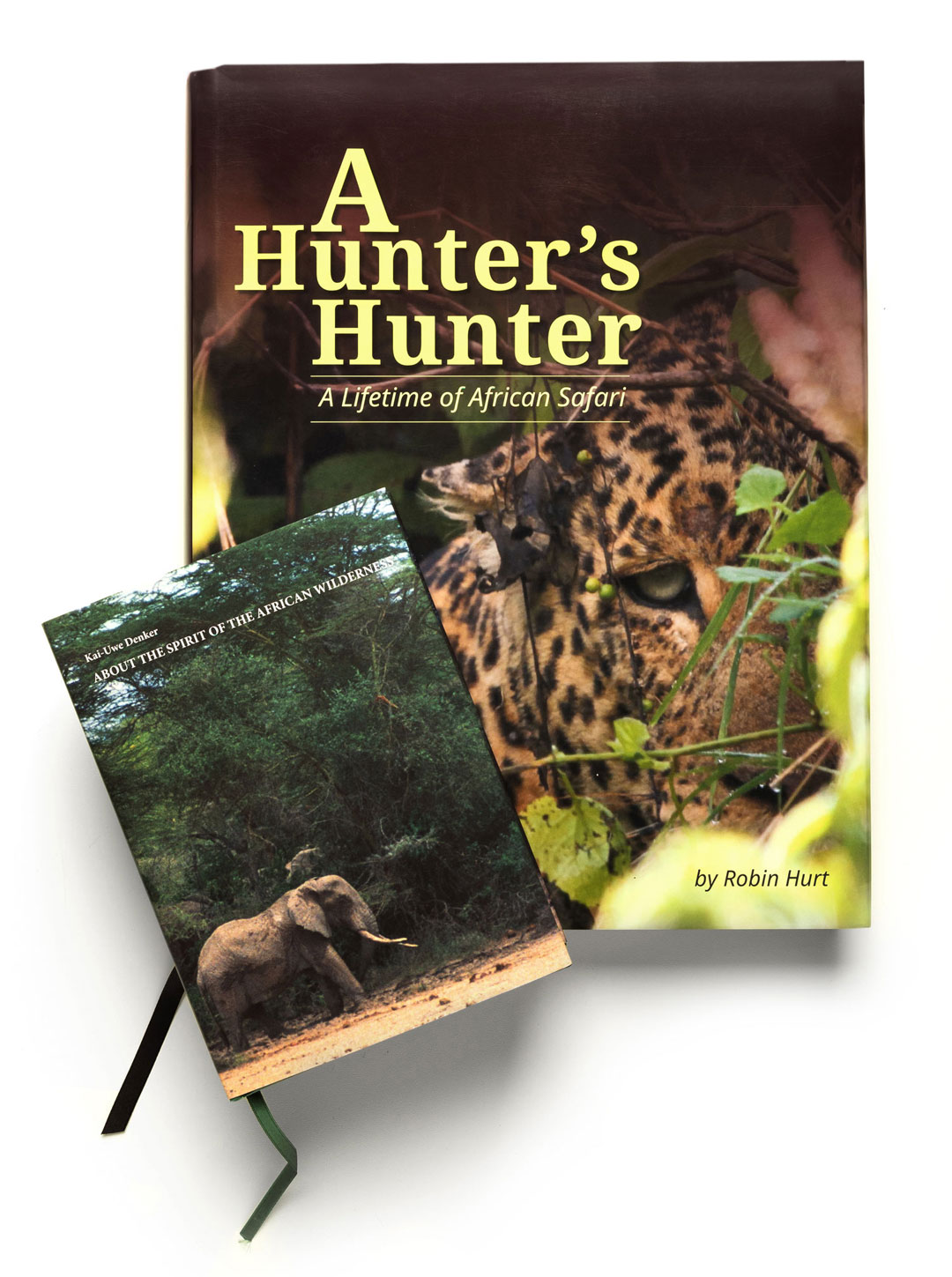 10. 10 'Best' Books for Every Shooting Man's Library
This post was originally put up by Simon Clode back in 2013 and it seems more relevant now that we all have more time on our hands!!!! A few newer titles have been released by the modern hunting book suppliers including Kai-Uwe Denkers 'About The Spirit Of The African Wilderness' available from Trophy Room Books, and Robin Hurts 'A Hunter's Hunter' available from Safari Press. Both of these books are destined to become hunting classics and if nothing else they should get us in the spirit for our next safari adventure!
---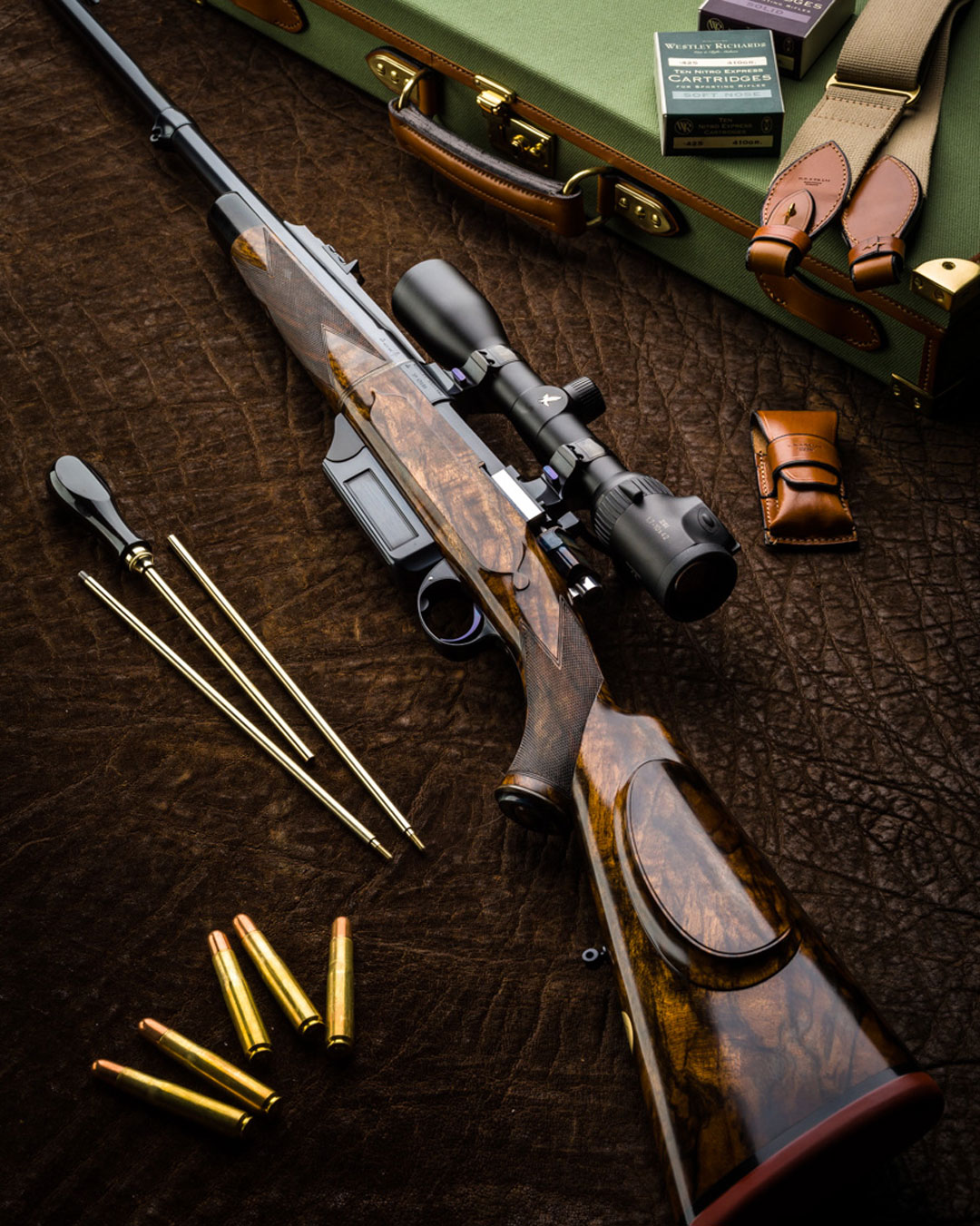 9. A Classic Westley Richards .425 Take Down Bolt Action Big Game Rifle
If I was asked to name just one of the classic Westley Richards rifles, a .425 magnum take down bolt action would have to be on the short list. Here is a .425 rifle that has just been completed in our workshops and is now destined for Botswana, to the experienced hands of a young hunter who travels Africa in search of his game.
---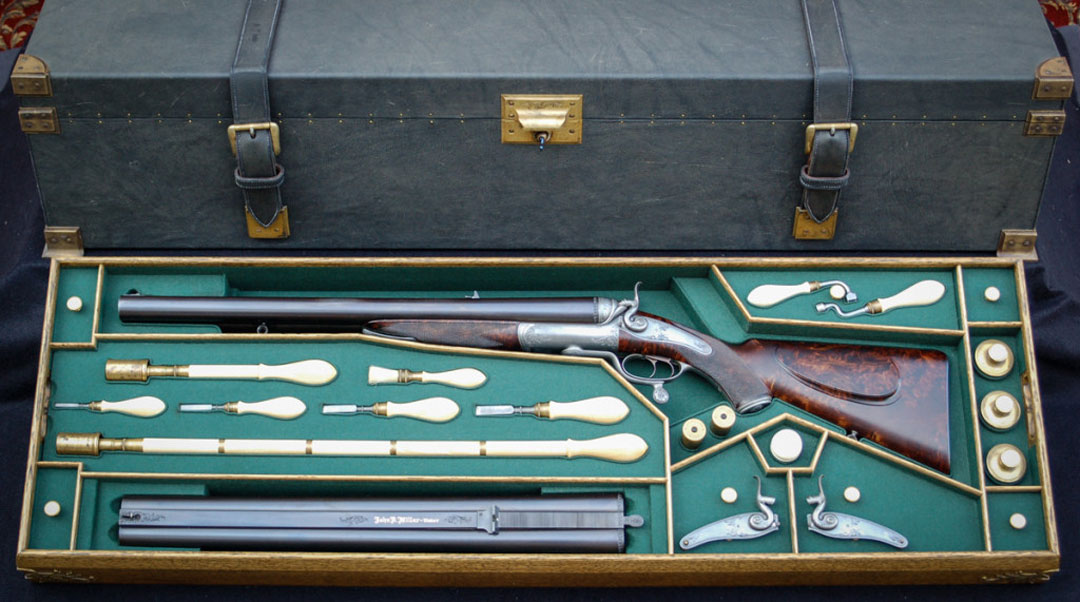 8. John Millar's 4 Bore Hammer Rifle. A 10 Year Labour of Love.
When it comes to project guns I don't think there is anything that I have ever come across personally, better than this 4g Hammer Rifle made by John Millar of Canada. John made every single bit of this rifle with his own hands except the engraving and it is a quite remarkable job.
---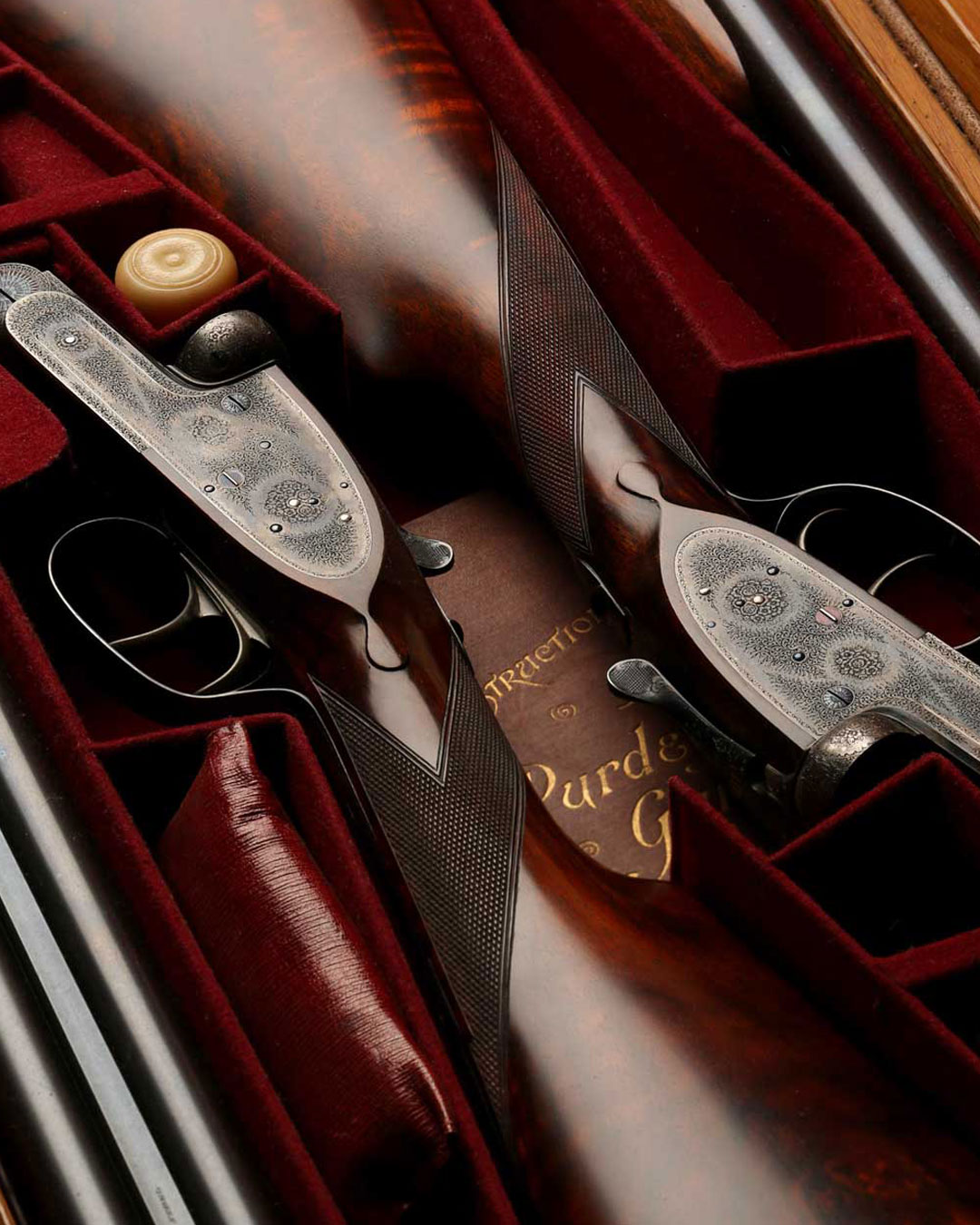 7. Westley Richards. A Great Place to Buy and Sell Used Guns and Rifles.
Westley Richards has always had a very strong presence in the used gun and rifle market, we offer a very sensible and controlled alternative to the auction rooms, selling our guns to an extensive database of worldwide collectors and sportsmen. With the launch of our new used gun website we are now actively looking for items either for outright purchase or for sale on a consignment basis. Please contact either Kevin at our Bozeman shop or Anthony 'Trigger' Tregear at our UK factory for further details.
---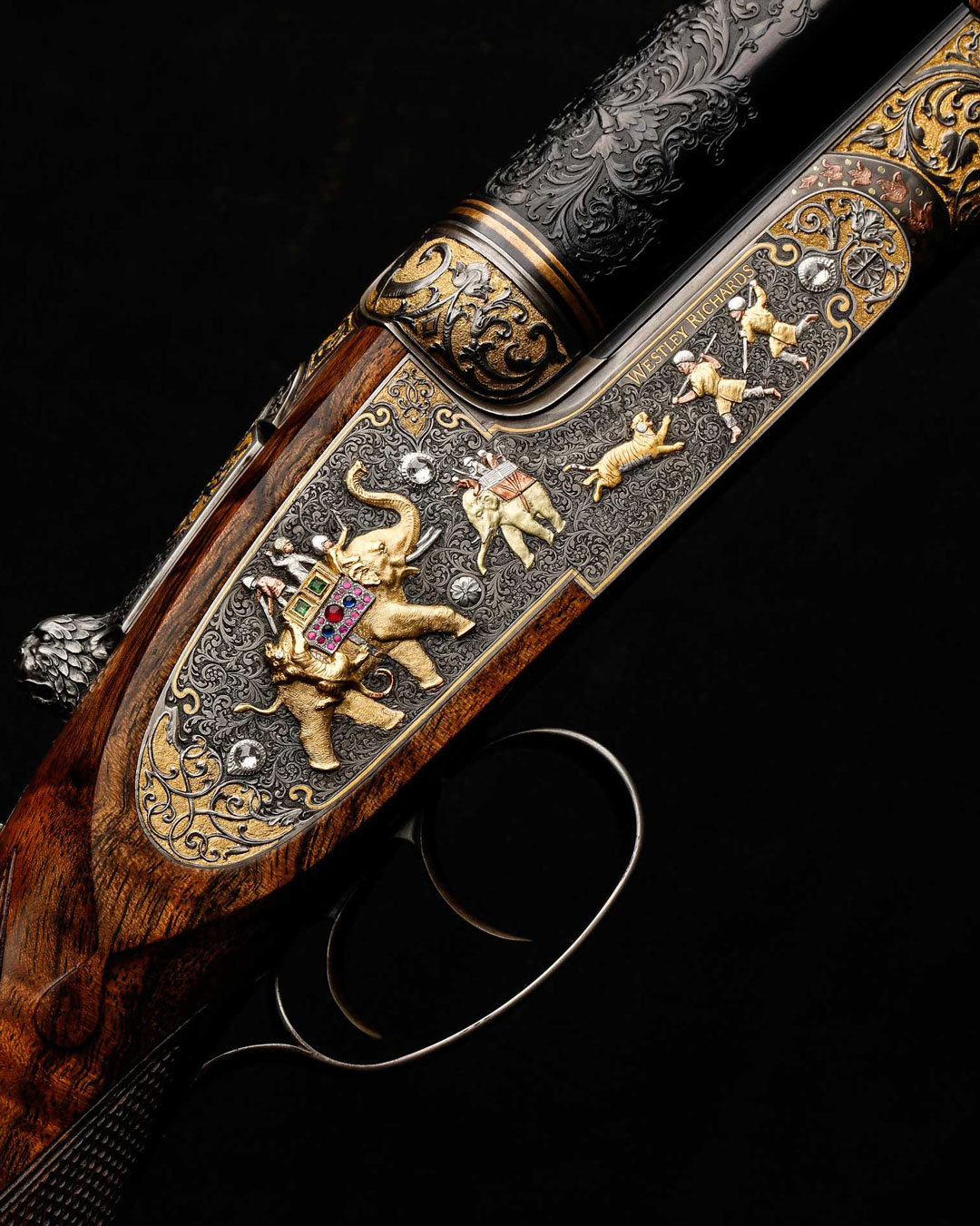 6. Westley Richards 600 Nitro Express "The India Rifle"
We have recently completed a project on which we embarked on 7 years ago. This was to design and build a new model sidelock 600 NE and then to embellish it extravagantly in celebration of the Indian Raj. Completed recently, we first showed the rifle at a small exhibition of the English gunmakers held at The Dorchester Hotel in London in May.
---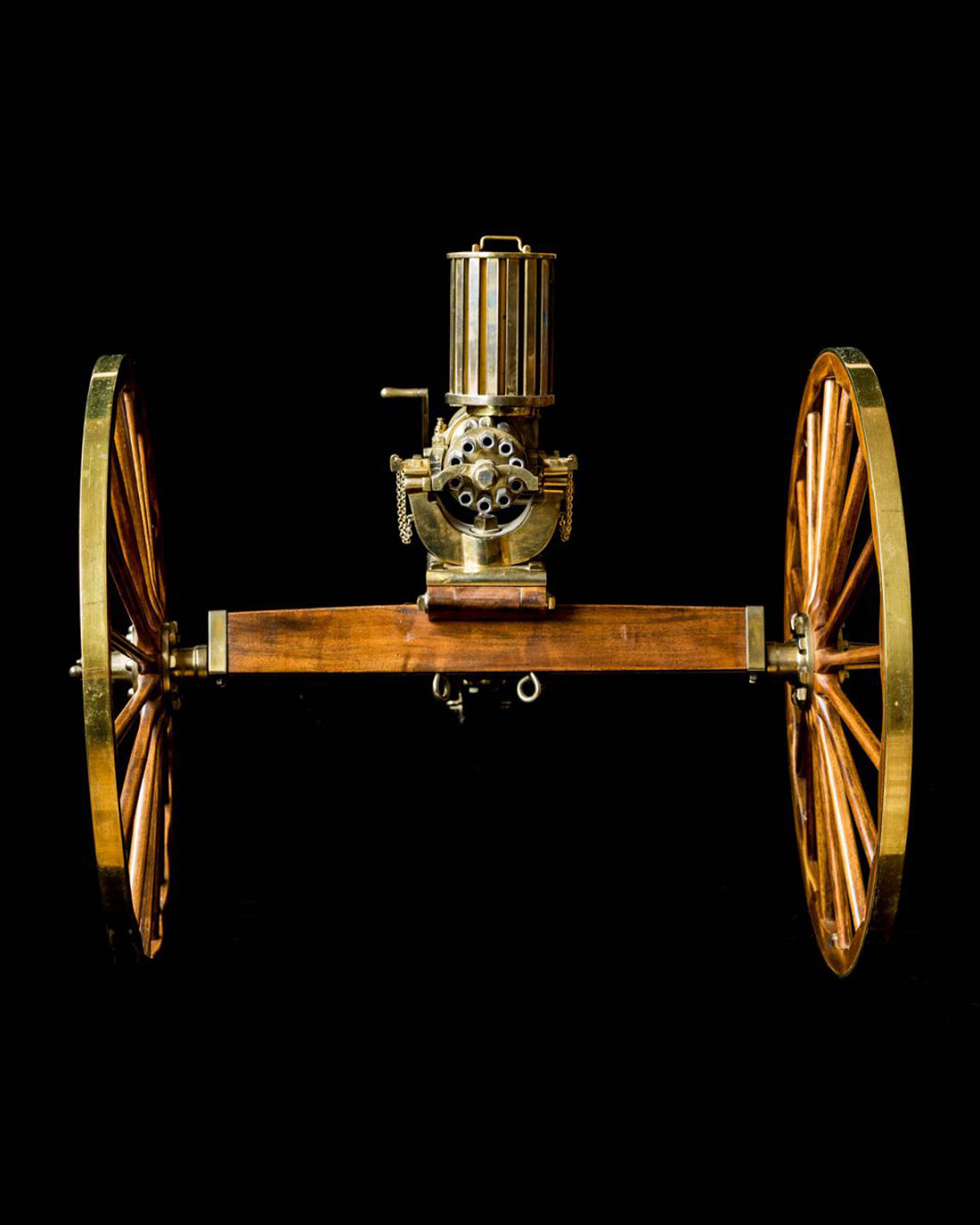 5. The Gatling Gun - 1/3rd Scale models firing .22
Unfortunately in England we are not allowed pistols and we are also not allowed machine guns, had that not been the case these 2 miniature Gatling Guns would be coming over here to be added to the ever increasing ephemera at the factory. These are working models firing .22, I am not sure if the short or LR version as I couldn't figure out how to make them work during my short visit to Bozeman last month, I needed Davy Crockett or Custer to help me out.
---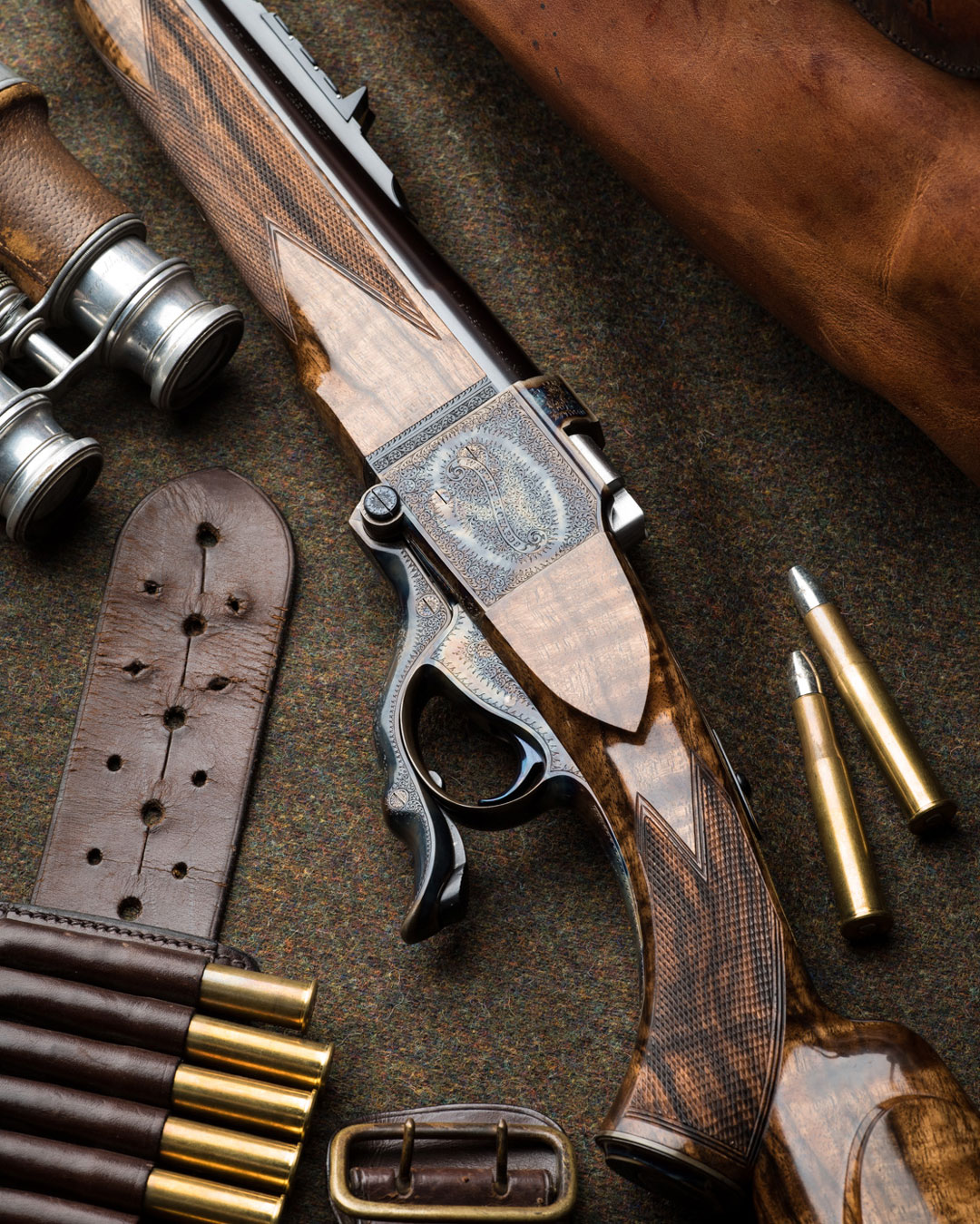 4. A New Westley Richards Farquharson Take Down Action 450/400 3" Single Shot Rifle
Part of our problem at Westley Richards is we are never quite able to say NO when an interesting project is offered, the Rafiki 700/500 and the pair of 4g guns immediately spring to mind. So when we were asked by a long standing client at Dallas Safari Club convention some years ago to build a new falling block rifle, we said YES!
---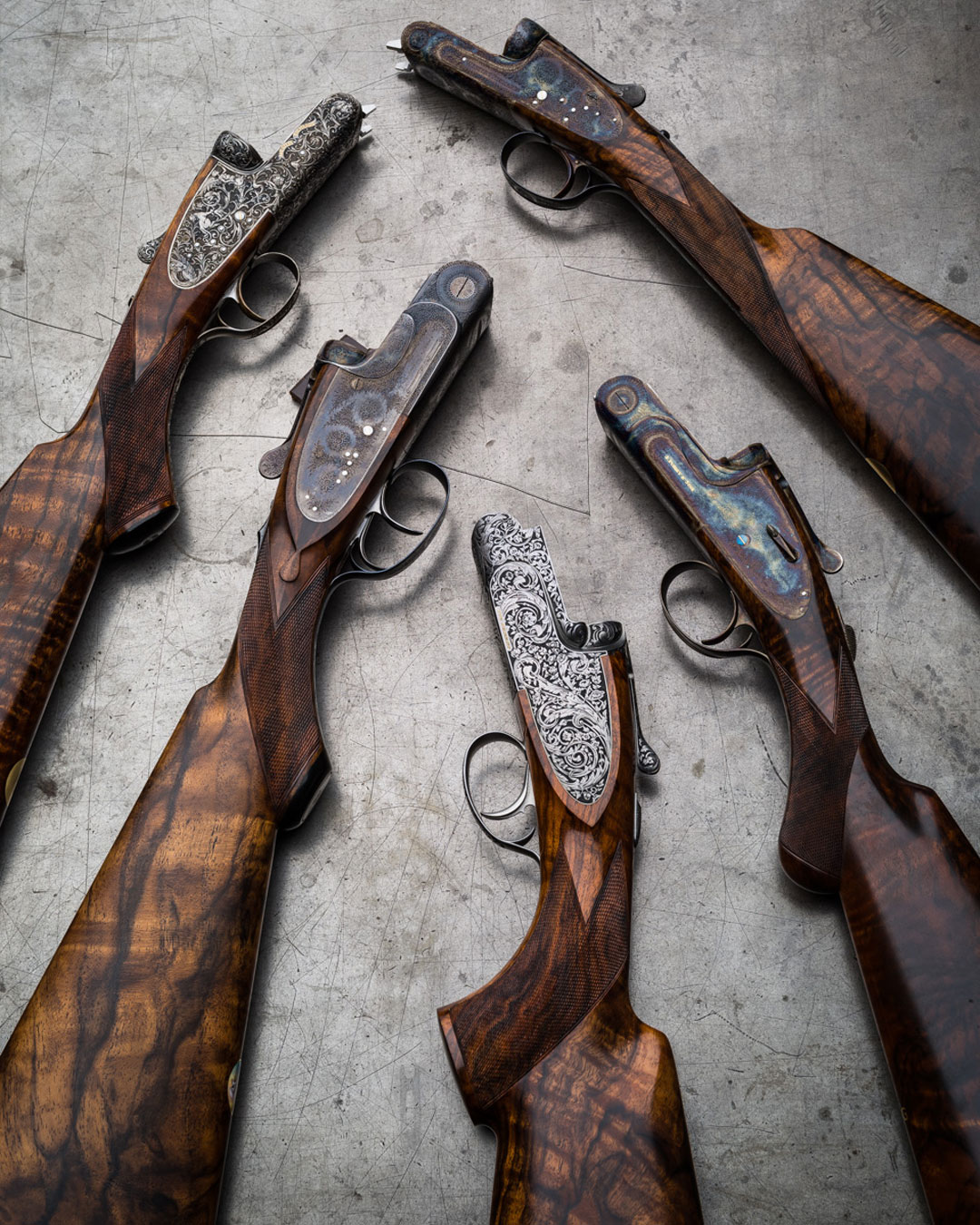 3. The Stock Grip Options for Shotguns.
I was asked some weeks ago to do a post on the various stock configuration options that are offered when we make a gun. There are essentially 5 different named options, all of which can be adapted to suit an individual for; length of hand, position of comb, angle of hand, thickness of grip etc. Confusion for most people comes with the difference between the Prince of Wales and Woodward type grips, these are both very similar with the difference being the angle of the pistol grip cap, a parallel finish on the Woodward and angled on the Prince of Wales.
---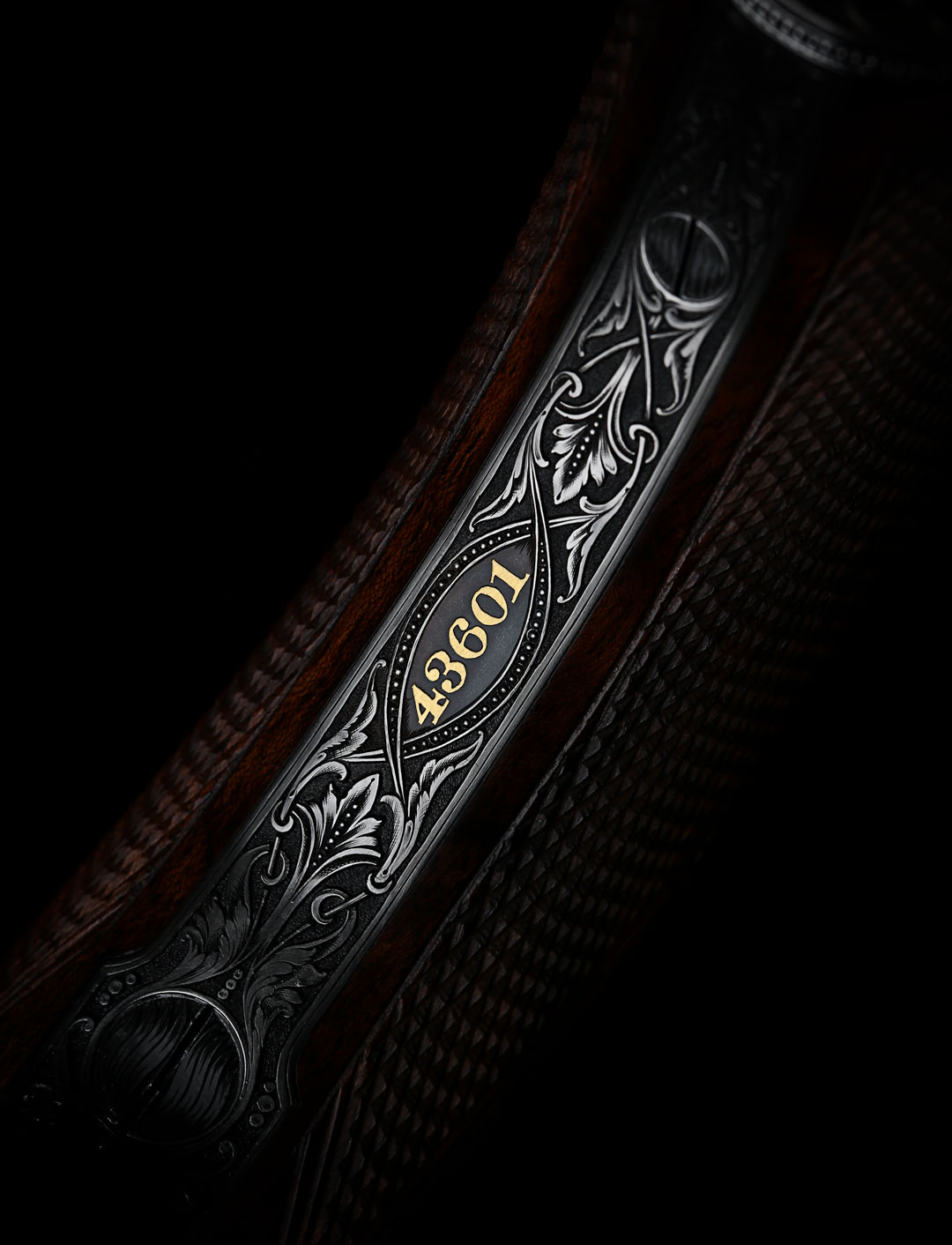 2. Westley Richards Gun & Rifle Serial Numbers
There are always a lot of requests for dating serial numbers for our guns. We have tried to put an easy search on our website to assist with this and will always try and answer any questions regarding the guns as time allows. For those who do not have a copy of the Westley Richards book 'In Pursuit of the Best Gun', here is the page which covers the quick reference to the serial numbers with dates for the best guns made here. This can be enlarged and taken off this site and printed.
---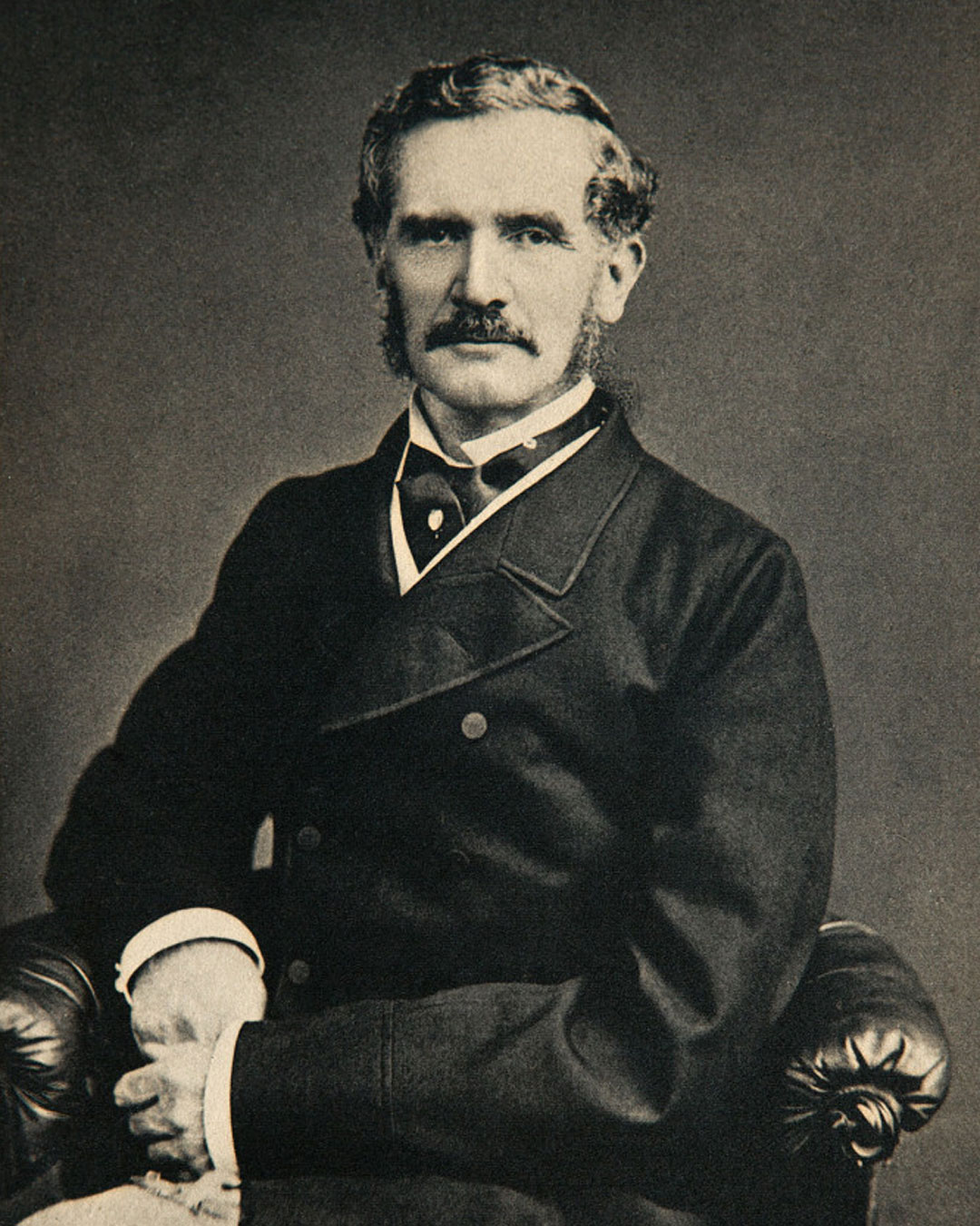 1. A Curious Twist To The Monkey Tail's Tale
Westley Richards took over the management of the firm from his father in 1840 and ran it until his retirement in 1872.  He was undoubtedly one of the most successful of the British gunmaker inventors of the period.  When we look at the records of the British Patent office we find that between the years 1855 and 1872 alone he obtained no less than 17 major patents relating to firearms and many of these protected more than one invention.  One of them No 633 of 1858 related to the design of the famous capping breech loader affectionately known as the "Monkey Tail".