These special projects are interesting exercises in gunmaking and they set the standard, showcasing what we can build at Westley Richards, and stretching the boundaries of 'best' as a twenty-first century concept. However, it is important to remember that we have always built a range of guns, with budgets to suit different pockets.
We built our reputation on the reliability, handling characteristics and shooting qualities of our game guns, which were bought and used by British sportsmen throughout the 1800s and 1900s. Those qualities remain embedded in our modern guns, which are built on the actions we made famous in those days.
The gun we are looking at here is a beautifully typical, late 19th century, game gun. It has, at its heart, all the features of a classic Westley Richards. Guns like this were sold in the hundreds every year to sporting gentlemen and carried in the fields and coverts of England by generations of their descendents.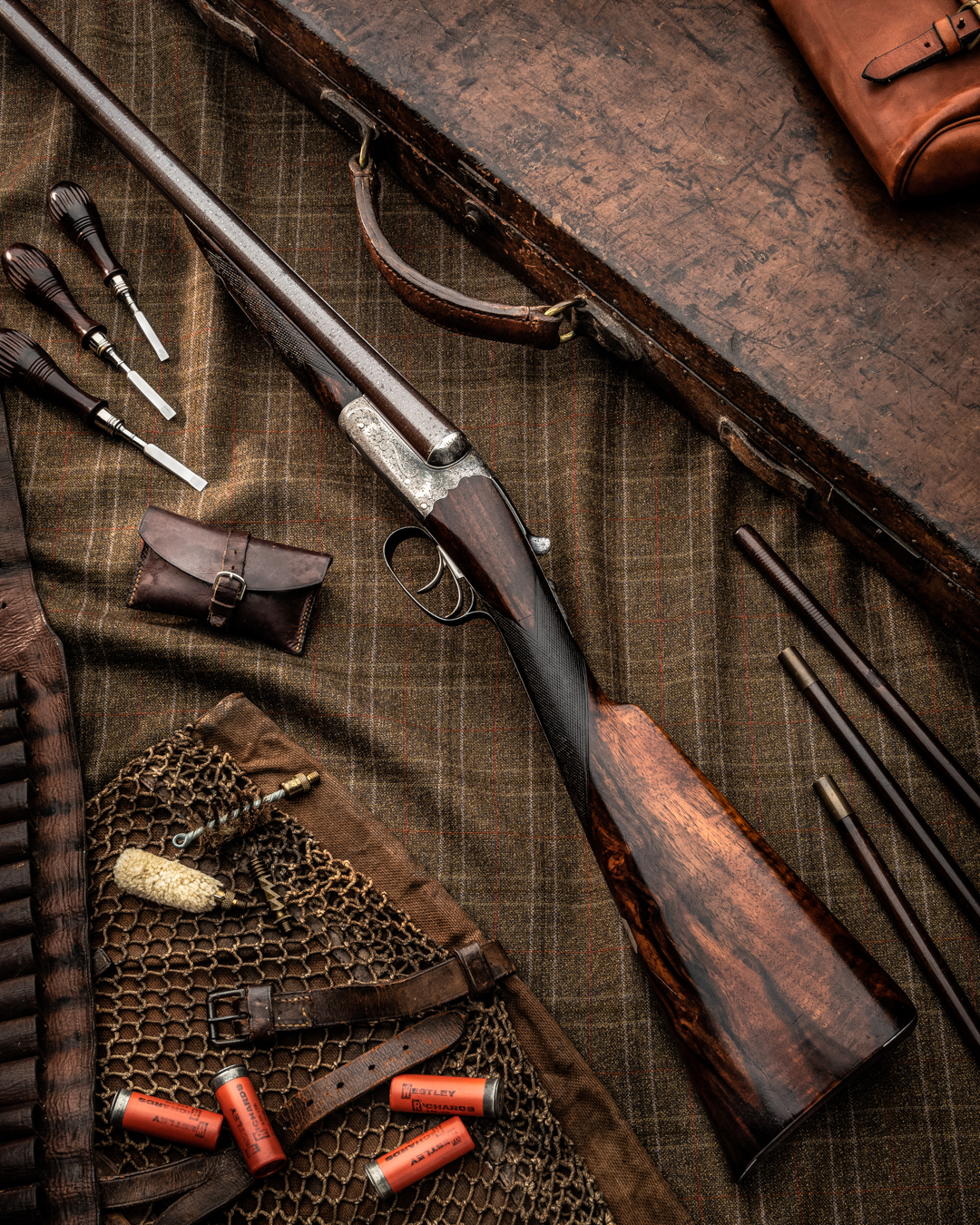 Fortunately, some survive to the present day and give us the chance to experience their qualities and fitness for purpose. This is not one of those special guns built for a maharajah or an exhibition, it is the kind of Westley Richards that any reader could own and enjoy, for modest outlay, if he can find one; and let's face it, the hunt is half the fun.
First the basic details, taken from our order book and noted neatly in fine copper-plate handwriting:
Ordered April 16th 1894, delivered August 10th 1894.
Mr F.W.J. Massey
London
Serial No.15076.
Double 12g
Stock length: 14 3/16" (heel) 14 7/8" (centre) 15 3/8"(toe).
1 1/2" (drop at comb) and 2 1/8"(drop at heel).
Ejector H (Hammerless)
Scroll (pair with 14967)
Modified + 3/4 Choke
The fancy-back action retains a blush of case colour and the engraving of tight scrolls, with 'Westley Richards' in a banner, is crisp and fresh. Further engraving on the action, where the 'Model C' lever work is mounted reads 'Westley Richards Patent Ejector'. A gold-inlaid '2' adorns the lever and 'SAFE' is also gold-inlaid.
Neatly stamped on the bar is the declaration of patent usage, referring to two of the firm's best-known designs, which were used not just here, but adopted by the wider trade. They read: 'Anson & Deeley's Patent 12013' and 'Deeley's Patent Ejector 3143'. Owners sometimes scour books to find these patent numbers but the number stamped is a use number, not a patent number.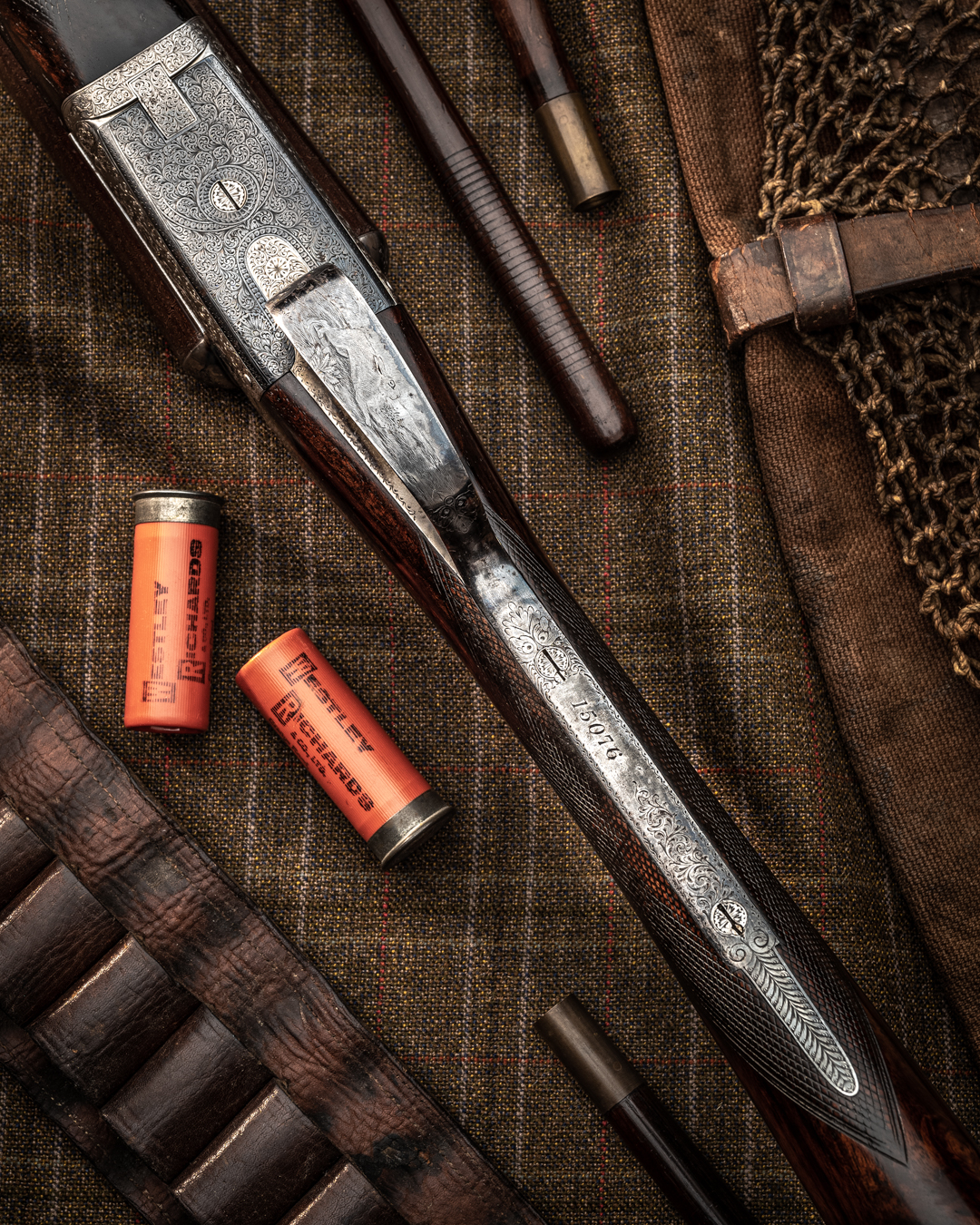 The first is for William Anson & John Deeley's 'box lock' of 1875 and the second is John Deeley's ejector of 1886. Though 'John Deeley' is mentioned twice, the two patents do not refer to the same man. The 1875 patent was that of 'John Deeley Senior' and the ejector is attributed to 'John Deeley Junior', his son.
The original Anson & Deeley featured twin cocking dogs, whereas this later version has what gunmakers call a 'double dog', with a squared off wishbone shaped limb, situated internally, which cocks both locks. The external evidence of this is a loosely hinged limb fitted flush with the bottom plate, when assembled.
Guns of this age have generally done some work. Finding one well cared for and not much all used is uncommon. Fair wear and evidence of use is understood and we prefer this to guns that have been obviously worn and re-worked. The silver escutcheon on the stock still bears the initials of the man who ordered the gun 'F.M' and the presence of the original heel and toe plates confirms the original length is in-tact.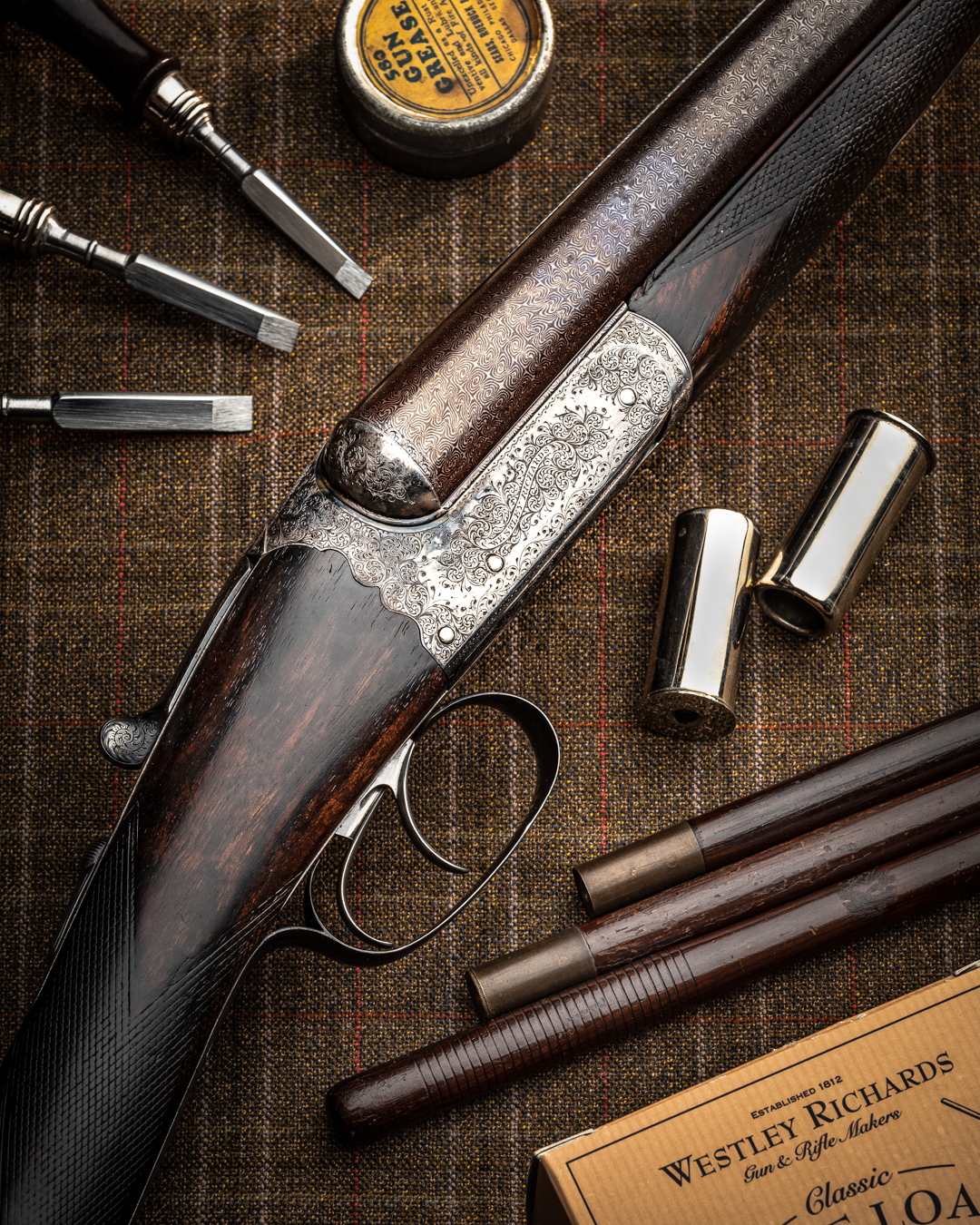 Blued parts show negligible wear and the wood and metal parts fit perfectly wherever they meet. The flat-top chequer has never been re-cut and where it looks slightly worn, it is actually clogged with 'palm grease'; the dirt from hands that has filled the grooves. This would clean out with a little solvent and a fine brush.
Further traces of original case colours can be seen on the action face, flats and on the forend iron. Despite being a hundred and twenty seven years old, the entire gun looks and feels entirely functional and perfect. The patina of age has dulled the surface only; and in a manner we find pleasing and appropriate. The stock is of rich, well-figured walnut, classy without drawing attention to itself.
It is a twelve-bore. Indeed the Victorians considers a 12-bore a man's gun and this is what perhaps 95% of shotgun output consisted of. A gun of this bore, weighing between 6 1/2 and 7.0 lbs, shooting just over one ounce of No.6 shot, was the common choice for adult British males, producing, as it does, an ideal combination of handiness, good, killing, patterns and sufficient recoil-absorption.
The barrels are of Damascus steel and of superb quality and figure, with original browning. 1894 is approaching the tail-end of Damascus barrels being the material of choice for most gunmakers in the production of best guns. By this time, tube production had been reduced and one maker in Wednesbury dominated the market. Marshall's, however, had let quality control slip, according to Henry Sharp, and finished barrels were prone to being rejected for the presence of 'greys' (impurities within the structure which did not take browning and showed-up as imperfections). Whitworth fluid pressed steel began to take an increasing share of the market and many makers began to source their Damascus barrels from Belgium, where, according to W.W. Greener, the tubes were of great beauty but not as hard-wearing as the best English Damascus.
The last Damascus produced in England was at Greener's own facility, which closed in 1905, though old stocks of tubes were used to fill orders for Damascus barrels, which continued in small numbers into the 1920s. Today, nobody can make fine quality traditional Damascus tubes. It was a craft industry in an industrial age and was doomed as the twentieth century dawned.
For those lucky enough to find a good example of 19th century gunmaking with clean, original Damascus barrels, they are to be cherished. As a material, quality Damascus is easily the equal of fluid-pressed steels, like Whitworth or Siemans tubes.
Unsurprisingly, these barrels have been re-proofed, now sporting post 1925 nitro proof for 2 1/2" cartridges, making it a viable game gun, using traditional loads. The flats are stamped 1 1/8oz, which was the 19th century standard load for a 12-bore game gun. The nitro (or smokeless) era led to a reduction in payload, with 1 1/16 oz becoming the norm, as evidenced by the famous old, orange-cased, Eley Grand Prix cartridges that dominated the shooting scene in Britain from the 1920s until the late 1980s.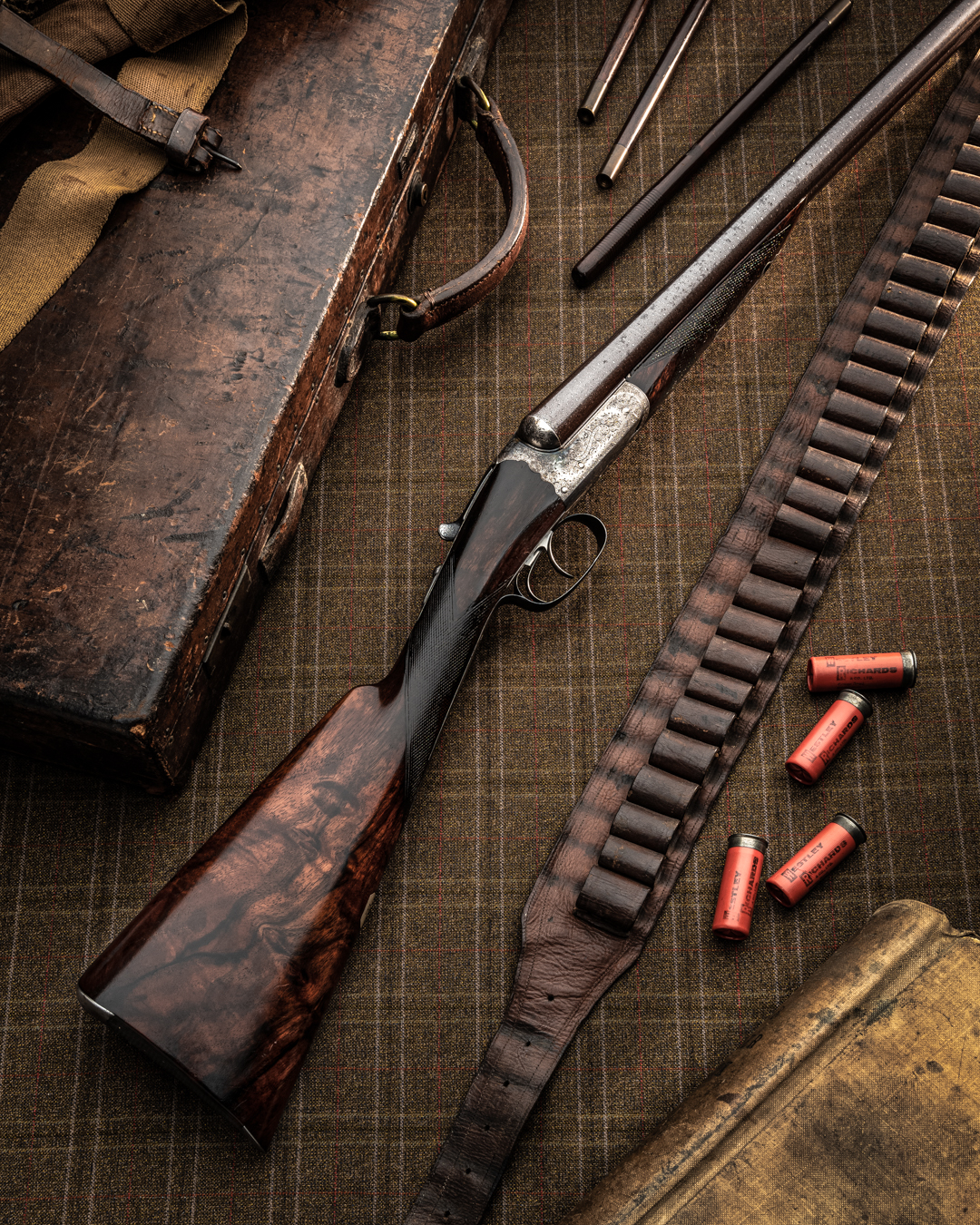 The gun now lives in a period oak and leather case, with the correct trade label (it bears the Bond Street, London address on the rib), though it is probably not the case supplied when it was made.
No.15076 will not be restored, it will just be cared for and  shot with appropriate ammunition (be that lead or bismuth) when the mood takes. Sometimes it is just nice to take a proper, unpretentious, classic Victorian game gun out and walk the hedges for the occasional woodcock or pheasant on the boundary. This was once the essence of our sport and there is much to be said for it.