The rigours of the sporting field soon showed some materials to be better suited than others and certain cuts of clothing more practical. Tweed, moleskin, leather, wool and silk  proved best able to cope with rain, wind, mud and cold. Short coats, peaked caps and high-legged boots or gaiters kept out the elements and avoided snags.
For formal, driven shooting, these practical attributes combined with a desire to 'look the part' in polite company. The demands on the sportsman were now restricted to standing in a field and shooting with style and accomplishment, while others did the hard work in the undergrowth, driving birds and collecting the fallen.
The sport, sartorially, can now be split into two factions; the rough shoot and the formal shoot. Dress standards differ accordingly, though today there is considerable blurring of the lines.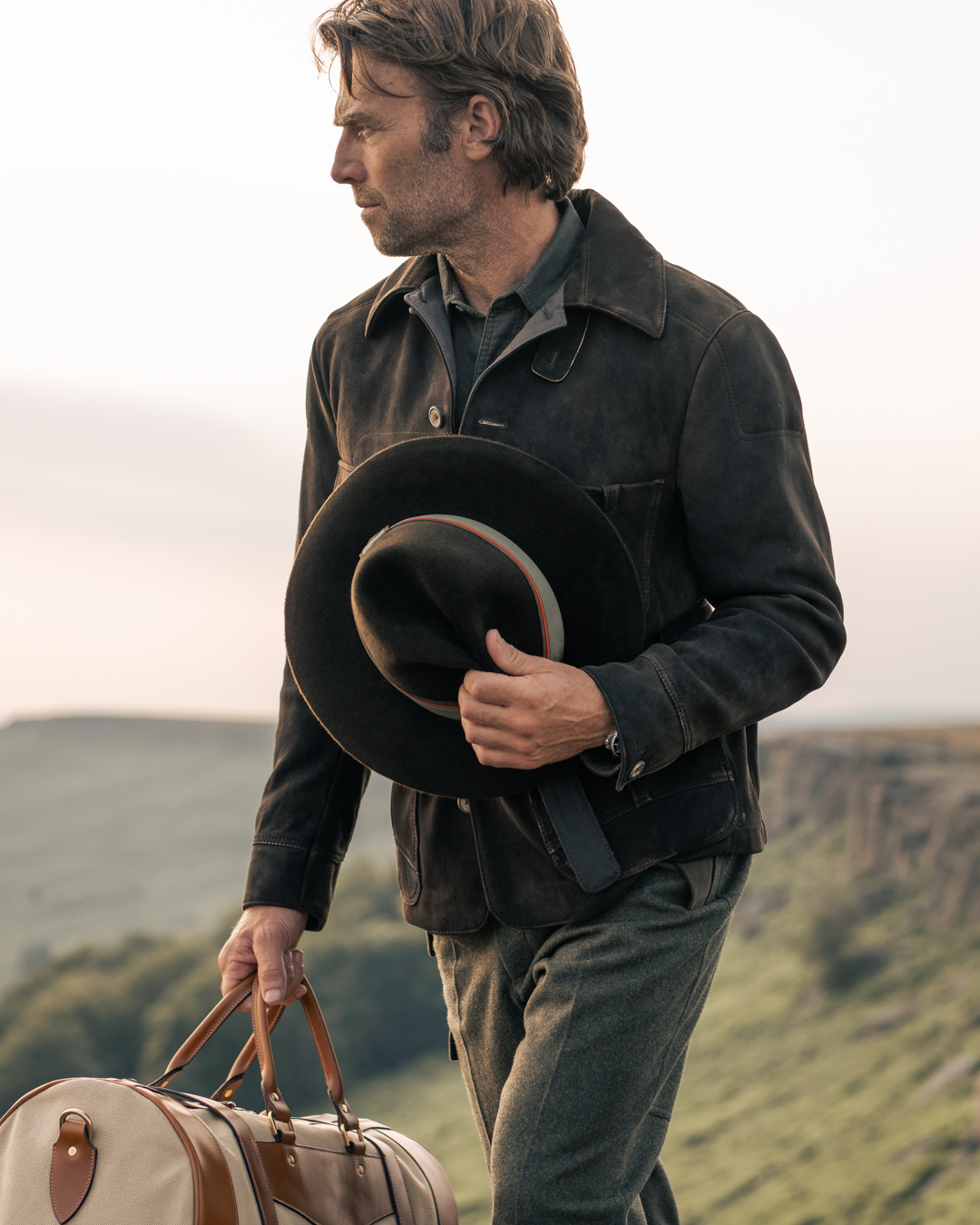 The Rough Shooter.
This category covers everything but formal, driven pheasant, partridge and grouse shooting. It may be a man out with his dog walking-up hedgerows or roost shooting, pigeon decoying or water-fowling. It may be a small group of such friends. There are no rules for such activities, though many garments and accessories (wellies) are commonly seen among a group so engaged and some (blue jeans) almost never. So, some tips are in order to help you blend-in with your peers, should you be planning a day in the field as a guest, or the customer of a sporting agent, experiencing the British shooting field for the first time.
The basics might include wellington boots (or stout leather ankle boots when the ground is dry, early-season), long woollen socks with garters to keep them up, tweed or moleskin plus-twos (moleskin chinos tucked into your wellies are acceptable if you prefer). In reasonably dry conditions' a cord or cotton shirt, woollen tie (or flannel wind-stopper) and woollen sweater form the mid layers and a fleece gilet is a popular modern option as a top layer, providing some rain and wind-proofing without encumbering the arms and restricting that all-important swing.
Those preferring to avoid the formality of a tie may consider a roll-neck sweater, cravat or snood to protect the neck from falling debris, insects or the elements. a wide-brim felt hat keeps the rain off but in windy weather a flat cap is less likely to be blown from your head.
Muted colours are safest; greens, browns, dark reds, mustard etc and remember to pack a light top coat that will shield you and all your under-layers from a heavy shower or storm, should the need arise. On very cold days, a traditional tweed covert coat over a chunky woollen jumper, with a silk scarf to keep the water from going down your neck is a good staple.
A cartridge belt comes into its own when you may have to walk and shoot. It sits tight without swinging around, carries twenty-five cartridges and is easy to load from 'on-the-hoof'. Keep a cartridge bag in your vehicle and re-load from that but it won't be your friend on a long walk! Another advantage of a belt is that it is impossible to load a wrong-size cartridge from one. If you are a person who uses both 20-bore and 12-bore guns, this safety reassurance is not academic.
We suggest:
Rannoch Tweed Breeks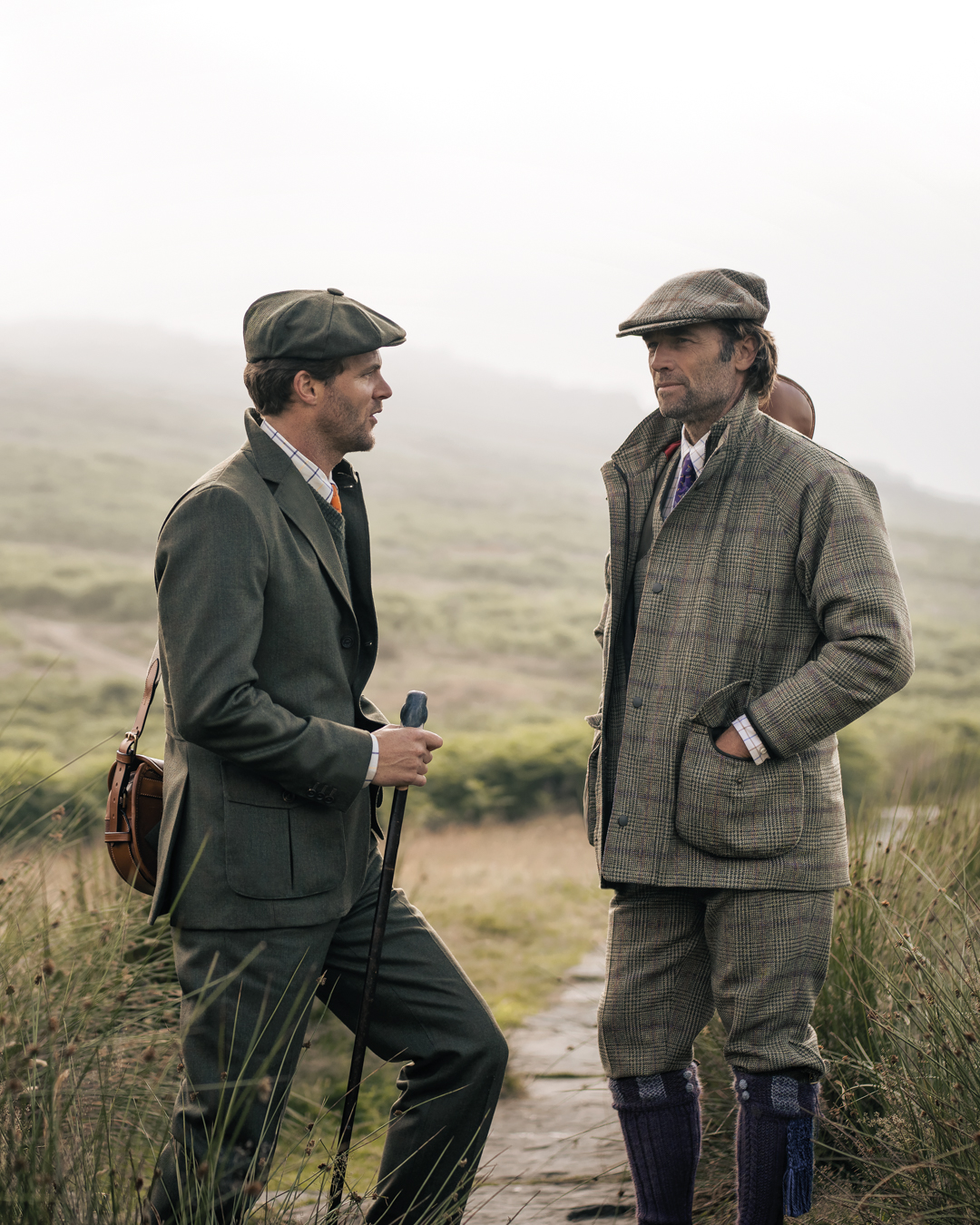 The Sporting 'Gun'.
A 'shooter' on a formal driven shoot is referred to as a 'Gun'. There will be Guns, beaters and pickers-up present on the day and all will be attired differently. As a Gun you will enjoy a leisurely day chatting and perhaps smoking a cigar between drives, indulging in the odd slug of slow gin and a piece of pork pie at elevenses and probably a decent meal in quite lavish surroundings. That said, you need to look presentable, but be able to shoot with ease, and stay protected from the British weather.
On many formal shoots today, the Guns will largely be dressed as they were a century, or more, ago. The basic look is easy: a tweed shooting suit, cotton shirt, tie of wool or rough silk, long stockings with garters, leather boots or wellingtons, a v-neck sweater or waistcoat and a flat cap. However, the gamekeepers will also be wearing matching tweed suits and some small additions to your outfit will make sure you are not mistaken for a 'keeper.
Your tweed does not need to be new and it does not even need to match! Many a seasoned old-hand will turn up in mis-matched tweeds of varying vintage, looking as chic as he does slightly shabby. The beauty of quality tweed is that it ages with you and should last decades, perhaps dropping down the order from 'best' shoot to 'wet day' to 'rough shoot' as it gains a few tears and frayed edges. A good cut and decent cloth shows its class long after the mud and dog hair has softened the sharpness of a new suit.
For warmer days, a modern take on the tweed jacket is the shooting waistcoat, providing a more formal alternative bridging the gap between jacket and gilet.
Add some colour. You are standing in a field shooting driven birds, not creeping up on a wild animal, so flamboyance is not a handicap, though avoid white or bright shirts and polos - they act as flag when you move your arms and may push your birds over your neighbour, for which he may be grateful, but it won't improve your day.
Loud checks are fun, but know your limits. A flash of red or yellow will lift the outfit: perhaps on a scarf, tie or cravat. Extravagant stockings can lift an outfit, some would say, the louder the better! A trilby makes a change from a flat cap and a good pair of leather boots are a must-either for day-wear in dry conditions or to change into for lunch; and make sure they are clean at the start of the day. That goes for your wellies too.
You'll need a cartridge bag, probably two. A one-hundred size is good for a big drive but equally useful as a stash from which you can fill a smaller bag on shoots where the birds are less prolific. On really big days, a cartridge magazine is ideal.  Loading on the peg is easy if you have a 'stuffer' to do it for you but if not, you will need to decide whether to load from you bag, your pockets or your belt. The advantage of a belt is that it presents cartridges the right way up and you can load without changing position or looking down. Pockets un-balance you if they are full of cartridges, however, this is a personal choice and everyone will do what suits them.
If you shoot a side-by side, a leather shooting glove on your front hand is essential to stop discomfort from hot barrels interfering with your sport. The other hand is optional; you either like shooting with a glove or you don't. Some have an exposed trigger-finger, which helps with precision.
We suggest:
Alpaca & Merino Shooting Socks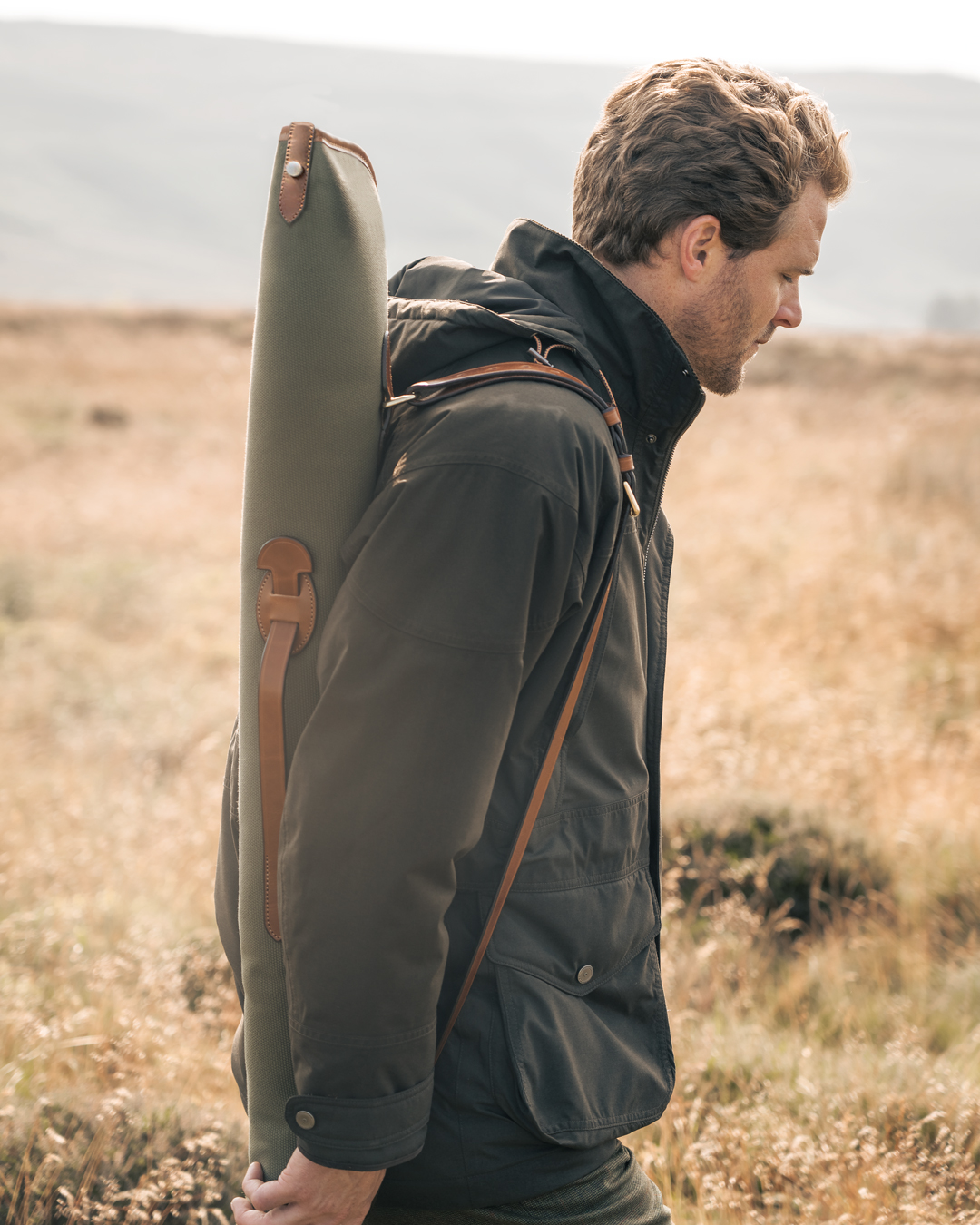 Blurring the Boundaries
So much for traditional style, today, many younger Guns are easing the level or formality and embracing modern materials.'Technical fabrics' are the watch-word. Technology has bred lightweight, waterproof, wind-proof materials and these have invaded shooting as they have mountaineering, skiing and yachting.
A technical fleece or smart jumper under a quality gilet, teamed with a pair of moleskin or twill chinos with wellies and a hat will work for most people, though an open-neck shirt may still raise comments. You need to look like you made some effort; it is seen as respectful to the quarry and the occasion to do so. If in doubt, dress up rather than down. Prince Harry might get away with what you can't.
Among friends, humour, banter and occasion can throw all the rules out of the window. I remember boxing-day pictures from a friend's son; with him and his university pals all looking very cheerful, on the peg, in animal onesies. I wouldn't try it as an invited Gun at Belvoir Castle!
We suggest: