These venerable old tomes, containing gems of information, still sit on the shelves and delight new owners of vintage Westley Richards guns who are able to delve in and discover for whom their gun was made, when, and what its original specifications were.
Casual reference to these ledgers informs the reader that during the period between 1875 and 1939 the vast majority of our shotgun output was mostly of a similar type:
That being a double game gun, built around either an Anson & Deeley patent fixed lock (from 1875) or a Taylor patent 'drop-lock' action (from 1897). Most of these guns had scroll engraving, perhaps a 'fancy back' (a bow-shaped filing of the back of the boxlock action, where it joins the head of the stock), two triggers and a straight-hand stock.
The locking mechanism was our in-house speciality of a bolted top-lever with rib extension (known as the 'doll's head) and (from the 1880s) an additional double Purdey under-bolt.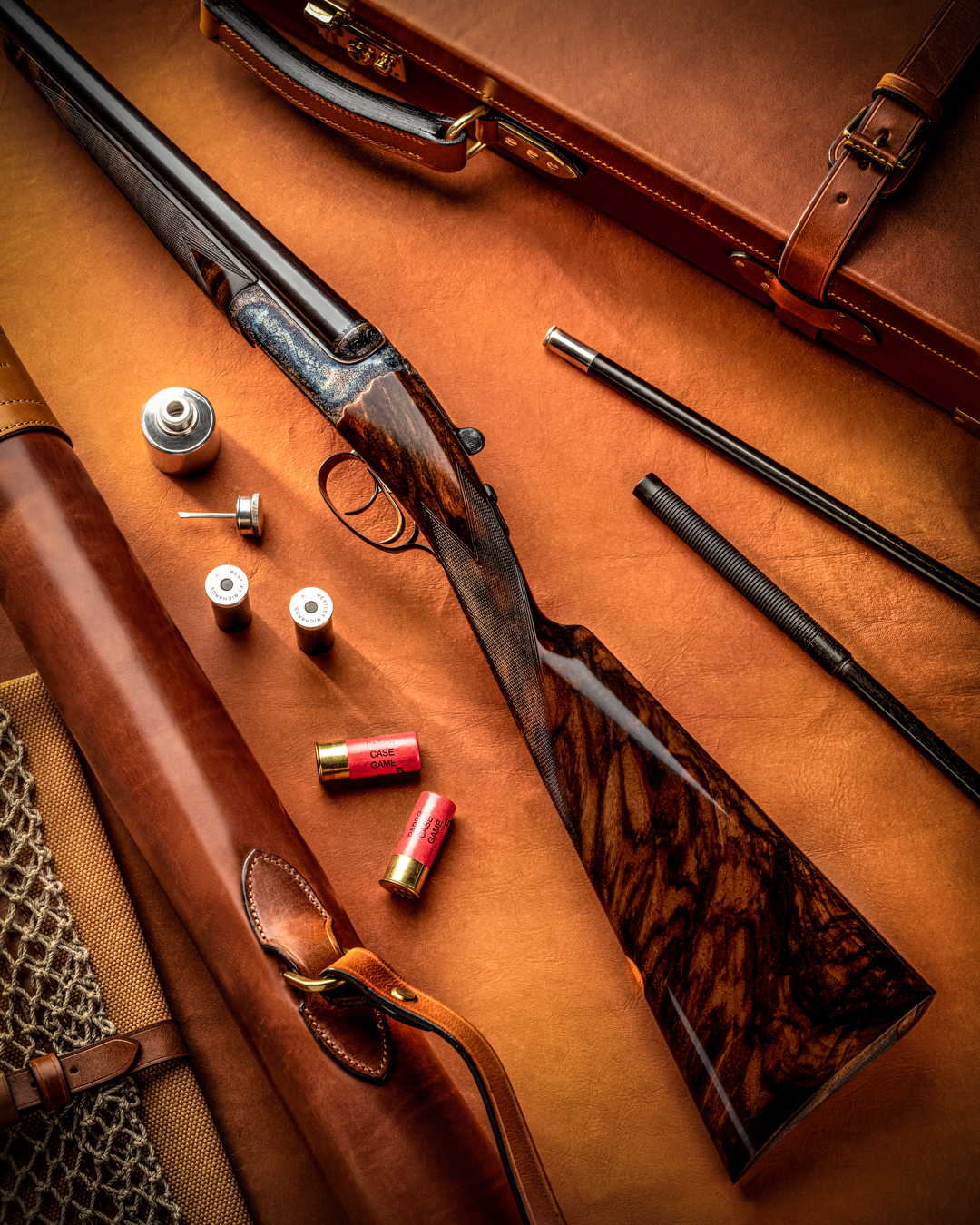 Certainly, there were different grades and models around this theme but the basic outline and format of a Westley Richards shotgun was immediately recognisable.
This then, became the classic Westley Richards game gun during the heyday of driven shooting. Today, we still take orders from shooting men for whom this typifies the best of British game guns. The proven mechanisms, beautiful build-quality and proven handling characteristics still tick all the boxes.
The gun photographed here is a 12-bore finished in October 2021 but, apart from the obviously new finish, it would not look out of place in a display of pre-war guns. Sometimes tried-and-tested is what the customer wants and 'traditional' is as good now as it was then.
We begin with the barrels, which are of chopper-lump construction, 29" long and chambered for 2 3/4" (now stamped 70mm) cases. The rib is a traditional concave game profile and chokes are fixed. Tubes are beautifully struck, to optimise the lively handling for which our guns are justly famed, they are then polished and blacked to perfection.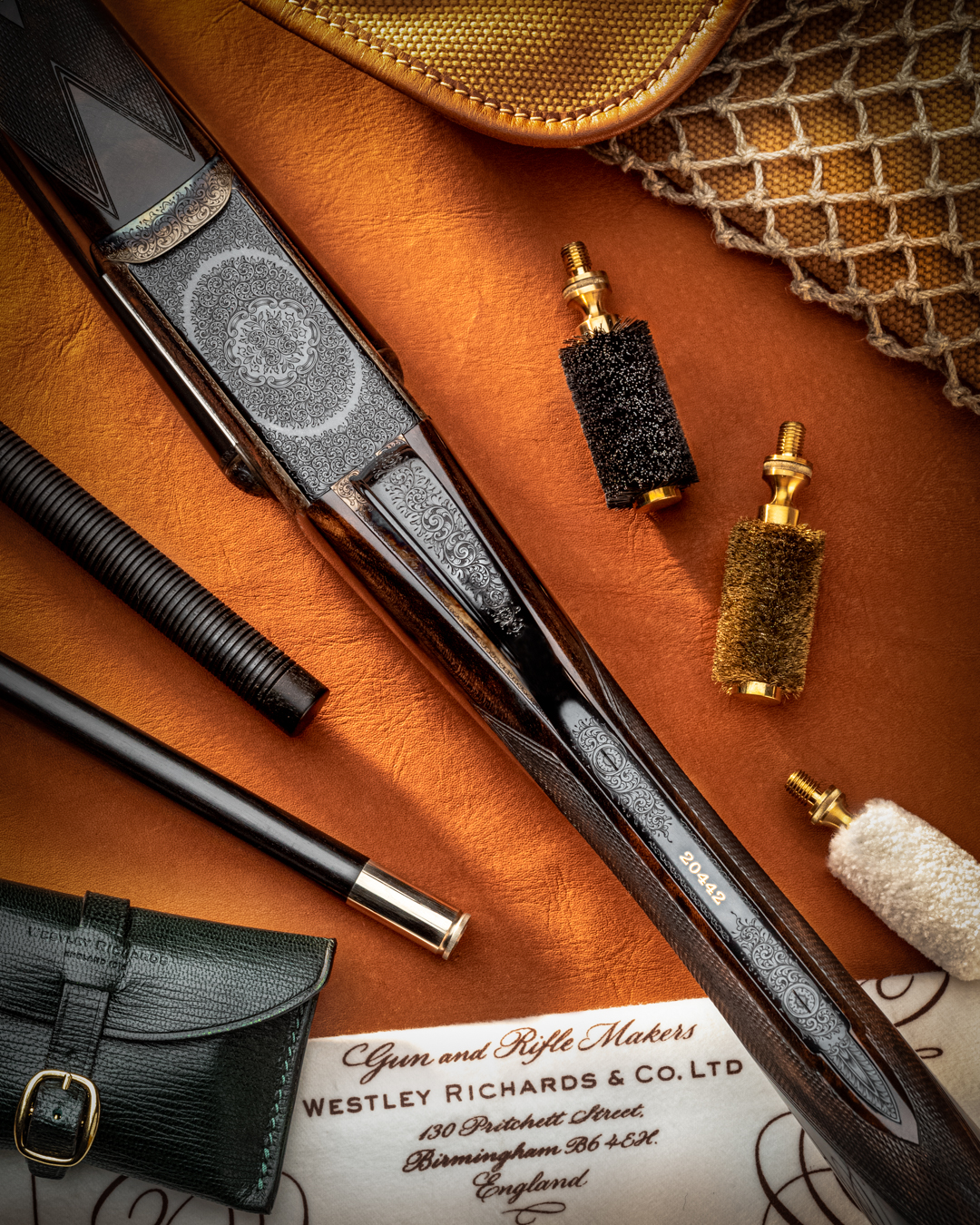 The locks are hand-detachable and the overall look of the gun, including the engraving pattern is that of the 'highest quality' model we sold in our 1903 catalogue at a cost of 60 guineas. Back then, we told our customers of the advantages of the (then novel) hand-detachable lock system, namely:
1. Easy detachment of the locks by hand.
2. Each lock can be detached separately without interfering with the other lock.
3. Extreme simplicity and great strength of mechanism which is not liable to get out of order.
4. Finely adjusted, smooth and reliable pull-off.
5. No pin-holes at side, which permits of a more artistic finish.
These points are as true now as they were when Edward VII sat on the (creaking) throne.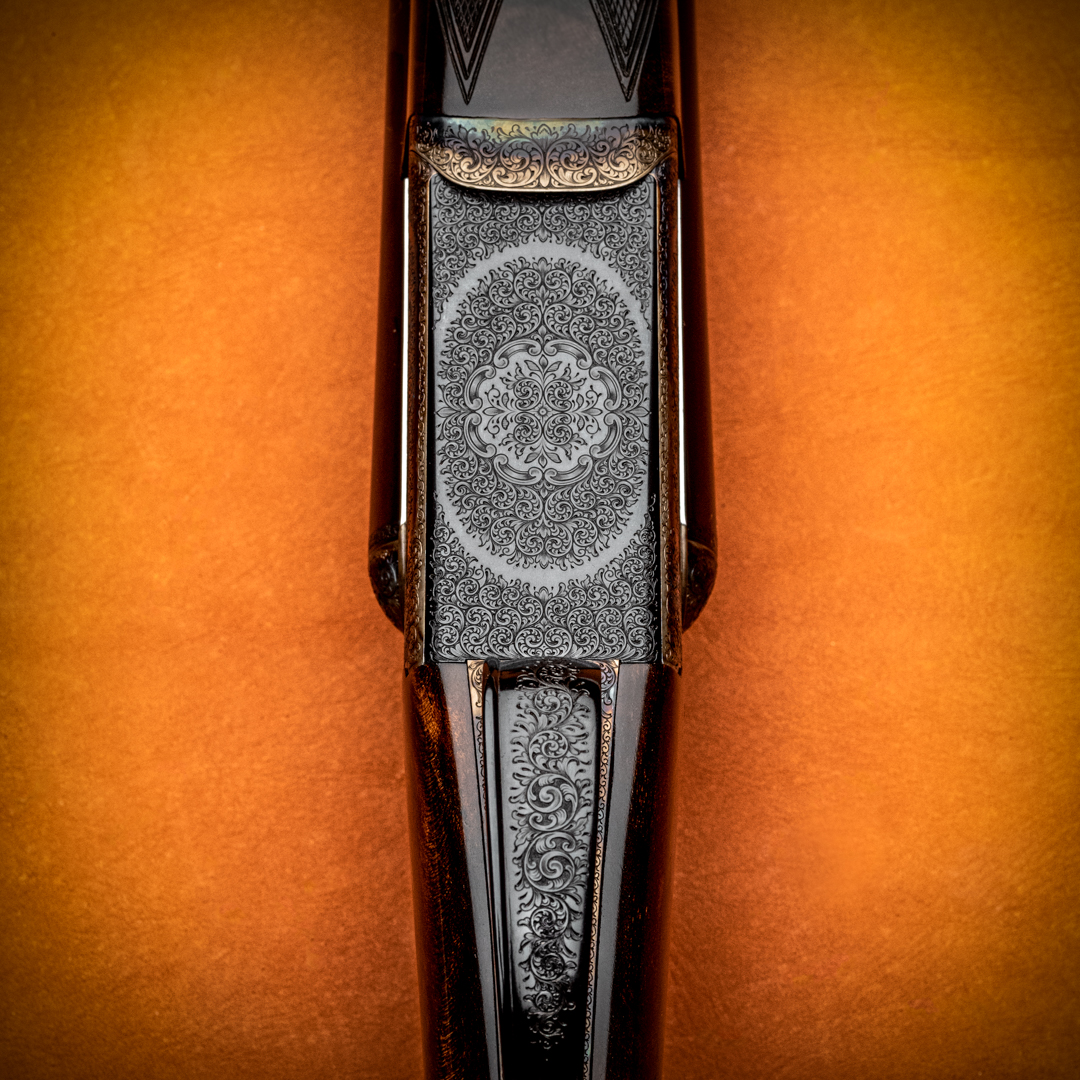 When 'traditional' is the order of the day, the stand-out feature of a gun like this is the execution. It must bear close inspection in every respect to lift it from the ordinary.
Two triggers give instant barrel selection and are utterly reliable, but inspect these triggers and you will see subtle jewelling as they disappear into the trigger plate, while the trigger blades themselves are case hardened, showing a subtle straw base colour with blue flecks, contrasting nicely with the deep, glossy blue-black of the single rolled-edge guard (two rolled edges are redundant, as the trigger-finger only ever comes into contact with the leading edge). The serial number stands proud in gold; partnering the matching gold oval engraved with the customer's initials, and the word 'SAFE' in the top strap.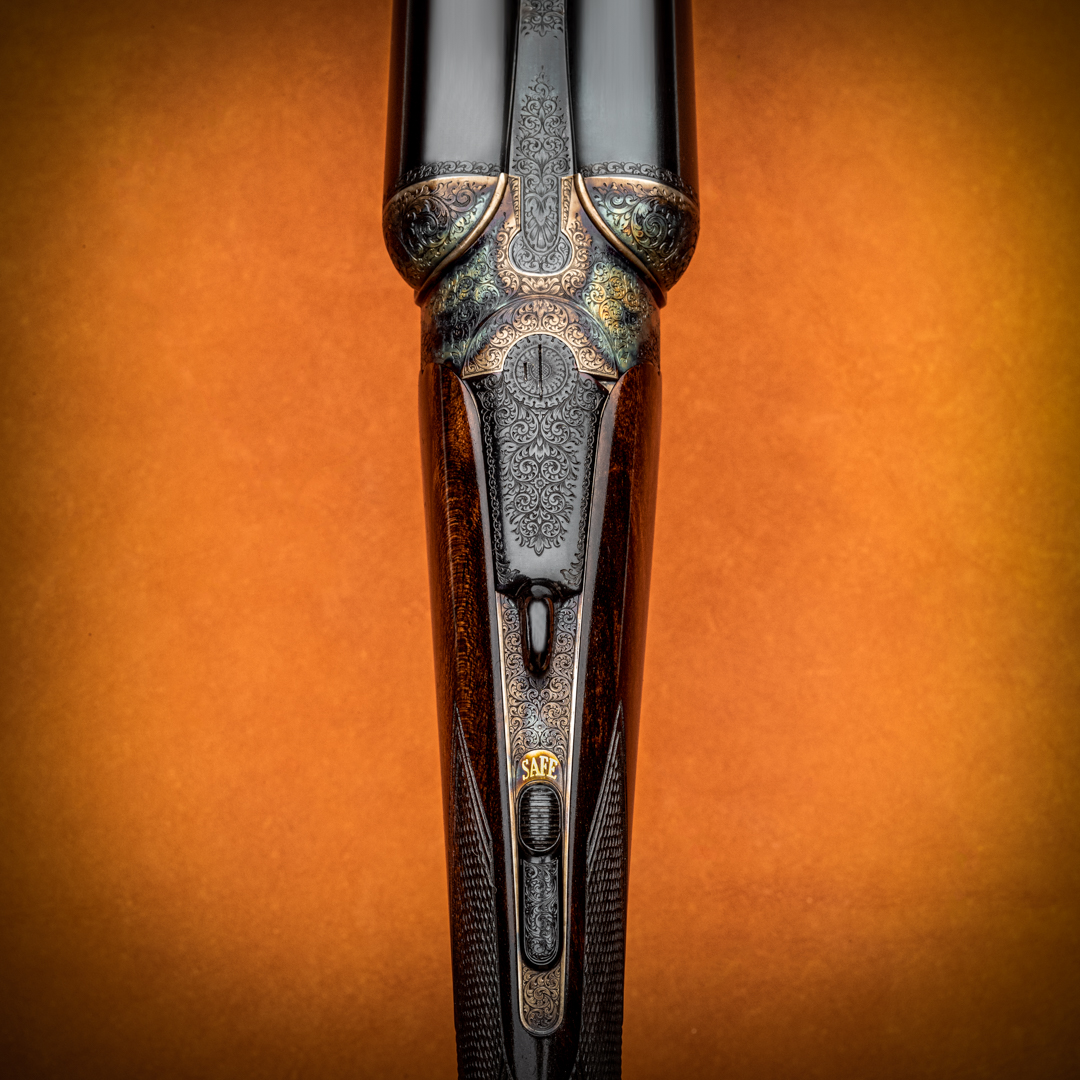 While the twentieth century often saw gunmakers leaning towards bolder scroll engraving styles, more traditional small, tight scrolls were always a popular option on Westley Richards guns.
The style has been carried over to this gun; decoration consisting of a scroll banner with 'Westley Richards' script on each side of the action and tight scrolls filling-in the rest of the space. It is a simple pattern but much loved.
The bottom plate has a central scroll motif on a flower patterns, with outer circles of scrolls. Similar detailing carries over to the forend iron and forend catch.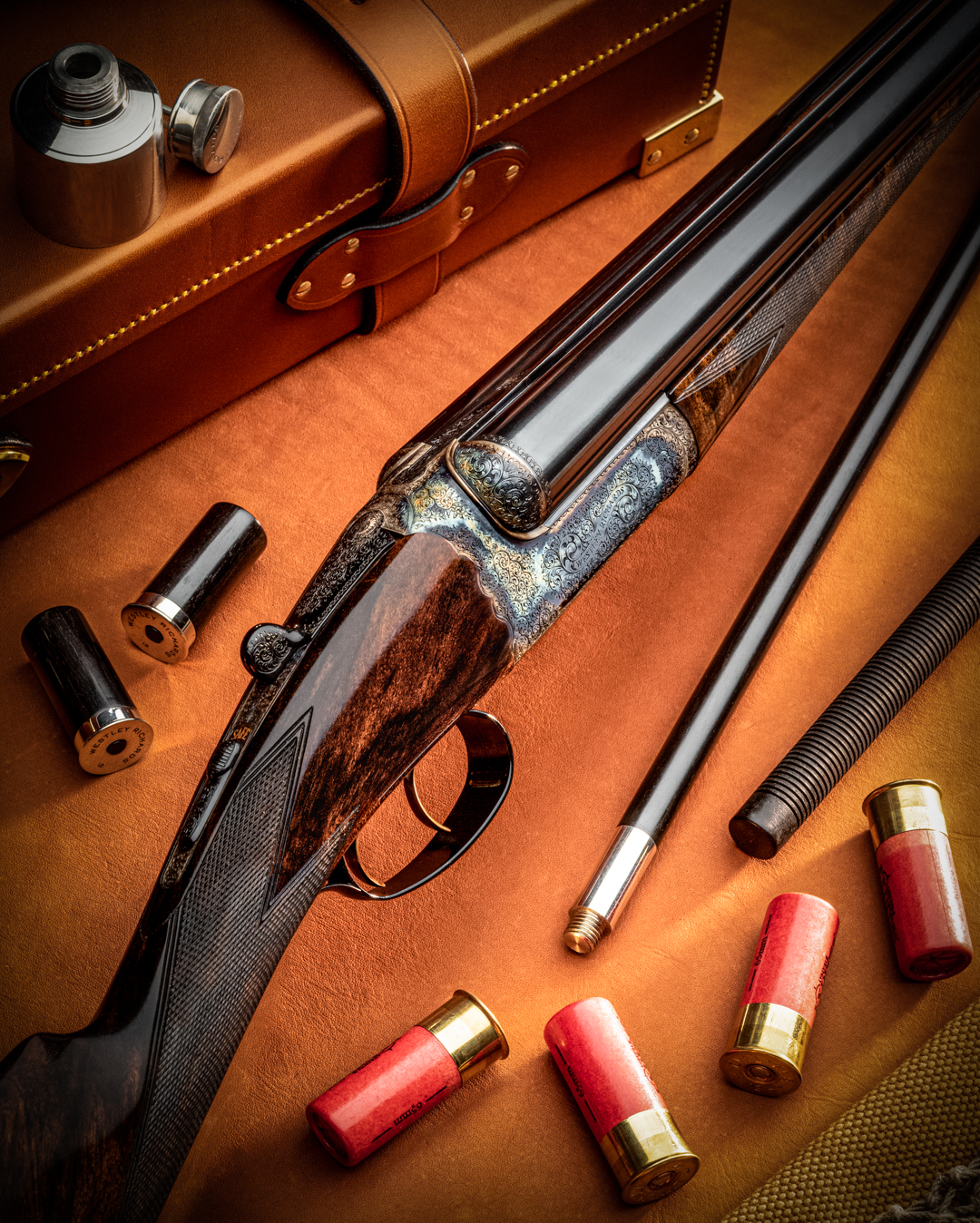 The walnut selected is a deep, dark, Turkish wood, with plenty of depth and a little tiger-stripe lifting the forend. It is hand-chequered to perfection with a sensible medium diamond pattern.
The action is colour case hardened by St. Ledger in the manner long favoured before cyanide hardening became fashionable. Over the years, as the hardening colours wear, the engraving pattern will gradually emerge; the gun subtly changing hue as life is lived.
As we know, a gun only looks new once. The beauty of a traditionally crafted and finished model like this is that every day adds character and personality; changing but not diminishing the look of what becomes an old favourite.
If cared for and used as intended, we know what this gun will look like a hundred years from now. It will look lovely. It will also perform as well then as it does now.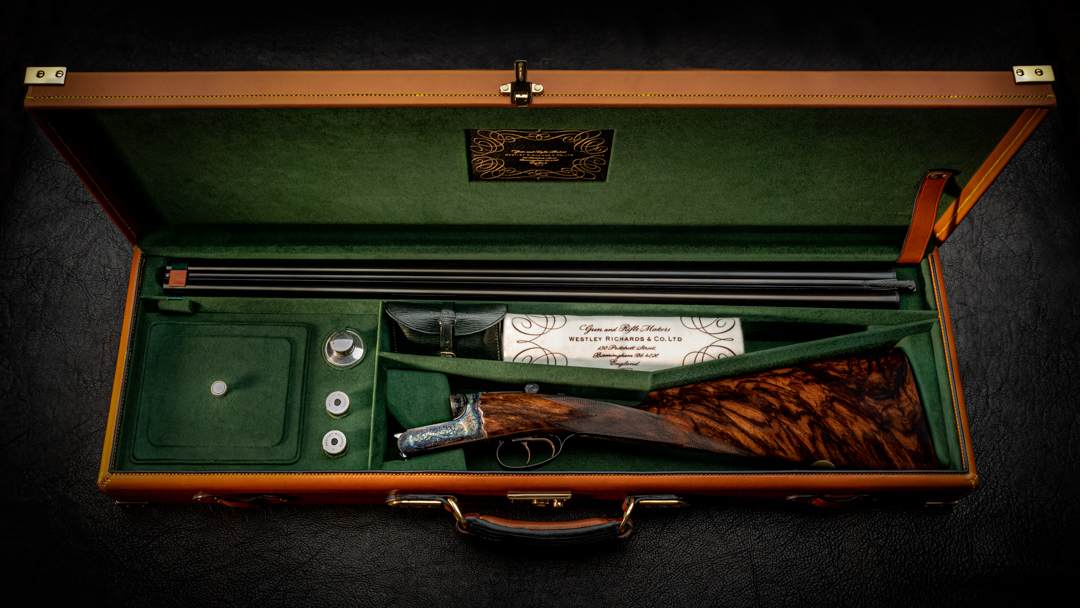 Number 20442 may be unremarkable in a cabinet of special order and exhibition grade guns but this is what our trade and our sport hinges upon: the best guns for the best sport, for another century.
We introduced this model well over a century ago, claiming it represented 'Strength, beauty of proportion and perfect balance.' We stand by those claims today and we don't think anyone makes a better game gun for the money.