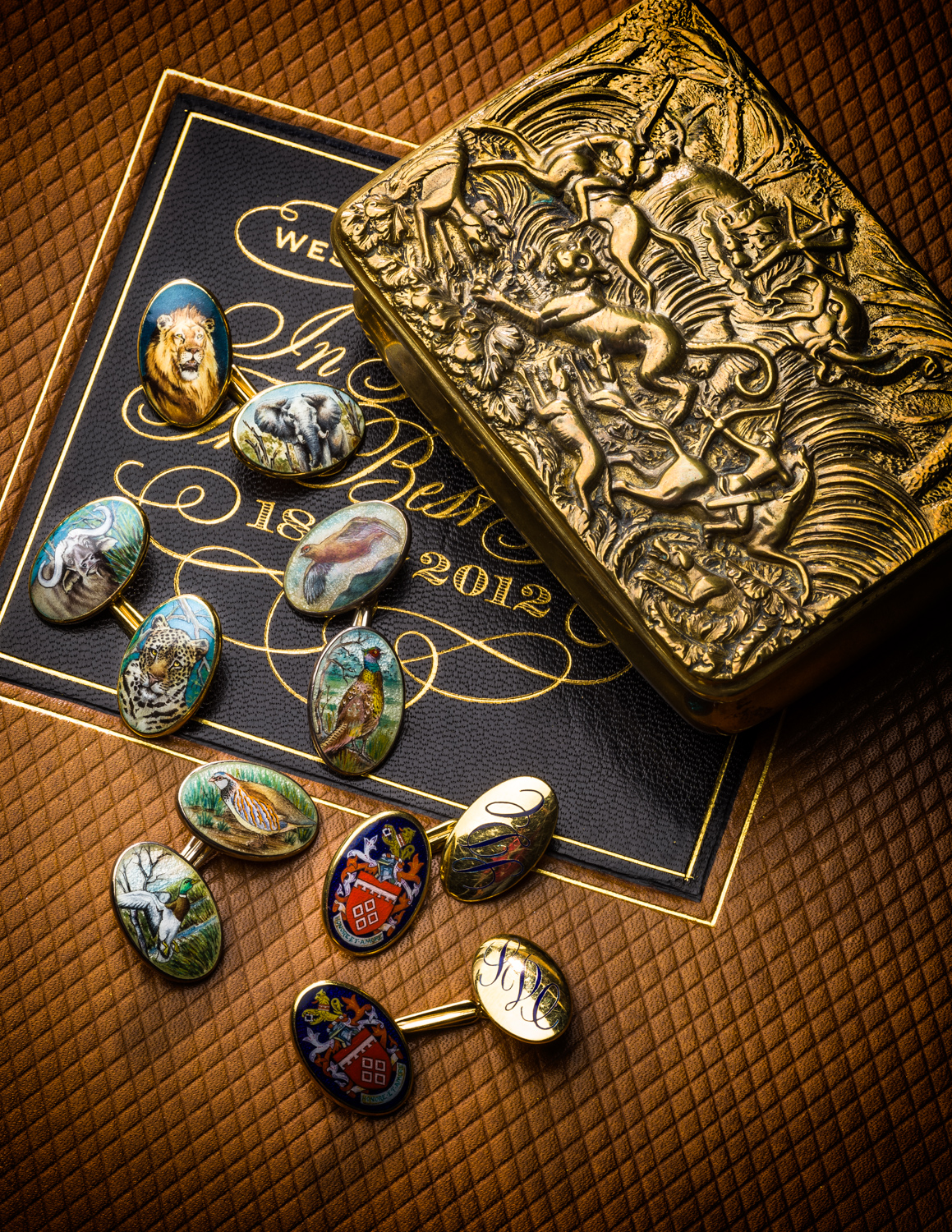 Inspiration can come from a simple old cufflink box.
A: Neil, thank you for your comment on the previous post on the Africa rifle where I said I needed more space to answer and be able to take some credit for the most difficult element, blow my own trumpet for once! I will try and justify that claim!
There were 30 or so individual craftsmen involved with completing this project over a period of 7 or more years, they were separated by the Atlantic, with gunmaking in England and embellishment in USA. Each and every craftsman, as you rightly said could claim 'their part' was the most difficult and certainly they could claim that without their individual skills, the project would never have come to completion.
My claim would be that the hardest part is first having the idea or concept for the project and then bringing all these talented people together, over a period of years, to see the idea through and the projects execution.

The starting point for the Africa & India rifles was the gunmaking and in this instance the inspiration came from a Webley & Scott .600 sidelock rifle I bought, and then sold on the used gun side of our business. It was for me the perfect .600, it had both the scale and perfect dimensions for a rifle of this size, one which I often see too small and light when made in sidelock format. The Rodda .600's were always a perfect size and I am sure based on this same design. We copied the dimensions of this rifle, incorporated the Model C bolting and dolls head and built the 2 rifles. It was a completely new calibre model rifle for us and in itself, a large project of design through delivery. We were of course in familiar gunmaking territory but the execution relied on the whole of our gunmaking team getting their part correct and perfect.  People do not realise today how few double rifles of exceptional quality are actually built and that putting a whole project like this together takes more than just idle promises and talk!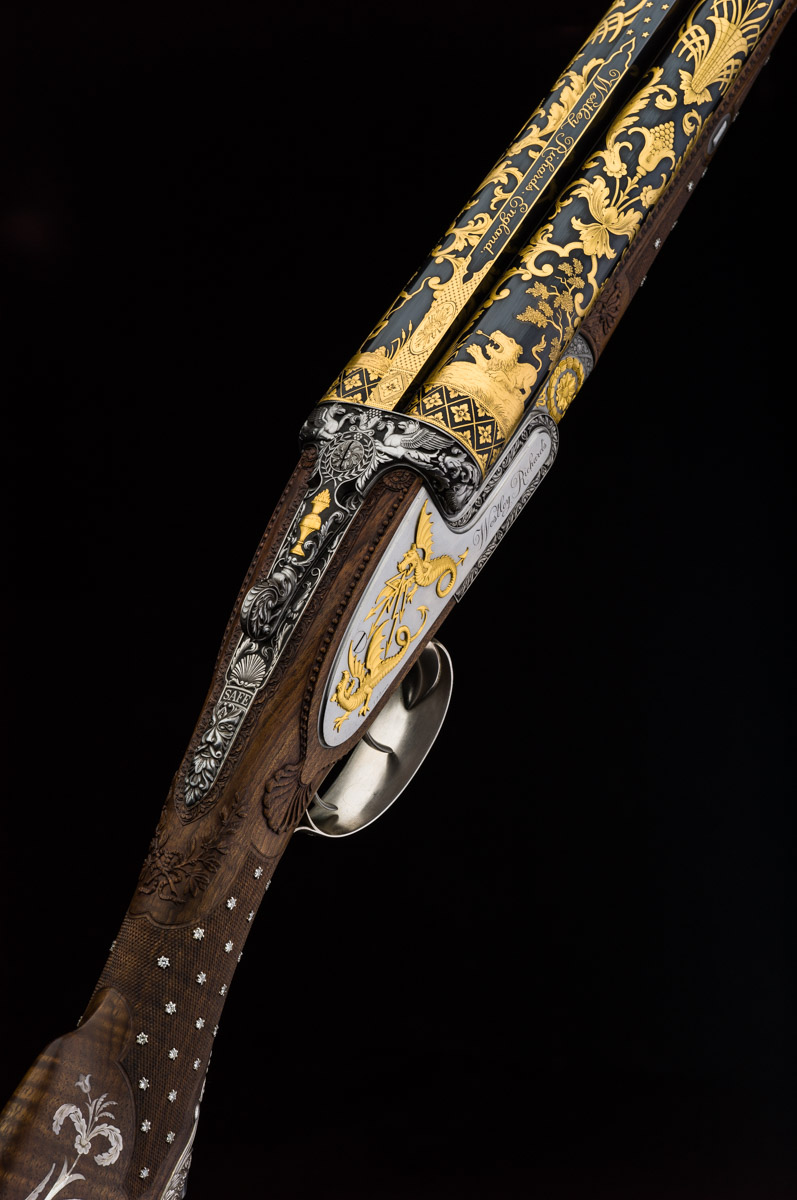 The engraving aspect of the Africa and India rifle project started with a desire of mine to 'trump' my fathers project of the 'Boutet Gun' engraved by the Brown Brothers, which was completed as a speculative gun in 1985. This gun remains the single longest project executed by the Browns and I recall they took a year or more to engrave and embellish the gun. I certainly remember my father sweating to get it back, to be able to sell it and recoup his costs, an expense I am sure he could ill afford at the time. Efforts to get them to do another similar length project 30 years later fell on deaf ears, a shame, but understandable, their place in gun engraving history required no further justification....'at that time' I will add as I believe gun engraving is getting better and better by the year and believe that the 'King or Queen' of the modern era of gun engraving is yet to be crowned, on that point I am sure.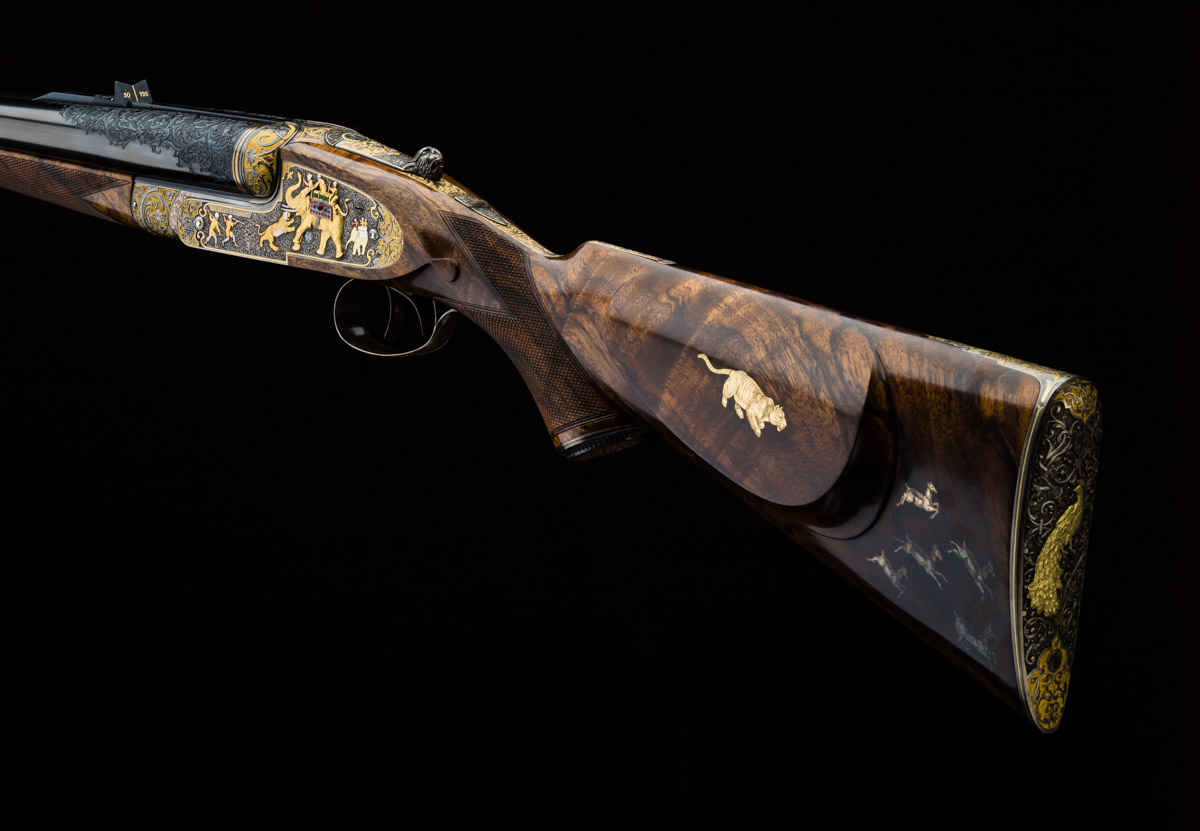 There is some amazing new engraving talent to draw upon now, engravers who just need the commissions and time to show what can be done. Exceptional engraving takes time and money, realistically very few engravers are ever given this time in their careers. The 'heroes' of the '80s, Ken Hunt, Brown Bros, Coggan have had most of the modern money thrown at them by the recent (1990-2015) period collectors and much of this work remains unseen. I have seen a lot if it and feel much is repetitive and indifferent, engraved for a very small group of clients who led their own design.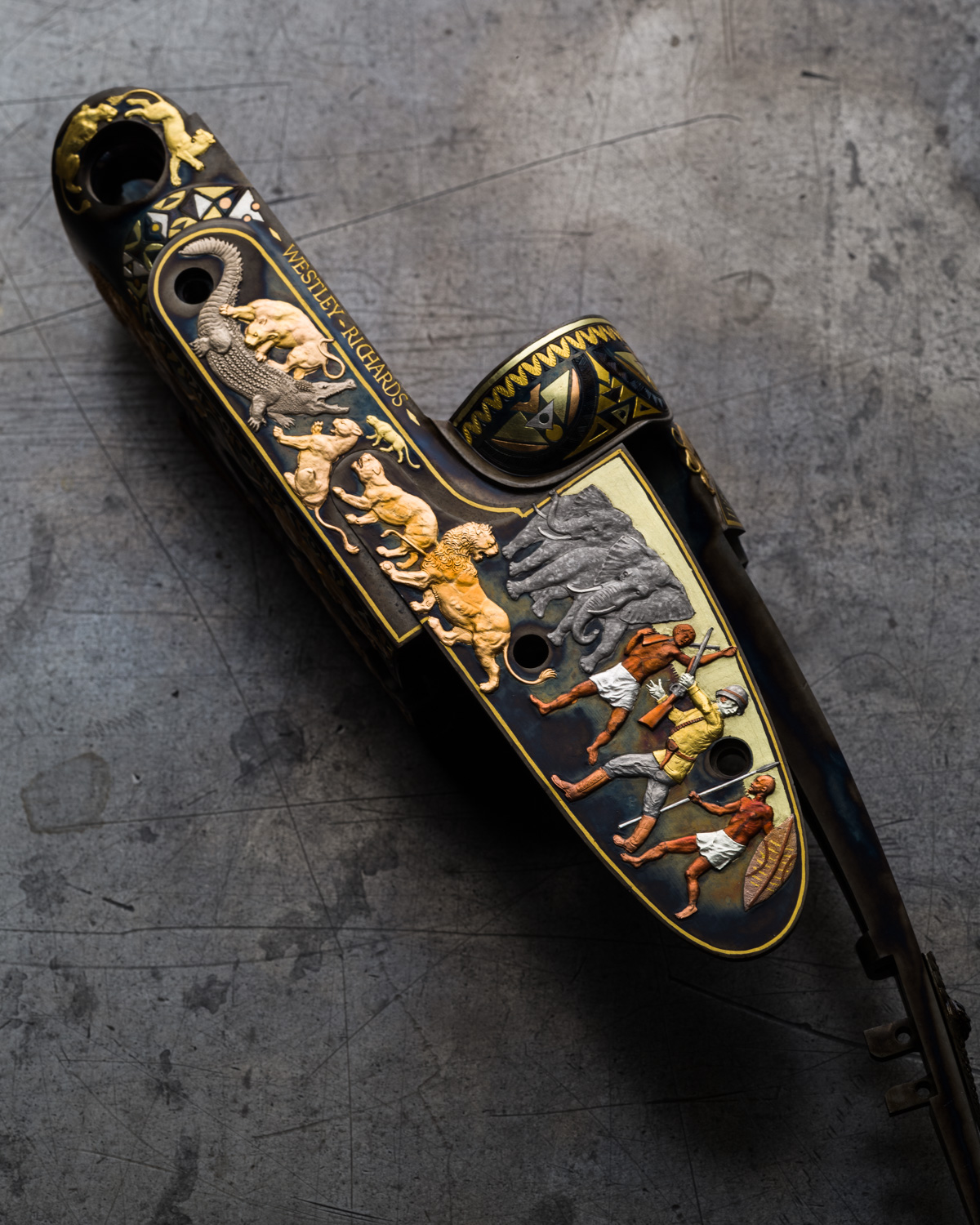 Paul Lantuch is one such engraver, immensely talented with classical drawing, engraving and jewellery making skills to his credit. I had offered the India project to Rashid Hadi and Vince Crowley and they came to me with a huge budget and no design.  I declined and offered the commission to Paul by telephone 10 minutes later accompanied by an email folder of images I had selected for the design style, he accepted in principle and sent me an email the next day "am in the Metropolitan Museum of Art in New York researching India project, designs to follow shortly". I knew at that point I had made a very good decision and one that has led to many fine guns in the years since and I hope to come!
Personally, I am very passionate about gun engraving, it can either ruin or enhance our guns, I have experienced both shock and surprise on a guns returning from engraving in the past and now firmly control that emotion with discussions and drawings during the process with the engravers.
I have always liked having large, long engraving projects running, Rashid Hadi, Peter Spode and Vince Crowley are amongst the engravers who have done many major carved and elaborate works for Westley Richards. I enjoy giving opportunity to new talent and in this  I have been fortunate in having the patrons to support this desire over my years here, patrons who have allowed me the freedom to work directly with the engravers, which is important.
On the whole I believe as owners or managers of the company we have a wider knowledge of firstly what 'has and what has not been done' but more importantly, what works on our individual style guns and I think it is almost a duty to show off on our guns what can be achieved at any one time.
Thus Neil in this instance I will take the credit for the hardest part, making it actually happen!!