The rifle was originally completed by Westley Richards & Co. around 1988. Based on a standard length Mauser action, the rifle was chambered in the venerable U.S. cartridge, .338 Winchester Magnum.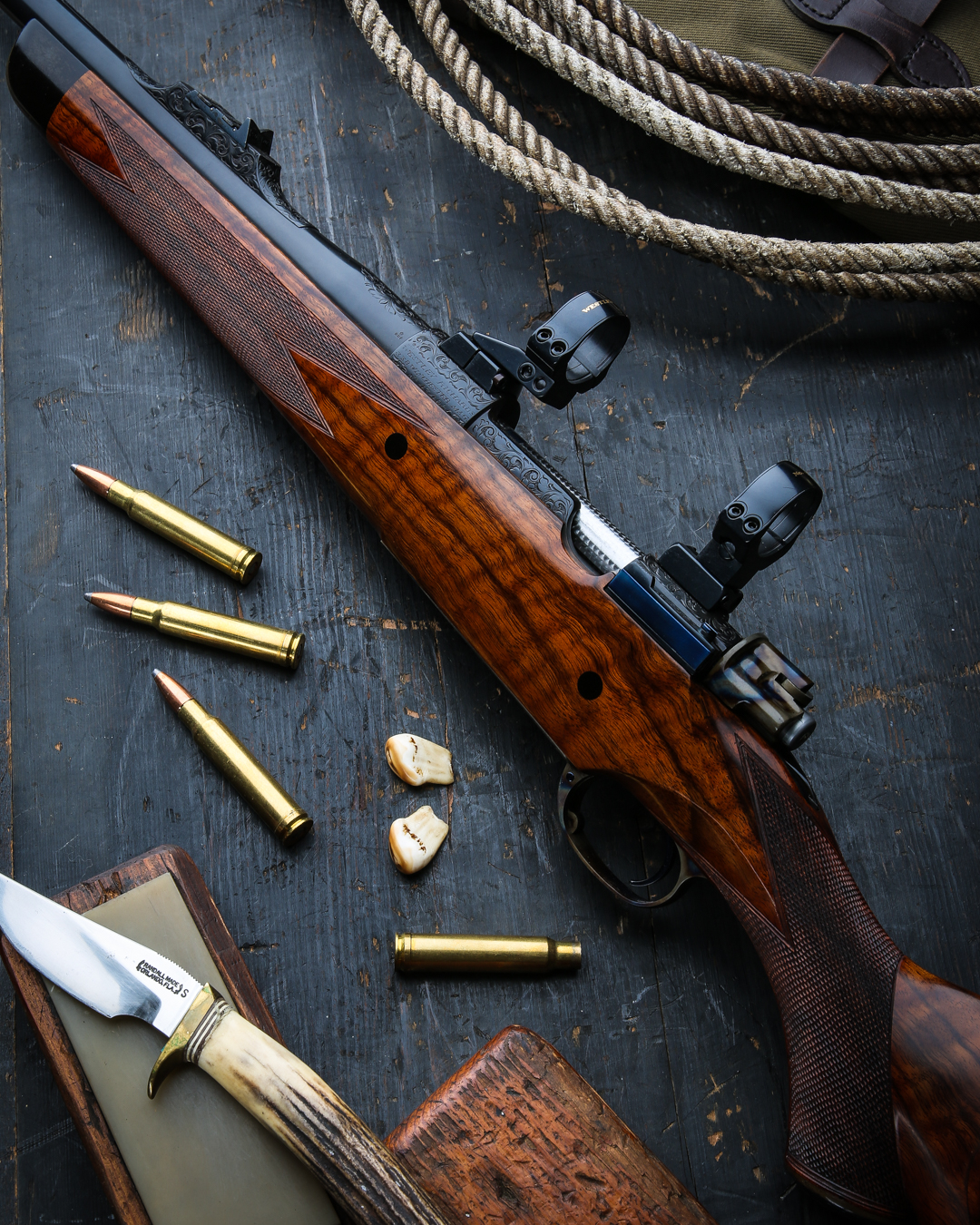 According to Roger Rule's book, The Rifleman's Rifle, the .338 Win. Mag. was first featured in Winchester Repeating Arms Co.'s 1960 catalog as the Model 70 Alaskan, along with the Model 70 Westerner chambered in .264 Winchester Magnum to join the previously released Model 70 African Rifle Super Grade chambered in .458 Winchester Magnum.  This family of cartridges is based on a .375 H&H Belted Magnum case shortened to 2.5" to fit in Winchester's Model 70 action. Medium-bore, .33" caliber rifle cartridges were quite popular in both England and Europe for the first half of the twentieth century with a loyal, but small following in the U.S. Suitable for the largest, most dangerous game on the North American continent, Winchester's .338 made the .33" caliber mainstream in the American hunting market. Propelling a 250gr bullet at 2,650 fps and generating almost 4,000 ft-lbs of muzzle energy, it remains America's most popular .33" caliber cartridge.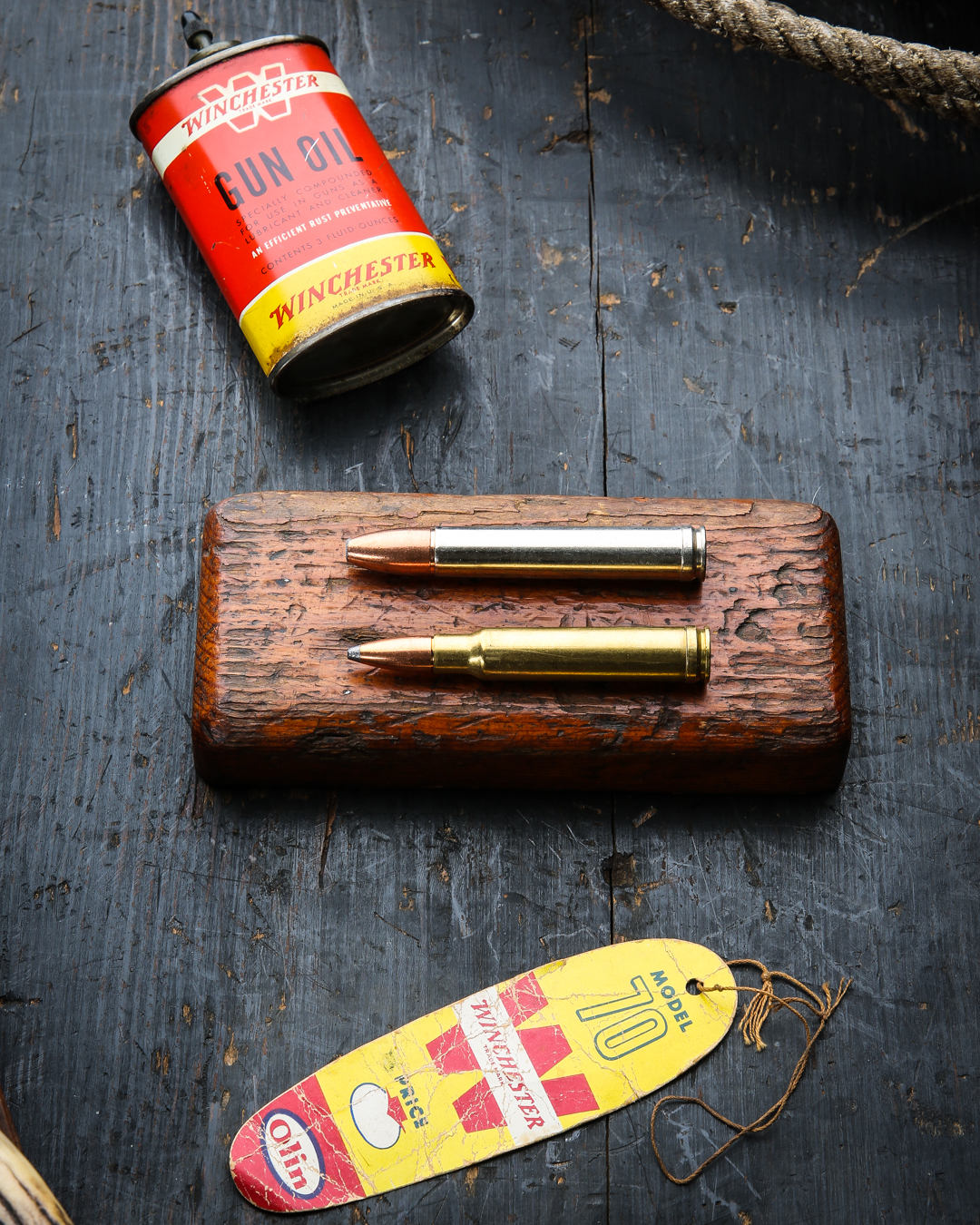 As the popularity of the Winchester magnum cartridges grew worldwide, coupled with a decrease in availability of many of the now classic English cartridges introduced prior to WWII, English gun and rifle makers experienced an increase in demand for their rifles chambered in the relatively new American "magnums". As a result, a lot of magazine rifles produced in England and Europe in the 1970's and 80's were chambered in the .338 and .458 Winchester Magnums. The Westley Richards bolt action used for this project is an example.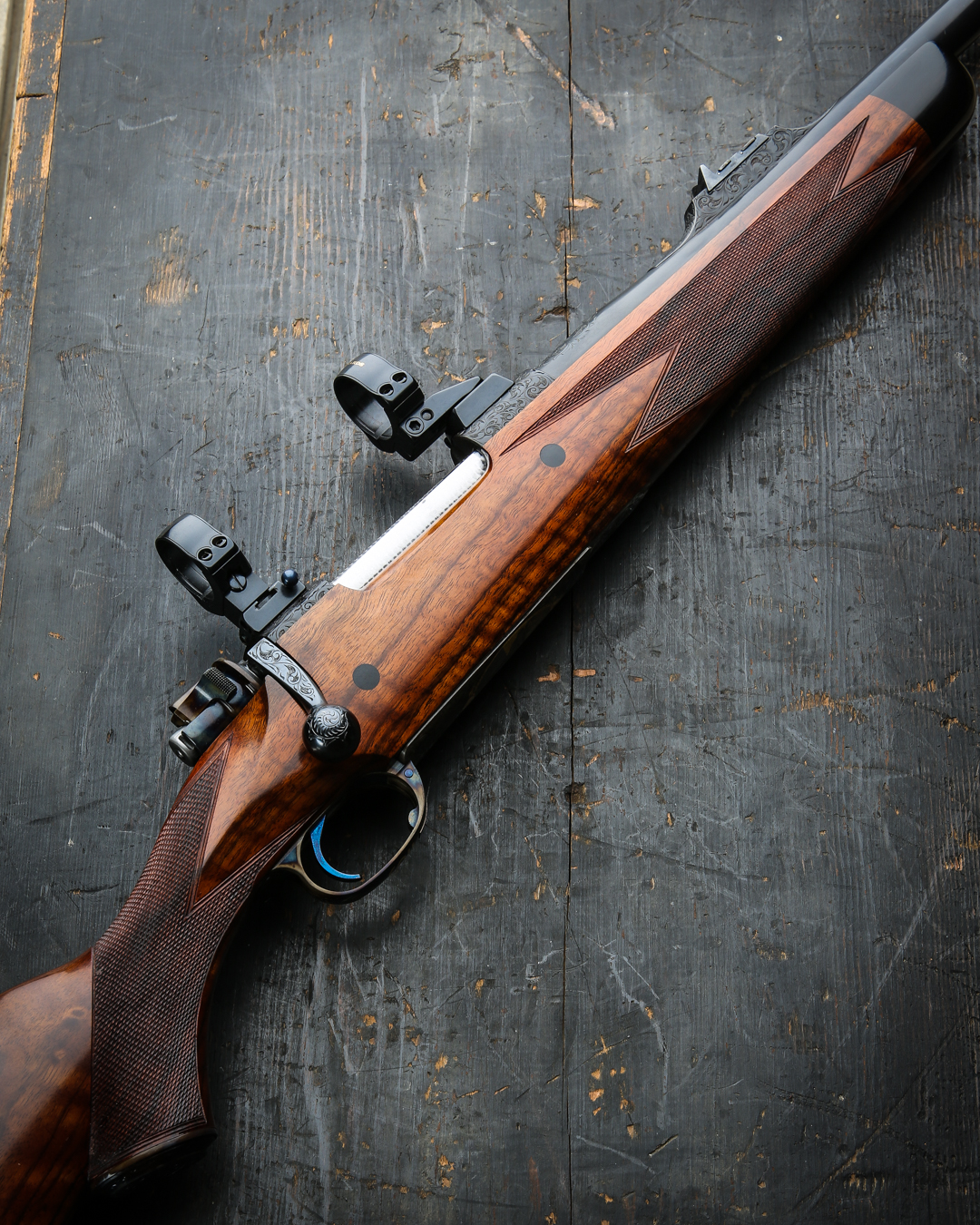 Listed as the Stalker Magazine Rifle in company literature of the same era, these rifles were made atop a Mauser action fitted with a 3-position M70 type safety, custom bottom metal, modern scope rings, a 24 1/2" barrel, island rear sight, Westley's patented combination sight and sight protector, a well figured walnut stock, and a full coverage heavy scroll engraving pattern.
The rifle used for this project was featured on the Westley Richards & Co. pre-owned gun site and was noticed by a very good customer and friend who has commissioned new rifle orders from W.R.&Co. in the past. Owning a ranch in Wyoming, the customer was an avid elk hunter and the .338 Win. Mag. is the first choice of many who pursue the massive ungulates. Not wanting to wait out the delivery time for another new rifle, the customer wondered why we couldn't use this existing Westley Richards rifle as a starting point and make some upgrades to make it more personal and in line with his tastes.
Easy day…right?
The course of action I laid out to my customer was to have a game scene featuring a bull elk done on the floor plate surrounded by a matching scroll pattern to tie the new engraving to the original engraving that we would leave on the rifle's action, barrel, and sights.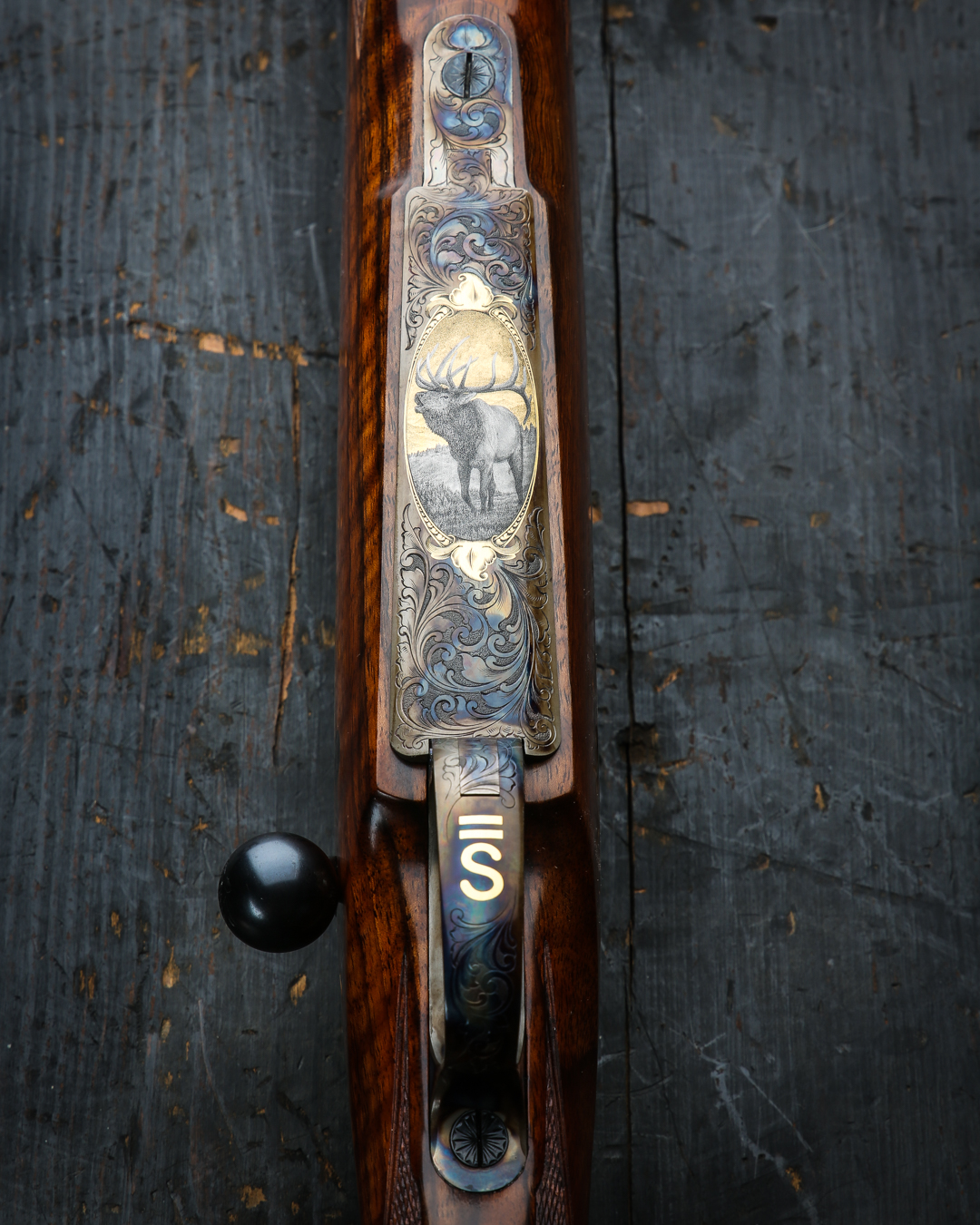 I first called on the American engraver Brian Hochstrat who resides in Idaho to help.
Brian is one of the artists featured in the book American Engravers – III Masterpieces in Metal by America's Engraving Artisans by C. Roger Bleile and edited by S.P. Fjestad where I found a short bio on him. A rodeo cowboy in California, Brian learned the craft of saddle making from a well-known California saddle maker. Looking to expand his repertoire, Brian enrolled in an engraving class in 2005 when he relocated to Idaho and quickly moved into the embellishment of custom firearms and handmade cutlery. Brian displayed his engraving work for the first time at two of the biggest events in the United States for custom guns and knives, the 2007 Firearms Engravers Guild of America/American Custom Gunmaker's Guild (FEGA/ACGG) Custom Gun Show and the 2007 BLADE show, where he received much acclaim. By 2008, Brian was a full-time engraver and has garnered many industry accolades since.
Brian is a very talented engraver who can do scroll work, complex shapes and patterns, and gold inlay and he is a master at engraving the human form as well as the large cats and birds of prey, subjects that are extremely difficult to execute, even for the most talented engravers. Luckily, Brian's schedule allowed him to fit this project in and the results speak for themself.
The new and the old
Before and after
To do new engraving on the floorplate, we simply had to have a new floorplate made. To be honest, the whole rifle needed to be tidied up if we were going to go through the trouble for new bottom metal. A prom queen wouldn't wear a new dress without having her hair and makeup done too. With that in mind, I turned to Texas Master Gunsmith, Todd Ramirez.
Todd studied gunsmithing at the Colorado School of Trades nearly 40 years ago and served many apprenticeships before gunsmithing at the Beretta Gallery in Dallas for a nine year stint. Todd eventually struck out on his own and is recognized as one of the best custom gunmakers in the United States today. Todd builds exquisite guns and rifles from scratch but also does a variety of gunsmithing from gun fitting and stock making to refinishing stocks and metal work. Todd was the perfect guy to help with this project.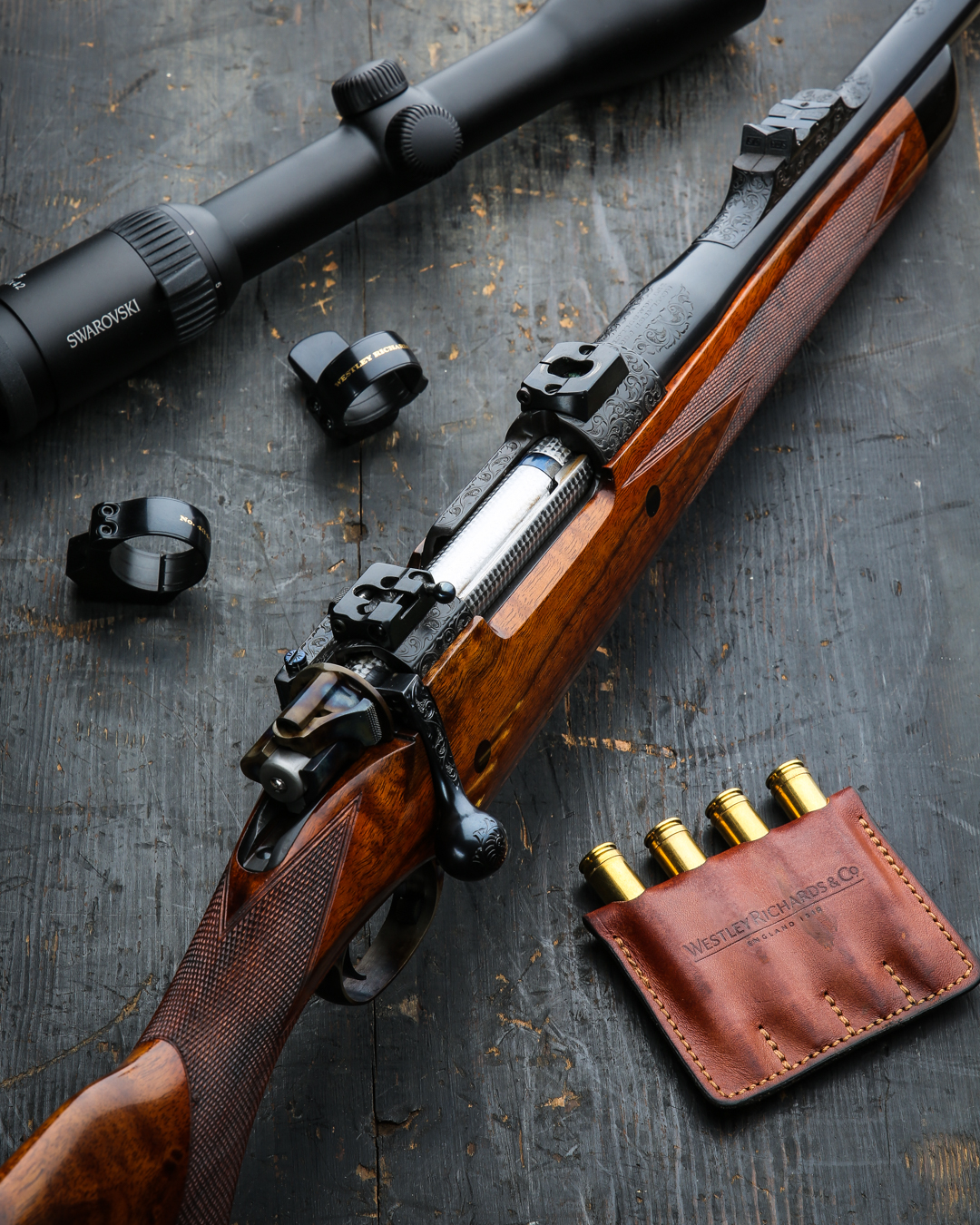 With the completion of the bottom metal, Brian engraved a highly detailed trophy sized 6x6 Rocky Mountain Elk bull bugling with a contrasting sky in inlaid gold. All framed by a fancy gold border with a bold scroll in the same style as the original engraving on the rest of the rifle. On the guard bow is the client's cattle brand, 'Two Bar S', also inlayed in gold. Finally, Brian expertly inlayed 'Westley Richards' and the rifle's serial number in gold on the scope rings.
With the engraving done, the metal parts were sent back to Todd for finishing and final assembly. A new leather covered recoil pad was added and the stock was refinished. Todd rust blued the barrel, action, 30mm scope rings and action screws and Nitre blued the trigger, bolt release, and magazine follower. He also jeweled the bolt body and color hardened the bolt shroud, safety, and bottom metal.
By all measures, this was a very nice rifle in its original form but with some tasteful upgrades and superb workmanship, this is a rifle that will not only complement an already stellar firearms collection but will be one that will certainly stand out.