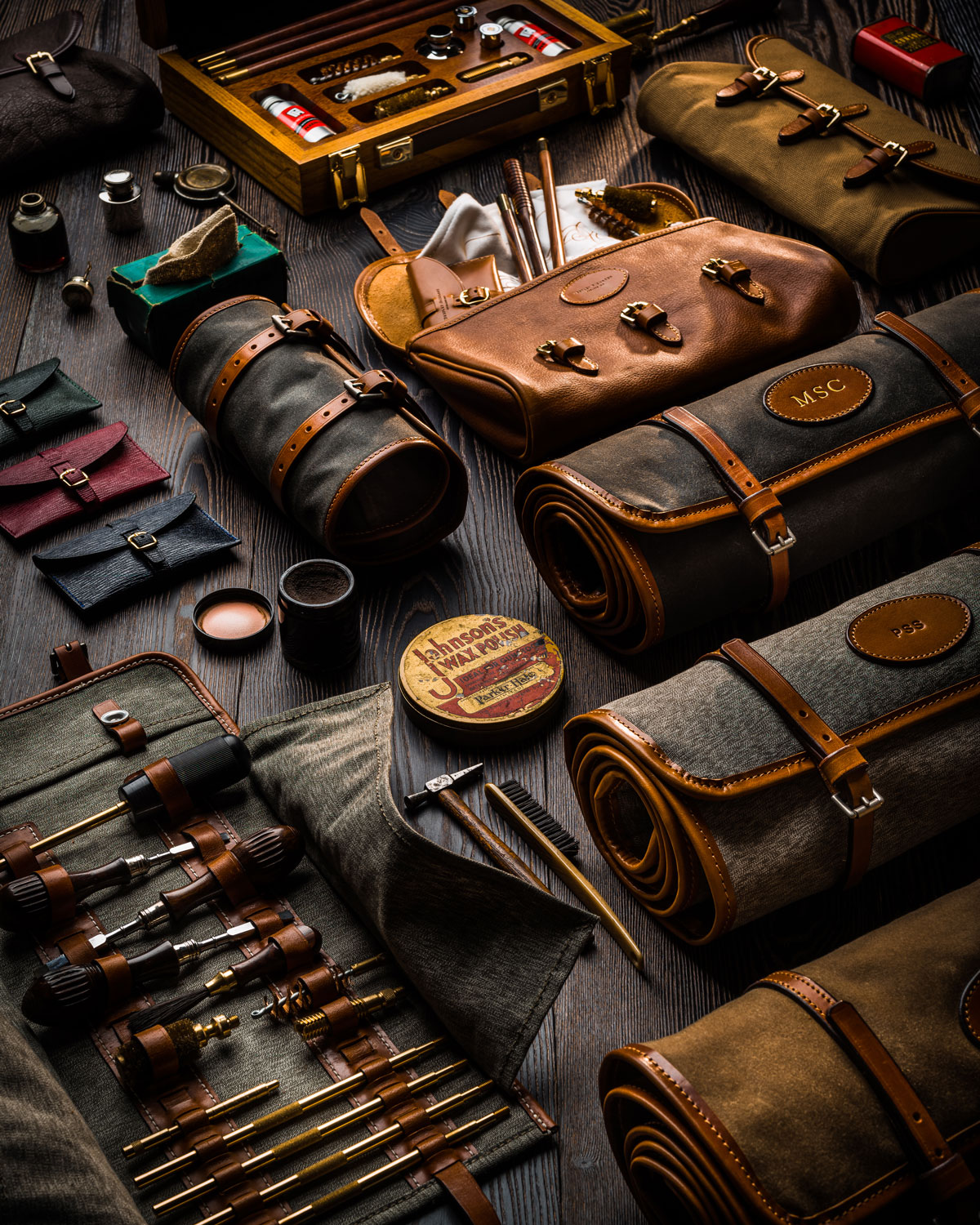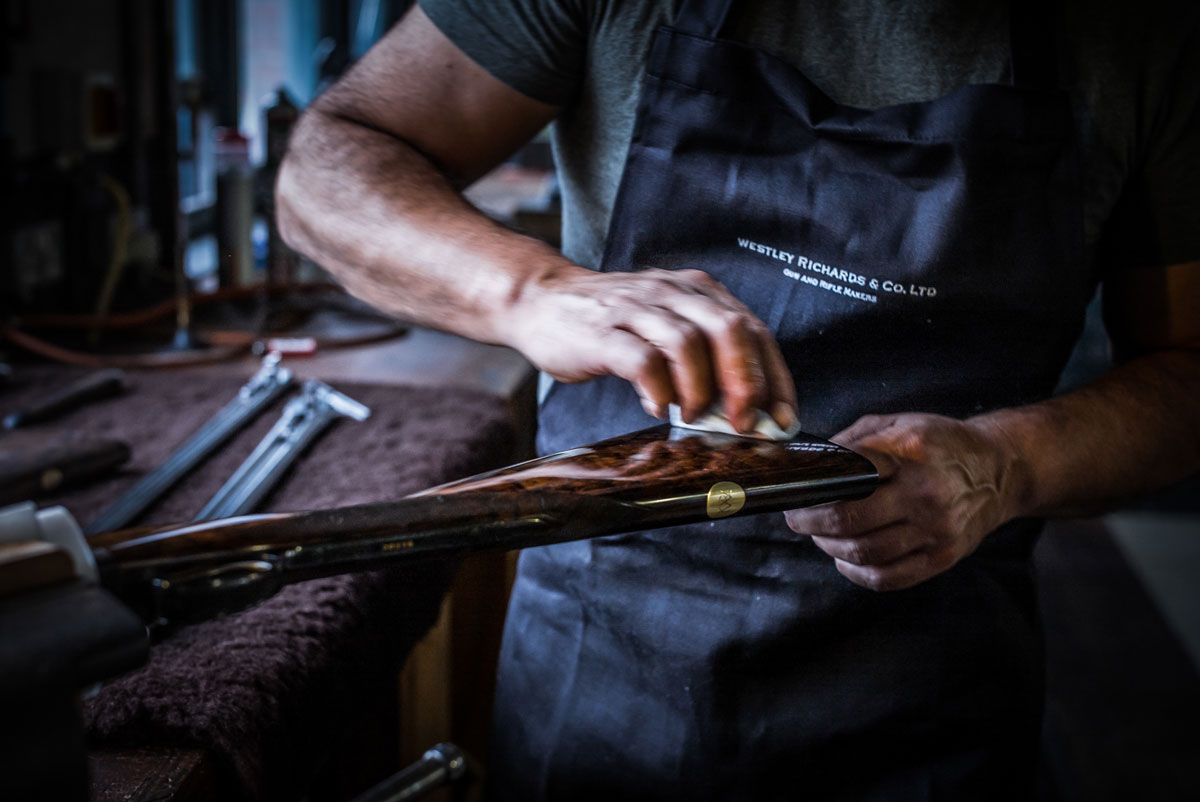 As someone who travels extensively with firearms for hunting as well as travelling to trade shows and making house calls, there are four items from our leather shop that I find are especially well thought out for the travelling sportsman and shooter. The Westley Richards Tool Roll, the Gun Cleaning Mat, the Redfern Cleaning Pouch and the small J/M/B pouches are items that have become indispensable for me and I think they would benefit any shooter or hunter by adding these to their shooting kit.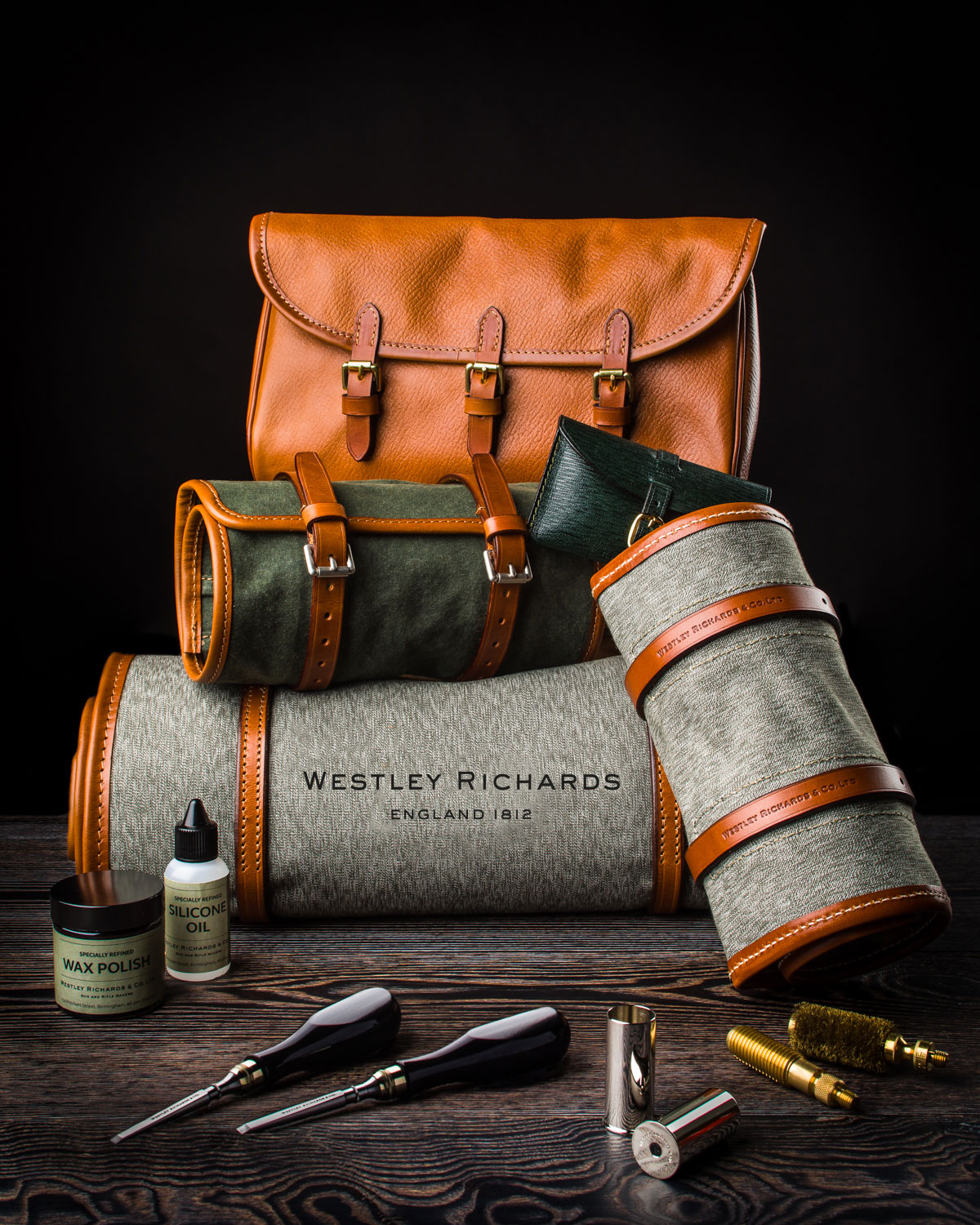 Personally, I keep my rifle and shotgun cleaning supplies separate and therefore for my rifle tools, I keep them in the Westley Richards Tool Roll. Inspired by a tool roll used by the Swiss Army during WWII, the small size the roll buckles into, makes it easy to take along as a basic cleaning kit in your hunting pack or range bag.
More than once a stiff cleaning rod has helped me clear a barrel after a muzzle was accidentally stuck in the mud or to run a patch through a barrel I was evaluating. With numerous adjustable loops the tool roll is ideally suited for the 4-piece Napier rifle cleaning rod we offer. It also holds our rosewood turn screws, a small flashlight for checking bores, a multi-tool, and on one end, in a small pouch lining the inside edge of the roll, it holds an assortment of bore brushes and a small tin of Vaseline.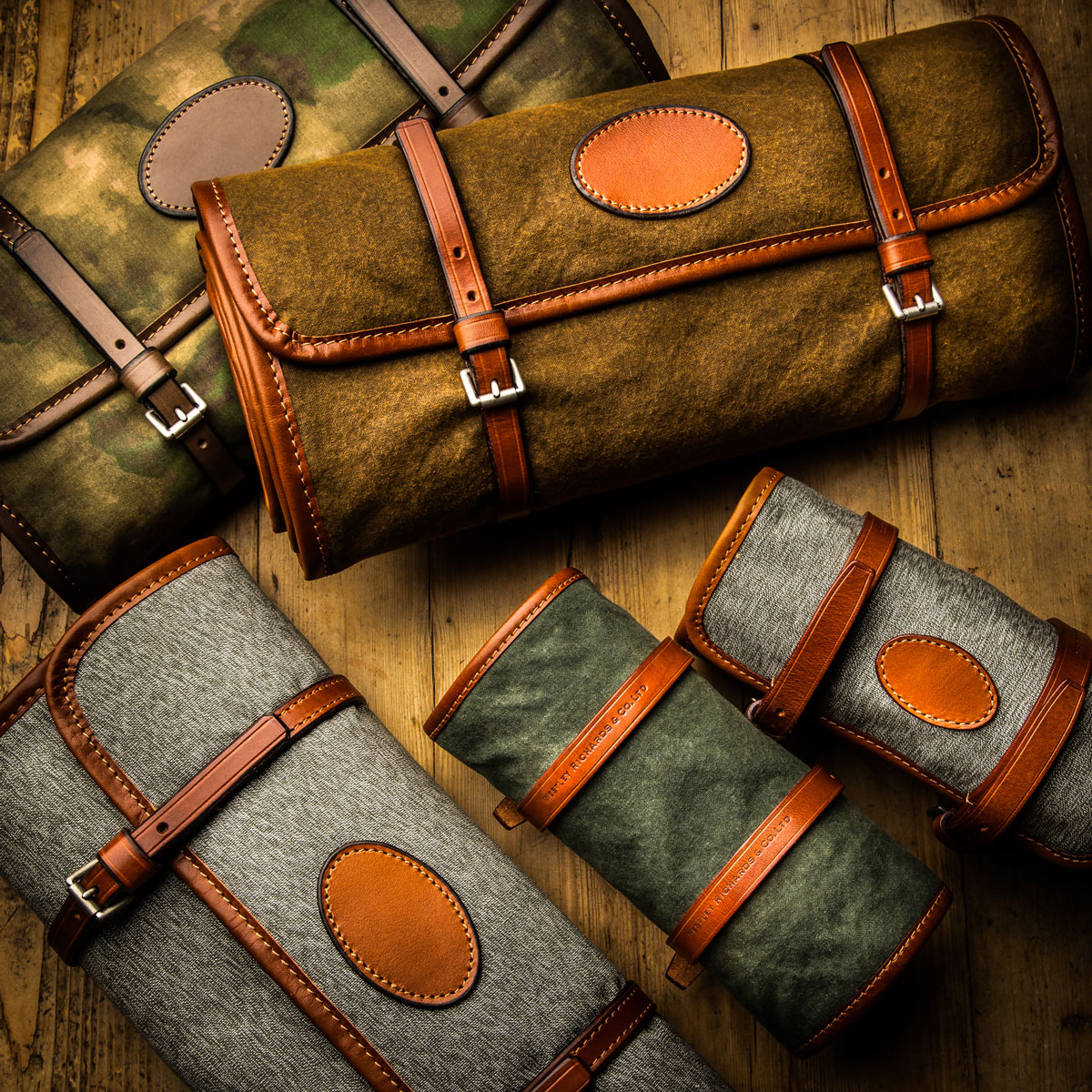 I carry my shotgun cleaning supplies in the Gun Cleaning Mat. At one end of the roll is a perfect sized pouch to accommodate our luxurious rosewood 3-piece cleaning rod and chamber brush. I also use the small leather pouches, one pouch per gauge for the appropriately sized jag, mop, and bore brush and I use one to carry an assortment of different sized patches for swabbing bores. These all store neatly with the cleaning rod.
When the mat is rolled out it reveals a synthetic shearling that gives you a safe place to disassemble your gun. The mat is also easy to stowaway and have at the ready for an impromptu gun cleaning session on a hotel bed or the tailgate of a truck but would be equally useful on permanent display in a gun room. The outside of my mat is made of the same Swiss Army salt and pepper material as my tool roll and they're both personalized, but both the tool roll and cleaning mat are also available in two types of waxed cotton.
Finally, for keeping guns wiped down to prevent rust, remove fingerprints and keep them looking their very best, I use a WR Selvyt cloth with a little gun oil applied as needed. The Redfern Cleaning Pouch easily carries a couple of the cloths, a bottle each of the Napier gun oil and Trade Secret Silicone oil, along with two different sized Niebling cleaning brushes. The Redfern pouch is available in the same high quality materials as our rugged safari luggage, cartridge bags and gun slips for those like me who prefer their kit to match.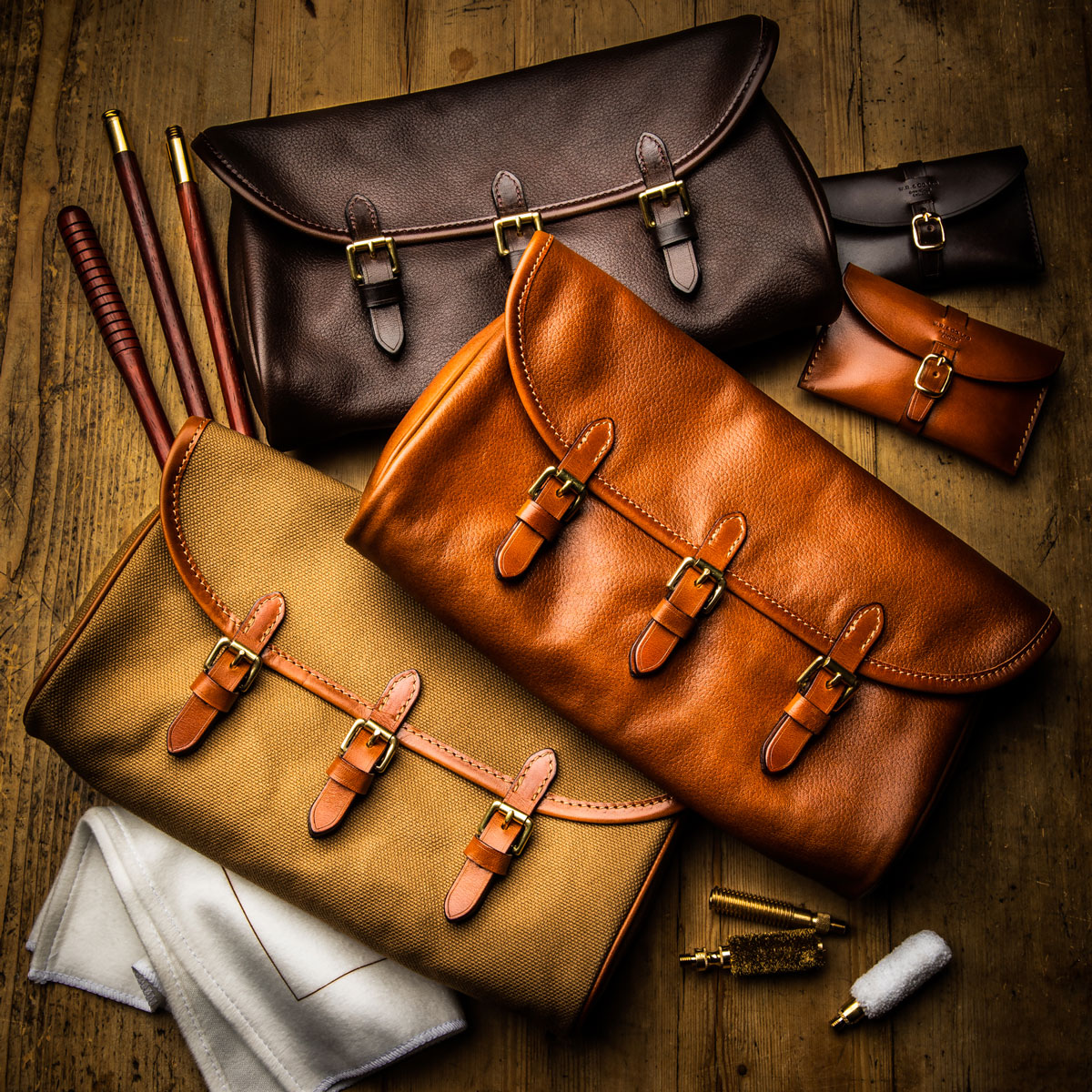 All of the fine leather goods and accessories mentioned here, and many more, are available in a variety of traditionally tanned leathers and British canvases through our website.
https://store.westleyrichards.com/
https://store.westleyrichards.com/leather-goods/shooting/gun-cleaning.html