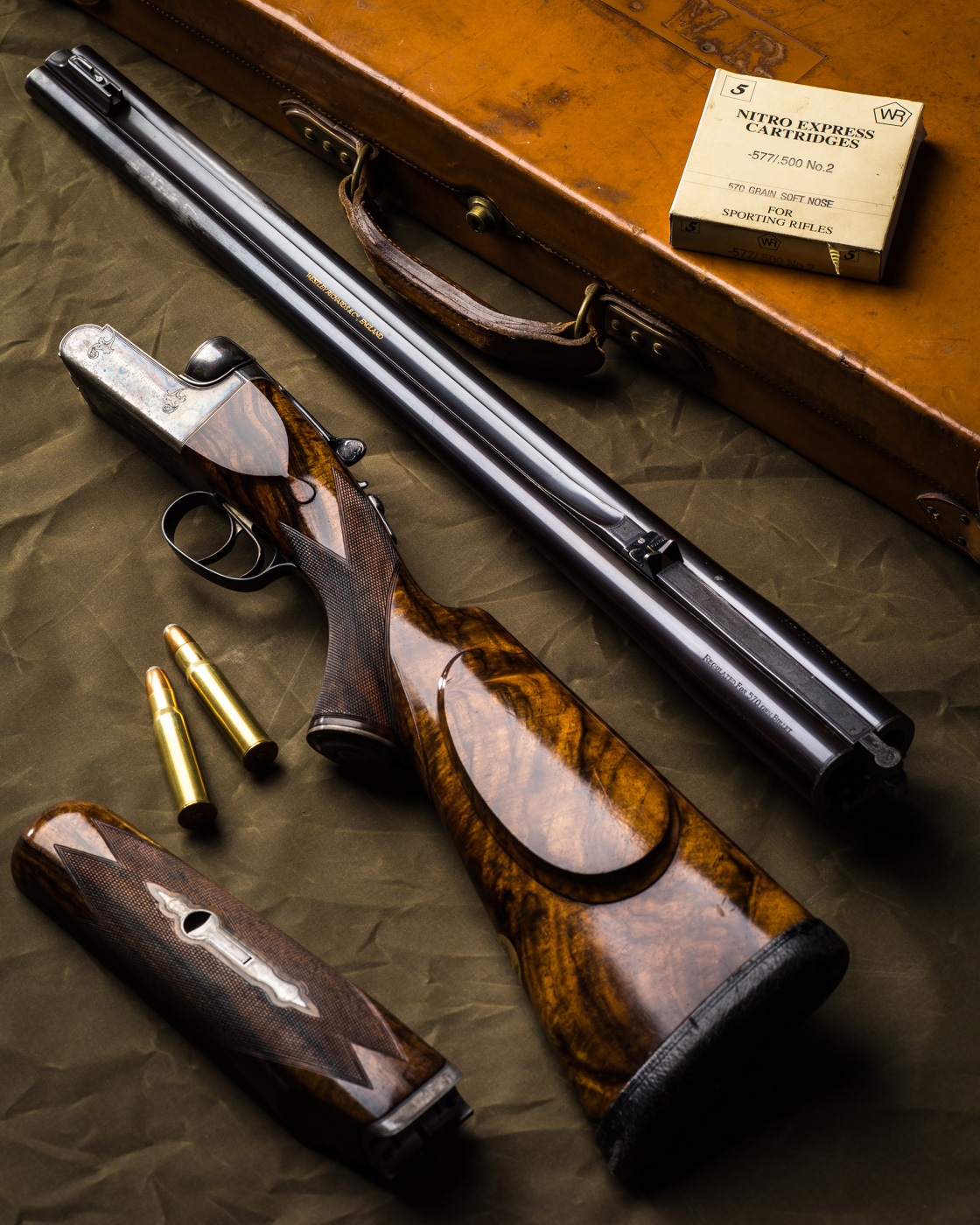 Whilst moving guns out of the way today we unearthed this 'one of a kind' gold name hand detachable lock double rifle which we completed in 1996 for a French professional hunter. I had actually completely forgotten we had this rifle in the building. The calibre is .577/.500 No.2 and when I say one of a kind, I mean it in terms of it being the only double rifle we have built in this calibre. It has a 'no frills' finish which is typical of a professional hunters requirements, better to spend the engraving money on ammunition!
The rifle has no sling swivels and a flat beavertail forend which fills two roles, one giving plenty to hang onto and secondly to provide a comfortable flat surface so the rifle can be carried on the shoulder with barrels facing forwards. You can see where all the barrel black is worn off from just behind the front sight block where the rifle has been held for many a mile. The rifle also has a stalking safety, the front sight cover is removed, there is a large gold  V on rear sight to aid faster sighting and a large bull elephant engraved by Rashid on the cover plate. This is no doubt a species identity help, something like the perfect shot, see a bull that looks like this 'take it'! All in all, a totally practical rifle.
The .577/.500 No2 calibre in nitro format was a cartridge introduced by Hartman and Weiss who made some single shot falling block rifles in this calibre. The original cartridge was a black powder version which was introduced sometime before 1879 this was then developed in various formats including Nitro for black and fullNitro load with a variation in bullet weight of from 300 grains up to 570 grn, The nitro version for our rifle used the 570 grn. bullet and we think the velocity was around 2300 fps. It was a powerful round and the rifles weight of 14 lbs. compensated for this.
A .22LR is dwarfed by the 2 rounds of .577/.500 No 2.