Westley Richards catalogues from the early 20th century illustrate the style as it was then established, with its distinctive side panel. The company than described it as a 'detachable barrel system' rather than using the modern term 'take-down' to describe a magazine rifle which could be separated into two parts and re-assembled without tools. Other rifles were described as having a 'detachable stock system', meaning the wood work could be removed from the barrel and action.
The 'detachable barrel system' rifle can be broken down and packed into a case only an inch longer than the barrel. This has obvious advantages for the international traveller, for whom a full-length rifle case is a burden.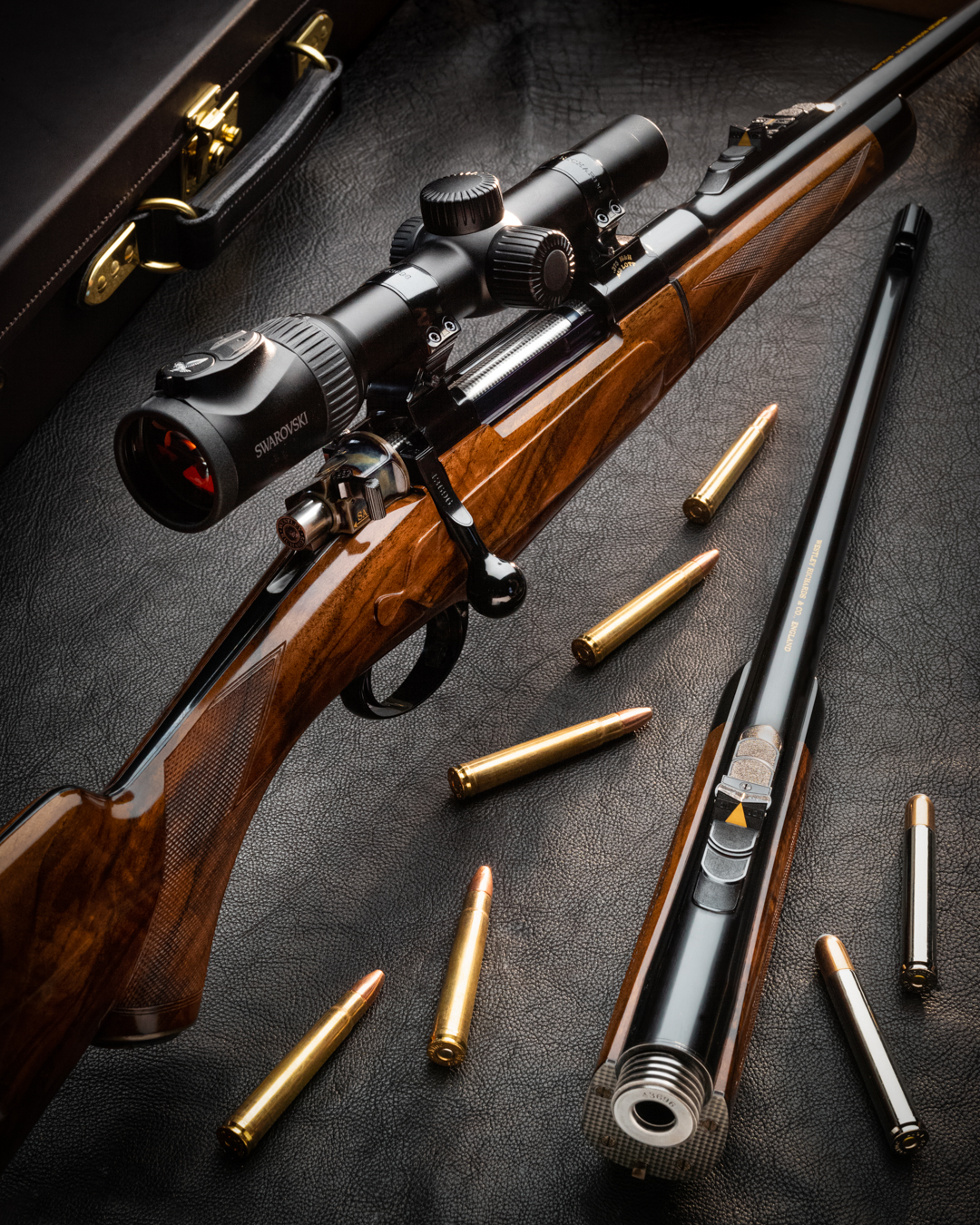 Historically, the popular calibres for these rifles were .318 and .425; the former for medium game and the latter for anything a .577 double rifle would be employed for, including elephant and buffalo.
The detachable barrel system evolved in the years immediately before World War One, moving from a lug-lock to a square-cut, Acme, screw-thread link.
This, later development, is what we employed when asked to build a modern version of this classic - in dual calibres. Those calibres are .375 H&H and .458 Lott.
In doing so, we had to make duplicate forends, barrels and sights, which were fully and seamlessly interchangeable from one calibre to the next, allowing the rifle to be transformed from a brilliant all-rounder into an uncompromising charge-stopper in a minute, without tools.
The .458 Lott cartridge was developed, from a .375 case, in the mid 1950s (as an improvement on the .458 Winchester Magnum) and was standardised by SAAMI in 1995. A popular modern load pushes a 500 grain bullet at 2,300 fps. It is very effective, providing traditional double-rifle stopping power from a bolt-rifle. The .375 H&H needs no introduction to most readers, since it has been the most versatile of sporting rifle cartridges since its introduction in 1912. Being based around the same case somewhat helps with the construction of a rifle that will handle both rounds through different barrels on the same action.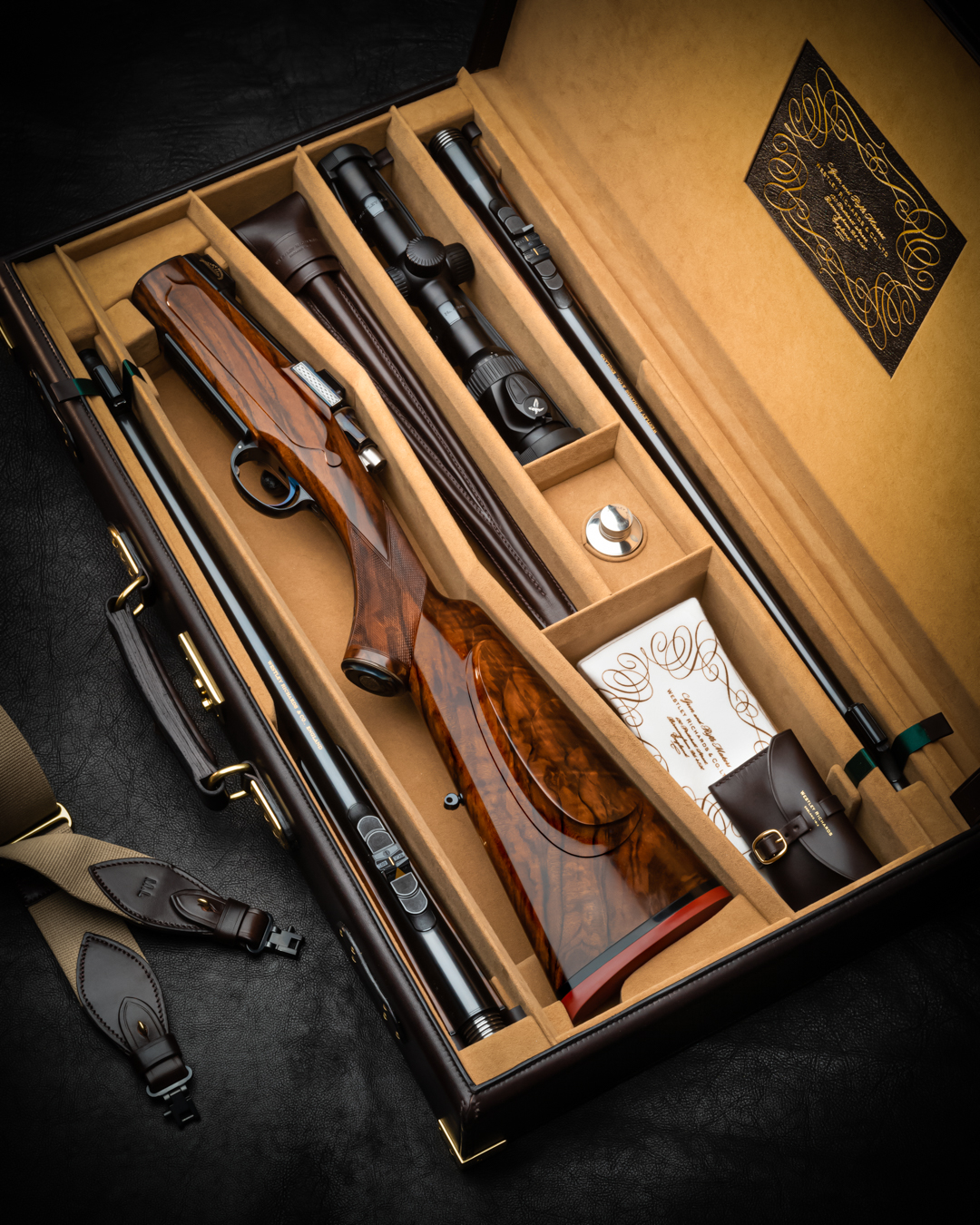 The aesthetic of this particular rifle is business-like but the obvious quality is apparent in the details. Every surface is beautifully finished, with jeweling, gold inlay and fine chequer.
The finishes are linseed oil, deep blacking and colour case-hardening. Engraving is minimal but what there is (see grip cap, pins, screws, lettering) shines with quality and clarity. An object lesson in 'less is more'.
Look closer at the stippled effect on the stepped metal surfaces fore and aft of the leaf sights. Each is encased in a perfect, polished and blacked, border shield. Case hardened bolt-back, safety-catch, grip-cap, barrel-locking-bolt and pins contrast beautifully with the deep black steel and the rich walnut hues of the stock.
Examine the plates on the mating sections of the screwed-together parts. Every slot lines up perfectly north-south, the surface is jewelled.
Elsewhere, gold lettering stands clear and proud in an unadorned sea of blacked steel.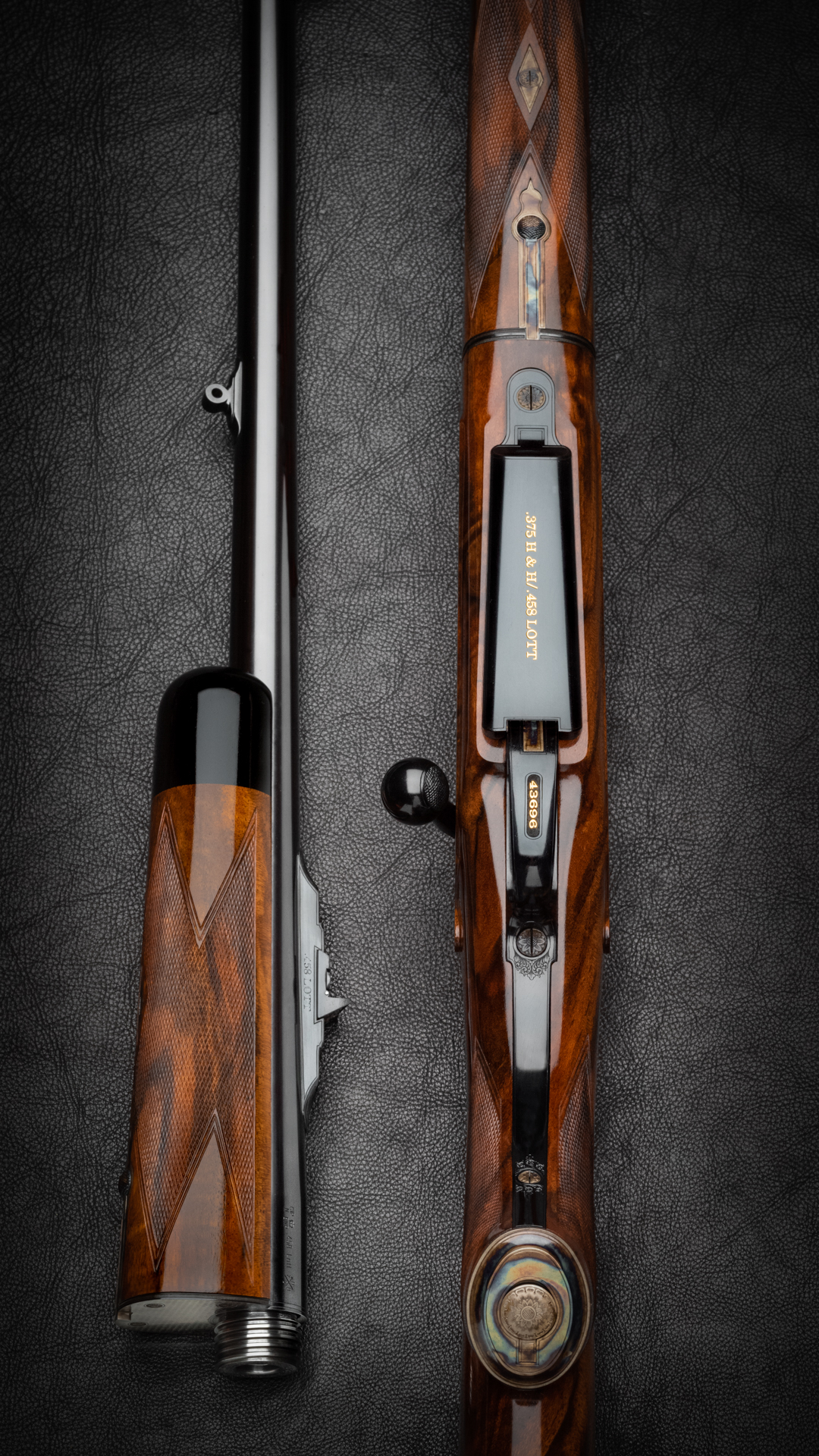 The .458 barrel is twenty-three inches long, while the slimmer .375 barrel is an inch longer, helping to balance the rifle whichever is in place. The profiles of barrel and forend are cleverly blended into the stock and action section; either looking equally at home.
The .375 barrel is leaf sighted to 100, 200 and 300 yards, while the .458 has a standing sight for 50 yards and an additional leaf for 100 yards.
Nestled into its custom-built leather case with alcantara lining, the package looks eminently transportable, as well as somehow pleasingly neat. Swarovski 'scope and accessories all have their place in the case and minimise the chance of arriving at your destination without an essential part of the ensemble.
This rifle demonstrates admirably how Westley Richards customers today are ordering practical rifles for specific purposes - and that they intend to use them.
This is no 'safe queen' it is a best-quality magazine rifle built for a specific customer with defined needs. These are reflected in his specifications for embellishment and decoration, as they are in his requirements for stock length (which is a huge 16 1/2"), calibre and sighting. We expect this to be put to use in the near future.
Practical and beautiful, with a nod to the company history. Not just another generic looking bolt-rifle, this is a piece of history stepping out of the 1912 catalogue and making a statement in the field in 2021.
Inspired by our past, very much a product of our present.