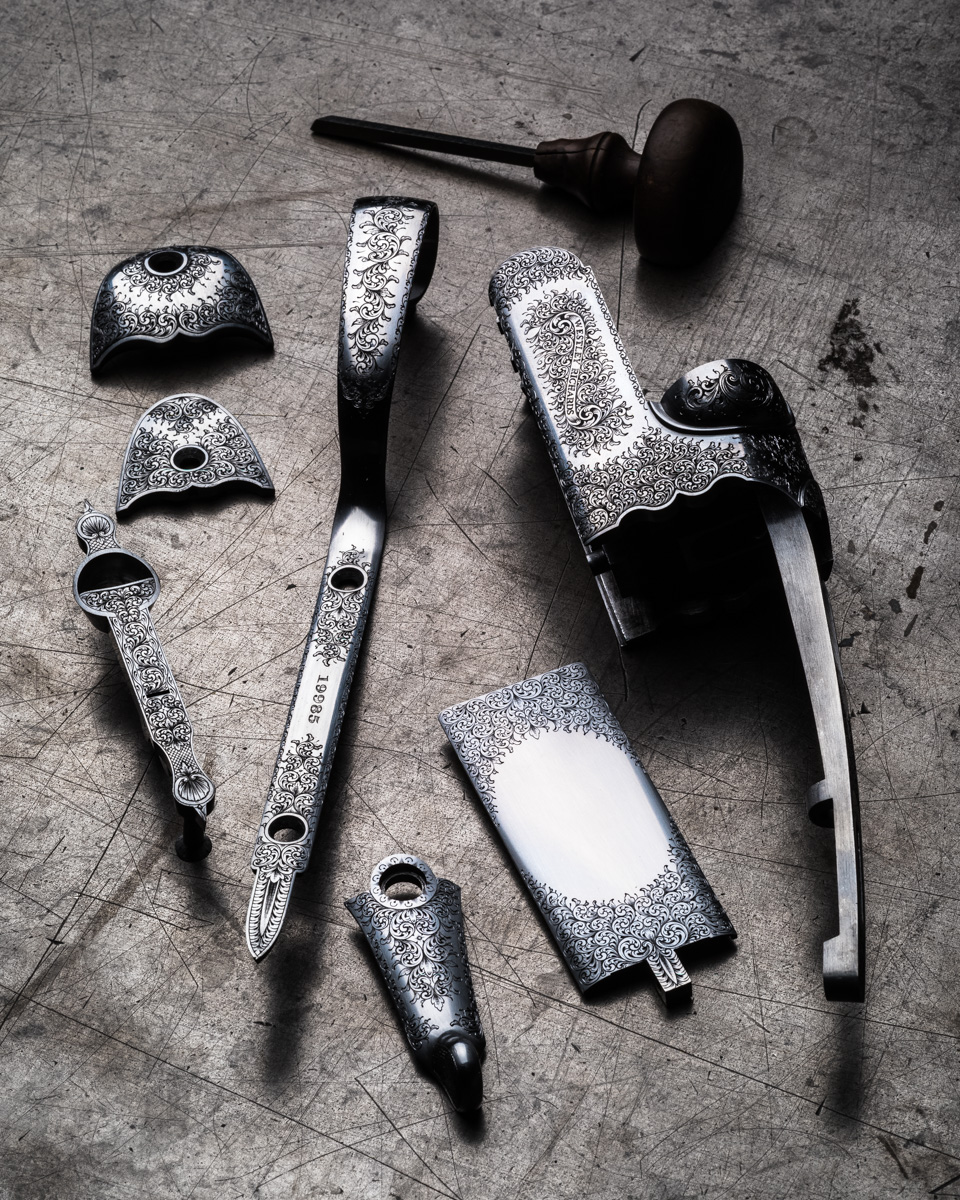 A year or so ago, I was approached by a man determined to get into gun engraving as a second career, I invited him to the factory and  he came to visit me and showed me his practise plates. He had done a wide variety of work, scroll, game scenes, inlay and I think even perhaps a little relief work. All the work had been done with only a little advise and help from one of our more regular engravers who had steered him over a period of months. The work was very impressive considering mainly self taught and the dedication to doing the work even more so. There was however the confusion of too many subjects and techniques being used, none of them mastered, very nice work but not ready to put on one of our guns.
Over a period of months I handed out various practise and unpaid projects which were taken on board and executed as carefully as possible. I emphasised, as I tend to do, that the basis for all engraving is getting the design and execution of fine scroll down and looking great before trying to move on to the more elaborate work. There is always a tendency with people starting to engrave, to race in and try and compete with the master engravers in the game scene and relief work arena, an area I have always felt best avoided until the scroll is mastered, why run before you can walk! After all who wants a game scene surrounded by badly executed scroll? There is scroll, be it fine or bold on every gun, but by no means do all guns have game or other fancy engraving work specified. Scroll and perfect lettering are the fundamentals as far as the gunmaker is concerned.
This 20g hand detachable lock gun is now the 4th gun the engraver has executed on commission for us in the traditional Westley Richards pattern. My message in this post is to thank him for his work, for listening and staying with the programme to get the fine scroll nailed. I know for both him as an individual engraver and for us a company the method will pay dividends and for my part it will be a great pleasure watching his work develop over the coming years into what I am quite sure will be something very special indeed, after all I have seen the practise plates and what is to come!