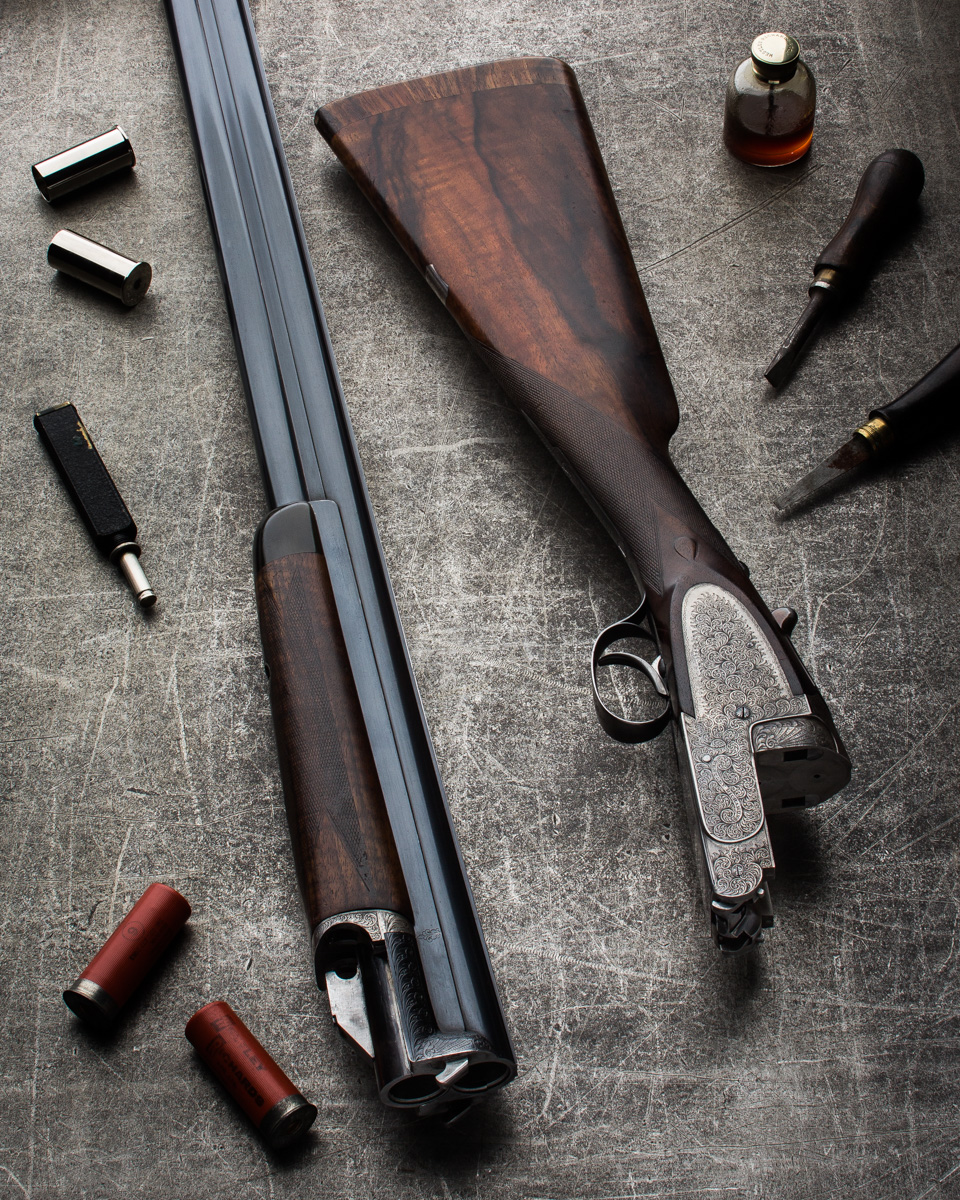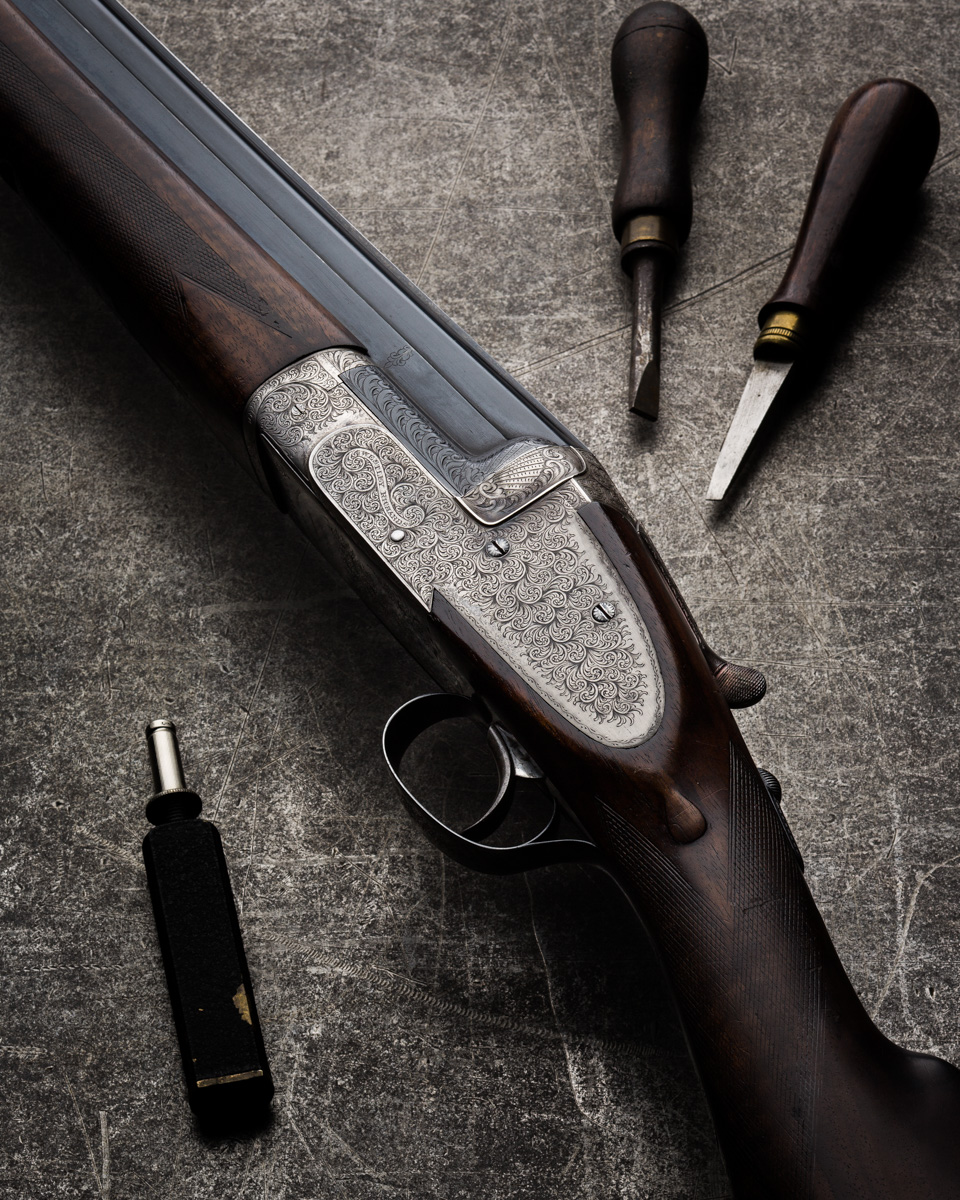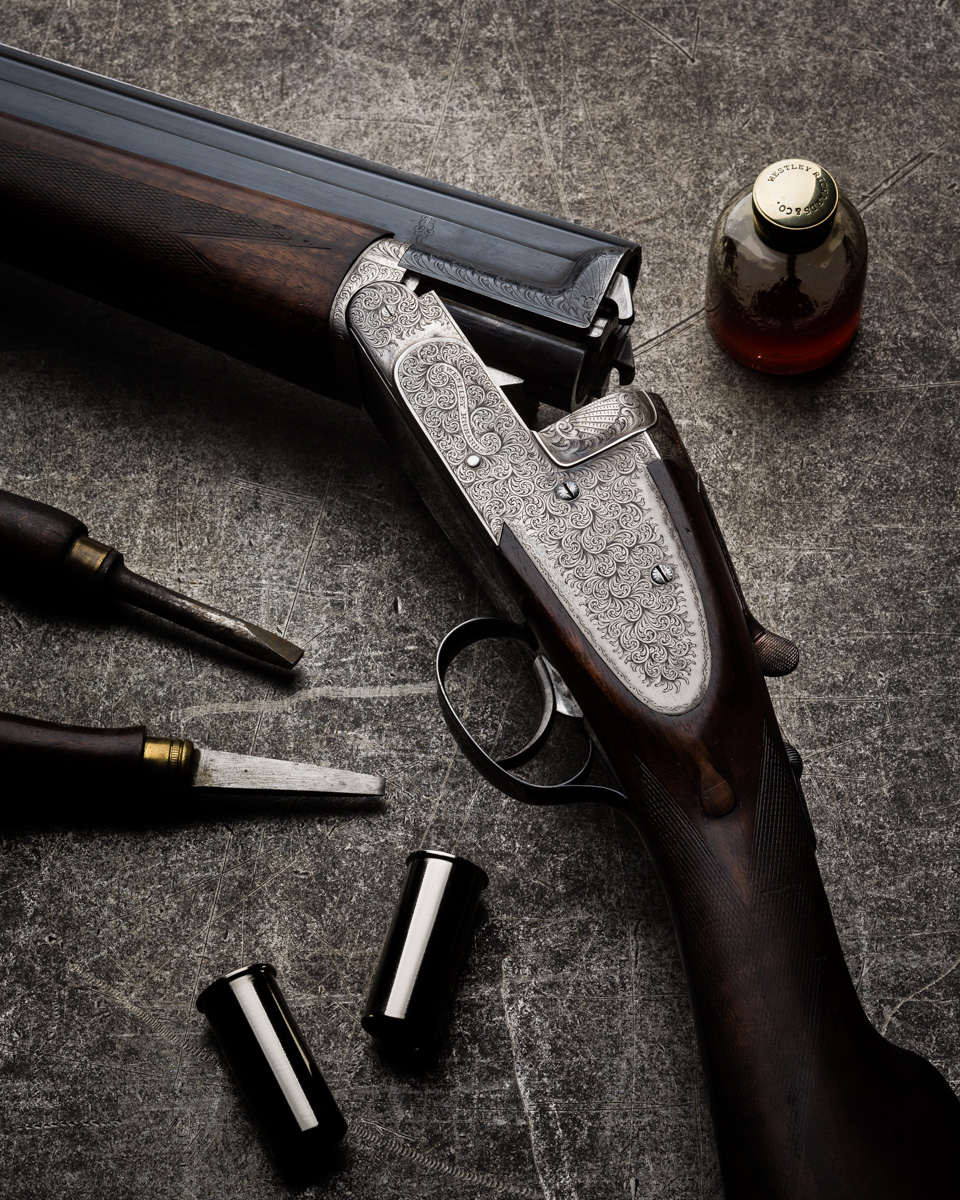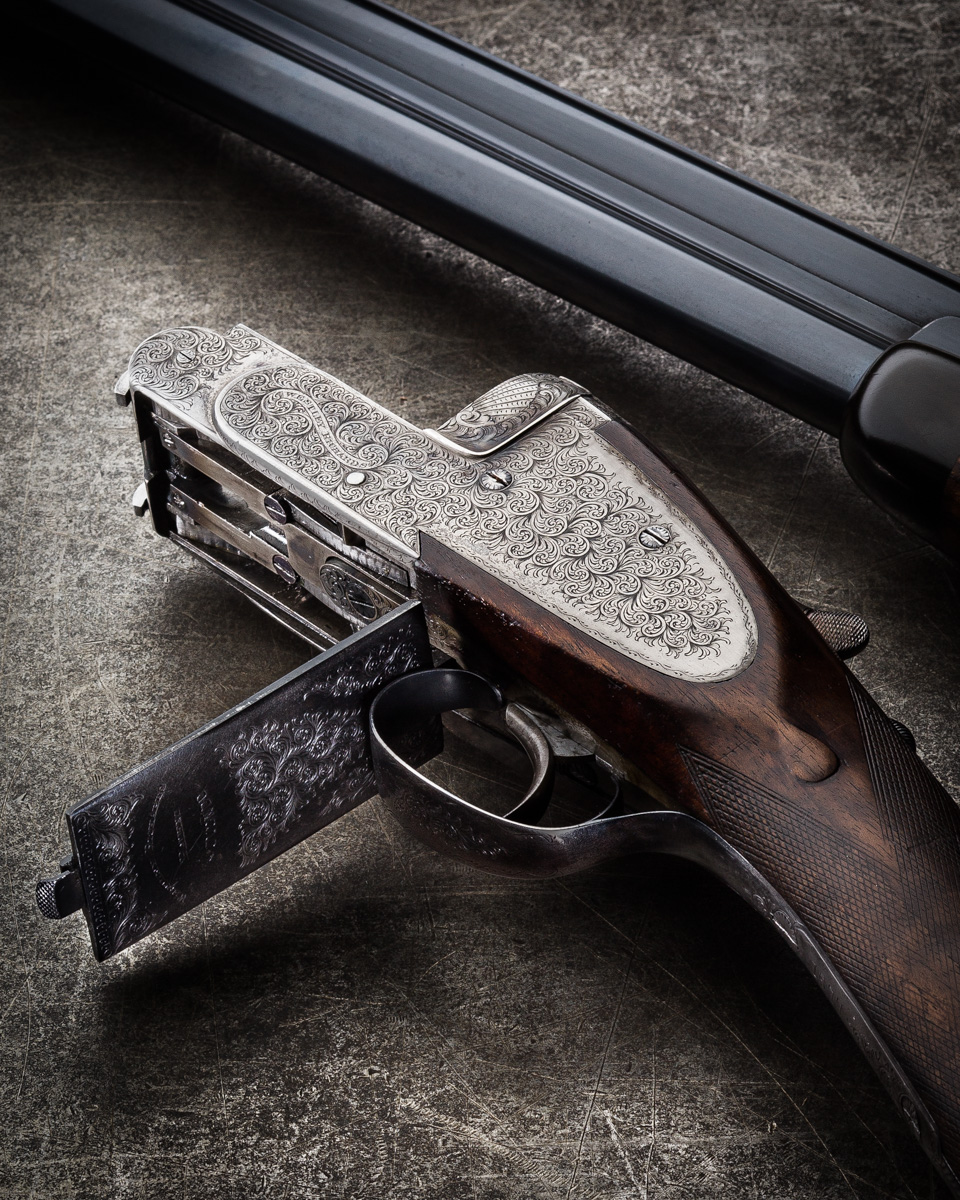 The design has been oft-maligned over the years as an often cumbersome looking gun, which is why several years ago we produced a very small batch of guns in only 20g as this appeared the most aesthetically pleasing.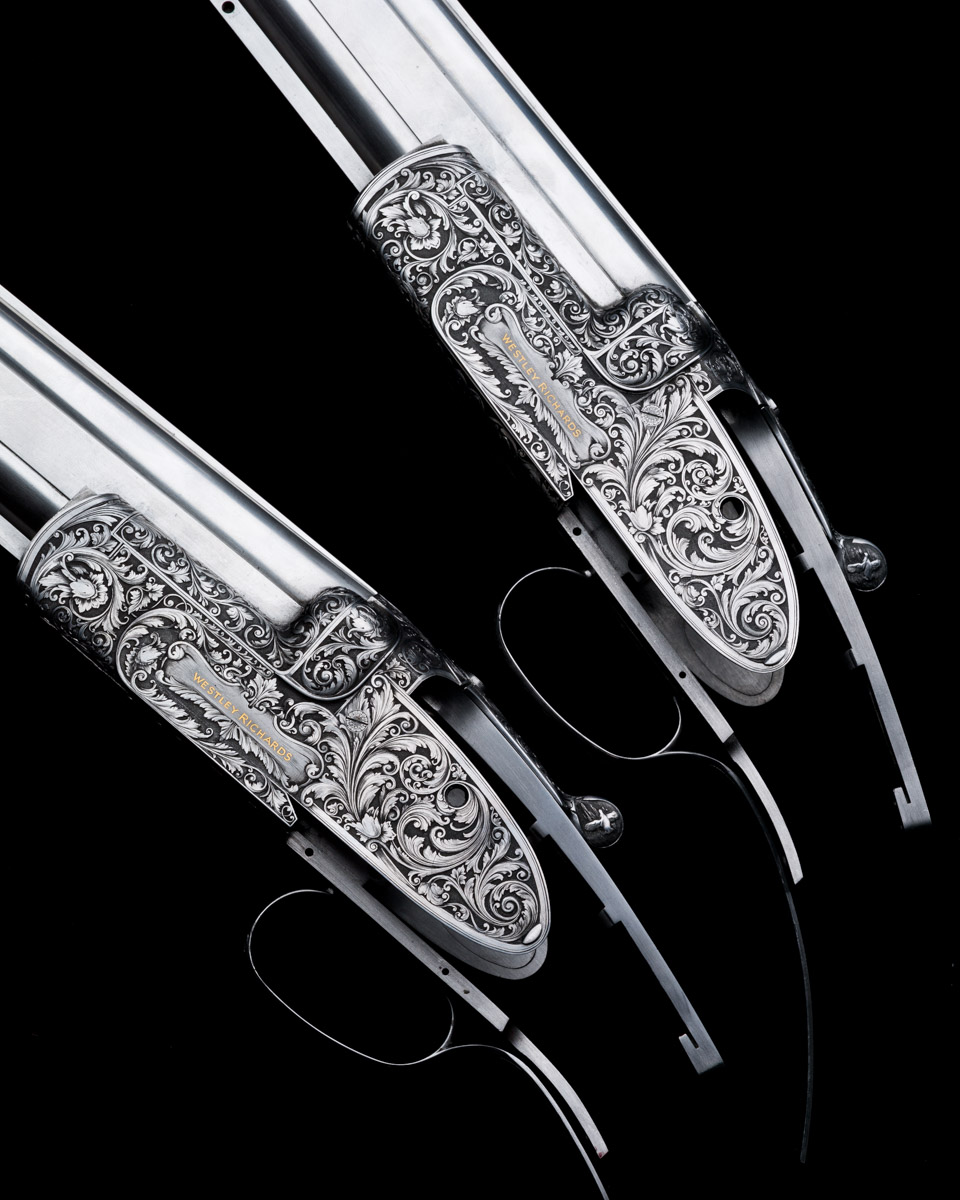 One of the modern pairs of 20g Ovundo with elaborate scroll engraving.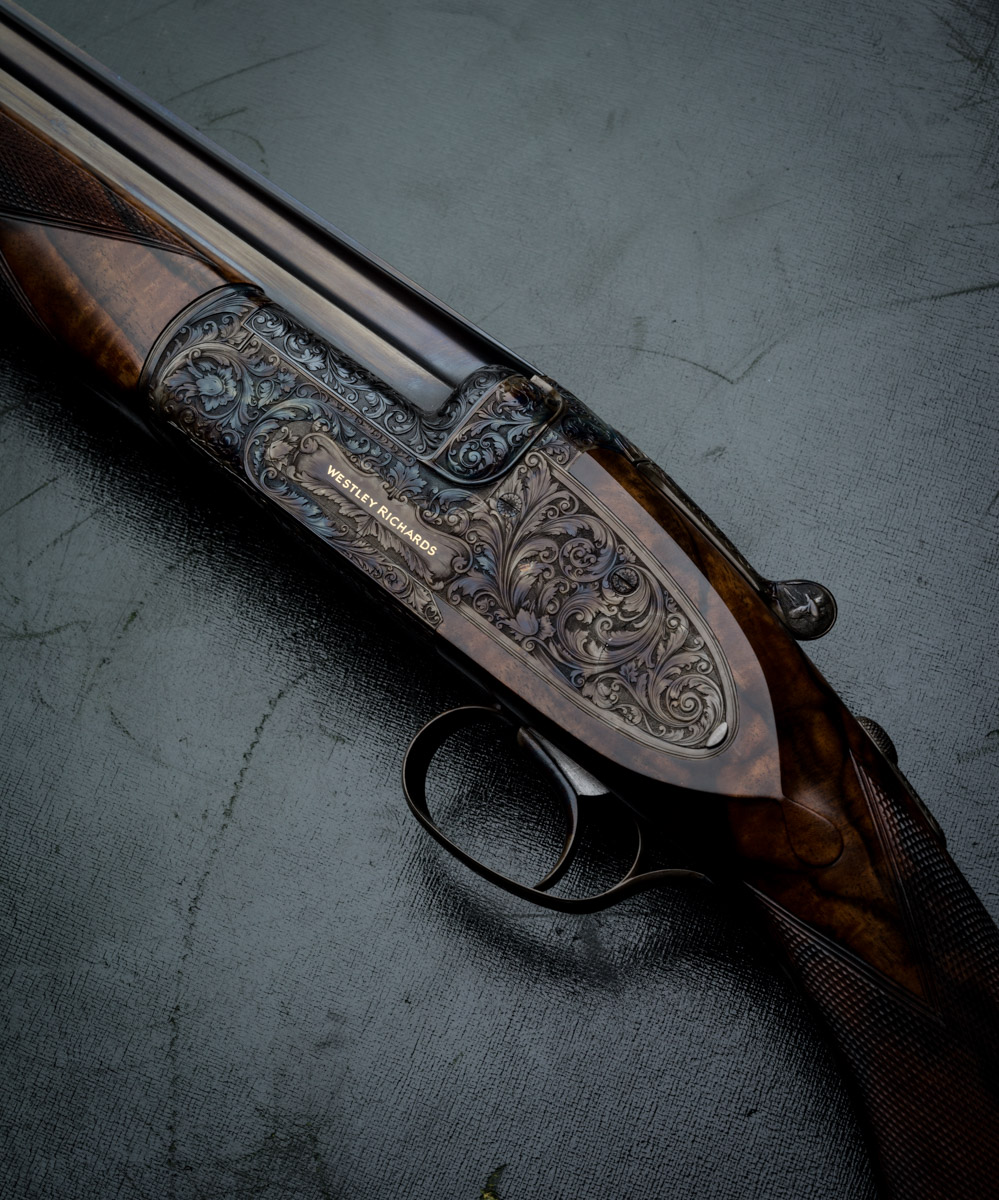 One of the modern pair with full case colour hardening.
People have often questioned why Westley Richards opted for the deep action design of the under hook lump as opposed to the bifurcated system so typical of the shallow bodied Boss and Woodward design.  Well you have to go back to the time this gun was being designed and considered that Westley Richards as a company had introduced in side by side format both the fixed lock gun design and then shortly afterwards the hand detachable lock (droplock) design.  Both models were absolute signatures of the company and remain so to this day.
Now if you put these designs into an over and under gun, matters become a lot more interesting!  Clearly the company was trying to work out its own way of building the over and under format gun in both a fixed lock and droplock format and quite simply the under hook design was the only way they saw fit to do so, allowing for the respective firing mechanisms.
What really amazes me and is so often forgotten is the actual number of variations built in 'Ovundo' format.  There are fixed lock actions with square back, scroll back and side plates, there are droplock with scroll back, side plates and side plates with inspection ports.  Some fixed lock versions have hinged cover plates as in the example shown here.  Obviously there were single and double trigger versions and they were built in 12g, 16g, 20g and a multitude of rifle calibres from .425 WR down to .240 Flanged.  The are even rifle/shotgun combo's in one set of barrels and we have a Super Magnum Explora here at the factory.
From left: Vintage 12g Super Magnum Explora, .240 & .350 Rifles, Close up of .240 Rifle.
Much maligned?  Well clearly not at the time as it was unquestionably one of the most produced British over and unders. Interestingly the recent 20g examples we built continue to create lots of interest and we are always asked when will the next generation of 'Ovundo' be released.  With the modern move towards heavier guns shooting bigger loads I am certain it is something in our not too distant future.