The Wall Street Crash was a decade away and the demand for beautifully embellished sporting guns from Indian princes was at its height. American orders were becoming increasingly important and the African Safari was as much a right of passage for the well-heeled as had been The Grand Tour for their parents. The horrors of the First World War gave way to the optimism of the next generation, as 1914's teenagers gained their majority and entered society. Jazz, motor cars, American movies and travel by luxury liner seemed to epitomise the modern world.
Overseas, the German and Ottoman empires were carved up among the victorious allies and the world order might have looked deceptively glossy to the average Briton.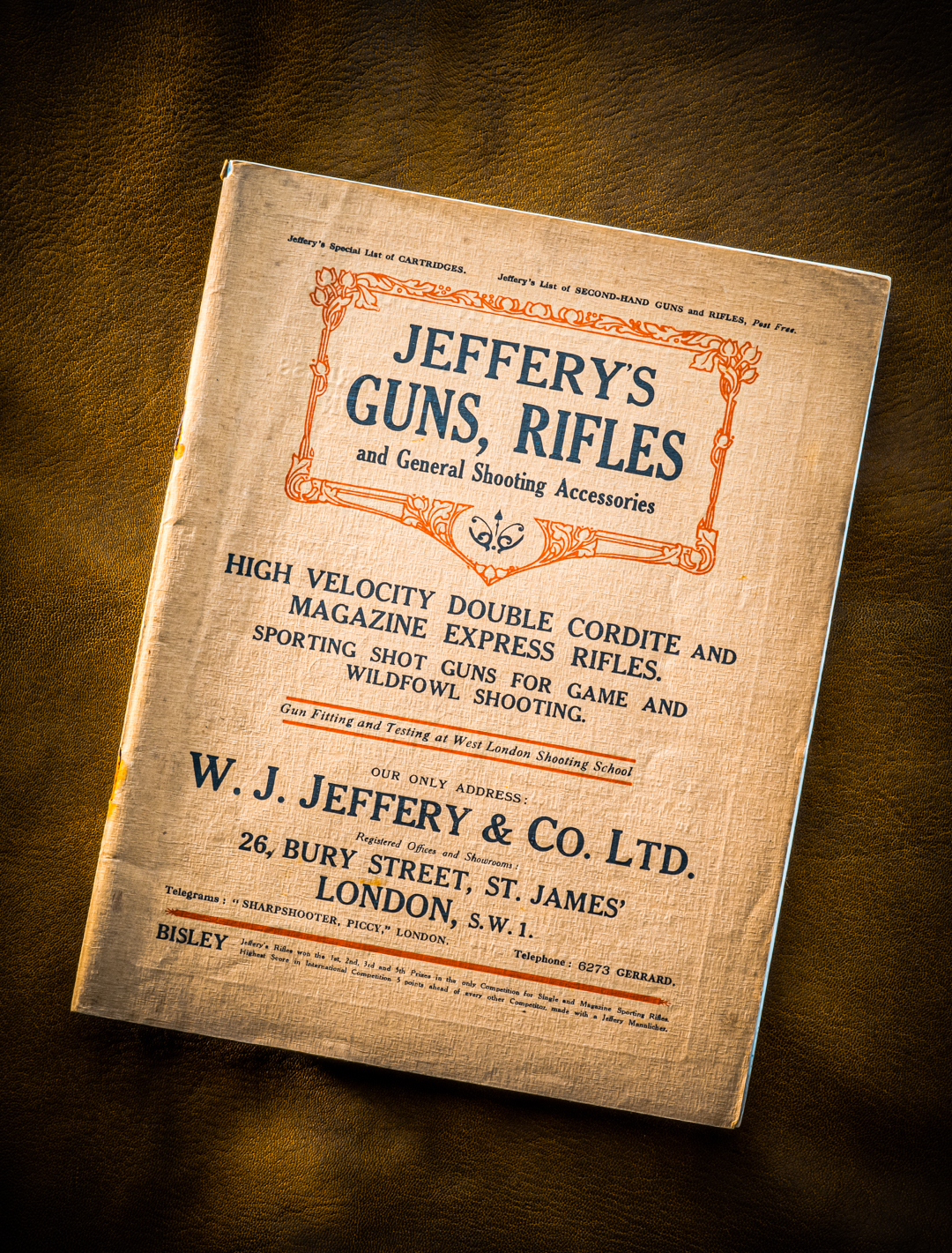 A surviving catalogue from the firm W.J. Jeffery & Co. Ltd. reflects the heady sporting environment, with rifles and shotguns illustrated and described for all manner of game at home and abroad. Rifles began with the increasingly popular .22 rimfire (short and long) and ran the gamut through .280, .333 and .404 up to the most fearsome double rifle of the day; the .600 Jeffery.
Not only do we have an original 1920 catalogue here illustrating and describing this behemoth, we have a rare and beautifully original example of the very rifle, built in 1923. Though an innovator, Jeffery's set-up was not a gunmaking factory, so all rifles bearing the name were made elsewhere in the trade, to order. The distinctive action-back shape of this rifle indicates the maker was probably Daniel Leonard. Not all these .600s are the same, many have plain boxlock actions with a straight line where wood joins metal, one example that has previously passed through Westley Richards was built on a sidelock action.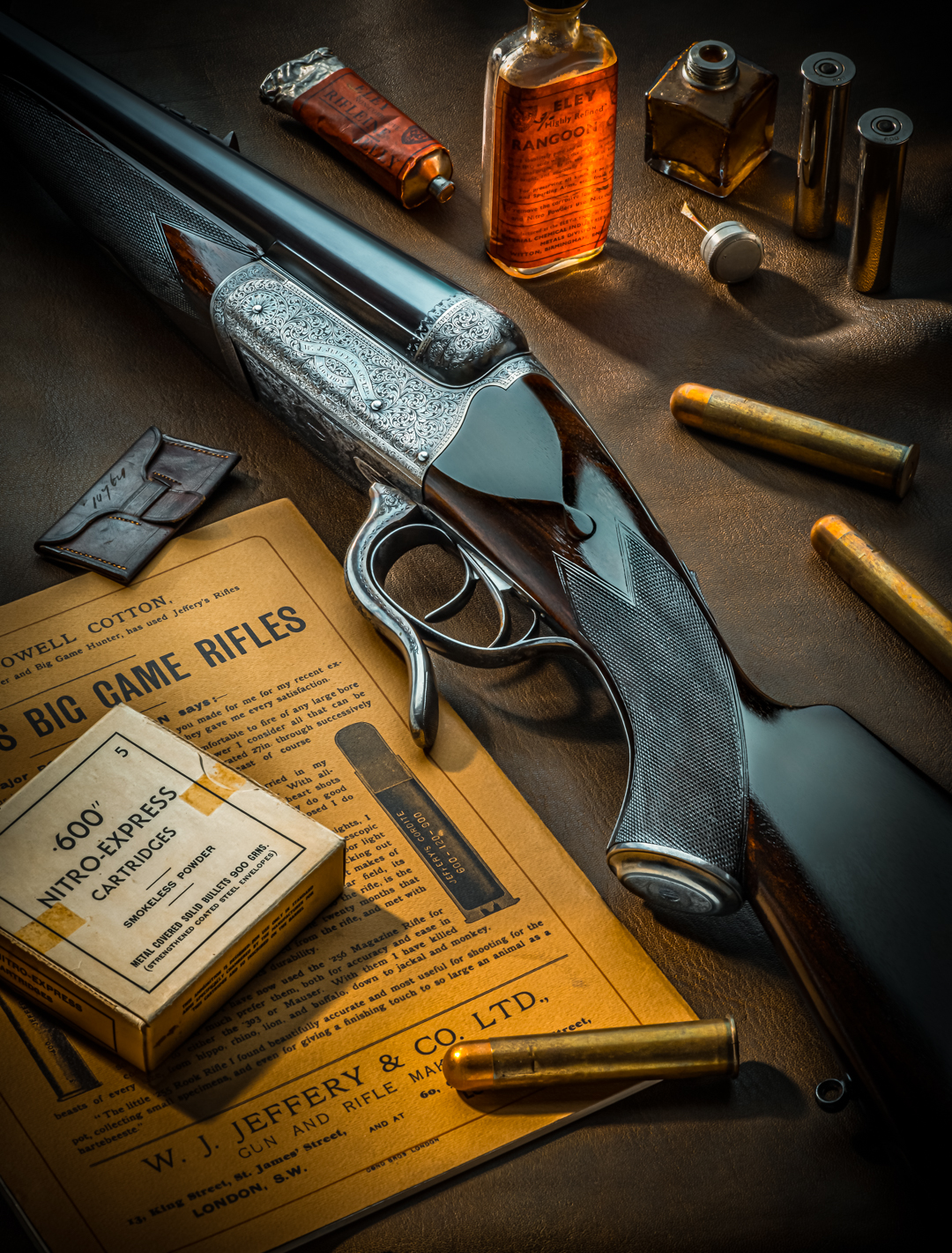 The rifle pictured here is heavy, short, squat and business-like, clearly intended for short range work in thick cover, a situation in which a hunter might need to knock off its feet anything with malign intent against his person. Before we inspect the rifle, we should examine the cartridge for which it was built. It is one of the all time icons of double rifle development.
The 3" drawn brass case holds 100 grains of Cordite and launches a 900 grain bullet at 2,050 fps, delivering a massive 7,600 ft lbs of striking force. For comparison, a 4-bore with 14 drams of black powder behind it only achieves 7,000 ft lbs. The .600 was the undisputed champion of stopping rifles. Jeffery actually made some .600's proofed for 120 grains of Cordite (though I know of only one in existence).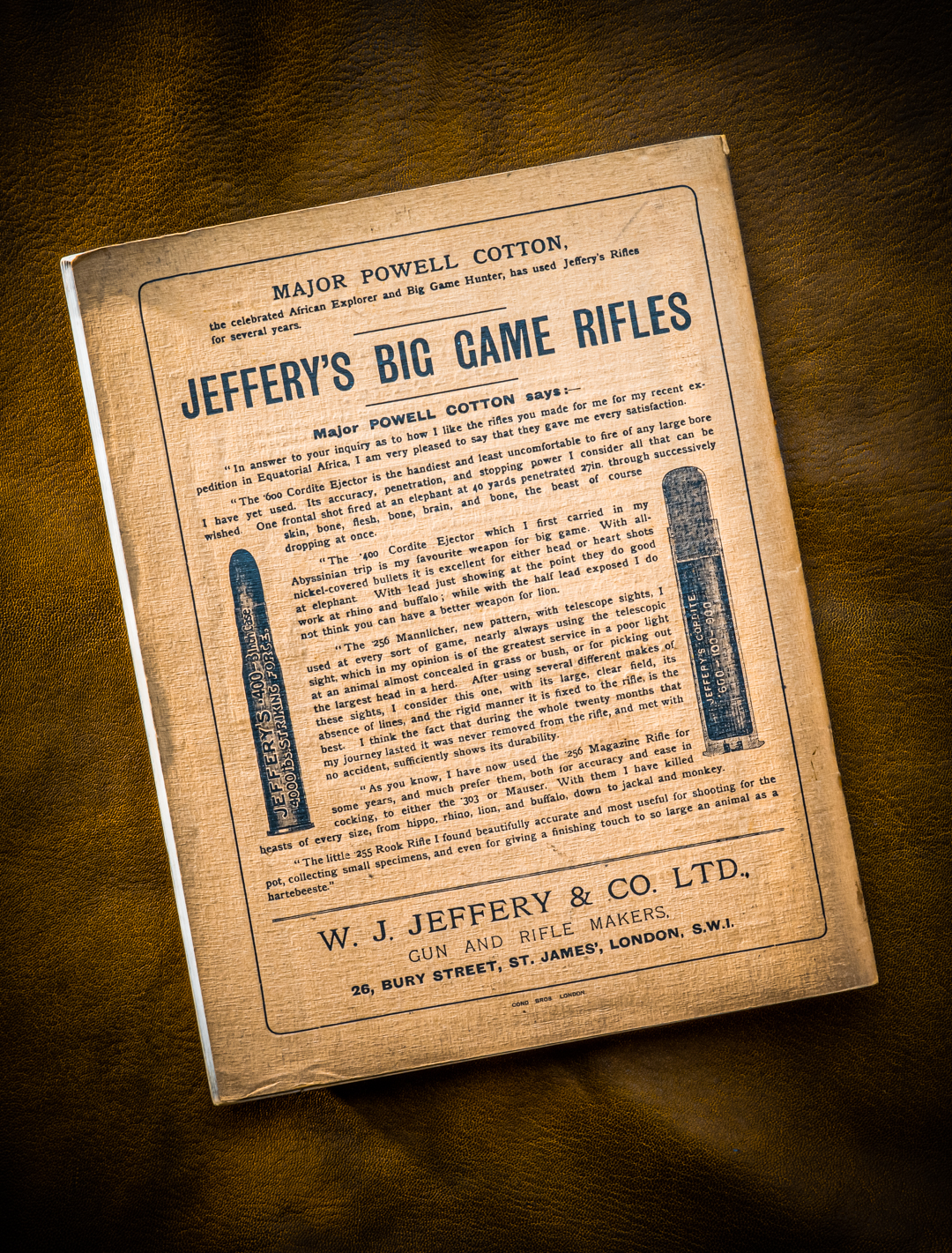 Though not as popular as the .577 NE, which John Taylor preferred, claiming better penetration, Jeffery did make a fair number of .600's and in later years other makers did likewise, notably Holland & Holland who built their 'last .600' in 1975, and for almost 100 years it was the biggest commercially available double nitro-express rifle. At a cost sixty-five pounds in 1912, it was more expensive than a best quality sidelock to purchase.
The 1923 rifle we have here is stamped for the 100 grain powder load and a 900 grain bullet (solid nose 'No 2. pattern' and soft nose 'No.1 pattern' variants were available). Jeffery helpfully advised; 'the .600 is the perfect weapon for jungle or elephant shooting as anything hit with its 900 grain bullet is usually knocked over on the spot'.
This rifle has 24" barrels and 14" stock length to centre, making it 40 1/4" from muzzle to heel. The action is massive The bar is 2 1/2" across and the fences measure 2 3/4". It stands 2 3/8" high. Jeffery built these rifles on snap under-lever actions by design, claiming 'it is a far stronger mechanism than the top-lever, and it admits nearly ten times as much pressure being applied to withdraw the bolt'.
At 4 3/4" circumference, the wrist looks slim by modern standards, though the steeply-pitched pistol grip is bolstered by a long guard strap, abutting a steel grip cap. The chopper-lump barrels have a stippled quarter rib, standing fifty-yard rear sight and folding leaves for 100 and 200 yards, which are surely redundant. The foresight is a conventional ramp and blade.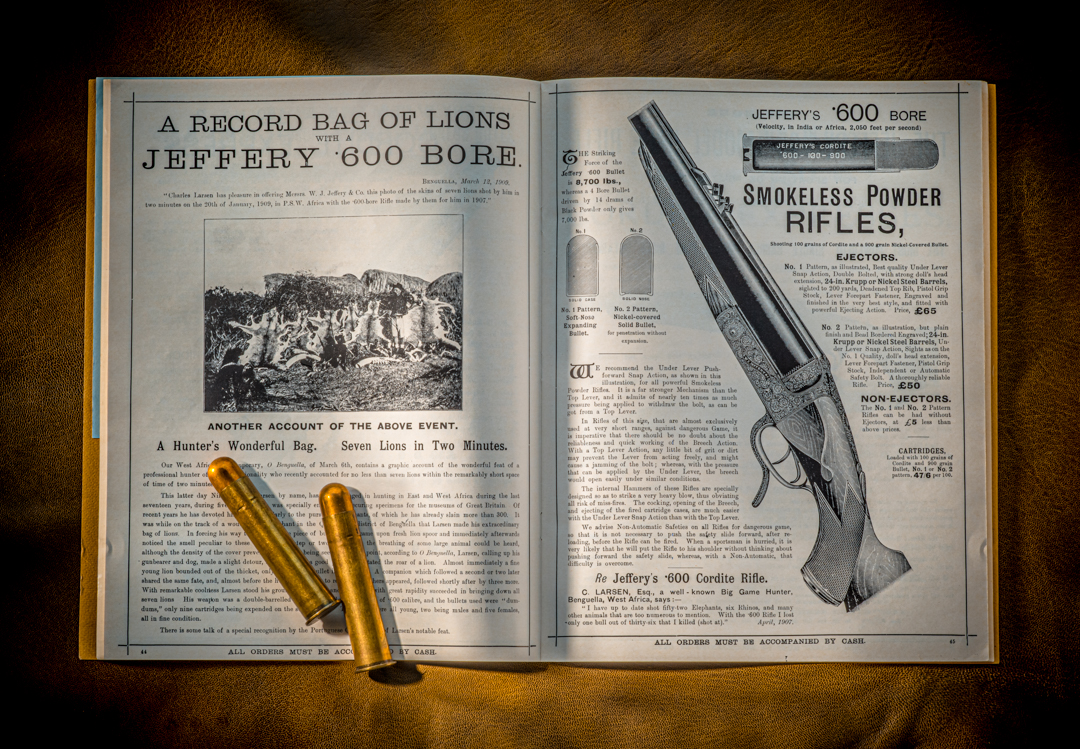 The action and barrels are locked by a combination of the Purdey under-bolt and a Westley Richards doll's head, jointed on the circle but without a sliding top-bolt. Build quality is first class and the action and furniture fully scroll engraved. The metal work remains in very good order, showing little wear, and a good percentage of case colour remains.
The wood is dark, straight-grained and unremarkable but this rifle is no show-pony, it was made to handle massive recoil and do its business in the dark, dirty corners of Africa, where strength trumped ostentation by some margin. The orange rubber Silver's pad and spacer make up 7/8" of the 14" length and are now somewhat degraded by time.
The, rather stubby, forend houses the ejectors and is secured by an Anson push-rod forend release (others have a lever grip-catch). Sling eyes located on barrels and stock make for easier carriage, which would be a blessing in the African heat, for the rifle weighs 15 1/2 lbs.
Jeffery advised buyers to opt for a non-automatic safety, warning 'When a sportsman is hurried, it is very likely that he will put the rifle to his shoulder without thinking about pushing forward the safety slide, whereas with a non-automatic that difficulty is overcome.' However, this example has an automatic safety. So, the buyer clearly had his own ideas on what suited him best.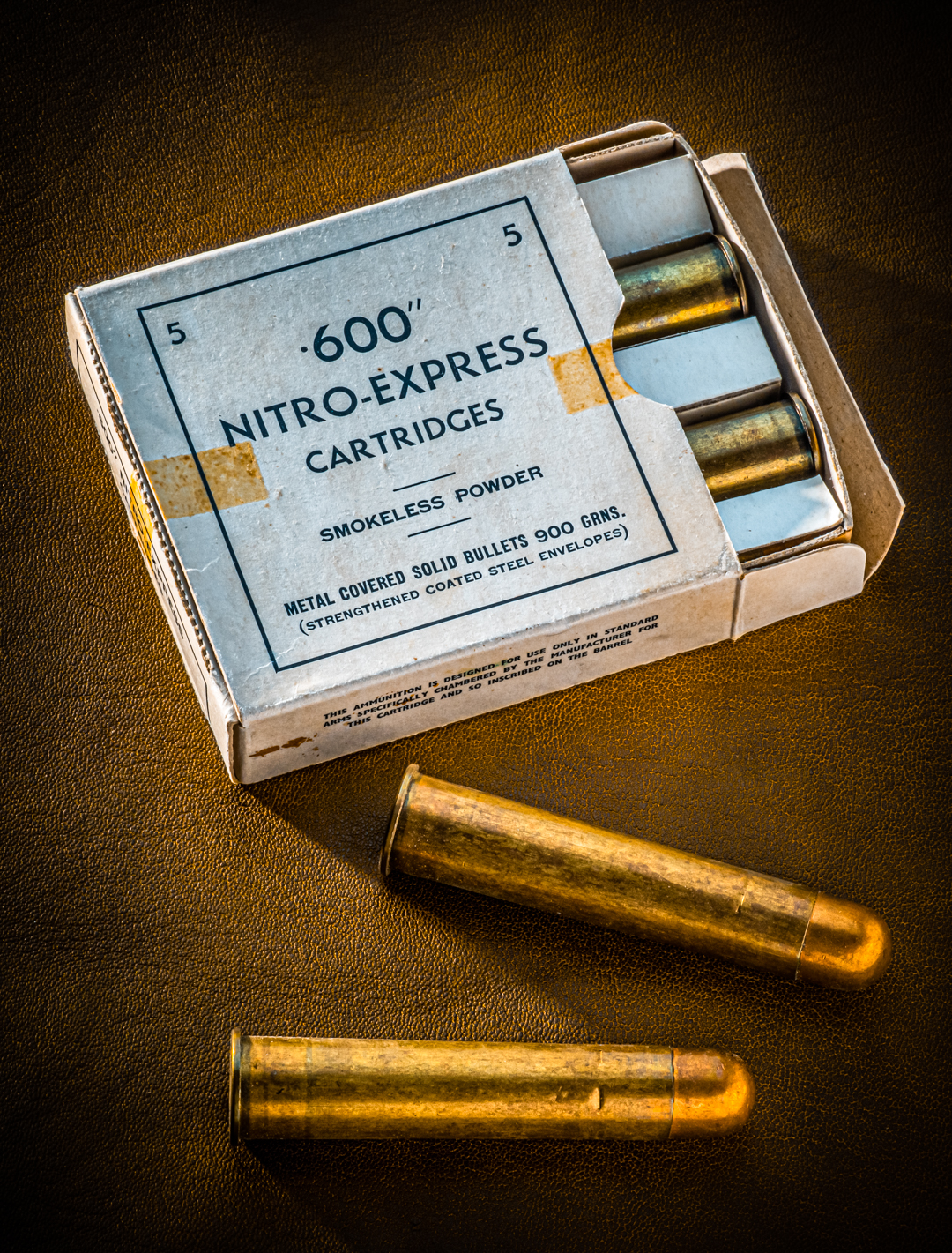 Some of the personal recommendations cited within the catalogues speak of a long-past era. One in which dangerous game was plentiful and generally considered a pest, rather than a valued resource. Mr Karl Larssen recalled "I have up to date shot fifty two elephants, six lions and many other animals that are too numerous to mention. With the .600 rifle I lost only one bull out of thirty six that I killed (shot at)". Such an extensive trial is surely a reliable testament to the efficacy of the rifle and cartridge in real life conditions.
Larssen was not the only aficionado. Among other renowned .600 users we can count Bror Blixen, John Taylor and Major Powell Cotton. Westley Richards still get the occasional order for this calibre. A twenty-year-old example revisited the factory last year. For some it will always be the ultimate stopper. For others, it is a bit 'too much', with the size and weight penalties not worth any perceived advantage over a .577.
For the modern collector, these huge, rare rifles represent something of a Holy Grail. If you can find one in good order, it will cost you in excess of $100,000. For a modern hunter commissioning this, most impressive of all the nitro express rifles, for an elephant hunt, a new one offers the opportunity to go afield with something few men alive have seen and fewer still have fired.