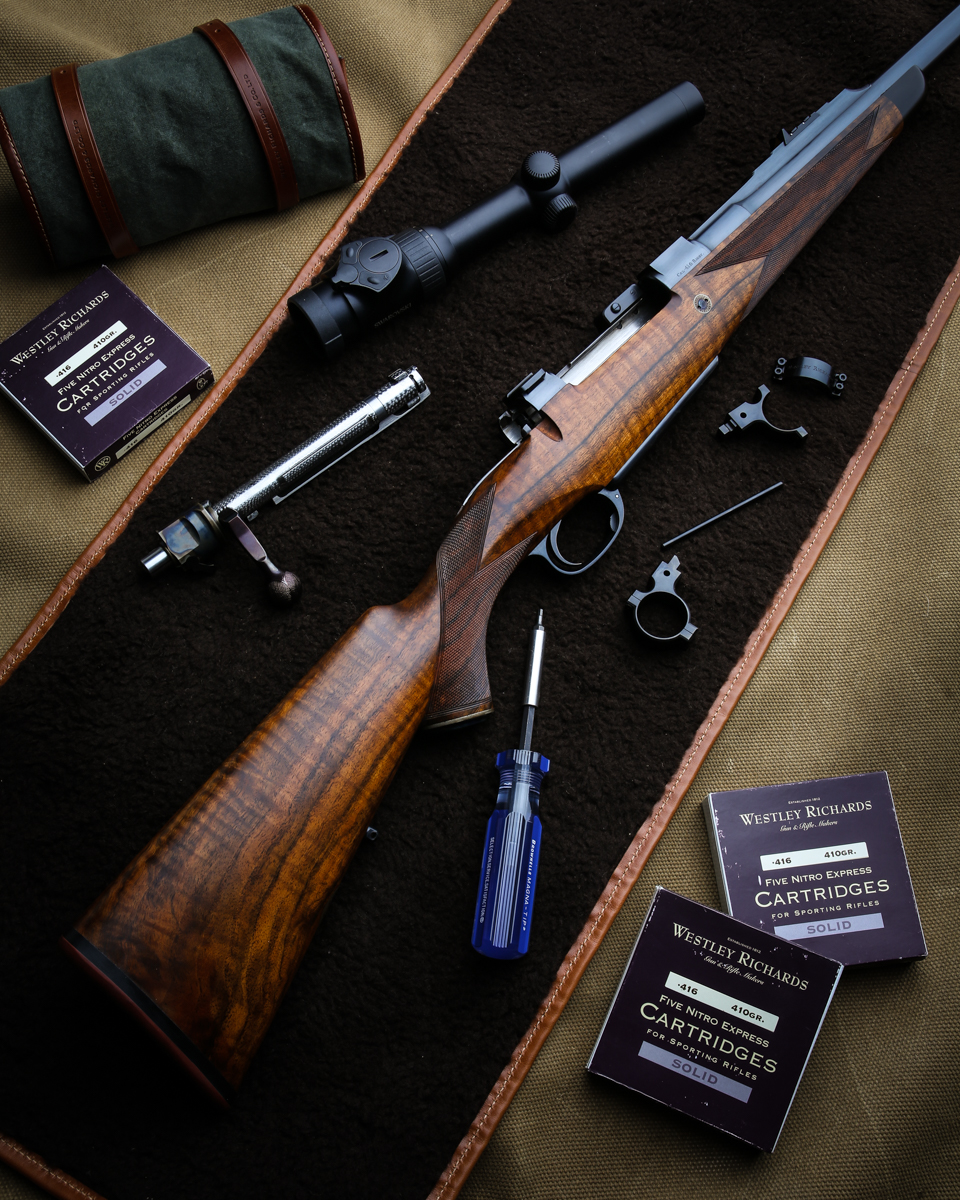 Up first we have a Best Quality bolt action finished in 2003 and chambered for the ever popular .416 Rigby. Built on a modern magnum length, double square bridge Mauser action with a drop belly straddle floor plate, allowing four rounds down, and an inside the bow release. The action is topped with H&H style quick release mounts and 30mm rings that are properly engraved with the Maker's name and serial number. The bolt body is jeweled or "spotted", and the bolt knob is checkered with three panels. The bolt shroud is color hardened with "SAFE" inlaid in gold and is fitted with a Model 70 type, three-position safety.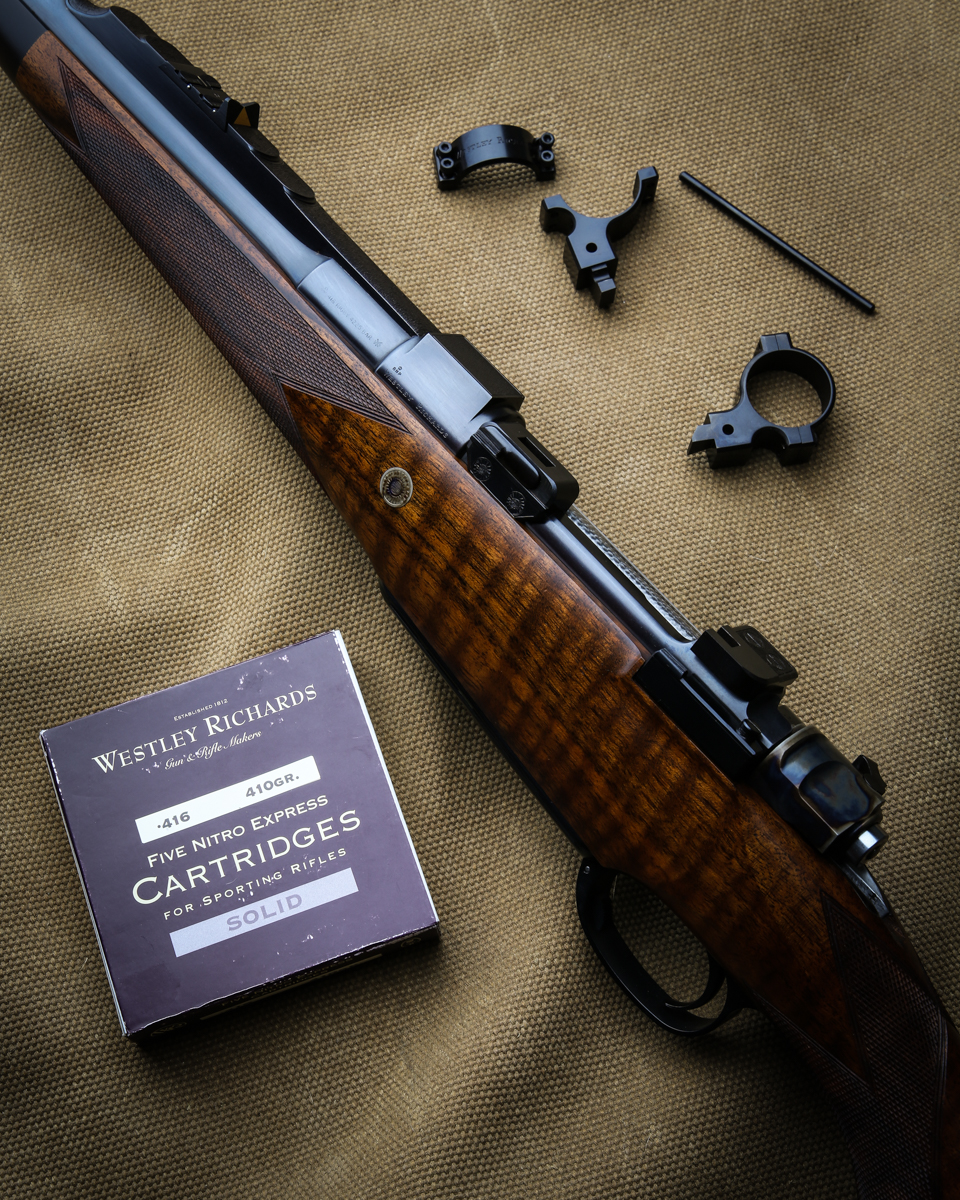 The 24" barrel has a WR pattern quarter rib, with one standing Express sight inlaid with a gold pyramid (50 yds) and two folding leaves lined in gold (100, 150 yds). There is also a barrel band front sling swivel and Westley's patent combination foresight with rearward folding sight hood and flip up night sight.
The Walnut stock is laid out perfectly with contrasting horizontal figure combined with vertical "fiddle back" running the length of the stock on both sides. The stock has a thin rubber pad, and a right hand English style cheekpiece, a color hardened trap grip cap and single recoil bar, traditional wrap point pattern checkering with Mullered borders and an ebony forend tip.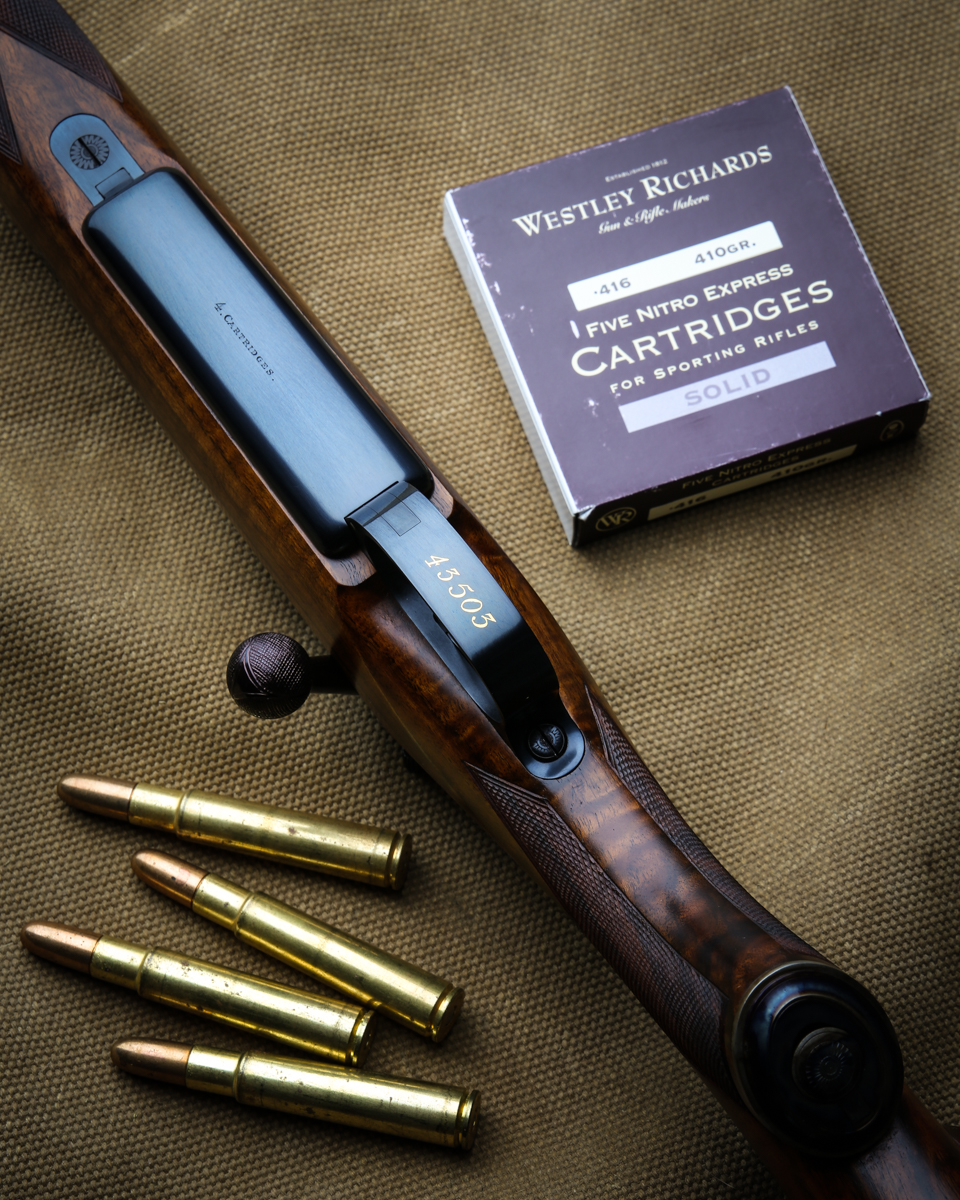 The rifle's action, barrel and bottom metal retain their original black and "4. Cartridges" is engraved on the floor plate. The serial number is inlaid in gold on the trigger bow and the action screws, grip cap and recoil bar have a touch of engraving.
The rifle remains in as new condition.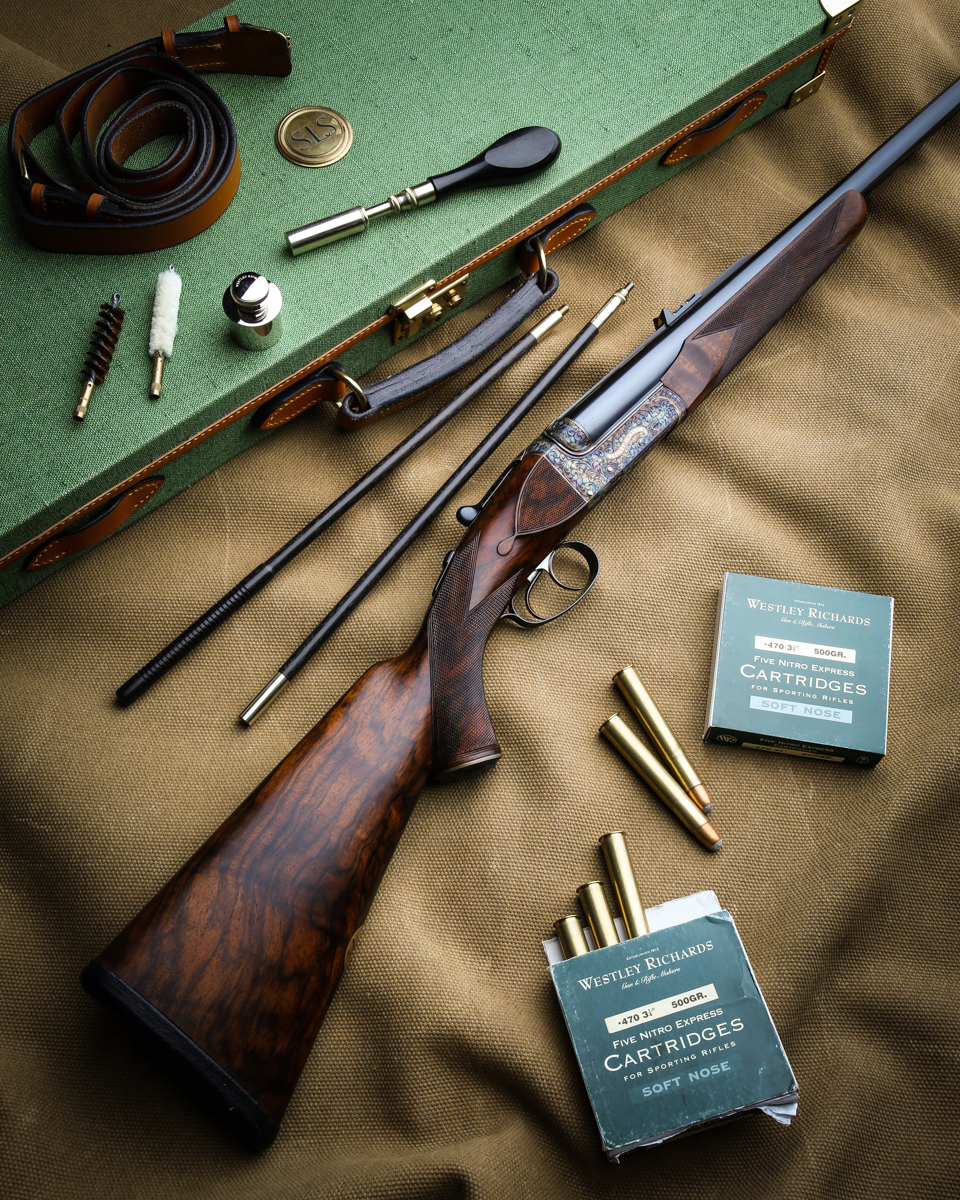 The second rifle, also finished in 2003, is one of the modern Fixed Lock double rifles chambered in .470 3 ¼" NE. Westley Richards re-introduced the time tested A&D fixed lock rifle in the late 1990's as a very high quality, English made double rifle aimed at the Professional Hunter. In its new incarnation, it was referred to as the "PH Model" and was a sort of modern day take on the White Hunter fixed lock rifles made by the firm just after WWII. Only, the new version of the A&D fixed lock rifle has always been made by the same gunmakers who build the Exhibition guns and rifles Westley Richards is so well known for. However, the fixed lock rifle comes with a minimum of standard options to keep the base price down.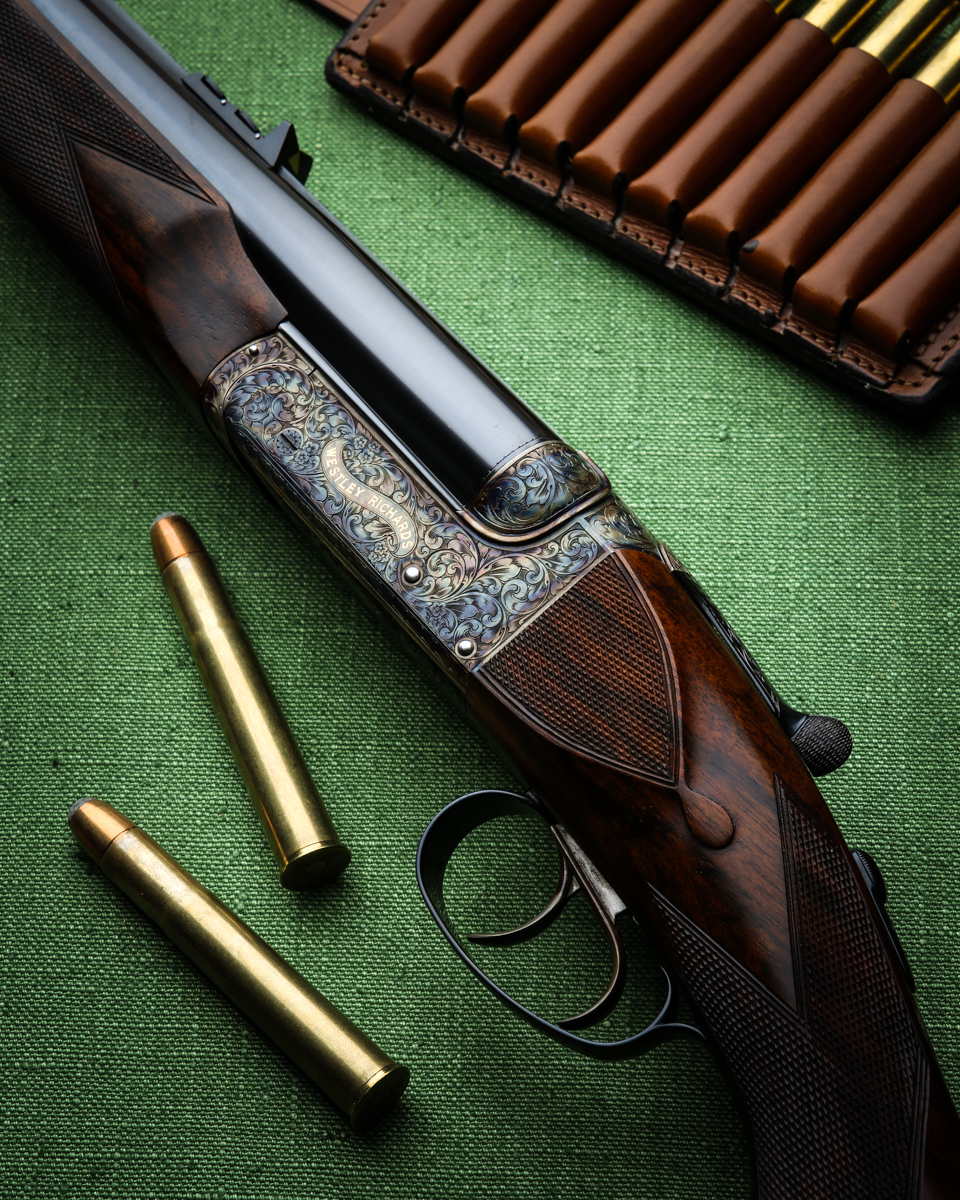 The concept was promising but when one starts to add upgrades such as engraving or Westley's patent foresight, the price quickly approached that of a Best Quality Droplock that those options are standard on. We also find that our famous Hand Detachable Lock, or Droplock, double rifle is priced very competitively compared to our counterparts in London. I am sure this also plays into the thought process for many of our clients who opt for the hand detachable lock version. As such, not many of the modern A&D action rifles have ever been made and, the few that have been produced, tend to have Gold Name engraving only.
Whatever the reason for the low production, the modern day fixed lock rifles are quite rare in any configuration, let alone with a host of luxury upgrades.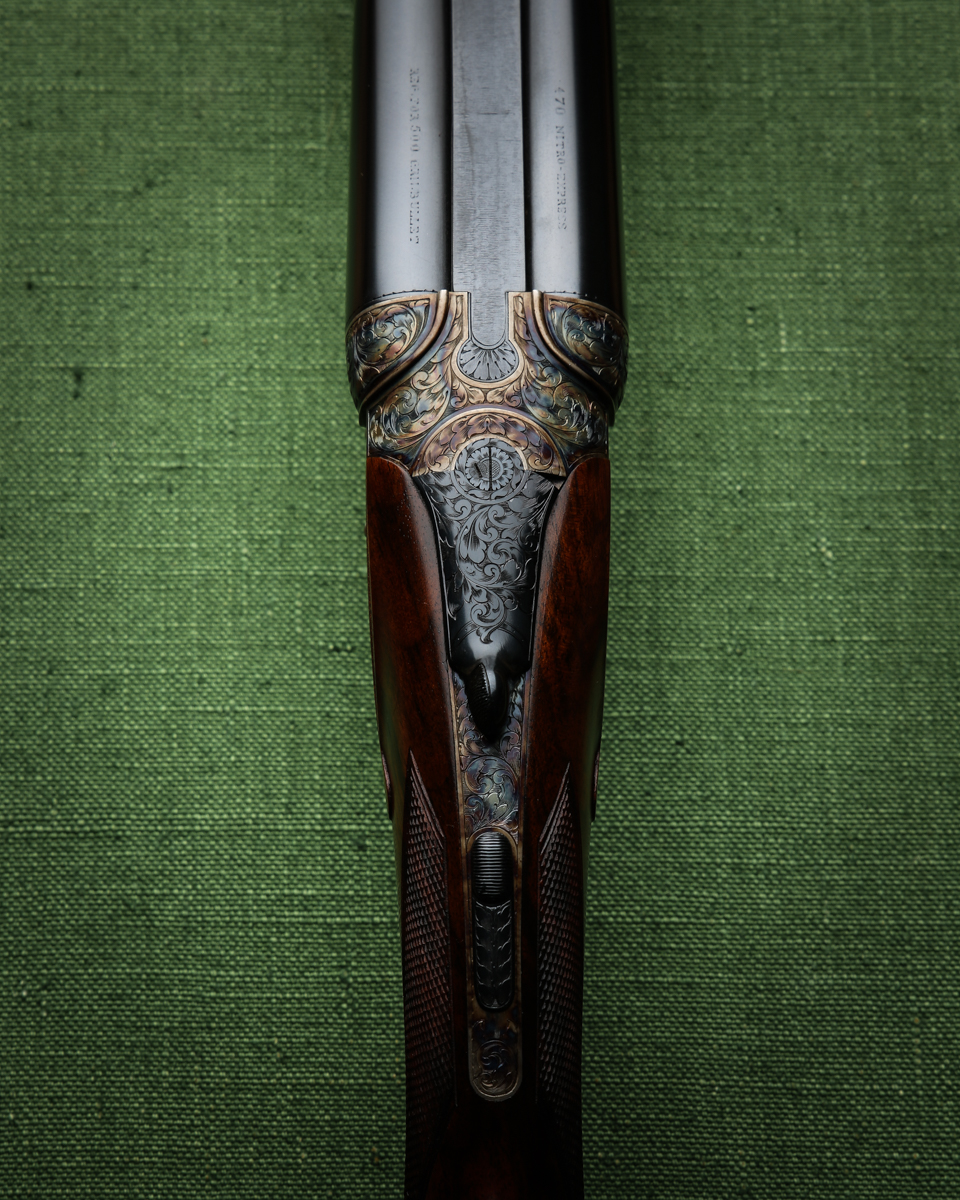 The second rifle in this gentleman's battery is one of these very rare fixed lock rifles and it is a luxury version and best quality in every way. Chambered in the ubiquitous .470 3 ¼" NE, it has 26" chopper lump barrels with the Model "C" doll's head extension, Westley Richards pattern quarter rib with one standing Express sight (50 yds) also inlaid with a gold pyramid and one folding leaf lined in gold (100 yds), with Westley's patent combination front sight.
The rifle also features Westley's snap lever work, "beetle back" non-automatic safety, disk set strikers, and two triggers. The trigger guard is rolled and has an extended tang. The action body has a slightly rounded bar that would be comfortable to carry on long marches and is finished in traditional color hardening with blacked furniture. The whole action is engraved in a luxurious bold scroll pattern that is wonderfully cut and shows up nicely on the case colored action.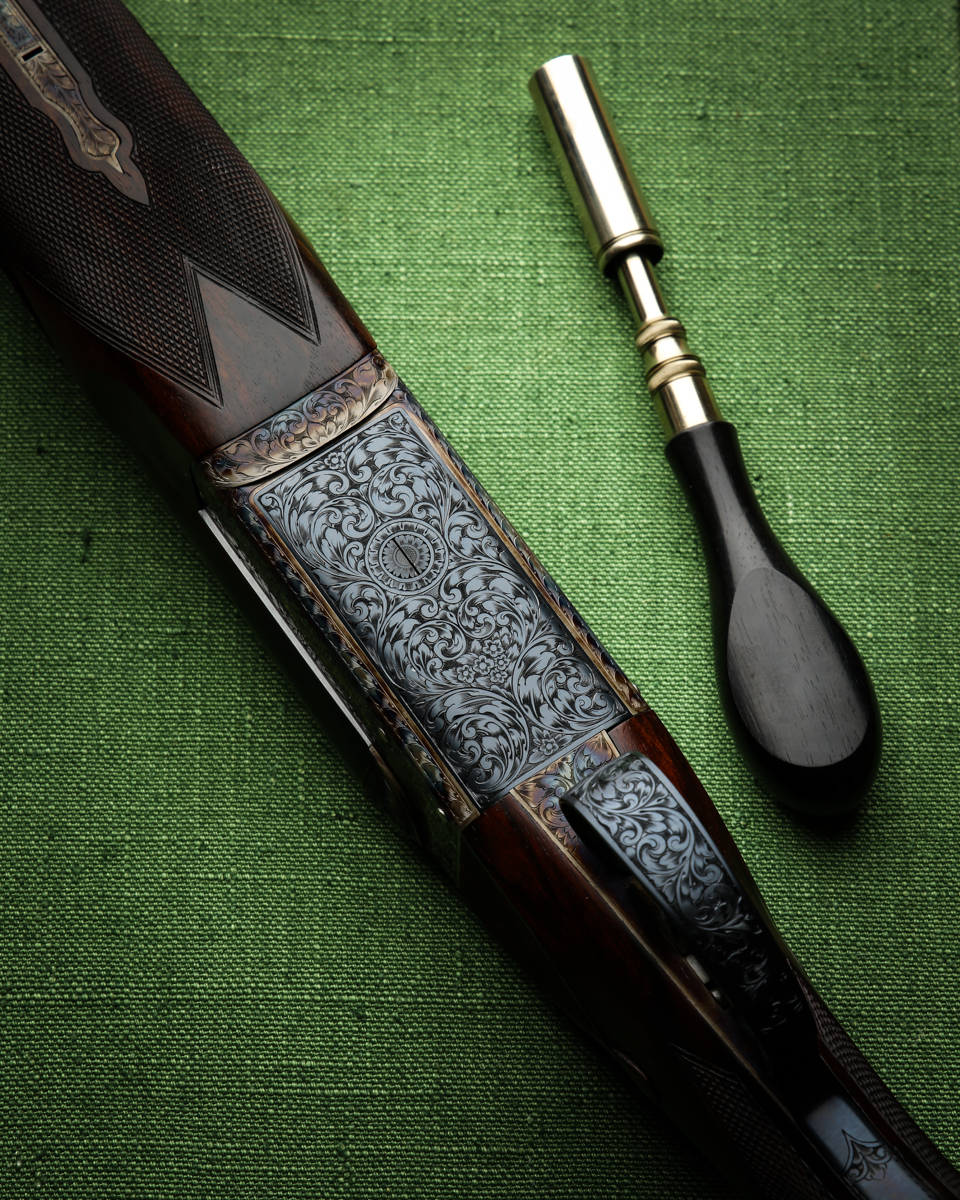 The rifle is stocked in luxury walnut with a right hand English style cheekpiece, checkered side panels with drop points, a trap grip cap and a thin leather covered recoil pad. The semi-beavertail forend has Westley's ejector box, Deeley forend latch and the traditional horn forend tip.
Finally, the rifle is complete in its original lightweight green canvas case and, for all intents and purposes, this rifle remains in as new condition as well.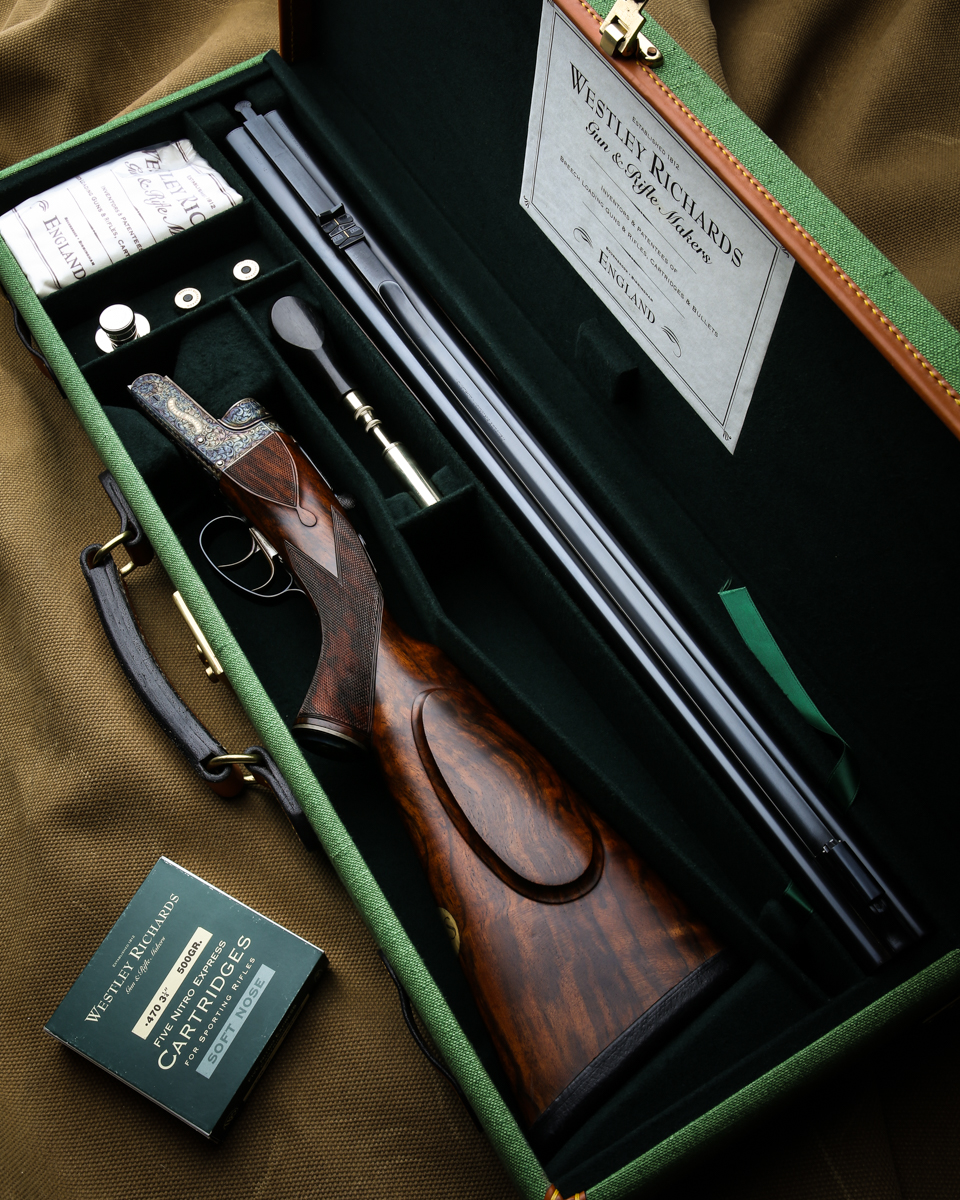 These two rifles are in the U.S.A at the Westley Richards Agency in Florida.
For more information please contact: L.D. McCaa (850)677-3688 or visit the Westley Richards Used Gun web site (https://www.wrusedguns.com/).