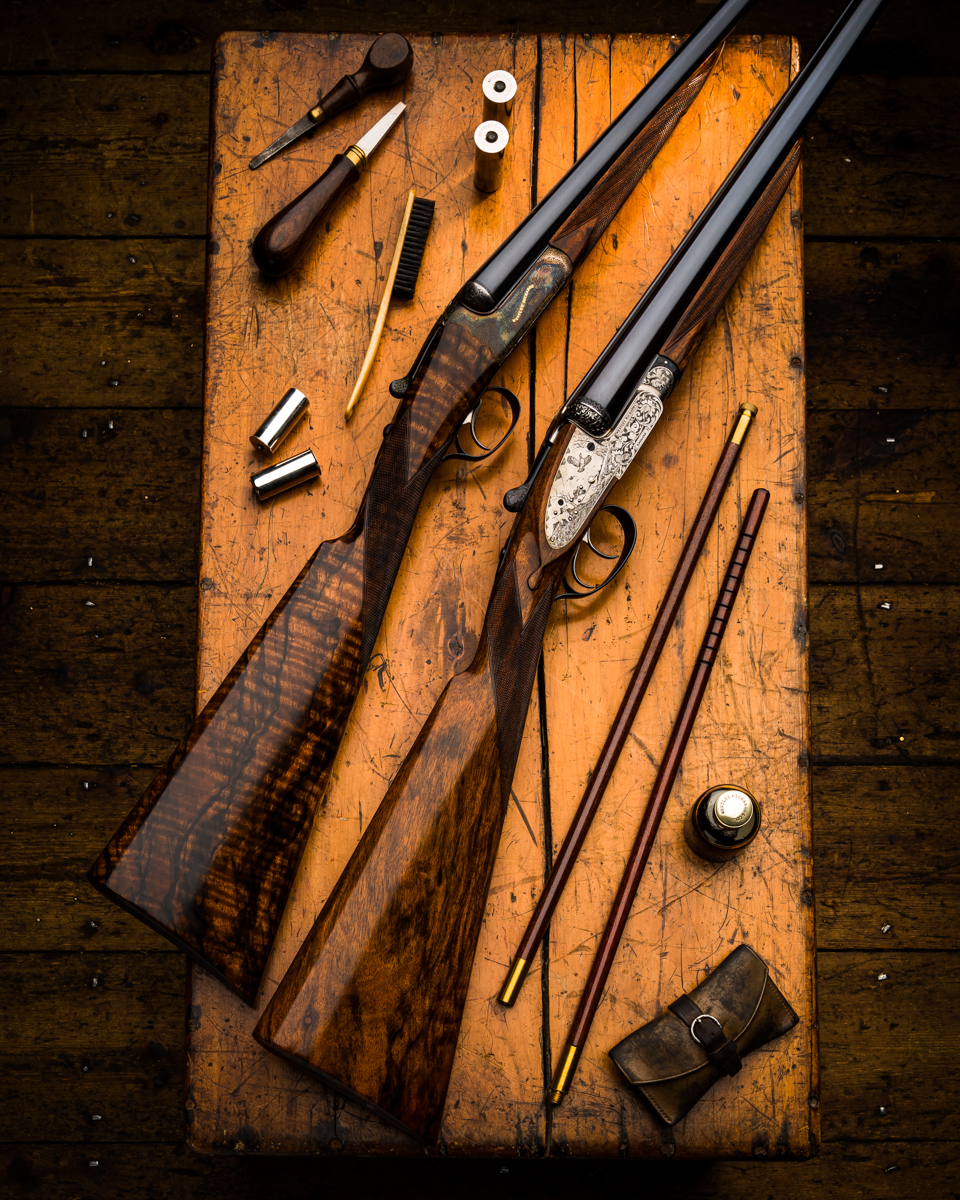 The first is a classic 20g hand detachable lock, single trigger shotgun. Originally built in 1912 the gun was returned to us in 1992 for a complete rebuild. We fitted new 27" barrels with 2 3/4" chambers, choked 1/4 & 3/4. A new, beautifully figured, straight hand stock and splinter forend measuring 15 1/8" to the centre of the chequered butt, with a drop of 1 1/2" at the comb and 2 1/2" at the heel, cast off 9/16" at the heel, 3/4" at the toe and 1/2" at the face which is slightly swept.
The scroll back action features our patent hand detachable locks with a single selective trigger, snap lever work, model C dolls head and beetle back automatic safety. The action was re-colour hardened and the cover plate and trigger guard re-engraved with a game scene and dog on the trigger guard bow by Dave Hudson. The rest of the action has the traditional house scroll and WR name in gold banner. The gun weighs 5lbs 11.5oz and comes in a lightweight leather case with accessories. Although not original, the gun is a beautiful example of a 20g droplock, the exhibition grade wood and upgraded engraving make for a very attractive gun. Not only that but it is, effectively, a modern gun with as new barrels capable of shooting modern 2 3/4" loads. It points and handles extremely well.
The second is pretty much completely opposite to the first gun. A 12g sidelock ejector with two triggers. Completed in 1982 and built as a best quality, 7 pin, bar-action sidelock ejector. Featuring two sets of barrels, the originals measure 27" with 2 3/4" chambers, choked improved cylinder in the right and 1/2 in the left, a concave rib engraved 'WESTLEY RICHARDS & CO. ENGLAND'. The second set which were ordered in 2008 by the current owner, measure 29" with 2 3/4" chambers and are choked 5/8 in the right and Full in the left, with a concave rib and the same engraving. The action is engraved with detailed game scenes on both lock plates and a bold scroll surround, a retriever on the action bottom and carved oak leaves on the fences. The straight hand stock measures 15 1/8 to the centre of the chequered butt with a drop of 1 7/16" at the comb and 2 5/16" at the heel and is cast off 9/16" at the comb, 7/16" at the face and 5/8" at the toe. The stock is fitted with a gold oval and the splinter forend has the Anson push rod release. The gun weighs 6lbs 11.3oz with the 27" barrels and 6lbs 12.7oz with the 29" barrels. It is neatly housed with both sets of barrels in a mid tan case with tools. A versatile gun for every type of game shooting.
Both guns offer something different and remain in excellent condition throughout. They will be on the used gun site shortly, but for any questions, please contact me directly at ricky@westleyrichads.co.uk   or +44 121 333 1918