On a blog that deals with the most exquisite rifles and guns that money can buy, you may wonder why I am writing about an old 'garden gun'.
The answer is very simple. If you're a regular reader of The Explora you probably own or aspire to own a beautiful hand made British gun. Either way, I'm sure many readers have an old gun in their cabinet which for sentimental reasons they would never part with. This old 9mm rimfire shotgun is that gun to me.
When I was 15 my father and I were invited to try clay shooting by a gentleman called Ronnie. Ronnie was well into his eighties and a true old Norfolk boy. No one in our family shoots, and this was my first exposure to shotgun sports. A few years later during my gap year I applied for a shotgun certificate and bought my first gun. Ronnie was always very good to me and introduced me to various small local shoots. When the time came to go away to university, I eyed up corners of my small room in halls, wondering if bolting a gun cabinet to the wall would void my security deposit! However with no shooting club at university I left my guns at home and made up for it by shooting as much as possible during my holidays.
During my final year at university Ronnie fell ill, and one day whilst on the phone to my parents I asked after him. There was a short silence and I knew what had happened. I was in the middle of exams and so I did my best to put it out of my mind, but I came home for a weekend shortly afterwards. Dad told me he had something to show me, and produced a small garden gun. "Why did you buy that?" I asked. He told me he hadn't, but that it had been Ronnie's and that his family had asked that we have it.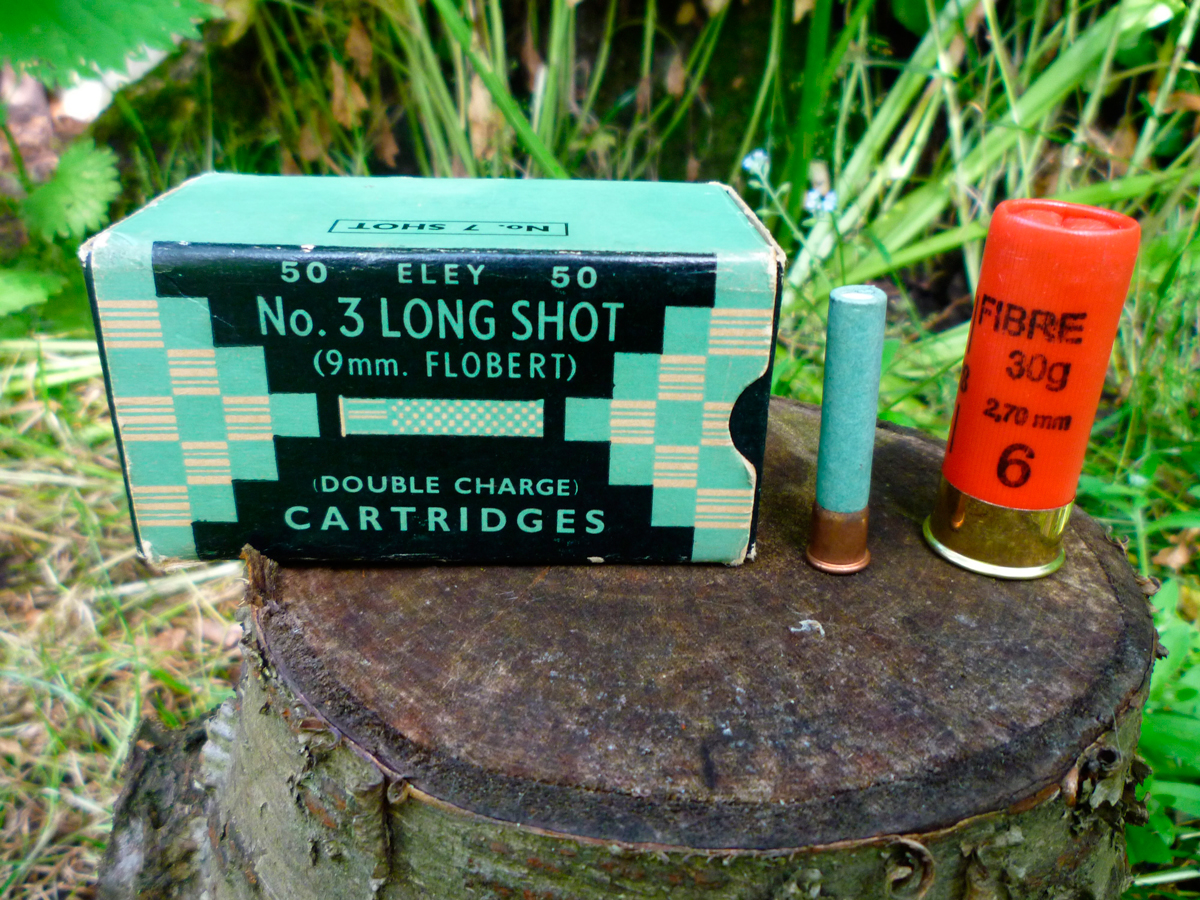 Old Eley No.3 Long Shot 9mm Flobert cartridge next to a 2½" 12 bore for comparison.
I know nothing about its provenance other than it has Belgian proof marks dating it from between 1924 to 1948. Cartridges come in boxes of 50 where you can find them and it is surprisingly effective at keeping the garden safe from little 'helpers'! More recently I found a full box of Eley 9mm Flobert cartridges loaded with black powder at the British Shooting Show. These have taken pride of place in my book case next to my modest collection of antique shooting books.
So that's how I came by this old gun, and why it means the world to me. Using it reminds me of the generous man who introduced me to the world of shooting sports. An introduction for which I will always be thankful.
Thank you Edward, I am sure this is a story that will 'resonate' with many of us!
Simon.