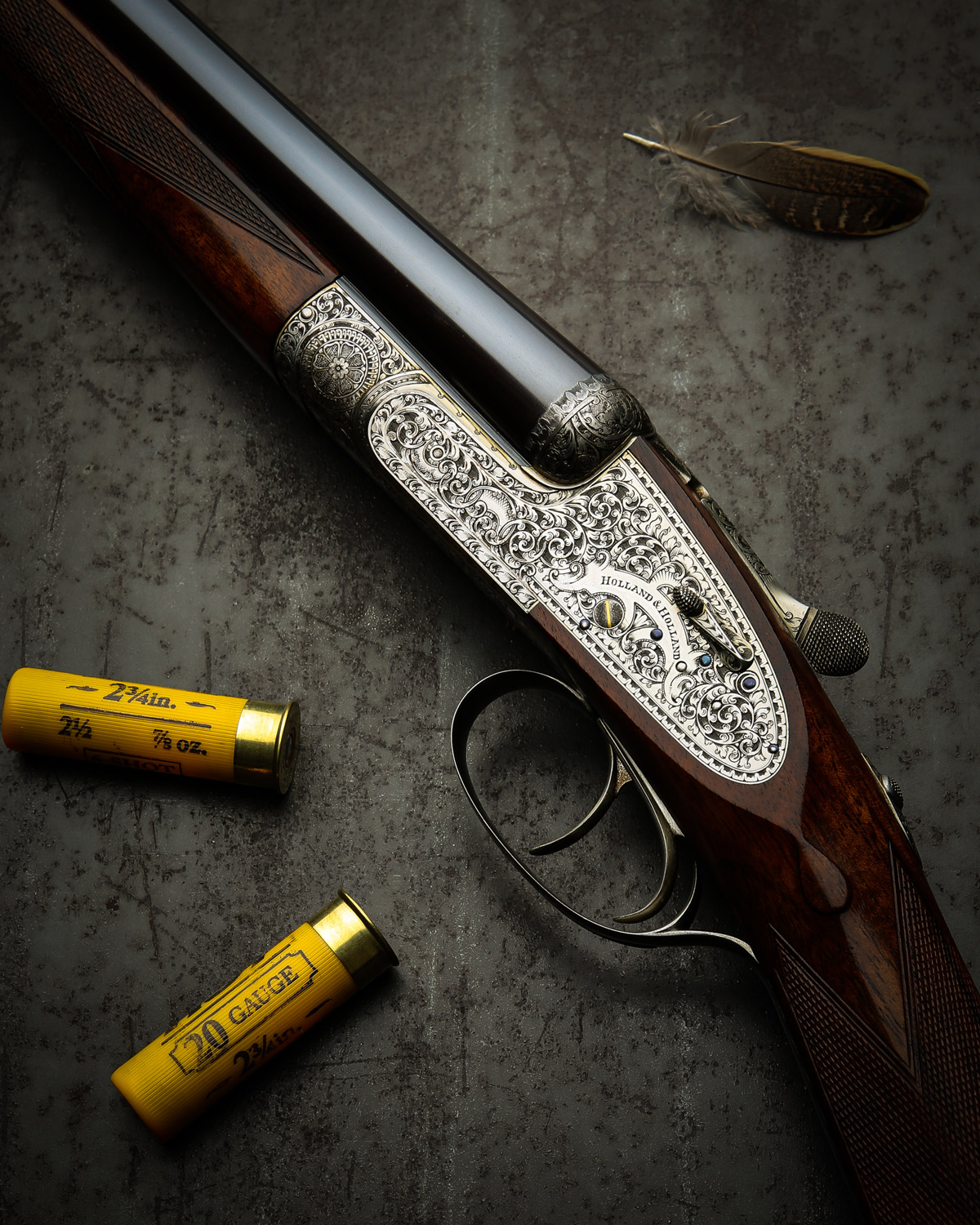 Holland's is famous for many innovations in gun making, but none more so than the Royal model hammerless sidelock. While the Royal needs no introduction to most readers of this blog, this most recent group of guns features some of the more obscure models offered by the storied firm.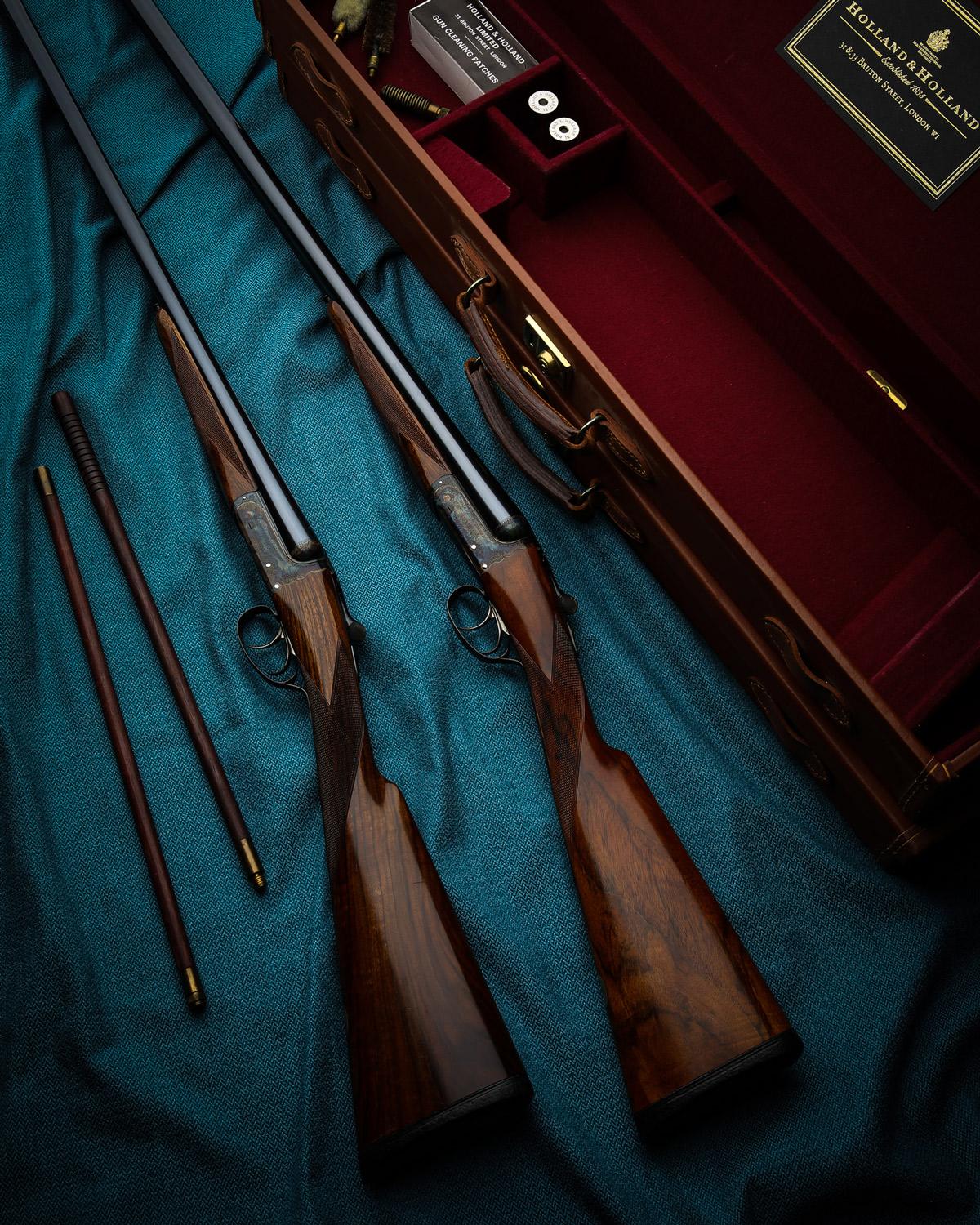 The first two guns are 12g and 20g Northwood models. After WWII, Holland & Holland offered a boxlock ejector that was made in the Birmingham trade then finished, shot and regulated by Holland's in London. This gun was known as a Northwood.  Sometime in the 1980's, Holland's made moves to produce their own boxlock. The project lead to the company purchasing the venerable Birmingham gunmaker W. & C. Scott and offering two models, the new Cavalierand the Northwood, the latter being the less adorned of the two.
Both models were based on the proven Anson & Deeley fixed lock or "boxlock" action. Available in 12g and 20g and built on dedicated frame sizes with scroll backs and Scott's spindle top lever. All the parts were made in Birmingham at the W&C Scott factory and the guns were stocked, engraved and finished in London at Holland's factory. According to Donald Dallas' book Holland & Holland, The Royal Gunmakers, Complete History (Quiller Press, 2003), the project ran about a decade ending sometime in the 1990's and Holland's only made about 200 of the very high-quality guns.
The two Northwood models here at the Agency have traditional scroll engraving, color case hardened finishes and 2 ¾" chambers with 1989 Birmingham proof marks. They are nicely stocked with straight hand grips, auto-safeties, two triggers, and rolled trigger bows. The 12g weighs just over 6 lbs. with 28" barrels and the 20g weighs just under 6 lbs. and is fitted with 27" barrels. Both of these guns are in superb condition and in their own lightweight canvas case.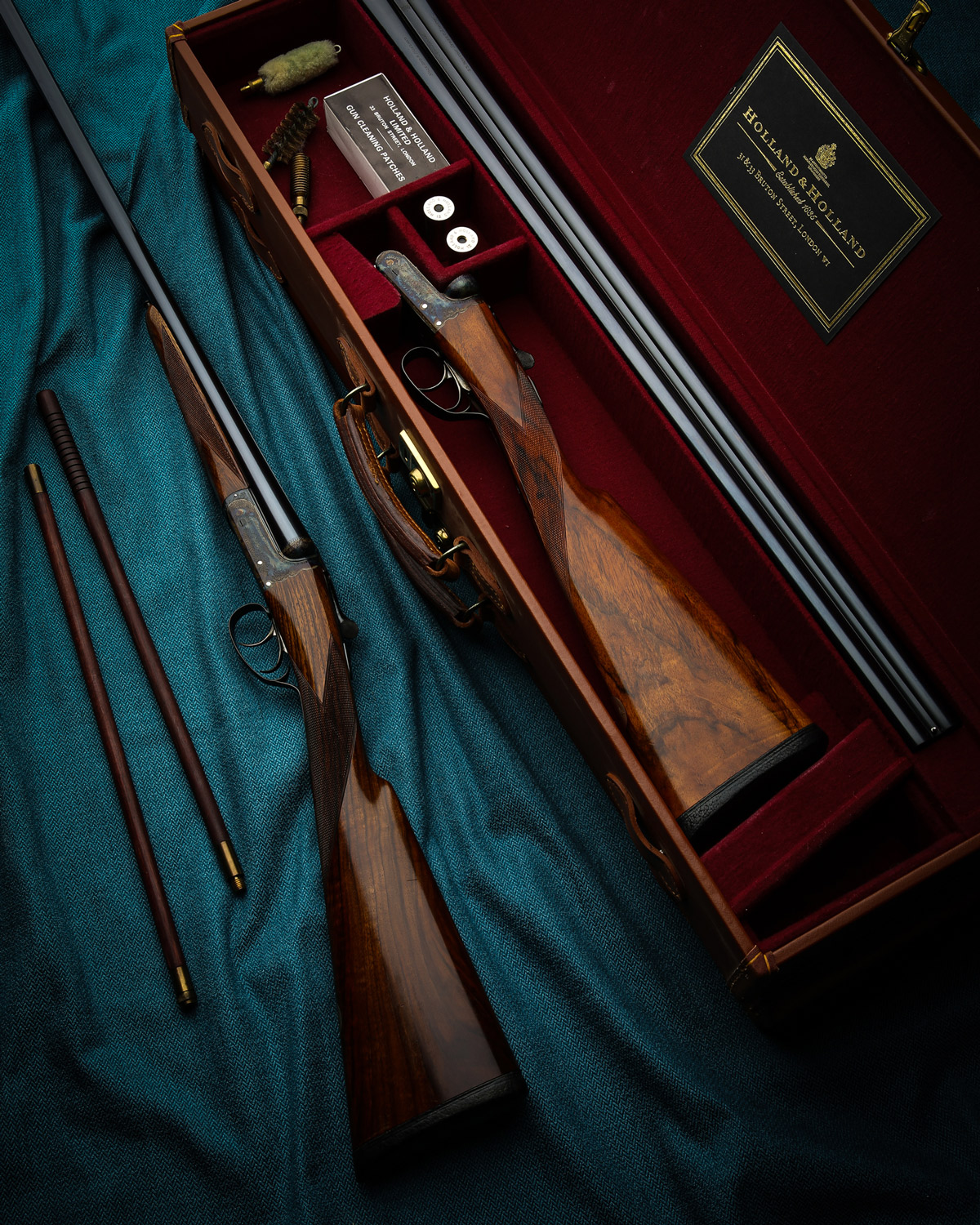 The 'Northwood' Model
Another gun in the group is a factory two-barrel set 12g called the Riviera Model. In Dallas' book, he says the Riviera Model was offered for more than 30 years, from 1933 to 1967. Despite being available for over three decades, it is a rarely encountered model.
I have seen the Riviera model featured in Holland catalogs from before and after WWII and described as:
"…12 bore Hammerless Ejector Gun with two pairs of interchangeable 28 inch barrels, treble grip action, two triggers-front hinged, hand-detachable locks, selected French walnut, chambered for the 2 ¾-inch case, weight about 7 lbs. 4 oz. to 7 lbs. 6 oz…introduced particularly for sportsmen desirous of a using one gun only, for either game or trap shooting. One pair of barrels bored full choke, while the second pair throw more open patterns for game shooting"
The Riviera was built on a Badminton hammerless ejector sidelock action with Holland's patent hand detachable locks and Treble Grip action that accepted their hidden third bite. Another obscure name from Holland's, Badminton was used for a plainer sidelock that employed the same action as the Royal model but without the famous Royal pattern house engraving.  This was originally known as a No. 2 but donned a new name after WWI and named for Holland's Badminton shooting school.
This Riviera was built in 1937 and ordered with very specific details by the customer. As specified on the factory build sheet, the first set of barrels are choked at .004" and .010" and listed on the build sheet as "field" barrels. The second set of barrels are choked .029" and .040" and described as "pigeon" barrels. Each set of barrels have original 2 ¾" chambers and the same wall thickness as specified on the factory build sheet (.024" in the field barrels and .026" in the pigeon barrels). The barrels are numbered, in gold, "1" and "2" respectively and also marked with the "98 New Bond St." address and "Riviera" is engraved on each top rib.
The action of the Riviera model is engraved in a bold floral pattern with the Maker's name on each lock plate in flowing banners with gold lined cocking indicators and fire blued pins, and the word "SAFE" inlaid in gold. On the bottom of the action it is engraved "Badminton Ejector". The gun comes complete in its original two-barrel "VC" case.
Last and certainly not least, is a Holland & Holland 20g Royal Brevis.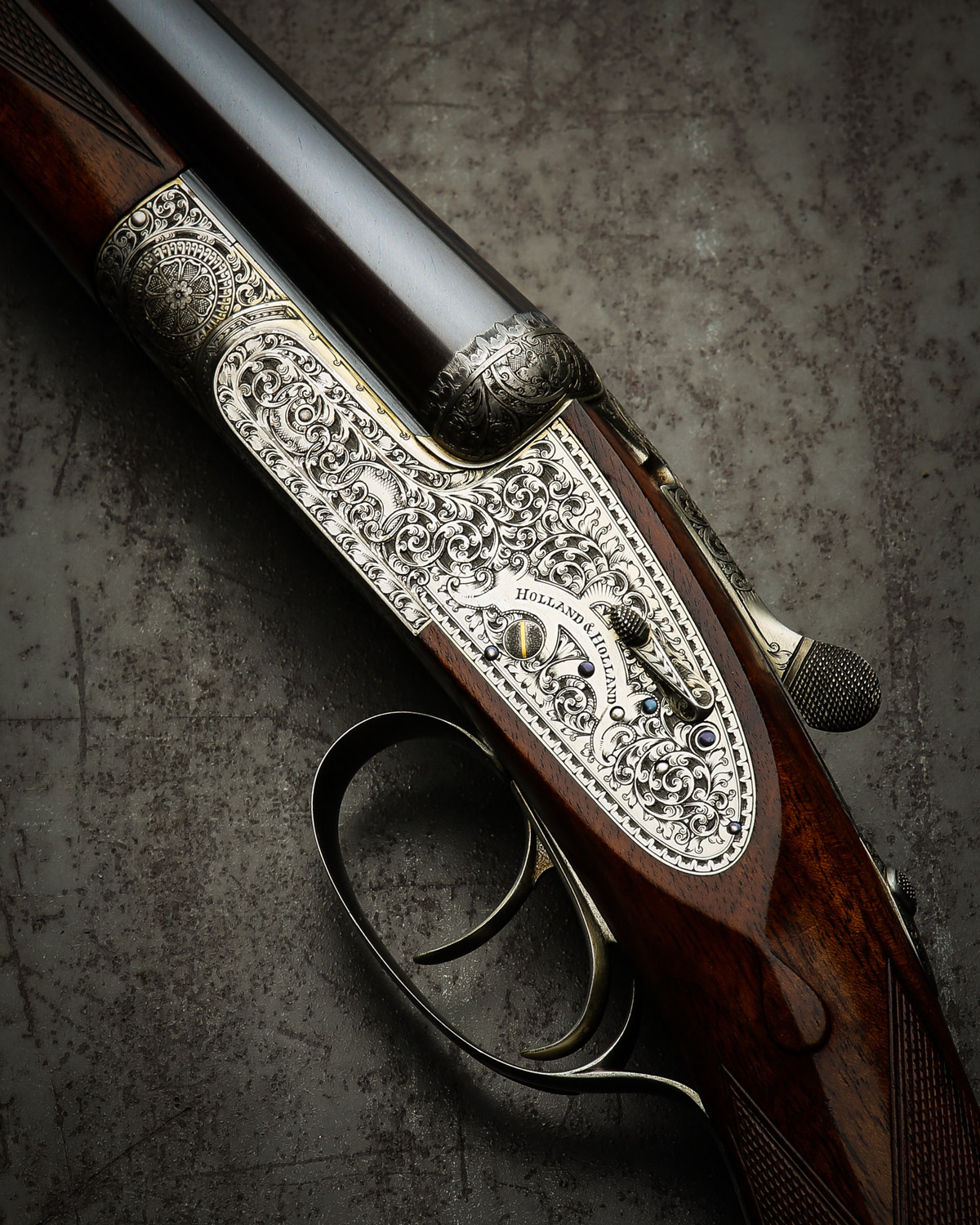 The 'Royal Brevis' Model
The word Brevis is Latin for "short" and is the name Holland's uses for any Royal gun made with barrels shorter than 28". Introduced in 1931, the Royal Brevis was conceived to keep up with the trend of shooting with shorter gun barrels made popular by Robert Churchill. Referring again to Mr. Dallas' book, The Royal Brevis name was not used in any Holland catalogs after WWII, but he says it remained available. In my own experience, I have encountered many post-war Holland's with barrels shorter than 28" but not marked Brevis; no doubt this is a very rare gun to find made in modern times.
I know barrels shorter than 28" are often frowned upon by some. But let's be honest, most upland hunting in North America is for walked up birds that flush in different directions, with little to no warning, and often in tight cover. This type of shooting is simply better served by shorter barrels. While I fully understand the benefits to long barrels for pass shooting doves or high driven pheasants, the fact is so called "short" barrels are handier in tight cover and easier to change their direction when shooting birds who flush or fly erratically. Lightweight guns like this Brevis are fast handling and easy to carry making them tailored made for the kind of hunting we Americans enjoy.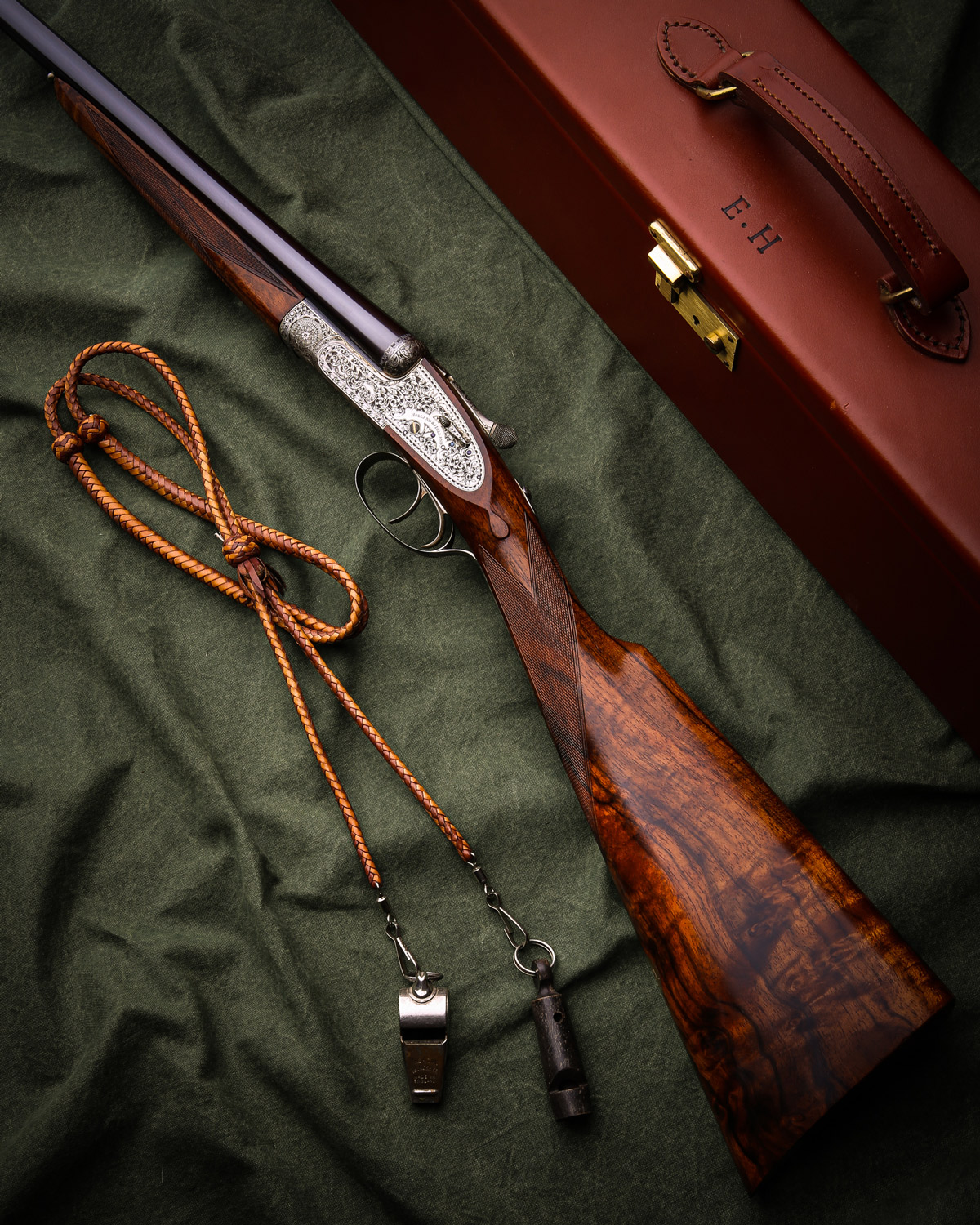 Finished in 1992, this gun is made in the traditional Brevis configuration with 26 1⁄2" barrels but specially ordered as a lightweight, weighing only 5 1⁄4 lbs. The gun has a an exceptionally dainty action body and beautifully struck lightweight barrels. The gun also employs all the same best quality features of the Royal such as hand detachable locks, Holland's self-opening mechanism on the barrels and Royal engraving. This gun has a brushed or "coin" finish, gold lined cocking indicators, two triggers with the front one being articulated and a rolled trigger bow and the serial number and the word "SAFE" are inlayed in gold.
All in all, this group of guns offers a nice selection of Holland & Holland guns, all at different price points, and are more examples of why vintage Hollands remain so desirable.
For further information on any of these guns please contact:
'LD' E. Duke McCaa II
Telephone: 850 324 1150  Email: ld@westleyrichards.com