In June 2020 he will celebrate 2 years with Westley Richards and has certainly come a long way since he sent a chance letter to the company, all the way from Belgium, to enquire about an apprenticeship. It is clear that our dedication to working with young talent, giving them unique opportunities and watching them thrive is at the very heart of the Westley Richards DNA.
Léo, where did you grow up?

I grew up in the Belgian countryside, in a little village outside of Liège.
Did you always want to be a gun engraver?

Not exactly. I did always want to have an artistic job but in fact only started to think about the engraving profession a few months before my studies began in this subject. The idea first came to mind when my father took me to a hunting show where my soon-to-be teacher, Pierre Dôme, was performing a demonstration for the Léon Mignon School of Liège.
What did your education/apprenticeship entail?

At Léon Mignon School I learnt the two key areas of engraving both the handcraft and drawing. This included traditional techniques of hammer and chisel and the hand-chisel as well as technical drawings of ornament composition and game-scene sketches. Thereafter I taught myself how to use the pneumatic chisel and stereo zoom microscope, which I use today.
Who inspired you to become an engraver?
My family principally, but I do have two very special people who really inspired me to become the person I am today. My two best friends, Laëtitia Copine and Nicolas Braud. Laëtitia taught me about the world of the arts and greatly influenced how I now consider, analyse and understand art. Nicolas helped me to appreciate unexpected challenges and importantly how to remain stoic in front of them, an incredibly vital quality in the practice of engraving.
Who would you count as mentors in the field of engraving?
I am fortunate to have a few master engravers that I have had the privilege to meet and call mentors. The first are my two teachers from the Léon Mignon School, Master Lucien Gironi and Master Pierre Dôme, who I regularly keep in touch with. Others who I have had the chance to cross paths with who need no introduction, who very much like my school teachers, shared their work, ideas and knowledge with great kindness. Masters Paul Lantuch, Alain Lovenberg and Bram Ramon.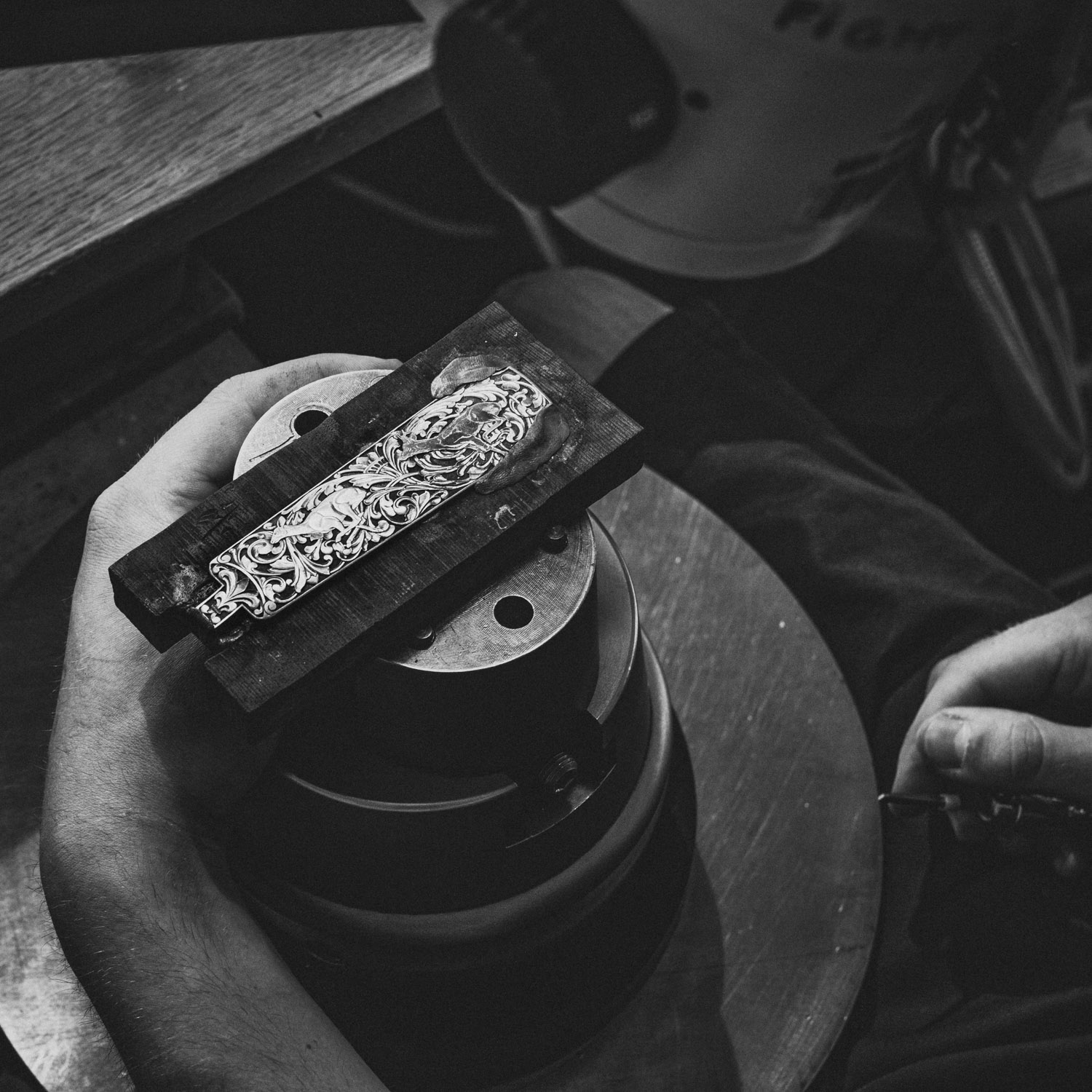 How long did it take to learn the art of engraving?

I began learning the art of engraving in September 2015, with my background in the arts and the first class education I received, I have had a rapid rise. But when you ask "How long did it take to learn the art of engraving?", it is a difficult question as like others, I'm sure, consider that I will never stop learning (and  that's a great thing).
Indeed the continual learning is the most exciting part of the job, always amazed by the masterpieces of great engraving masters, past and present, who have work for Westley Richards. Holding their works in my own hands is always such a privilege.  Spending many an hour researching I discover talents across the globe who produce such technically impressive works with skills that are out of this world. Knowing this drives me to keep experimenting and push boundaries with this historic craft.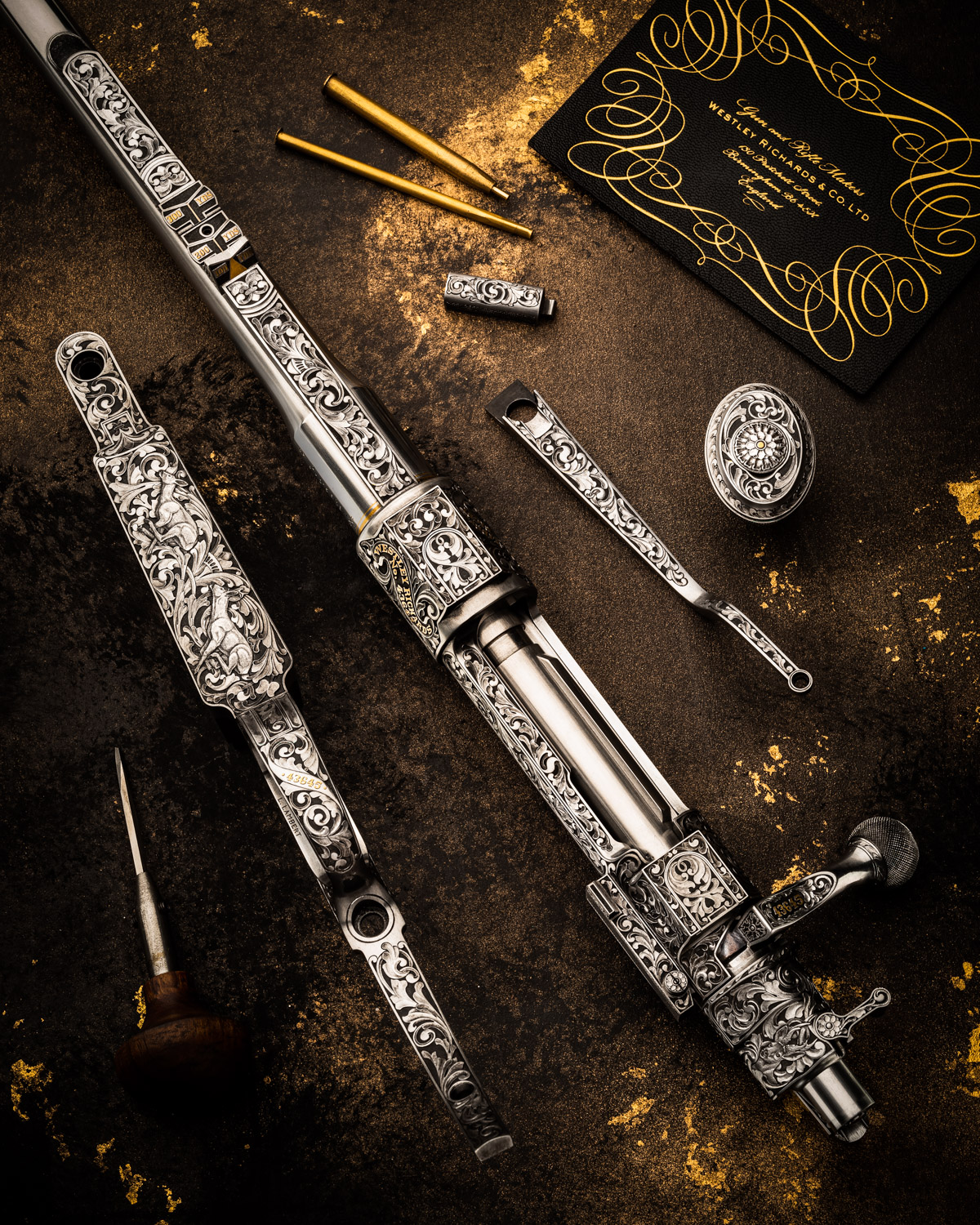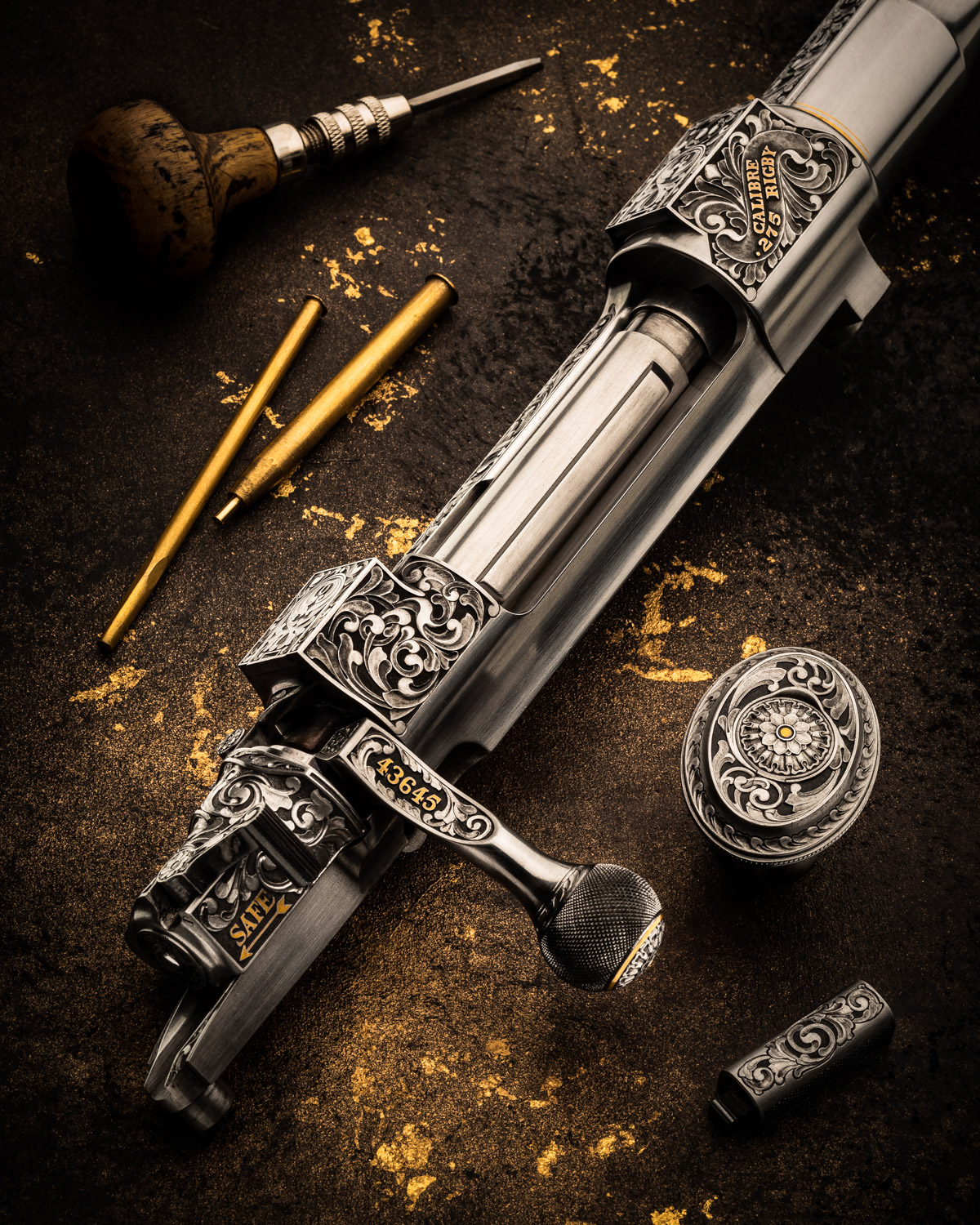 Tell us about the 'Roebuck Rifle' that you recently completed for Westley Richards?
The Roebuck Rifle is my very first grand-scale project in engraving. At first, embarking on this project made me acutely aware of my level as engraver and how long still the path of apprenticeship really is. To be honest in the beginning I was very nervous about such an important artwork, but with the fantastic team around me at Westley Richards, and the nerves subsiding, I began to have fun and enjoyed the entire process.
The ornamentation was my first challenge, the client had decided upon a carved leaf design using a technique I had only used once before at my school in Liège. At that time I used the traditional hammer and chisel method, however with my new pneumatic tools this was a completely fresh experience and one I threw myself into. Fortunately the path of this level of engraving I was able to begin on the smaller elements, like the roebuck head on the safety shroud, to build confidence.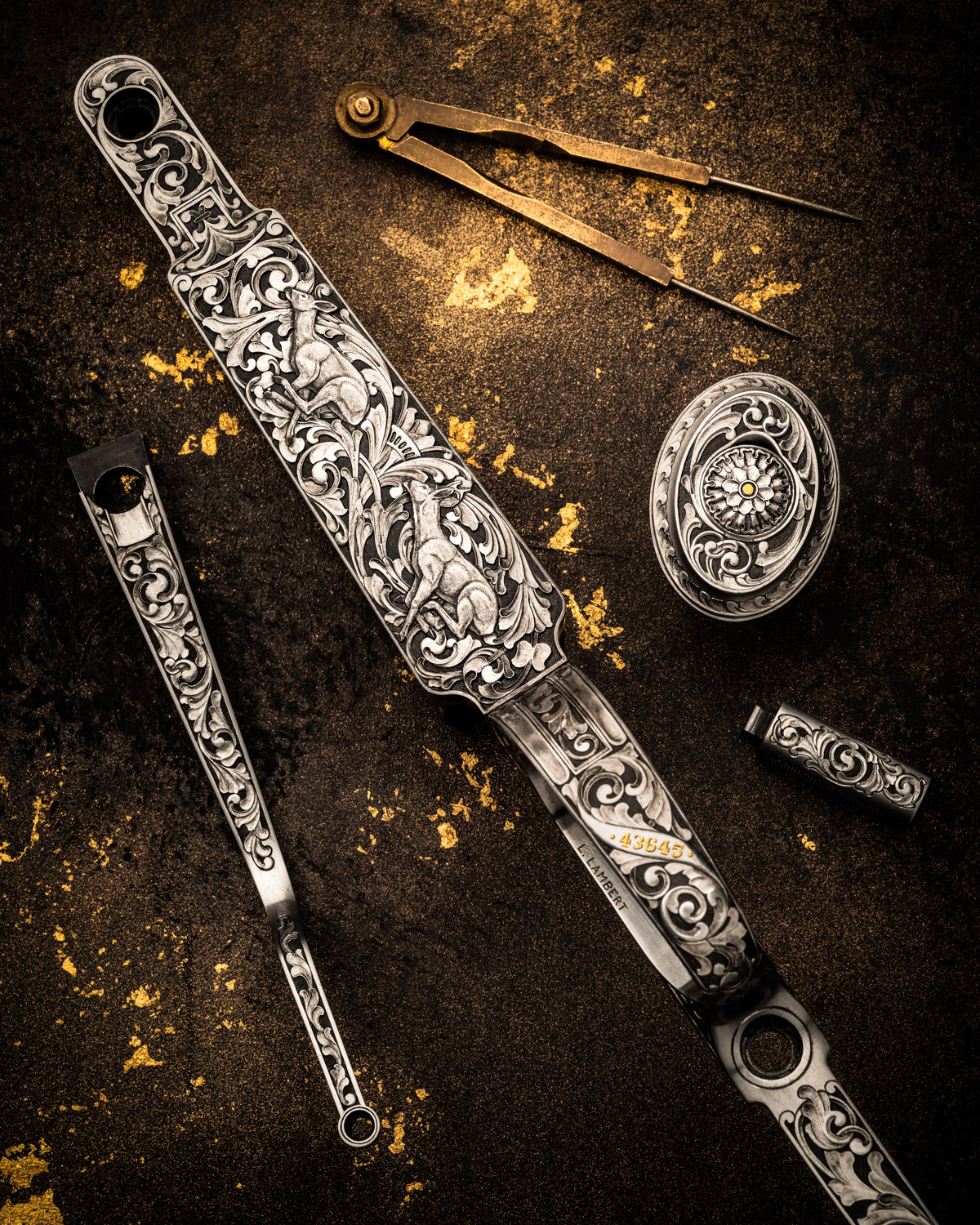 On the advice and information kindly shared by older masters I moved into the larger game scenes, for example the roe deers seen on the floorplate. When Trigger and I decided on the pair of animals we wanted to capture for the scene, from a picture where we see the male chasing the female, my next big challenge emerged. Trigger had selected an image where only the top of their bodies were visible due to high grass covering their chest, undersides and legs.
I spent many an hour studying deer anatomy and movement through reading veterinary books and watching live action video in slow motion, to finally deduce the exact musculature positioning to achieve a true to life visual. Seeing as I have rarely been near the animal in real life I relied on my colleagues to add those final touches to the end result.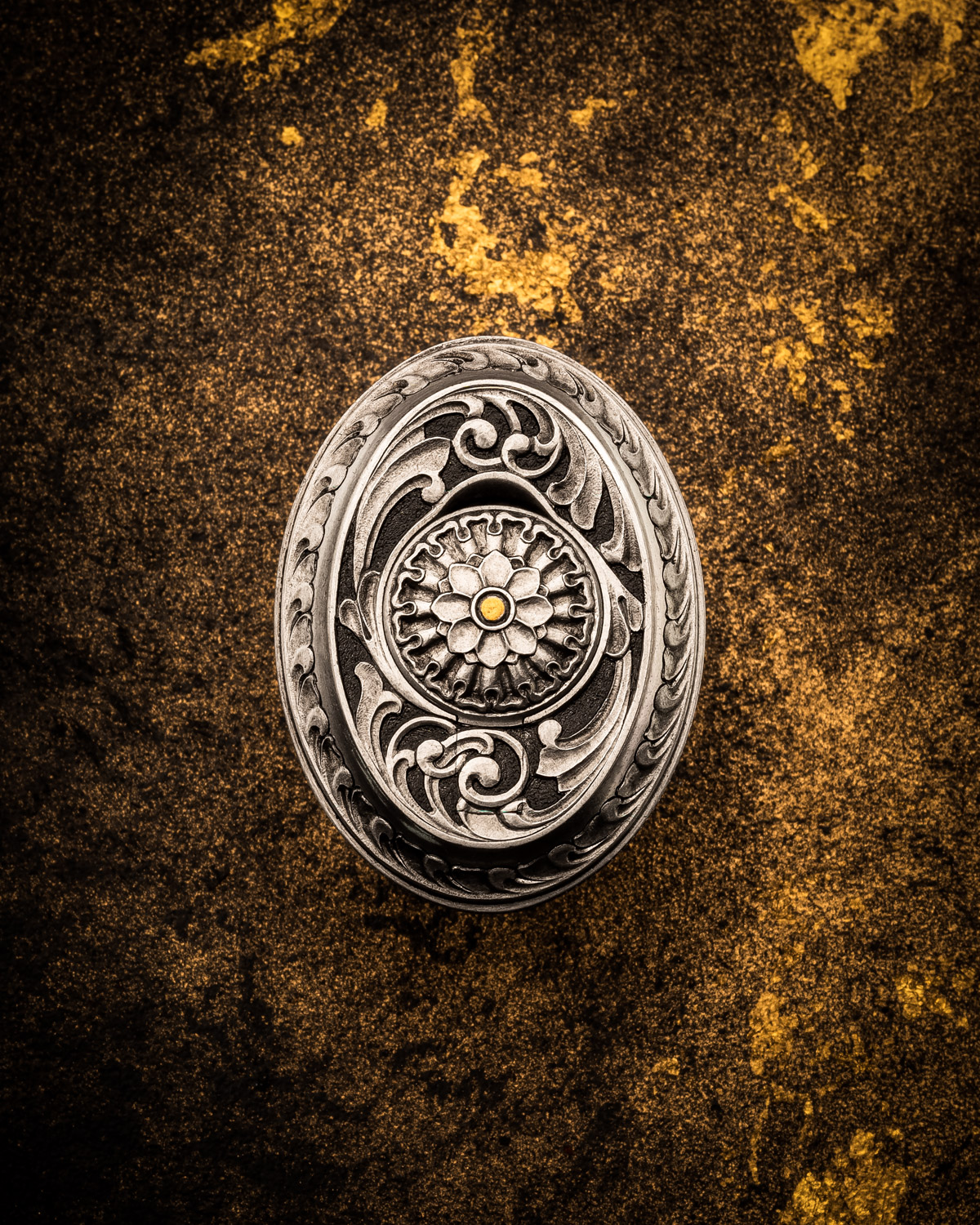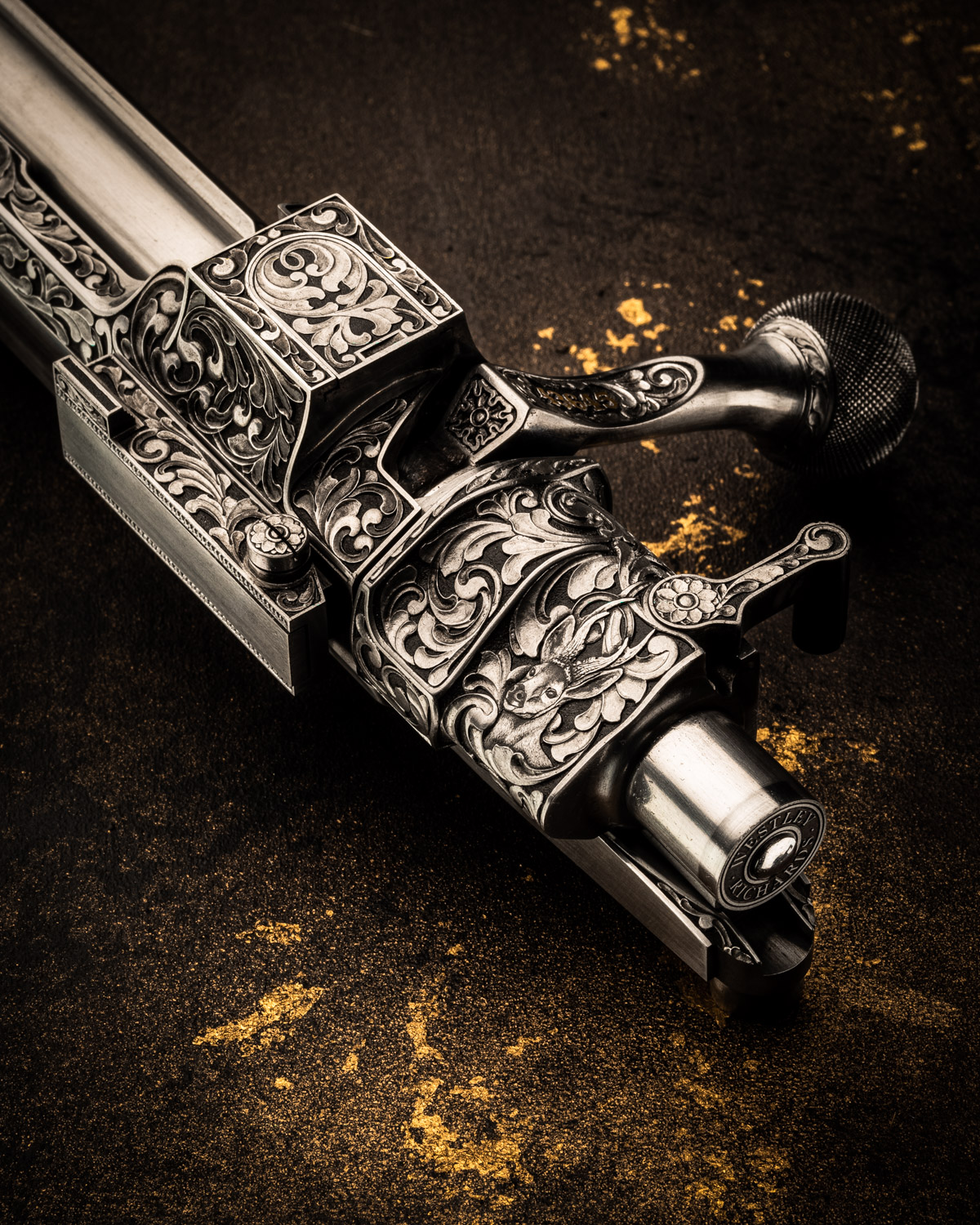 A special thanks to the Westley Richards patron, who commissioned such a fabulous artwork, and to my colleagues and mentors for their critical advice and encouragement. Without them I would not have reached the new heights of technical and artistic excellence I have dreamed to achieve and will continue to strive for.
Head to our engraving section, to discover the incredible variety of engraved artworks that patrons have commissioned over the years.