In September 2020 he will celebrate 12 years with Westley Richards, rising through the ranks of the company, capping it off with his instrumental role in the creation of our new exhibition rifle "The Forest Rifle". It is clear that our dedication to working with young talent, giving them unique opportunities and watching them thrive is at the very heart of the Westley Richards DNA.
Stuart, where did you grow up?
I grew up in the suburbs of Wolverhampton, only 12 miles from where the Westley Richards factory is situated today.
Did you always want to be a gunmaker?
I've always had an interest in guns and weaponry, and at the age of 16 my father tried to direct me into the military, especially as both of my grandfathers had been in the armed forces. I attended HMS Raleigh in Cornwall for naval training and possible work experience however their focus centred around discipline and training, and all I wanted to do was play with the guns… Fortunately I was put with the armourer of the base and he let me loose cleaning the guns. Our conversations opened my eyes, him being a specialist contractor and not part of the navy, I realised that the world of guns was accessible outside of the military.
This experience coincided with a decision to further my studies. Having always shown an interest in working with my hands, enrolling into an engineering course seemed ideal especially with my aim to break into the gun industry. On arrival at Wolverhampton College we were set to work learning hand tools, lathes, milling machines - a traditional training regime - which is pretty similar to what all our apprentices go through now. Whilst there my father enquired at the Birmingham proof house who then put us in touch with Westley Richards, and the rest is history.
What did your apprenticeship entail?
Back in 2008, I started by learning my way around the workshop and making basic tools. As a gunmaker you have to make your tools as nothing out of the box is good enough. In fact, I spent the first 6 to 9 months purely making tools to a standard that the foreman was happy with. From there I started with the small parts of the gun - the sight beads, the Deeley catches and other minor components - where if you made a mistake, it could easily be rescued.
At the time I went under the wing of Keith Thomas (2008-2015), who used to carry out all regulating of the rifles and a good amount of the gun testing. He used me as his range assistant, changing targets and as a second pair of eyes. Every so often Keith would allow me a shot with the name of the game being, how close I could get to his markers – his way of training me to shoot. I seem to remember my first shot being a .577 Nitro, which really was a baptism of fire!
Who would you count as mentors in the field of actioning?
I would say I have had three key mentors that each contributed to my development. As mentioned earlier, Keith Thomas with his tough training style, had a huge influence on me. If ever the slightest thing were wrong with my work, he wasn't gentle, it went out of the window.
The next is Ken Halbert (1987-2007), the foreman before Keith, who taught me a great deal about building locks, and had a lot of useful tricks up his sleeves. The combination of Ken & Keith's styles gave me a great grounding and was built upon by a third and final mentor - my colleague Sam Banner (2007 onwards).
I learnt a lot from Sam even though he only joined a year before. He had a background in guns from his father and being a year down the line in his apprenticeship, I slipstreamed the knowledge he was accumulating. His biggest input was on the mechanical side of guns, on how to actually make a Westley Richards gun work as it should.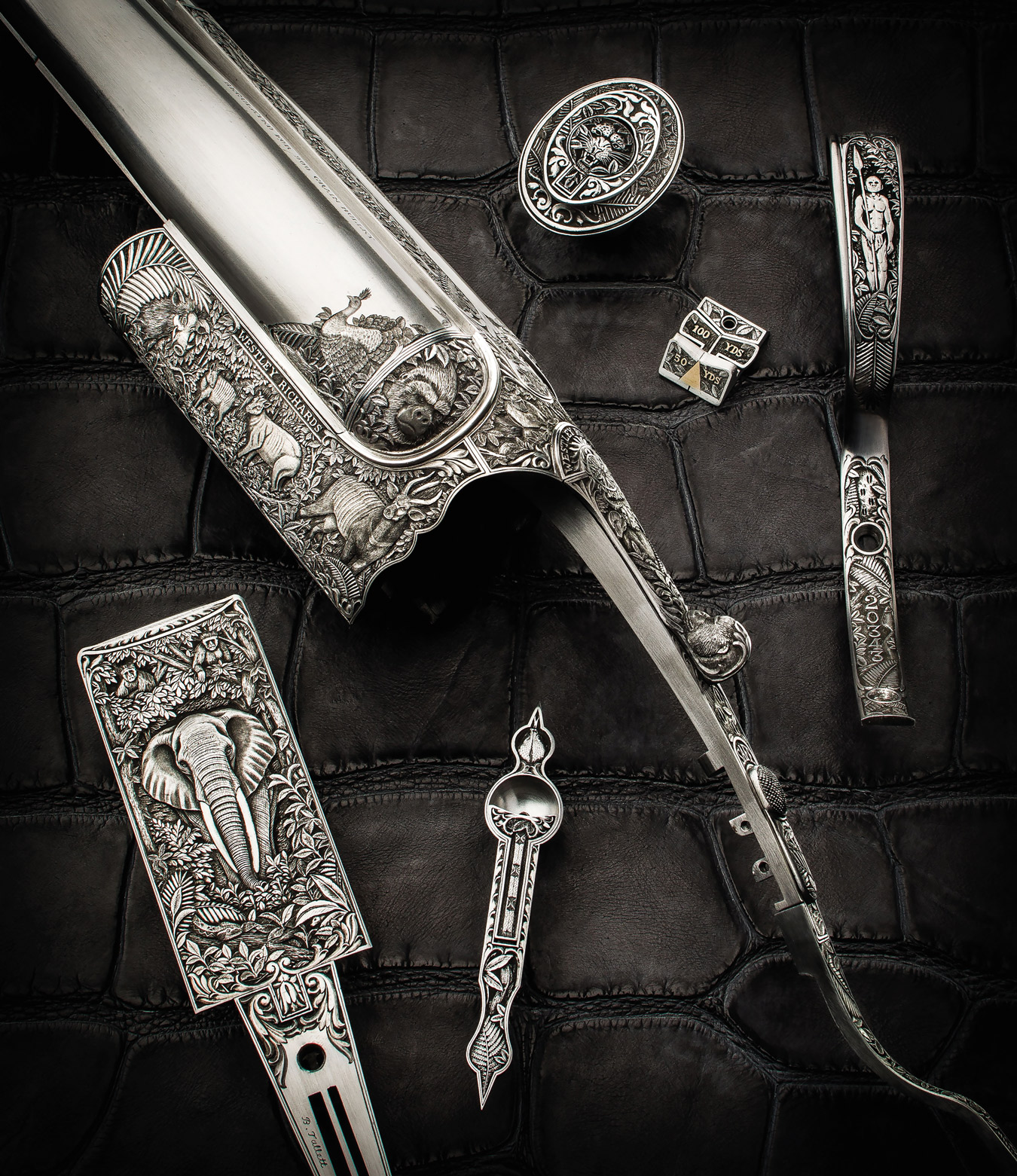 How long did it take to learn the art of building an action?
The apprenticeship is five years in total and after that time you are useful, but not an independent force. You could be given your own section of work and start to be regarded as ejector man or a lock maker, however to have a good grounding on everything takes a while longer. In fact I only learnt to fully connect up a gun around two years ago - taking it through stocking and beyond, and making the gun function as it should, that has taken me almost 10 years to achieve.
How many actions have you now built?
It's an unanswerable question because I've touched every gun that's come through this factory in some measure over the last ten/eleven years. Probably upwards of 300 guns would be a safe bet.
What are the greatest challenges an actioner faces?
Single triggers! Or the Taylor trigger as we call it, having been invented under Lesley Taylor's stewardship (between 1899 and 1930). They are very complicated creatures, you have two barrels with a single trigger and a multitude of pitfalls to fall into. This type of trigger has a lot of moving parts and is extremely sensitive and intricate.
Though double triggers are infinitely easier to build, the preference is often for the single, which historically comes from the 'over and under' world. Of course I love the challenge and I'm sure our clients preference for it extends far beyond it's simple use. Making a single trigger work correctly without it not firing the second shot, or firing both barrels at once, is on a level with fine watchmaking - and it certainly can cause a lot of headaches.
What do you most enjoy about building an action?
Seeing a gun come together from lumps of steel into a living creature is incredibly exciting. My favourite part is when you have the gun clicking and ticking - that moment when the triggers are pulled and the sears are set off, letting the locks fly and seeing the whole mechanism reset in perfect time – that is a great feeling.
Tell us about the 'Forest Rifle' that you recently completed at Westley Richards?
I've worked on many of the showpiece rifles over the years and the Forest Rifle was one of my most recent. It was decided to be built as a .600 Nitro Express, not just for its formidable calibre, but also for its great expanse to accommodate the desired forest scene engraving.
This rifle in particular I completed the entire connect up - building the lock, setting the discs and strikers, and crafting the ejector and extractor, as well as regulating the sights, the free up and the final finishing.
Like all of these prized firearms it was a pleasure to work on and I know they are absolute demons to shoot with. You'd be able to hit an egg at 50 yards with any barrel you want!
If you would like to read more about the 'Forest Rifle' click here.