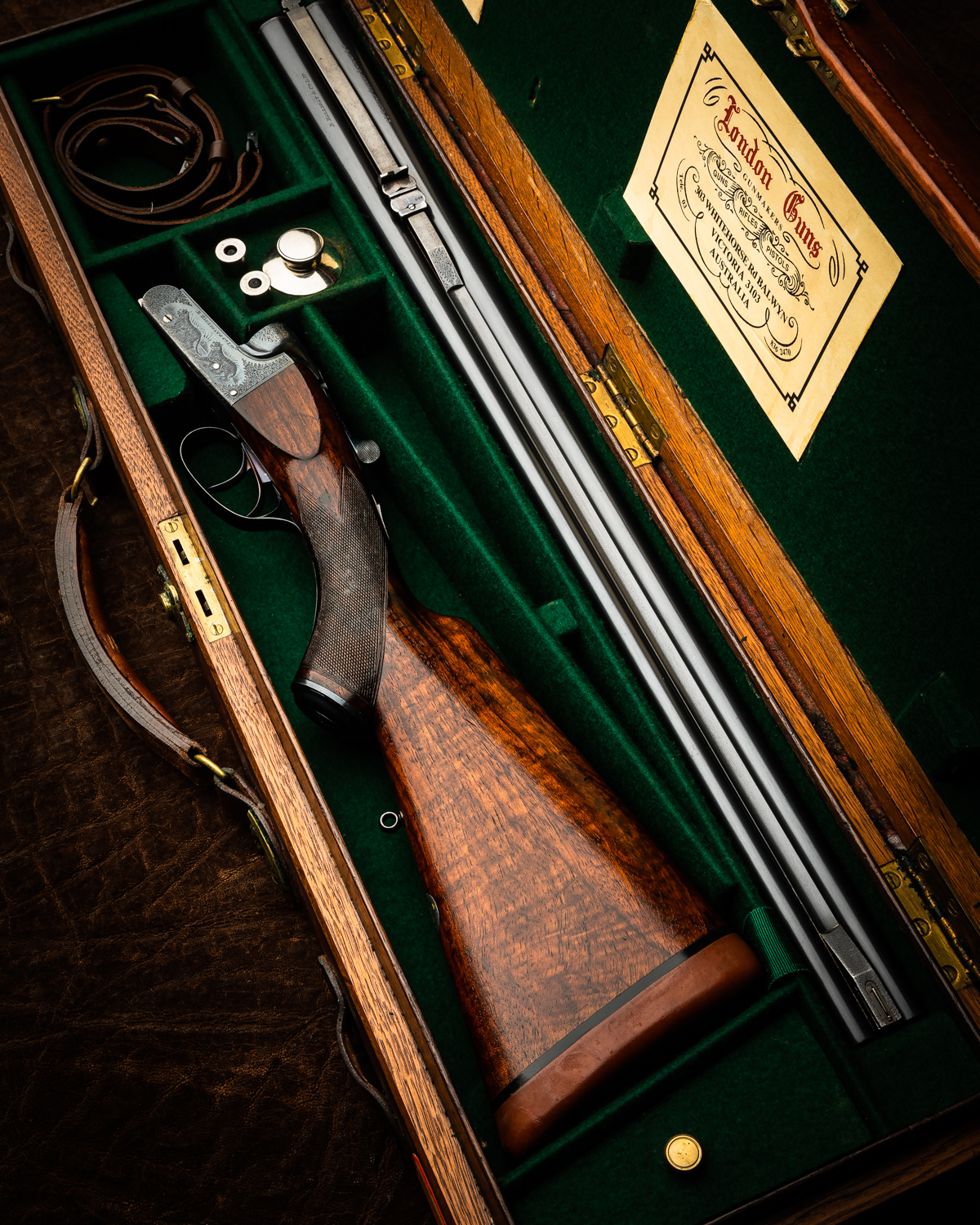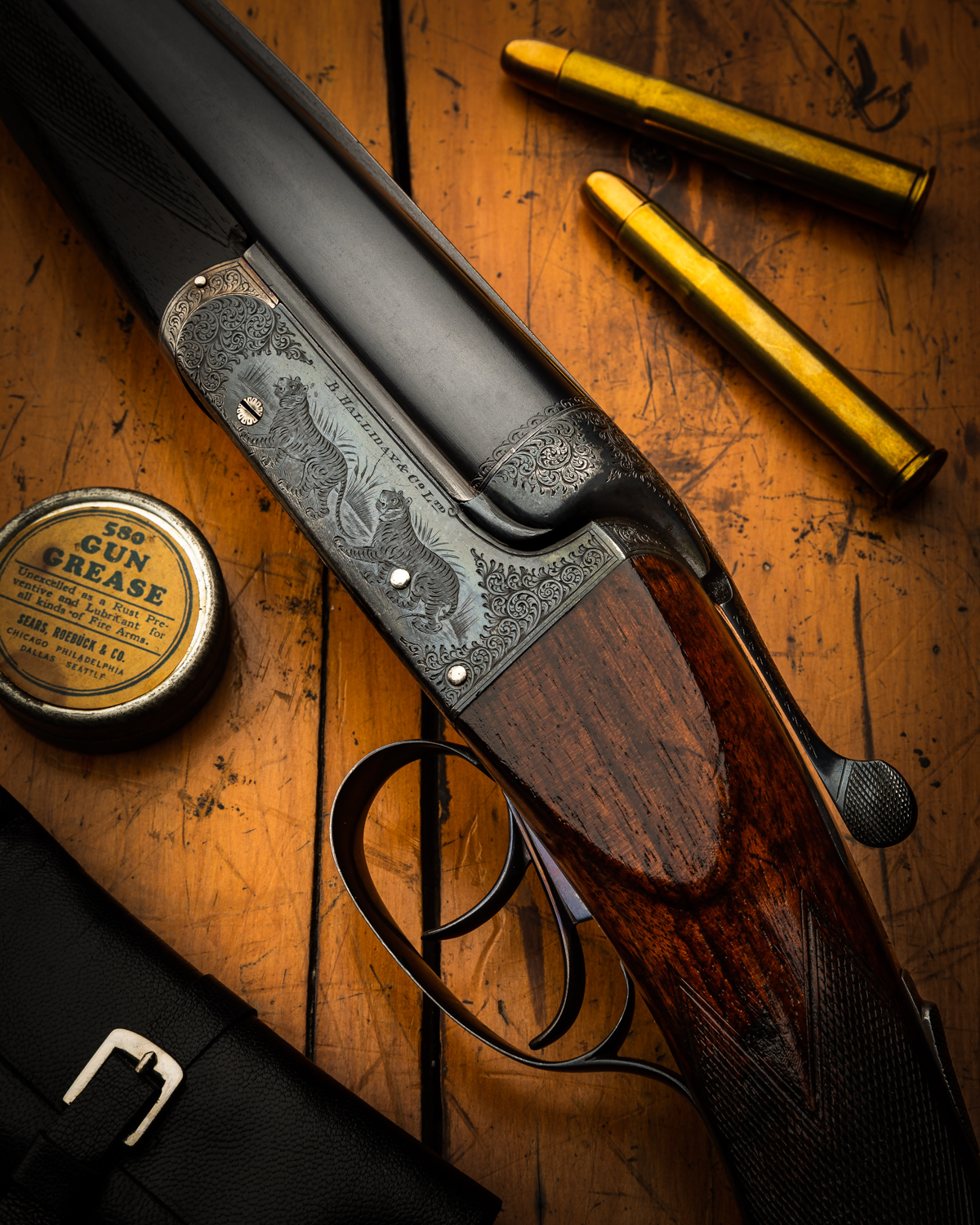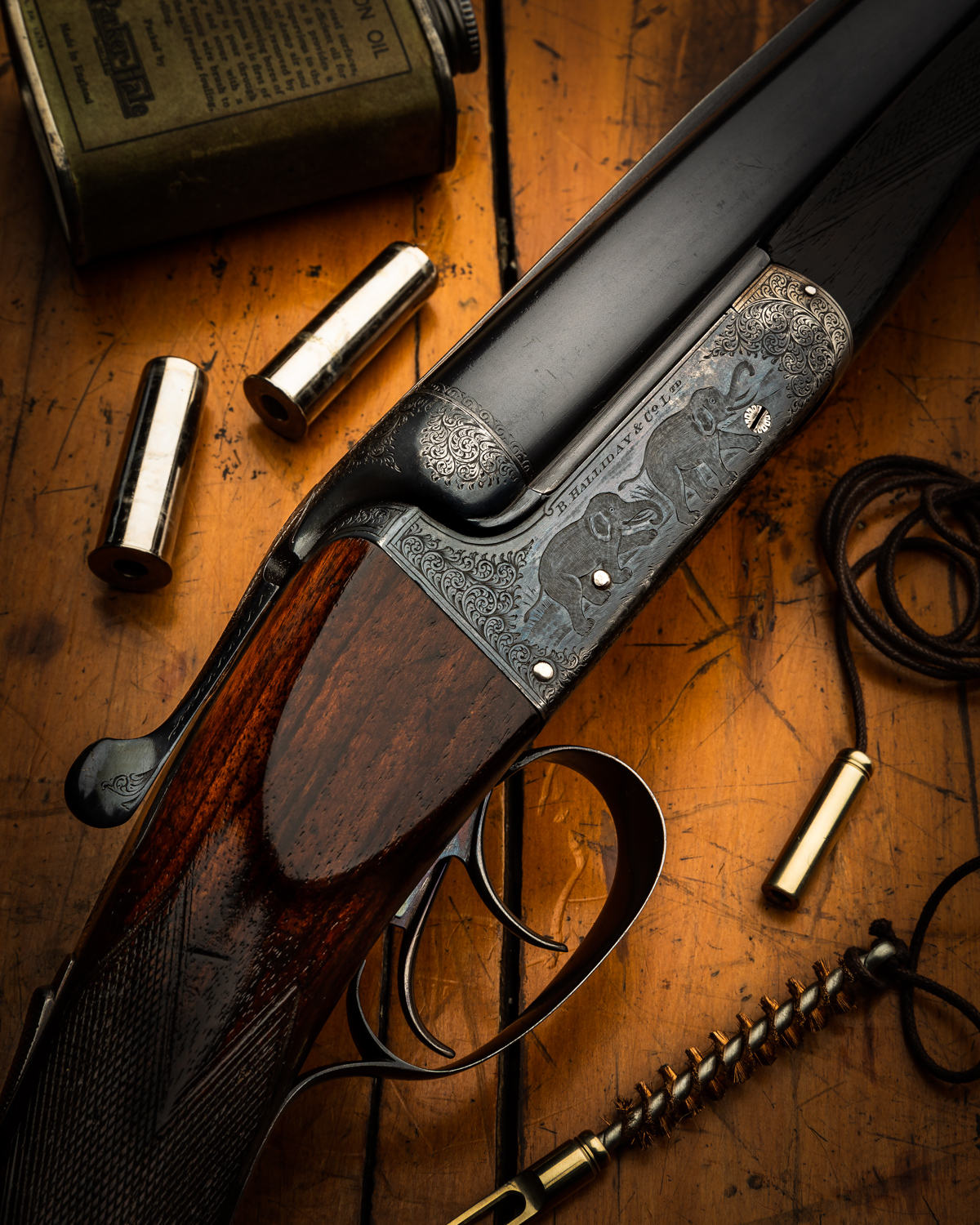 The rifle is built on an Anson & Deeley, fixed lock, double trigger action with Tigers and Indian Elephant scenes engraving with a nicely executed scroll surround. The game scenes are typically naive, a common feature on guns from the interwar period destined for the Indian market.
The 26" barrels have tidy bores and the rifle shoots a very respectable group (see target below). They feature a file cut quarter rib with Dolls Head Extension. A rear express sight with one standing and two folding leaves regulated at 100, 200 & 300 yards and a single bead ramp foresight.  The target was shot at 50 yards using Hornady 500 grain soft nosed ammunition and was shot with a 6 o'clock hold due to the rifle being regulated at 100 yards. The pistol grip stock measures 14 ¼" to the centre of the traditional recoil pad with an extended tang, grip cap and silver stock. The splinter forend features the Anson push rod release.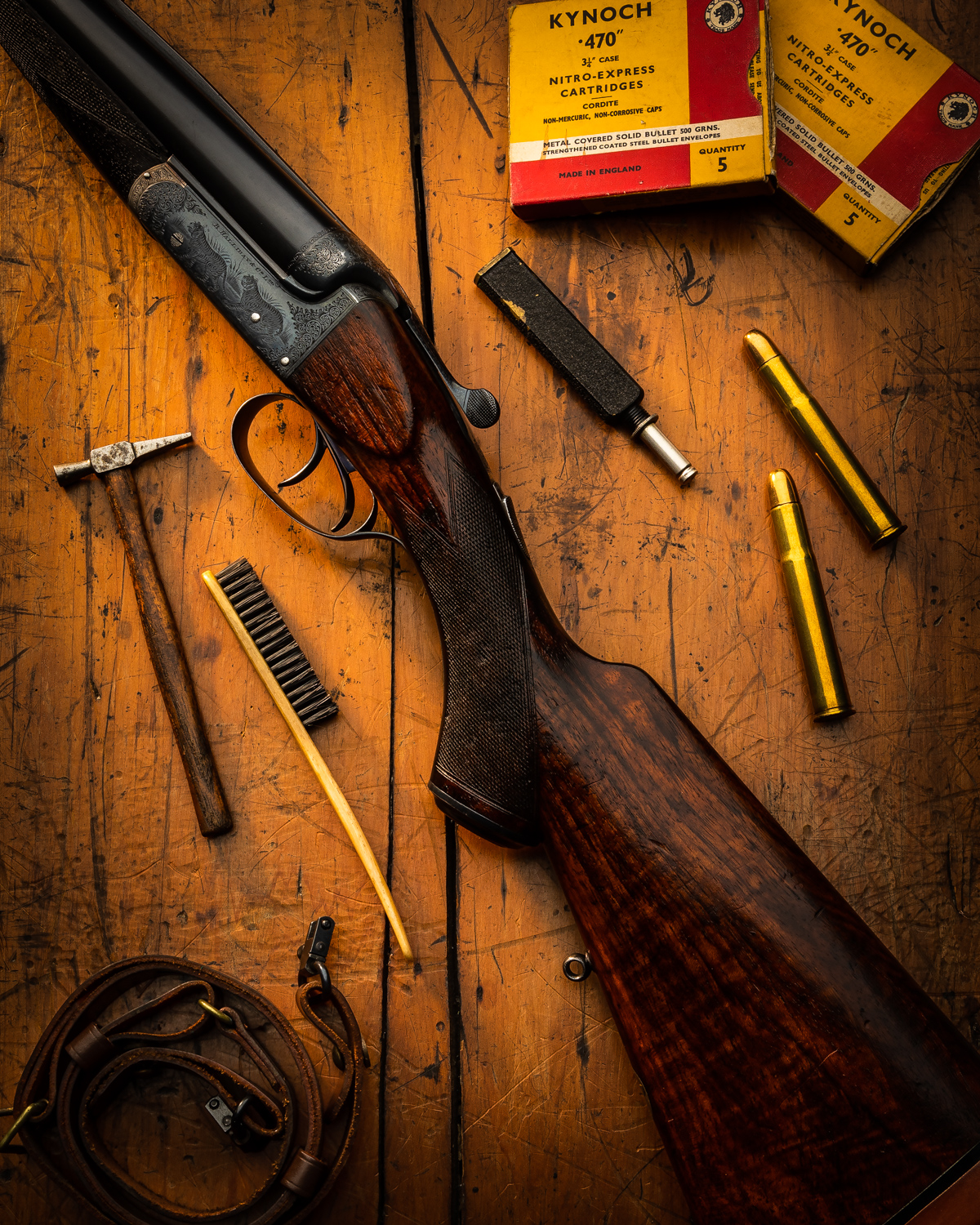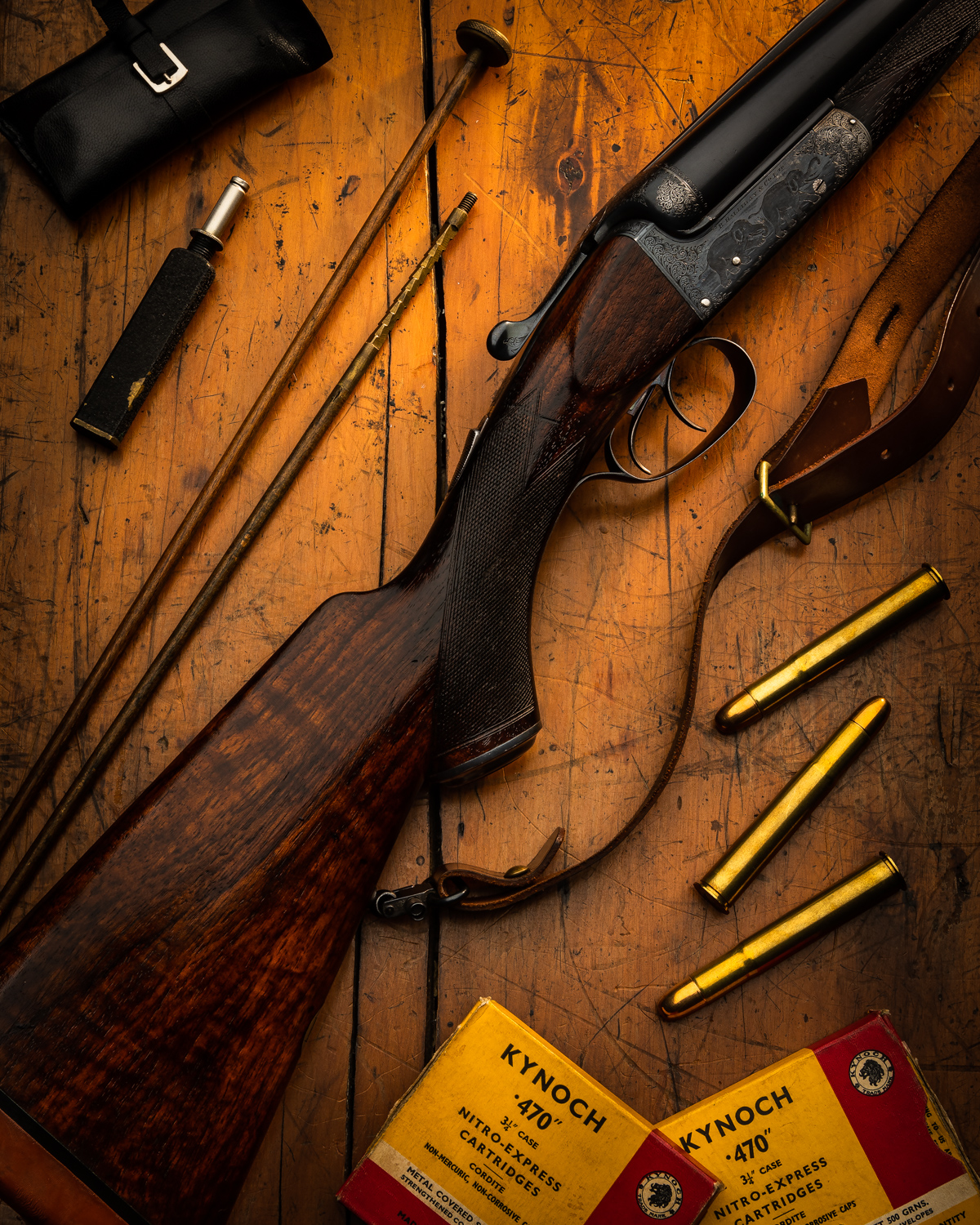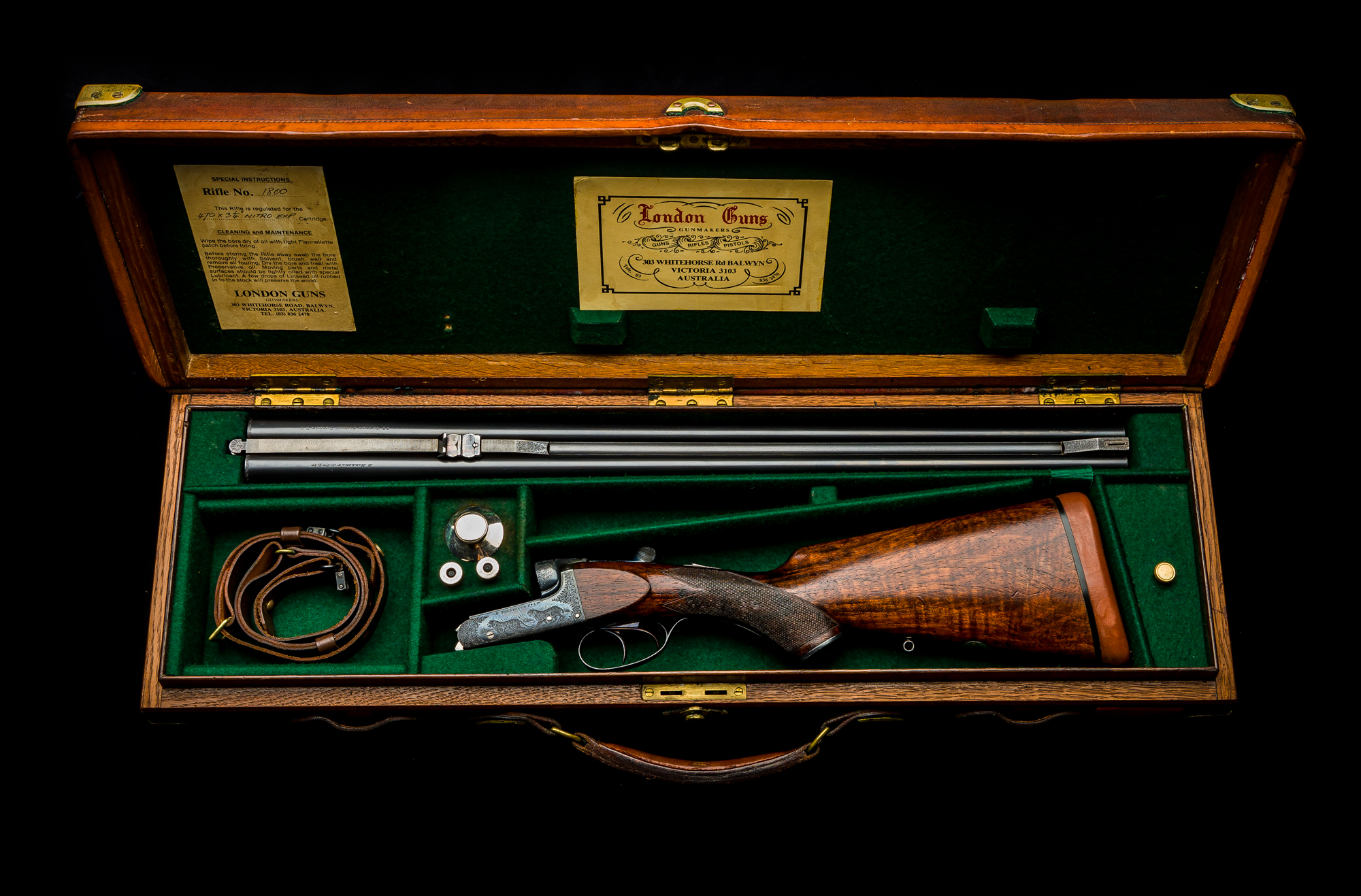 The rifle weighs 10lbs 9.5oz and is neatly presented in an oak and leather case with cleaning rods, snap caps, oil bottle and leather sling. The case would appear to be a later addition and features trade labels from London Guns of Victoria, Australia. The rifle was acquired by Walter Clode from India via Australia sometime in the 1980's, during the height of Mr. Clode's used gun dealings. It was sold to a local hunter by Mr. Clode in May 1987 and in the last 32 years has hunted on 3 different continents and has been a much trusted companion on a wide variety of hunts in East Africa, Canada and has even been back 'home' to Australia's Northern Territory.
It really is a super rifle with a good deal of character. It remains in original condition and would have a had a light refurbishment by Mr. Clode in the 80's. There are the usual handling marks on the stock as you'd expect but the stock is sound and the rifle functions perfectly. This rifle is ready and waiting for its next safari and offers someone a fantastic opportunity to acquire themselves a great English double, in one of the most popular big game calibres ever made.
The time has now come for Westley Richards to once again find a home for this great rifle and it will be on our used gun site shortly. Please contact me for any enquiries; ricky@westleyrichards.co.uk