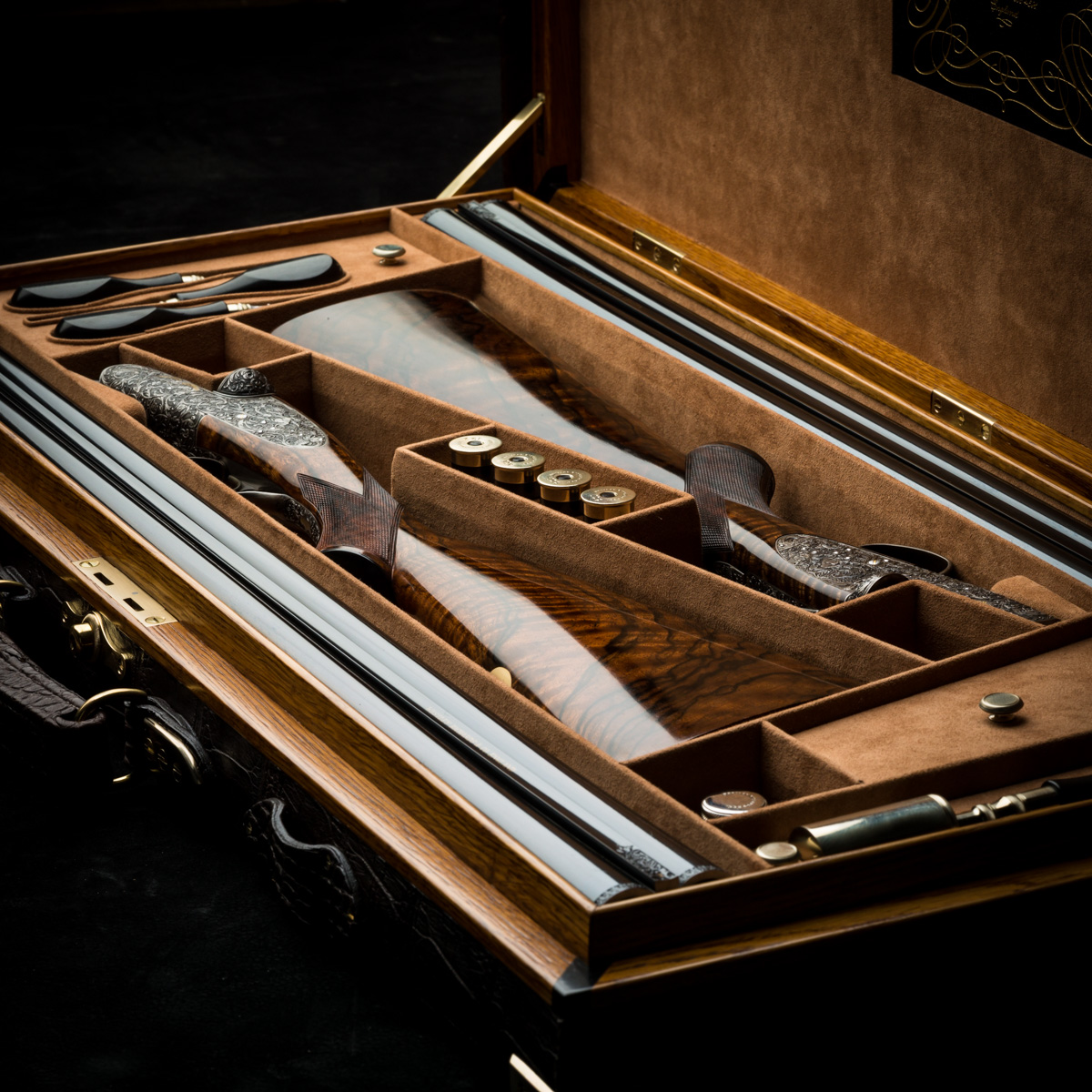 If you had asked the Indian Maharajah's if they were ever going to sell their guns and rifles I am sure they would have said 'no, never, we love our sport and our guns, we will never sell them'. However it came to be that they did, and in vast numbers. When that time came, we, Westley Richards in the shape of my father were there in India, and we purchased a great deal of them. A frequent question we asked was 'is it cased or are they cased?" It is a question that I am sure you yourself always ask as a gun buyer, I certainly ask it when I buy and people ask it of me when buying from me, we all actually want a case, when there is a case we will pay more for the gun or it will be the case that just tips the balance when looking at 2 similar guns, one cased the other not.
The Indians often (much like the modern auction house I regret to say) felt that the value achieved of their cased guns was more if they separate the items and so would sell the guns in one deal, the case, possibly to another person, in another deal, finally the tools in yet another deal. I recall very well a fabulous pair of Dixon ML guns we found one year in India, we bought one gun of a pair in 1992 and were then sold the case for the pair in 1993. In 1994 we were offered the tools (for those who know Dixon cases will know the tooling was extensive) Finally in 1995 they then showed us the No2 gun which they had previously denied having, which unfortunately, having been separated from its pair and case during the past few years, had fallen over in their store and the stock was broken. They ended up with about a quarter of the amount they could have got selling the cased pair as a whole!
I have over the years opened a huge amount of gun cases and I tend to buy guns on the first emotion, I open a case, always hoping for a magnificent mint condition find, and they will either just say buy me or perhaps don't buy me! There is nothing like a great gun or rifle in its original casing. You come to recognise types of cases and you know that should be a Boss, or that should be a pair of Purdey's, Westley Richards had a very distinct looking case so were easily spotted.
When I started at Westley Richards I always found it very hard to get a great quality case made, there were few makers around and I must say that the situation hasn't changed much in 30 years. Mr Brady was making cases in Birmingham as was Bryant in London but they were both soon to cease. All the tooling came from Mike Marsh and to this day still does, we are grateful that Mike will still make our tooling, we buy as "much as he can make" knowing one day he will have had enough and turn off his lathe.
I established an in-house case maker quite soon, I think in about 1995 taking on Roland Lane's case making business, Roland worked for some years on his own in our workshops making our cases and was then joined by Martin & Tracy Jones who were with Brady up until the time they closed. Martin and Tracy continue to work here and together with Witold & Joanna  produce all our leather goods in house. It is a part of the business I am very proud of and one I insist that the products always compliments the quality of the guns we make.
Westley Richards leather department offer many sorts of cases, all are made for the individual gun and can be from a lightweight canvas case to oak and leather covered with alligator and anything in-between, we make flat cases and motor cases. We also hold quite a good stock of old cases which can be refitted to suit a vintage gun if needed.
So, should you case a new gun? Yes, I believe you should, It will one day come to market and you or one of your family will certainly get better value. The case will keep all the parts together and protect it over the years, the case will help the gun retain condition. It is I think a very important part of the gun, I appreciate it is expensive but I feel it is almost actually essential.
Above is a selection of cases made in the Westley Richards leather workshops over the years.