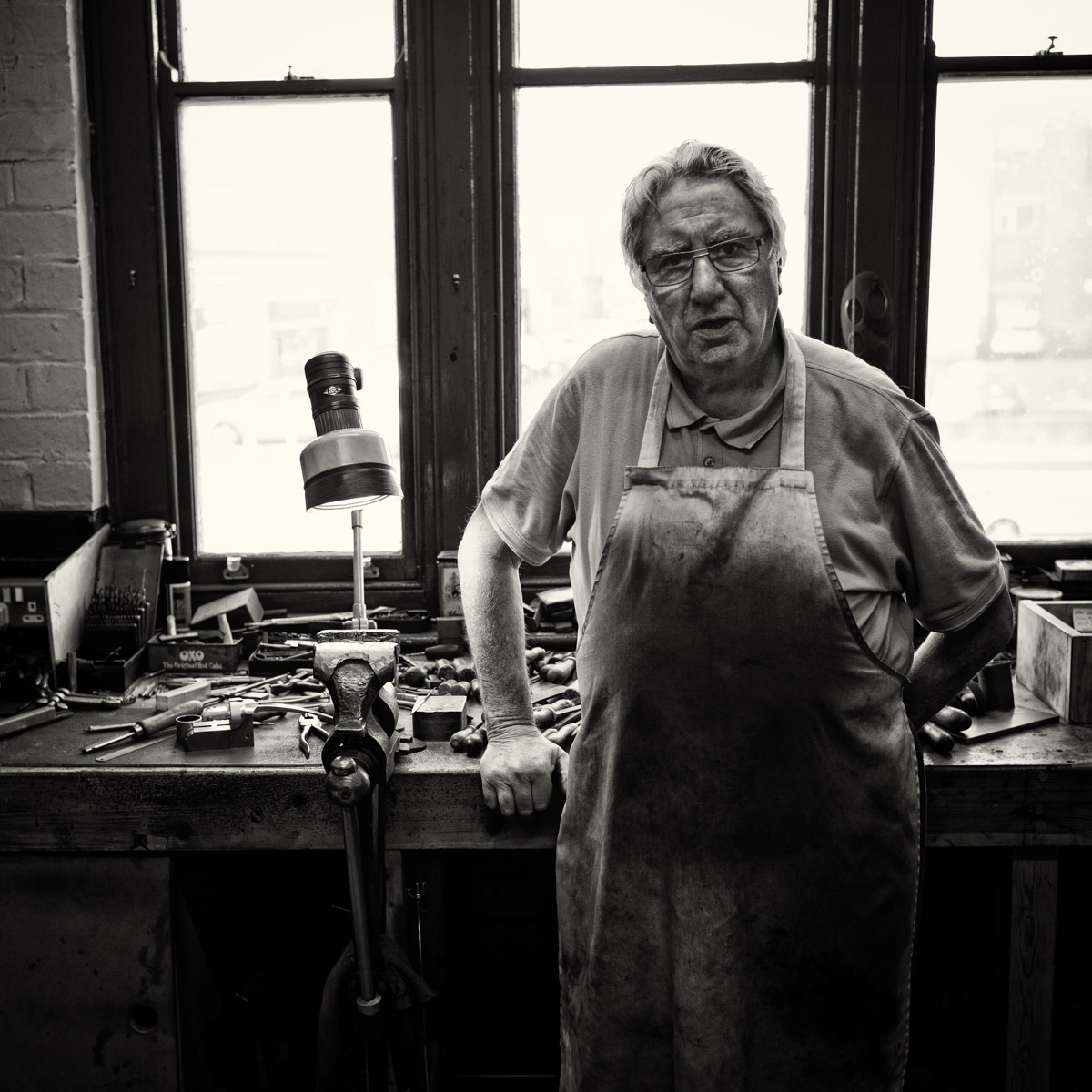 Ken Halbert at his bench at Westley Richards 2014.
Like many boys, Ken Halbert loved guns growing up, a passion matched only by his antipathy for school. Both were predilections that would subsequently shape his life and career—and, ultimately, even the gunmaking heritage of his longtime employer, Birmingham's Westley Richards & Co.
More than a half-century of making guns hasn't dimmed Ken Halbert's ardor for his craft. The 72-year-old officially retired from Westley's as its foreman in 2007, but three days a week he still makes at-dawn drives ("to beat the traffic") from his home in Redditch to inner-city Birmingham to spend half-days on the bench at the firm's new factory on Pritchett Street.
Which is where I found him on a recent visit, fitting a pair of locks into the action of Westley's signature gun: the hand-detachable of 1897, or the "droplock," as Americans know it. It was a gun nearly extinct as a production model when Halbert joined the then-struggling company in the late '70s, and in no small way the droplock's modern-day resurrection bears the actioner's file marks and fingerprints.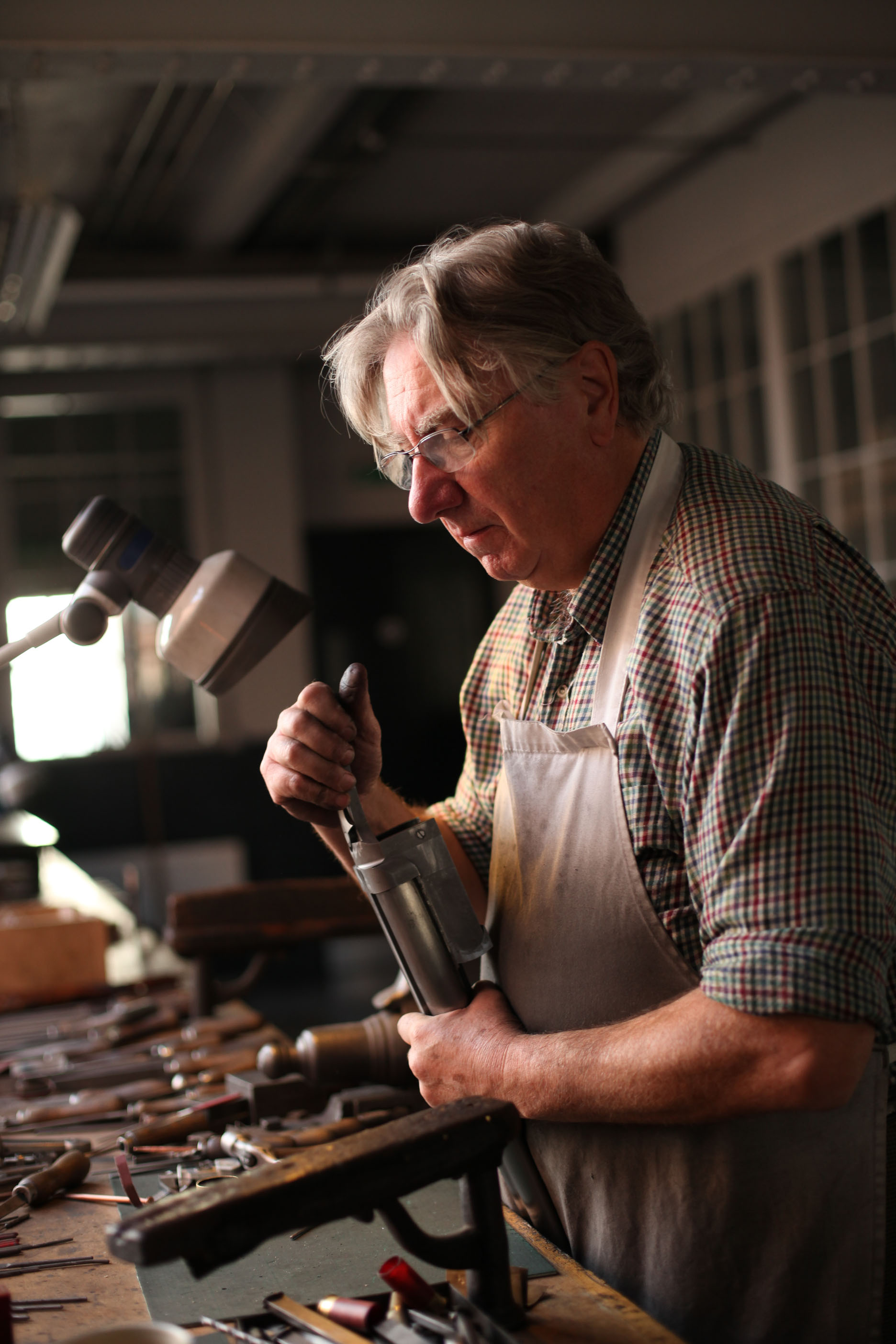 Ken working on a large bore rifle in 2011.
Born Kenneth George Halbert in the Birmingham suburb of Selly Park in 1942, the son of a First World War veteran who had lost the taste for guns in the trenches, Ken was was nonetheless fascinated by firearms. "Living in Birmingham, there were no opportunities for shooting, but I was always interested in guns and had air rifles and such," Halbert recalled. "And to be honest, I was never keen on school."
In the '50s, it was customary in Britain for young men of 16 to either enter a trade or continue their education. "All my friends were studying to become electricians or engineers, going to night school or college," he recalled. "I thought, When I get out of school, I'm never going back.
"There was still the gun trade. I liked guns, and I thought, I bet you don't have to go to school to learn how to make them."
In the immediate decades following the Second World War, the British gun trade—the traditional Birmingham trade particularly—was depressed and declining, losing customers to inexpensive Continental imports and bleeding craftsmen young and old to industrial jobs in the Midlands that might pay twice or more the wages the trade offered. The centuries-old Birmingham Gun Quarter was also shrinking; workshops and factories—even entire streets housing them—disappeared as the city began rebuilding its bomb-frayed and dilapidated urban core. Venerable Westley Richards, founded in 1812, was bankrupt by 1946, and only with capital from a new owner, Col. E.D. Barclay, did it survive.
The pall in the Gun Quarter in the mid-'50s didn't deter Halbert: "I was told by some to stay away, that it was a dying trade," Halbert said. "But I looked around; I didn't think so. The Greener factory was still there, Webley's still had a factory, and there were lots of one-man shops up and down Price and Weaman and Loveday Streets."
Halbert found his first job at Parker Hale, Ltd., on Price Street, in the heart of the Gun Quarter. Parker Hale at the time was converting surplus Lee-Enfield .303 service rifles to inexpensive sporters and plinkers. "We used to buy thousandsof them, worn out from the war, rusty and dirty. Someone would inspect them and keep the good ones—which would be renovated," Halbert explained. "Anything that had the rifling shot out we would bore out and sleeve to .22 rimfire, alter the bolt head, and it would be sold to cadets, target shooters, that sort of thing."
During his one-year stint at Parker Hale, Halbert learned to tin in the .22 sleeves and install altered bolt heads. "Then I heard S. Wright & Sons was looking for a lad, so I went around there and got the job, and that's how I entered the double-gun trade."
Established in 1919, Wright's was one of Birmingham's surviving makers to the trade, making about 50 guns a year when Halbert joined in '57—mostly boxlocks for London and provincial gunmakers to sell under their own names. After Halbert came aboard, two of the firm's "old hands"—Bert Field and Johnny Ford—took the eager-to-learn teenager in their tutelage.
Field taught Halbert how to file up an action, make a forend, and fit the leverwork, while Ford instructed him on making and regulating Southgate ejectors and what Halbert calls "inside work"— hammers, sears, sear springs, safeties and cocking mechanisms. Ford and Field had both joined Wright's in the '20s, and the master-class education the pair of gaffers provided in all aspects of action-making would serve Halbert well, then and going forward.
In 1960, Wright's was purchased by Interarms, the parent company of Cogswell & Harrison and Churchill (Gunmakers), Ltd., and in time it became the latter's Birmingham factory for building boxlocks. Halbert would remain there until 1964, when the lure of better wages took him to Webley & Scott (two years), A.A. Brown & Sons (briefly), and to a workshop of his own on Price Street for about 18 months.
"I didn't really fancy it," Halbert said of his short stint as an outworker. "There wasn't much work around at the time, and I had made some money and had it in the bank. Rather than chance losing it, I decided to go back to Churchill's." He returned in 1968, rising to foreman during the next decade. Among the craftsmen he helped train was budding actioner Richard Tandy, now a gunmaker and director at W.W. Greener and considered one of England's finest craftsmen.
For many English gunmakers, the '60s and '70s were scarcely better than the decades preceding, and Churchill's unfortunately was no more fortunate than most. As Churchill's declined in the '70s and its end neared late in the decade, Westley Richards put out feelers to craftsmen in the old Wright's factory. Halbert took the offer, joining the firm as an actioner in 1979. Churchill's closed in 1980.
With its proud history of innovation and singular firearm patents dating to the early 19th Century and long-standing associations with the luxury retail trade in London, Westley Richards was a gunmaker that heretofore had marched mostly to its own orders and mostly by itself. The self-contained Victorian-era factory it occupied until its move to Pritchett Street, in 2008, was built in Bournbrook, a 19th Century suburb sited miles away from the old Gun Quarter and far apart from its web of interconnected and often-anonymous makers and craftsmen.
Under the leadership of Capt. Walter Clode, who had purchased the company from Barclay in 1957, Westley Richards had survived tough times in ensuing decades by diversifying into engineering (precision tool making) and gun repairs (sleeving, notably) and particularly by the ex-army officer's adept acquisitions of guns from sumptuous armories owned by the princes of India that were then renovated at Westley's factory and resold at healthy profits to collectors worldwide. It wasn't the best of times, but cumulatively Clode's efforts kept Westley's afloat as other equally famous but less-astutely led firms foundered.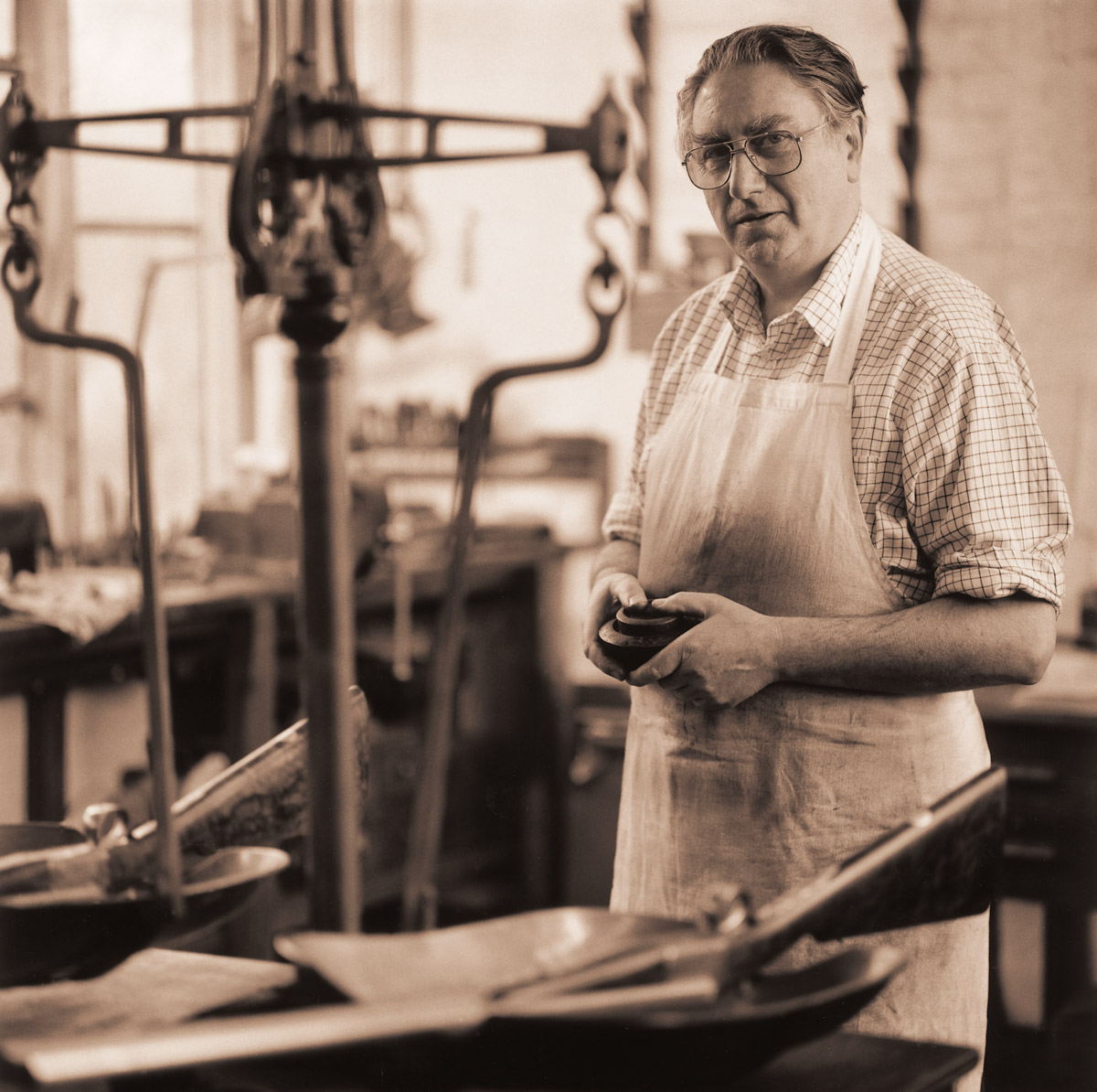 In the old gunroom at Grange Road. 1995
The making of new guns, however, was not far off its nadir when Halbert arrived at the Bournbrook factory. Commissions were still scarce in the late '70s and early '80s, particularly in Birmingham. Boxlocks—invented by Westley's and a Birmingham specialty—were largely out of fashion, and demand for heavy-game rifles (another firm specialty) was stagnant.
"When I came to Westley's, a lot of people in the trade didn't even know the company was still making guns—that's how much that side had gone down," Halbert recalled. "They were mostly using old machinings in the attic for the odd hand-detachable, and they were making a few sidelocks."
What Westley's had kept, though, was a core of seasoned craftsmen—men who had built guns and also had experience repairing and renovating the many types that had come in from India. Halbert and other craftsmen Clode recruited from Wright's/Churchill's and, later, Webley & Scott added to those skills and provided a springboard from which Westley's could re-launch gunmaking in earnest.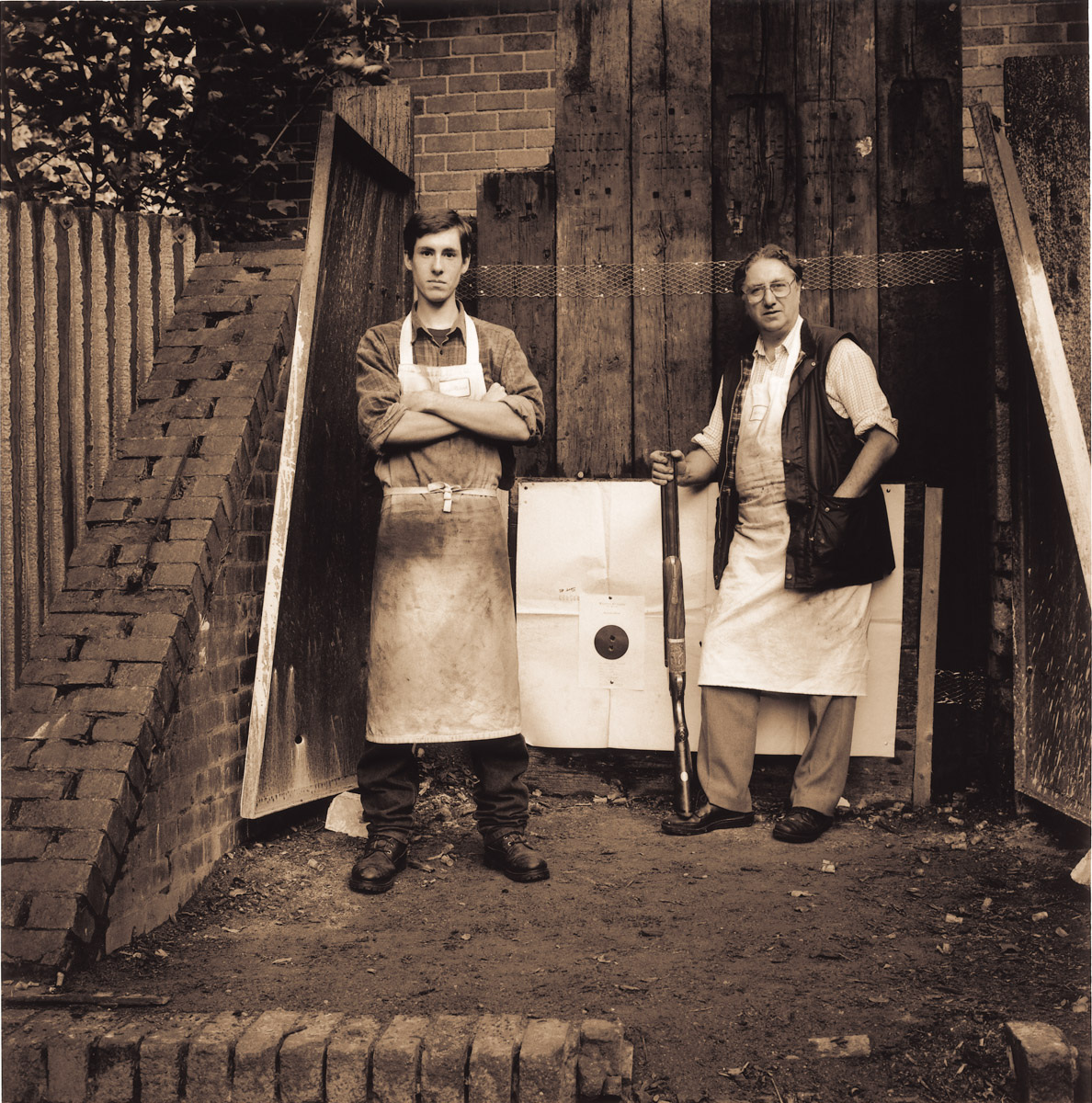 On the Grange Road range with apprentice James Grinyer 1995
In the mid-'80s new commissions—mostly scattered orders for sidelocks—increased as the company began to attract attention from American collectors. This would begin to change after the arrival of Walter's son, Simon, in 1987, which was also the year Halbert was named Westley's foreman.
"I remember saying to Walter one day after I became foreman, 'We are making these sidelocks, but the people who want a sidelock, who've got the money, they want a London sidelock,'" Halbert said. "What I think you should do is go back to making what you are known for: the hand-detachables."
Reviving Westley's great designs was a strategy that Simon would embark upon, and with it the firm gradually restored luster to its gunmaking division in the following decades. The droplock has been reintroduced in guns and rifles on scaled frames, from tiny .410s to the biggest big-bores; bolt-action and fixed-lock A&D guns are once again in regular production; and today the company also offers sidelock shotguns, a new sidelock express rifle and its Ovundo over/under. Today Westley's has more new-gun orders on its books than at any time since the Second World War.
"I may have been the one to say we are going to make this or that, but without the knowledge and enthusiasm of Ken, it would never have happened," Simon Clode noted in the 2012 history of the firm, In Pursuit of the Best Gun. Simon took over as managing director from his father in 1994.
Actioner Keith Dennison Thomas, who joined Westley's in 2008 and became gunroom foreman soon after, describes Halbert as a gunmaker who commands enormous respect from his peers on the bench—for his knowledge, his enthusiasm, and his ability to plan, initiate and complete complex jobs.
"Ken's understanding of Westley guns—of all guns—and how they should work and be made is comprehensive," said Thomas, who worked at the bench next to Halbert during his tenure. "His knowledge is immense. I have great respect for him."
While I watched Halbert fit hand-detachable locks into the .500 droplock at his bench, I wondered aloud if he had ever found the design difficult to build? Remo Salvinelli, the ingenious Italian whose complicated designs helped launch the fine-gun renaissance in Gardone, Val Trompia, once told me that of all of the guns he'd made, the droplock clones that Abbiatico & Salvinelli built in the early '80s had been the most challenging for him.
Halbert paused at my question, and then shook his head softly. "Uhhh … no, no, not really," he said. "When I arrived, Charlie Eaves [a longtime Westley's actioner] helped me quite a bit. But by the time I got here, I was fully conversant with gunmaking—I could see my way around the design and how it worked."
"If you give Ken a block of steel, he could make a gun from it," said Simon when I asked him later about Halbert's skills. "He loves guns and making them, particularly the big rifles. He understands how they should work, what they should weigh, how they should fit, and how to regulate them and make them shoot."
This is knowledge gleaned not only from pushing a file for 50-plus years, but from pulling a trigger for a long time, too. An avid wingshooter and big-game hunter, Halbert has shot birds and stalked big game around the world, from Africa to Scandinavia to Scotland, as well as elsewhere in the UK. In the spring and summer, he fishes for salmon. "I love fishing—for salmon, in the River Wye, in Herefordshire," he said, his face broadening with a smile. "Eight or nine years ago I started going to Kenya fishing for marlin and sailfish. That was brilliant, but I haven't been for a few years. It's getting a bit dodgy down there…."
And not without irony, the young man who half a century ago hated school has grown to become a serious collector of books—with a library of old volumes, some of them rare first-editions, on shooting, big-game hunting, and guns.
Officially retired, is an actual end to gun making anywhere near? "Unlikely," Clode said. "Guns have been and still are his life.
Reprinted courtesy of Shooting Sportsman (www.shootingsportsman.com) and the author (www.doubleguncraft.com)