The Campaign Shirts
The ideal shirt for bush wear?  Anyone heading for Africa will face this question before they travel.
Limited space; choice matters. Get it wrong and you may spend three weeks atop a Land Rover, around a camp fire or pressing-on through the mopane scrub, in the heat of the afternoon sun, wishing you had got it right.
At Westley Richards, the choice is made easy. Using all our experience as outfitters, with countless safaris behind us, we know what works and we present our customers with the solution to their sartorial problem. When a day can start cold, rapidly transition to intense heat and finish with a steep drop towards zero, as the sun beds-down for the night, layering is the key.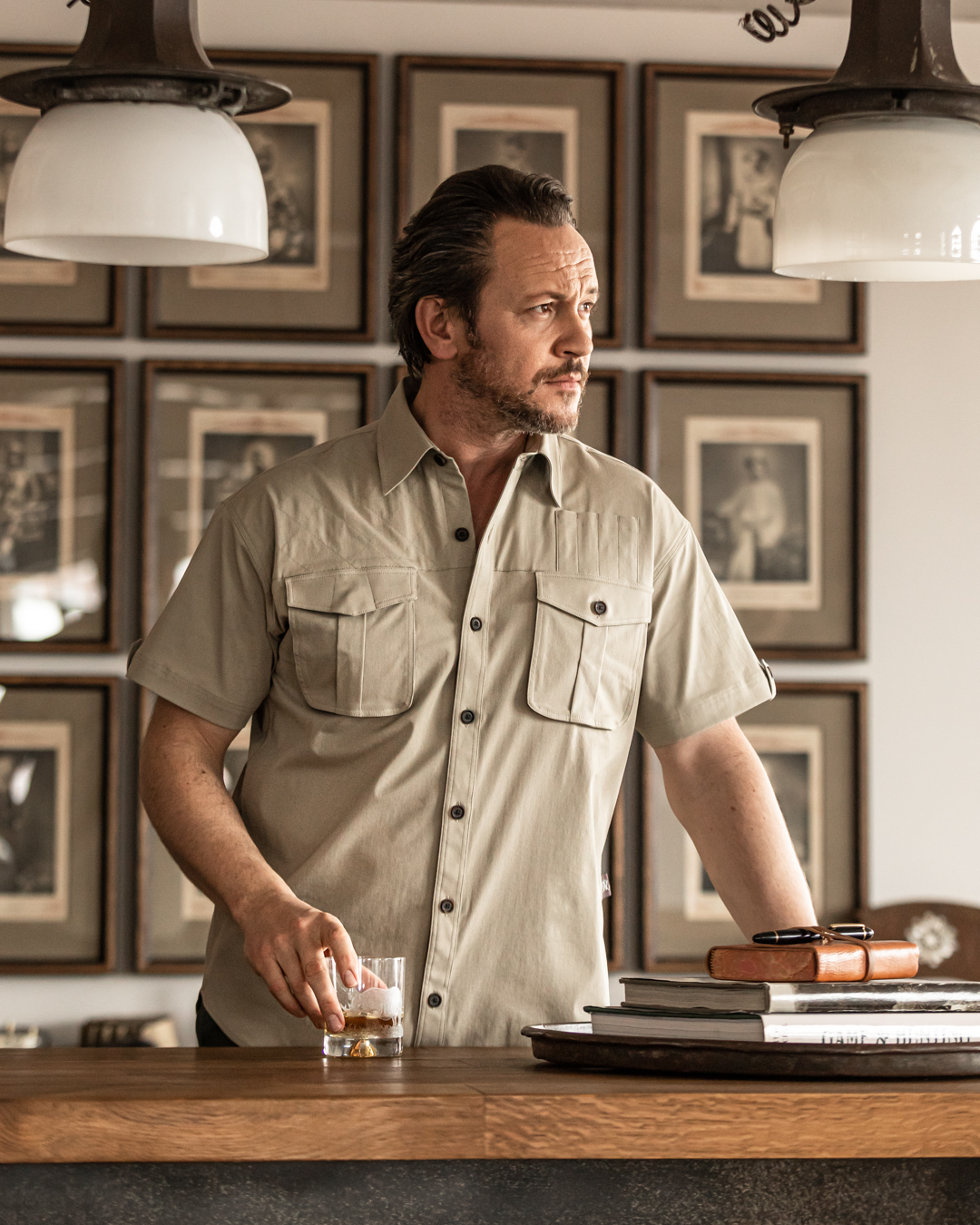 Our Campaign Shirt is big on practical features and gets the basics right. This mid-layer will be your companion for the majority of your outdoor activities. Long or short-sleeve; the choice is yours. In tsetse-fly infested areas, long sleeves help protect exposed arms but can be rolled-up when desired to allow cooling-off. A natural horn button and strap secure the sleeve and provide that traditional safari look.
The fabric is cotton, loved by outdoorsmen for its strength and breathability; this ancient and uncomplicated fabric is teamed with a 3% touch of 'Elastane'; providing the garment with the one quality pure cotton does not possess: flexibility.
To touch, it is smooth and soft, with a close weave that repels light showers or splashes. Come rain, heat or shine, it retains its shape and resists creasing. It is also quiet; an important consideration when approaching, naturally skittish, creatures in the wild.
Easy to wash, quick to dry and effortless to wear, this modern material takes the drama out of your everyday garment choice. It just works.
The cut is deceptively simple, yet each detail is the result of careful design. The collar is high enough and sufficiently stiff to protect the neck from the sun's destructive rays, yet it naturally sits wide enough at the throat to allow for natural air circulation.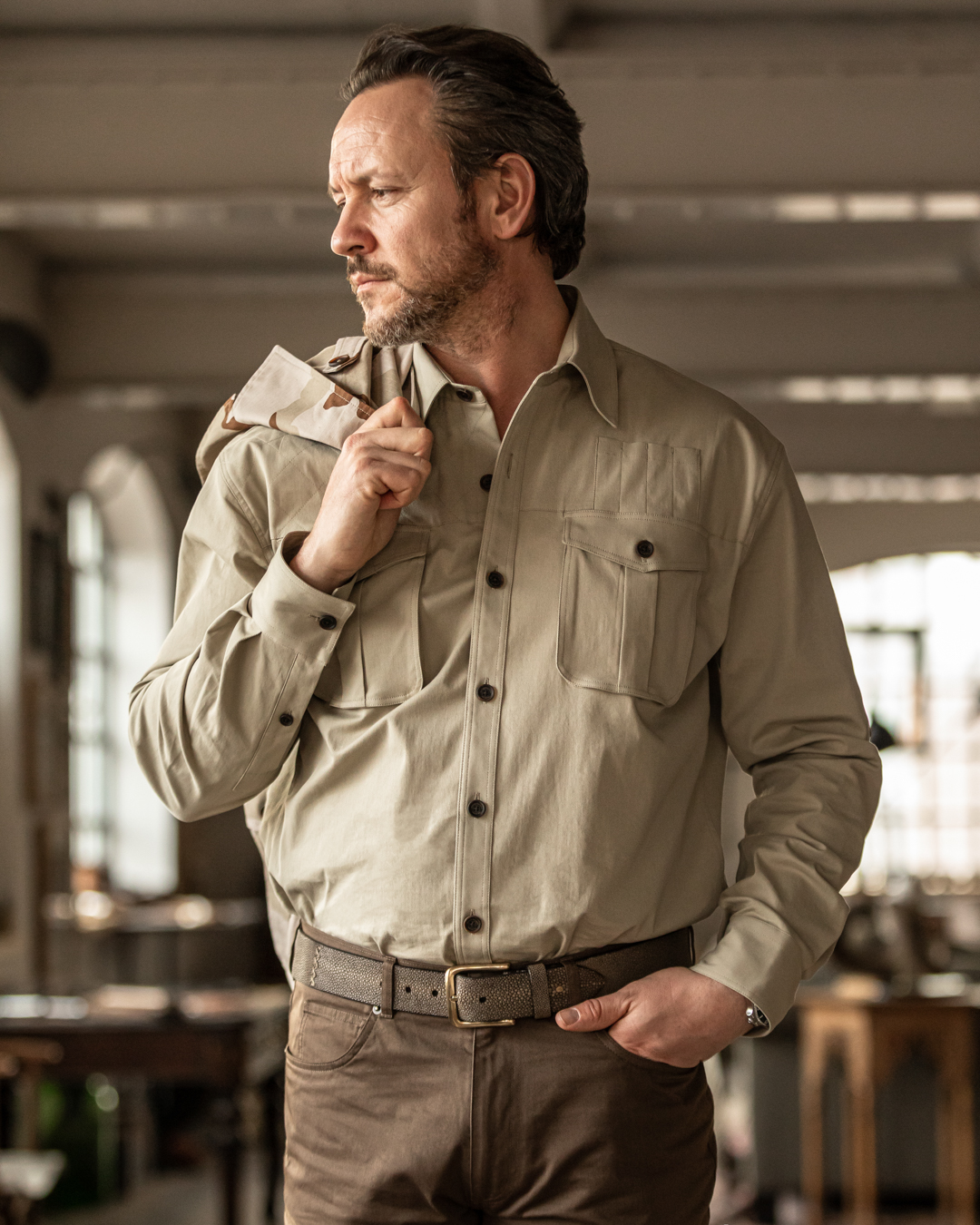 The body flows from shoulder to waist, providing sufficient space to move freely but without excess material billowing in the breeze. The tail allows for the shirt to be worn inside or outside the trousers, keeping it securely in place when tucked-in but providing adequate coverage to the belt area to shield the wearer from leaves, thorns or insect ingress when walking under tree cover or pushing through dense bush.
Every seam is double-stitched with tiny, tight stitching; perfectly, as our customers demand; every surface hanging straight or lying flat, as it should. Practical details include a stitched cartridge pouch; made high and close enough to stop it from moving excessively or pulling the front of the shirt down when filled. Patch bellows pockets, with button-down flaps provide ample storage and security for necessities and a cross-stitch detail to the dominant shoulder pocket bestows extra shape retention and durability.
Horn buttons and a stitched maker's label, signifying its Westley Richards origin, are subtle but executed with precision, adding touch of class to a practical garment.
The Campaign Shirt has fast become a firm favourite. Distinctive, yet subtle, classy, yet effortlessly practical; there is no better choice for Africa.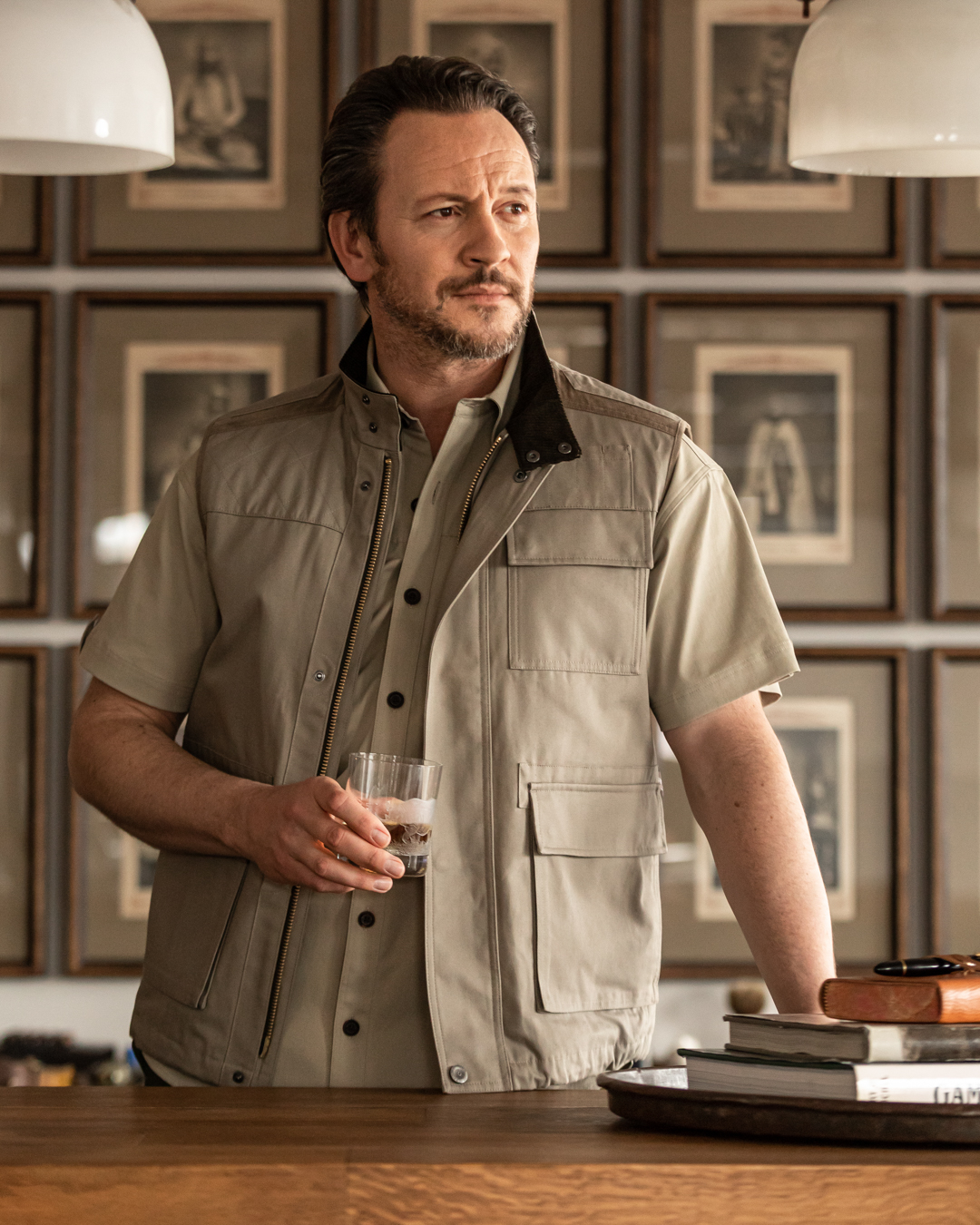 The Guide Vest
With the concept of 'layering' holding the key to a successful safari wardrobe, the perfect companion to our Campaign Shirt is the Guide Vest. The rugged material is a shade greener than the shirt, almost a light olive drab, its close weave providing real protection from thorns or snags. Patch and flap pockets won't catch on undergrowth and double stitching and stress-area reinforcement ensure the gilet will withstand the demands of the deep bush.
The beauty of a vest is that it provides protection to the body without restricting the arms, keeping your core at optimum temperature while you work or travel. Weight is evenly distributed in the bellows pockets on either flank, while a breast pocket keeps valuables out of harm's way and four cartridge slots provide easy access for extra rounds. The shooting shoulder is pocket-free to promote rapid rifle mounting and the flap covering the full-length zip both protects delicate equipment from abrasions and negates any risk of glare from sunlight on brass fittings.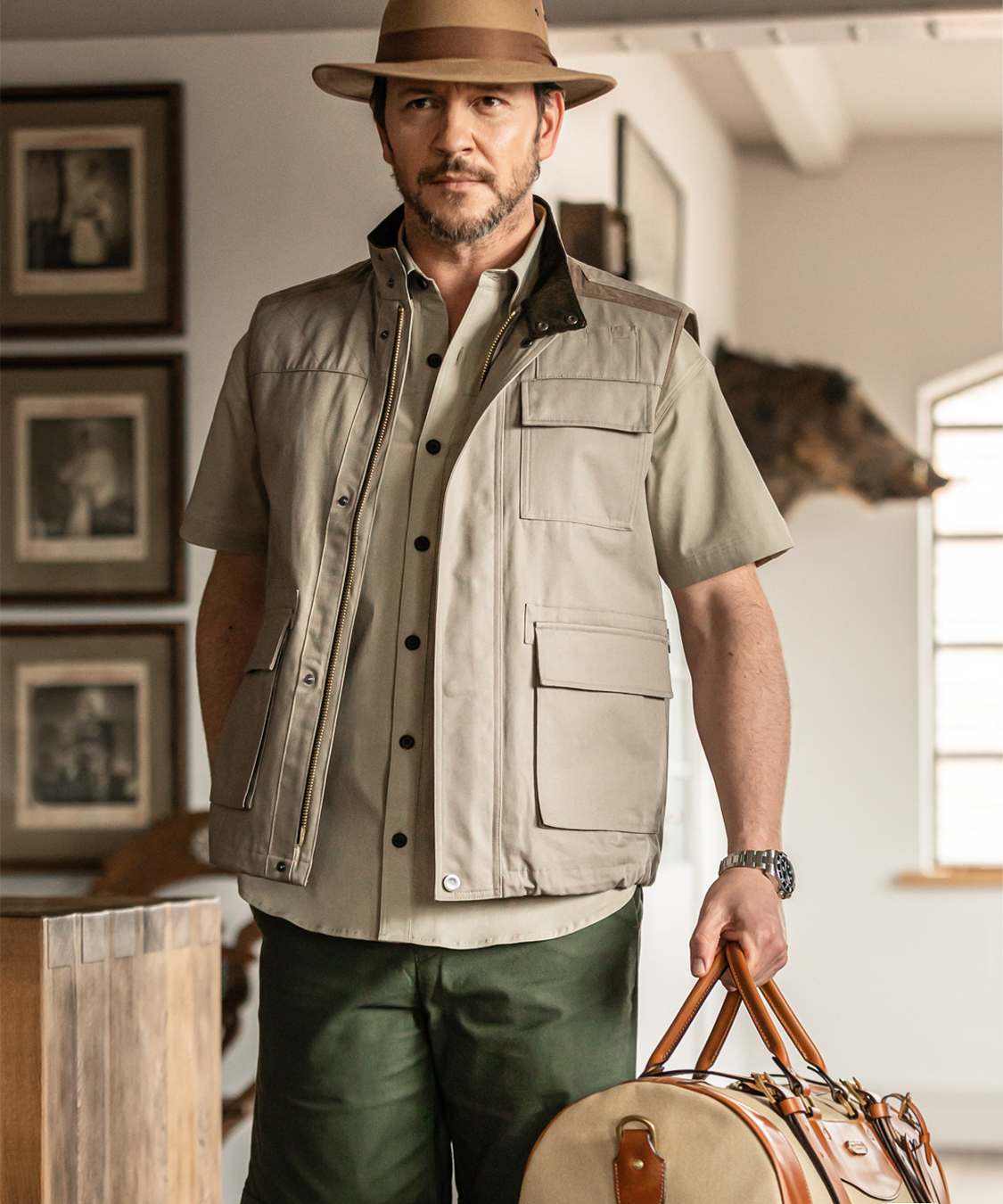 Reinforced shoulders, with Alcantara detailing, help rifle or camera slings remain in place, without slippage. A rip-stop 'desert camo' lining and two internal pockets complete the package. Subtle detailing, like the Westley Richards branded hardware and the elastic-drawstring base, corduroy collar-facing and adjustable waist-straps are quality asides that make this the ultimate in practical safari wear.
Easy to put on or take off, ideal for carrying what you need, without recourse to a bag and heat-adjustable. Perfect.