Over the last six months we asked three Westley Richards fans, each one larger than life in his individual, distinctive manner, to customise a Westley Richards classic for the world he inhabits. These characters each share a passion for the company and all that it stands for - the great outdoors, pursuit of quality, heritage style, traditional sports, global travel, age-old handcraft, timeless artistry and much more.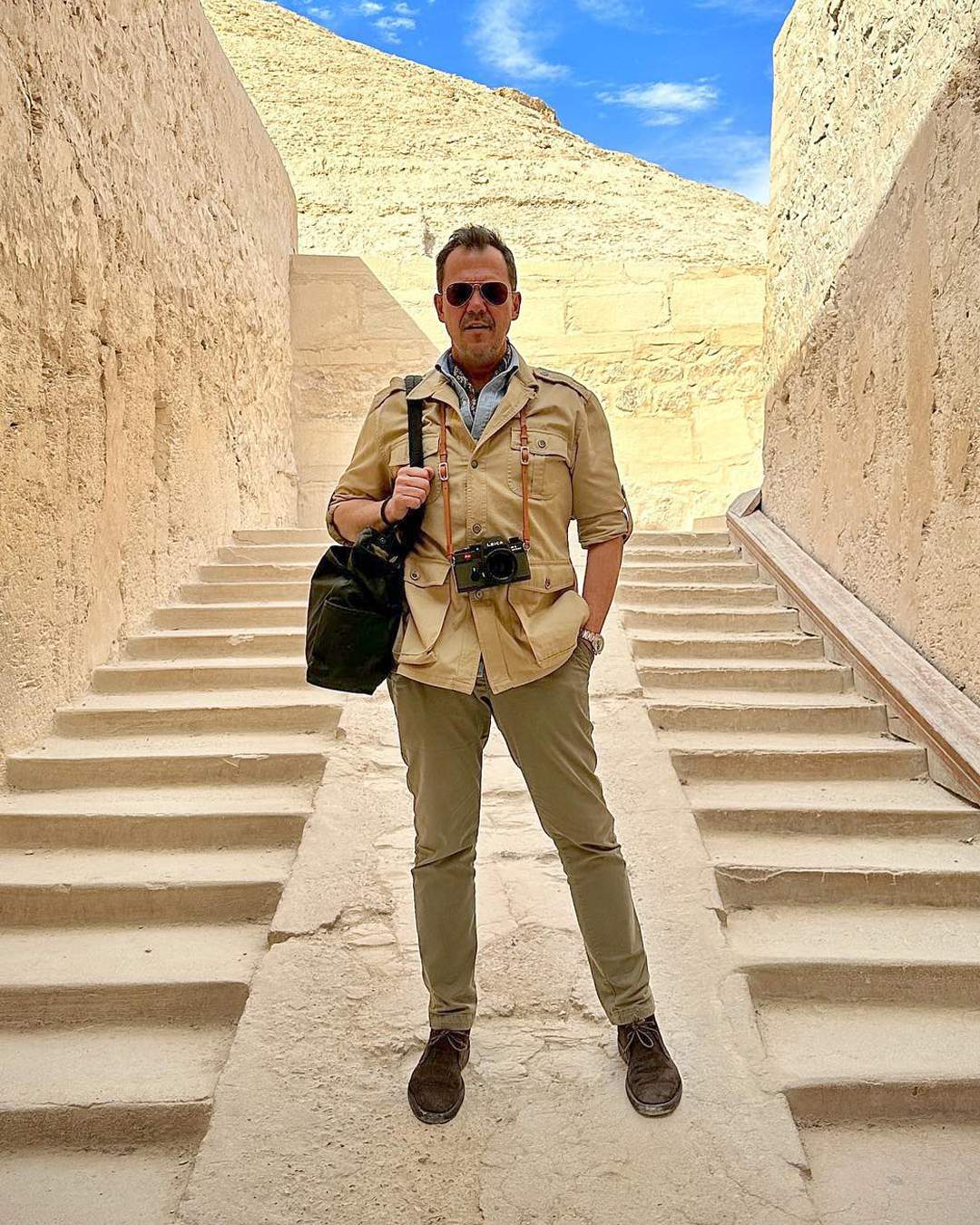 Matt Hranek who grew up in New York, in the 1980s, loving machinery; be that a little machine on the wrist that tells the time or a big one in which you sit, that can reach two hundred mph.
However, to Matt, it has always been aesthetics that appealed; aesthetics over mechanics, in mechanical objects.
Matt was a photographer at first, still is, but that is just one of his many talents. An advocate of style but not a follower of fashion, Matt founded WM Brown Magazine and was once the style editor at Conde Nast Traveller. We can say with a degree of certainty that he appreciates the best things in life.
He retains, however, the family mentality (his mother was an Italian immigrant) that you should work hard to buy the best version of one thing, rather than have multiples of inferior quality. Here, at Westley Richards, we heartily concur.
Matt's passions led him to write 'A Man & His Watch' and 'A Man & his Car', both homages to the male psyche and its innate connection to mechanical objects and the life stories they help tell. We believe our hand-made leather bags and sporting goods offer a similar heritage lifestyle to our customers.
Matt chose a Bournbrook 48hr Bag in a otter green, Halley Stevenson, canvas, with dark tan buffalo trim. Expect a review of his bag in WM Brown Magazine sometime soon, where he says 'In the never ending pursuit to streamline my packing, I have leaned into my beautifully crafted weekender by Westley Richards to not only help me achieve this goal but to do it with style that stands out in a sea of luggage mediocrity. I now consider this an heirloom as well as a key piece in my arsenal of travel.'
It should look very much at home in the passenger seat of his 1987 Porsche 911 as he speeds towards his next interview, Leica stowed safely and Cartier Tank on his wrist.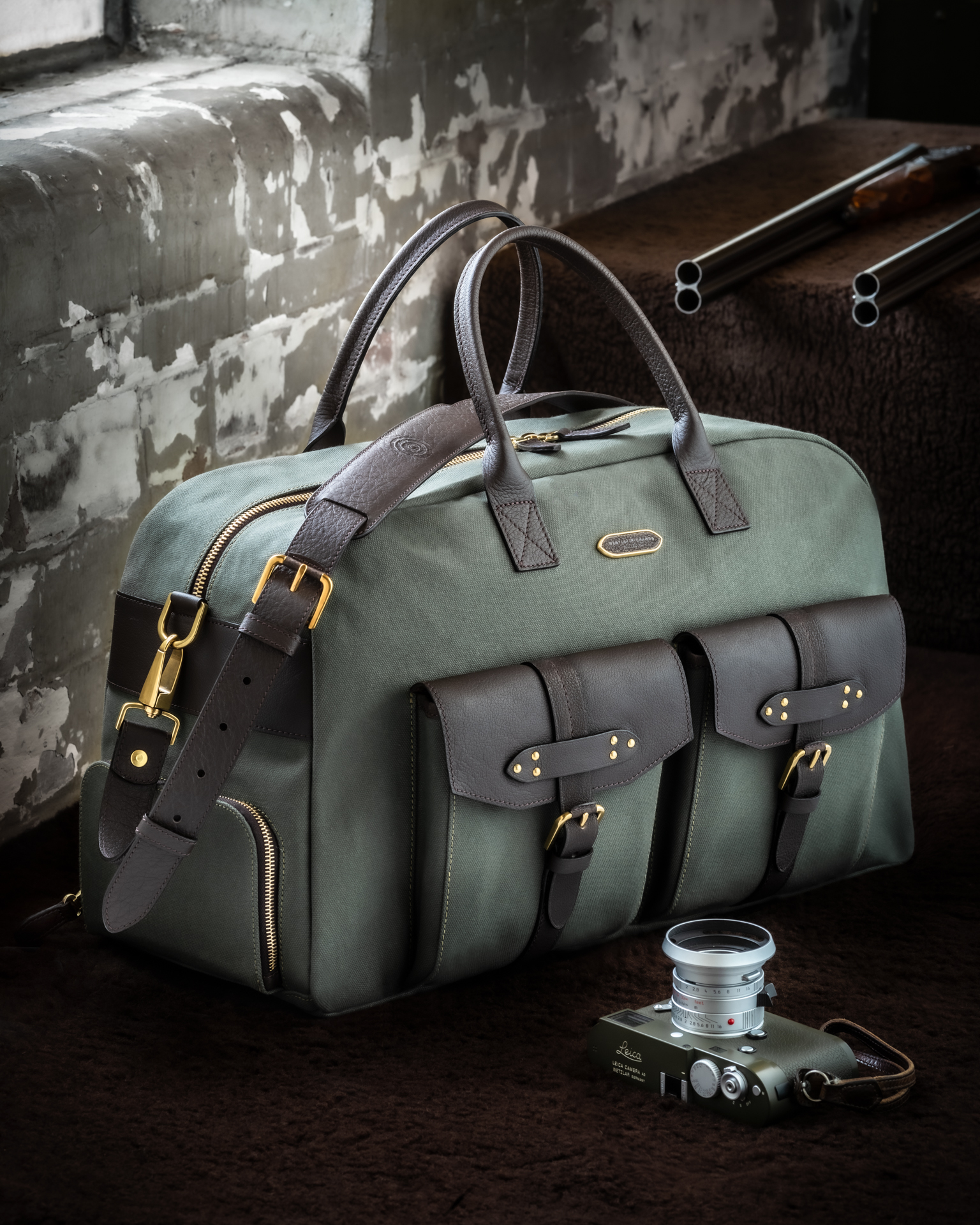 ---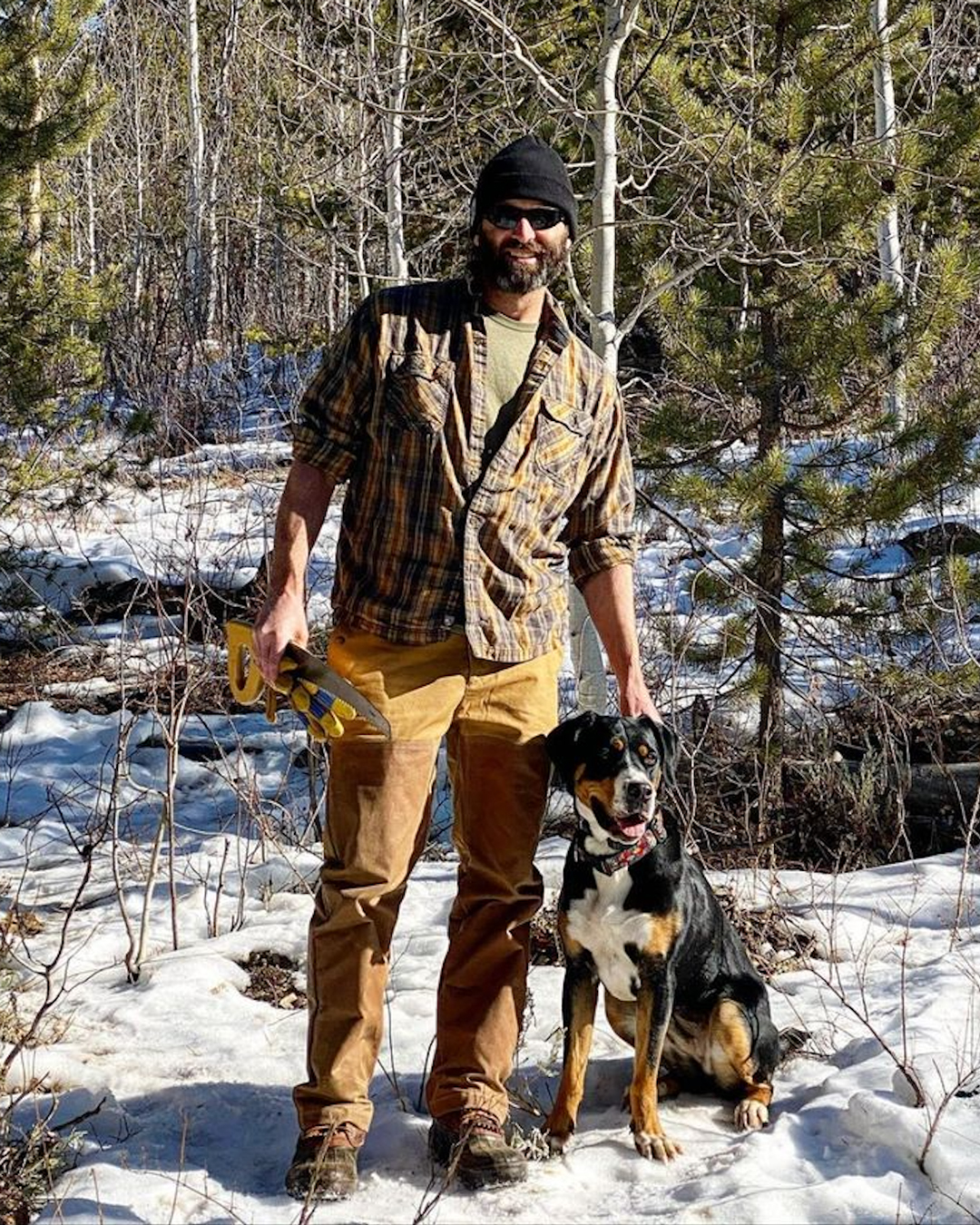 Next up is Jack Carr, who was a US Navy SEAL sniper serving in Iraq and Afghanistan, before transitioning to counter-insurgency, and eventually commanding a Special Operations unit in Iraq. After 20 years service, he is now a best-selling author and instigator of Amazon Prime series 'The Terminal List', starring Chris Pratt.
Jack is an adventurer by nature, with the rare ability to translate his real-world experiences into best selling fiction.
Jack decided to detail his own Sutherland Safari Bag in British Millerain Camo (of course). We customised it with his trademark crossed-tomahawks logo
"This bag is NEXT LEVEL... (he wrote in his blog)  In a world where compromise is the norm, Westley Richards continues to ignore convention and hand build custom rifles and shotguns to pass down through the generations."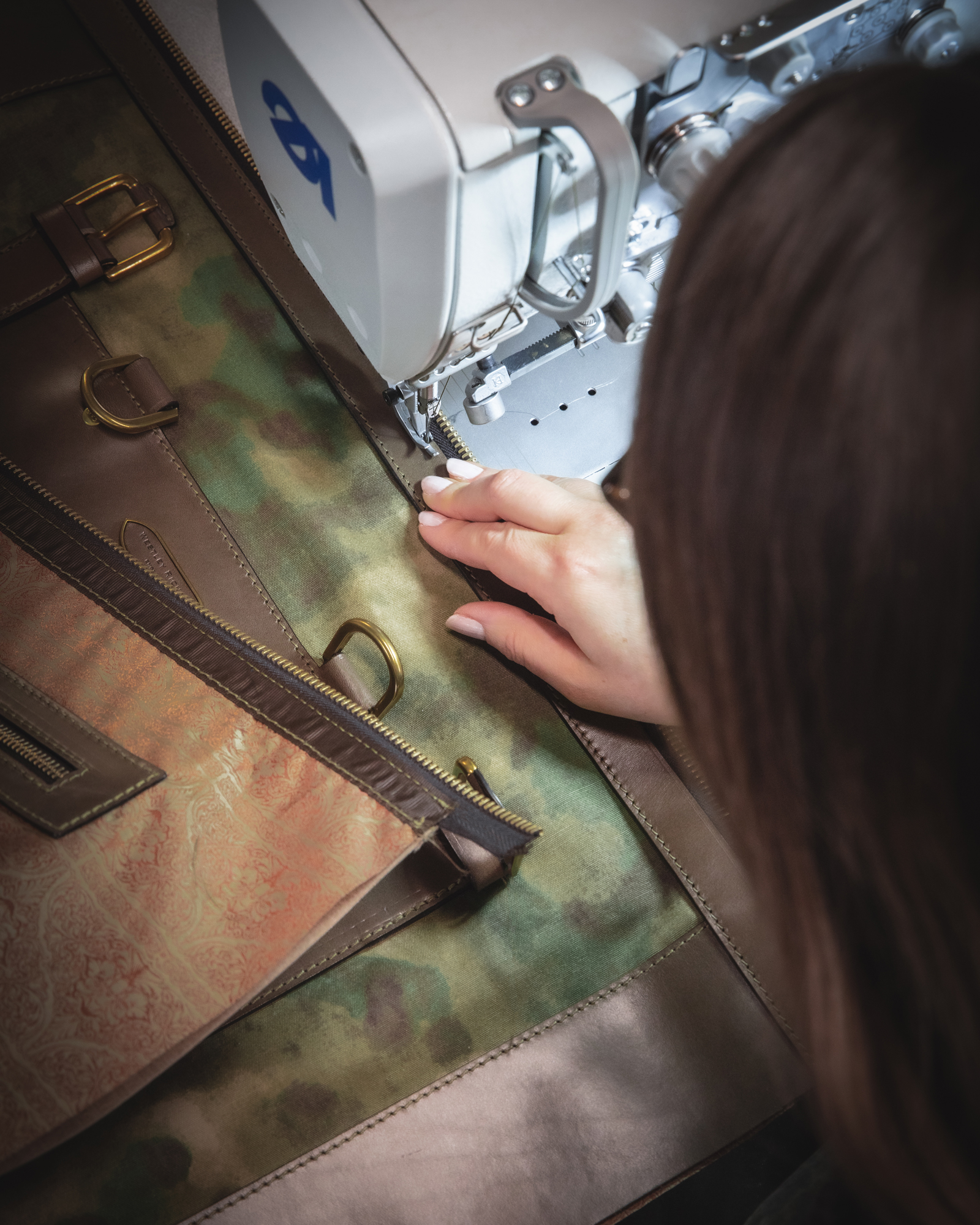 "In all my years – which are ALL my years – as a 'gear guy' using and collecting backpacks and bags, I have never experienced a bag with the level of craftsmanship or attention to detail as I've found in this."
Jack is not new to the concept of Westley Richards, having equipped his character Rich Hastings in his thriller ' True Believer' with a Westley Richards drop-lock double rifle.
"Westley Richards guns, rifles, ammunition, cases, cartridge bags and belts, gun slips, cleaning rolls and luggage are all of unrivalled quality and hearken back to England's golden age of gunmaking."
Indeed they do and we appreciate Jack's endorsement but we would argue that the golden age of English gunmaking is now, for never before have we built better guns and rifles than we do today.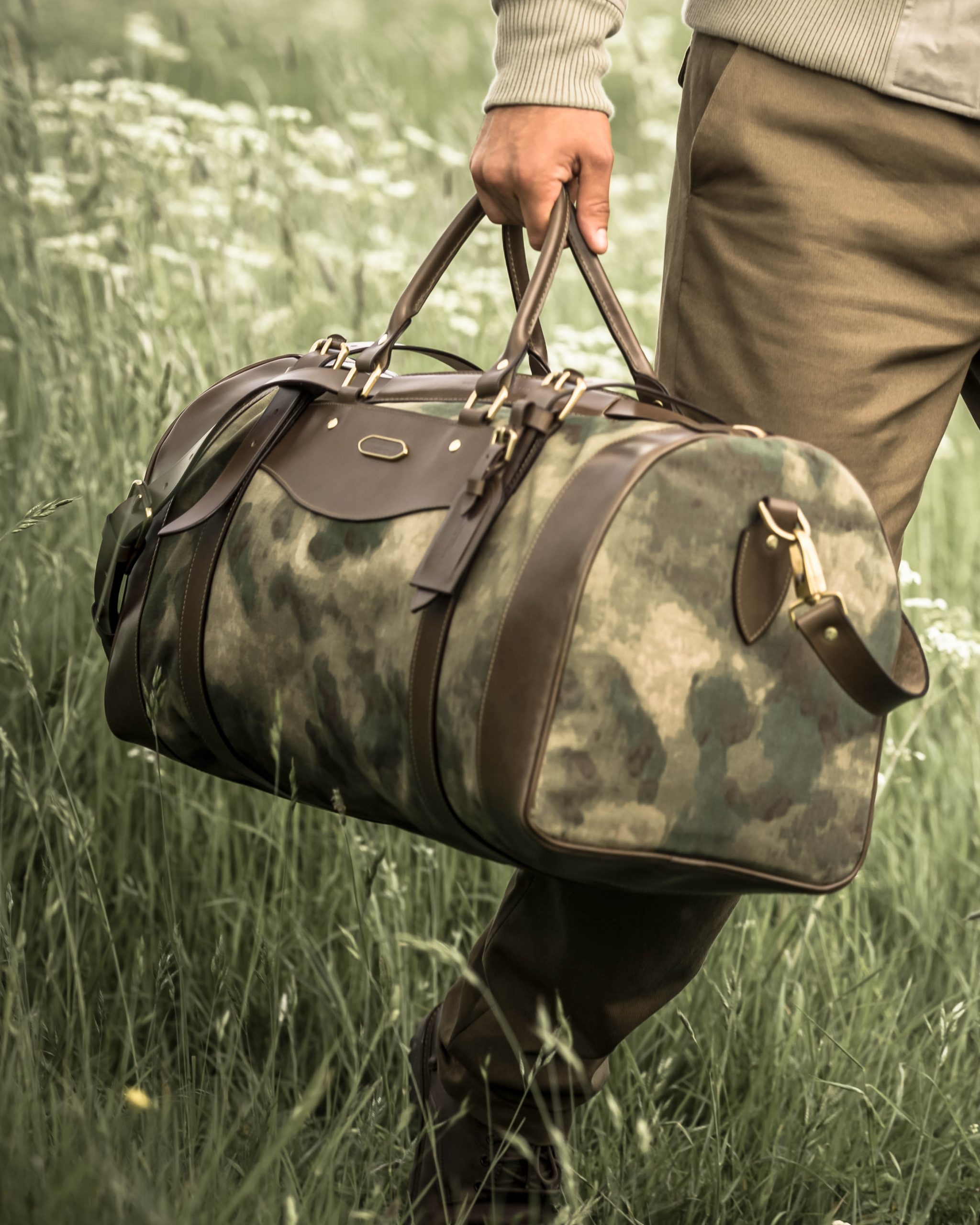 Jack will be running a giveaway 4th-7th Sept 2023 on his Instagram page, where you can win Jack's Sutherland Safari Bag. Click this link to find the competition post: www.instagram.com/jackcarrusa/
---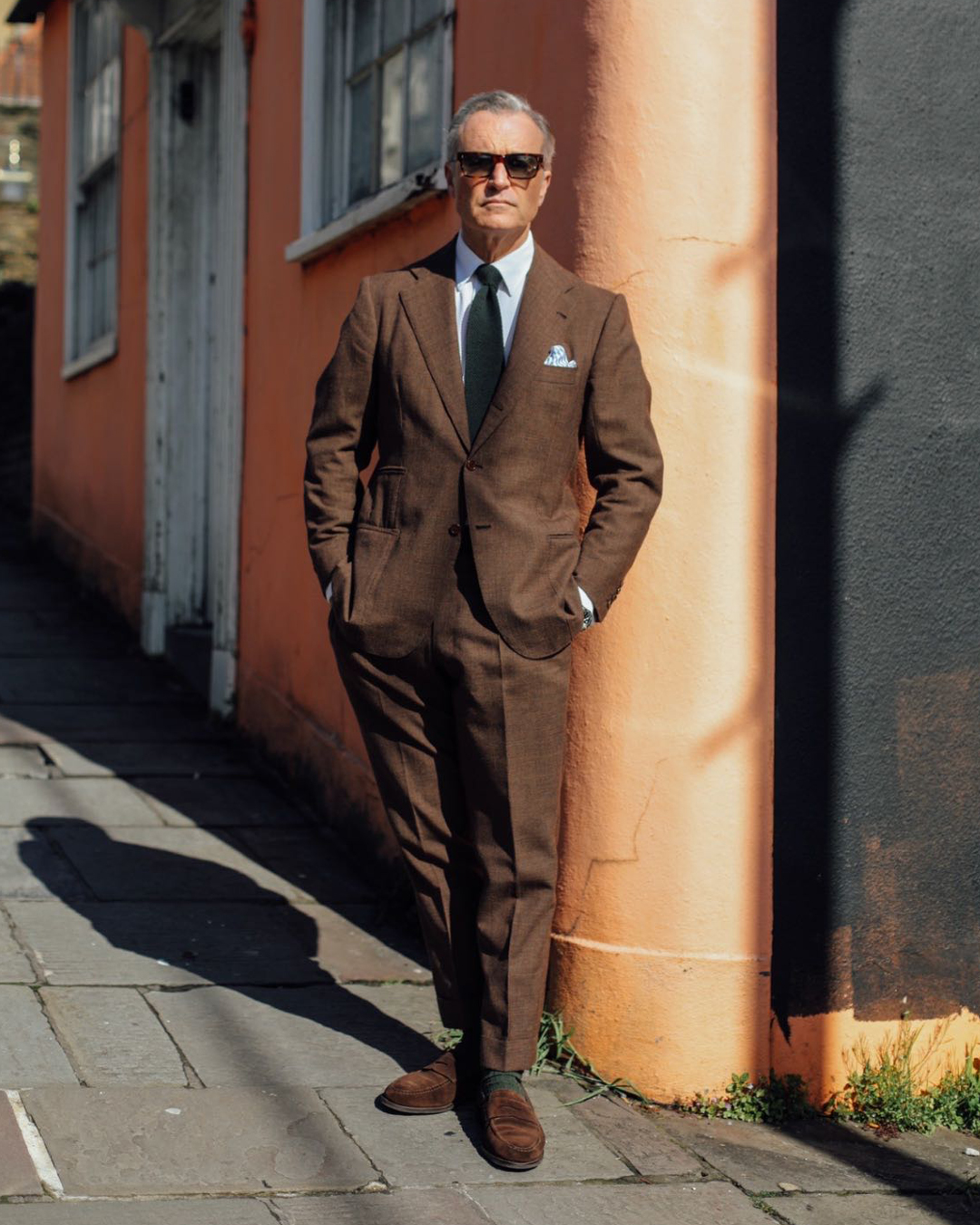 Douglas Cordeaux is the owner of Somerset fabric mill, Fox Brothers, where local wool has been woven into the finest suiting cloth; a beautiful fabric that once clothed Fred Astaire and Cary Grant, for over two centuries.
His approach to investing in quality attire chimes neatly with our own. "Good cloth is expensive. It's a fool's game to try and save a few pounds… choose the right cloth and you've got a suit for life".
Fox Brothers, like Westley Richards, is long established, in fact Fox Brothers, founded in 1772, pre-dates our opening by forty years.
As do we, Fox Brothers believes strongly in the use of natural materials. Wool, canvas, leather: all are biodegradable, all are sustainable, all were being used when our two companies were founded and remain the staple materials in use today.
In a throw-away culture and a world in which almost every discarded product becomes a thousand-year pollutant, festering in the ground or floating in the oceans, these age-old, back-to-nature materials once again look like they hold the key to a healthy future.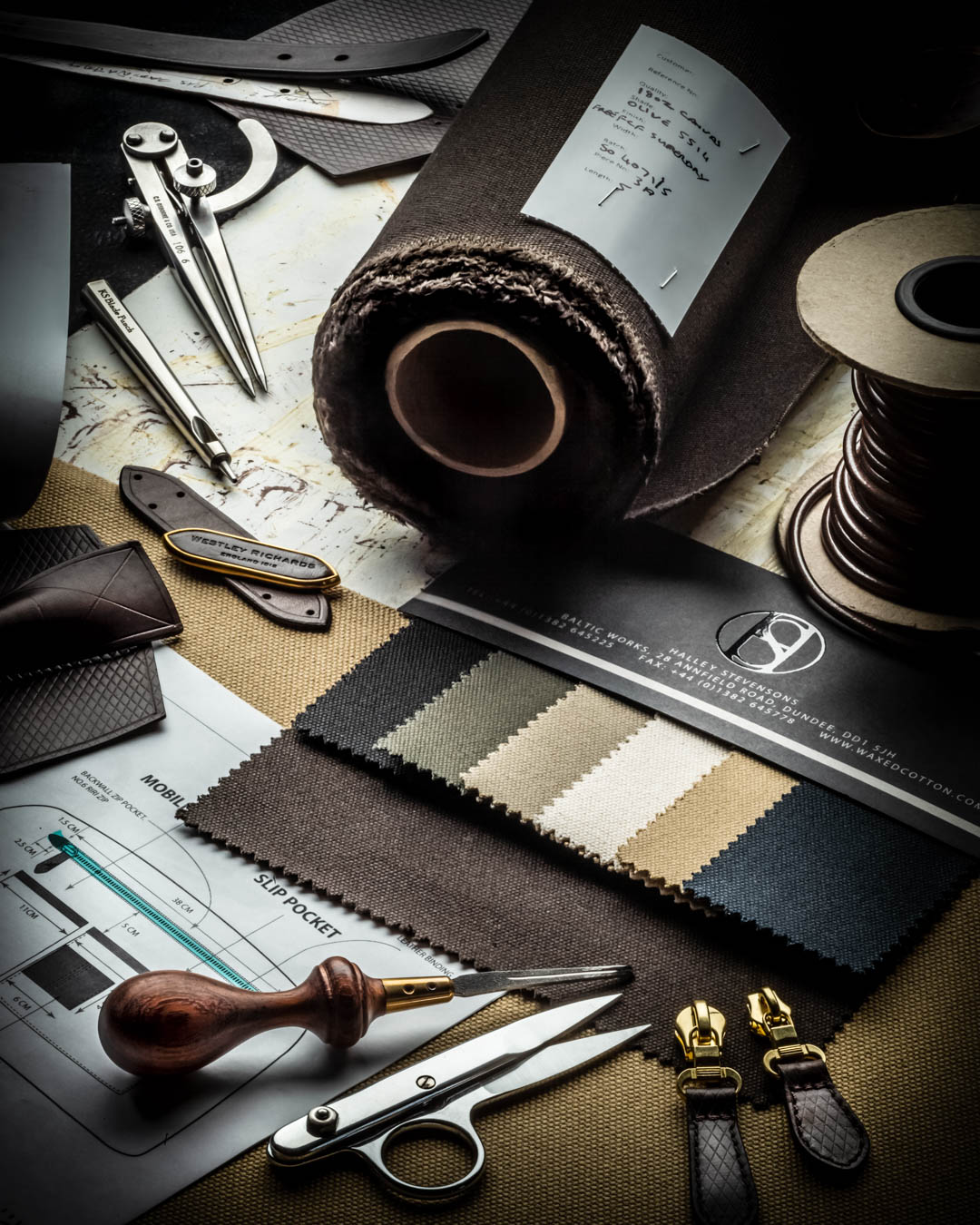 Douglas also chose a Bournbrook 48-hour bag, which he asked to feature a compartment to keep his well travelled ties flat. We incorporated this into the base of the bag, which is made from olive brown Halley Stevenson canvas with matching dark tan leather trim.
His bag is currently being built in the leather shop and will arrive in time for Douglas' next worldwide selling season in October. Watch this space to see the final bag.
---
Each of these characters (for characters is what they all are) represents a core part of the ethos of Westley Richards.
The adventure and rugged lifestyle of Navy Seal Jack, the timeless stylistic sense and appreciation for iconic design represented by the passions of aesthete Matt and the dedication to a sustainable, classic product line of the finest natural materials that Douglas through Fox Brothers, keeps relevant in an increasingly synthetic modern age.