J.W. Tolley 8-bore #45572
Tolley is a name best known to the wildfowler. The firm's plain, eight-bore hammer guns, both single and double barrel versions, were the tool of choice for the foreshore from the 1880s until the 1930s. Plain and utilitarian may have been the stock-in-trade but, like most British gunmakers of the day, Tolley could, and did, turn out some special pieces for wealthier customers who wanted more quality and would pay higher prices, even for their duck and goose shooting. Here we have just such a gun.
Proofed for 2 oz shot, with full choke in both barrels and 3 1/4" chambers, this double eight bore was built for a gentleman 'fowler who appreciated quality.  The massive action has side-clipped fences and the double Purdey under-bolt is augmented with Scott's 'Improved Bolt' acting as a third grip, all operated by a top-lever. The pistol-grip stock is of well figured walnut, with a Silver's pad to the butt. Fine chequer, a horn grip cap and drop points add to the feel of quality.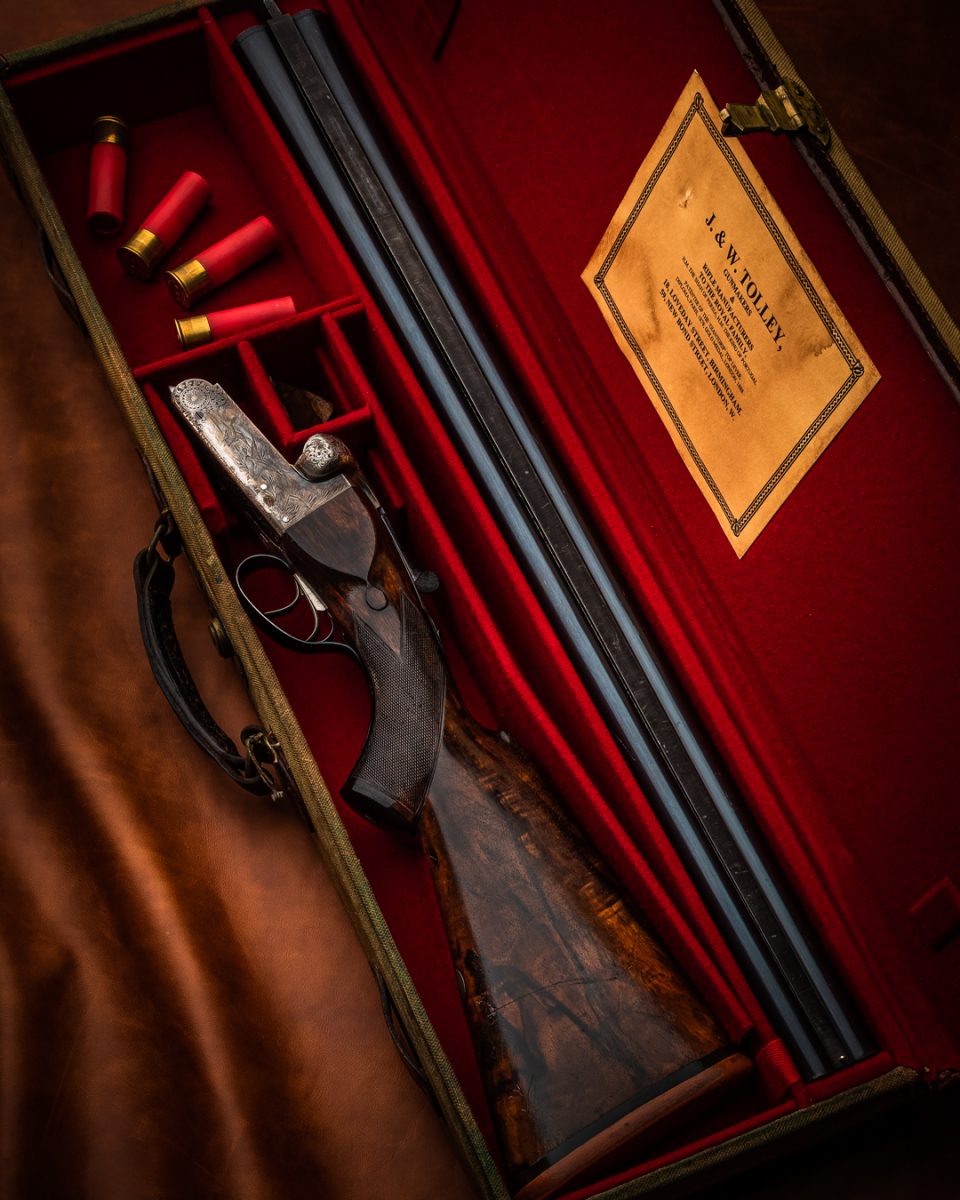 However, what really sets this gun apart is its condition. It retains most of its original case colours, the flat top chequer has never been re-cut and shows little wear. Pins all line-up correctly and the guard strap is the original blue, as is the top-lever. Both breech face and bar flats show case colour and the springs and bolts operate as if they have done no work at all. Save for the odd light dent and the accumulated patina inevitable from a gun made a  hundred years ago, it appears, in essence, un-used. Unusually for a wild-fowling gun, it has ejectors (Southgate type) and is fully covered in bold scroll engraving with wildfowl depicted on the sides of the action, the top-lever and the guard. Presented in its maker's canvas and leather case, lined in red felt with Tolley label, this is a collector-grade eight bore with the two key attributes of very high original quality and superb current condition.
W.W. Greener 8-bore  #54025
Greener's answer to the Anson & Deeley box lock was his own Facile Princeps action. The firm patented this in 1880 and continued to make it until around World War One. It was clever and successful design but never achieved the widespread popularity with the wider trade that the (Westley-Richards originated) Anson & Deeley did. The vast majority of Facile Princeps guns bear Greener's own name on the action and rib.
Like the Tolley, this Greener is atypical among wild fowling guns, in that it is of extremely high quality and profusely decorated. The fine-scroll engraving contains vignettes of dogs and wildfowl (nine in total). The action has a 'fancy back' and the fences are carved with oak leaves and acorns. It has ribanded bolsters around the radius and the highly-figured, semi-pistol grip stock is very finely chequered.
The action is bolted by Greener's patent wedge-fast cross bolt. The safety is a classic Greener side-safe. It has Greener patent 'Unique' ejectors and wrought steel barrels with a flat filed rib. The 3 1/2" chambers are proof tested for 2 1/2 oz of shot. The crown on the top-strap indicates it is a best quality 'Royal' grade gun.
Serial Number 54025 indicates the year of production is 1905. Greener made few eight bores of this quality and this example retains a great deal of original finish, showing no evidence of re-working. Condition remains exceptional.
William Ford 8-Bore / 10-Bore
William Ford made his name as barrel maker. He is reputed to have bored all the barrels Greener used in the 1875 choke bore vs cylinder bore 'Field' Trials, which did so much to make Greener famous and convinced the British public that choke was safe and effective. Ford went on to make and retail guns himself and here we have a rare example of a William Ford heavy 10-bore bore boxlock ejector with a further set of 8-bore barrels.
Notable for its quality, this is also remarkable for the fact that is has a single trigger, which is most unusual for guns of this type. Built on a heavy scroll-back action with Scott's 'Improved bolt' and additional Purdey under-bolt to secure it, the gun has a very highly figured stock with pistol grip, vacant gold oval and further gold inlay to the serial number and the 'SAFE' . The gun is fully scroll engraved with a spaniel flushing ducks on the trigger guard. It retains most of its original finish and appears very little used.
The steel 8-bore barrels have a flat, filed rib and metric London proof marks. The original barrels are of 10-bore with 'Long Chamber' proof stamps, for a 3 1/4" cartridge and 2 1/4 oz of shot. Both muzzles are choked. It seems probable that this was made as a very heavy 10-bore and due to the size of the action, it became apparent that a set of 8-bore barrels would be an easy and appropriate fit. The original barrels are marked '1' in gold, the later ones, marked '2'.
Francotte 4-bore
Francotte may not be English but, even to the collector and user of best British guns, finding fault with one is very difficult. While apparently plain, the details on this huge 4-bore mark it out as special.
The treble-grip action is fully case colour hardened and features a Scott-type square bolt.
The case colour hardened action has only border engraving but the fit of metal to metal and wood to metal is first class. Gold lined muzzles with ivory bead, engraved grip-cap and gold oval highlight quality without ostentation.
This gun was re-stocked in England some years ago to the highest standards and remains in superb condition.

For further details on any of these magnificent wildfowling guns please contact anthony@westleyrichards.co.uk