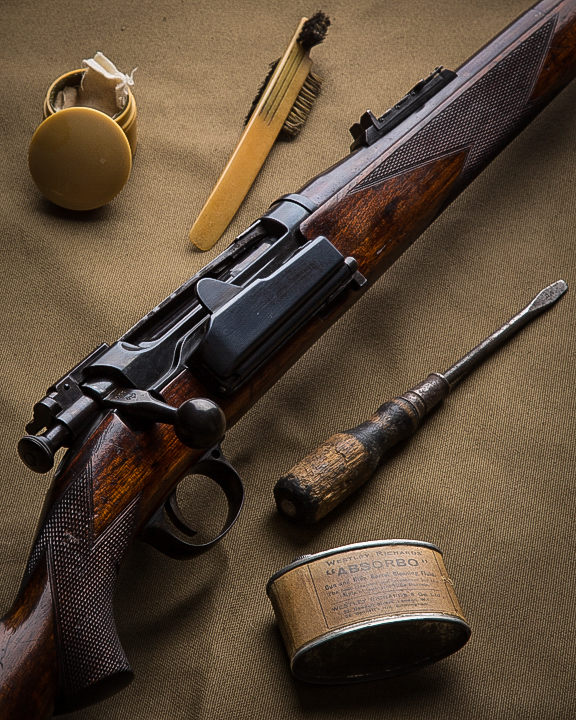 In 1893 a Swedish-Norwegian commission set out to develop the perfect military round and came up with a 6.5mm caliber bullet and a rimless case that was 55mm long. The new cartridge has had many names throughout its history but today is known as the 6.5x55mm and remains a tried and true choice for hunters in North America, England, and Europe. In 1894, after that commission's findings, Norway's Army adopted the 6.5x55mm cartridge and the Model 1894 Krag-Jorgenson rifle, designed by Norwegians Ole Herman Johannes Krag and Erik Jorgensen, as its new military rifle. Krag rifles are a bolt action repeating rifle instantly recognisable by the "half-capsule" clam-shell type magazine mounted on the right side of the action. Somewhere around 33,000 Model 1894 rifles were made under contract with Steyr of Austria between 1896 and 1897 for the Norwegian Army and the Civilian Marksmanship Organisation.
Sometime prior to 1906 Westley Richards stocked and sighted this original Model 1894 Krag-Jorgensen barrel and action made by Steyr in 1897. A new stock was expertly shaped and inletted to accommodate the unusual action and it has a checkered pistol grip and forend and the original smooth steel trap butt. The barrel remains the original 27" but was turned down and tapered to a livelier weight and a pedestal mounted front sling eye was added. The rifle was sighted with Westley's pattern sights including a ramp front sight with protector and an island rear sight base fitted with a standing Express sight regulated for 100 yards, two folding leaves regulated at 200 and 300 yards and a Tangent sight marked to 1000 yards. Each sight leaf is "platina-lined" as our catalogs from the early 1900's referred to the platinum alloy wire inlay on the sight leaves. The barrel carries 6.5mm London proof marks and just under the rear sight the barrel is engraved ".256 Krag Jorgensen Cartridge", the commercial name for the 6.5x55 used in England through the 1930's. Finally, the top of the barrel is named "Westley Richards & Co., London".
Inside the stock the rifle is numbered 32107 which is no doubt a Westley Richards serial number. Sadly though, we do not have the ledger book containing this block of numbers, which would have just preceded the book we have starting in 1906. While we may never know the whole story on this most unusual Westley Richards rifle, it is a good reminder that there is always something new to learn from a company with such a long and interesting history.