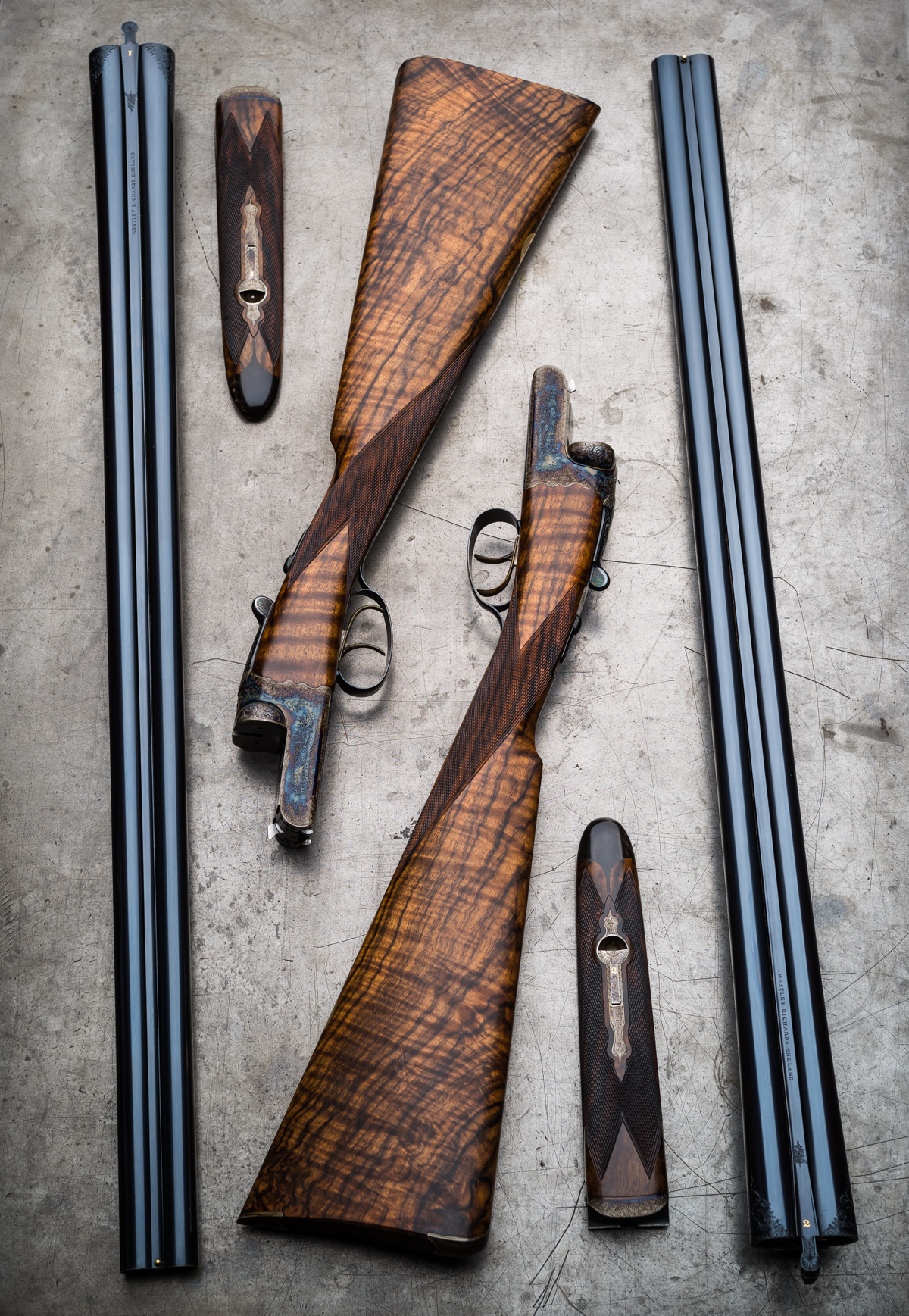 After considering them and recalling the history of making them, I think the nicest story is the actual story and how it fits in with our philosophy for making our guns, so here goes.
Making a pair of guns at Westley Richards is a partnership, here we don't have any new stock guns for sale, only guns and rifles that we have in storage which can be used to demonstrate what we make. Everything we make is bespoke, we aim to deliver a customer exactly what he wants. In a stroke we eliminate any customer who doesn't have the patience to wait the 2+ years it takes to deliver what we make, but with that said, our order book has never, in my time here, allowed us to build any stock guns anyway. If I was ever building guns for stock I would actually be nervous, it only means you don't have enough customers for the bespoke guns you make and that you have turned to 'speculative' build to keep the workers busy.
In late 2004 what I like to call a 'bear of a man' (big, strong, jolly and totally focused) contacted me to discuss building a pair of guns which he could use on both sides of the Atlantic both for game and sporting clays. This is a man who is totally dedicated to his shooting, when not working, he is in the field with his guns. He is a genuinely talented and admired shot and one who will compete and win against all the regular over under users, those who insist upside down is the only way to go, until they are in a shoot off with him perhaps. I have always admired the man who shoots game with a side by side as I believe that to be the 'traditional gun' of this 'traditional sport' and when I see a man winning a round of sporting clays with a side by side against all Over Under a smile always appears on my face.
Specifying the guns was quick and easy, he knew exactly what he wanted from the technical side, the barrels, bores, chokes, cartridge, pattern, stock measurements, trigger pull weights, point of balance, weight of guns and everything else was detailed, I recognised a lot of thought had gone into this and there was very little for me to do or suggest other than price the guns and pitch for the order, which I duly received.
Making the guns was a matter of following the detailed instructions exactly and delivering a pair of guns which the customer knew he could shoot well if the details were followed. From my side I knew that if I make the guns, he shoots them well and they look good a lot of people will be watching and then looking at the guns. A perfectly matched pair of blanks and the nicest quality, beautifully shaded, traditional scroll and cameos were about the extent of my input, 'the looking good bit'
The guns were delivered for Christmas in 2006 and this year, 10 years on, we will deliver 8 more guns both to him and his 'shooting buddies' these in 20g, 28g and .410. I asked for the pair to come back for service and so that we could ensure the stock layout and fit is absolutely perfect for his new 20g this on the simple basis that if he continues to shoot well and is proud of his guns they will continue to attract more attention and then further orders will possibly come.
The Philosophy, Build super guns, work with the client closely, go that extra mile in the finishing and the guns will sell themselves!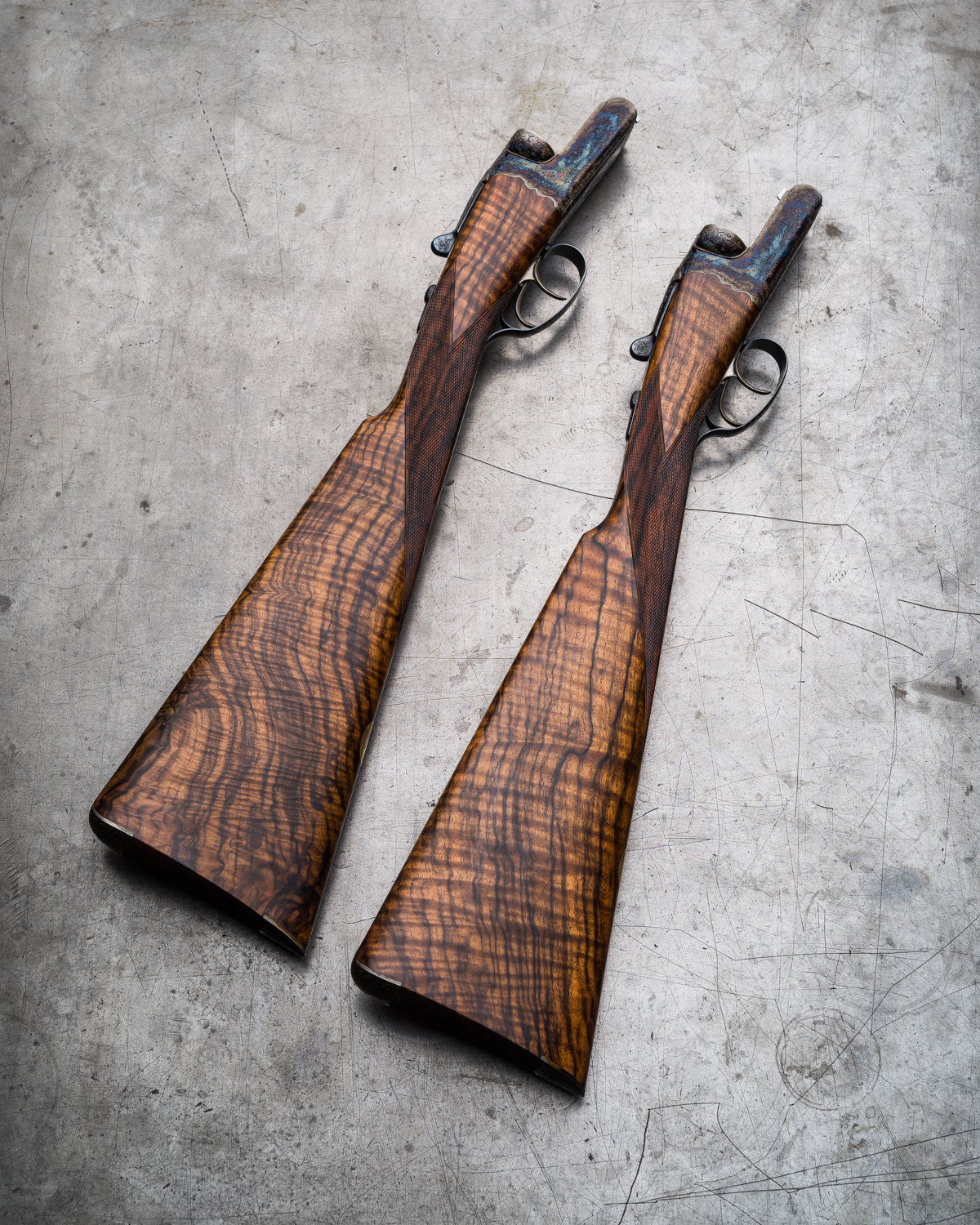 The perfectly matching pair of stockblanks.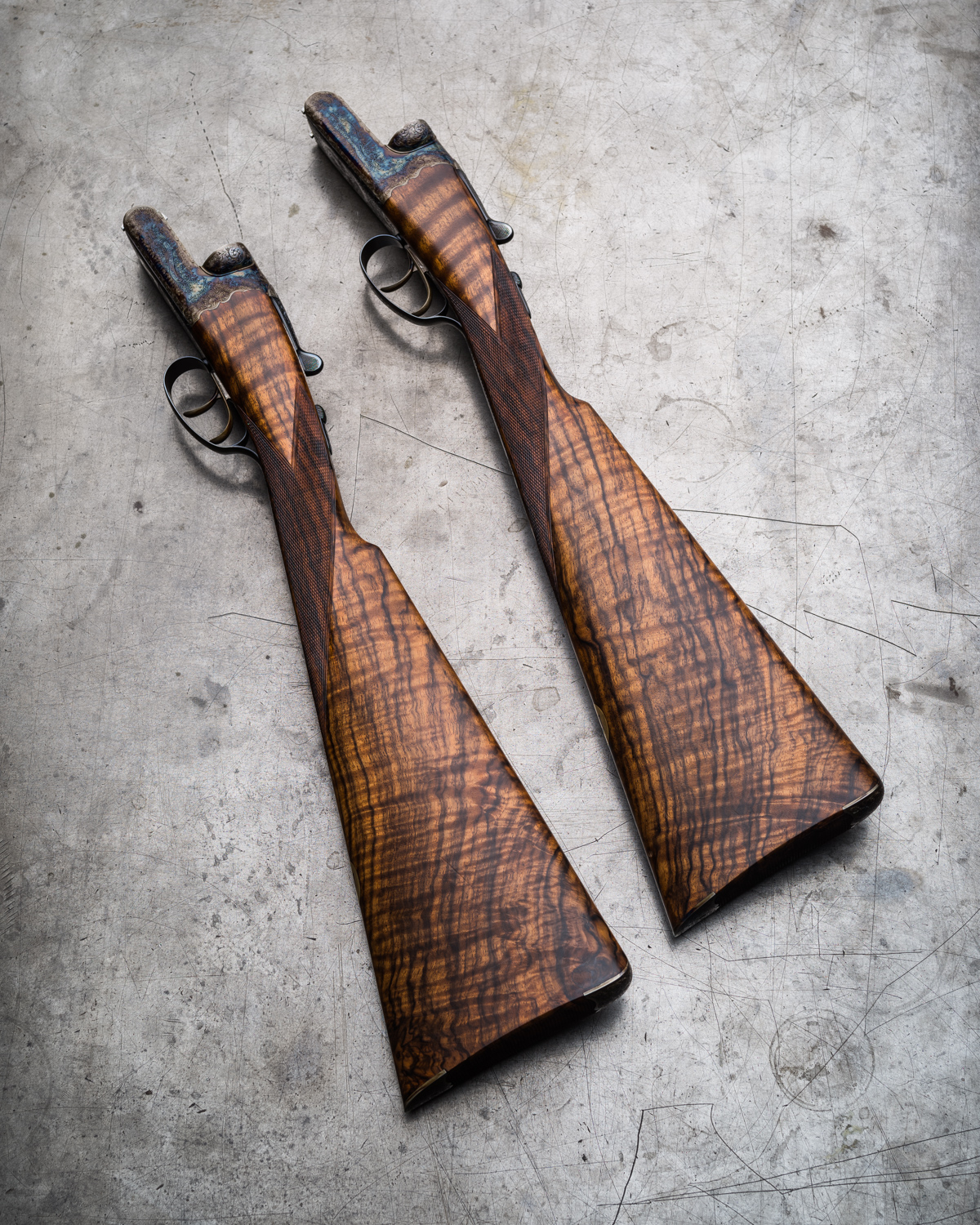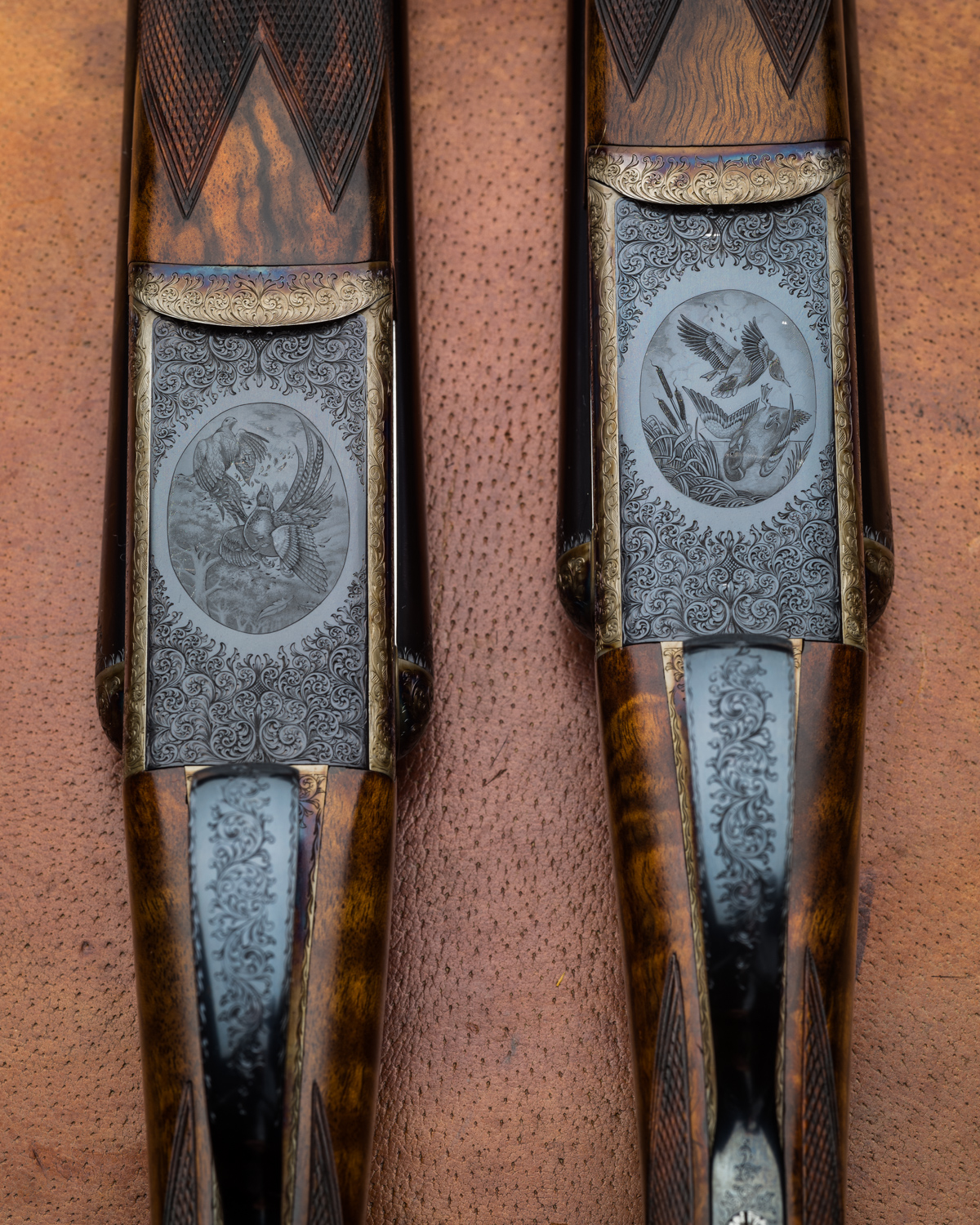 Game cameo's of shot game and shaded scroll by Rashid Hadi.