Both cartridges have been around for well over a century, and remain two of the most popular cartridges among dangerous game hunters today. It goes without saying that the original rifles chambered for these rounds are among the most coveted rifles out there.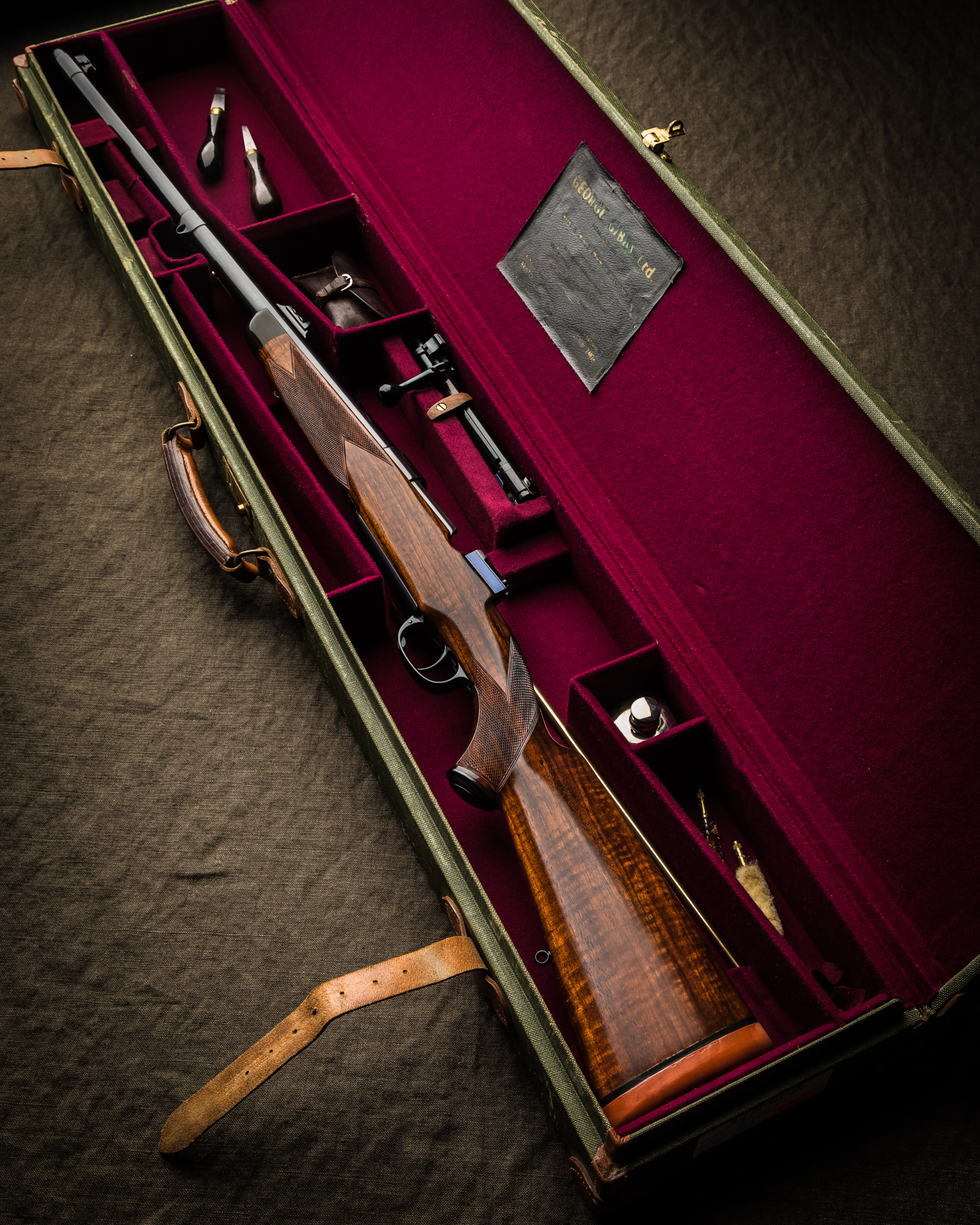 The first rifles chambered for these cartridges were ground breaking developments for Big Game hunters. The rifles themselves were built on the new magnum length Mauser '98 bolt actions that were very well made, extremely reliable and far more affordable than double rifles. Secondly, these big rifles shot cartridges that matched the ballistics of cartridges like the .470 3 ¼" NE or the .500 3" NE.
This was power previously only available in a double rifle and these new big bore bolt action rifles could carry up to 4 rounds. Furthermore, the two cartridges were similarly shaped and their "big" designs offered ample case capacity that made for low chamber pressure. The cases also had long necks for tightly holding the big bullets, a benefit for the rounds in the magazine of heavy recoiling rifles. All these characteristics were, and still remain, reliable combinations for pursuing the World's most dangerous game.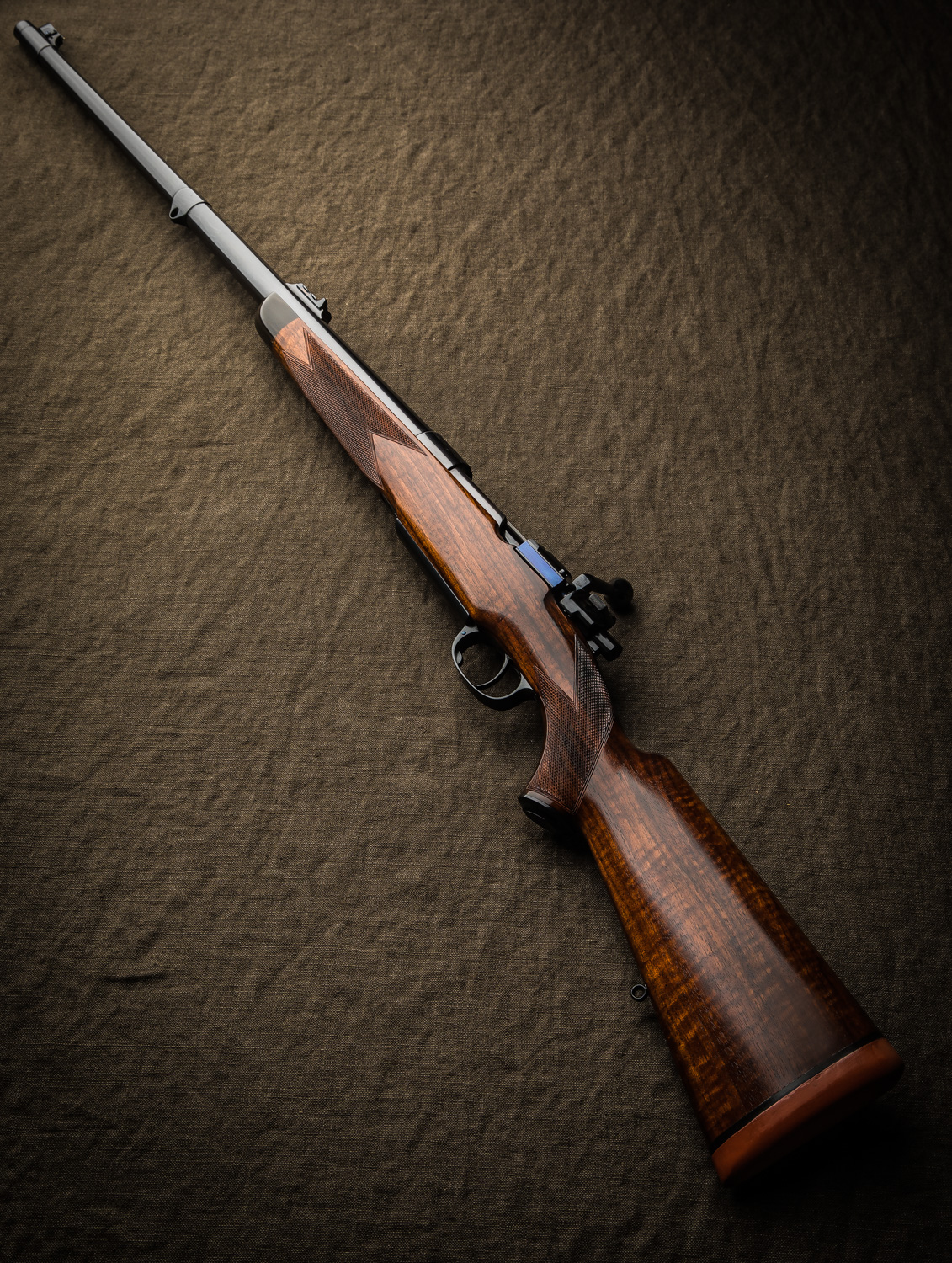 Original Gibbs .505 Magnum built in 1927.
Safe to say the British trade hasn't made "many" of anything, but even when put into perspective, original .416 Rigby and .505 Gibbs bolt action rifles are not only some of the most desirable, they're also some of the rarest. Less than 200 .416 Rigby rifles were produced between its introduction in 1911 and the beginning of WWII. In the case of the mighty .505 Gibbs, somewhere between 70 to 80 were only ever produced. Low production numbers by any standards and, in rifles that were very much intended for hard use, one must wonder just how many survived much less stayed original?
Being that the rifles are so rare, I've encountered very few in my career, and to have one of each offered for sale at the same time, is an even rarer moment still.
The J.Rigby & Co. Mauser Sporting Big Game rifle in .416 calibre shown here was shipped in 1913 and must have been among some of the first made. It is built on the original magnum length action made for John Rigby and his new .416 cartridge. The rifle has a 24" barrel with a sleeved front sight and sling swivel and Rigby's pattern quarter rib, a cocking piece flip up peep sight, two folding leaf rear sights and the classically shaped Rigby stock. Even though the rifle is 105 years old, I am sure it feels as sturdy and sound today as it did the day it was finished.
The George Gibbs rifle chambered in .505 Magnum was made in 1927. A hulk of a rifle also built on an original magnum length Mauser action with a 26" Vickers barrel, island rear sight and banded front sight with a folding sight hood. The massive size of the action and barrel are appropriately scaled for the equally large cartridge that propels a bullet, one-half inch in diameter, at 2200 fps. This rifle was built for one purpose and it serves this purpose very well.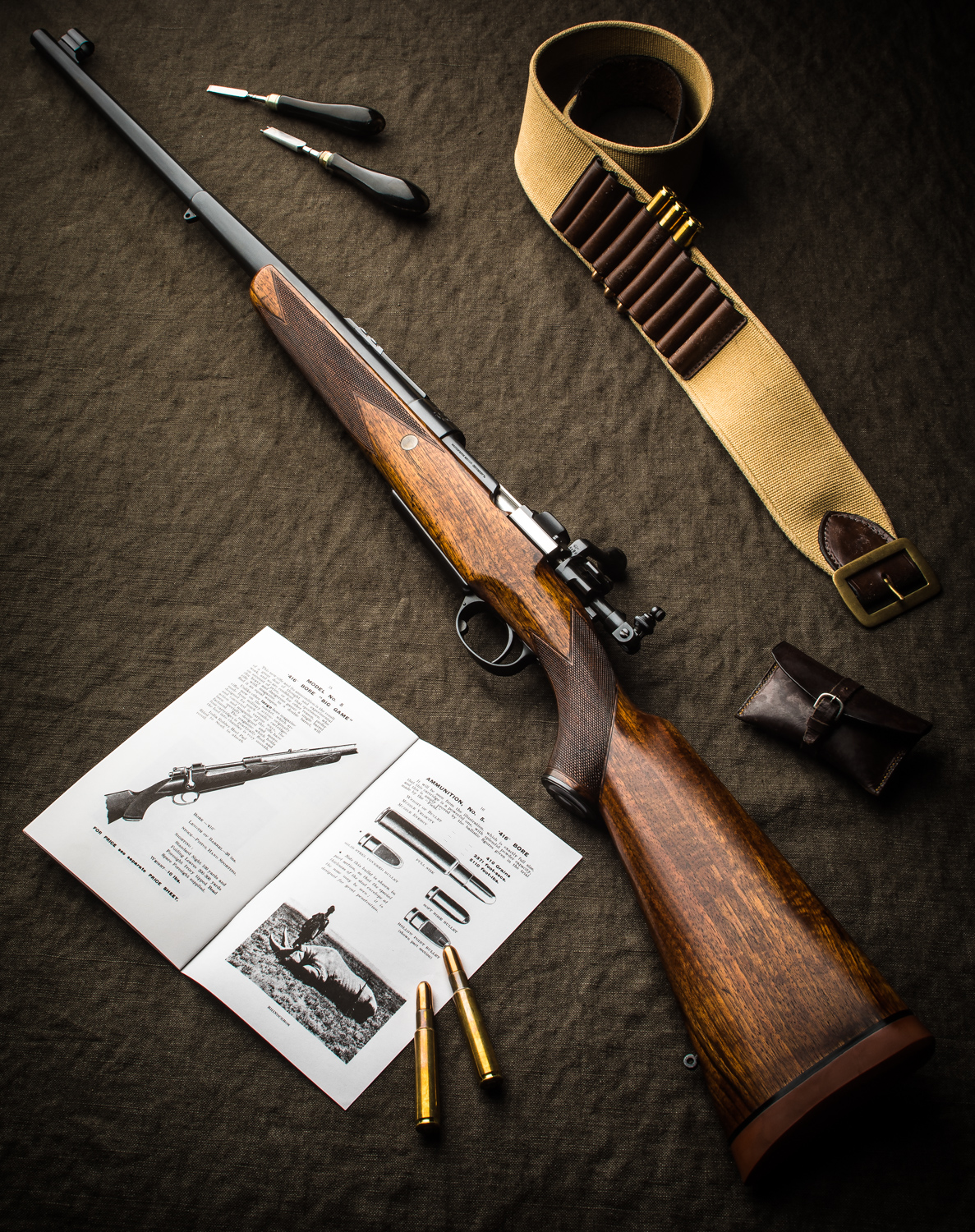 Original .416 Rigby built in 1913.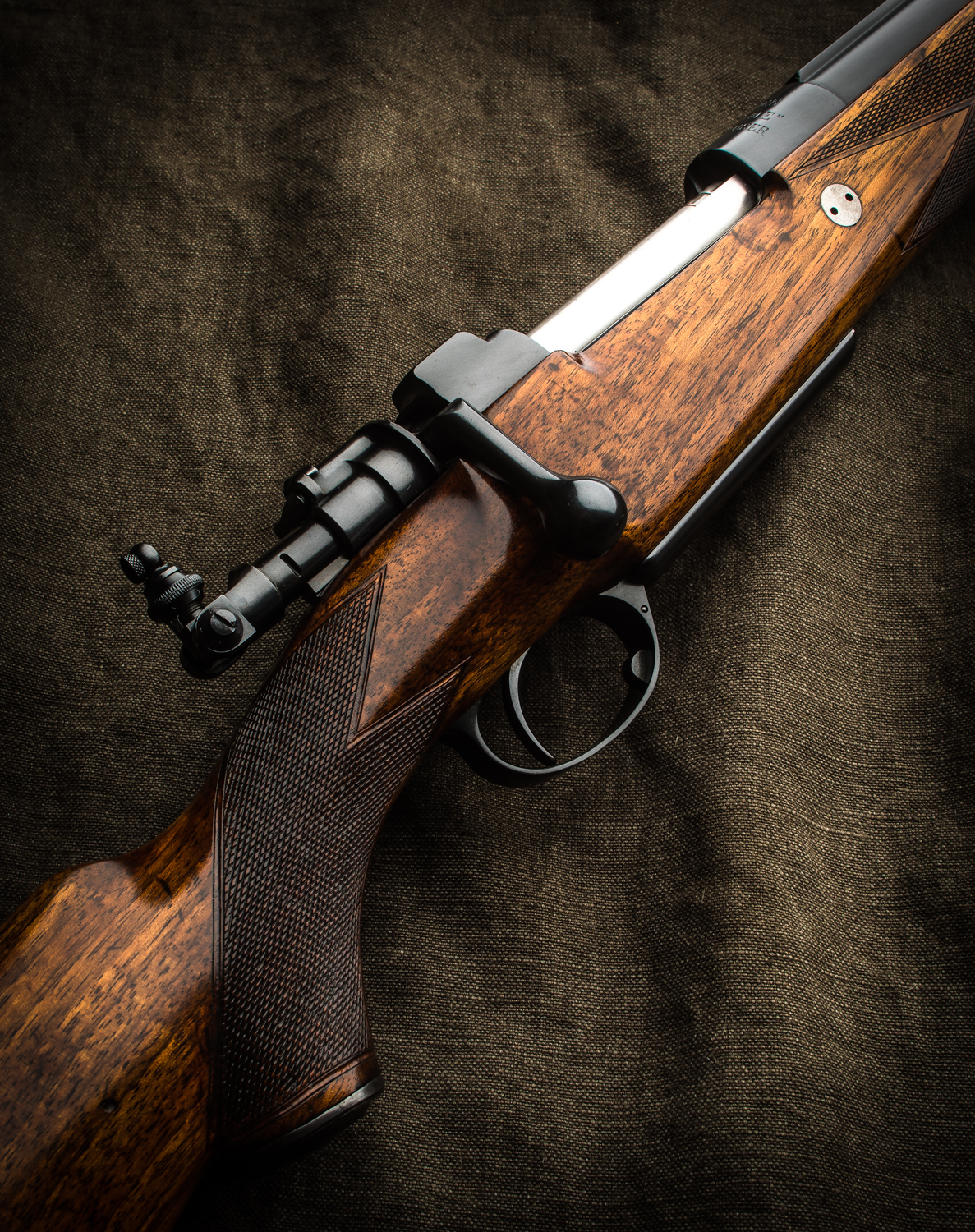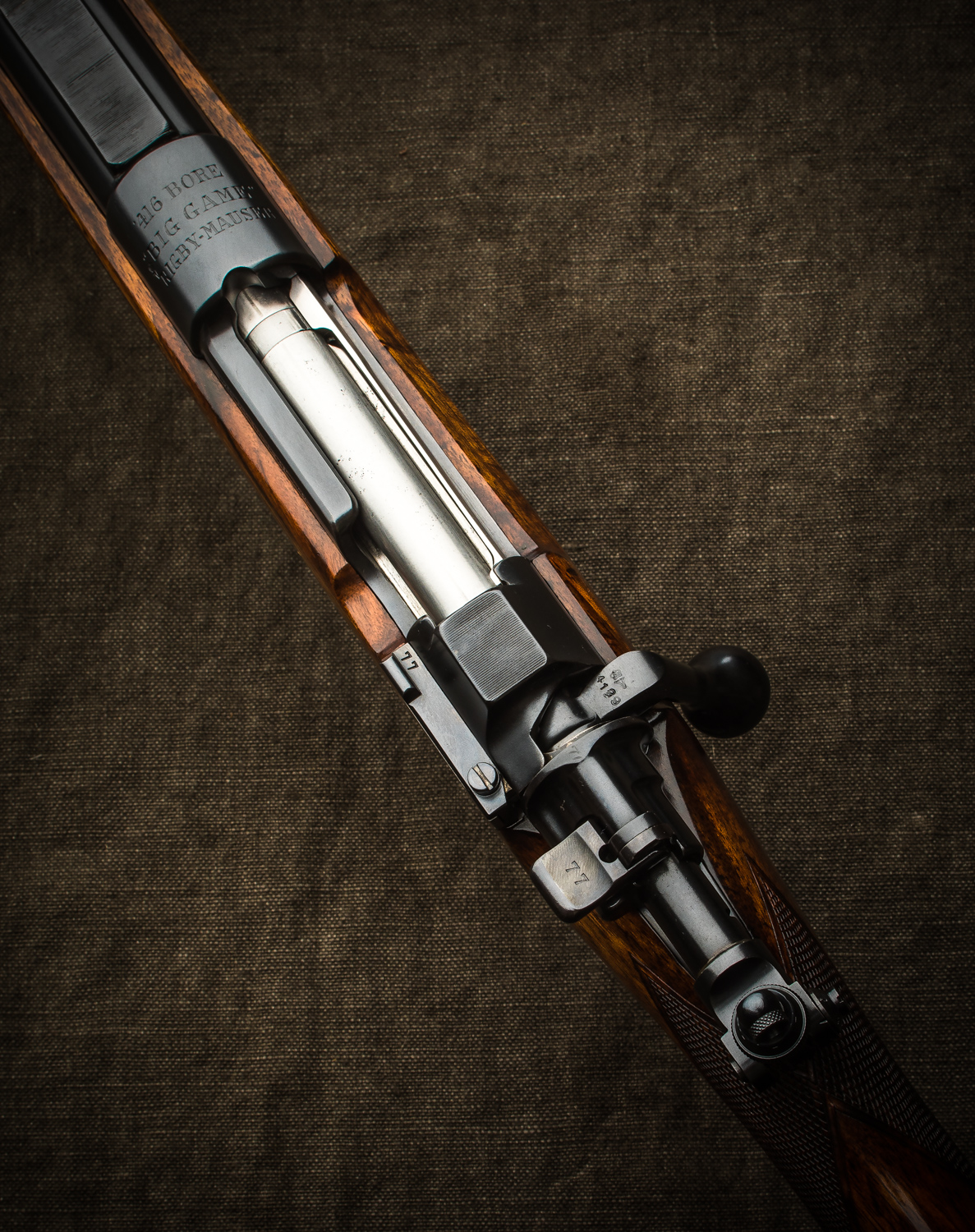 The long single square bridge magnum length Mauser '98 action of the .416 Rigby.
These are two rifles that are not only an iconic representative of a bygone era but they still remain very useful tools for the pursuit of dangerous game or as a cornerstone of a fine gun collection.
Post Script:
Both rifles have been sold prior to the posting of this blog. These are indeed rare and desirable guns and, as it goes with items like these, they are quickly sold. Our method of selling such guns is much more discreet than most other dealers. If these are the types of investment grade firearms you might be interested in, please contact us. We would like very much to know you and add you to our list of discerning clients.
In the U.S. please call "L.D." McCaa
+1 850 677 3688   ld@westleyrichards.com
U.K. and other International Clients please call Ricky Bond