Now to Simon's original posting.
There are literally 1000's of books on the market which touch on our sport, in one way or another. Be they on guns, rifles, wing-shooting or big game hunting the choice is far and wide. Here at Westley Richards many of us have collected books on our sport since an early age and are often showing off to each other the 'rare book' we have just managed to acquire. It seemed appropriate to ask a few other well known book collectors, writers and sellers what their 10 best books were, the ones they feel every sportsman should read and have in their library. I hope it proves informative and helpful.
Anthony Alborough-Tregear "Trigger" runs the gunroom and production at Westley Richards and has been collecting books on guns and hunting since the age of 15.   His list is biased towards Africa and the hunting of Elephants to which he has now progressed after many years obsessively stalking Roe deer.
African Rifles & Cartridges - John 'Pondoro' Taylor
Modern Sporting Gunnery - Henry Sharp
The End Of The Game - Peter Beard
African Hunter - James Mellon
The Maneaters Of Kumoan - Jim Corbett
The Wanderings Of An Elephant Hunter - W.D.M.Bell
The Adventures Of An Elephant Hunter - James Sutherland
Travel And Adventure In South East Africa - F.C.Selous
White Hunters - Brian Herne
Elephant Hunters - Men Of Legend - Tony Sanchez Arino
Ludo Wurfbain is the owner of Safari Press in California who publish many books related to our sport. An avid hunter, wing-shooter and book collector, Ludo is also the publisher of the magazine Sports Afield which was founded in 1887.
Death in the Long Grass - Peter Capstick
Sunlight & Shadows - Gene Hill
After Wild Sheep in the Altai and Mongolia - E. Demidoff
Shikar and Safari - Edison Marshall (later reissued as The Heart of the Hunter)
Horn of the Hunter - Robert Ruark
Great Shots
 - Jonathan Ruffer
Hunter- J. A. Hunter
Karamojo Safari
 - W. D. M. Bell
Man Eating Leopard of Rudraprayag
- Jim Corbett
Hunting and Fishing in Alaska – Russell Annabel (almost no fishing despite title, a GREAT book)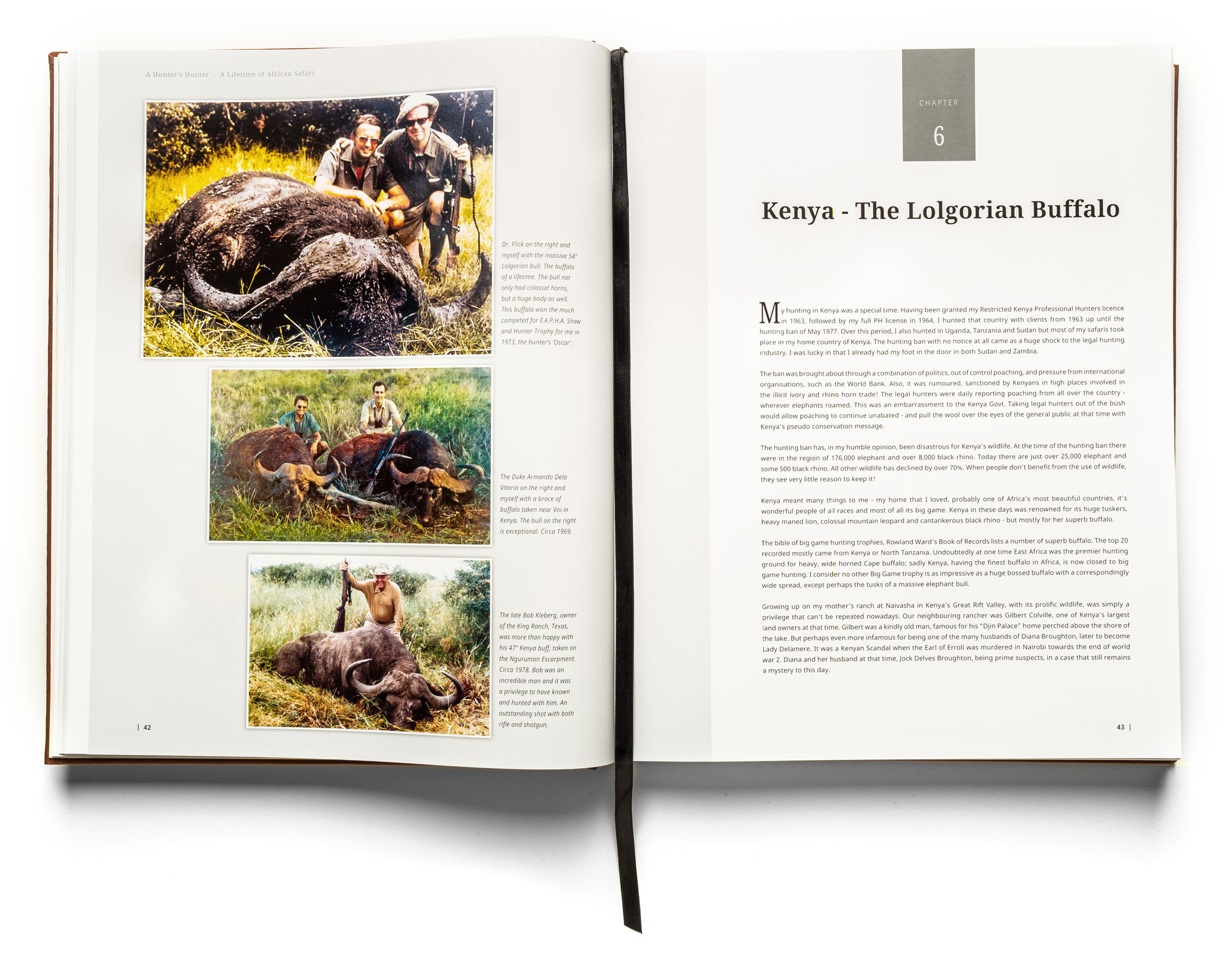 Ross Seyfried. Ross is my 'go to man' on anything guns, especially anything WR as well as ball and shot guns. A long time writer for Guns & Ammo, Ross now writes for amongst others the Double Gun Journal and various NRA publications, as well spending time guiding sportsmen.  A collector of both firearms and books, Ross was unable to count 10 books and gave us 20!
Hunters
Wild Beasts and Their Ways - Sir Samuel Baker
Maneaters of Kumaon - Jim Corbett
White Hunters -  Brian Herne
Hunting Grounds of the Old World - The Old Shekarry (H.A. Leveson)
Jock of the Bushveld - Sir Percy Fitzpatrick
The Best of Sheep Hunting - John Batten editor, Amwell Press
American Waterfowl Shooting - J.W. Long
The Complete Wildfowler - Duncan & Thorne
Hunting Tales of the West - Theodore Roosevelt
The Wanderings of an Elephant Hunter - W.D.M. Bell
Guns
The Rifle, Its Development for Big Game Hunting - Truesdell
The British Shotgun vol. I & II -  Crudgington & Baker
Experts on Guns and Shooting -Teasdell-Buckell
The Gun and Its Development -  W.W. Greener
History and Development of Small Arms Ammunition, vol. Three - George Hoyem
Modern Sporting Gunnery - Henry Sharpe
Hell I Was There - Elmer Keith
Instructions to Young Sportsmen - Peter Hawker
London Gunmakers - Nigel Brown
African Rifles and Cartridges - John Taylor
Douglas Tate is Editor at Large for the Shooting Sportsman magazine and author of British Gun Engraving the definitive work on this subject. Doug reads broadly and wingshoots worldwide.
 A Sportsman's Sketches - Ivan Turgenev
 Experts on Guns & Shooting - G. T. Teasdale-Buckell
 The Hunters Road - Jim Fergus
 The Gun and its development - W. W. Greener
 The Language of Sport - C. E. Hare
  The Modern Shotgun - Major Sir Gerald Burrard
 Game Birds and Wild-Fowl of Great Britain and Ireland
 The Best of British - Vic Venters
 Shooting - Lord Walsingham and Sir Ralph Payne Gallwey.
The British Shotgun - I. M. Crudgington & D. J. Baker.
Vic Venters is Senior Editor of Shooting Sportsman magazine and is author of Gun Craft: Fine Guns & Gunmaking in the 21st Century and The Best of British. A lifelong hunter and avid reader, he  enjoys hunting wild bobwhites and ruffed grouse in the United States, and woodcock and snipe wherever they are found worldwide. Vic has  also written for  Fieldsports, The Shooting Gazette and Shooting Times in the UK, and The Double Gun Journal and Sporting Classics in the United States. For more information see his website: www.doubleguncraft.com. In his other life, he is a residential real estate developer and proud father.
Making Game - Guy de la Valdene
For a Handfull of Feathers - Guy de la Valdene
Pheasants of the Mind - Datus Proper
A Sportsman Looks at Eire. J.B. Drought
Lock Stock & Barrel - Cyril Adams
Shotguns Technicana - Michael McIntosh and David Trevallion
Shotguns & Cartridges - Gough Thomas and  Lucid, concise, almost always right.
GT's Gun Book - Gough Thomas
The Old Man and the Boy - Robert Ruark
 Anything by Gene Hill, the last classic American essayist on dogs, guns and time spent afield with both.
Ken Halbert  Those of you who know our still working ex-foreman, Ken, know that he retains a huge wealth of information on all things firearms and hunting as well a long time passion for both reading and collecting books.
Elephant Hunting in East Equatorial Africa – Arthur H. Neumann
The Adventures of an Elephant Hunter – James Sutherland
The African Elephant and its Hunters – Denis D. Lyell
Wild Life in Central Africa – Denis D. Lyell
Savage Sudan. Its Wild Tribes Big Game and Bird Life - Abel Chapman
Wild Sports of Southern Africa – Capt. William Cornwallis Harris
Tiger Shooting in India - Lt William Rice
Out in Africa – Andrew Holmberg
Experts on Guns & Shooting – G T Teasdale Buckell
Modern Sporting Gunnery – Henry Sharpe.
Simon Clode complied this list with grateful thanks to those who reacted so swiftly.
Safari- Bartle Bull
African Hunter- James Mellon
Modern Sporting Gunnery- Henry Sharpe
Experts on Guns & Shooting- Teasdale Buckell
A Breath from the Veldt- J G Millais
The Gun and its Development- W W Greener
The Book of Antelopes- P L Sclater 4 Vol.
After Wild Sheep in the Altai & Mongolia- E Demidoff
The Modern Shotgun- Major Sir Gerald Burrard
The Great & Small Game of Africa- H.A Brydon,  Editor