Firstly, procure a large Sutherland Bag to hold all your kit. Add to that a Bournbrook Briefcase to use as a day-bag. While you are about it, add a Bournbrook Wash Bag to the list.
Each of these pieces is ideally designed for ease of use and made to the highest specifications of style, taste and durability. They will handle wet airports, pack easily into the back of a Range Rover and look beautiful in the lobby of any stately home or country pub.
The choice of material and colour is wide and personal. Mid Tan leather editions look especially classy in any British town or country setting.
The centre-piece of your shooting day will be your shooting suit. Being made from natural tweed, you will only need one. Even if you get wet, it will dry-out overnight and be good to go the next day. Any mud will brush out and it will look surprisingly smart without the need for professional cleaning and pressing. Your shooting jacket (House Tweed Shooting Jacket) will even double-up as a smart-casual piece to wear in the bar with a pair of jeans, thereby reducing you travelling wardrobe.
These days, may sportsmen prefer a tweed gilet or shooting waistcoat (Rannoch Tweed Shooting Waistcoat) to a traditional jacket. It affords the same smartness, looks a bit more modern, and allows for full freedom of movement when shooting.  It also makes a smart, versatile and casual top-layer for the autumn months. For the depths of winter, a shooting coat is a sensible alternative to the jacket.
Westley Richards tweeds come in three varieties of pattern, in three weights and cover the full range of demands a British season may throw at the sportsman, from an early August grouse drive to the last, cocks-only, day in late January.
With tweeds packed, a few shirts will be next on your list. Three should suffice. One on, one in the wash and one clean and pressed. Add three T-shirts and you can stretch the pre-wash service life of your shooting shirts without beginning to smell like one of the spaniels, if necessary.
A Westley Richards Tattersall shirt is the kind of traditional shirt that will work in any shooting context, while being so beautifully detailed that it will look stylish in any social situation.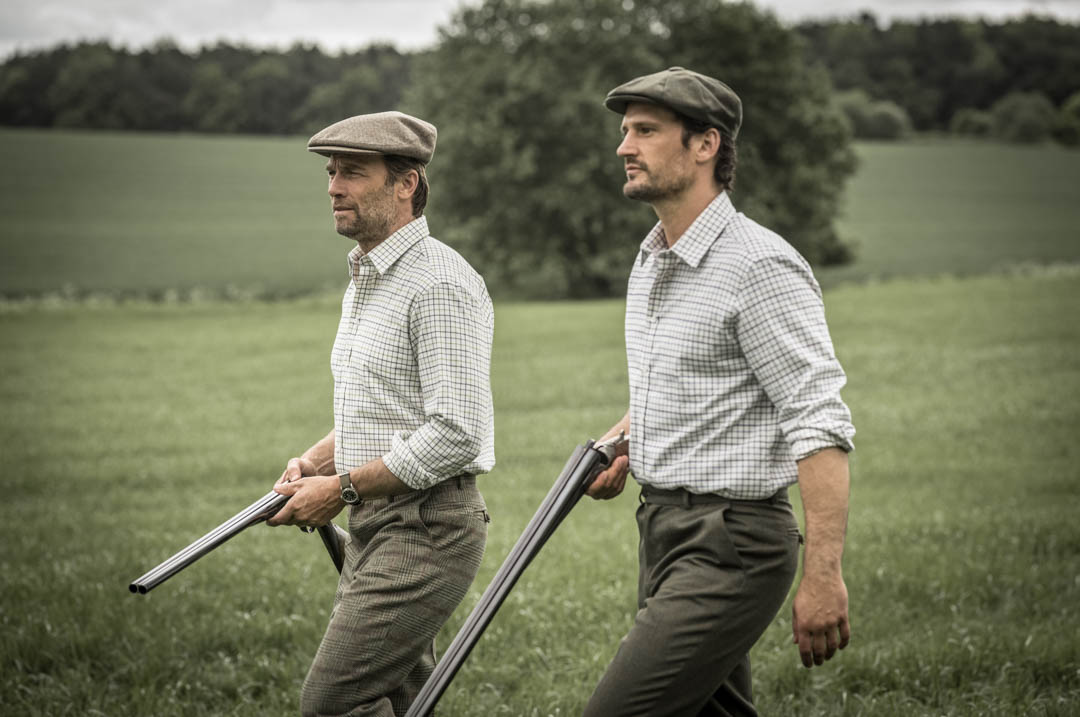 Regarding long shooting socks, which are necessary with breeks, (Rannoch Tweed Breeks) you have two options, both of which are seen as appropriate even on the most formal of shooting estates. Those options are: either tastefully match your socks with your suit or don the most obnoxious ones you can find. In a conservative environment, for some reason, loud stockings are considered a hilarious and appropriate means of expressing individuality.
Forget your tie and expect some dirty looks, wear bright yellow stockings, paired with pink garters and you will probably get a hearty slap on the back and a shot of sloe gin.
On the subject of ties, you can't go wrong with a bird theme, like the Westley Richards Silk Mallard Tie in indigo, which has just enough of a yellow highlight to set off those bright yellow socks, which are actually called Whitfield Shooting Socks in Mustard.
A sweater is a sensible idea for British travel at any time of the year. In the shooting season it is an essential. Something you can slip on over a shirt on a chilly evening or under a shooting waistcoat for the first couple of drives of the day, before the sun makes an impression, is ideal.
The Westley Richards Cashmere Cannock Cable in either field green or light clay is beautifully soft and perfectly warm, while being light enough and smart enough for either application.
Don't forget shooting gloves, or at least a glove for your front hand, if  shooting a side-by-side. When the barrels get hot, you will be glad you did. Westley Richards Premium Shooting Gloves are ideal.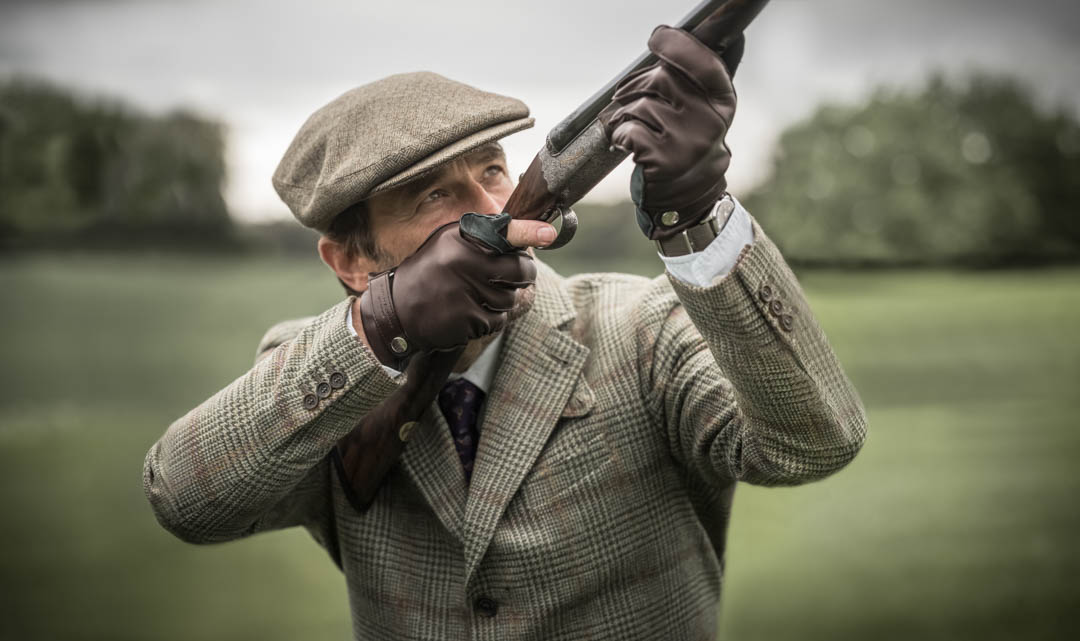 Ear plugs are essential and I recommend scattering a few cheap foam plugs in your travel bag, cartridge bag and pockets. That way, you will never be stuck on the peg with your plugs in the car and no time to run back before the drive starts.
Personally, I am never without a cigar case, a cutter and a lighter. A small pen knife is also useful (in Britain you can carry a non-locking knife with a sub three-inch blade), as is a cotton neck-scarf.
If, like me, you use your Bournbrook briefcase as a day bag, pack a nail file. No, seriously;  a split thumbnail extracting cartridges on a busy drive becomes a snagging misery all day long but it can be alleviated immediately with a few deft strokes of the file.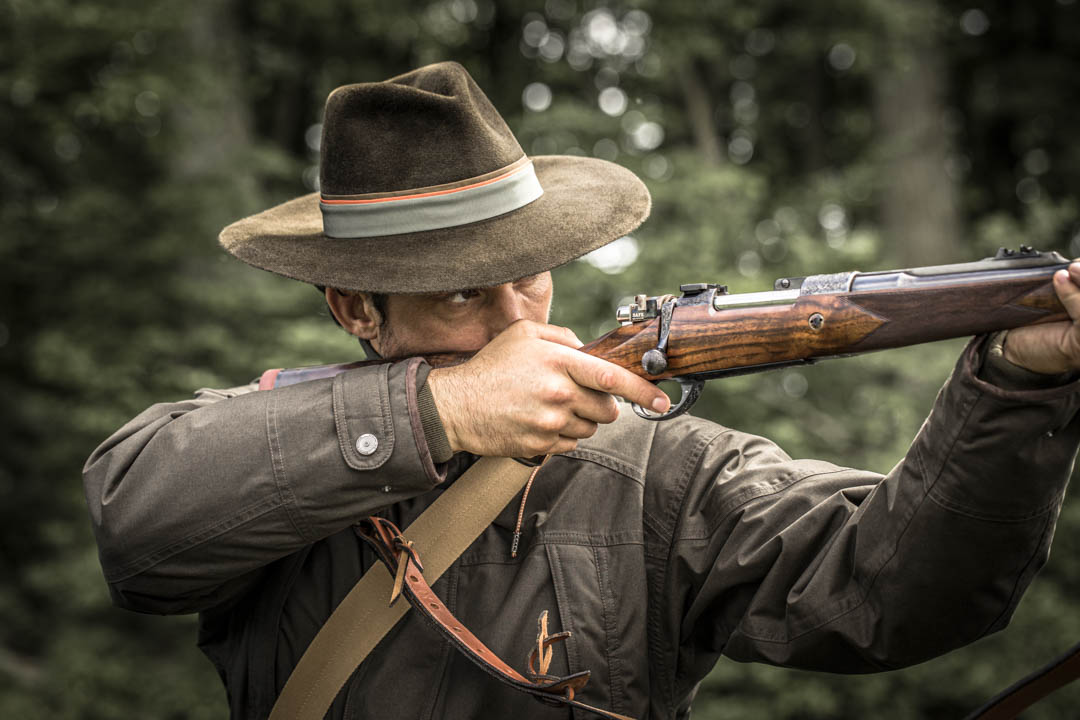 For wet days and for a bit of style when travelling, why not don a fedora or trilby-type hat with a wide brim? Consider the Huntmacher Zapf Lansburg, or for ease of packing, nothing beats a flat cap (try the Redford Tweed Cap in Hawick Country). It won't fly off on a windy day either.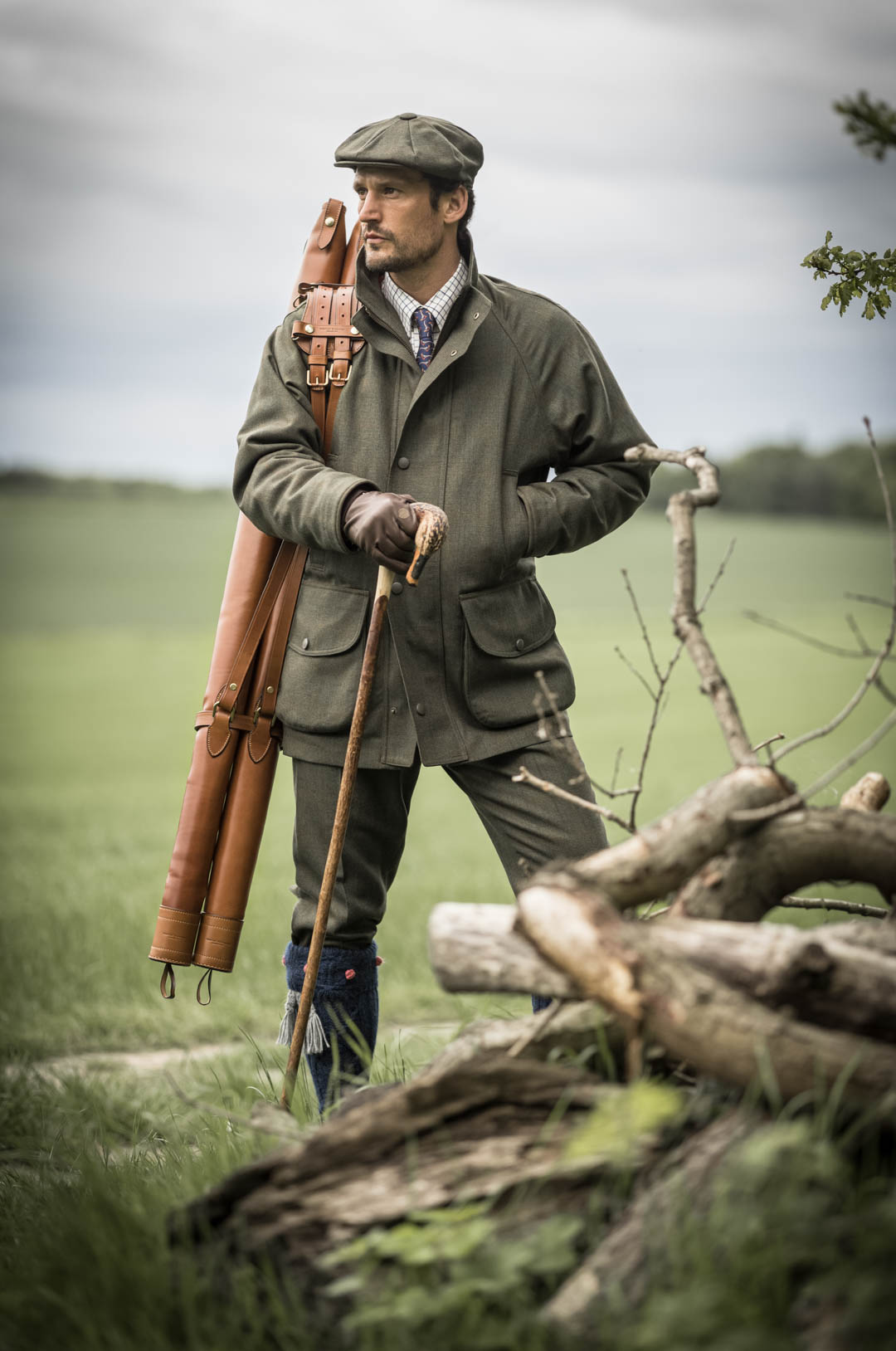 A stylistic tip: wear a cap that doesn't match your shooting suit. Fully matching tweeds make you look too much like the gamekeeper. Actually, the British love to mix their tweeds and you will look perfectly at home if your hat, breeks and waistcoat are all cheerfully mis-matched.
You now have all your basics. Remember to stick two hundred pounds cash in your pocket for drinks and tips.
Travel light, travel in style and be ready for anything. Hot barrels!