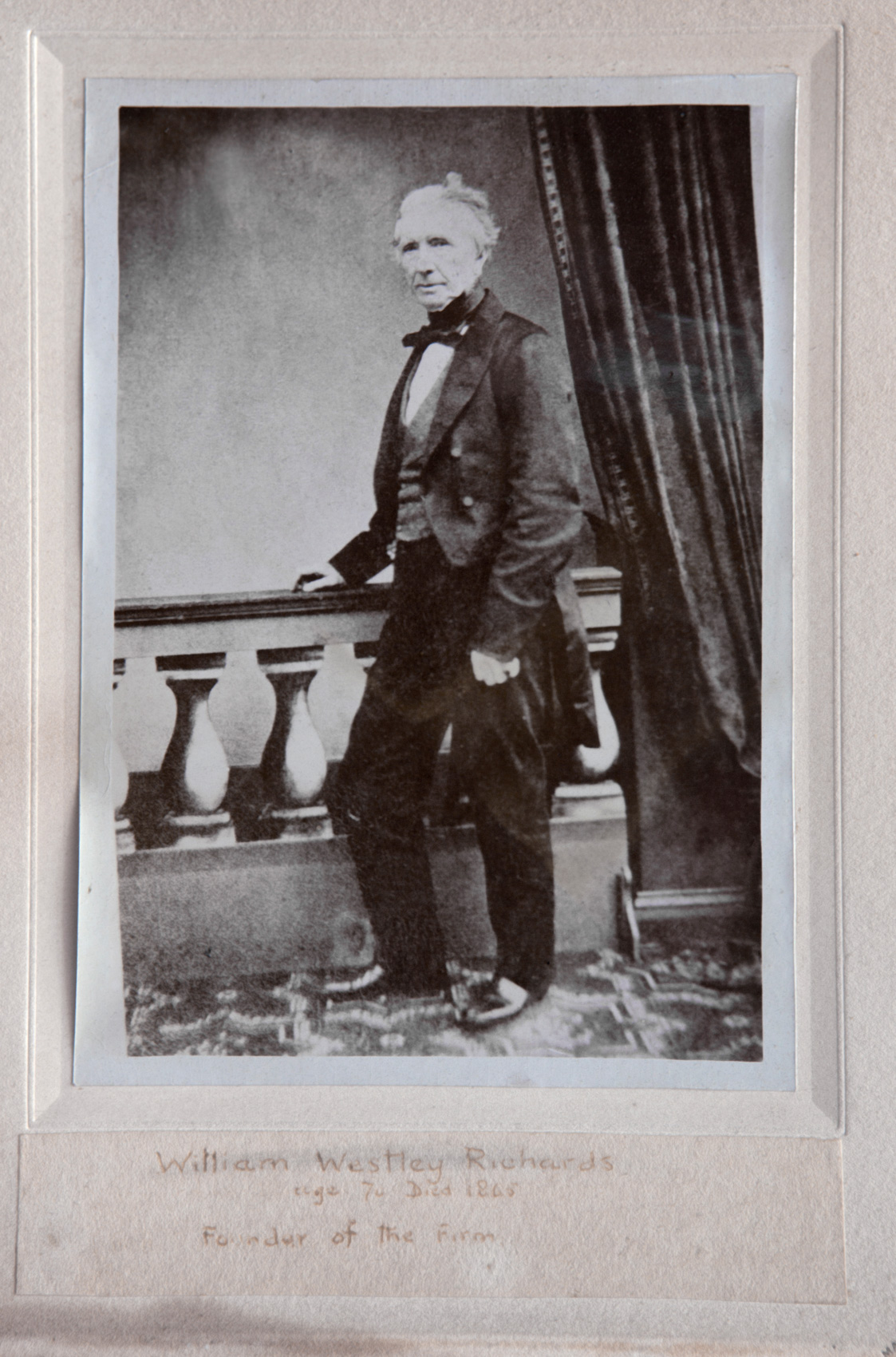 The founder of Westley Richards - William Westley Richards – holds an extraordinary position in the history of gun making, beginning work in the age of the flintlock and contributing to the development of the gun, especially in the key area of the percussion gun. He came from a well established family of Birmingham traders: silversmiths, jewellers, cutlers and gun makers – many of whom appear in the baptismal registers of St Phillips Church (later Birmingham Cathedral).
Born in 1788, he was clearly well-educated and adventurous and founded his gun making factory when he was only 22. His intelligence as a gun maker was celebrated by the leading sporting writer of the early 19th century, Col Peter Hawker, who owned Westley Richards' guns and was a friend of William Bishop, the London agent for Westley Richards, wrote that: "Mr. Richards is really a scientific man, instead of having more tongue than brains, like many of our gun making charlatans. His barrels are perhaps as good as any in the world."         
            As a person William Westley Richards "had a slender habit of body, and what his friends called a fine head. Such recollections of his family and friends as still survive are clearly indicative of a genial, lovable, and high-minded man." He travelled to Sicily in 1811 and kept a diary exhibiting "a lively observation both of men and manners, of scenery and events." He was also the first man to use an umbrella in public in Birmingham, although the jeering gaze of the public led him to abandon it. One of Westley Richards's cherished quotations was that "The inside of a barrel is like a fiddle or a woman, Sir." – referring to the inherent instability of gunpowder, a factor which inspired much experimentation in all fields of gun-making in this period.         
            This curious and much-quoted piece of gun making philosophy may have been partly inspired by troubles in his first marriage. William Westley Richards married twice. He was first married in 1813, a year after founding the firm, Anne, the daughter of John Barlow of Acton Trussell in Staffordshire by whom he had six children including an eldest son Westley Richards, who joined him in the business and like him was a zealous innovator. His other children were Emma, Caroline, Edward, Ellen and Mary Anne. He was divorced from Anne by 1823, and married Harriett Seale in London, in 1823, by whom he had three more sons, Charles, George and William.
            Public spirited in a typical Victorian way, he was a J.P. of the Borough of Birmingham, and from 1816 a trustee of George Fentham's Charity, who maintained children at the Blue Coat school, (their children wore a green coat) and from which institution he drew a number of his own workmen. A benevolent figure, one anecdote is worth repeating from Leslie Taylor's centenary history: "A certain workman – we believe, through no fault of his own – had fallen upon evil days. He owned a couple of small houses, but from time to time, borrowed money upon them until the sun totalled £200; the conditions of the mortgage were iniquitous, and it looked as though once again the wolf was going to make a meal of the artless lamb. The man had a reserve and a pride of his own, but at last he sought his master's advice. To his utter astonishment, Wm. Westley Richards, a day or two afterwards, made him a present of his deeds."     
            Westley Richards was also chairman of the exhibition held at Bingley Hall in Birmingham 1849 which led to the Great Exhibition in Hyde Park in London in 1851 - of which he was also elected one of the jurors. He also enjoyed music and was a churchwarden at St Phillips Church, was an active sportsman, riding to hounds and game shooting, and bringing his personal experience of the sport to his work on guns. His famous motto was always "To be the maker of as good a gun as can be made."
From "In Pursuit of the Best Gun" written by Jeremy Musson.