Dad's hunting trips have always been something of a fact of life for me, an understood constant, right alongside the color of the sky. And for as long as he's been going after dangerous game, he's been enthralled by the idea of bagging what he calls a "helmet head" – a cape buffalo so old that its horns have worn down to the bosses, giving it a look not unlike a German soldier.
While I intellectually recognized why he'd want a trophy like that – there's an undeniable novelty to it – I can't say that I ever truly understood his obsession. He'd taken my brothers and I hunting before, you see, everywhere from the United States, New Zealand, Africa and Europe, and every time, our main goal was to shoot the biggest, most impressive animal, the one with the longest horns or meanest tusks or the most points on his antlers, in the hope of both gratifying ourselves and outdoing others. Quite frankly, going out of your way to shoot the oldest, smallest cape buffalo you could find just seemed like a waste of both time and a permit.
One particular year, however, because my younger brothers were about to go off to university, my father decided to mess with the formula, and allowed us to accompany him on a cape buffalo hunt in the Caprivi Strip - a place he had hunted on a number of occasions.
Accompanying us on the trip was a dear friend and hunting buddy of my father, who conveniently is also the most capable hunter any of us have encountered. Part of his role was to be "chief safety officer" - as my father was quick to point out that to return home to "she who must be obeyed" without all 3 sons accounted for and unharmed would be a circumstance worse than death by cape buffalo.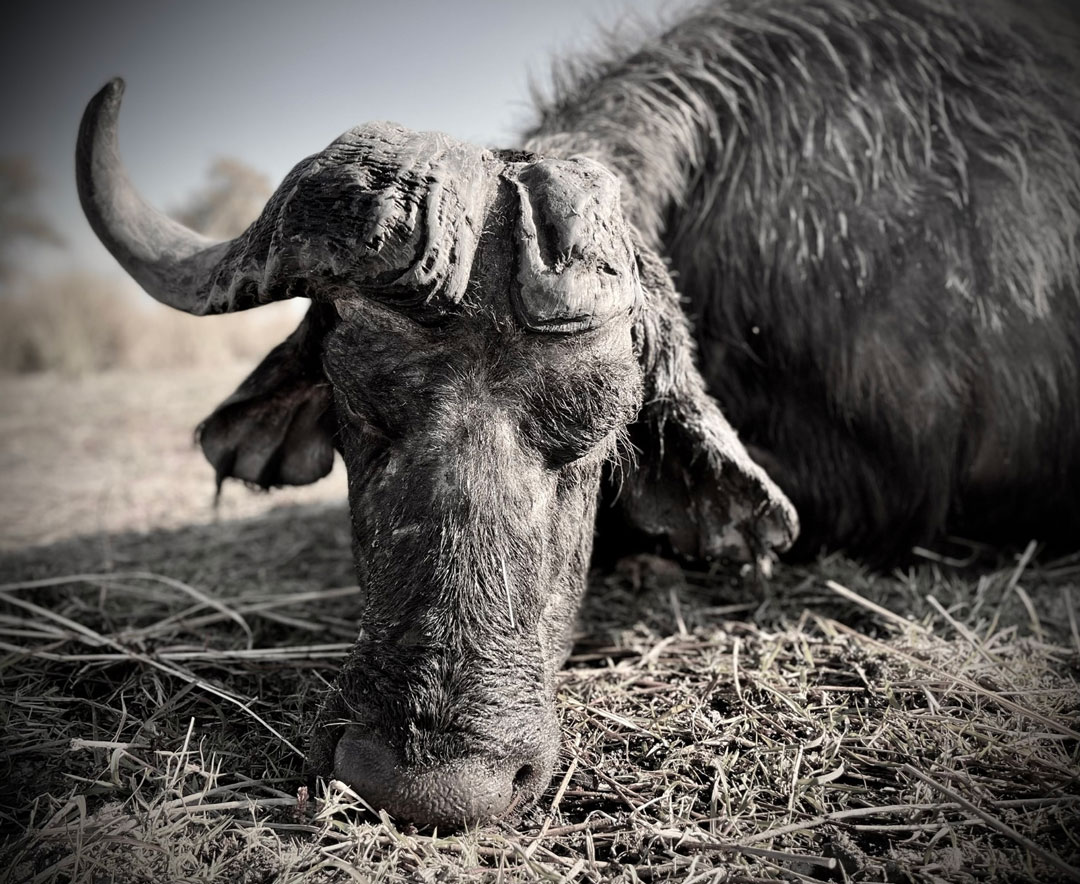 My father brought two rifles from his Westley Richards collection - an "appropriate" double gun and a bolt action in .404 Jeffery. My father would always tell us that having a Westley Richards, in particular a Westley double gun, always added something special to each of his hunts. Until this hunt I always thought that may have been his justification for always buying one more but after this trip I now understand - a Westley Richards is subtle by design, but perfect in every respect.
The hunting area, all 300,000 hectares of it, was practically untouched and the camp consisted of tents on stilts, with hippo, elephant, lion and everything else rumbling in your ears throughout the night. For as much as I might enjoy my creature comforts, getting so close to nature and tradition rather elevated the whole experience – it was like stepping 100 years into the past.
At the core of the hunt was what my father gave the auspicious title of "The Buffalo Challenge" – he ordered custom hats, ammunition pouches and everything else. Our aim was to shoot the oldest buffalo with the smallest horns. Anything under the age of 14, and with horns larger than 36 inches, was immediately disqualified and pursuit was forbidden. To achieve the perfect score he also had to have teeth worn down to the gums. Each of us were, in the interest of fairness, accompanied by the same PH each day (though bribing him was not only allowed, but outright encouraged).
On paper, maybe, that sounds rather easy – herds typically have some old bulls that are well past their prime – but the challenge proved particularly, well, challenging. Those with the smallest horns were usually the youngest, their bosses still soft and hairy, while the horns of the oldest tended to be fairly respectable, if a little cracked and worn. Finding buffalo that fulfilled both requirements let alone all three was, it turns out, rather more difficult than anticipated, and I found myself far more discerning than usual.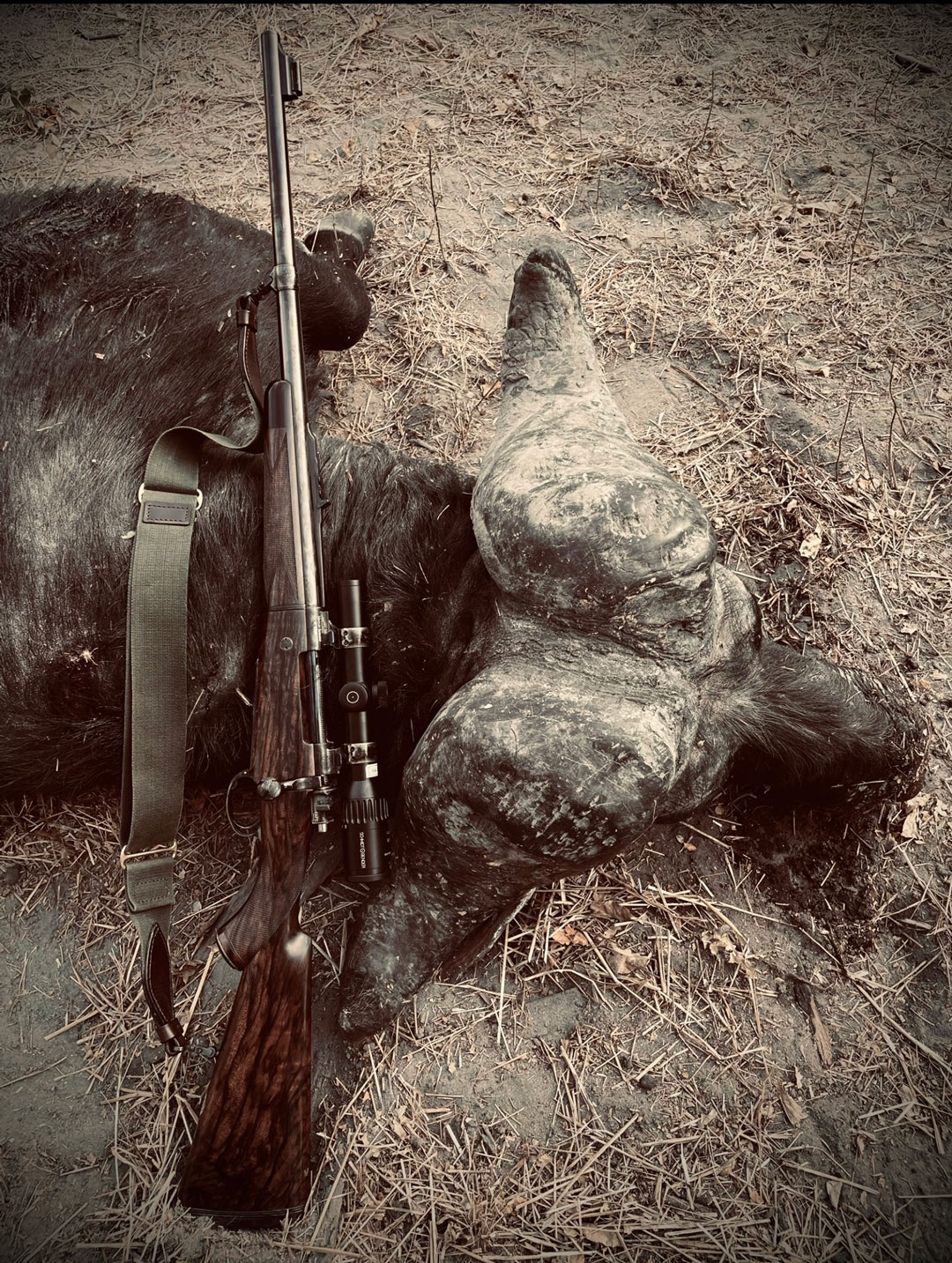 It was on day 7, only thirty or so minutes before the sunset cutoff, when my PH and I finally spotted a satisfactory bull. We had scouted three different herds throughout that particular day, and had driven all the way to the edge of the concession, right up to the Botswanan border. This buffalo was, by the PH's estimate, nearly 18 years old, his teeth all but gone and his hide nearly hairless, and his horns only just reached past the tips of his ears, measuring around 27 inches in all - in sum, what my father would consider to be a perfect trophy.
In the end, I won the challenge – the other contenders taken by my brothers, were 31 and 34 inches, respectively. But more than bragging rights, I came away from the Caprivi with a greater understanding of what makes hunting such a fulfilling sport. While chasing numbers is all well and good, what matters most is that the experience itself, more than the trophy, is both meaningful and memorable.