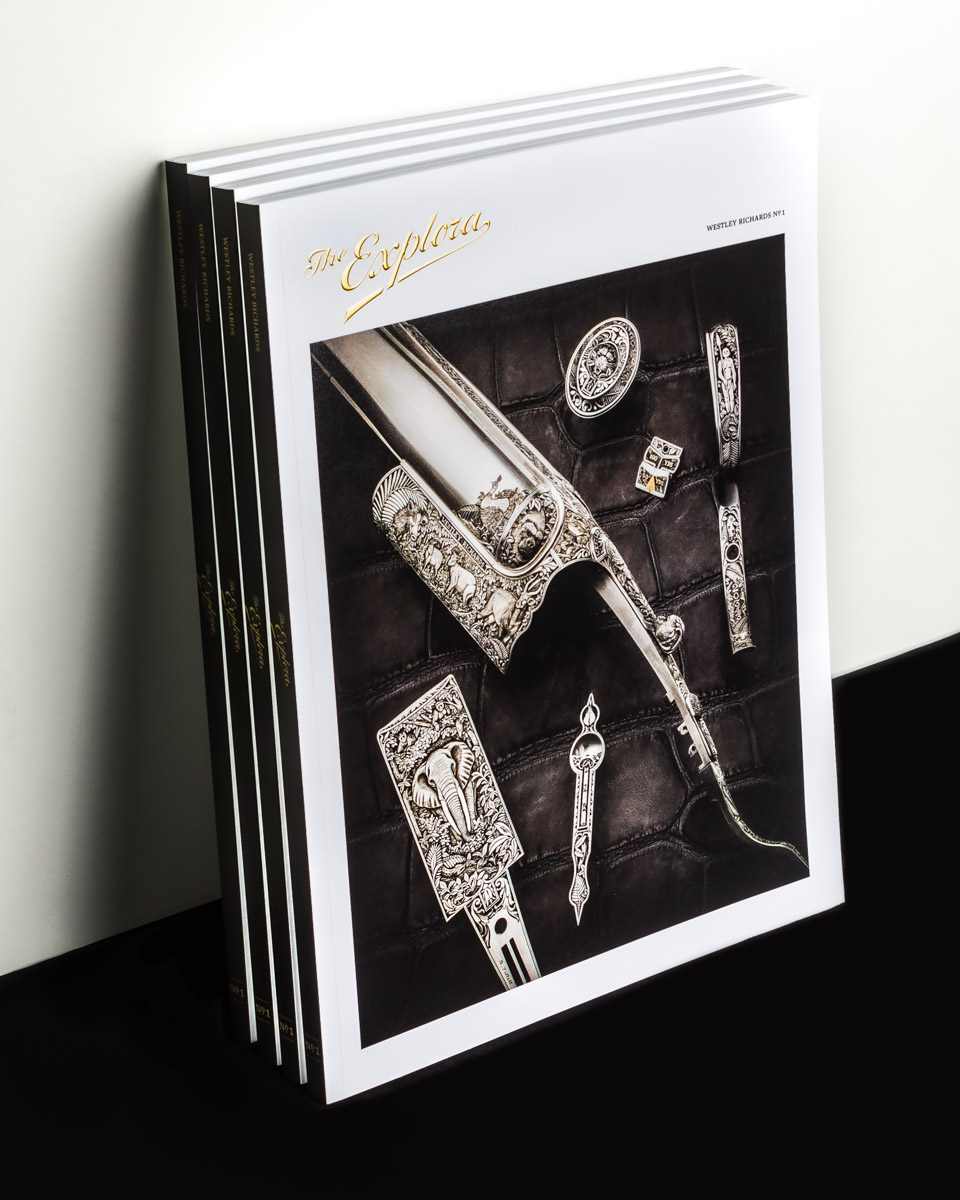 Having taken 2 1/2 years to bring to fruition it was with great excitement, trepidation and relief that we got to handle the first copies fresh in from the printers. This project was a true labor of love for the team here at Westley Richards, so it was finally great to see the fruits of all that hard work.
The front cover features Westley Richards stunning and as yet unseen 'Forest Rifle', a magnificent .600 droplock double rifle specially commissioned to reflect the Central African forest environment. Fully carved in exceptional detail with the flora and fauna of the forest floor, the story of this rifle unfolds in the stunning photography The Explora fans have come to expect from Westley Richards.
Other articles, specially commissioned, focus on engraving, gunmaking, historical weapons, shooting and gun fit, topics we hope will be close to the heart of many an avid sporting man and woman.
Presented in a beautifully-designed luxury format with a combination of high quality uncoated and gloss coated paper stock and an outer cover finished with a scratch resistant matt lamination with spot gloss varnish and gold foil embossed logo. The 180-page journal, epitomises the exceptional standards and painstaking attention to detail synonymous with Westley Richards.
With a limited print run of only 1000 copies, never to be re-printed, The Explora journal is set to become a collectors item that no self respecting Westley Richards afficiando should be without.
The first copies to clients will be coming out in the next few weeks so for those of you yet to place your order now is the time!!!!!
To order your copy of The Explora journal click here
Or
Telephone:  UK 0121 333 1900   USA +1 850 677 3688
Email: retail@westleyrichards.co.uk