By definition, a safari jacket is thigh length and has four large patch pockets, two up, two down, with a belt inbetween. It should be quilted at the shoulder to provide a non-snag surface for the butt of a rifle. A safari—Swahili for "journey"—is an outing into the African bush to observe or hunt wildlife, so muted colors are a must also, to blend in: khaki or olive-green.
But many safari jackets now seem to be more couture or aspirational (Someday I'll go on safari!) than functional. To see whether Westley Richards' safari jacket, named for legendary African hunter Capt. Frederick Courteney Selous, has the "right stuff" for the field, we took it, and the Safari Trousers, to northern Namibia's Okavango Valley in May to hunt Cape buffalo.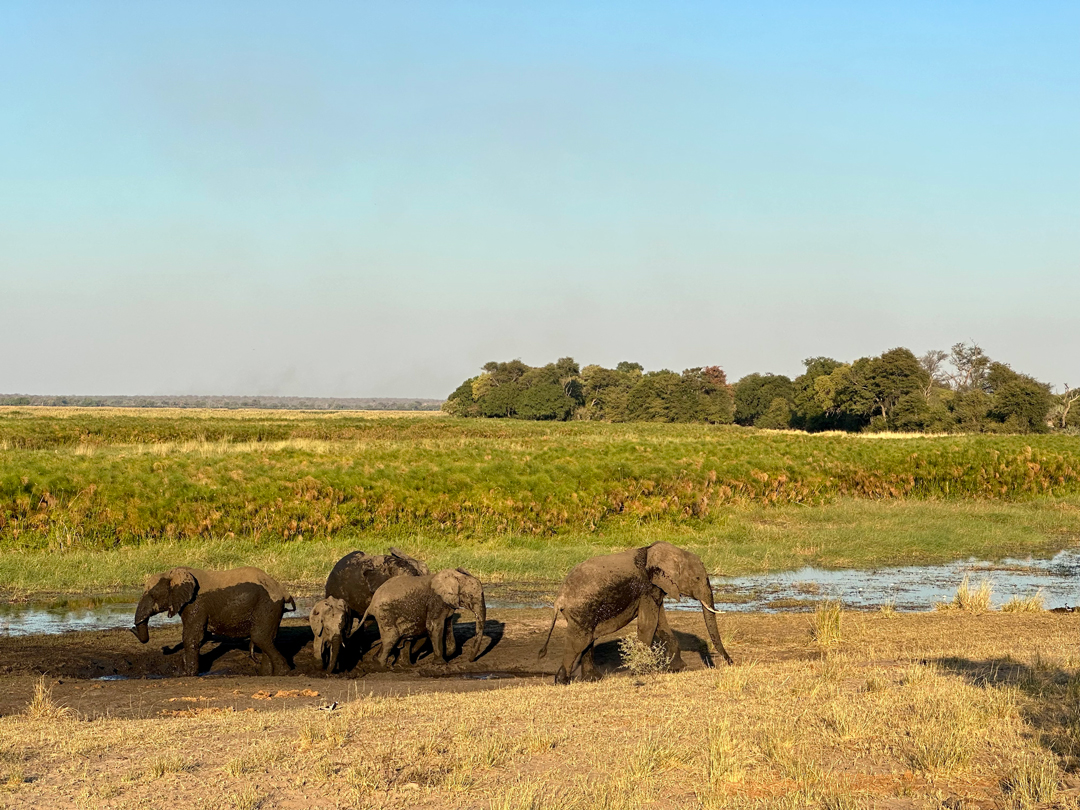 May is autumn in the Southern Hemisphere, after Namibia's brief rains, so Savanna Green is the colour of choice for the jacket. Jofie Lamprecht, my long-time friend and regular PH, Professional Hunter, who is also a food and wine connoisseur, puts it midway between mustard and basil—a sumptuous shade that blends well with any vegetation.
Tracking and confronting African big game is often sweaty, dirty work that can turn alarming in an eyeblink. Fresh and crisp from the box, the Selous Jacket seemed too swanky to drag through the thorns, dust and mud; it could be worn to dinner at the yacht club, with a collared shirt and tie beneath. But orders are orders: Wear it! Use it, abuse it, get it dirty!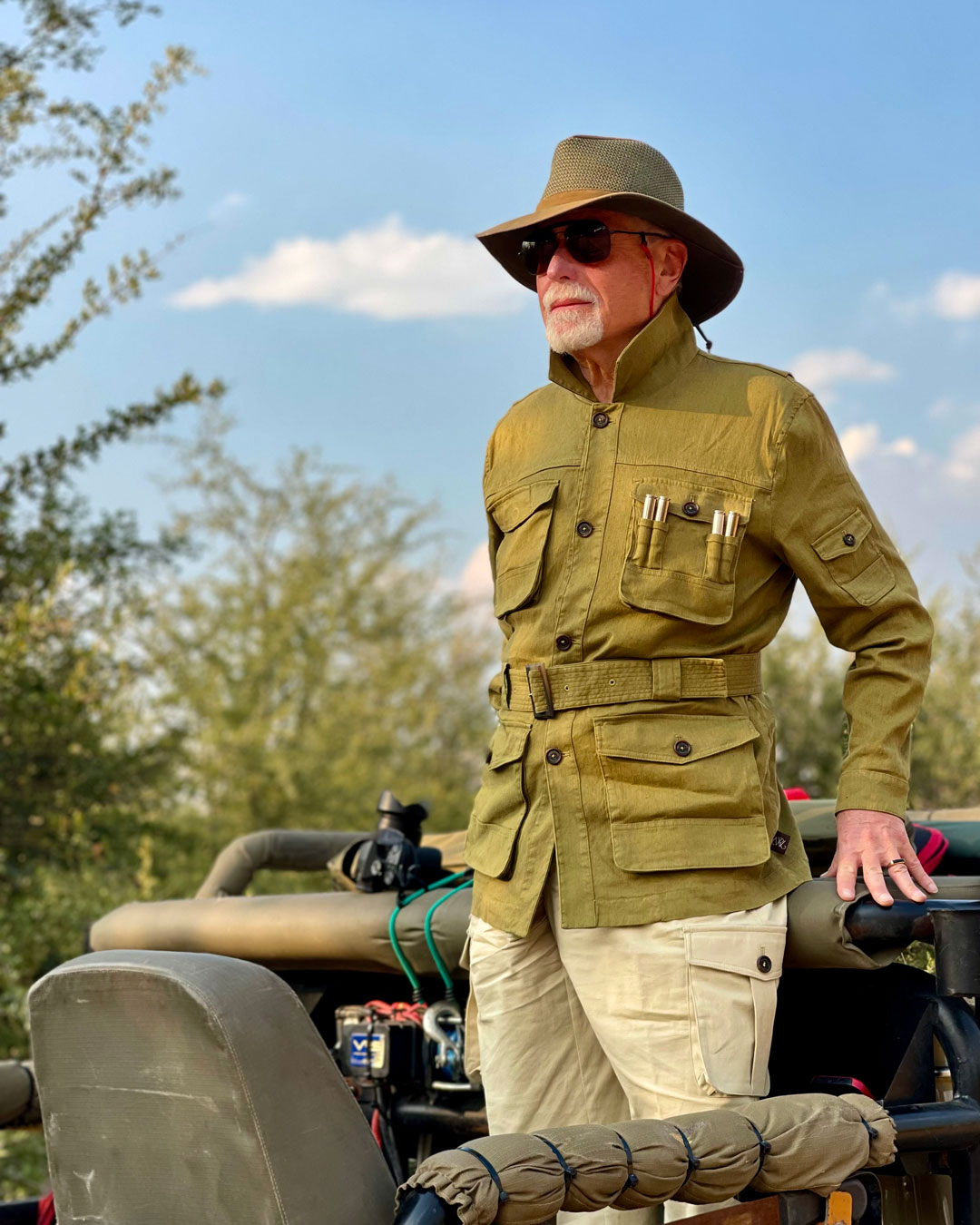 Right. It is, first, extraordinarily comfortable. Size medium-40 fits my 5'10" 185-pound (178 cm, 84 kg) frame as though it had been tailored. Clambering up and down from the high seats at the back of a Land Cruiser, not to say firing a rifle, requires unrestricted upper-body movement. The Selous Jacket is not just well cut and proportioned, the fabric—66% linen, 32% cotton, 2% Elastane—also stretches slightly. Also, hidden inside the vented back is a substantial elastic strap that reaches from shoulder to shoulder. Stretch when we need it, smooth fit when we don't.
At first, the jacket belt seemed to sit high, but if it were lower it would ride atop the waistline of the trousers. (More on them later.) There is room on the belt for a cartridge wallet, but I prefer the loops sewn onto the left chest pocket. They hold four rounds ranging in size from .375 H&H Magnum to .470 Nitro Express, including my preferred .416 Rigby.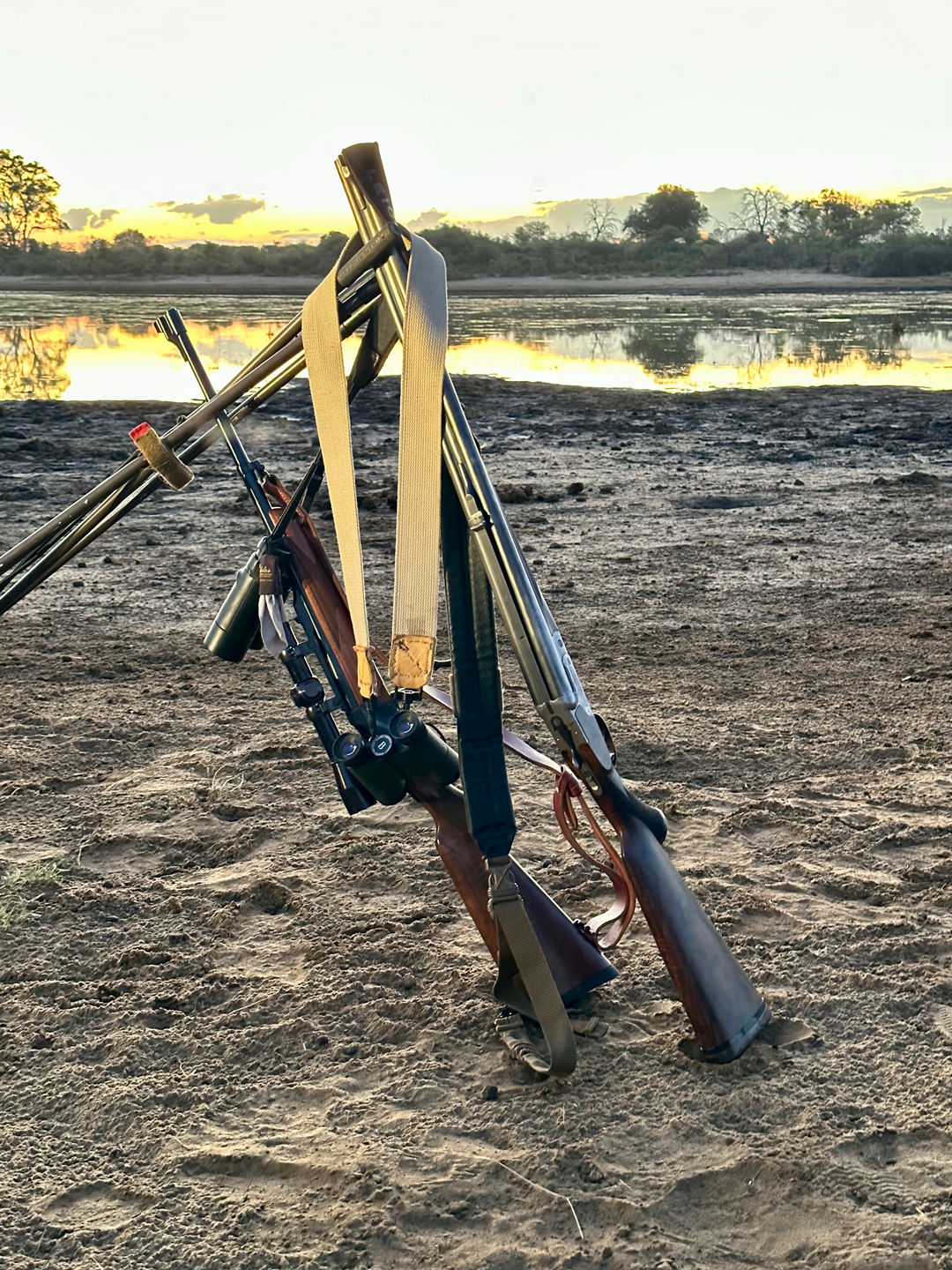 All pockets are securely stitched, with reinforced bottoms and buttoned flaps. The button on the right-side chest pocket is covered by the flap so that a gun butt can't hang up on it. The buttons (two spares are included) and the belt buckle are made of horn. Horn has a pleasantly organic feel and, being non-metallic, it won't scratch a wooden gunstock or make any giveaway clicks.
The jacket weave is heavy enough to drape well and the linen-cotton blend is comfortable in all but the hottest, stickiest weather. On cooler days, there's room for a T-shirt underneath. As the mornings wore on and temperatures climbed, I undid the top button, but left the collar standing to keep the African sun off my tender, lily-white neck. The long sleeves also protect against sunburn, and against thorns. You've not seen thorns until you've seen African thorns. There is a substantial hanging loop sewn inside the collar.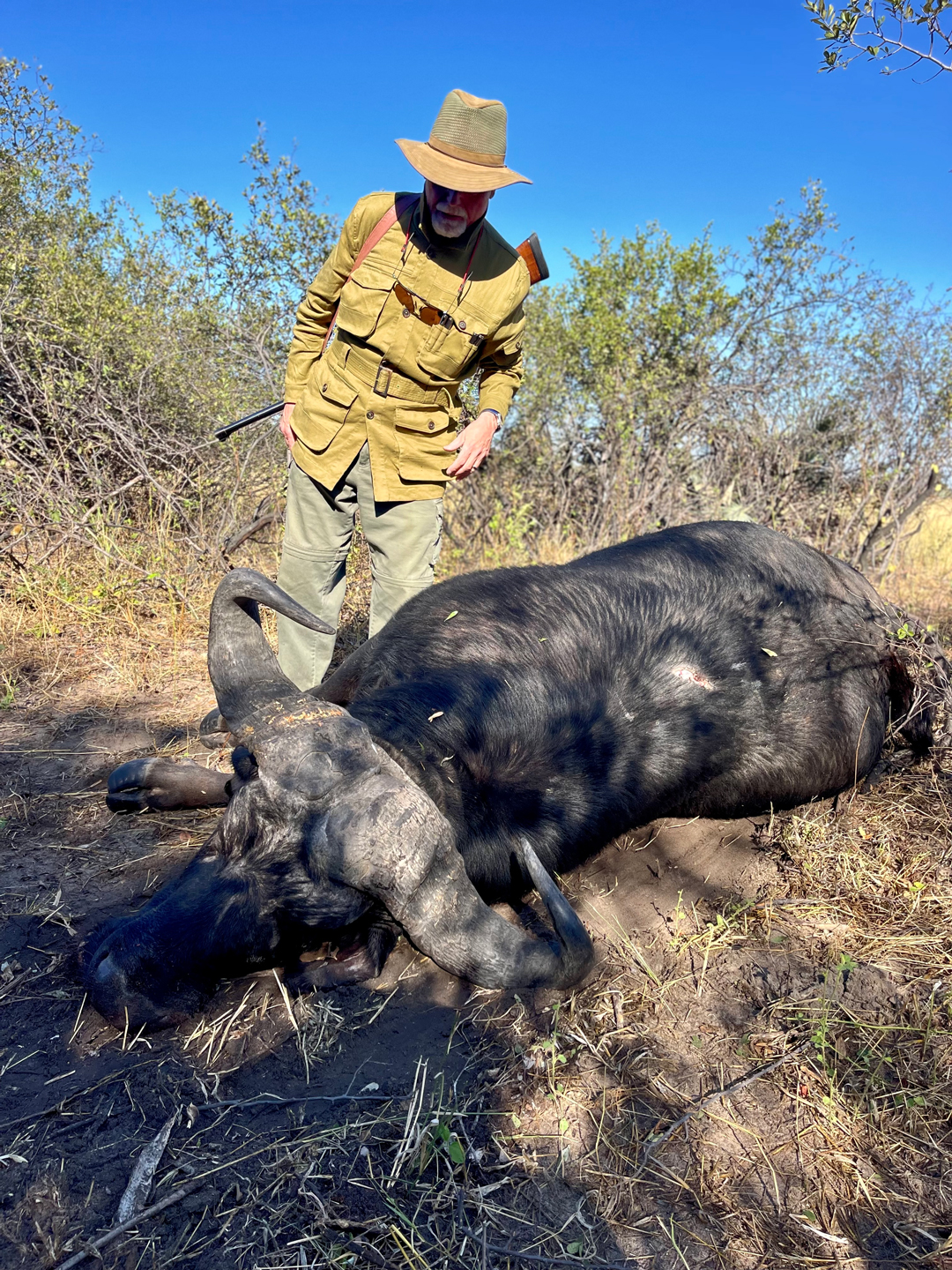 The ultimate test of safari clothing may be how well it stands up to the camp laundry, featuring harsh soap, water boiled over a mopane-wood fire and plenty of scrubbing and thrashing, followed by drip-dry in the blazing sun. (Traditionally, laundry service is available daily on safari. Don't overpack.) This fabric shrugs off the abuse, with no shrinkage or puckering at the seams. After two weeks of wear and two enthusiastic washings, the Selous Jacket looks slightly rumpled and properly worn in, but after pressing it could go right back to that yacht club dinner. No one will notice the spatters of buffalo blood on the left sleeve.
No surprise, the Safari Trousers suit the Selous Jacket perfectly. This material, 78% cotton, 18% linen and 4% Elastane, is also slightly stretchy and a good deal lighter than the jacket's; with the generous cut, this makes the trousers surprisingly cool and wearable on hot days. I chose Sand, a colour that goes well with both Namibia's desert substrate and the jacket's Savanna Green.
The stitching, buttons, pocket flaps and tailoring of the trousers all meet the standard set by the Selous Jacket. Alongside the front slash pockets are two zippered pockets deep enough for a wallet and passport. Naturally, there are cargo pockets on the legs and patch pockets at the rear.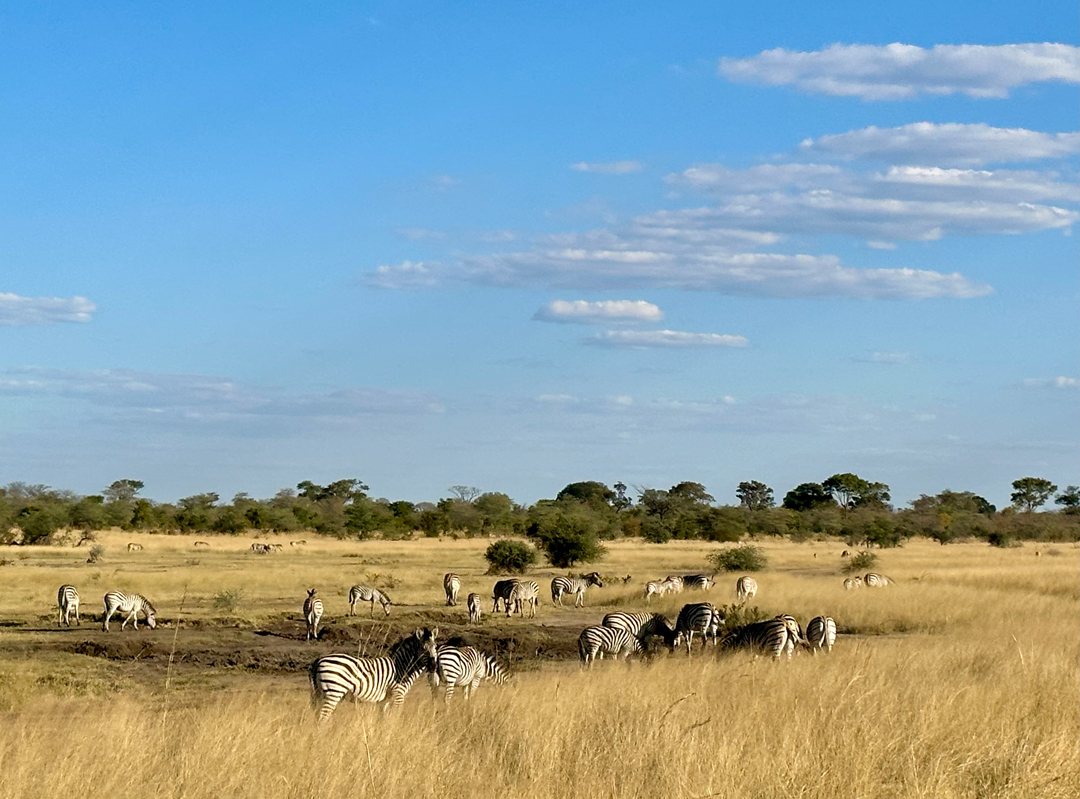 The waist closes with two buttons, and it is lined with a band of what seems to be rubberized stitching, which helps keep a shirt tucked in. The belt loops—six of them—are buttoned. I can't think of a practical reason for this but, like a surgeon's cuff on a suit jacket, it feels bespoke and stylish.
No, I did not hunt in these trousers every single day. They certainly stand up to thorns, dust and mud, but I cannot tell you whether blood washes out easily—I couldn't bear to get them that filthy. However, back at home, washed and neatly pressed again, I wore them, beneath a blazer, to a meeting in town, where in fact they drew compliments.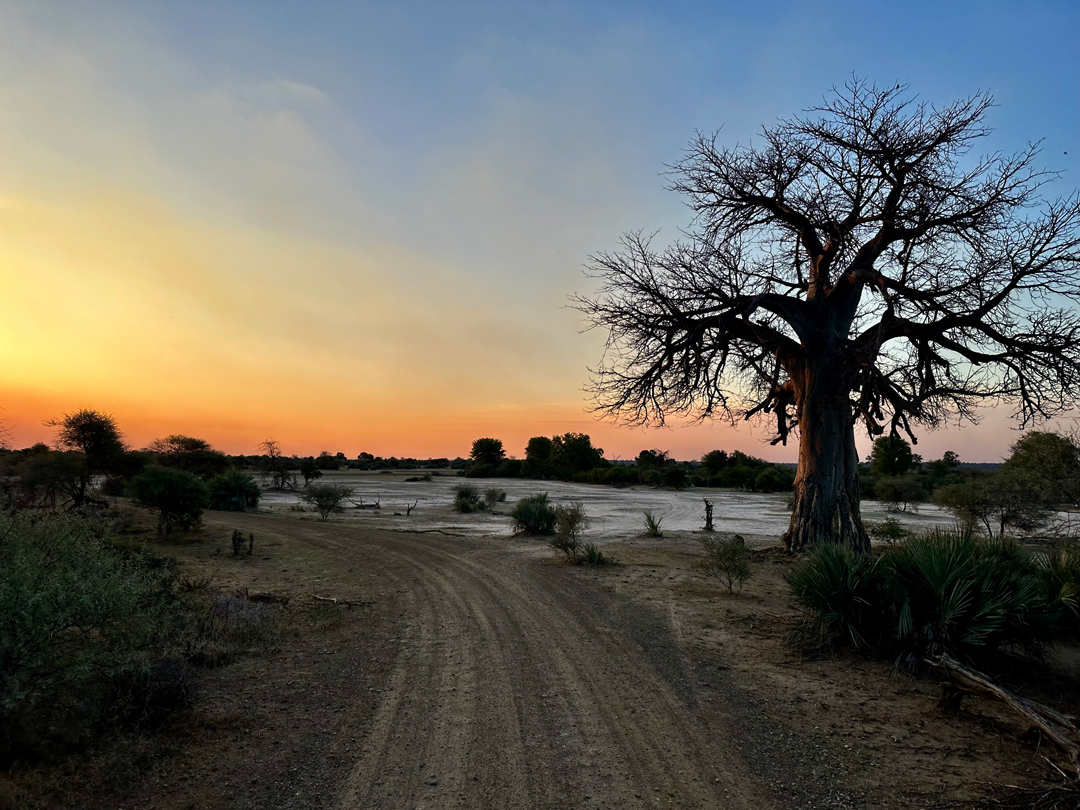 Capt. Selous — explorer, hunter, soldier, safari consultant to Theodore Roosevelt, DSO winner and eponym of Tanzania's vast Selous Game Reserve—much appreciated his Westley Richards .425 magazine rifle. I expect he also would have been taken with his namesake jacket and the trousers that go with.