For many of our big game hunting customers, their first bespoke rifle ordered from Westley Richards is a bolt action. Every sportsman hunting big game will need a bolt action rifle in their battery, for precision shooting of game in cover or at longer distances than achievable with a double. Those hunting around the world will most certainly need more than one, covering small, medium and large calibres, they can be stalking rifles, mountain rifles or dangerous game rifles. The bolt action rifle comes in many different guises, and literally hundreds of different calibre's.

Westley Richards .416 Take Down rifle in Left handed configuration.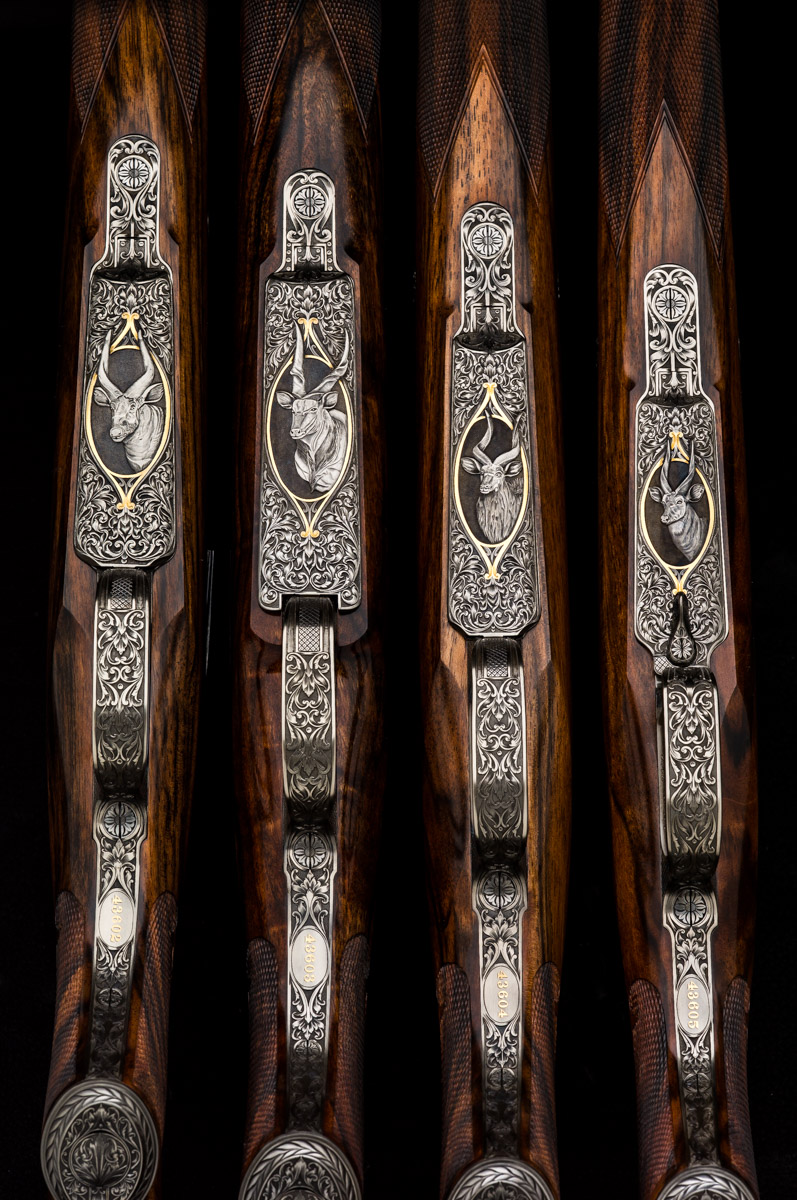 Set of four Westley Richards rifles built on original Oberndorf actions. The calibers are as original actions were made for. .250-3000 on kurtz, .275 on intermediate, .318 on standard and .404 on magnum. Engraving by the late Shaun Banks.
Most of the Westley Richards bolt action rifles over the last 115 years have been built on the Mauser 98 action, itself introduced in 1898. Rifles were also built on the Enfield and Mannlicher actions. The 'tangible' rifle records we have start with a very dilapidated book, with a missing front end. The first entry in this book is rifle 36286 which was built in 1906, our most recent delivered rifle is a number 43674 a .404, thus accounting for 7388 rifles built in the same period during which we delivered 1000 double rifles. In 1912 a .425 bolt action rifle in take down format cost £25.0.0 and a best quality .476 hand detachable lock double rifle, cased, cost £80 Guineas. The droplock double rifle in 1912 was 3 times the cost of the bolt action, interestingly, today the same ratio applies, with the doubles starting at £59,500 and bolt action at £18,500.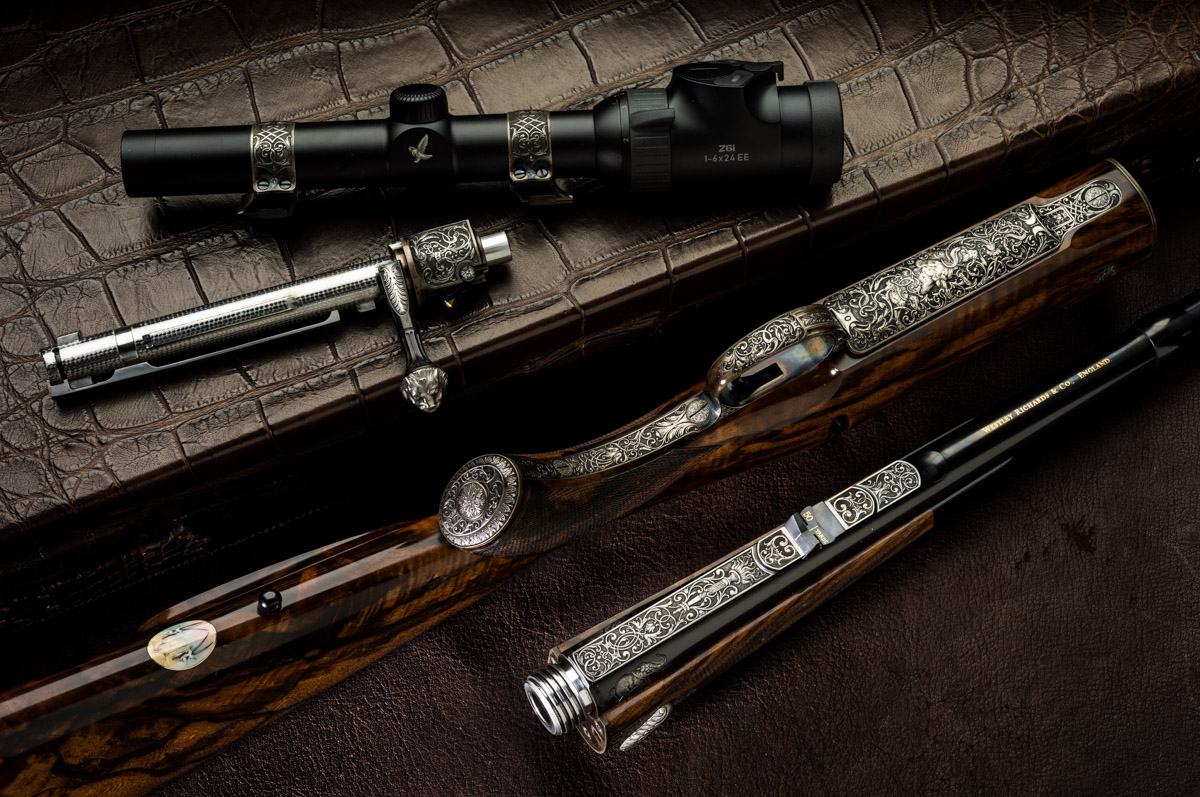 Westley Richards .416 take down rifle with engraving by Paul Lantuch. 
The bolt action production always has been and continues to be a very important part of our business. We currently have 24 bolt action rifles being made in the factory and these are specified from a simple, plain, name only stalking rifle to a very elaborate take down with a large engraving budget. We have orders for a multitude of calibers, .505 Gibbs, .500 Jeffery, .416 Rigby, .425 WR, .375 H & H, .318 WR, .300 Win, Wby & H&H, .275 Rigby, 9.3 x62 as well as others.  Each calibre is built on the correct size action which ensures smooth feed and the correct weight of rifle.  The actual handling and balance of our bolt actions is just as important as that found with our doubles and this can only be achieved by appropriate scaling.  This means the ribs, sights and stocking are all scaled down or up to suit the calibre and action.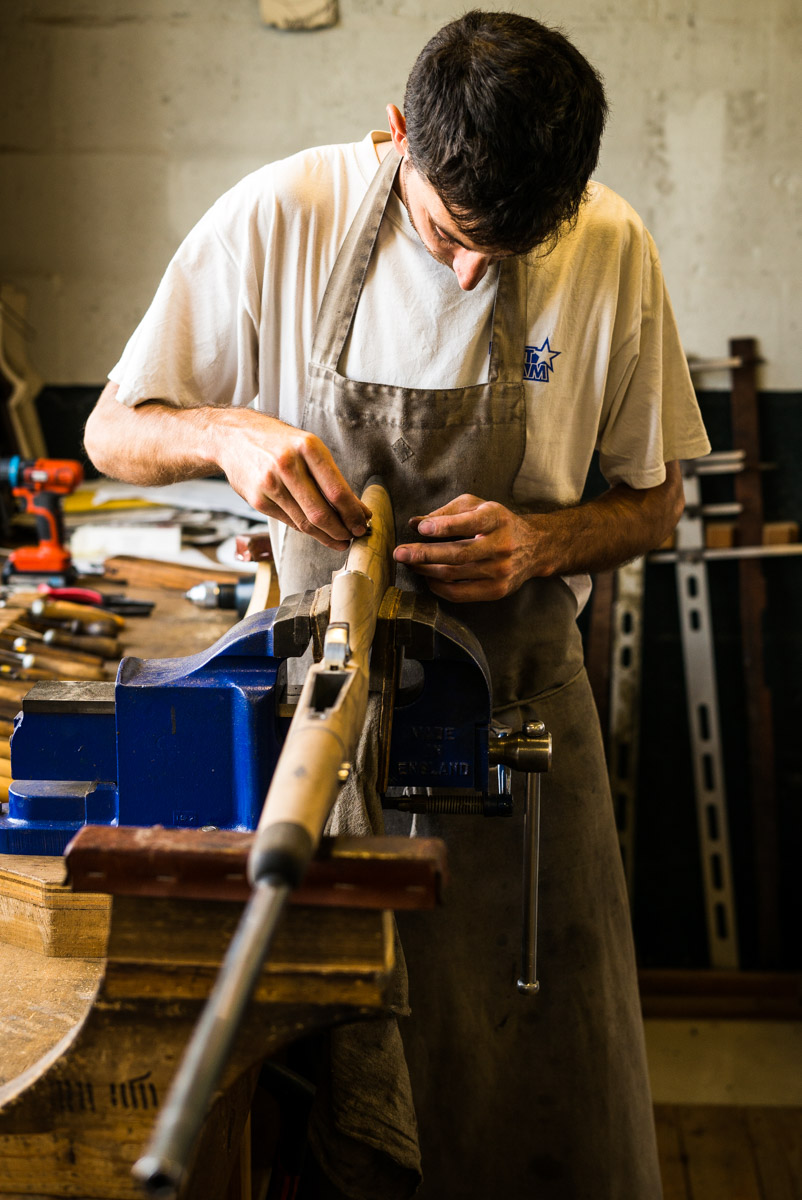 Romain Lepinois putting the final touch, the gold oval, on a take down rifle.
I have always been very proud of the bolt actions we have produced in recent years.  At Westley Richards we know that delivering an exceptional bolt action rifle will in most cases lead to the subsequent order for a double rifle. We take a lot of time to ensure that the rifles work faultlessly and look exceptional. I am probably biased but I don't think any other rifle maker is making as good a looking rifle as we are. This is mostly down to the exceptional stocking skills of Romain Lepinois and Keith Haynes who have the profiles for our rifles perfected on each size of action we use, the stock of the bolt action is the essential ingredient for good looks!
In recent years the 'take down' version of our rifles has gained in popularity, I think in the past people had reservations on the accuracy of a take down barrel vs fixed barrel, this concern has now certainly been dispelled. The take down rifles have proved themselves to be an exceptional sporting rifle and the ease of travelling with them has proved a huge benefit. There is also less risk of damage to a take down rifle as the aircrews handling firearms today seem to take more care with a smaller case, perhaps it is just easier for them to handle too!  Of course the perfect safari combination is a case fitted with a take down and a double!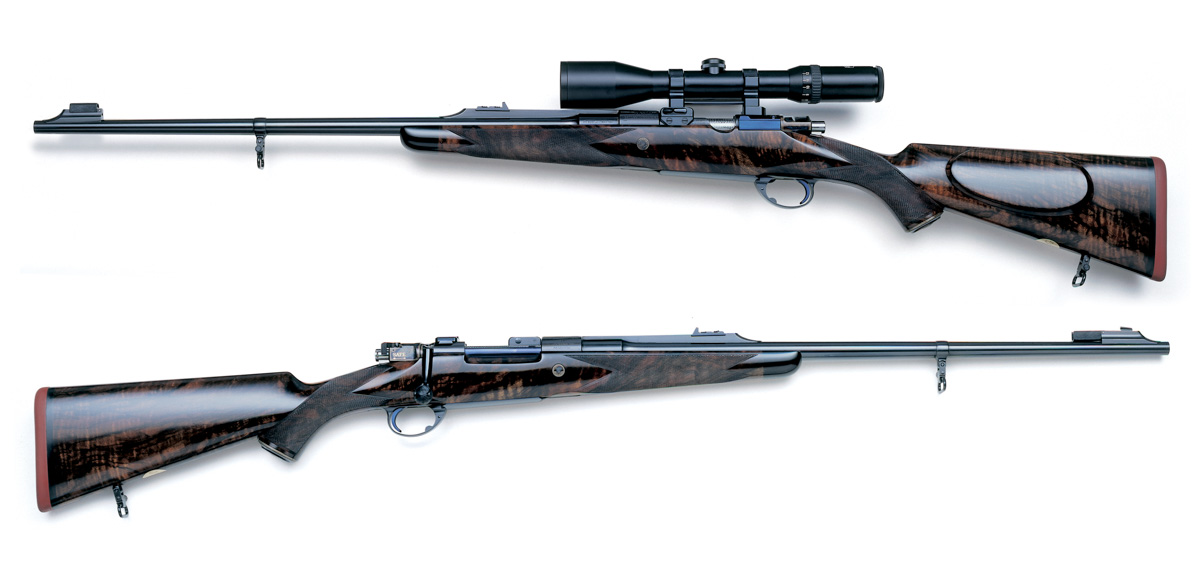 Westley Richards .300 Winchester rifle profile with and without telescope mounted.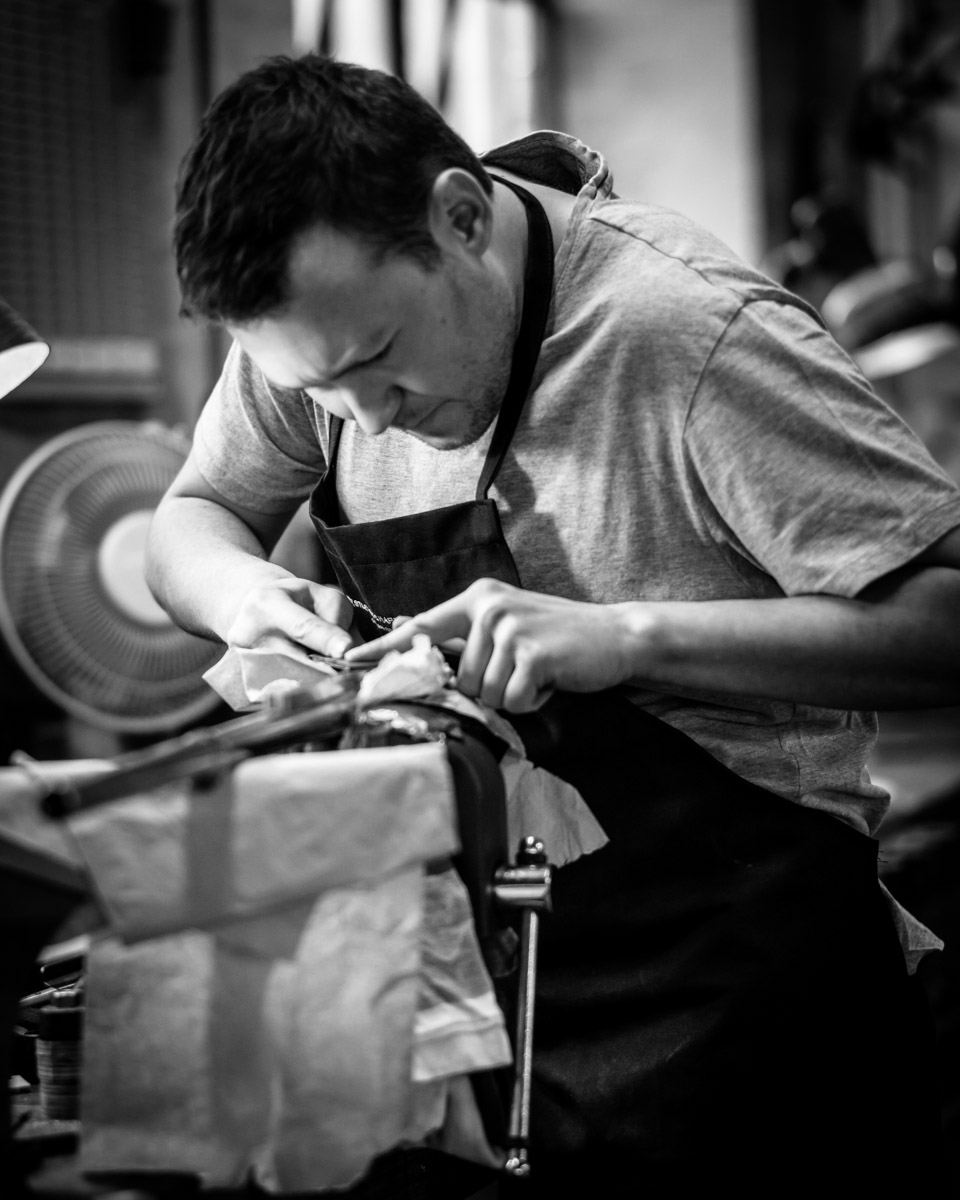 James Hornsby assembling a bolt action rifle. James himself is a competing marksman.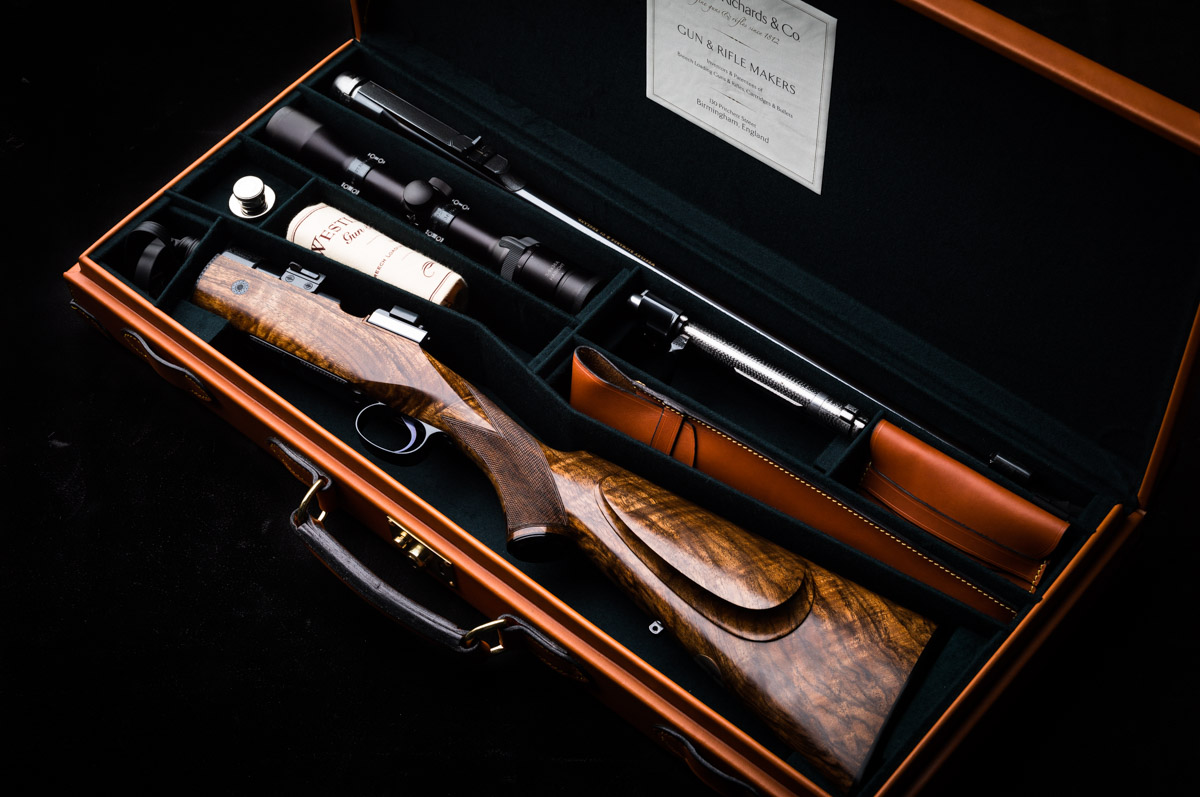 Westley Richards .318 take down rifle cased in our lightweight leather.