To this day Westley Richards & Co. still produces some of the most coveted double rifles and magazine rifles in the world. Featured here are excellent examples of three distinct periods in the firm's rifle making history.
Working in order of vintages, this is a very rare Westley Richards & Co. .425 Magnum Express bolt action rifle completed in 1911.
Originally ordered as best quality, the rifle was made with a suite of upgrades and options that make this the most unusual .425 Westley Richards I have ever encountered. Westley Richards largely promoted the .425 Magnum Express along with the firm's patented hinged drop-box magazine that held 5 rounds down and allowed for the use of stripper clips and the easy opening to immediately empty the magazine. Even so, the firm always offered a .425 Magnum chambered in a rifle with a traditional flush fitting magazine like this rifle has. The compromise was magazine capacity. Due to the girth of the .425 case, the flush bottom magazine only allowed for 3 rounds down.
This rifle has "best quality" features like a traditional cheekpiece, solid steel grip cap, a horn forend tip and wrap checkering on the grip and forearm, and a horn bolt knob. The bottom metal, grip cap, receiver, and sights are also engraved in a large scroll house pattern. In addition, the rifle was ordered with Westley's patented detachable barrel and, I suspect, Westley's patented scope fastening system.
Most Westley .425's of this era had 26" barrels with straight, heavy contours and normally weighed 9 ½ lbs. Yet, rifle #37682 was ordered as a lightweight carbine with a 23" barrel that has a series of 3 "steps" that the barrel contour drops down in diameter each time, effectively lightening the weight of the barrel. The rifle weighs just 8 lbs. 6 oz.
The factory ledgers for bolt action rifles are quite sparse in terms of information, usually only accounting for when that serial number came in and went out. However, written in parenthesis in the ledger entry for this rifle are the words "milled barrel". This refers to the non-glare finish on the barrel, obviously done with a machine. Probably chucked in a lathe and patterned with a scribe of some sort. This was an option offered by Westley Richards & Co. prior to WWII but rarely encountered today.
Normally on a Westley Richards rifle of this period, the maker's name and address would be on top of the barrel, between the rear sight and front sight, and any patent marks on the side of the barrel to the right of the rear sight. Note that this rifle has the maker's name on the Nock's form and the detachable barrel patent is on the side of the rear island sight.  Both are clue that this is a finish done original to the rifle, even if one wasn't aware Westley's ever offered such a treatment to the barrel as an option.
I suspect this rifle was originally made with Westley Richards & Co. patented scope fastening system but refurbished by Westley Richards & Co. in the 1980's and updated with Jaeger Quick Detachable Side Mount, 4x Schmidt & Bender scope, and the side safety and fitted to the take-down case that accommodates the rifle's scope when detached.
An exceedingly rare Westley Richards rifle and an excellent example of how diverse bolt action rifles can be from Westley Richards.
This is a very nice example of a bolt action magazine rifle by Westley Richards from the 1980's. Completed in 1982, catalogs of this same era refer to this model as the "Stalker" Magazine Rifle Rifles of this era have a distinct style of stock shape, checkering, engraving, and finishing.
This rifle is based on a standard length Mauser action and chambered in the venerable .270 Winchester, one of America's most beloved hunting cartridges. The rifle has all of the best quality features available at that time including a quarter rib with 1 standing/3 folding leaves rear sight and ramp foresight with Westley's hinged sight protector, a 4x Swarovski scope in European style claw mounts, a 3-position M70 type safety, a Timney trigger and one-piece bottom metal with a hinged straddle floor plate and inside-the-bow release.  The rifle also features near full coverage engraving on the action, grip cap, bottom metal, recoil bar, quarter rib, and front sight.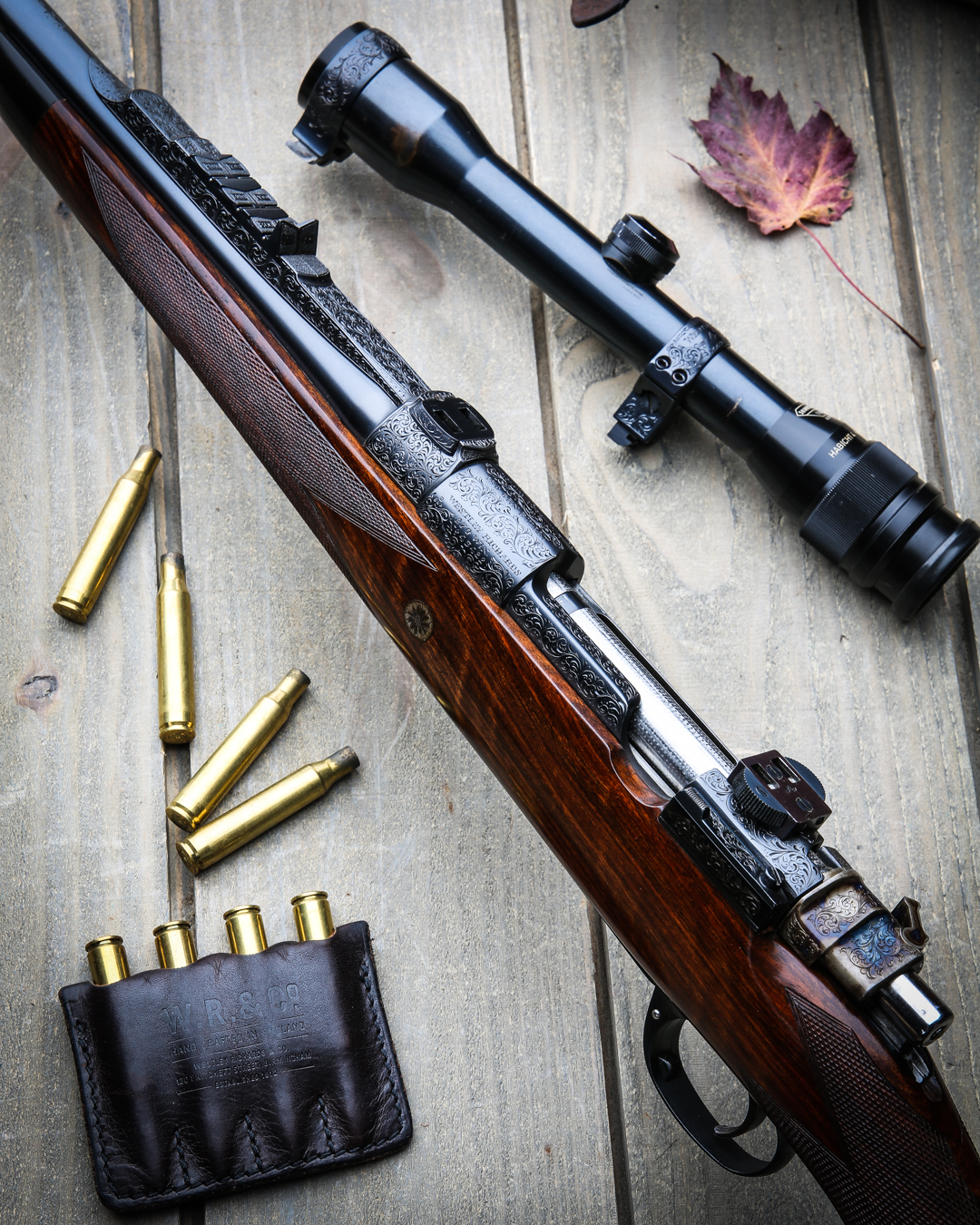 This rifle is in very high, original condition and remains complete in its original Maker's lightweight canvas case with full complement of accoutrements. An excellent example of the fine rifles Westley Richards produced in the early 1980's and in a one of the great American cartridges for medium size game.
Also, currently for sale is this extremely nice example of a 1990's Westley Richards bolt action magazine rifle chambered for .375 H&H Magnum.
Based on an original Oberndorf Single Square Bridge Magnum Mauser action updated with a 3-position safety, a Timney trigger,  and H&H type 30mm QD scope mounts.
The 25" barrel has a quarter rib with 1 standing/2 folding rear sights (100, 150, 200 yds) Westley's combination foresight and hinged sight protector.
The nicely figured and well laid out walnut stock has a RH traditional cheekpiece, a trap grip cap, leather covered recoil pad, wrap checkering pattern, single recoil bar, and an ebony forend tip.
The rifle has no engraving save for the serial number/caliber,  number of cartridges in the magazine, and the Maker's name on the barrel giving the rifle a very understated elegance.
These rifles along with many others, can be viewed on our pre-owned gun and rifle site or call L.D. McCaa at the U.S. Agency for more information.