These recent additions to our archives and inventories are some of the finest examples of vintage Westley Richards guns and rifles extant; many of them featured in the 200 year history of the firm, In Pursuit of the Best Gun.
Pictured here are two more, a spectacular pair of Westley Richards double hammerless ejector rifles, numbers 16839 and 16840, built for Eldridge R. Johnson in 1906 in the exceedingly rare chamberings of .405 Winchester and .303 Savage, respectively.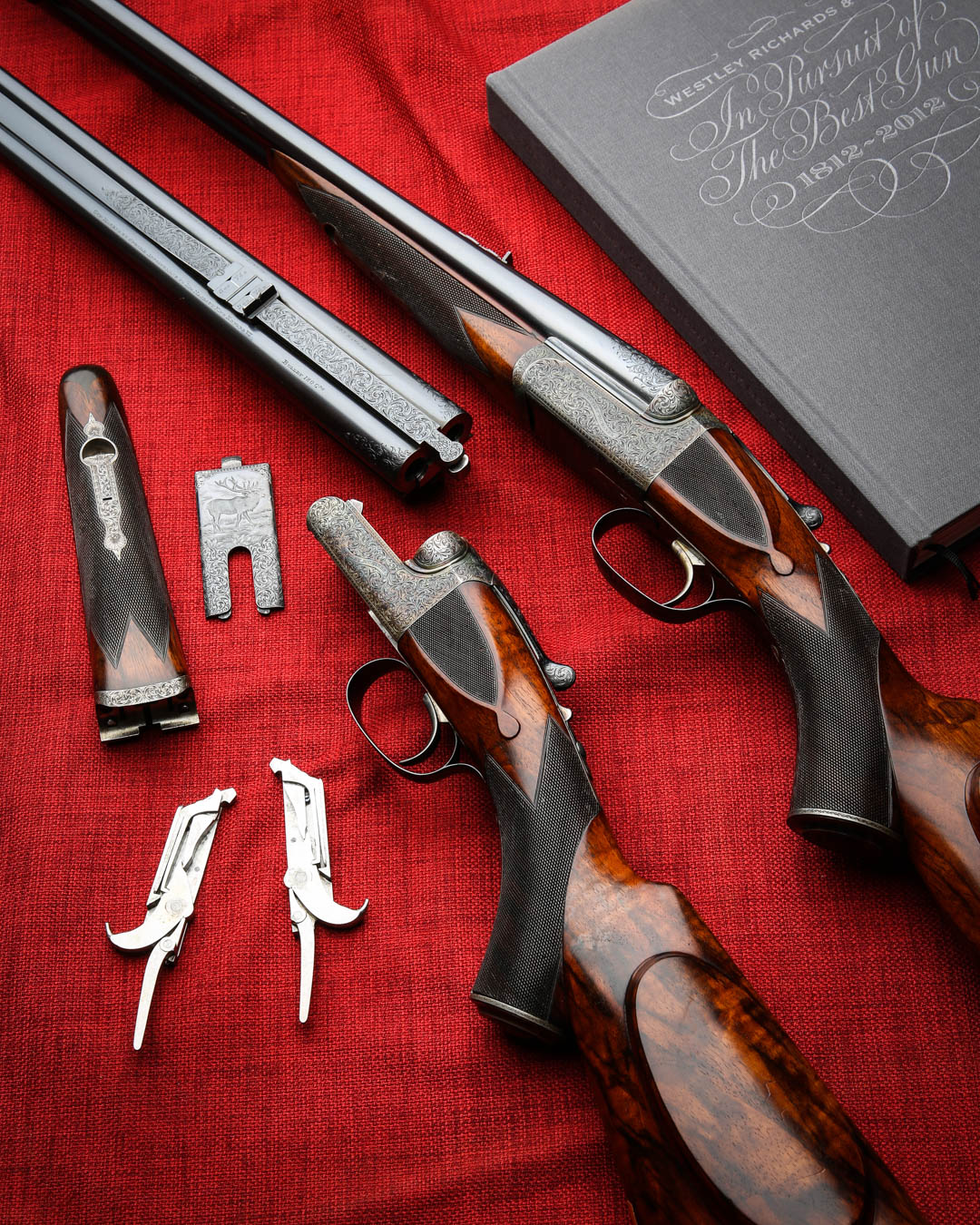 This pair of rifles is unique in so many ways, it is hard to know where to start when describing them. To begin with, Droplock rifles made prior to 1910 are hard enough to come by, but to have a true pair, is quite special.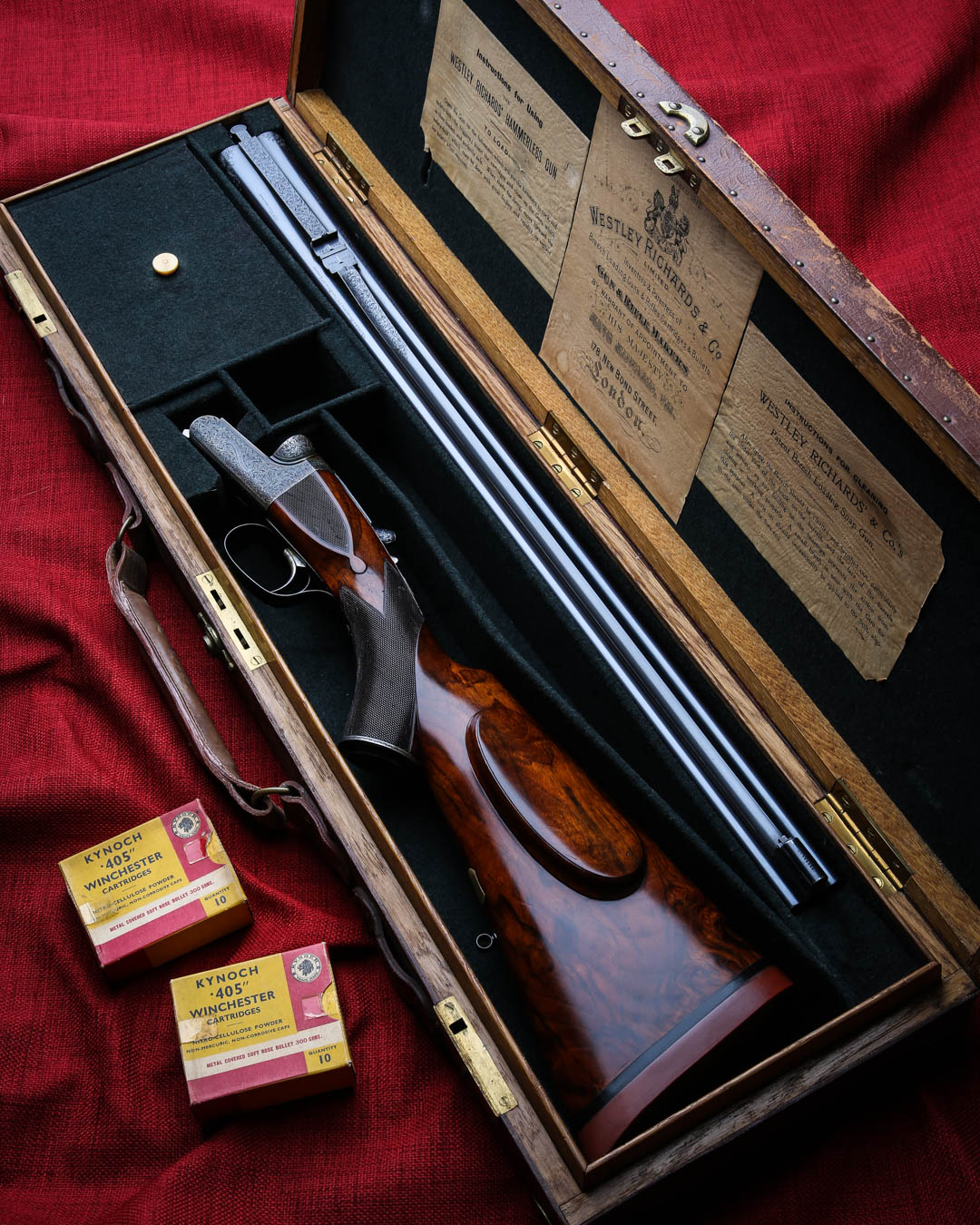 These are Classic Westley Richards Best Quality Hammerless Ejector rifles with full coverage scroll and the Maker's name in flowing banners on the sides of the action bodies. The rifles have removable cover plates, pre-dating the introduction of the hinged version that came later in 1909. Each cover plate and trigger guard are engraved with game scenes. These rifles also have Westley's unmistakable snap lever work and Model "C" doll's head extension, selective "one-trigger" and the firm's famous hand detachable locks.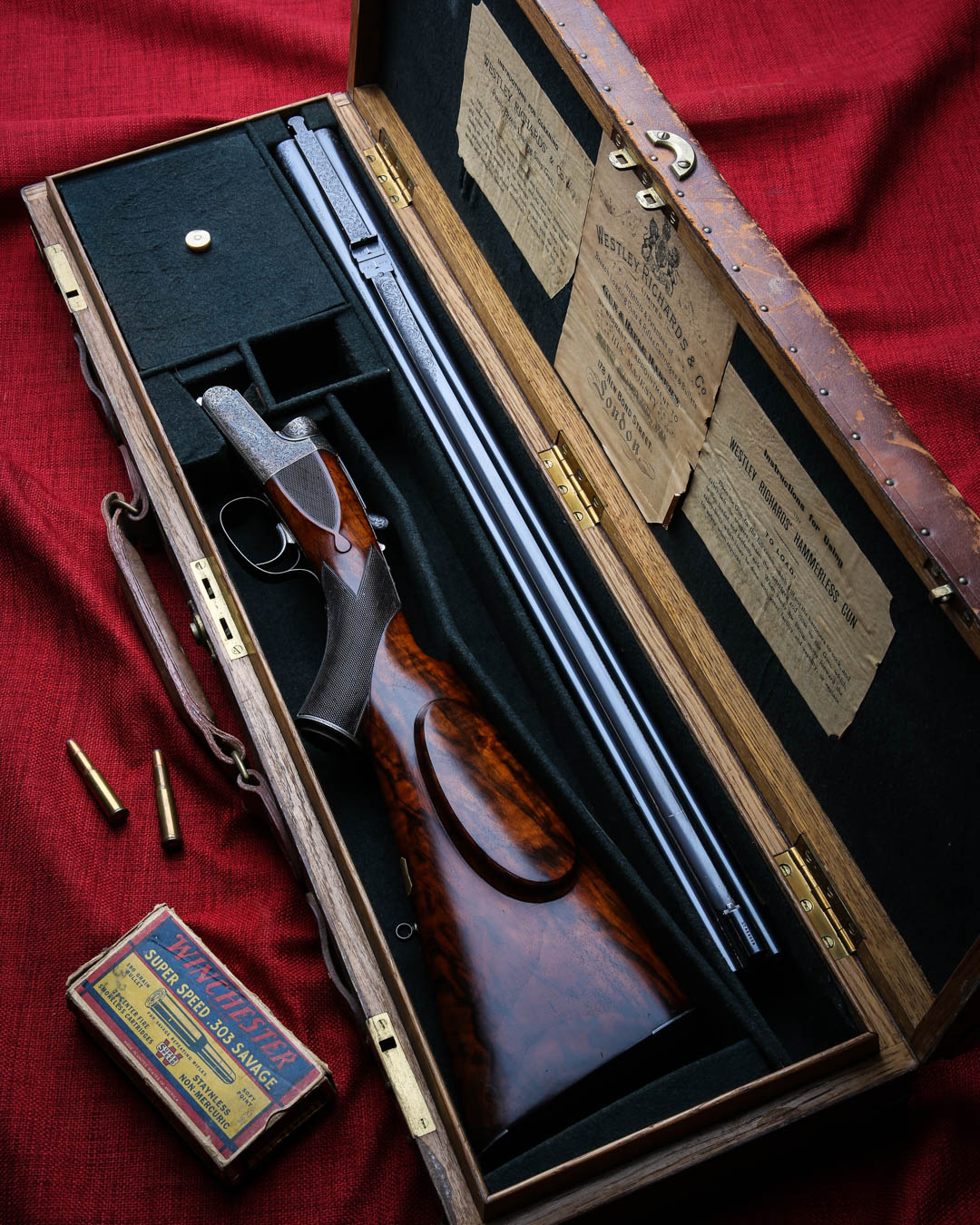 Westley Richards & Co. was a pioneer in modern game scene engraving and Best Quality hammerless rifles featured scenes of game appropriately hunted with the rifle. However, these two rifles feature game animals I have not seen on any other vintage WR rifle, some of which could be found in both North America or Europe. Animals such as a grizzly bear or European brown bear on the cover plate of the .405 Winchester and the bust of a moose on its trigger bow. The .303 Savage is engraved with a what could be a bugling elk or roaring stag with the more commonly engraved tiger on its guard bow. Being that the original customer was an American businessman, maybe we can assume these rifles feature animals found in the U.S.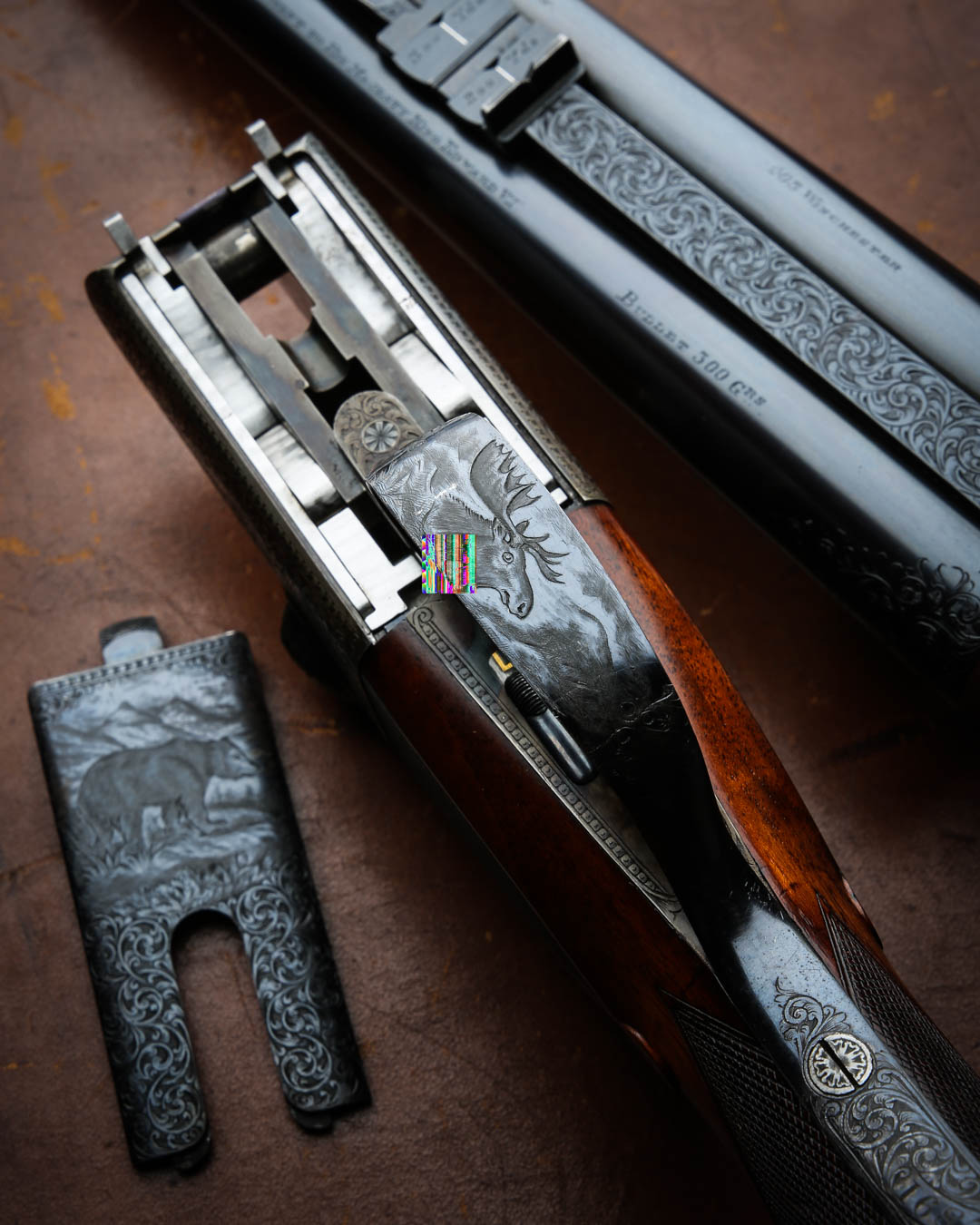 The rifles both have 26" saddle-lump barrels and WR pattern quarter ribs, with 1 standing/2 folding leaf sights (100, 200, 300 yds) that are platinum lined and Westley's patent combination foresight and registered folding sight hood. The rifles retain their original stocks and forends made of well figured walnut with full pistol grips, hinged-trap grip caps, beaded cheekpieces, checkered side panels with drop points, traditional sling eyes and Deeley catches and horn tips on the forends. The rifles have wonderfully cut flat-top checkering (something not often seen on WR guns after about 1910) and Mullered borders. The .405 Winchester retains its original "Noshoc" Anti-Recoil pad and the .303 Savage its engraved steel heel and toe plates. Finally, both rifles are complete in their respective Westley Richards Pattern oak and leather case of extra superfine leather tacked on with the characteristic brass pins on the lid's edge with side bolts, brass corners, and double action locks.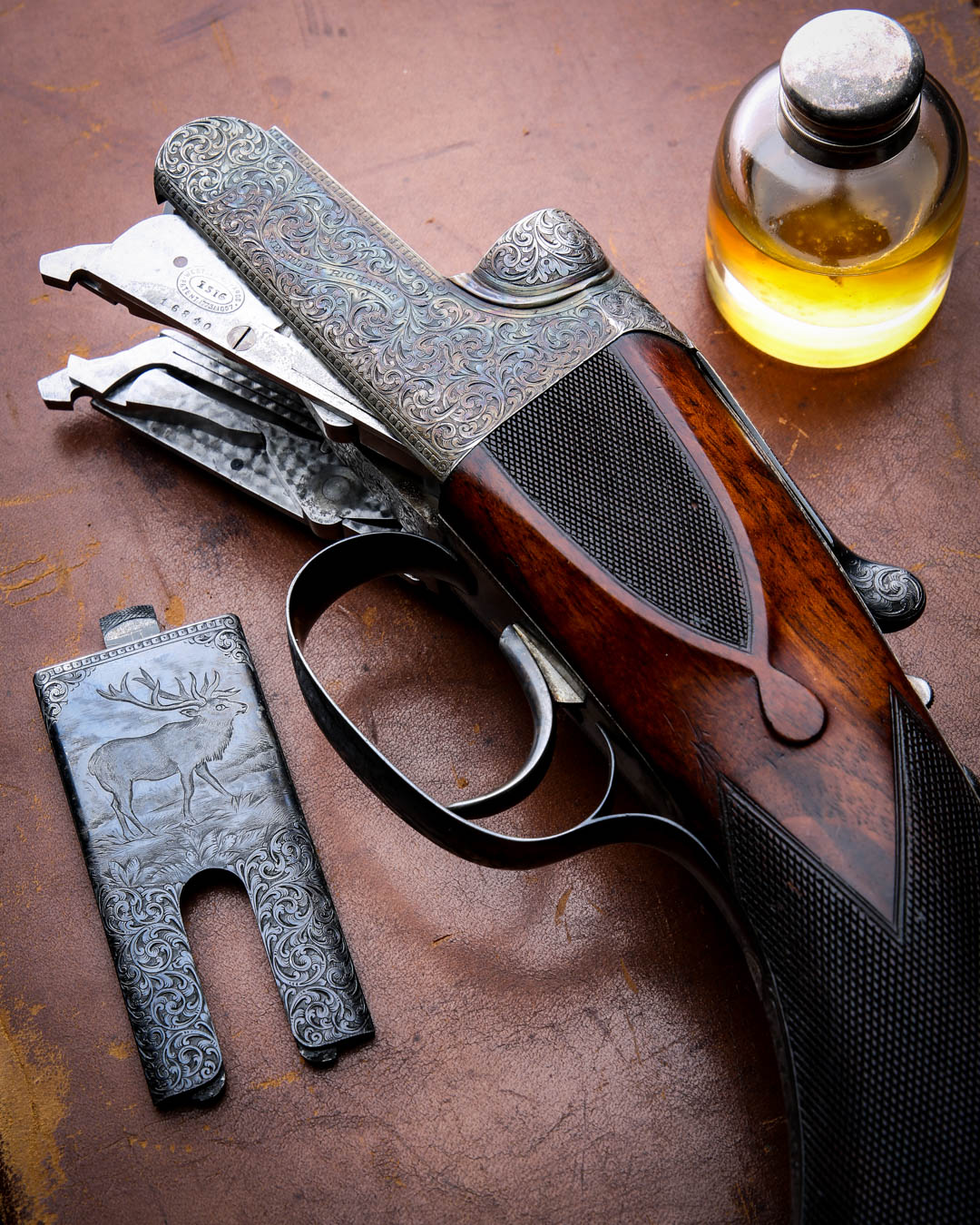 In addition to the rifles being pictured in the company's history book, another bit of interesting provenance on these rifles concerns the gentleman who ordered them, Mr. Eldridge R. Johnson. He was an American businessman and engineer who founded the Victor Talking Machine Co. in 1901. This was the corporate predecessor of RCA Records and, at the time, was one of the World's leading producers of phonographs. The Victor Talking Machine company is best known for its registered trademark of the famous "His Master's Voice" painting featuring a terrier looking curiously into a phonograph. Mr.  Johnson was a loyal customer of Westley Richards & Co. and ordered a Modele De Luxe 12g Droplock from the firm in 1908. This gun is featured on page 124 of our History book.
Whether you consider the rarity of Westley rifles from this period or the even rarer fact that these are a pair, or the scarcity of their high, original condition, unusual calibers and unique engraving; clearly these are exceptional rifles in every way and great examples of why Westley Richards is such an enduring name in the English gun trade.
In Pursuit of the Best Gun, A bicentennial history of Westley Richards & Co. 1812-1912, written by Jeremy Musson and photographed by Terry Allen, is now in its second addition and can be purchased here: westleyrichards.com/in-pursuit-of-the-best-gun-1812-2012-2nd-edition