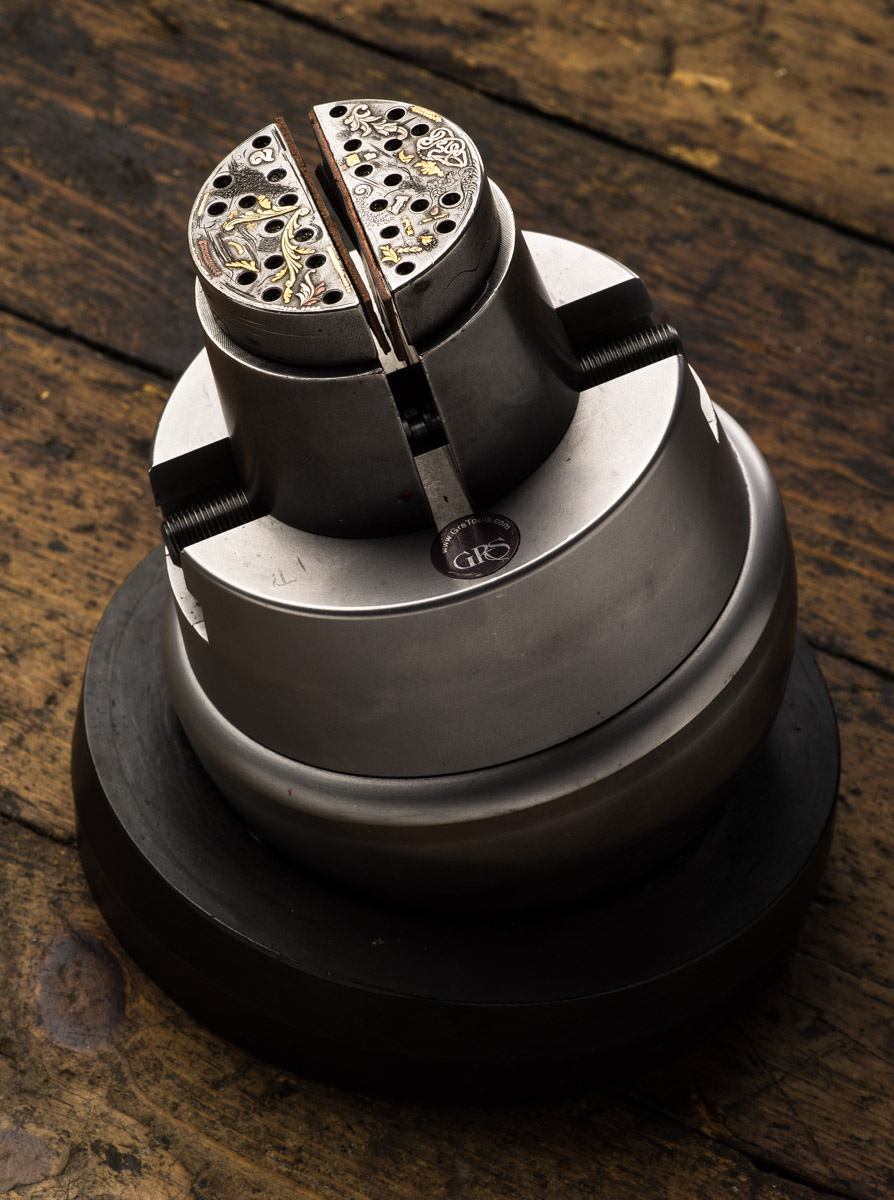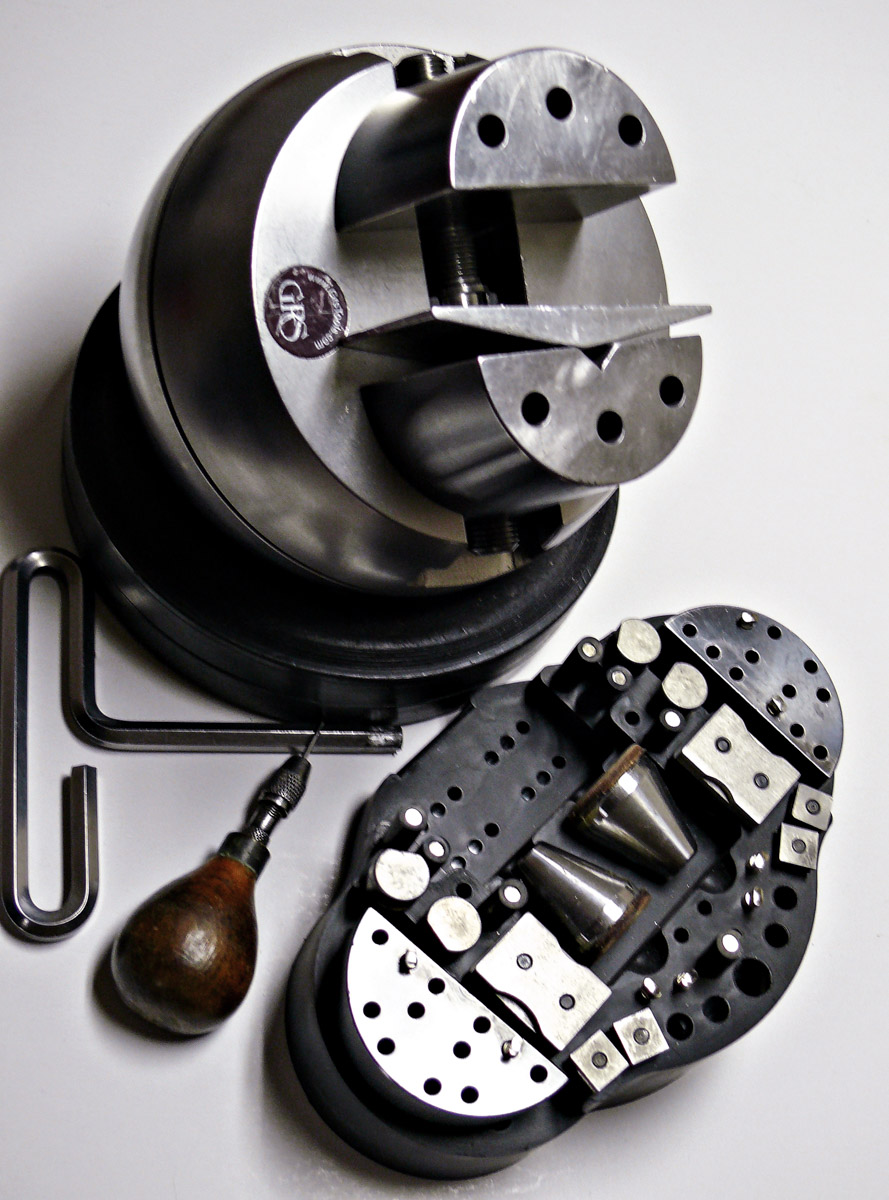 Peter Spode's GRS Ball Vice.
The weight is necessary to give stability when working on heavy pieces of steel..They typically sit on a rubber ring with nylon inserts to lessen friction and to allow the ball to be moved in any direction whilst maintaining stability.
When engraving, the left hand controls the angle and also turns the vice into the cut being made.The right hand holds the engraving tool and steers it across the work. Both hands work in conjunction to make the cut in the steel.
On the continent and elsewhere,some traditionalists still use a fixed vice mounted on a post and walk around the work whilst using a hammer and chisel.This method however does not allow the extremely fine work carried out under high magnification that discerning clients currently demand.
Today,most British and American engravers use some form of ball vice,and the most popular being those made by GRS in the USA.They are extremely well made and with care should last a lifetime. They come with a kit of holding fixtures and jigs for gripping oddly shaped pieces, and fit into the holes on top of the vice.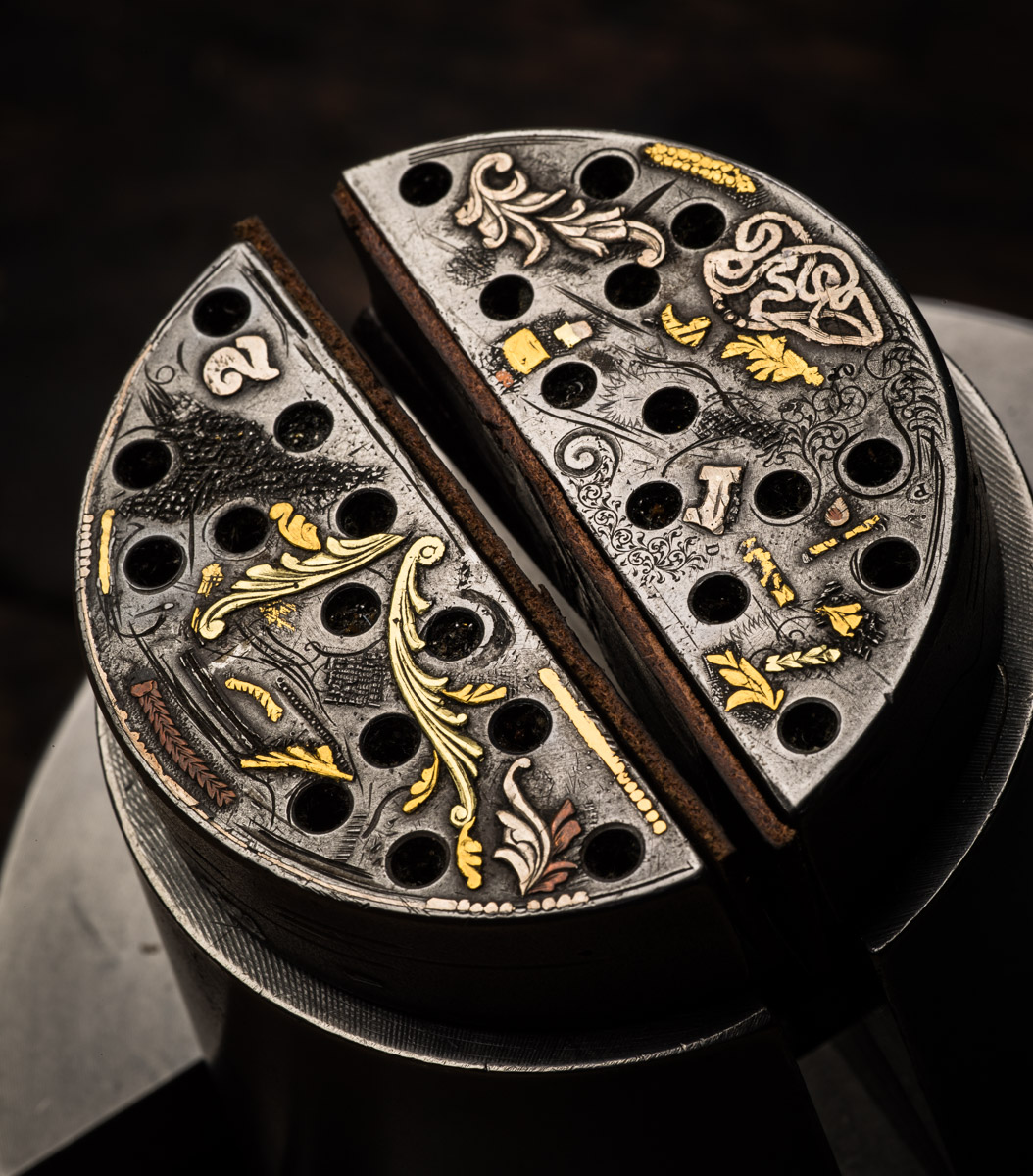 The doodles on Rashid's engraving vice jaws.
The encrusted vice shown the the recent blog ( and above ) was used by the British engraver called Rashid el Hadi whilst working at Westley Richards.
It is an example of the largest and heaviest vice currently available, and has seen many years of considerable hard usage.
The decoration on the top is the result of testing tools, techniques and designs- just 'doodles' but done with a definite purpose in mind. Engravers often test out ideas on scraps of steel, but these often get lost or discarded over time. It is much harder to lose a ball vice which is a thirty pound lump of steel with these ideas fixed on the top.
We can see 'tests' of inlay techniques using different colours of gold and other precious metals. This could be a ready reference to gauge how the different colours of gold sit together and contrast with each other. There are samples of silver, platinum, white gold, green gold,18c gold and 24c gold.These are all used in decorating Westley Richards guns.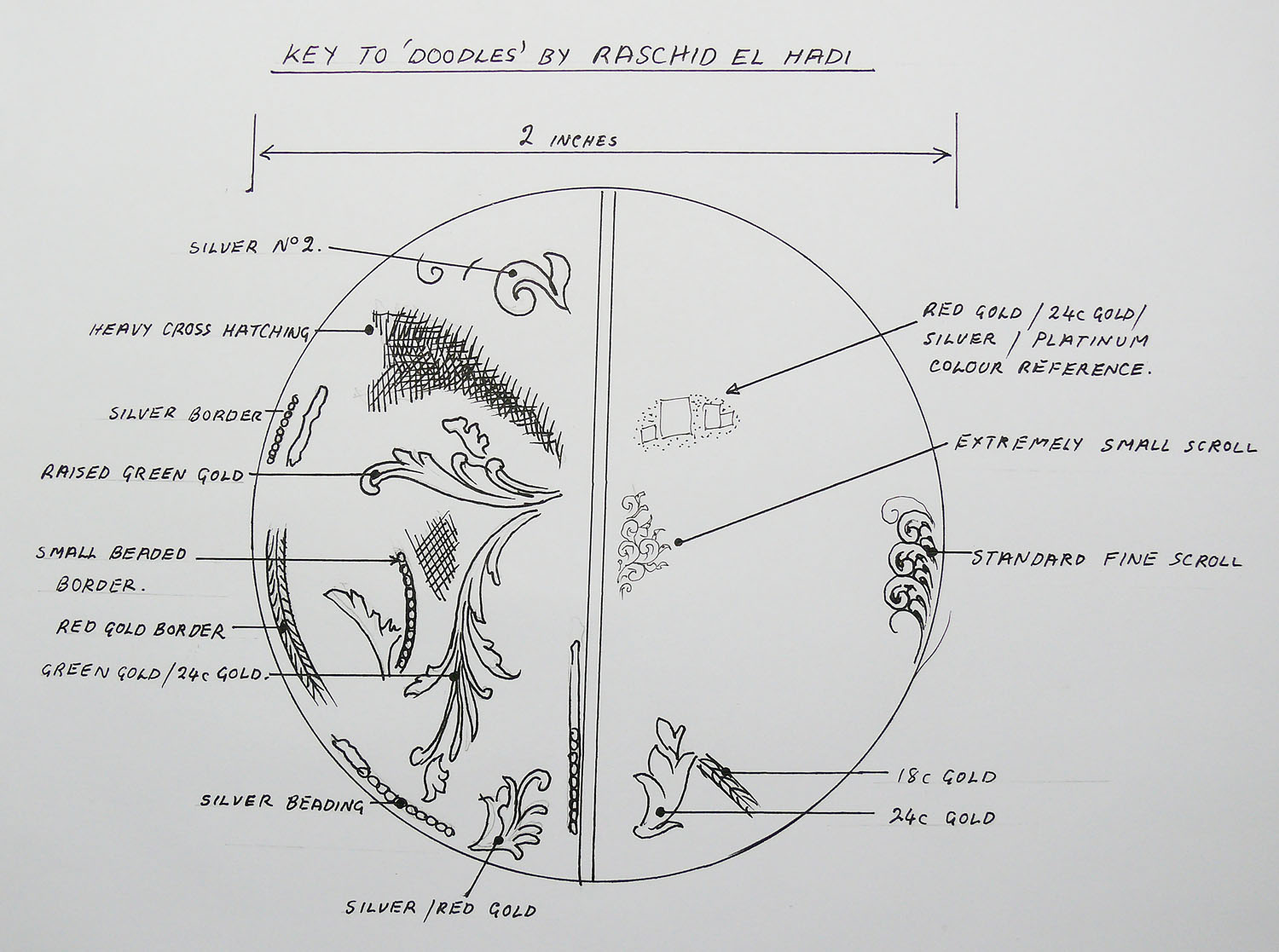 Different metals require slightly different techniques to inlay as they vary in hardness, Secure fixing is a priority, you cannot have lumps of gold falling off the gun under recoil.
There are also examples of small scroll and various shading tests using cuts and punches and stippling methods. Some of these techniques and examples of inlay can be identified on the fabled Hummingbird Gun, which incidentally took over ten years to achieve
The top of this vice remains as a testimony to the extraordinary skill and creativity of one of the UK's most celebrated engravers.
Thank you Peter for sending me this post. I have sent you in return a copy of the second edition, as thanks! Simon